Etihad ties up with Air France-KLM; next Qatar-oneworld and the aviation world turns on its head
Analysis
(Updated, following Qatar-oneworld announcement, to include more details of partnership between Air France-KLM, Etihad and airberlin)
Air France-KLM Group, Etihad Airways and airberlin on 08-Oct-2012 confirmed their much speculated tripartite commercial agreement, stealing some spark of the announcement later in the day in New York that Qatar Airways will become a new member of oneworld. It will no doubt be another important shift in the aviation industry's global axis.
The Etihad deal includes an intra-European codeshare partnership between Air France, KLM and airberlin and a more sweeping alliance/partnership between Etihad and Air France-KLM. The Air France-KLM Group is an anchor of SkyTeam while airberlin is a oneworld member since Apr-2012, but the new oneworld partner is not getting too much love from the group and is forging ties with Air France and KLM under impetus of its 29.21% shareholder Etihad.
Following hard on the heels of the Qantas-Emirates partnership announcement from Sep-2012, this means the three Gulf carriers – previously the bêtes noires of the European airline establishment – will establish themselves at the core of the new global world order. It is difficult to imagine a more dramatic shift in the balance of power as is occurring now.
Until all the necessary approvals are in place and the flow-through implications evolve, there is still much left to speculation, but it is clear that the repercussive effect of Qantas-Emirates is resounding loudly and every major airline will now be re-assessing its role and positioning in the overall system.
See related articles:
A historic Etihad/Air France-KLM codeshare agreement, as a 'first phase'
Etihad was unequivocal in the announcement with the airline's president and CEO James Hogan describing the deal as a "momentous milestone for both airline groups and offers countless opportunities to develop an unrivalled commercial relationship".
The airline said explicitly that the codeshare agreement, which commences on 28-Oct-2012, is the "first phase of a much larger strategic partnership" and includes the "proposed integration of frequent flyer programs", with "reciprocal 'earn-and-burn' privileges for 1.5 million Etihad Guest members and 21 million Air France-KLM Flying Blue frequent flyers across the combined networks".
Moreover, as Etihad notes, "other potential areas of co-operation include joint procurement, as well as maintenance and repair collaboration, as both carriers identify cost savings and seek to benefit from economies of scale".
Understandably there is some caution in the range of network cooperation envisaged in this "first phase". Air France and KLM each have extensive networks to nurture and will not be keen to see them cannibalised. At the same time, the carriers are each conscious of the rapid pace of market evolution and are apparently looking on the new agreement as a fundamental part of their long term strategies.
See related article: Air France-KLM to partner Etihad? If you can't beat them join them
Lufthansa now becomes the odd-man out?
The next step in this three-legged race is Qatar's planned membership in oneworld and a combination with BA-Iberia parent IAG. That leaves one major European airline without a partner on this new dance floor: Lufthansa. As head of the Star Alliance, Lufthansa has occupied a prominent position as a network carrier, with a host of partner/satellite airlines. The carrier has actively resisted the expansion of the Gulf airlines into its territory, a fixation that may now see it sidelined as the powerful new entities line up.
Although Lufthansa was courted by Etihad in 2010, senior management resisted the temptation to change course, preferring to rely on its strength in its home market and the power of the Star Alliance grouping which it heads. This may now prove to have been an awkward decision. Etihad's first move was to partner with airberlin, right on Lufthansa's doorstep. Now, with a promised Air France-airberlin codeshare, the foreign intrusion becomes ever more poignant.
Double score for Etihad
Etihad, which is the smallest one of the three Arabian Gulf-based network carriers, has now a major codeshare partner in two of Europe's main markets - Germany and France - that proved difficult to access on its own merits and on the basis of the existing bilateral agreements.
Emirates, which like Etihad flies under the UAE flag and traffic rights, is the dominant operator on routes from the UAE to Germany and to France. Emirates has an approximate 60% share of the capacity (expressed in one way seats) supplied between the UAE and Germany and the UAE and France, according to schedules in Innovata for the week of 08-Oct-2012 to 14-Oct-2012. This compares to a near 18% share for Etihad on the UAE-Germany markets and a 26% share between the UAE and France.
When adding up the Etihad and airberlin flights, their joint seat capacity share between the UAE and Germany rises to about 35%. Etihad and Air France have together a 40% share of the weekly one way seats flown between the UAE and France. Air France flies a daily service from Paris Charles de Gaulle to Dubai and Etihad has a daily flight between is hub at Abu Dhabi and Paris Charles de Gaulle.
United Arab Emirates to Germany by carrier (seats per week, one way): 19-Sep-2011 to 31-Mar-2013
United Arab Emirates to France by carrier (seats per week, one way): 19-Sep-2011 to 31-Mar-2013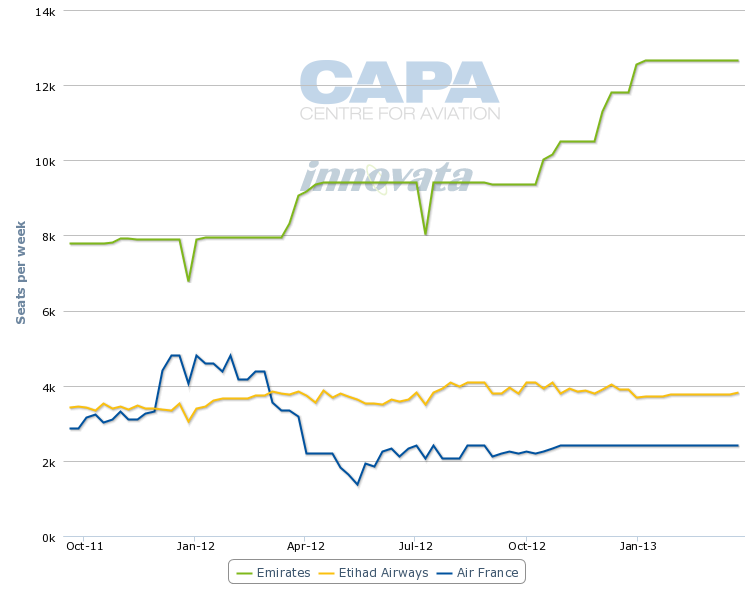 United Arab Emirates to Germany capacity and capacity share (% of seats) by carrier: 08-Oct-2012 to 14-Oct-2012
| | | |
| --- | --- | --- |
| Airline | One-way seats | Capacity share (% of seats) |
| | 23,453 | 58.7% |
| | 6,971 | 17.5% |
| | 5,257 | 13.2% |
| | 4,242 | 16.6% |
United Arab Emirates to France capacity and capacity share (% of seats) by carrier: 08-Oct-2012 to 14-Oct-2012
| | | |
| --- | --- | --- |
| Airline | One-way seats | Capacity share (% of seats) |
| | 9,345 | 59.7% |
| | 4,088 | 26.2% |
| | 2,194 | 14% |
The partnership with Air France will also strengthen Etihad's position against Qatar to capture a larger share of the Europe to Australasia traffic that connects over a Middle East hub. Qatar deploys about 5,000 one way seats from France to its hub in Doha.
The new agreement with Air France and KLM adds to Etihad's already extensive list of European codeshare partners such as Aer Lingus (in which it has a near 3% shareholding), Alitalia, Air Astana, Air Malta, airberlin, Brussels Airlines, Flybe, CSA Czech Airlines, Austria's NIKI (as part of its agreement with the airberlin as NIKI is an airberlin subsidiary), Olympic Air, S7 in Russia and TAP Portugal.
The codeshare arrangement with Air France-KLM Group will see Etihad place its EY code initially on five Air France operated routes from Paris Charles de Gaulle, to Bordeaux, Copenhagen, Madrid, Nice and Toulouse. The EY code will also be placed on KLM flights between Amsterdam and Abu Dhabi and five KLM services from Amsterdam to Billund, Cardiff, Newcastle, Oslo and Stavanger.
The deal with Air France-KLM adds five new destinations to the Etihad network in Europe, of which Nice Côte d'Azur Airport and Madrid Barajas Airport are the main prizes in southern Europe. Etihad is the only one of three Gulf network carriers not present in Spain, while Emirates and Qatar Airways both operate to Madrid and Barcelona El Prat. Qatar offers some 3,900 seats per week from Doha to Spain and Emirates almost double that from Dubai. Etihad would want to draw part of its rivals' beyond-traffic over Abu Dhabi.
Another major gain for Etihad is Nice Airport. The airport serves the metropolitan region of Nice and the nearby exclusive city-state of Monaco. Nice is France's busiest airport outside of the Paris area and is currently served daily by Emirates with Airbus 340-500 equipment which soon will be upgraded to a Boeing 777-300ER.
Etihad will also add its code on three of Air France's 10 largest domestic routes, Bordeaux and Nice to Paris Charles de Gaulle and Charles de Gaulle to Toulouse.
Six of its new codeshare destinations in Europe are now served by Emirates from Dubai and/or by Qatar from Doha.
European destinations included in the Etihad/Air France-KLM codeshare
European destinations included in the Etihad/Air France-KLM codeshare and competition from Emirates and Qatar-operated services
| | |
| --- | --- |
| Destination | |
| | |
| | |
| | |
| | |
| | |
| | |
| | |
| | |
| | |
| Oslo Gardenmoer | |
| | |
But what's in it for Air France and KLM?
The Etihad/Air France-KLM codeshare agreement covers five destinations each for Air France and KLM on the Asian and Australian market. Air France passengers will be able to connect through Abu Dhabi for flights to Colombo in Sri Lanka, Dhaka in Bangladesh, Kathmandu in Nepal, Mahe in the Seychelles and Male on the Maldives. KLM passengers will be able to connect through Abu Dhabi for flights to Colombo, Islamabad and Lahore in Pakistan, and Melbourne and Sydney in Australia.
Air France will add its code on Etihad's daily flights between Paris Charles de Gaulle and Abu Dhabi.
Islamabad and Lahore are served directly from Paris CDG with a once weekly flight by Pakistan International Airlines (PIA). The Pakistani flag carrier also operates one passenger flight a week between Amsterdam Schiphol Airport and Islamabad. Beither Air France nor KLM have Lahore or Islamabad in their scheduled route network, according to schedules in Innovata.
The partnership for now will not see Air France adding its code on Etihad flights to Melbourne and Sydney but this could be added in 2013, when Air France's present agreement with Qantas on Australia flights (over Singapore) comes to an end. Qantas' recent novel agreement with Emirates, Etihad's arch rival, will most likely result in the Air France-Qantas partnership ending and an extension of the Etihad/Air France codeshare accord to include routes to Australia.
Colombo does not feature on Amsterdam's network of direct routes but new oneworld recruit SriLankan Airlines operates a four times weekly service to Paris Charles de Gaulle. All but one (Kathmandu) of the nine destinations in Asia and Australia that Etihad is adding to the Air France and KLM networks can be reached from Paris or Amsterdam via Emirates' hub in Dubai.
German-French entente
In parallel with the Etihad codeshare agreement, Air France and KLM will also start codesharing with airberlin as of 28-Oct-2012 on a select number of intra-European routes.
The deal will not really extend Air France or KLM's reach into Germany but conversely it will considerably grow airberlin's footprint in France.
Air France will add its code and offer its passengers connections onto airberlin's flights from Berlin-Tegel Airport to Graz (Austria) and to Krakow and Gdansk in Poland and from Düsseldorf to Dresden. KLM will add its KL code on three destinations beyond Berlin: Krakow, Gdansk and Kaliningrad in Russia.
airberlin will codeshare on Berlin-Amsterdam routes as well as on three UK destinations beyond Amsterdam: Edinburgh, Glasgow and Manchester. The German airline will add its code on Air France operated flights from both Paris Charles de Gaulle and Paris-Orly Airport to Bordeaux, Lyon, Marseilles, Montpellier, Nantes, Nice, and Toulouse.
The airberlin arrangement covers eight of Air France's 10 largest domestic routes in terms of seat capacity, according to schedules in Innovata for the week of 08-Oct-2012 to 14-Oct-2012.
Air France top 10 domestic routes (seats): 08-Oct-2012 to 14-Oct-2012
See related articles:
The casualty: global alliances under attack
The highly pragmatic role of airberlin in this process is one indicator of just how flexible airlines are now becoming in their attitudes to global alliance membership. The Berlin-based carrier has only recently joined oneworld yet seemingly has few qualms about partnering with one of British Airways' arch rivals, Air France.
For Etihad, clinching a partnership with Air France is a major coup. As Mr Hogan pointed out, "it reflects the core elements of Etihad Airways' 10-year master plan, driven by organic network growth, combined with the forging of strategic codeshare partnerships and minority equity investments in other airlines."
For Air France, which for years has resisted the steady inroads of the Gulf hub carriers, the agreement is more avant-garde and a next step in accepting a new world order.