Garuda Indonesia to focus on rapid domestic expansion before turning attention to international
Analysis
Garuda Indonesia is planning further domestic expansion by launching a turboprop operation in 2013 that will be used alongside its new regional jet fleet to access Indonesia's smaller but fast-growing markets. Expansion on trunk routes is also expected by redeploying A330 widebodies from international routes, which will allow for more efficient use of gates and slots at Garuda's congested Jakarta hub until the government moves forward with a plan for expanding the existing airport and constructing a new airport at Indonesia's booming capital.
Garuda and most of Indonesia's carriers see huge near-term opportunities in the domestic market, where demand continues to grow at high double-digit levels on the back of rapid economic growth. Indonesian carriers also expect the regional international market to expand fast, albeit more slowly than domestic, while growth on long-haul routes will continue to be relatively modest for the time being.
Expansion of Garuda's long-haul network, still very small compared to other major Asian flag carriers, has become more a medium to long-term project. Garuda eventually plans to grow its European network using its future fleet of Boeing 777-300ERs as well as expand its global reach through membership in the SkyTeam alliance. But this will not occur until at least 2014 as its first batch of 777s will initially be used to replace existing widebody aircraft on its only two current long-haul routes, Jakarta-Jeddah and Jakarta-Dubai-Amsterdam, while its ascension into SkyTeam has been delayed by a further one year to early 2014.
Garuda looks to close the gap with Lion Air
Garuda is today only the second largest carrier after Lion Air in Indonesia's dynamic domestic market but is significantly larger than Lion in the much smaller international market. For now the priority at Garuda is on keeping up with the rapid growth and maintaining market share in Indonesia's highly competitive domestic market, putting international expansion on the backburner.
Indonesia's domestic market grew 18% in 2011 to 51.5 million passengers, according to data from Indonesia's Central Bureau of Statistics. Garuda domestic traffic grew 40% last year to 13.8 million passengers (including 1.6 million passengers at budget unit Citilink), giving the Garuda group a 27% share of Indonesia's domestic market. Privately owned Lion does not report traffic data but claims to have about a 50% share of Indonesia's domestic market when including regional subsidiary Wings Air.
Through the first four months of 2012, growth in Indonesia's domestic market slowed down to 6% to 17.1 million passengers. But growth in 2H2012 is expected to accelerate driven partially by the recent launch of two new carriers – Mandala/Tiger Airways Indonesia and Pacific Royale – as well as more rapid growth at Garuda, Lion and their subsidiaries.
Indonesia monthly domestic traffic (thousands of passengers): Apr-2009 to Apr-2012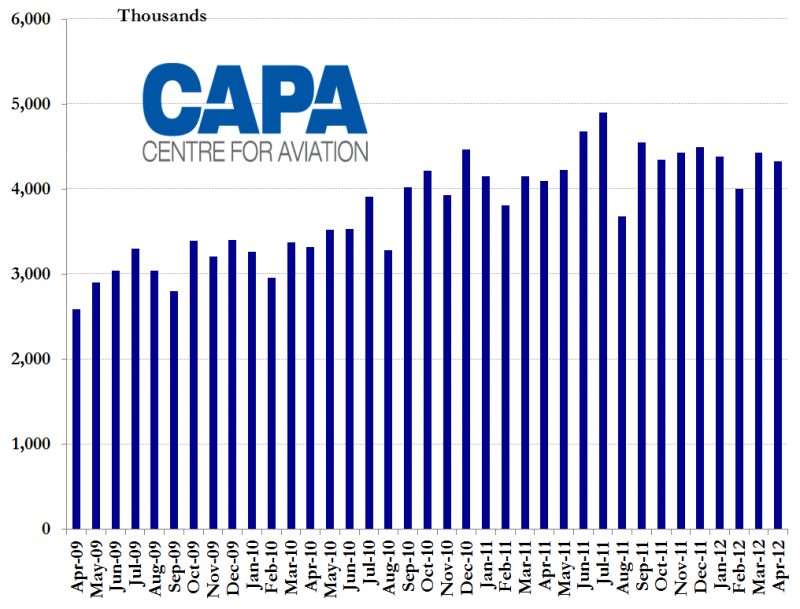 The Indonesian government expects the domestic market to reach 120 million passengers by the end of 2015, which would equate to average annual growth exceeding 20% over the next four years based on the Central Bureau of Statistics data. (Passenger traffic statistics in Indonesia are often inconsistent, with airport data not matching government data and government data sometimes varying depending on the agency).
Garuda pursues growth in Indonesia's domestic market through multiple avenues
Garuda has adopted a multi-faceted approach to domestic expansion, which is necessary given the diversity of Indonesia's domestic market. At the low end of the market, Garuda is rapidly expanding its budget brand Citilink to a fleet of 50 A320s by the end of 2015. Garuda has been preparing the last several months to convert Citlink, which now operates a fleet of 11 aircraft domestically under Garuda's GA code, into a separate subsidiary with its own air operator's certificate. The spin-off of Citilink has been repeatedly delayed since late last year but Garuda CEO Emirsyah Satar told CAPA at last month's IATA AGM in Beijing that he expects Citilink will finally emerge as a subsidiary by the end of Jul-2012.
See related article: Garuda, Citilink and Lion accelerate expansion
The spin-off at Citilink could be a precursor to an initial public offering, which Mr Satar says may be pursued in two to four years. Garuda completed its own IPO in early 2011.
Garuda also plans to significantly expand full-service capacity on the same trunk routes Citilink operates. This will be achieved through further expansion of Garuda's 737-800 fleet as well as the deployment of A330s on some domestic trunk routes. Garuda now uses its A330s on several medium-haul international routes within Asia-Pacific (including to Australia, China, Japan and South Korea) as well as on its Jakarta-Dubai-Amsterdam route. But Mr Satar confirms the carrier is now looking at shifting some of its A330s to the domestic market.
Garuda began this year with a fleet of 13 A330-200/300s with two additional -200s due to be delivered during 2012. Its domestic trunk routes are now served with 156-seat 737-800s, which are also used on regional international flights (including Southeast Asia, some destinations in greater China and Perth). Switching to the A330 would allow Garuda to increase capacity by 42% (for the 222-seat A330-300) or 88% (for the 293-seat A330-200) on certain high demand domestic flights while not requiring additional gates or slots at Jakarta.
Mr Satar told CAPA earlier this year that Garuda is seeking to lease additional A330s in the short to medium-term and increase its A330 fleet to 20 aircraft. More A330s would allow Garuda to expand on medium-haul international routes as well as domestically as it looks to start using widebody aircraft on some domestic trunk routes. Air Transat intends to lease five A330s to Garuda in Sep-2012, the start of the Canadian carrier's slow season.
See related article: Air Transat offers little clarity of when its, and parent company's, fortunes will turn
Garuda also plans major expansion on regional domestic routes, bypassing the congested Jakarta hub. This expansion will begin in 4Q2012 when Garuda takes delivery of the first of at least 18 Bombardier CRJ1000 NextGen regional jets. Garuda will take five CRJ1000s by the end of this year and plans to base the new type at regional hubs including Makassar and Medan rather than Jakarta. Garuda opened its Makassar hub in 2011 and is opening this year a hub at Medan, as part of its ongoing strategy of increasing capacity in markets outside Jakarta.
The 100-seat CRJ1000s will be the smallest aircraft currently operated by Garuda and used predominantly to open new point-to-point domestic routes (Makassar-Singapore will be an exception). In addition to the 18 CRJ1000s Garuda is committed to acquiring (12 on lease and six directly from Bombardier), it has options for another 18, which will likely be exercised as the carrier continues to rapidly expand its regional network.
Garuda plans to add turboprops in 2013 to compete with Lion's ATRs
A planned second phase of Garuda's regional expansion will occur with the addition of even smaller aircraft, 70–seat turboprops. Mr Satar says Garuda is talking to ATR and Bombardier about acquiring 25 to 40 turboprops. He said at the time that Garuda aims to place an order with either of the turboprop manufacturers in 2H2012 and begin deliveries in 2013. "We want it the soonest," he says, adding that Garuda already has identified several markets for 70-seat turboprops.
A majority of airports in Indonesia's smaller cities cannot be accessed with jets. Lion already serves about 30 of these airports through its regional subsidiary Wings Air. Wings currently serves these markets as well as two destinations in Malaysia with a fleet of just under 20 ATR 72s (it also operates some 737s and MD-80s in larger markets).
Wings is already committed to expanding its ATR 72 fleet to 60 aircraft by the end of 2015. Wings is expected to use the additional turboprops to further grow its network of small regional destinations in response to fast-rising demand from Indonesia's smaller cities, which is starting to see the economic benefit of Indonesia's boom. The Wings operation already allows Lion to offer a much larger network than Garuda and have a much bigger presence in several regional cities such as Makassar.
Wings Air top 10 hubs/bases/stations by capacity (seats per week): 02-Jul-2012 to 08-Jul-2012
Lion Air top 10 hubs/bases/stations by capacity (seats per week): 02-Jul-2012 to 08-Jul-2012
Garuda top 10 hubs/bases/stations by capacity (seats per week): 02-Jul-2012 to 08-Jul-2012
Indonesia's red hot economy creates domestic regional opportunities
Indonesia's GDP grew by 6.5% in 2011 and is expected to grow by about another 6% in 2012, making it one of the strongest economies in Asia as it has been able to escape any significant impact from the economic downturn in Europe. Indonesia's economic growth is not limited to Jakarta and other big cities but has been trickling down to regional centres and smaller cities.
While Jakarta and Indonesia's main island of Java is a huge economic and population centre with about 140 million people, Indonesia is a vast country with a population of about 240 million. Indonesia's archipelago geography makes it an ideal market for regional aviation, particularly as an expanding portion of the 100 million Indonesians that reside outside Java can now afford air travel.
Historically a majority of Indonesians have travelled between islands by boat but the economic growth and resulting higher income levels are opening up new opportunities for air travel on short island-hopping routes operated by regional aircraft. Compared to other countries, fares are also relatively low in Indonesia's regional markets. While Lion is now the only Indonesian LCC with a regional subsidiary (Citilink could take some or all of the turboprops Garuda orders), almost all carriers in Indonesia are considered low fare operators even if they do not follow pure low-cost models and offer some frills.
Indonesia could go through a similar phase to Brazil, where there is now more rapid growth in regional domestic routes compared to the more saturated trunk routes. Azul and TRIP have been among the fastest growing carriers in the world over the last couple of years as they have used a combination of regional jets and ATR turboprops to offer point-to-point services in high demand relatively undersupplied markets that bypass Brazil's congested hubs of Rio de Janeiro and Sao Paulo. (Azul and TRIP are now in the process of merging.)
Garuda and Lion to compete on every market segment
Garuda feels compelled to match Lion's strong and rapidly growing regional network just as Lion believes it needs to go up market and launch a new premium brand. Lion's new premium brand, Batik Air, plans to begin operating domestic trunk routes with 737-900ERs in 2013 and eventually international routes with a planned fleet of 787s.
Batik will compete primarily against the Garuda brand and target Garuda's premium passengers. As Citilink rapidly expands it will primarily compete against Lion. Garuda's new regional jets and turboprops will compete primarily against Wings. While the regional jets will fly under the main Garuda brand and operate under a full-service regional model with dual-class configuration, the turboprops will most likely be delivered in single-class configuration and could potentially be operated under the Citilink brand.
While Garuda and Lion have vastly different approaches and roots, both see a need to cover all sectors of Indonesia's domestic market as the economy of the world's fifth most populated country expands rapidly. While most of the growth will come at the budget end of the market, serving Indonesia's fast-expanding middle class, demand for full-service travel is also expected to grow as wealthy Indonesians travel more frequently. Many wealthy Indonesians insist on flying first class, even domestically, creating a need for some carriers to continue offering a two-class cabin even on the shortest routes.
Consolidation among Indonesia's second-tier carriers is likely
While Lion and Garuda could potentially sacrifice profits for market share as they both expand rapidly across all sectors of the market, it is Indonesia's second-tier carriers that could be most impacted by the expansion of the country's two main airline groups. While there has been some consolidation over the last several years, the Indonesian market remains fragmented with several medium-size legacy carriers such as Batavia, Merpati and Sriwijaya Air.
Sriwijaya is responding to the increasingly intense competition, particularly in the regional market where it has a significant presence, by going upmarket and positioning itself firmly as a full-service carrier. Sriwijaya recently introduced business class on some of its 737 fleet and is planning to add Embraer E-190s to facilitate regional growth outside Jakarta, likely following the strategy Garuda is employing with its new fleet of CRJ1000s. Sriwijaya currently operates a fleet of about 30 737s.
See related article: Sriwijiya's ageing fleet gets big boost with E190s
Batavia, which is believed to be struggling financially and has returned some of its aircraft in recent months, seems to be more vulnerable. Batavia currently operates a fleet of about 30 A320s and 737s. Both Batavia and Sriwijaya are considered full-service carrier but historically have offered low fares. This has put both carriers in a potentially vulnerable position as they are stuck in the middle between Garuda and Indonesia's fast-growing LCC sector, which in addition to Lion includes Indonesia AirAsia and now Mandala/Tiger.
Government-owned Merpati, which focuses on the regional market with a mixed fleet of 737s and several types of regional aircraft, has steadily shrunk in size over the last several years. Merpati reportedly has been looking to pursue a partnership with Garuda. But Mr Satar downplays those reports and he says for now there are no plans to cooperate with Merpati. He also says Garuda is not considering the Xian MA60s, the Chinese made-turboprops which Merpati operates, as part of its evaluation of new turboprop aircraft.
Garuda is more interested in entering regional markets with its own brand than relying on potential regional partners. Given Mr Satar's success at positioning the Garuda brand at the top of the market, Garuda clearly does not want to risk relying on any Indonesian regional operators, which traditionally have been unreliable. Garuda sees regional expansion as an important component in its aim to remain the premiere carrier in Indonesia and fight off new competition at the upper end of the market from Batik Air, Pacific Royale and Sriwijaya.
Garuda's regional expansion begins with new bases at Makassar and Medan
The regional expansion strategy of Garuda is already well underway, with the opening of a third base, Makassar, in 2011 and the opening this year of a fourth base at Medan. Both bases are being opened initially with 737s but will also be the first two bases for Garuda's new CRJ1000s. Makassar and Medan will also likely be the initial bases to feature turboprops when they are delivered to Garuda in 2013.
Since opening a base at Makassar in 2011, Garuda has already launched several new 737-800 domestic routes, including Ambon, Balikipapan, Biak, Gorontalo, Jayapura, Palu, Surabaya and Ternate. Garuda now competes on most of these routes against Lion and Merpati and in some cases these routes are also operated by Batavia and/or Sriwijaya.
The opening of the CRJ1000 base at Makassar in 4Q2012, and the likely opening of a turboprop base at Makassar in 2013, should lead to further growth on point-to-point routes from Makassar. Wings operates several turboprop routes from Makassar that are currently not served at all by Garuda including Baubau, Luwuk, Mamuju and Pomala. These are the kind of routes that would be ideal candidates for Garuda's planned turboprop operation.
Even with Garuda's expansion at Makassar last year, the Lion Air group (including Wings) still has about three times more domestic capacity at Makassar than Garuda, according to current Innovata data. Makassar is Wings' largest base by capacity while it is also the third largest for Lion after Jakarta and Surabaya, which is the second largest city in Indonesia.
Garuda now competes with Lion on nearly all of its Makassar routes but Lion offers significantly more frequencies on most these routes. This capacity gap will likely close as Garuda continues to expand at Makassar and as Citilink expands. Citilink currently only serves Makassar from one destination, Surabaya.
Garuda also launched last year its first international route from Makassar, Singapore, with 737-500s. Garuda plans to transition this route to CRJ1000s as it phases out its remaining 737-500s. The only other international flight at Makassar is a link from Kuala Lumpur operated by Malaysia's AirAsia (Indonesia AirAsia does not serve Makassar).
With a population of about 1.2 million, Makassar is one of Indonesia's 12 largest cities and is the biggest city on the island of Sulawesi. Its central location in Indonesia makes it an ideal regional hub for domestic services while significant international expansion is unlikely. Makassar is within a short flight of several other Indonesian islands including Borneo, Bali and Lombok.
Medan emerges as key battleground between Lion, Garuda and Mandala
Garuda, meanwhile, is positioning Medan as its hub for western Indonesia. With a population of two million, Medan is Indonesia's fifth largest city and the largest on the island of Sumatra (as well as the largest city not located on Indonesia's main island of Java).
As part of the opening of its Medan base, Garuda plans to launch domestic services later this year from Medan to Batam, Pelembang and Surabaya as well as international flights to Penang in Malaysia. Additional routes are expected once CRJ1000 operations begin at Medan in late 2012. As is the case with Makassar, Medan would also make an ideal turboprop base and would open up several smaller destinations for Garuda on Sumatra, Indonesia's biggest island, that are only served by other Indonesian carriers.
The Garuda brand currently only serves Medan from two points, Banda Aceh and Jakarta, according to Innovata data. Lion has a much larger presence at Medan with six domestic routes and one international route, to Kuala Lumpur. Wings also operates turboprop services from Medan to four domestic points and Penang, according to Innovata.
As in the case with Makassar, the Lion group currently offers about three times more seats at Medan than Garuda. This gap will be closed as Garuda launches over the next year a mix of new 737 and CRJ1000 routes from Medan. Citilink is also expanding in Medan. Citilink added its second destination from Medan on 5-Jul-2012, when it launched two daily flights to Batam. At the same time it also increased Jakarta-Medan, which it has been operating alongside the Garuda brand, from two to three daily flights.
Medan also features prominently on the initial route map of the new Mandala, which now links Medan with Jakarta and Singapore. Mandala resumed services in Apr-2012 after having been suspended for over one year while the bankrupt company lined up new owners including Singapore-based Tiger.
See related articles:
Pacific Royale, which launched services in Jun-2012 with two Fokker 50 turboprops and a base at Batam, also plans to add a base in Medan later this year. The carrier has said it will base Fokker 50s and A320s at Medan, using the turboprops on short feeder routes and the jets on domestic trunk routes following a full-service network carrier model.
See related article: Pacific Royale launch to intensify full-service competition in Indonesia
The focus on Medan by several Indonesian carriers comes ahead of the opening of a new airport that will provide ample space for growth. Medan's new airport is expected to open in early 2013 and is reportedly designed to initially handle eight million passengers annually. Medan's current airport handled about 5 million passengers in 2011 although it was designed to handle only about 1 million.
Regional airport growth key as Jakarta expansion will take time to complete
Jakarta last year handled 51 million passengers, far surpassing its designed capacity. While plans are underway to expand Jakarta's existing airport and eventually open a new airport, Indonesia's capital will be way behind the growth curve for at least the next several years. In the meantime, carriers such as Garuda will continue to look for opportunities to expand at regional airports where there is ample capacity.
Garuda traditionally has only operated two hubs, at Jakarta and Denpasar on the resort island of Bali. But there is growing demand from Indonesia's regional cities and the expansion of regional hubs will allow more passengers travelling between cities that do not have non-stop services to avoid having to transfer in congested Jakarta or Denpasar. Of the 62 million passengers that flew to, from or within Indonesia last year (based on Indonesia Central Bureau of Statistics), about 80% landed or took off from Jakarta Sokearno-Hatta International Airport. Garuda and Indonesia's carriers will need to rely less on Jakarta for at least the medium-term given the capacity constraints at Soekarno-Hatta.
Indonesian DGAC Director General Herry Bakti told CAPA earlier this year that plans are underway to expand Soekarno-Hatta to a capacity of about 60 million passengers. He says this will be achieved through contracts that will be awarded later this year to expand the existing three terminals and possibly construct an optional fourth terminal. At the same time a new cargo terminal, train station and office complex will be built.
But Mr Bakti acknowledges that by the time the expansion project is completed at Soekarno-Hatta in about 2015, Jakarta will already have already surpassed the 60 million passenger mark. As opportunities for further expansion at Soekarno-Hatta are limited, Mr Bakti says the government is now studying the construction of a new airport that would have capacity to potentially handle over 100 million annual passengers. Enough space would also be set aside at the new airport site, which is located east of Jakarta, for four runways although initially the airport would open with two runways. Mr Bakti expects the tender process for the new airport to begin after an environmental study is concluded later this year. He says construction would start in 2015 or 2016 with the airport opening in the 2019 to 2021 timeframe.
With Jakarta unlikely to have sufficient airport infrastructure to handle the anticipated growth for at least seven years, the government is encouraging carriers to focus expansion on regional hubs. Mr Bakti says several regional airports are in the process of being expanded to get ahead of the growth curve and accommodate the anticipated growth outside Jakarta. With the exception of Medan most of these projects involve expansion of existing airports rather the construction of new airports.
Garuda's opening of regional bases is not only necessary given the constraints at Jakarta but is needed as Indonesia's economic boom spreads to smaller cities, opening up new opportunities for growth outside Jakarta and Denpasar. Strategically the regional bases are needed to keep up with the rapid regional growth at larger airline group Lion. Some of Indonesia's second-tier carriers also have regional bases, giving them a competitive advantage over Garuda in some markets.
Garuda to start focusing more on international expansion in 2014
The underlying need for Garuda to expand domestically means international growth will take a back seat for now. The Garuda group currently only allocates 23% of its capacity (seats) to the domestic network and this will decrease further given its near-term focus on domestic expansion. This is in part a reflection of Indonesia's market, which last year had about five times more domestic than international passengers. According to Indonesia Central Bureau of Statistics, there were only 10.8 million international passengers in Indonesia in 2011.
Indonesia monthly international traffic (thousands of passengers): Apr-2009 to Apr-2012
An overwhelming majority of international passenger traffic in Indonesia is regional, particularly to other ASEAN countries. This is a market dominated by LCCs given the short length of haul and the fact most of this market is price sensitive.
While Garuda has expanded its regional international operation in recent years, the fastest expansion has come at Indonesia AirAsia, which has focused primarily on the international market the last few years after initially discovering it was difficult to compete domestically against much larger Lion, which has a stronger local brand. Indonesia AirAsia now allocates about 64% of its capacity to the international market compared to only 6% for the Lion group (including Wings) and about 23% for Garuda (excluding Citilink).
The AirAsia Group now accounts for 25% of international capacity (seats) in Indonesia, compared to only a 16% share for Garuda and a 7% share for Lion, as AirAsia has raced past both carriers in Indonesia's intra-Southeast Asia international market. Garuda has a market leading 26% share of international ASKs, given its strength on medium-haul international routes including to North Asia.
Indonesia international capacity share (% of ASKs) by carrier: 02-Jul-2012 to 08-Jul-2012
Indonesia international capacity share (% of seats) by carrier: 02-Jul-2012 to 08-Jul-2012
Garuda currently allocates about 68% of its international capacity (seats) to routes within Asia. About 17% of its international capacity is allocated to its three Australian routes while about 14% is allocated to its two routes to the Middle East.
Garuda international capacity (seats) by region: 02-Jul-2012 to 08-Jul-2012
While the carrier is adding significant capacity on the domestic market this year, it is only launching two international routes in 2012: Jakarta-Taipei (which began in May-2012 and is being served daily with 737-800s) and Denpasar-Tokyo Haneda (which began Apr-2012 and is being served with five flights per week with A330-300s). Garuda this year also has increased capacity to Kuala Lumpur but it has decreased capacity to Amsterdam.
Next year international growth for Garuda is also expected to be marginal. Garuda's will have opportunities to expand its long-haul network in 2013 as it is due to receive its first batch of 777-300ERs. But Mr Satar tells CAPA that initially the 777-300ERs will be used to replace its two remaining 747-400s. Garuda now uses its 747-400s for Jeddah, which is currently served daily from Jakarta.
Mr Satar says Garuda also plans to use its first batch of 777-300ERs to serve Amsterdam non-stop. Currently Amsterdam is served with A330s via Dubai three times per week. Garuda expects to continue serving Dubai with A330s once the Amsterdam service is upgraded to non-stop.
Garuda plans major European expansion from 2014 or 2015
Garuda has 10 777-300ERs on order. Mr Satar says currently the carrier is slated to take three in 2013 (although it would like to take four "if we can") and the remaining seven in 2014 and 2015. Mr Satar says Garuda is also now working on a new widebody fleet plan which would include additional growth of its widebody fleet in 2015 to 2025. The Garuda group expects to end 2012 with 105 aircraft but only 17 will be widebodies, giving Garuda the lowest widebody to narrowbody ratio among Asia's major carriers, some of which like Cathay Pacific and Singapore Airlines only operate widebodies.
Mr Satar still envisions expansion of Garuda's long-haul network, particularly in Europe, but does not see it happening until at least 2014. He says the carrier envisions launching several new European destinations with 777-300ERs including London, Paris, Frankfurt and Rome or Milan. The expansion will be done in stages in 2014, 2015 and beyond. Mr Satar also expects the 777-300ERs will be used on some high demand routes within Asia, particularly Japan.
For now Garuda is not looking at using the 777-300ER to resume flights to the US and will instead look to work with US SkyTeam member Delta Air Lines via Tokyo. Garuda is now prohibited from codesharing with a US carrier or launching services to the US because of Indonesia's Category 2 safety rating. But the DGAC's Mr Bakti told CAPA earlier this year that Indonesian authorities are now working with the FAA and aim to regain Category 1 status by the end of 2012.
Garuda 777-300ERs will be configured with three classes including life-flat business class seats and a small first class cabin with four seats. Mr Satar says the decision to add a first class long-haul product is in response to customer demand and that there is a segment of its clientele that will pay for first class.
SkyTeam remains important component of Garuda's international strategy
The expansion of the European network in 2014 will come after Garuda finally becomes a member of SkyTeam. Garuda was first accepted as new SkyTeam member in Nov-2010 but the process of joining, which typically takes 18 to 24 months, has been repeatedly delayed.
At last month's IATA AGM in Beijing, SkyTeam announced that Garuda's ascension date has been further pushed back and is now slated for "early 2014". The latest delay comes after Garuda decided to move to a new IT platform before joining the alliance. Originally the carrier was looking at joining SkyTeam and subsequently switching its IT systems. But Mr Satar explains that Garuda has now decided to first "revamp the whole thing". Garuda recently selected new IT vendors and will soon begin the process of transitioning to a new IT system.
SkyTeam chairman Leo van Wijk told CAPA last month that the alliance's members agreed to extend Garuda's joining deadline as it was in everyone's best interest for Garuda to first transition to a new IT system. "IT links are extremely important to make the membership work so it didn't make sense to build the links with Garuda on the old IT platform while they are going to a new IT platform," Mr van Wijk explains. "At first they thought they could do it with the old platform...We all agreed and we even advised them that this was the better solution."
Membership in SkyTeam should help Garuda build up its now very limited long-haul network and virtually expand its global reach through new codeshare partnerships. While so far Indonesia's economic growth has primarily impacted the domestic market, Indonesians are expected to travel overseas more as income levels continue to rise. Initially the biggest market for Indonesians travelling overseas will continue to be Southeast Asia – a market which is well served by LCCs, particularly AirAsia. But the medium-haul and long-haul market from Indonesia will ultimately also grow. That is a market that Garuda is well positioned to serve and will ultimately need to expand in to fend off increasing competition from Lion's Batik brand and foreign carriers.
See related article: Garuda posts 3Q profit and strong growth figures fuelled by robust Indonesian economy
Background information
Garuda carried 17.1 million passengers in 2012, including 12.2 million passengers at its Garuda-branded domestic operation, 3.3 million international passengers and 1.6 million passengers at domestic budget unit Citilink.
Garuda's international passenger traffic grew by 22% in 2011 while domestic traffic grew by 40%, including 40% at the Garuda-branded domestic operation and 42% at smaller Citilink. Traffic growth at the Garuda brand has slowed sligthly in 2012 but remains in the high double digits while Citilink continues to expand very rapidly on a small base. The trend of higher domestic growth compared to international is continuing.
Garuda expects to end 2012 with a group fleet of 105 aircraft including 20 aircraft at Citilink (13 A320s and seven 737 Classics). Its mainline fleet will include five CRJ1000s, 63 737s (55 -800NGs and eight Classics) and 17 widebodies (15 A330s and two 747-400s). While the 747-400s will be phased out from scheduled services in 2013 and replaced with 777-300ERs, Garuda plans to retain the aircraft and convert them to all-economy configuration for use on charter flights. The all-economy 747s will be particularly useful during the Hadj pilgrimage season, when Garuda typically leases in several additional aircraft.
Garuda currently serves just over 30 domestic destinations along with 12 in Asia, three in Australia, two in the Middle East and one in Europe. In comparison, the Lion Air group (including Wings Air) serves approximately 60 domestic destinations but only five in Asia and two in the Middle East.
Garuda network summary: 05-Jul-2012
Garuda Asia Pacific network: 05-Jul-2012