Saudi Arabian Airlines, now known as Saudia, joins SkyTeam and adds 35 destinations
Analysis
Flag carrier Saudi Arabian Airlines formally joined the SkyTeam alliance on 29-May-2012, becoming the alliance's 16th global member and first member from the Middle East. The carrier also used the occasion to re-brand, adopting its old name of "Saudia". The membership in SkyTeam of Saudia, the fourth largest carrier in the Middle East based on ASKs, along with the impending membership of Lebanon's Middle East Airlines, will fill the long-standing Middle East black spot in the alliance's global network coverage. Rivals Star and oneworld already have members from the Middle East/North Africa region.
Saudia's membership provides SkyTeam with access to 35 new destinations, on top of the 926 destinations in 173 countries already served by the alliance's members. Most of the destinations that Saudia adds are located in the Gulf region and wider Arabian peninsula, although there are also several destinations in South Asia that will be added.
Saudia network summary: 03-Jun-2012
The addition will also give SkyTeam a number of regional hubs and coverage in an area that its rival alliances have been in for several years. oneworld was the first alliance to accept a Middle East member, when Royal Jordanian airlines joined in Apr-2007 following an 18-month implementation and integration process. Star Alliance was the next to secure a partner from the Middle East and North Africa region, when EgyptAir joined in Jul-2011.
State-owned Saudia has been lining up for SkyTeam membership for some years, signing a number of codeshare agreements with core alliance members including Air France-KLM. The formal entry process commenced in Jan-2011, when Saudia signed an agreement to join the alliance. The carrier subsequently launched a programme to improve all its operational areas to meet SkyTeam requirements.
See related article: Saudi Arabian Airlines prepares to join SkyTeam
Saudia's entry will see SkyTeam overtake Star as the largest alliance in the Middle East, according to the CAPA Alliance Predictor Tool.
Alliance share of Middle East traffic (% of system ASKs): 28-May-2012 to 03-Jun-2012
Once all pending members join alliances – including MEA to SkyTeam, MAS to oneworld and others – SkyTeam will receive a further boost while oneworld grows marginally.
Alliance share of Middle East traffic (% of system ASKs) assuming all pending members join: 28-May-2012 to 03-Jun-2012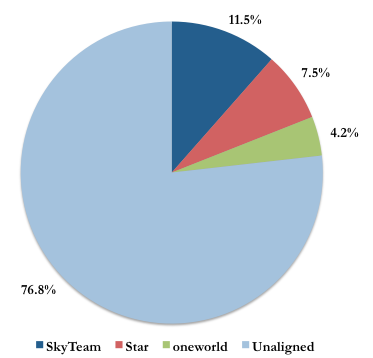 Even excluding domestic networks – Saudia's domestic network comprises 27% of current ASKs (see Background information) – SkyTeam will grow healthily and maintain its leading position, although unlike all other regions the vast majority of traffic is unaligned.
Alliance share of Middle East traffic (international ASKs): 28-May-2012 to 03-Jun-2012
Saudia is one of the Middle East's oldest and largest carriers, having operated since 1945 and expanded in recent year to a fleet of almost 140 aircraft. It handled over 18 million passengers in 2010, about 10 million internationally and 8 million domestic passengers from its three main hubs at Riyadh, Jeddah and Dammam.
The carrier's domestic network stretches across 28 destinations, including the important pilgrimage destination of Medina. Saudia has the largest domestic air travel market in the Middle East, with Saudia controlling almost 90% of domestic capacity. The majority of the new destinations that Saudia brings to Skyteam's coverage are these Saudi domestic airports.
Saudia international vs domestic capacity share (% of seats and ASKs): 28-May-2012 to 03-Jun-2012
| Seats | ASKs |
| --- | --- |
| | |
The domestic market has generally been a loss-making proposition for Saudia. Despite prevalent government subsidies and fuel discounts, there is a stringent domestic fare cap in place and the smaller domestic airports are only lightly trafficked. There is some hope that the fare cap will be raised in the near future though. Saudi Arabian General Authority of Civil Aviation has submitted a study to the Supreme Economic Council, reportedly highlighting that airfares in the country are up to 50% lower than in than in other Arab countries. The council is now considering a revision to the domestic fare cap.
Saudia network map: May-2012
In the domestic market, Saudiaa now faces just a single competitor, nasair, which launched in 2007, after the Saudi Arabian General Authority of Civil Aviation ended Saudia's 50-year domestic monopoly. The opening up of the market has not been as successful as desired; Sama, the other LCC launched in Saudi Arabia in 2007, folded with nearly USD200 million in debt in 2010. The GACA has launched a tender for bidders for licences to operate international and domestic services form Saudi Arabia. 14 bids were submitted with new licences to be issued as early as Sep-2012.
See related articles:
Saudia's international network covers most of the Gulf region and wider Middle East, as well as strong connections into Northern Africa, the Indian subcontinent and Europe. It serves 52 passenger destinations year-round, as well as a few seasonal destinations.
The carrier's dedicated cargo arm operates freighter services to 14 destinations globally. Saudia also operates to a wide range of destinations across the Muslim world, providing dedicated charter service for the Hajj pilgrimage period. The carrier transports more than 750,000 passengers on pilgrimage charters every year.
Saudia's membership the SkyTeam will add around a dozen new, year-round international routes to the alliance's network coverage. Five of the new destinations are located in the Middle East and North Africa: Alexandria and Sohag in Egypt, Aden and Sana'a in Yemen and Mashhad in Iran.
New international destinations added to SkyTeam coverage: 29-May-2012
| City | Country | Airport |
| --- | --- | --- |
| | | |
| | | |
| | | |
| | | Bandaranaike Airport |
| | | |
| | | Jinnah Airport |
| Kochi | | |
| | | |
| | | |
| | | |
| | | |
| Sana'a | | Sana'a Airport |
| Sohag | | |
Saudia's strong South Asian network will also be of benefit to SkyTeam. New destinations include three and both Pakistan and India and year-round service to Colombo in Sri Lanka (SkyTeam member Aeroflot only operates seasonal service to Colombo).
Saudia undergoing transformation
Membership in SkyTeam also brings with it the expectation of certain standards in service and interoperability with other carriers in the alliance. Saudia is in the middle of a major modernisation and restructuring process, launched in 2010 and due to be completed in 2013 to coincide with the planed privatisation of the airline.
In 2010 and 2011 the airline completed an upgrade of its IT systems and migrated to the Amadeus GDS. The airline also has a strong IT and distribution relationship with Sabre.
Saudia is in the midst of a major fleet renewal programme. The carrier has phased out all of its MD-90s, replacing them with a mix of A320 family aircraft. The carrier's older generation Boeing 747s are being replaced with a mix of A330 and 777-300ER equipment. The airline's last 747-300s are due to be replaced by Oct-2012. The carrier also has 787s on order.
While systems and fleet modernisation is underway, the carrier is also in a long-running privatisation process. The privatisation of the airline has been moving in fits and starts since 2006, but appears to have entered another active phase, after talks with the Saudi Arabian Ministry of Finance earlier this year to resolve debt issues.
Under the privatisation plan, the airline has transformed its six strategic units into companies that it is now the process of selling each off. Minority stakes in its catering and freight units have already been sold to strategic investors. The Saudi Arabian Capital Market Authority (CMA) granted it approval last week for an initial public offering of 30% of the shares in its catering unit.
The privatisation process is due to be completed in by the end of 1H2013, with an IPO of its mainline passenger business. In 2010, the carrier announced that it would further split its airline business into three units, serving different business areas. The main business would be responsible for scheduled domestic and international operations. Another would be established to specialise in handling pilgrimage traffic. The third would cover VIP traffic, including the Royal Flight for the Saudi royal family and other dignitaries.
Saudia is a reasonable fit for SkyTeam, although options are not exactly overwhelming. The region's largest carriers – Emirates, Qatar Airways and Etihad Airways – have been content to pursue their own growth strategies separate of the alliance system, most notably Emirates which has been voluble in its opposition to the alliance concept.
The region's smaller carriers, such as Gulf Air and Kuwait Airways, come with their own problems, most notably heavy losses and unclear futures. Gulf Air is seeking alliance membership, announcing last year that it was in talks with "several" alliances. Current CEO Samar Majali helped orchestrate Royal Jordanian's entry into oneworld. Oman Air is settling down after rapid growth and as part of its return to profitability could examine alliance options, although being focussed on serving Oman as a destination in its own right, the carrier would want to maximise geographically relevant partnerships and not be restricted, as would happen in an alliance scenario.
Saudia expects SkyTeam membership to boost yields by increasing its attractiveness to foreign travellers and business passengers, although the carrier intentionally retains a low profile, as does its country, with no aspirations to be a network carrier like Emirates, Etihad or Qatar or to build Saudi Arabia as a tourist destinations, as Oman Air is doing for Oman.
The carrier intends to expand its reciprocal codeshare relationships with its new alliance partners. Saudia already services several key SkyTeam hubs, including Rome Fiumicino (Alitalia), Paris CDG (Air France), Guangzhou (China Southern), New York JFK (Delta Air Lines), Nairobi (Kenya Airways) and Jakarta (Garuda Indonesia, due to join SkyTeam in 1Q2013).
Saudia already codeshares with Air France and Kenya Airways. SkyTeam member Delta, however, previously stated it will not codeshare or have reciprocal frequent flyer benefits with Saudia. Delta's announcement came in Jun-2011 after a sensationalist and inaccurate web report went viral claiming Delta would ban passengers claiming Jewish identity. Some even lampooned Delta for supporting Saudia's entry, leading to Delta's nearly unprecedented decision. Delta also sought to distance itself from SkyTeam, repeatedly noting SkyTeam is based in Amsterdam. Delta has since relaxed its position, saying it will offer reciprocal lounge access as well as frequent flyer miles (these benefits are generally mandated by alliances).
Saudia's greater focus on point-to-point than network traffic, as well as its reserved status, makes for a smoother addition to SkyTeam compared to inducting one of the region's network carriers, which would be far more intricate but also bring greater benefits. Saudia's membership in the alliance gives SkyTeam access to the high-growth Middle East region, delivering strong regional feed for the long-haul services of the heavyweight alliance anchors.