Air Seychelles, restructuring, gets fourth CEO in as many years
Analysis
Air Seychelles, which has reported its second consecutive year of losses in the FY2010/2011 period, has embarked on a restructuring programme under its new CEO. The carrier is crucial to the Seychelles' tourism industry and has a renewed focus on the sector. Over half of all air arrivals reach the country on Air Seychelles flights, but the carrier has been struggling in recent years from high fuel prices and rising competition, particularly from Middle Eastern network carriers.
Improving connectivity to Europe is important as most of the island nation's tourism comes from France, the UK, and as of 2009, Russia. Developing new source markets is vital but has proven difficult, as seen through Air Seychelles' continuing attempts to establish an Asian hub.
Air Seychelles' new CEO, Bram Steller, took office on 01-Oct-2011, replacing Maurice Loustau-Lalanne. Mr Steller is the carrier's fourth CEO in as many years.
The new CEO appointment is part of the airline's restructuring efforts to shift its marketing focus towards "quality tourism". Mr Steller was previously the COO at Kenya Airways and is on a two-year contract with Air Seychelles. His objective is to manage the turnaround, pursue growth, develop a highly-skilled and customer service focused team of staff, and restore profitability. Air Seychelles recently reported losses of EUR12.5 million for FY2010/2011.
Another significant executive movement was the retiring of Capt. David Savy in Mar-2011, who held the position of Executive Chairman. Air Seychelles plans to phase out the position of Executive Chairman and instead have a Non-Executive Chairman oversee the carrier together with other board members.
In Jan-2011 local reports said that Air Seychelles, who has not denied the reports, was considering privatisation and that it has contacted Emirates and Qatar Airways to consider becoming partner airlines. Progress has been, and is likely to remain, slow given the airline's poor financial performance. Emirates and Qatar Airways are also direct competitors of Air Seychelles. Air Seychelles has received three government loans of amounts ranging between SCR30 million (USD2.4 million) to SCR150 million (USD12.1 million) since 2007.
Air Seychelles recently unveiled its new logo and livery as part of its re-brand, which it claims focuses on nature with a more "leafy" effect.
Air Seychelles' new logo (top) and old logo (bottom)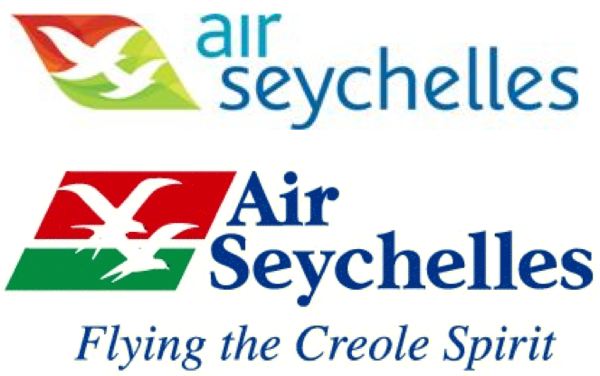 Renewed focus on high-yield tourism as Middle Eastern carriers grow their presence in the market

The Seychelles is a small but increasingly competitive market with over 18,000 seats in the country per week. The Seychelles government has a fairly liberal aviation policy and recently granted Emirates permission to launch two extra weekly services, meaning that by the end of 2011, the Dubai-based carrier will serve the island nation 14 times a week. This will bring Emirates' total capacity in the market to over half of Air Seychelles'.

Seychelles capacity per week by carrier: 10-Oct-2011 to 16-Oct-2011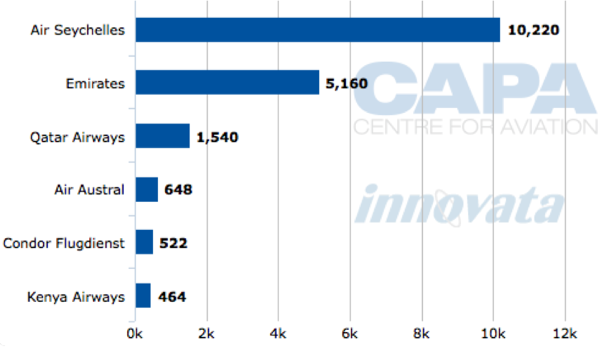 Air Seychelles is struggling to compete with the Middle Eastern network carriers that can consolidate traffic from key traditional and emerging source markets from points across their networks over their powerful hubs. Given the absence of an Air Seychelles link to North Asia, Emirates and Qatar Airways are primarily responsible for transporting the approximately 3,000 arrivals from North Asia in 2010. Air Seychelles' limited European network means the Gulf carriers are playing a vital tourism role in the Seychelles' main markets.
Tourism remains strong from European countries
Tourism is a major pillar of the Seychelles' economy and provides more than 70% of the nation's hard currency earnings, and employs more than 30% of the labour force. France, the UK, Germany and Italy are consistently the countries with the largest number of visitor arrivals per year. Purpose for visit is almost always leisure. Of the total 178,160 tourists that arrived in 2010, approximately 90,000 travelled by Air Seychelles.
Seychelles' visitor arrivals by purpose: Jan-2011 to Aug-2011
Over 8% of seats arriving at the Seychelles' largest airport, Mahe Island International Airport, are business class and 2% are first class, which is considerably higher than the worldwide airport total of 4.9% business seats and 1.5% first class seats. In an effort to appeal to high yielding tourists, Air Seychelles recently opened its "Vallee de Mai" lounge for first and business class passengers.
Mahe Island Seychelles International Airport schedule by class of seat - one way weekly departing seats: 10-Oct-2011 to 16-Oct-2011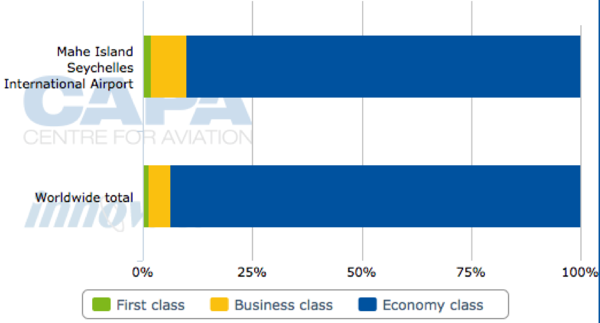 Air Seychelles, along with Air Mauritius, Air Austral, Air Madagascar and Comores Aviation, are part of the Vanilla Islands Tourism Group. The aim of the group is to promote tourism and encourage higher spending through twin and three-island group packages for travellers. While the group is collaborating to increase tourism, they are also competing within themselves to win business. Another important goal of the group is to improve the quality of tourism and generate more revenue from higher yielding tourists. The twin-island packages are one attempt to attract this type of traveller. The group has strong interest in attracting families and high-end leisure travellers that may fill business and first class seats, but most importantly have disposable income to spend at their destination.
For more information about the Vanilla Islands Tourism Group, see related article: Air Mauritius' profits grow in FY2011: looking to emerging markets
Air Seychelles, Air Mauritius, Air Austral, Air Madagascar, Comores Aviation comparison
| | | | | | |
| --- | --- | --- | --- | --- | --- |
| Base | | | La Reunion | | |
| Fleet in service | 10 | 15 | 11 | 11 | 1 |
| Fleet on order | 3 | 0 | 3 | 0 | 0 |
| Number of destinations served in Africa | 2 | 6 | 11 | 4 | 9 |
| Number of destinations served total | 10 | 23 | 19 | 7 | 9 |
| Total tourist arrivals in home country* | 178,160 (2010) | 934,827 (2010) | 400,000 (2010)** | 375,000 (2008) | 15,000 (2007 |
Air Seychelles one of five African airlines with B787s on order
Air Seychelles has a small fleet of just 10 aircraft. It operates a mix of Boeing, Bombardier and de Havilland Canada aircraft, and uses B767 equipment on its long-haul routes. Air Seychelles has two B787-8s on order, which it expects to receive some time in 2013.
Air Seychelles plans to deploy the aircraft on its existing routes (to Asia, Europe and intra-Africa) and has not yet announced plans to launch any new destinations with the B787, although its website says the aircraft will have the potential to be "opening up direct routes that were never before possible". The carrier selected the B787 type to increase capacity on core European routes to raise its competitiveness against the 'one-stop' Middle Eastern network carriers. Boeing's typical three-class configuration for the B767-300 is 218 seats; for the B787 it is 242 sears.
Africa's share of B787 orders is the smallest of all regions, with the continent's airlines having just 32 orders for the aircraft. East Africa will see the greatest number of B787s enter service, with three carriers from the region having ordered the jet. Ethiopian Airlines has the largest order of B787-8s, with 10. Air Austral is so far the only African carrier to have ordered A380 aircraft.
B787 orders by African carriers: through Oct-2011
| Carrier | B787 type | Number on order | Region |
| --- | --- | --- | --- |
| | -8 | 10 | |
| | -8 | 9 | |
| | -9 | 7 | West Africa |
| | -8 | 4 | |
| | -8 | 2 | |
| | Total: | 32 | |
See related article: Boeing Dreamliner delivery to ANA begins 787's Asia-Pacific dominance
A limited network that relies heavily on Europe
Air Seychelles operates a limited network that focuses on far-flung leisure source markets. As such, its network largely excludes the African continent. This is largely due to low trade levels and tourism flow between Seychelles and other African countries.
Air Seychelles has one codeshare partner, Air France, which it partners with on services to Bologna, Florence, Reggio, Marseille and Madrid.

Air Seychelles' international route map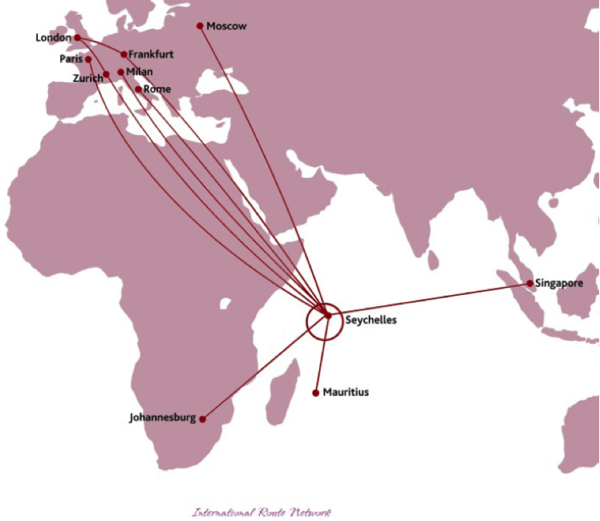 Air Seychelles had hoped to expand in Asia through tag-on flights from its Chennai service. But the Chennai link was suspended in Jun-2011 after seven months of operation, due to low passenger demand. The carrier has not yet announced plans to resume the service. Chennai was planned to become the hub of Air Seychelles' operations in Asia and as a base for further expansion into India and other Asian destinations, however high costs at Chennai Airport resulted in Air Seychelles incurring heavy losses on the route, even though the carrier was initially confident the high level of business and medical travellers would make the route successful. Then-CEO Maruice Loustau-Lalanne stated the absence of fifth freedom traffic rights to transport passengers between Chennai and Singapore was the reason for the losses and inevitable suspension. Air Seychelles launched service to Bangkok in Dec-2007, but this route also proved to be loss-making and was axed in Jun-2008.
At the same time the Chennai service was suspended, Air Seychelles resumed its direct service to Singapore. The carrier will refocus its Asian expansion plans through Singapore, which could prove to be more successful, as the Seychelles has a stronger trading partnership with Singapore than it does with India. In 2008, Air Seychelles also planned to launch service to the Maldives via Johannesburg however this venture failed as well and the service was suspended the same time as the Chennai operation.
Air Seychelles launched service to Moscow in 2009. That year the Seychelles reported 8,098 Russian visitor arrivals, making Russia the sixth largest country by visitor numbers to the Seychelles – just behind South Africa. In 2010, Russian tourist numbers rose slightly to 8,942. The surge is impressive considering before 2009, the Seychelles recorded zero Russian tourists reaching back to 1983.
In Jul-2010 the Seychelles and South Korea ratified an air services agreement in the hopes of improving tourism links, however the agreement has so far had little impact of the number of tourist arrivals.
Outlook

Air Seychelles has several challenges ahead of it: slow economic growth in many of its traditional source markets, rising competition from Middle East carriers and stubbornly high fuel prices. These are a difficult set of circumstances for an 'end-of-the-line' tourism-dependent carrier. The airline is being proactive, and has the chance to reorganise under a new management team. Its new B787s will raise its competitiveness on core markets where it can offer non-stop services, which should attract a premium over one-stop rivals. This fits its renewed focus on high yielding tourist, who would prefer to spend more time at the Seychelles resorts than airport transit lounges.
Background information
Air Seychelles' restructuring efforts have been ongoing since 2008 when Rajiv Bissessur was appointed CEO, filling the position of Mr Savy. The carrier, in light of encouraging tourism growth and increase in hotel developments, decided it needed to strengthen its management and keep up with "future challenges". During the restructuring process Air Seychelles was criticised for poor customer service and suffered numerous minor safety incidences that damaged its reputation. While redundancies may seem like a natural step in a restructuring process, Air Seychelles stated none of its 890 staff will lose their jobs.
Strong trade links with EU
The Seychelles' main industries include tourism, fishing, processing of coconuts and vanilla, coconut fibre, boat building, printing, furniture and beverages. Agriculture is a minor industry in the Seychelles and its main export products include coconuts, cinnamon, vanilla, sweet potatoes, tapioca, copra, bananas, poultry and tuna.
The strongest trading partners of the Seychelles are EU states, followed by Saudi Arabia and South Africa. Asian countries, such as Singapore, Japan, Thailand and Malaysia are significant trading partners of the Seychelles as well, which is the reason the carrier is looking to expand and establish a hub in Singapore. African countries typically have a strong trade relationship with the US, however trade and tourism links are low between the US and the Seychelles.
Seychelles' trade with main partners: 2010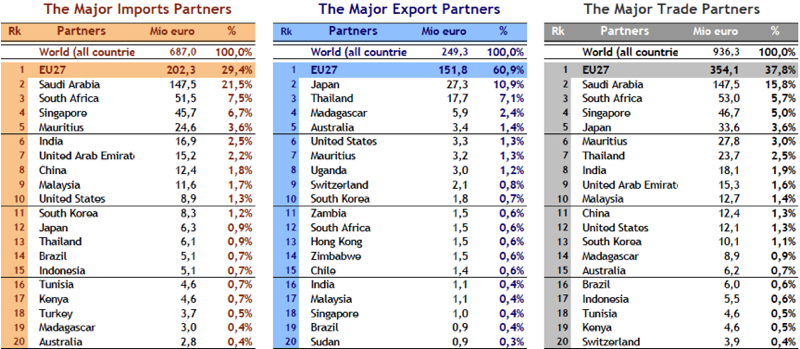 Two Middle Eastern carriers operate to the Seychelles, reflecting the region's large capacity share. Emirates has been heavily involved in promoting the Seychelles, particularly in the US with various special offers. It announced in Mar-2011 plans to double services to the Seychelles by introducing a 14 times weekly service by the end of 2011. Etihad will begin service to the Seychelles on 01-Nov-2011, using A320 equipment, with a four times weekly frequency.
Seychelles international capacity by region: 10-Oct-2011 to 16-Oct-2011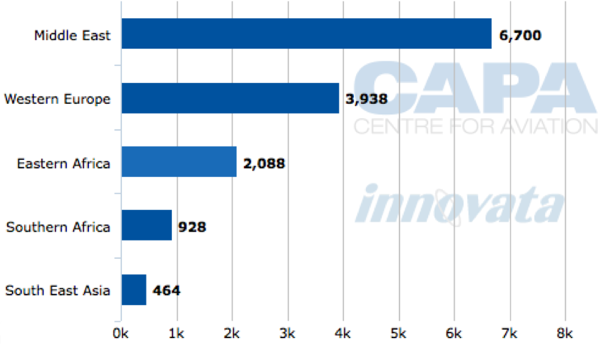 Air Seychelles, Air Mauritius, Air Austral, Air Madagascar destinations served with own aircraft comparison
| | | | | |
| --- | --- | --- | --- | --- |
| | | | | |
| | Milan | Milan | | |
| | | | | |
| | Rome | | | |
| | | | | |
| | | | | |
| | Moscow | | | |
| | | Saint-Denis (La Reunion) | Saint-Denis | Saint-Denis |
| | Johannesburg (South Africa) | Saint-Pierre (La Reunion) | Saint-Pierre | |
| | | | | |
| | | Johannesburg | | Nairobi |
| | | | | Anjouan Ouani (Comoros) |
| | | | Tamatave (Madagascar) | Johannesburg |
| | | Nairobi (Kenya) | | |
| | | | | |
| | | | Dzaoudzi (Mayotte) | |
| | | | | |
| | | | Johannesburg | |
| | | | | |
| | | | | |
| | | | | |
| | | | | |
| | | | | |
| | | | | |
| | | | | |
| | | | | |
| | | Shanghai | | |
| | | | | |
| | | | | |
| | | | | |
| | | | | |