European woes force changes for the better at Indian Ocean carriers, with Air Austral the latest
Analysis
Hardest hit from the European economic situation, aside from the carriers that have collapsed, are far away from continental Europe in the Indian Ocean, which contains the self-proclaimed Vanilla Islands grouping of countries: La Reunion, Madagascar, Mauritius and Seychelles. These nations' carriers are largely dependent on European leisure traffic, which has evaporated in the dual threat of weakening economies and high fuel prices that provide no stimulation to whatever demand is left.
The starkness of the situation has been demonstrated most recently by Air Austral, which over the northern winter will reduce its long-haul network to a single destination and will postpone – or possibly cancel – its order for two Airbus A380s, following it being unable to pay for a new Boeing 777 awaiting delivery. Air Austral is also looking to partner with Air Mauritius to maintain a connection to Australia, a further sign that the situation in Europe is forcing the Vanilla Island carriers to make medium/long-term strategy changes that will finally strengthen them. Etihad Airways earlier this year acquired a stake in Air Seychelles and is now lending management oversight to the Seychelles flag carrier while the region's other carriers have conducted overdue network reviews.
Urgent need to stem losses
Air Austral is in financial straits, unable to pay for a 777-200LR that has been awaiting delivery fresh from Boeing for some weeks, according to local reports. Former Air France and SkyTeam executive Marie-Joseph Malé has replaced retiring Air Austral founder and CEO Gerard Ethève. Mr Malé said Air Austral has a deficit of EUR8.4 million and a loan of EUE161 million, EUR55 million of which must be repaid within a year.
Preliminary FY2011/2012 accounts reflect an EUR48 million operating loss on revenue of EUR415 million, a -12% margin, significantly worse than Air France-KLM's -1% or American Airlines' -4% operating margin. Air Austral's final annual figure will be weakened following the outcome of the 777-200LR awaiting delivery and which Air Austral wants to sell. Additionally, 53 of approximately 1000 staff will leave the carrier, which Air Austral says will be done through non-renewal of contracts.
Mr Malé has not wasted time since his 20-Apr-2012 arrival at the company, implementing the restructure in a matter of weeks and announcing a search to – optimistically – receive new shareholders within two months. "Time is running out," he is quoted as saying in local reports, although he also expects the restructure to see the carrier break-even by 2014. Air Austral is 46% owned by Reunion councils. Reunion is an overseas department of France.
Seven cities – and possibly A380s – to go at Air Austral
Air Austral for its northern winter 2012 schedule will whittle its long-haul network to only Paris, cutting services to the French cities of Bordeaux, Lyon, Marseille, Nantes and Toulouse as well as its Oceanic destinations of Noumea and Sydney. Air Austral last year had planned to suspend Noumea and Sydney services (the two are served by the same route) but reversed the plan earlier this year. The carrier's twice-weekly 777-200 service to Bangkok will also be down-gauged to a 737 with a stop in Chennai, India.
See related articles:
Services from Reunion to Sydney-Noumea, Marseille-Bordeaux, Marseille-Toulouse and Lyon-Nantes were to be each operated twice weekly. Air Austral intends to boost its Paris service, previously scheduled to be operated daily, to allow for daylight and evening flights on certain days of the week but the schedule is yet to be confirmed, and could even prove to be too optimistic. The changes are so far for the northern winter schedule, but short of a spectacular European recovery and further drops in fuel prices, it is difficult to see Air Austral fully resuming its network.
Depending on the final details of Paris services, Air Austral could reduce its weekly seats by approximately 12-25%.
Air Austral top 10 international routes by weekly capacity (seats): 29-Oct-2012 to 4-Nov-2012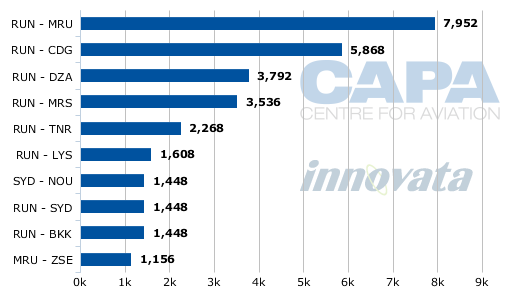 Air France and Corsairfly, both of which will offer near double daily services to Reunion over the winter, have Paris as their sole European origin. Both benefit from local marketing presence and distribution and Air France also has its European network, significant advantages that overcome their operation to Reunion with 747-400s (and some 777s in the case of Air France), details Mr Malé would be well familiar with given his years at Air France.
Saint Denis de la Reunion Gillot Airport capacity (seats) by carrier: 29-Oct-2012 to 4-Nov-2012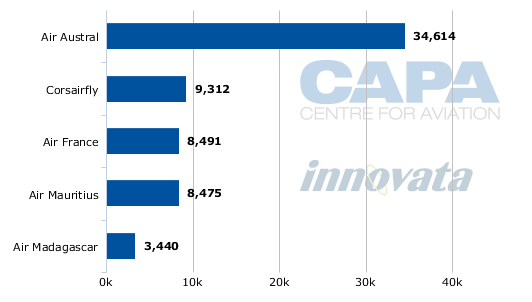 There is little premium traffic to Reunion, evidenced by the densely configured aircraft the carriers deploy as well as Air Austral's intention to outfit its A380s in an all-economy layout. When the A380 was ordered in Jan-2009 the market was in an upswing and conditions were better than today. As a result, the carrier was optimistic – perhaps too much so – about its potential, much of which was to do with founder Mr Ethève not recognising the changing aviation world around him. Air Austral's network pruning is suddenly and harshly bringing the carrier to reality.
Air Austral capacity share (% of seats) by region: 29-Oct-2012 to 4-Nov-2012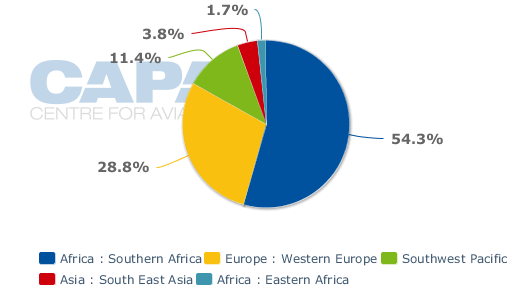 Air Austral has told the local press it will postpone its A380 order and an outright cancellation is possible, although Airbus would only confirm any discussions were private. Air Austral intends to settle its A380 order by the end of Jun-2012.
Air Austral will be challenged to receive its deposits back – it has so far spent EUR30 million – but could look to apply funds to aircraft like the A330 or A350 that are more ideally suited to Air Austral's long and thin routes, enabling consistent capacity without large swings. United Airlines, although on a different scale than Air Austral, intends to use its Boeing 787s on counter-seasonal routes, especially to Australia and India, where demand lags certain times of the year but existing medium-range widebodies cannot reach the markets, forcing it to deploy less favorable long-range widebodies. There are lessons in that strategy for Air Austral. While profits may be lower at peak seasons, reduction of losses during the off season will make up the shortfall. Air Austral previously intended to shed its older 777-200ERs (it also operates -200LRs and -300ERs) and could, depending on the A380 outcome, further adjust its fleet.
Air Austral Fleet Summary: as of 24-May-2012
Air Austral announced it is evaluating a partnership to have a virtual presence in Australia, which local reports indicate would mean partnering with Air Mauritius. Air Mauritius serves Melbourne, Perth and Sydney but later this month as part of its restructure will suspend Melbourne and Sydney, leaving it with only services to Perth. (Elsewhere in the Vanilla Islands, Air Madagascar has made fleet changes and will strengthen its position in Asia.)
Air Austral would need to evaluate an additional, and convoluted, arrangement for services to elsewhere in Australia and onwards to Noumea in New Caledonia. Noumea was the real attraction for Air Austral but ruled out non-stop services in favour of a routing via Sydney. Air Austral also marketed its onward flights to France as a Kangaroo route alternative. Aircalin, the carrier of New Caledonia, codeshared on Air Australia's Sydney-Noumea service. Aircalin only serves the eastern part of Australia, further straining Air Austral to maintain a link to Noumea.
Despite these challenges Air Austral is right to look at partnerships with its neighbours. The days of tiny countries or territories maintaining their own expansive long-haul networks is simply over. Prior to Etihad's stake in Air Seychelles, Air Austral and Air Seychelles were to cooperate on services to Europe, with Air Austral operating a Reunion-Mahe-Paris link.
In another island grouping, the South Pacific, the neutrally-named Fiji-based Air Pacific had envisioned it acting as the carrier for the multiple countries in the region. But national pride took precedent and the countries established – and are now supporting – their own individual carriers with mixed results. In an affirmation Air Pacific's cooperative vision is long dead, the carrier intends to re-brand as Fiji Airways. In another enclave, carriers representing the former Yugoslavia are exploring a potential merger as well as alternatives for cooperation which could involve fleeting sharing and joint routes.
With investors elusive, Air Austral needs to find its own path
Being unable to pay for an aircraft awaiting delivery gives a sizeable introduction to the challenges facing Air Austral. The usual network readjustments as well as cutting the more lavish order of A380s are well in order, but Air Austral will be challenged to find a partner willing to invest in an end-of-line carrier dependent on leisure traffic, unless the partner makes the investment out of pleasure.
Etihad's stake in Air Seychelles is strategic, with the Seychelles offering potential geographic advantages over Abu Dhabi for Africa-China routes. Similar benefits are elusive further south in Mauritius and Reunion, limiting connections. One island standout is the Maldives, which has seen tremendous growth – including from airlines – on the back of Chinese demand. But the Maldives are boosted with closer geographic proximity to China than the Vanilla Island carriers, whose talk of looking at Asian markets has produced mixed results.
See related article: Etihad Airways stake in Air Seychelles gives 'realistic way forward' to the island carrier's future
Perhaps Mr Malé is pondering if it makes sense for three airlines to link Paris and Reunion or if there could be consolidation, or deeper ties with neighbouring carriers, namely Madagascar and Mauritius. In the Vanilla Islands and elsewhere, survival has eclipsed national pride.