Qatar Airways buys 10% of oneworld's LATAM, to add to its 15% in IAG
Analysis
Enter Qatar Airways. As Etihad Airways looks to bed down its investments in other airlines, Qatar is gradually expanding its airline investment portfolio. Qatar's 15% stake in IAG is now being followed with a 10% stake in LATAM for USD613 million – nearly 1.5 times Qatar's net profit of USD446 million, disclosed (for the first time) on the day prior to the LATAM equity announcement. It is a safe investment; LATAM group has a strong market position and its share price has remained strong even in the face of a brutal downturn in Latin American economies.
Qatar gives LATAM needed cash and a distant shareholder. Latin America is the smallest market by far for Gulf airlines, but while currently in the economic doldrums, has a longer term potential for growth. It is also a key future market for US airlines, albeit very small on the Gulf airlines' networks. Qatar is spending nearly EUR2.5 billion on equity investments, still smaller than Etihad's but illustrating a willingness to acquire airline assets, for investment and strategic reasons. In this case the immediate strategic purpose for Qatar is less apparent.
Star Alliance's privately owned Avianca is also considering a strategic shareholder; that would mean five of Latin America's eight largest airline groups could have an airline investor from outside the region.
LATAM receives needed cash and a shareholder with limited demands
From the deal LATAM benefits, with little apparent downside. It receives cash – and a significant USD613 million at that – at a time when Brazilian competitor Gol has struggled to shore up new funding. In exchange, there is relatively little likely to be asked by its new shareholder. Qatar Airways CEO Akbar Al Baker is an active strategist, but the limited overlap between LATAM and Qatar few obvious synergies mean that any fundamental strategic differences are likely to be minimal.
Qatar is also the single largest investor in oneworld's IAG. Its nearly 15% stake is twice the size of that of the next investor. LATAM will be different. Qatar's shares are to be issued through new capital expected to be approved through an Extraordinary Shareholders Meeting no later than 02-Sep-2016.
IAG major shareholders: 28-Jun-2016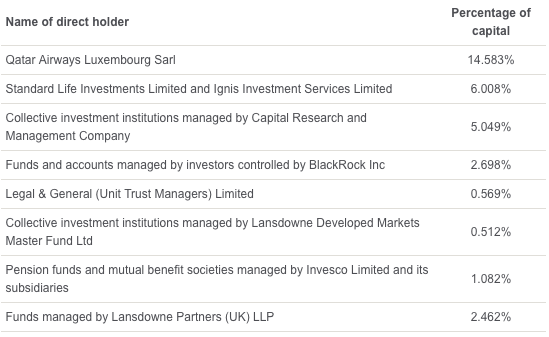 As of 31-Jan-2016 two individual shareholders of LATAM held larger than 10% stakes (16% and 12%), but this is prior to changes resulting from issuing new shares to Qatar.
At LATAM a few shareholders are part of a group, with the Cueto Group via various vehicles accounting for 25% of LATAM. Combined with other investors close to the Cueto Group, Qatar will have a smaller voice at LATAM than at IAG.
LATAM shareholder structure: 31-Jan-2016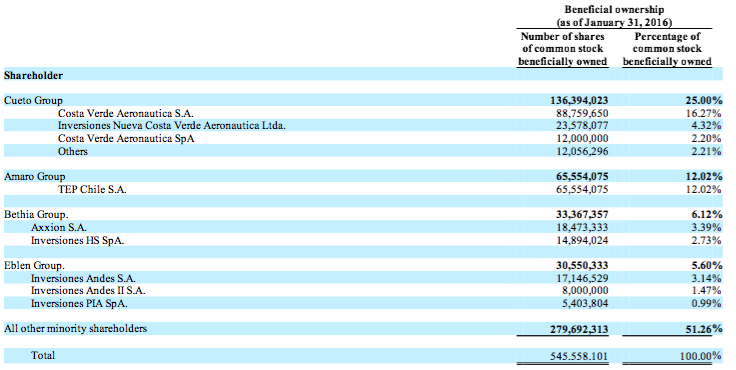 Arguably American Airlines or IAG would have been more relevant investors (to be discussed later), but their greater interest would accompany a corresponding increase in wanting to shape LATAM.
Qatar's investment could be read as a vote of confidence in LATAM's strategy, but few attribute any part of the group's current woes to mismanagement. In fact, until the recent economic downturn LATAM has won many accolades for its performance. As for reassurance, there are even fewer doubting whether the continent's largest (by far) airline group would be endangered.
Airline investments from Gulf airlines and HNA have complex motives, and their strategic value is not always or likely to be immediate. An investment from American Airlines or IAG instead would be much more readily absorbed.
LATAM does not fly to the Middle East or Asia – which is true of most Latin American airlines (Aeromexico serves Tokyo and Shanghai). Approximately one third of TAM's international ASKs go to each of Europe and North America.
International ASKs make up 44% of TAM's system ASKs. International ASKs are 63% of LAN's network, reflecting the small size of the Chilean domestic network compared with Brazil. 20% of LAN's international ASKs go to North America and 14% to Europe.
LAN international ASK share by region: 11-Jul-2016 to 17-Jul-2016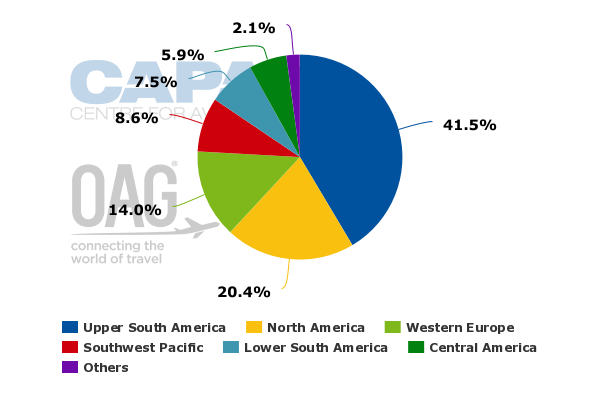 TAM international ASK share by region: 11-Jul-2016 to 17-Jul-2016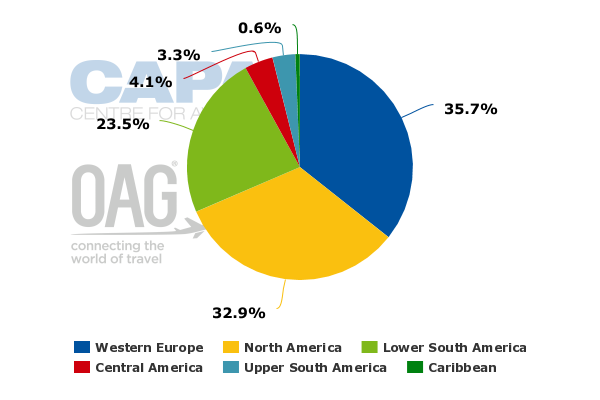 Overall, the LATAM Group's international footprint is mostly focused on traffic within Latin America and not to/from the region. Whatever appeal Qatar could bring as a partner willing to take on the risk of intercontinental links, there are greater synergies with LATAM's partners American Airlines and IAG/British Airways, which cover the markets that LAN and TAM do fly to outside the region and which also represent most of the region's intercontinental travel. Travel between the Middle East and Asia is limited, aside from Japan-Brazil traffic flows.
Few Asian airlines fly to Latin America. Korean Air and Singapore Airlines are ending São Paulo flights – their sole services to Latin America – while ANA will enter Mexico City. ANA's flight from Mexico City to Tokyo Narita, and those from Aeromexico between Mexico and Asia, are markets that are different from the traffic flowing between catchment areas around the LATAM group airlines and the Middle East and Asia – Qatar's backyard. Most of Qatar's Latin American traffic would be connecting beyond the Middle East.
Neither has Asia been a major consideration for Latin American airlines. Nonstops from South America to Asia are technically not possible. LATAM CEO Enrique Cueto said in a statement on Qatar's investment: "In addition to strengthening our financial position, it will allow us to explore new opportunities for connectivity with Asia and the Middle East, as well as other potential areas of cooperation".
This is a modest statement and suggests a medium-to-long term option of operating LATAM aircraft in the Middle East or Asia. In the short term codesharing is a likely course of action: LATAM group airlines do not currently codeshare on Qatar services, according to OAG data. LATAM does however codeshare with Cathay and JAL between North America and Asia. LAN and TAM both codeshare on British Airways within Europe, but not to Asia. Other connections between Latin America and Asia are available via a wide array of interlines – even via Sydney, for example.
Strong demand between North America and Asia, and Europe and Asia, makes it difficult to price Latin America-Asia itineraries as yields tend to be low. LATAM could bring Qatar the benefits of expanding its global recognition, and add value for its corporate accounts and frequent flyers. Yet these are too small by themselves to justify Qatar's large move; it bears all the signs of a long term investment.
Qatar Airways is larger than LATAM by ASKs, unlike its relativity to IAG
To put Qatar's investment into LATAM into perspective – in terms of seats offered LATAM is almost twice as large as Qatar Airways. TAM alone is slightly larger than Qatar. This is less disproportionate than when Qatar invested in IAG, offering almost three times as many seats as Qatar. British Airways alone has 54% more seat capacity than Qatar Airways.
See related report: Qatar Airways buys its 10% stake in IAG, showing it wants a serious relationship
Available seat capacity for IAG, LATAM and Qatar Airways Groups as well as British Airways and TAM:
11-Jul-2016 to 17-Jul-2017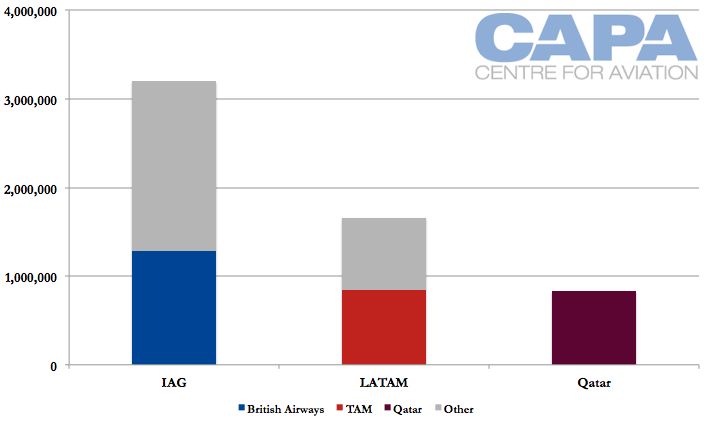 These figures are distorting as they include many domestic and international short haul flights, whereas Qatar operates many large-capacity long haul services.
On the basis of ASKs, Qatar is larger (+26%) on this metric than LATAM but Qatar is still smaller than IAG and British Airways. IAG has almost double Qatar's ASKs while British Airways has 8% more. All of these comparisons will change given Qatar's fast growth.
ASKs for IAG, LATAM and Qatar Airways Groups as well as British Airways and TAM: 11-Jul-2016 to 17-Jul-2017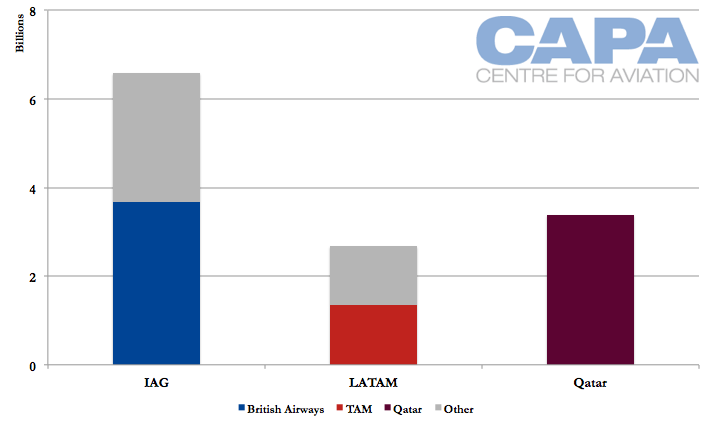 Despite being a bigger operation, Qatar Airways' revenue is lower than LATAM's. But profit is higher
Despite Qatar Airways being larger than LATAM in terms of ASKs, financially Qatar reported 3.2% lower revenue in the 12 months to 31-Mar-2016 than LATAM did in the 12 months to 31-Dec-2015. (Qatar disclosed its accounts, audited by Ernst and Young, for the first time on 10-Jul-2016.) There is to be some adjustment given the time periods, but the contrast is still stark.
There are several factors at play. In the soft Latin American LATAM is going through significant yield challenges and the nature of short flights means that costs – and thus, yields – are higher. Qatar's more long haul focus allows for lower yields. Qatar's heavy reliance on connecting passengers also translates to lower yields than result from the more O&D focus of LATAM.
Also a factor is revenue from group companies that are not involved in passenger flying. At a group level, cargo and passenger revenue represented 92% of Qatar's group revenue in the 12 months ending 31-Mar-2016 and ending 31-Mar-2015. For LATAM the share is higher, at 96-97%. However, Qatar's lower share of revenue from flying businesses means that excluding other group revenue pushes its revenue further reduced compared with LATAM's. Looking only at passenger and cargo revenue, Qatar's revenue was 7% smaller than LATAM's. A more precise comparison (but unlikely to make a significant change) would include freight capacity, but this is not possible with available disclosure.
Although LATAM's revenues may be higher, its operating profit was 61% of Qatar's while its net performance was a loss.
IAG, LATAM and Qatar Airways group revenue, operating profit and net profit: 2015/2016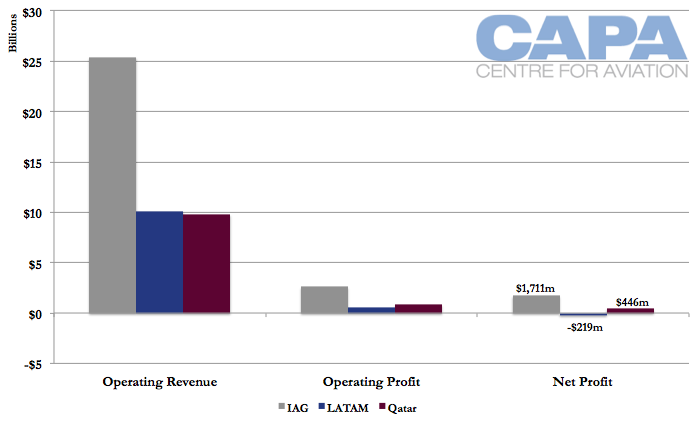 2015 was a depressed year for LATAM with revenues lower by 19% compared with 2014, despite passenger figures being down only 3%. In LATAM's year to 31-Dec-2014 its group revenues were approximately one third larger than Qatar's, bringing some better correlation between capacity and revenue. LATAM's loss was half as much, while Qatar's profit was a quarter of previous (the significant improvement in the 12 months to 31-Mar-2016 is from lower fuel prices). The net profit difference between LATAM and Qatar in 2014 (Qatar's year to 31-Mar-2015) was approximately USD212 million compared with a difference of USD665 million in 2015 (Qatar's year to 31-Mar-2016).
Of course, IAG outshines both airlines. In 2015 IAG's revenues were approximately 1.6 times the size of LATAM's or Qatar's, yet its net profit was 2.8 times greater.
See related report: LATAM Airlines Group has to undergo a delicate balance of short term pain for strategic gain
Latin America is not significant for Gulf airlines, but there is "strong underlying" demand between South America and China
The Qatar Airways announcement that it had bought approximately 10% of IAG shares (since increased) to attain a significant minority position had caused some surprise. It was recognised there were some broad factors in support – given the relations between the two groups and opportunity for further cooperation in important and strong markets for each airline.
Qatar's investment in LATAM was even less anticipated. Latin America is the smallest and least significant region, by far, for Gulf airlines. But, as LATAM CEO Enrique Cueto says, there is "strong underlying" demand between South America and China. Undoubtedly airline decisions and partnerships will influence the way this traffic flows.

To Latin America Emirates has two daily flights, one each to São Paulo and Rio de Janeiro (with tag service to Buenos Aires and local pick-up rights). Etihad and Qatar only serve São Paulo: Etihad as a terminating flight and Qatar with a continuing service to Buenos Aires. Emirates has announced (but postponed) a Panama City service that would enlist Copa as a partner, while Qatar has announced service to Santiago in Chile – potentially making it the first Gulf airline in Latin America outside Argentina and Brazil.
Outside those two countries, however, traffic rapidly decreases. LATAM's Santiago hub might appear to help, but whatever traffic LATAM could flow over Santiago to Qatar could just as efficiently flow over São Paulo.
The investment makes it likely that Qatar Airways could – in the medium term – consider launching Rio de Janeiro and increasing São Paulo.
Lima, if operationally possible, could also be a consideration given LATAM's presence there.
Average daily flights from Gulf airlines to long haul regions: 11-Jul-2016 to 17-Jul-2016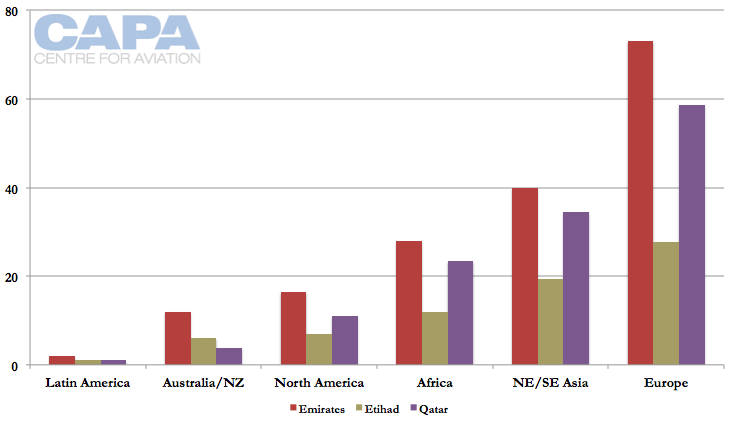 Latin America-Gulf growth prospects are limited for the time being
Besides the Latin America-Gulf market being small, growth potential is limited. Initially the prospects may seem bright: Airbus' 2016 market forecasts project a compound annual RPK growth rate of 9.3% between 2015 and 2035. This, of course, is from a low base; the Gulf airlines have more flights to secondary city Brisbane than to all of Latin America. The 9.3% growth is slightly higher than Airbus' forecast 8.1% for the Middle East to USA, which starts from a higher base: 34 daily flights (including a handful to Canada) in 2016.
Middle East-Latin America growth of 9.3% is nearly twice that of Middle East-Western Europe growth of 5%, but this is from a significantly higher base: 140 daily flights. For Latin America, traffic to the Middle East was forecast in 2014 to continue to account for only 1% of the region's travel.
Latin America traffic changes: 2013 (green)-2033 (black)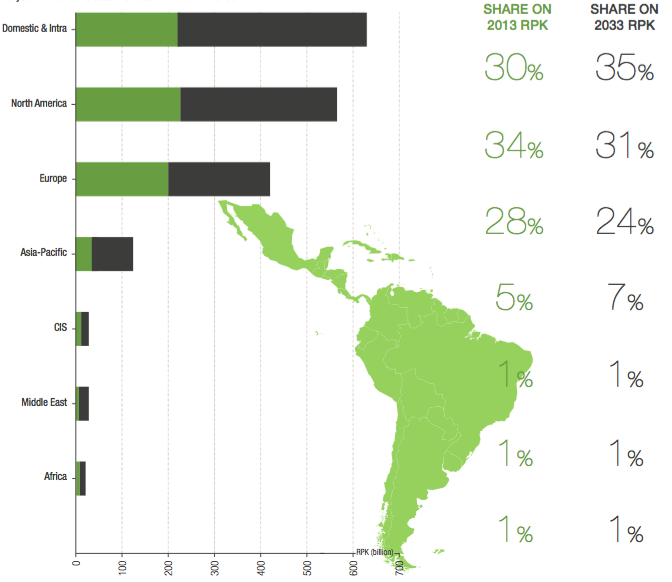 Not all traffic in the market will flow on Gulf airlines. Latin America has significant geography and European airlines, with their North American partners, can access far more Latin American cities for one-stop service to the Middle East than Gulf airlines can. Latin American trips to the Middle East are destined for a handful of Middle Eastern cities, most of which the European airlines serve.
Most traffic, of course, will connect beyond – mainly to Asia. Airbus' CAGR for Asia-Latin America is 6.1%. European and North American airlines are well positioned in this market, given their wider coverage of Latin America and Asia than Gulf airlines. Gulf airlines made quick market share gains in limited city pairs, but at relatively low yields. Some airlines – American Airlines, Air Canada – are looking to win back traffic as they grow ahead of demand and target sixth freedom connections.
See related report: Air Canada bets big on sixth freedom traffic flows in 2016
There are more readily obvious options for Qatar to invest, on routes where it already has a significant position; Virgin Australia for example. HNA intends to purchase 13% of Virgin Australia for approximately USD120 million. There are four daily Qatar Airways flights to Australia, with an Auckland service to bring the count to five. Qatar has spoken of adding further services if the bilateral cap is relaxed. Australia is strategically significant and connects well with Europe, a popular corridor of travel. Qatar is constrained in any partnership with its fellow oneworld airline Qantas due to the Emirates-Qantas JV.
This compares with Latin America where Qatar has one daily flight, although planned Santiago service would make for two daily flights. Strategically the region is not important to Gulf airlines and the traffic is largely leisure, as trade links grow only slowly. Partnerships are not an issue and Qatar could likely have preserved a LATAM partnership without equity being allowed. Investing in Virgin Australia for a fraction of the price would have helped Virgin in a significant yet aeropolitically constrained market. Such an investment, depending on the size, could also have destabilised Etihad's investment in Virgin Australia, bringing further benefit to Qatar.
Other alternatives would be for different airlines to invest into LATAM, such as American and IAG, which are market leaders to Latin America from North America and Europe respectively. Unlike Delta and United, American has not invested in a Latin American airline (or in any other region for that matter). For American, financials are not the problem: its management recently admitted that it had too much cash.
Viewed another way, American perhaps does not need to invest. Its partner is the largest in the region and a relationship seems secure - although as its peers Delta and United are locking in partners with equity, there is some pressure to do so. The merged LATAM group chose oneworld as its single alliance going forward, a conscious vote from LATAM's belief in oneworld and its members. After that decision TAM left Star and joined oneworld. It is unlikely that LATAM would suddenly switch allegiances. Pre-merger American discussed forming a JV with TAM once US-Brazil open skies was in place.
IAG is an airline investor. Its most recent acquisition – Aer Lingus – makes for a point of comparison. IAG's EUR1.36 billion offer for Aer Lingus gave it full ownership and control of an airline in its key trans-Atlantic market, and presented it with strategic growth since Aer Lingus can be deployed in the growing low cost segment. Aer Lingus also allows IAG to grow where it cannot, due to Heathrow constraints. And, in the wake of Brexit, Dublin becomes an even more attractive hub, as Ireland remains part of the EU.
Qatar proposes to spend USD613 million (EUR554 million) for a 10% stake in LATAM. If IAG were to consider investing in LATAM under the same agreement, IAG would spend on LATAM more than a third of what it paid for Aer Lingus yet IAG would be far from majority ownership and control (which is not allowed) and would be investing in a region not nearly as relevant. Discussions of a LATAM-IAG strategic partnership suggest that IAG would not need to invest a token sum to cement a partnership. Although IAG may not have been willing to spend the cash, it, along with some other oneworld airlines, could be a collateral beneficiary of the transaction.
Foreign airlines could have stakes in five of Latin America's eight largest airlines
Qatar's proposed stake into LATAM would be the largest financially in the region. In terms of equity share, HNA when investing in the much smaller Azul paid 74% as much as Qatar intends to invest in LATAM, but HNA received nearly 2.5 times the amount of stock. Azul has 16% of the system ASK production of LATAM in Jul-2016.
Qatar acquires 0.5ppt more than Delta's 9.5% stake in Gol, but Qatar will pay nearly four times as much as Delta paid to invest in Gol. In Jul-2016 Gol has approximately 36% the system ASK production of LATAM.
Aside from those two deals, the four other investments in the region have been under USD200 million and garnered under 10% of equity. This will change if and when Delta finalises its intent to increase its stake in Aeromexico to 49%.
Investments (USD millions) into Latin American airlines from non-Latin American airlines: 2012-2016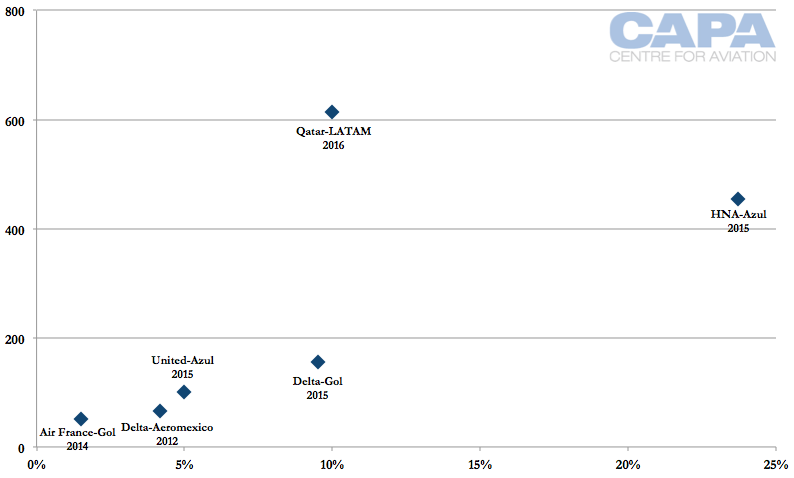 Once the Qatar-LATAM deal is completed, four of Latin America's eight largest airlines will have investments from airlines outside the region. If Avianca introduces a strategic shareholder, the total would rise to five.
See related report: Avianca Airline Group seeks investors to maintain position in a changing Latin American landscape
That would leave Copa, Volaris and Aerolineas Argentinas without airline investors from other regions. Copa historically has experience with airline investors as Continental Airlines was an investor, but it exited in 2008. Aerolineas Argentinas is unlikely to see an outside investor due to state ownership.
Non-Latin American airline investment share (left axis)
into Latin America's eight largest airlines ranked on global ASKs (right axis): 2012-2016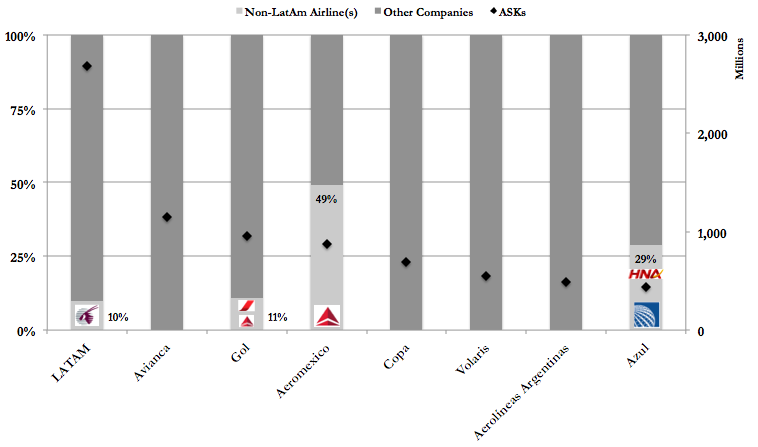 Qatar Airways seeks global relevancy but risks fracturing its oneworld alliance
It is perhaps telling that in their brief statements both Qatar and LATAM make significant reference to their membership in the oneworld alliance:
"LATAM represents an exciting opportunity to invest and support the development of our long-term relationship. As a leading airline in Latin America, and key member of oneworld, this investment provides potential opportunities for Qatar Airways' global network, alongside our successful investment in IAG", said His Excellency Mr. Akbar Al Baker, Group Chief Executive of Qatar Airways.

"We are proud to announce Qatar Airways as a new shareholder of LATAM, reaffirming our bond as existing members of the oneworld alliance. This investment recognizes LATAM's achievements and supports our project for the future. In addition to strengthening our financial position, it will allow us to explore new opportunities for connectivity with Asia and the Middle East, as well as other potential areas of cooperation", said Enrique Cueto, CEO of LATAM Airlines Group.
Qatar will spend approximately EUR2.5 billion on its investments in IAG and LATAM. This is a significant commitment and comes with the risk of being too powerful a show to other alliance members. To some members, the investment may risk tilting the alliance towards Qatar. Star and SkyTeam share similar issues, but there the captains of the alliances – the Lufthansa Group and Delta-Air France – have many aligned interests.
JAL, not exposed to Gulf airlines, has little to do or say in this space. But for other oneworld members there are impacts and relationships to be considered.
The Qatar-Cathay Pacific JV ended quietly but on probably less than friendly terms, although some codesharing remains. Qatar and Qantas have little to do with each other given Qantas' JV with Emirates. Even at IAG, a JV appears to be dragging out. Finnair was opposed to Qatar's oneworld entry since they both compete in Europe-Asia traffic, although Finnair has a strong advantage for its niche between Europe and Northeast Asia, which is very circuitous via the Gulf. Royal Jordanian – along with MEA and Saudia, one of the original Middle East members of alliances – has been impacted by the rise of the Gulf for years.
And then there is American Airlines. Wed to IAG and looking to tie the knot with LATAM, it finds its partners for its two main markets partly owned by Qatar Airways. American has rebuffed a deep partnership from Gulf airlines and has been a participant, although not as vocal as Delta, in the accusations against state-owned Gulf airlines (which appear unlikely to be pursued by the US government.)
Qatar Airways now the fastest-growing Gulf airline, and with a growing acquisition appetite
The sums that Qatar Airways is spending on airlines may fuel comments from these detractors, even where Qatar Airways' is now reporting financial results, which showed a net profit.
Qatar Airways now has significant investments in LATAM, IAG Heathrow Airport and LATAM, coupled with an interest in Italy's Meridiana. The latter is an exception but each of the others is blue chip as far as aviation industry stocks go. And it joins a growing movement to acquire beyond its borders.
Before it was Emirates and Qatar growing while Etihad placed stakes. Etihad's investment appetite has cooled, although this was after European airlines challenged Etihad's continued support to airberlin, and new stakes in Alitalia and Jet Airways. Etihad has still spent significantly more than Qatar on airline investments, but Qatar may be an unwelcome addition for the conservative voices. Unlike Emirates and Etihad, it combines both equity investments and fast growth: in 2016 Qatar is adding more capacity, in net terms, than Emirates.
Although all three Gulf network airlines are often talked of as a , Emirates received attention for its growth while the focus against Etihad was its equity network. Qatar becomes the new big target, even if its investment targets – unlike Etihad's – are, or have been, financially strong airlines. Some will again ask if Emirates will also start investing in airlines.
Thankfully, Qatar CEO Akbar Al Baker is prepared for backlash from his airline's rise. Mr Al Baker appears to have spent the last few years cultivating the ability to take on comments of any sort.
And yet, underneath all of this is a new crop of growing Gulf network airlines, from Saudia to Oman Air. They have yet to show how they will exert themselves. A few years ago, Qatar's stake in IAG or LATAM would have seemed impossible.
THE LATAM GROUP
TAM">According to its CAPA Profile, LATAM Group contains the following members:
TAM Airlines (Paraguay), d/b/a LATAM Airlines Paraguay;
LAN Express, d/b/a LATAM Airlines Chile;
TAM Airlines, d/b/a LATAM Airlines Brasil;
LAN Airlines, d/b/a LATAM Airlines Group (consolidated airline operations);
LAN Peru, d/b/a LATAM Airlines Peru;
LAN Argentina, d/b/a LATAM Airlines Argentina;
LAN Colombia, d/b/a LATAM Airlines Colombia, and;
LAN Ecuador, d/b/a LATAM Airlines Ecuador.