Qatar Airways buys its 10% stake in IAG, showing it wants a serious relationship
Analysis
The announcement that Qatar Airways (QA) has acquired a 9.99% stake in the publicly listed IAG was something of a surprise. True, IAG's British Airways was instrumental in bringing QA into the oneworld alliance. The two groups codeshare on a number of routes and QA operates freighter capacity for IAG Cargo. They frequently make comments about each other in public that demonstrate a consderably more balanced relationship than between other big European legacy airline groups and competitors from the Gulf.
There is much more that could be done to build a wider and deeper relationship between the two. The two groups' networks complement each other in Asia Pacific and the Americas and more codesharing would make sense for both. Some form of joint venture agreement is even on the cards.
Nevertheless, on the face of it, deepening the relationship does not require an equity stake on either side. Perhaps it is QA's way of demonstrating that it is serious about a commercial partnership that is both close and long term. For IAG, if the relationship works, then it could give a further advantage over Air-France-KLM and Lufthansa.
QA is 40% of IAG's size by international seat capacity
As a publicly listed company, IAG's performance is well known. By contrast, financial and traffic data on Qatar Airways (QA), now IAG's largest shareholder, are fairly scarce. However, schedules data from OAG for the start of the summer season in Apr-2015 show that QA is only 40% of the size of IAG by number of international seats. By international seat capacity, it is two thirds of the size of British Airways and roughly the same size as Iberia and Vueling combined. If IAG airilnes' domestic seats are included, then QA is a little more than a quarter of the size of IAG by total number of seats and a little larger than each of Iberia and Vueling.
IAG (and its constituent airlines Vueling, Iberia and British Airways) and Qatar Airways: total number of scheduled international seats, week of 6-Apr-2015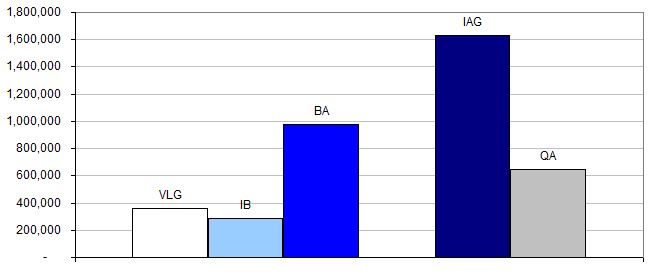 Some codeshares are already in place between QA and BA
IAG already has a good working relationship with Qatar Airways. British Airways (BA) sponsored the Doha-based airline's entry into the oneworld alliance, the only one of the Gulf Big Three to join a branded global alliance.
More specifically, on a bilateral basis, BA and QA have codeshare agreements on certain routes, although Iberia does not currently codeshare with QA. Moreover, the BA/QA codeshare relationship is currently fairly limited. BA carries the QR code on three UK domestic routes and three European international routes, while the BA code is carried by Qatar only on its Doha-Addis Ababa service.
Nevertheless, this is just the start. Even before the announcement of QA's stake in IAG, the two have been looking for ways in which to deepen their commercial relationship. IAG CEO Willie Walsh has even suggested that some form of joint venture agreement is possible.
Qatar Airways code on British Airways-operated flights from London Heathrow
British Airways code on Qatar Airways-operated flights from Doha
QA's activity between Doha and IAG hubs is much greater than IAG's
In terms of existing operations between Doha and the main hubs of BA and Iberia, QA is much more active than either of IAG's two biggest intercontinental airlines.
Iberia has no service to Doha and only one destination in all of the Middle East and Asia Pacific (Tel Aviv, which the Gulf carriers do not serve). BA operates a daily 777 service to Doha from Heathrow, but only via a stopover in Bahrain. This compares with its twice daily direct service to Dubai and its daily direct service to Abu Dhabi (which then goes on to Muscat).
For its part, QA operates 42 weekly frequencies from Doha to London Heathrow, comprised of a twice daily A340 operation, and daily flights deploying each of the A380, A330-200, 787-8 and an all-business class A319 with just 40 seats. QA also serves Manchester and Edinburgh in the UK. Its operation to Iberia's hub in Madrid is a ten times weekly 777-300ER service.
In addition to the main hubs of BA and Iberia, IAG's LCC subsidiary Vueling offers passengers a transfer product at its home base of Barcelona and at its base in Rome Fiumicino. QA operates to Barcelona ten times weekly and to Rome Fiumicino 14 times weekly, although Vueling has no services to Doha. Vueling and QA signed an interline agreement covering these two airports at the end of Sep-2014 and this could also point the way to a deeper relationship between the two, within the context of QA and IAG's developing commercial partnership.
British Airways service to Doha
Route

Weekly
frequency

Aircraft

7x
Qatar Airways routes to UK
QA routes to Spain
Route

Weekly frequency

Aircraft

Doha-Madrid

Doha-Barcelona

10x

10x

777-300ER

A330-200
QA and IAG airlines do not currently operate codeshare arrangements on hub to hub routes between Doha and London or Madrid, but QA does carry the codes of other oneworld partners on these routes. It codeshares with American Airlines/US Airways on its Heathrow services (but not on its A319 operation) and with American (and US Airways) and Cathay Pacific on Madrid.
From Heathrow, American and US Air carry the QR code non-stop to five US gateways (Chicago, Los Angeles, Miami, New York JFK, Philadelphia and Raleigh Durham). From these gateways, the QR code is carried by AA/US Air and by non-aligned LCC JetBlue to an additional 97 domestic US destinations. QA operates with its own aircraft to Chicago, Dallas Fort Worth, Houston Bush, Miami, New York JFK, Philadelphia and Washington Dulles.
But BA could increase North American access for QA
This highlights the main benefit to QA of its membership of oneworld, namely greater access to US destinations. Nevertheless, by developing a closer commercial relationship with IAG, QA could potentially further improve its access to the US (and Canada) through BA's network.
Although BA does not offer any additional US destinations beyond those that AA/US Air already offer to QA customers by codeshare, it does offer a number of these destinations direct from Heathrow, rather than via another gateway. BA serves thirteen US airports non-stop that are currently only accessible to the QR code from Heathrow via a stopover at another US gateway. These are Atlanta, Austin Bergstrom, Baltimore/Washington, Boston, Denver, Las Vegas, New York Newark, Orlando International, Phoenix, San Diego, San Francisco, Seattle and Tampa.
BA also serves three destinations in Canada not served by QA (Calgary, Toronto and Vancouver), although under Canada's restrictive access rules, these might be constrained by limits on third country codeshare. Both airlines operate to Montreal.
In addition, QA could gain wider access to Latin America through codeshare partnership arrangements with IAG airlines. QA flies to only two Latin American destinations (Buenos Aires and Sao Paulo) from Doha, although it has codeshare agreement with GOL on a number of domestic routes in Brazil from Sao Paulo. Iberia offers a further 14 destinations in Latin America in addition to the two served by QA.
BA serves 13 Latin American destinations not served by QA or Iberia, particularly in the Caribbean.
IAG (and its constituent airlines Vueling, Iberia and British Airways) and Qatar Airways: number of scheduled international seats excluding Europe and Middle East, week of 6-Apr-2015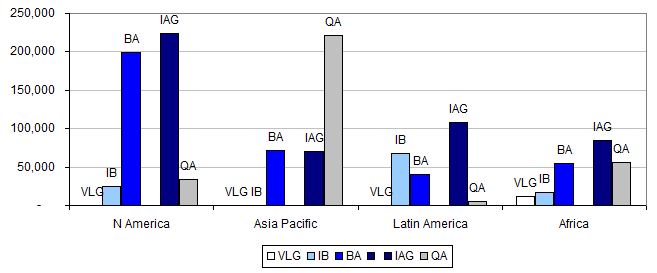 The main benefit to IAG of developing a relationship with QA lies in the latter's network in Asia Pacific. BA operates to 18 destinations in Asia Pacific, while QA has 45 destinations in the region. Only one of BA's destinations (Sydney) is not served by QA, so BA could potentially gain access to an additional 28 Asia Pacific destinations through a deeper commercial relationship with QA. Iberia has no destinations in the region and currently relies mainly on codeshares with BA to offer its passengers some of the major cities.
IAG can also benefit from QA's network in the Middle East, where QA has 27 destinations, compared with BA's 11 and Iberia's one. QA serves 11 airports in the Middle East that are not served by IAG airlines.
IAG and QA are more complementary in Africa
In Africa, IAG and QA are more balanced in terms of their relative presence by number of destinations (BA has 18 destinations and Iberia ten, compared with QA's 19 in Africa) and IAG is bigger by seat capacity. Nevertheless, IAG could benefit from QA's African network, which has 12 destinations are not served by BA and 16 destinations not served by Iberia.
A wider codeshare agreement with IAG airlines could also help QA to grow its footprint in Europe, although the flows into Doha via the main IAG hubs may be limited by their geographical location far to the west of Europe's centre of gravity. Vueling's base at Rome Fiumicino offers potential to QA in this respect.
IAG (and its constituent airlines Vueling, Iberia and British Airways) and Qatar Airways: number of scheduled international seats in Europe and Middle East, week of 6-Apr-2015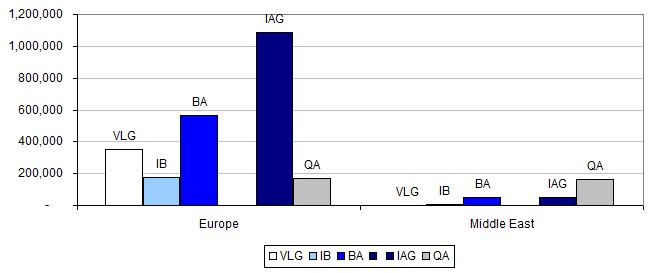 Cargo cooperation has been in place since May-2014
IAG Cargo, the group's air freight division, also already has a relationship with Qatar Airways in the cargo business. In 2014, IAG made a decision to exit the all-freighter segment of the market and only to carry belly freight. At the same time, it signed an agreement with QA, under which QA provides IAG with freighter capacity through a five times weekly 777F operation between Hong Kong and London Stansted.
This agreement has been in place since May-2014 and keeps open one of BA's most important cargo trade lanes. The two parties plan to extend the agreement to include freighter operations between London and more destinations in Asia
Codeshares could also extend to intra-hub routes as codeshares expand
The deepening of the commercial relationship between the two groups seems likely to focus initially on extending codeshare arrangements. In addition to their relative strengths in their home regions (Europe for IAG and Middle East for QA), the two networks offer a high degree of complementarity in Asia Pacific (where QA is stronger) and in the Americas (where IAG is stronger).
The intersection between QA's strength in the East and IAG's strength in the West lies in the routes linking their hubs. It would seem logical to extend their codeshares onto routes between Doha and London and Madrid and for BA and Iberia to start non-stop operations to Doha (indeed, Mr Walsh has said he expects Iberia to serve Doha). Codeshare arrangements could then build to cover more destinations in Asia and North America.
Certainly, bringing Iberia into a codeshare agreement with QA would be beneficial as a means of addressing Iberia's weakest region (Asia Pacific) and QA's weakest region (Latin America). Any joint venture arrangement would also likely start by focusing on the routes between the hubs.
The relationship is a further sign of IAG's more progressive thinking
If a commercial relationship with greater scope can be made to work (and receives any necessary regulatory approvals), this will further set IAG apart from its rivals among Europe's Big Three legacy airline groups. It is already ahead of both Lufthansa and Air France-KLM with restructuring in its mainline operations, with its short/medium haul LCC subsidiary and, critically, in its financial performance.
See related reports:
IAG confirms its leadership among Europe's Big Three after growing 3Q profit and raising 2014 target
IAG sets ambitious goals for 2016-20, including regular dividend, and declares its confidence
Throwing itself into a mutual embrace with a Gulf carrier would be a further sign of IAG's more progressive thinking. Air France-KLM does have limited codeshare agreements with Etihad and may also consider some kind of joint venture arrangement, but Lufthansa continues to stand aloof from the Gulf carriers and even loosened ties with Star alliance partner and honorary fourth Gulf carrier Turkish Airlines in 2013.
Qatar Airways's move was a surprise, signalling a more intense relationship than just codesharing
In a statement, QA said "As part of efforts to enhance operations and strengthen existing commercial ties initiated through codeshare agreements with IAG as well as its membership of the oneworld alliance, Qatar Airways has acquired a 9.99% stake in IAG". Willie Walsh, IAG chief executive, said: "We're delighted to have Qatar Airways, one of the world's premier airlines, as a long term supportive shareholder. We will talk to them about what opportunities exist to work more closely together and further IAG's ambitions as the leading global airline group".
A deepening of the commercial relationship between IAG and QA has been widely expected, but news of QA's stake was not. In itself, a stake in IAG is not necessary to build this relationship. Moreover, QA has no history of acquiring stakes in other passenger airlines. It briefly held a stake in Cargolux and looked at or came close to placing stakes in passenger airlines such as Spanair. This is in contrast with Etihad Airways, which has taken more significant minority stakes in a number of European (and other) carriers.
However, in Etihad's case, it could be argued that these stakes, which involved the direct investment of funds, were partly necessary to alleviate financial distress in the target airline (except at Aer Lingus, but this stake may not have been welcomed). IAG, in reasonable shape financially, is a different case altogether and clearly welcoming of IAG. Moreover, a 10% stake does not bring board representation or any formal influence over IAG's strategy. QA's cash did not even go into its partner, but into the coffers of the fund management houses that traded the shares through the stock exchange.
See related report: Alitalia's "new" strategy realigns it to feed Etihad, but needs to change loss-making mindset
Rather than bringing QA any immediate tangible benefit, it is more of a symbolic purchase. It signals that Qatar Airways is serious about developing the commercial relationship and that it intends this to be long term. At around EUR1.5 billion, that is very serious.
It also adds further weight to the growing body of cross-border equity relationships that are quietly diluting the archaic constraints of bilateral ownership rules. Only a little, but every bit helps.