Air Canada bets big on sixth freedom traffic flows in 2016 with a new transborder push
Analysis
Air Canada is making a solid push in the US transborder market in 2016, as it works to leverage sixth freedom traffic from its growing international long haul operations. The expansion involves new routes, the re-launch of other markets, and also service to hubs of Air Canada's Star Alliance partner United Airlines.

The airline's sixth freedom strategy has been a mainstay of its business plan for a number of years, after Air Canada valued that traffic at several million dollars. It is working to position its hubs as attractive transit points from US destinations that do not have direct access to markets in Asia and Europe.

Air Canada believes that given the solid projections for the US economy, its latest transborder push should be successful. The airline is the lone operator in many of the new markets, providing an opportunity for Air Canada to continue to grow its annual sixth freedom traffic flows.
Air Canada is playing to its transborder strength with the sixth freedom push
During 2014 Air Canada estimated that if it captured its fair share of sixth freedom traffic, the flows could generate up to CAD400 million (USD301 million) annually. Many of Air Canada's sixth freedom efforts have centred on its largest hub, at Toronto Pearson International airport. The facility has worked as an easy transit for sixth freedom passengers by eliminating the need to reclaim bags, and allowing those customers to proceed directly to US customs. Air Canada's hubs in Vancouver and Montreal have similar offerings.
Air Canada global top 10 hubs/bases/stations by seats: 23-Nov-2015 to 29-Nov-2015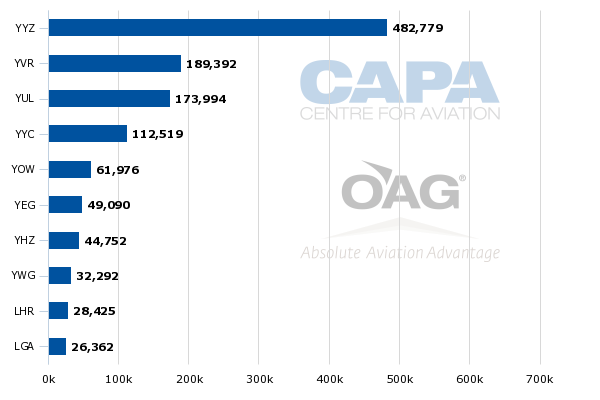 See related report: Air Canada moves to attract more sixth freedom traffic, but new pressures await
Air Canada is the largest airline operating between the US and Canada for the week of 23-Nov-2015, holding a nearly 38% share of the one-way seats on offer between the two countries. It is hoping to capitalise on that strength to generate high-yielding connecting traffic from points in the US, where little direct intercontinental service exists.
United States to Canada (seats per week, one way): 24-Nov-2014 and 23-Nov-2015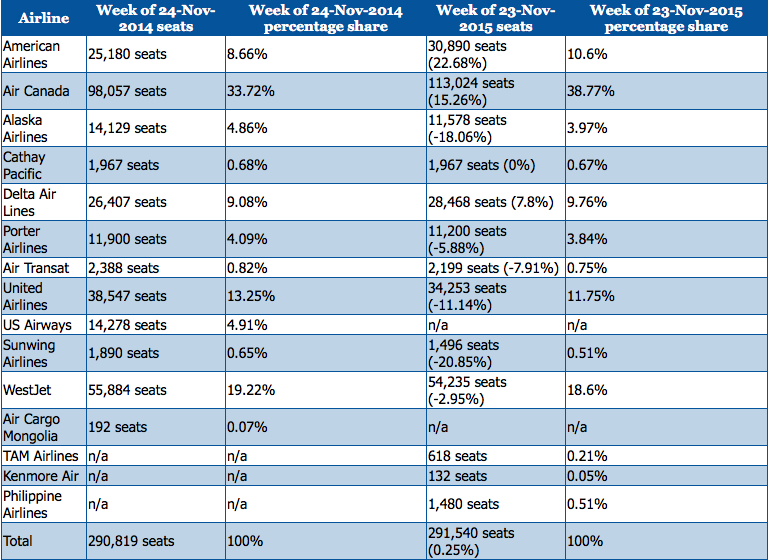 Air Canada seems to be zeroing in on sixth freedom flows with its new US routes
In addition to Air Canada's extensive European network from Toronto, it also serves several Asian destinations from its Toronto hub, including Beijing, Shanghai, Hong Kong and Tokyo Haneda. During 2015 Air Canada has re-launched service from Toronto to Delhi and added flights between Toronto and Dubai. The airline also operates flights to Tel Aviv and Istanbul from Toronto.
Toronto is featured in Air Canada's new round of flights to the US, beginning in May-2016, but the airline also appears to be making additions to Montreal and Vancouver that would bolster sixth freedom traffic from those airports.
From Toronto Air Canada is launching seasonal flights to Jacksonville, Florida, and is also introducing flights to Salt Lake City, Washington Dulles and Portland, Oregon. Washington Dulles is a hub for Air Canada's Star Alliance partner United, and United currently offers flights from Dulles to Toronto. Air Canada also operates services from Washington National to Ottawa, Montreal and Toronto.
The new route to Jacksonville may seem more like an O&D market, but Jacksonville has no direct service to Europe, making a stop-over in Montreal or Toronto seemingly no less attractive than any other US airline hub.
Salt Lake City is a hub for Delta Air Lines, which operates services from the airport to Calgary and Vancouver. In the current period (23-Nov-2015 to 29-Nov-2015), Delta operates services from there to Paris, while planning to introduce seasonal flights to London Heathrow, and also to launch services to Amsterdam in May-2016. Otherwise, Salt Lake City has little long haul intercontinental service. Given Salt Lake City's lack of long haul flights and Air Canada's exclusivity on the new route to Toronto, the route appears to be one that is largely directed at sixth freedom passengers.
Portland has characteristics similar to those of Salt Lake City. It serves as a hub for Alaska Airlines, but its long haul intercontinental services are limited to flights to Amsterdam and Tokyo Narita, operated by Delta. Although Portland travellers can access European destinations from west coast hubs of the US majors, most of the traffic flows from those airlines to Europe are over east coast hubs. Air Canada seems to be targeting a mix of O&D and connecting travellers on the route, who may find it less challenging to transit through Toronto, rather than one of the more congested US hubs in JFK and Newark.
Further, no airline presently operates direct flights from Vancouver to San Jose, but two Asian airlines offer flights to the Northern California airport – ANA from Tokyo Narita and Hainan Airlines from Beijing. Air Canada offers flights from Vancouver to Beijing, Hong Kong, Seoul, Tokyo Narita, Shanghai and Sydney. For some passengers it might be more attractive to stop over in Vancouver, rather than driving to catch a flight in San Francisco, which is 88km from San Jose.
Air Canada's seasonal flights between Vancouver and San Diego appear to be a re-launch of service that ended in late 2012, based on data from CAPA and OAG. During that time Air Canada has added more Asian destinations from Vancouver, which may make the route more viable, given the revenue derived from a higher percentage of connecting traffic. Indications are that the route has potential to generate a good mix of O&D traffic, and favourable USD exchange rates should be attractive for the US point of sale.
United's hubs could serve as a sixth freedom source for Air Canada
Air Canada is also adding service from Montreal to United's hubs in Denver and Houston, and to Philadelphia, where it is competing with American Airlines at one of its own hubs. Air Canada has previously operated flights from Montreal to Denver, and is operating alongside its alliance partner United on flights to Houston.
Philadelphia has no direct flights to Asia, and its largest airline, American, has signalled that it has no plans to introduce service to the region. Back in 2008 US Airways secured rights to operate Philadelphia to Beijing, but relinquished the authority due to the economic downturn. After the merger with American, the airline focused on expanding its Asian network from Dallas/Fort Worth and Los Angeles.
See related reports:
Air Canada and its Star Alliance partner Air China signed an MOU for a joint venture in 2014, and in Sep-2015 Air China launched flights from Montreal to Beijing.
With Air Canada's ability to market Air China's flights to Beijing, Montreal seems like a viable option for Philadelphia travellers looking for easy access to Asia service, and Air Canada and Air China both derive revenue benefits from the sixth freedom traffic flows on those flights. Air Canada is touting connections at United's hubs to European destinations from Montreal, including Paris, Geneva, Brussels and Lyon. United does not serve Lyon, and in the main offers flights to the remaining destinations listed by Air Canada from its east coast hubs and Chicago O'Hare. It serves Paris from Chicago O'Hare, Newark, Washington Dulles and San Francisco. It operates to Geneva from Dulles and Newark and to Brussels from O'Hare, Newark and Dulles. By working in cooperation, United and Air Canada can flow passengers from Denver and Houston through Montreal, and each can benefit from the connections. Canadian passengers obviously already have access to United's network on beyond service from Houston and Denver.
Sixth freedom flows will rise in importance as Air Canada continues its international growth
Air Canada recently stated that its sixth freedom traffic should reach 2% in 2015, which is off a base of 0.8%. Even as the airline aims to grow the sixth freedom levels beyond 2%, Air Canada executives recently explained the airline is not necessarily going for large volume in the sixth freedom markets. Instead, its strategy is to target "quality of revenue" on premium markets in the US that do not feature non-stop service to Europe and Asia.
The airline has emphasised during the last few years that it was catching up on building up its international network to a level on par with its global network peers. Indeed, it is growing system capacity 9% to 10% in 2015, with 38% dedicated to mainline international expansion and 55% allotted to Air Canada rouge's growth, which is mostly international. Nearly 72% of rouge's ASMs for the week of 23-Nov-2015 to 29-Nov-2015 are deployed to international markets, reflecting the long haul expansion it has undertaken during the last two to three years.
Air Canada international vs domestic capacity (% of ASMs): 23-Nov-205 to 29-Nov-2015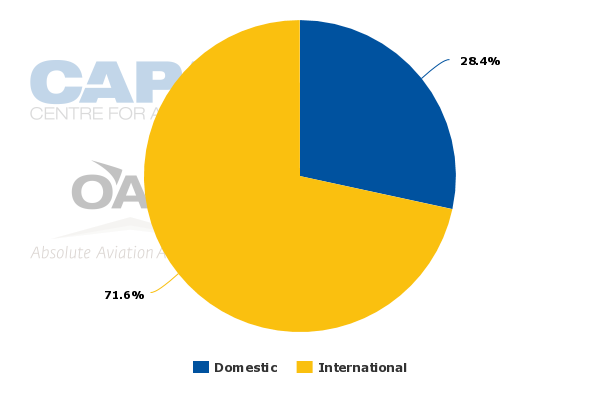 Rouge is continuing long haul expansion in 2016, with service from Montreal to Casablanca, Air Canada's first African route, and in Europe – Glasgow, Prague, Budapest and Warsaw.
Given that Canada's population of 36 million is a fraction of the 318 million population of the US, sixth freedom traffic will continue to rise in importance in Air Canada's network.
Air Canada remains confident in its sixth freedom potential from the US
Canada's GDP growth is forecast to be around 2% for 2016, and the US economy is projected to expand by 2.5%. Although each country's growth seems modest, the forecasts are better than some other world economies. Given the solid economy in the US, and the CAD still trailing the USD, Air Canada feels confident about its planned US expansion in 2016.
The growth reflects Air Canada's belief about the attractive connections it can offer to passengers transiting through Canada to inter-continental markets not directly viable from markets such as Salt Lake City or Portland.
As 2016 unfolds, Air Canada will no doubt many field questions about the ultimate potential of its sixth freedom strategy.