Avianca Airline Group seeks investors to maintain position in a changing Latin American landscape
Analysis
The decision to merge by Avianca and Grupo TACA in 2009 is what kickstarted consolidation in Latin America. The merger of the two companies, now operating as Avianca Holdings, arguably triggered the combination of LAN and TAM to create LATAM – the region's most powerful grouping of airlines.

As Avianca and TACA and LAN and TAM were integrating their respective operations, other South American airlines garnered investment from foreign airlines – SkyTeam partners Air France-KLM and Delta invested in the independent Gol, and United and HNA Group took stakes in Azul.

Now Avianca is seeking a strategic investing partner, and many airlines are reportedly interested in obtaining a stake in the company. The investment will allow Avianca to weather difficult near term economic conditions and remain on equal footing with its competitors, while the company's suitor obtains strategic positioning in one of most important growth markets – Latin America – for the next decade and beyond.
Avianca's steady growth and its position in Colombia make it an attractive investment
A three-year integration between Avianca and TACA culminated in the company's rebranding as Avianca Holdings in 2013. Avianca is the domestic market leader in Latin America's third largest aviation market, Colombia, and has a solid positioning in the growing market of Peru, where its 12% share is even with that of Peruvian Airlines, behind LATAM's 61% share. It has a 22% share of Ecuador's system-wide seats and represents 68% of El Salvador's seat deployment (based on data from CAPA and OAG for the week of 4-Jul-2016 to 10-Jul-2016).

In 2015 Avianca's passenger numbers increased 8% year-on-year to 28 million, and grew nearly 17% between 2013 and 2015.
Avianca Holdings annual passenger numbers: 2013 to May-2016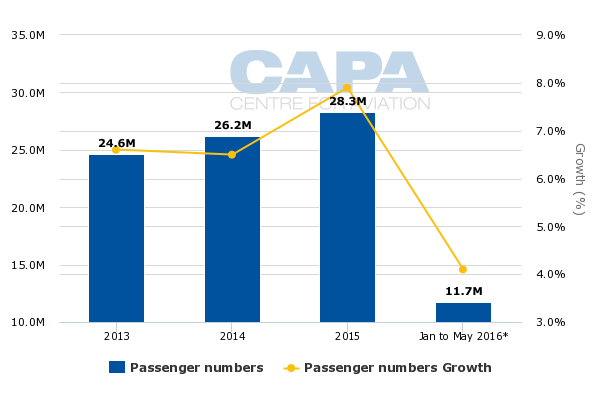 Avianca's positioning in Colombia makes it attractive to potential investors.
The company estimates that its domestic share in Colombia's market at the end of 1Q2016 was 59%; it currently (4-Jul-3016 to 10-Jul-2016) represents 57% of Colombia's system-wide seats, 47% of the country's international seats and 62% of seats deployed into Colombia's domestic market.
Avianca Holdings system, domestic and international seat share in Colombia: 4-Jul-2016 to 10-Jul-2016
| | |
| --- | --- |
| System | 57% |
| Domestic | 62% |
| International | 47% |
Colombia's domestic passenger market grew by nearly 11% in 2015 and the Mexican low cost airline Volaris has cited data that show trips per capita among Colombia's population were 0.42 in 2014, compared with 0.45 for Brazil, 0.27 for Peru and 0.25 for Mexico.

Colombia's 2.5% projected GDP growth in 2015 – although lower than previous years – is still one of the more robust that are forecast for Latin American countries. Economies in Argentina, Brazil and Venezuela are forecast to contract in 2016, and Chile's GDP growth forecast is 1.5%. Although Colombia has suffered from currency devaluation and has felt effects of falling commodity prices, its prospects look far better than those of many of its Latin American neighbours.
Avianca seeks investors to weather Latin America's tough economic climate
After Hainan parent HNA Group and United took stakes in Azul in 2015 and Delta upped its stake in Gol, Avianca during 2016 has sought out strategic investors. According to news outlet Bloomberg the company was aiming to raise USD500 million, and Delta and United have reportedly expressed interest in possibly taking a stake in Avianca. Other news outlets have also indicated an interest from HNA, which spent USD450 million in 2015 to take a 24% stake in Azul.

See related report: HNA of Hainan Airlines buys 24% of Azul as China's Airlines eye their final continent: South America
There are many reasons why Avianca has reached out to potential investors. Perhaps most importantly: an equity infusion would allow the company to weather the tough economic climate in Latin America. Avianca posted a loss in 2015 and its cash balances have fallen from USD75.6 million at YE2015 to USD479.4 million at YE2015. LATAM Airlines Group and Gol also posted losses in 2015.
Avianca Holdings financials: 2013 to 2015
FY2013
FY2014
FY2015
Total operating revenue

4,609.6M

4,703.6M

4,361.3M

Passenger

3,862.4M

3,862.7M

3,458.0M

Cargo and other
747.2M

840.9M

903.3M

Total operating costs

4,224.7M

4,424.1M

4,142.5M

Fuel

1,325.8M

1,345.8M

1,006.8M

Salaries, wages and benefits

675.0M

725.8M

666.1M

Sales and marketing

584.5M

605.7M

612.8M

Ground operations

343.8M

397.6M

412.4M

Aircraft rentals

273.6M

299.2M

317.5M

Maintenance and repairs

188.7M

268.9M

309.7M

Air traffic

180.1M

206.2M

203.0M

Depreciation and amortisation

169.6M

198.7M

230.7M

Passenger services

143.5M

154.5M

149.3M

General, administrative and other

257.3M

165.2M

176.2M

Flight operations

82.9M

56.7M

58.1M

Operating profit (loss)

384.9M

279.5M

218.8M

Net profit (loss)

248.8M

128.5M

-139.5M

Total assets

5,179.0M

6,175.5M

6,588.3M

Cash and cash equivalents

735.6M

640.9M

479.4M

Total liabilities

3,964.3M

4,958.8M

5,215.7M
Like all large airline groups, Avianca is taking steps to make sure that it has the financial wherewithal to withstand the economic weakness that has swept most of Latin America - but which will inevitably improve in due course. The company has reached an agreement with its aircraft supplier Airbus to reschedule 28 aircraft deliveries scheduled from 2016 to 2019, which should result in a reduction of USD2.4 billion in capital expenditure for that period.
Company officials have explained that the decrease in capital commitments should allow Avianca to reach its targeted leverage ratio of 5x by YE2019. At the end of 1Q2016 the company's adjusted net debt to EBITDAR was 6.6x. The leverage ratio for the rival LATAM Airlines Group during that same time period was 5.9x.

See related report: Avianca works to attain its leverage goals by slashing its capex commitments through 2019
Avianca seeks a strategic partner in order to remain competitive in Latin America
Aside from the financial benefits of securing a strategic investor, Avianca also needs a strong partner to ensure its place in Latin America's changing aviation landscape.
There are some intriguing questions about where that might come from. In addition to the stake that HNA took in Azul in 2015, Avianca's fellow Star Alliance partner United invested USD100 million to take a small equity stake in Brazil's third largest airline. Now United and Azul have formed a codeshare and United also codeshares with Star airline Avianca Brazil. The South American conglomerate Synergy Group is Avianca Holdings' largest shareholder and also owns Avianca Brazil, but the two airlines are operated separately.

Delta Air Lines upped its stake in Gol to 9.5% in 2015 and also guaranteed a USD300 million loan for the airline as it undertook a financial restructuring in the middle of Brazil's recession. Aimed at forging a joint venture with Gol once the US and Brazil ratify their open skies agreement, Delta has agreed to reduce the over-collateralisation ratio of the loan that it guaranteed for the airline in 2015.

See related report: Struggling Brazilian LCC Gol places its financial fate in the hands of bondholders

In addition to the raft of foreign investments in Latin American airlines made during the last couple of years, LATAM Airlines Group has tabled ambitious plans to create joint ventures with its oneworld partners American Airlines and IAG Group, giving oneworld significant heft in the North America-South America market, as well as between South America and Europe.
According to data from CAPA and OAG, LATAM airlines and American operate 45% of the seats deployed from upper South America to North America, and 60% from lower South America to North America. LATAM group airlines and IAG airlines hold an approximate 39% seat share from lower South American to Western Europe, and have a 30% share between upper South America and Western Europe.

Azul founder David Neeleman was also part of a consortium that successfully bid for ownership of TAP Portgual, and Azul and TAP have an extensive codeshare, with TAP placing its code on a number of Azul's routes from its largest base, Campinas. Azul launched long haul flights from Campinas to Lisbon in 2016, taking over the route from TAP.

See related report: TAP Portugal: ownership changes almost complete, while Azul relationship starts to bear fruit

Over the longer term, Azul is likely to start regional intra-South America flights. It has 63 Airbus A320neo family aircraft on order that could be used for longer haul flights from Brazil to other South American countries. Those flights would be bolstered with feed from TAP.

Given all the jockeying occurring in the Latin American market, Avianca needs a partner for the long term. If it attracts a large airline stakeholder it will then be better equipped to compete in a Latin American market that could look very different five years or a decade from now.
The right strategic investor for Avianca's long-term benefit is tough to predict
The obvious question facing Avianca is who the most promising potential investor is.
If Delta is in fact interested in obtaining a stake in Avianca, it would be the first time that Delta has invested in an airline that participates in a rival alliance. Delta has stakes in its SkyTeam partners Aeromexico and China Eastern and the independent airlines Gol and Virgin Atlantic. But if Delta successfully pursued a stake in Avianca it would have strategic footholds in Latin America's three largest aviation markets – Brazil (it is pursuing a joint venture with Gol); Mexico (it has increased its stake in, and aims to form a joint venture with, Aeromexico); and Colombia. If Delta takes a stake in Avianca it would reflect the growing logic that the three largest global alliances cannot provide the blanket coverage that is key to their members remaining competitive in the global airline business.

United is a fellow Star partner for Avianca, and the two airlines have likely discussed a response to the oneworld joint ventures planned by LATAM with American and LATAM with IAG. United is in the process of planning to shore up revenue and close the margin gap with its large US competitors, but it also needs to look outside and ensure that it does not lose ground to Delta and American in international markets. Some form of investment in Avianca would ensure that United maintained a strong position in one of Latin America's high growth markets.

The level of investment that HNA pledged to Azul reflects HNA's view of the long-term opportunities in Latin America. HNA at one point was also reportedly interested in Virgin America, so its appetite for airline investment remains robust. HNA also invested in Azul during a time when Brazilian airlines were facing (and they still are) grim economic conditions in their home country. Therefore, HNA is not likely scared away by current economic weakness in Latin America. However, with an investment from HNA Avianca does not gain a strong airline partner to deepen coordination with airlines such as United or Delta.
Avianca's would-be suitor will wisely expect long term rewards from a potential investment
Even as Latin America faces its second consecutive year of economic contraction the region remains strategically important, and the level of investment made in the area's airlines during the last couple of years reflects the view that much untapped demand remains in the region's three largest markets – Brazil, Mexico and Colombia.

Avianca is wisely seeking to take on an investor that is committed to help it maintain or grow its position in Latin America. Its would-be suitor will be equally as wise to view the investment as a means to gain a key advantage in an area that remains ripe for growth, once an economic rebound occurs.