Lufthansa's new long-haul low-cost plans show new CEO Carsten Spohr's eagerness to move forward
Analysis
Presenting a strategy update to analysts in London after 70 days in the job, Lufthansa Group CEO Carsten Spohr said that he could not wait the 100 days usually afforded to a new CEO before their first progress report. This sense of urgency should serve him well in the rapidly changing airline industry. After all, he has worked for Lufthansa his entire career and had been running its largest business unit, the passenger airline, since 2011. He does not need time to settle into the job.
In addition to lots of analysis of the airline industry backdrop and the changes affecting it, Mr Spohr's presentation included one significant new plan. Lufthansa is to launch a new low(er) cost long-haul airline, possibly as a joint venture with Turkish Airlines.
The low-cost long-haul concept is well established in Asia and is being pioneered in Europe by Norwegian Air Shuttle. It would be Lufthansa's most radical attempt so far to combat competition from hubs in the Middle East. But bolder steps are probably needed to catch up to the fast moving game, even if its unions feel more comfortable with the status quo.
The economic power is shifting to Asia
Mr Spohr set the context for Lufthansa's business with a reminder of how the economic power is shifting to Asia. He highlighted the superior growth of Asian economies, in particular India and China (and also, to a lesser extent) of Latin America, relative to Europe (see graphic below). This is giving rise to new centres of power and consumer groups.
By 2020, he said, more than 50% of the world's middle class would be located in Asia.
Average annual GDP growth 2002 to 2012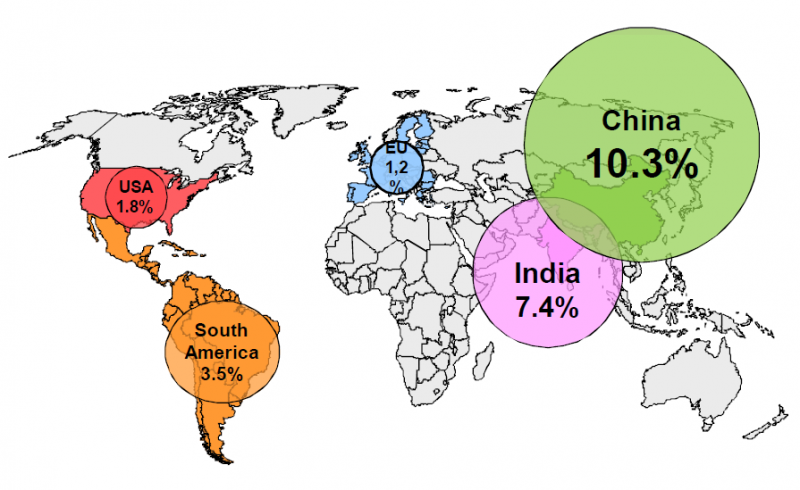 This would lead to significant opportunities for airlines operating in and out of Asia as the propensity to take long-haul flights increases exponentially as purchasing power grows.
However, Mr Spohr contrasted the situation of Lufthansa and the airline industry with that of other CEOs of major German companies that recently travelled to China on a trade mission with Chancellor Angela Merkel. "Other CEOs on the China trip can move production to Asia, but that's harder for an airline", he said.
Long-haul flights versus purchasing power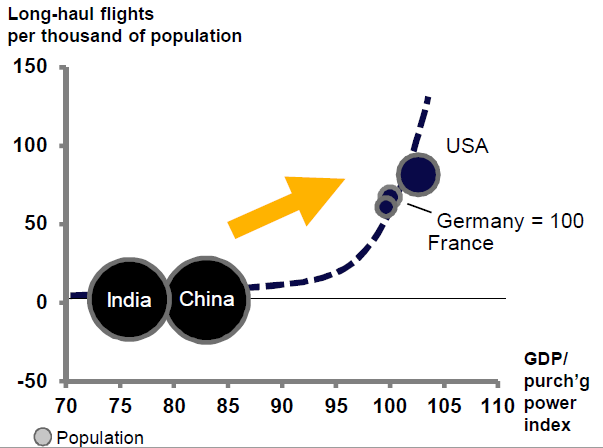 Rapidly changing airline industry
Mr Spohr highlighted a number of other areas in which the airline industry is changing rapidly. These include the growing importance of bilateral joint ventures and the permanence of the (low cost) point to point business model, which is outpacing the growth of the hub model. He noted the slow progress of European airline consolidation, describing this as "overdue".
While airline privatisation had been a significant movement in Western Europe, Mr Spohr observed that this process "stops east of Vienna", with the result that private sector carriers such as Lufthansa had to compete "not just with government-owned airlines, but with government-owned aviation systems". He argued that this was distorting the economics of intercontinental air travel.
Outside the core airline passenger business, Mr Spohr highlighted the overcapacity in the cargo sector, where capacity growth is ahead of "stagnant" demand, but saw growth opportunities in the MRO sector through increasing fleet numbers, especially in Asia and South America. In the airline catering segment, he observed that this highly consolidated market was shifting to Asia.
Mr Spohr described the Lufthansa Group's strengths as Europe's biggest airline network, its global leadership in MRO and airline catering, strong positions in air cargo and airline IT. These combined to make it the world's biggest aviation group. Mr Spohr also praised the Group's "highly skilled and dedicated employees", adding that the "loyalty, motivation and passion of the average Lufthansa employee is greater than in other airlines and other service industries".
Mr Spohr said that the Group's challenges included further increases in productivity, the further refinement of structures to compete with LCCs and Gulf carriers, making better use of the combined strength of the Group, making change with greater speed and regaining its reputation for innovation and quality.
"We may be dynamic compared with other German companies", he said, "but we need to be more dynamic compared with our airline competitors".
An overarching challenge identified by Mr Spohr was to make up for Europe's lack of growth momentum compared to Asia and the Americas.
Three sets of needs must be met
He described Lufthansa's goals as to balance the needs of customers, employees and shareholders in order "to be the benchmark again". All three constituencies had to be served, Mr Spohr said. To favour one at the expense of the other two would be "only a short term gain".
Matching the three sets of stakeholders, there were also three limiting factors, namely fleet age, market position (and the growth needed to maintain this) and financial stability. These three factors needed to be optimised, but also balanced with each other.
Lufthansa's goals: a three way balance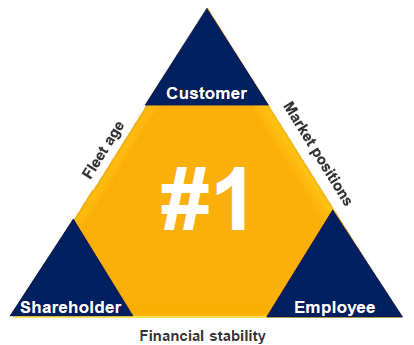 Seven action areas
Having set the context for his strategic update, Mr Spohr identified seven action areas:
Efficiency improvements
Customer and quality focus
New concepts for growth
Innovation and digitalisation
Effective and lean organisation
Culture and leadership
Value based steering
Number of devices connected to the internet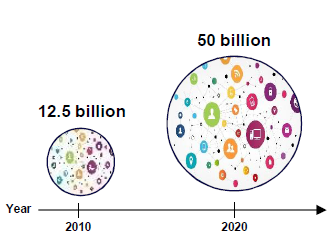 The first three of these areas are expanded below.
Efficiency improvements. Lufthansa faces cost inflation typically in the range of 1% to 2% annually, while also suffering yield erosion of up to 1% pa. This gives rise to a constant need for rigorous efficiency management. Short term measures will include the removal of five short/medium-haul aircraft and three long-haul aircraft in winter 2014/15, resulting in a halving of ASL growth plans for Lufthansa Passenger Airlines, and the reduction of cargo capacity this winter by two MD-11 freighters.
Customer and quality focus. For example, Lufthansa aims to be the western hemisphere's first five star rated airline, through new first class and business class cabins and the introduction of premium economy (the most profitable cabin, according to Mr Spohr), a catering upgrade in business, improved premium check in and improvements to the transfer, arrival and on board services.
New concepts for growth. Private travel is growing faster than business travel and accounts for a larger share of the market (75% of all intercontinental air travel and 79% of all continental European air travel is for private reasons, according to Lufthansa). Lufthansa plans to develop new products and platforms to capture a greater share of private travel.
Specifically, it plans to make greater use of its "Wings" brands. Building on the growth of its lower cost subsidiary Germanwings, it also plans to increase the role of its Eurowings subsidiary in Europe and to establish a new long-haul low-frills carrier. This is discussed more fully below.
In addition, Lufthansa now has joint ventures in place or planned with leading airlines in the four largest economies outside Germany: USA, Canada, Japan and China (a planned JV with Air China was announced recently).
See related report: Air China-Lufthansa Group JV will control 35% of Europe-China market while easing growth tensions
Outside the core airline segment of the Group, Lufthansa is also enhancing its Miles & More loyalty programme and pursuing growth opportunities with Lufthansa Technik, LSG Sky Chefs and AirPlus (its business travel management solutions company).
Lufthansa Group revenue split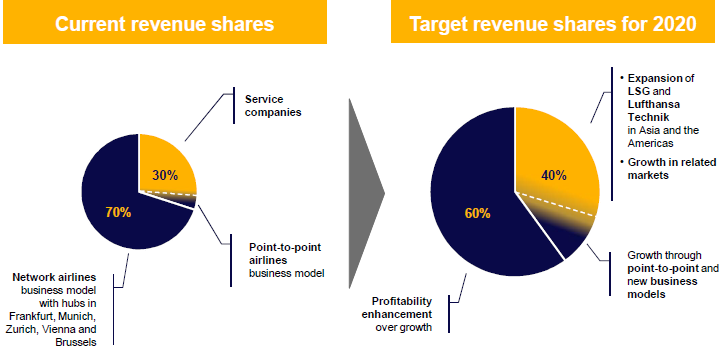 Extension of the "Wings" point to point concept in Europe…
As mentioned above, Mr Spohr outlined plans to expand the "Wings" family of airlines in the point to point markets. Currently, it has Germanwings and Eurowings operating from Germany in the short-haul point to point markets.
Germanwings will continue its expansion as previously planned, with the transfer of non-hub Lufthansa routes completed by spring 2015. Mr Spohr said that the Group's LCC was "very successful, operationally, commercially and from a customer point of view". It is aiming to achieve profitability in 2015.
See related reports:
The Group now plans to extend Eurowings' operations to its other home countries (Austria, Switzerland and Belgium), starting with a base in Basel in early 2015 and further bases under consideration.
Eurowings is a Lufthansa subsidiary, but has a separate and more flexible collective labour agreement allowing for lower costs. Its fleet of Bombardier CRJs will be replaced with 23 Airbus A320 aircraft (as has been previously announced).
Lufthansa's "Wings" brands for the private travel segment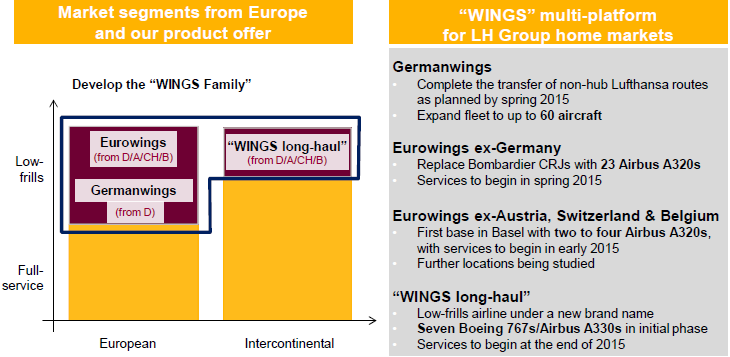 … and onto long-haul
The initiative that has received most attention already is Lufthansa's plan to extend the "Wings" concept (this now seems to be its shorthand for point to point, lower cost, operations) to long-haul markets for private travellers.
The plan, which has yet to receive the formal approval of Lufthansa's Supervisory Board, is to establish a "low-frills" airline under a new brand name from the end of 2015, initially deploying seven Boeing 767s or Airbus A330s (versus 151 widebody aircraft in the Group fleet at the end of Mar-2014). If the concept proves viable, Lufthansa will roll over its fleet into new generation widebodies, either 787s or A350s.
Key to Lufthansa's thinking in establishing this operation as a separate brand is that this will allow it to operate outside its existing collective labour agreements. Eurowings currently does this, while Germanwings is inside the Lufthansa labour agreements (but achieves higher productivity).
Softly softly with labour will be the key to lower costs
The aim, says Mr Spohr, is to "disconnect the brand from the labour agreement". Not only does this allow a lower cost base in the new operation, but it also puts pressure on unions in the core business as it demonstrates that growth is possible through lower cost platforms. In this respect, Lufthansa is following the lead taken by other airline companies such as IAG and, more recently Finnair, in developing a 'Plan B' approach to labour relations.
See related report: Lufthansa pilot strike highlights labour issues for Europe's legacy carriers. It's time to wake up
At this stage, Lufthansa has not given details of the new long-haul operator's likely cost base relative to its existing operations. Labour costs are very often the key to cost advantage in the airline industry and Lufthansa has, to date, not taken advantage of this possibility to any significant degree. It will also need lower aircraft operating costs, but is keen to launch the carrier with existing equipment in order to test the concept.
It will have lower unit costs (CASK) than the core Lufthansa business (primarily due to labour costs and also, perhaps, from airport-related charges at secondary airports), but it will also have lower unit revenues (RASK).
Presumably, if the venture shows signs of being viable only with reduced labour costs, this will give it confidence that it can become even stronger with the additional savings offered by more efficient new aircraft.
In addition to the opportunity a new brand gives in achieving lower labour costs, creating a new brand allows a lower frills product without damaging the Lufthansa brand. A new brand could also be an opportunity in markets where Lufthansa has not historically been strong, but where a fresh new brand could be more appropriate.
Lufthansa's point to point concept outside main hubs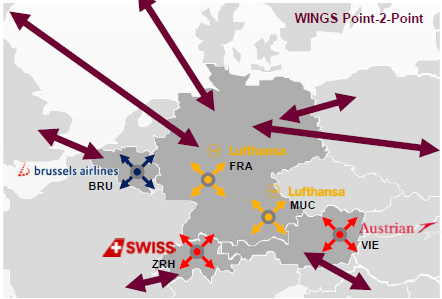 Lufthansa does not plan to operate the new long-haul airline at Frankfurt, but Munich is a likely base and Düsseldorf, Cologne-Bonn and Hamburg are also being considered. In the latter three airports, Germanwings is already strong and could provide feed (albeit on an "accidental" basis, without specific schedule design).
The new carrier's route network will likely focus on leisure destinations around secondary cities for private travellers, but may also include cities such as Bangkok, which is a major leisure destination and also a major hub. The location of the carrier's head office has not yet been decided, but Mr Spohr insists that it will not be in his "shiny office" in Frankfurt.
Mr Spohr was reminded that Ryanair's CEO Michael O'Leary has often said that long-haul low-cost requires a premium cabin to be profitable. Given that Mr O'Leary was not currently moving ahead with plans to move into long-haul markets, he was asked what Lufthansa could do differently. "I am happy to be faster than Michael on this," said Mr Spohr, "but he's right about a premium cabin and we will have one". He added that a key difference between the planned Lufthansa new venture and Ryanair was that Lufthansa already had good access to premium passengers.
And each of the long-haul low cost operators in Asia - notably AirAsia X with some near-lie flat business seating - has deferred to the need to include a small premium section and superior passenger treatment, albeit less marked than business class on full service airlines.
In a sign that relations with Star Alliance partner Turkish Airlines may be improving again, after the rift that led to the end of agreements on codeshares and FFP reciprocity in 2013, Mr Spohr said that the new lower cost long-haul airline might be set up as a joint venture with THY. The two airlines already jointly own medium-haul leisure LCC SunExpress and are discussing its possible extension into long-haul. CAPA suggested this in Jul-2013.
See related reports:
A likely issue for discussion between Lufthansa and Turkish Airlines is the extent to which a new long-haul point to point operator may take traffic away from the latter's Istanbul hub. Nevertheless, Mr Spohr could see a "win-win" outcome, even if the vehicle did compete with THY's hub operation. "The aim is to recapture more traffic from others than it cannibalises from [its partners]".
A long haul low cost subsidiary is radical for Lufthansa, but even deeper breaths will be necessary
Mr Spohr has had a busy first 70 days, presiding over a profit warning, the announcement of the planned Air China JV, and now this strategic update. As would be expected from a career Lufthansa executive, he demonstrates a deep and thorough knowledge and understanding of the Group's businesses, its strengths and weaknesses.
One of Lufthansa's greatest challenges is that its location in some of the world's highest cost labour markets pushes it to seek a premium positioning in order to drive up unit revenues ("We have the highest RASK in the industry, but also the highest CASK", said Mr Spohr). In addition, the relatively small O&D market around its biggest hub at Frankfurt and the decentralised nature of Germany compared with other large European countries, has given it a high dependence on transfer traffic.
The planned new long-haul business appears to be aimed at creating a lower cost base and reducing the dependency on the hub, while avoiding risk to the premium branding of the core product. The concept is a radical one for Lufthansa and it may help to fight off some of the competition coming from the Middle East by offering non-stop services between secondary cities in opposition to one-stop flights through the Gulf.
The problem is that Gulf carriers already offer a premium product with lower costs and will likely still provide strong competition. In addition to the direct service offered by the new airline, its fares will need to be very competitive.
Moreover, it is limited in its scope. The Lufthansa Group's "Wings" point to point platforms will eventually account for 25% to 30% of the Group's narrowbody aircraft, under current plans. This is a significant proportion of its short/medium-haul business, although it can be argued that it is still not enough and that Germanwings' cost base is not low enough compared with other European LCCs.
By contrast, the planned seven aircraft in the new point to point long-haul operator represent only 5% of the Group's widebody fleet. It seems that Mr Spohr cannot ignore the constraints imposed by maintaining the core product's premium branding and by the labour agreements in the core operation.
As a new CEO, Mr Spohr has a window of opportunity to effect real and lasting change. He has shown that he understands this, but may need to be more ambitious - even if it does mean upsetting some of the dinosaurs within.
See related reports: