SunExpress: does it have a strategic value to Lufthansa & Turkish Airlines to outweigh its losses?
Analysis
A low-cost carrier by virtue of its unit costs and revenues, SunExpress' costs are nevertheless too high for its revenues and it lost EUR12 million in 2012. Jointly owned by Turkish Airlines and Lufthansa, it has a focus on leisure routes between Germany and Turkey. It has some market-leading positions on key routes, but also faces a large number of competitors in this very price sensitive market. Its highly seasonal capacity profile adds to the challenge of achieving year-round profitability.
SunExpress' value to its parent companies extends beyond its position on routes between their two countries. It has also provided them with more than 20 years of working together and this could point the way to closer cooperation between them in other regions as they look to combat the threat of the Gulf carriers. The appointment last week of the CEO of SunExpress Germany, a subsidiary of SunExpress, to the Supervisory Board of Lufthansa Group company Austrian Airlines further highlights the growing ties.
See related report Lufthansa's long-haul low-cost Asian operation. A range of partner options. Part 1
A Turkish-German joint venture, number three international airline in Turkey
SunExpress is a 50/50 jointly owned company set up in 1989 by Lufthansa and Turkish Airlines. SunExpress began as a charter operator offering tourist flights from Antalya mainly to Germany, but was the first private airline to offer international scheduled flights from Turkey when it commenced the Antalya to Frankfurt route in 2001. It opened a base at Izmir in 2006 and at Istanbul Sabiha Gokcen in 2008. Its smaller subsidiary SunExpress Germany was launched in 2011.
SunExpress operates from five airports in Turkey, Istanbul Sabiha Gokcen, Izmir, Antalya, Kayseri and Adana to 22 destinations in Europe, mainly in Germany, Switzerland and Austria. It plans new routes from Alanya's Gazipasa airport on Turkey's southern coast to Germany and from Leipzig to Egypt and the Canary Islands in Nov-2013.
SunExpress Germany operates to 10 airports in Turkey (Istanbul Sabiha Gokcen, Izmir, Ankara, Antalya, Samsun, Trabzon, Kayseri, Adana, Elazig and Gaziantep) and three airports in North Africa (Enfidha-Hammamet, Hurghada, Marsa Alam) from Frankfurt, Cologne/Bonn, Duesseldorf, Munich and Stuttgart in Germany.
SunExpress is the number three airline by international seats in Turkey this summer (week of 1-Jul-2013, source: Innovata), but, with a capacity share of just below 5%, it is a long way behind first placed Turkish Airlines and second ranked Pegasus. SunExpress Germany has less than 1% of international seat capacity in Turkey. The combined share of SunExpress and its two shareholders Turkish Airlines and Lufthansa (together with the other Lufthansa Group carriers) is 58%.
See related reports:
Top 20 Airlines in Turkey by international seats: 1-Jul-2013 to 7-Jul-2013
| Rank | Airline | % of total seats |
| --- | --- | --- |
| 1 | | 50% |
| 2 | | 12% |
| 3 | | 5% |
| 4 | | 3% |
| 5 | | 2% |
| 6 | | 2% |
| 7 | | 2% |
| 8 | | 1% |
| 9 | | 1% |
| 10 | | 1% |
| 11 | | 1% |
| 12 | | 1% |
| 13 | | 1% |
| 14 | | 1% |
| 15 | | 1% |
| 16 | | 1% |
| 17 | | 1% |
| 18 | | 1% |
| 19 | | 1% |
| 20 | | 1% |
| | Others | 14% |
The majority of seats are between Turkey and Germany
According to Innovata, SunExpress' capacity is 100% international, with 72% of seats to Germany. SunExpress Germany's seat capacity is a little over one fifth that of its parent and is mainly to Turkey (71%), with 24% to Egypt and 5% to Tunisia. SunExpress' previous domestic Turkish routes are now operated under Turkish Airlines; subsidiary AnadoluJet's brand.
SunExpress international seats by region: 1-Jul-2013 to 7-Jul-2013
SunExpress international seats by region: 1-Jul-2013 to 7-Jul-2013
Highly seasonal leisure focus
The majority (75) of SunExpress' 146 summer routes are served with just a single weekly frequency (week of 1-Jul-2013, source: Innovata). This reflects its leisure focus, which also reveals itself in a highly seasonal capacity profile. The total number of routes falls by around one half to 70 in the winter (week of 2-Dec-2013, source: Innovata). Most of the reduction comes from the routes that are served by single weekly flights (there are 22 of these in the winter).
According to Innovata data, SunExpress' total one-way capacity is 33,300 seats for the week of 1-Jul-2013 and 16,650 for the week of 2-Dec-2013. This 50% seasonal capacity cut compares with cuts of around 20% by Pegasus and less than 10% by Turkish Airlines.
SunExpress destinations served by frequency: 1-Jul-2013 to 7-Jul-2013
A low share at its main Turkish bases
SunExpress' biggest Turkish airports by seat capacity are Antalya, Izmir and Sabiha Gokcen, but its highest share of seats at any of the three is at Izmir, where it has 13% and ranks third behind Pegasus and Turkish Airlines. It is number four at Antalya, behind Turkish, Pegasus and Condor, and number four at Sabiha Gokcen, behind Turkish, Pegasus and Atlasjet.
SunExpress top 10 bases by seat capacity: 1-Jul-2013 to 7-Jul-2013
Antalya Airport seat capacity by carrier: 1-Jul-2013 to 7-Jul-2013
Izmir Adnan Menderes Airport seat capacity by carrier: 1-Jul-2013 to 7-Jul-2013
Istanbul Sabiha Gokcen Airport seat capacity by carrier: 1-Jul-2013 to 7-Jul-2013
Leading positions on its top 10 routes, but many competitors
SunExpress top 10 routes by seat capacity: 1-Jul-2013 to 7-Jul-2013
As a carrier focusing on point-to-point leisure routes, share of hub capacity is perhaps not as important a measure as it is for network carriers. Share on key routes, however, is important. Eight out of SunExpress' top 10 routes by seat capacity (week of 1-Jul-2013, source: Innovata) are to destinations in Germany, with the other two being the Lufthansa Group hubs of Vienna and Zurich. It has a number one market position on all but three of its top 10 routes and is number two on the rest.
While having a high number of major routes with top two rankings is an asset for SunExpress, its top 10 routes are all very competitive and it has no monopolies on this list. Leisure specialist Condor is a major competitor and it also faces competition from airberlin and LCCs TUIfly and Pegasus on a number of its top 10 routes. Fast-growing Turkish LCC Pegasus ranks among Europe's ultra-low-cost carriers and is likely to be a formidable competitor as it pursues its high growth strategy.
See related report: Pegasus Airlines: a true LCC growing traffic and earnings at a winged gallop
SunExpress Germany's biggest route is Antalya to Duesseldorf, which it shares with its parent for a combined number one rank by seats. Other major routes for SunExpress Germany, all much smaller than SunExpress' top routes, include Duesseldorf to Ankara (it is number two to Turkish Airlines) and Marsa Alam (it is number one, with airberlin in second); Frankfurt to Marsa Alam and Gaziantep Oguzeli (monopoly routes); and Stuttgart to Istanbul Sabiha Gokcen (it is number three behind Pegasus and Germanwings, but number four on Stuttgart to Istanbul overall on a city pair basis as Turkish Airlines operates to Istanbul Ataturk).
SunExpress market position on its top 10 routes by seat capacity: 1-Jul-2013 to 7-Jul-2013
Route

SunExpress
ranking

Competitors

2

1 Condor, 2 SunExpress, 3 TUIfly, 4 Lufthansa

1*

1 SunExpress*, 2 Condor, 3 airberlin, 4 TUIfly

1

1 SunExpress, 2 NIKI, 3 Austrian, 4 Pegasus, 5 Turkish

1

1 SunExpress, 2 Belair

1*

1 SunExpress*, 2 Turkish

1*

1 SunExpress*, 2 Germanwings, 3 Pegasus

BerlinTegel-Izmir

1*

1 SunExpress*, 2 Pegasus (Berlin Schoenefeld), 3 Turkish

2*

1 Condor, 2 SunExpress*, 3 TUIfly, 4 airberlin, 5 Lufthansa

2*

1 Condor, 2 SunExpress*, 3 TUIfly, 4 airberlin, 5 Turkish

1*

1 SunExpress*, 2 Pegasus, 3 Germania
All Boeing narrow body fleet
According to the CAPA Fleet Database, SunExpress has a fleet of 28 Boeing 737-800s and three 737-700s, with an average fleet age of 8.7 years. SunExpress Germany has seven 737-800s, with an average age of 10.7 years. All aircraft in the group operate single class cabins. SunExpress also leases some aircraft to Turkish Airlines subsidiary AnadoluJet. Three quarters of SunExpress aircraft and all of SunExpress Germany aircraft are leased.
SunExpress Fleet Summary: as at 3-Jul-2013
| Aircraft | In Service |
| --- | --- |
| | |
| | 3 |
| | 28 |
| SunExpress Total: | 31 |
| | |
| | 7 |
| Group total | 38 |
Losses in 2010 and 2012
Financial and traffic information on SunExpress is scarce, but the company's website says that, in 2011, its revenues grew by 30.3% to EUR666 million and that it carried 7.7 million passengers, an increase of 15.8% from the 6.7 million carried in 2010. Load factor grew by 2.6 ppts to 80.1% in 2011. SunExpress does not give any information on profitability.
Lufthansa Group annual reports disclose that its 50% share of SunExpress' net result has been negative in 2010 and 2012, with a small positive in 2011. This implies SunExpress made net losses in 2010 and 2012 and a small net profit in 2011. The available traffic and financial data are summarised in the table below.
SunExpress traffic and financial data
2010

2011

Change
2011 vs
2010

Revenue EUR million

511

666

30.3%

Pax million

6.7

7.7

15.8%

Load factor %

77.5

80.1

2.6

Revenue per pax EUR

77

86

12.5%

EUR million

2010

2011

2012

Lufthansa Group's 50% share of result

-9

2

-6

Implied net result of SunExpress

-18

4

-12
Revenue per passenger in line with LCCs, but not profitable
The data on revenues and passenger numbers imply that revenue per passenger grew by almost 13% in 2011 to reach EUR86. Data from Innovata on SunExpress' total number of weekly seats and ASKs in 2013 can be used to calculate that its average sector length is currently somewhere around 2,000 km. Assuming that this has not changed much since 2011, we can add SunExpress to a scatter plot of revenue per passenger against average sector length (see chart below).
This suggests that SunExpress is very price competitive, with one of the lowest revenue per passenger figures in Europe, in spite of a relatively high average sector length. Its position on the chart below groups it with low-cost carriers. Operating profit/loss figures are not available for SunExpress and so we cannot calculate cost per passenger figures, but, since it is loss-making at the level of the net result, it seems likely that it may also be loss-making at the operating level.
Revenue per passenger (EUR) versus average sector length (km) for selected European airlines: 2012*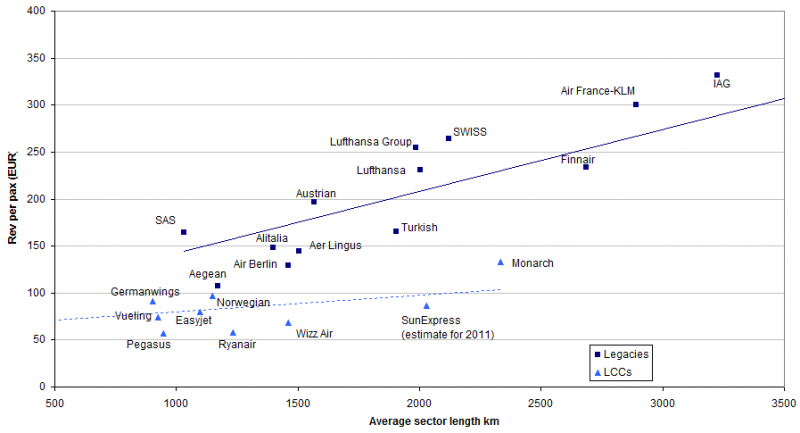 A wider strategic relevance?
While SunExpress may have unit costs that also group it with the LCCs, its costs are too high for its revenues. Monarch Airlines, also a leisure focused carrier, achieves significantly higher revenue per passenger with only a slightly higher average sector length. This may point to an opportunity for SunExpress to improve revenue per passenger.
However, although SunExpress grew revenue per passenger in 2011, it operates in a very competitive, price sensitive market and it may be more of a price taker than a price maker. It has not reported revenues for 2012, but its net loss suggests that it did not have sufficient pricing power to cover its costs.
In addition to realising cost reduction, SunExpress will also need to focus on strategies to generate stronger unit revenues. Although its losses are not heavy, it is not obvious that its routes are sufficiently important to Lufthansa and Turkish Airlines to continue to tolerate them unless they see a wider strategic relevance in the joint venture.