Germanwings: can a premium strategy sustain an LCC? Lufthansa would like to think so
Analysis
On 4-Oct-2013, Lufthansa gave a presentation to analysts and investors in London on developments in its Passenger Airlines business, with a focus on giving more details of the progress of the 'new Germanwings'. The session was led by Carsten Spohr, CEO of Lufthansa German Airlines, and supported by the CEO and CFO of LCC subsidiary Germanwings.
The speakers gave an update on the transfer of non-hub European point-to-point traffic from Lufthansa to Germanwings and its expected impact on the group's short/medium-haul losses.
Lufthansa's plans for Germanwings are more far-reaching than those of Air France with its LCC subsidiary Transavia France. However, IAG already has a fully fledged stand-alone pan-European LCC in the form of Vueling. Moreover, both Transavia and Vueling (and other European LCCs) have lower unit costs than Germanwings. Can it generate enough of a price premium to offset this cost disadvantage?
Germanwings to be the largest contributor to Lufthansa's SCORE programme
Lufthansa's vision of Germanwings in 2015 is that it will have around EUR2 billion of revenues, 18 million passengers and 90 aircraft. It will continue to operate from primary and secondary German airports.
It sees its positioning as offering customised products, with a view to maximise ancillary revenues, and a broad distribution mix. Germanwings CEO Thomas Winkelmann sums up: "We offer a choice of fares and choice of distribution". Germanwings regards membership of the Lufthansa Group as a significant advantage, allowing it access to a strong corporate customer base and the Miles&More FFP.
Germanwings has been tasked with turning around the financial performance of Lufthansa Passenger Airlines' European non-hub network. It is expected to be the largest contributor to Lufthansa's group-wide SCORE cost reduction programme.
For detailed analysis of Lufthansa's SCORE programme, see related reports:
Three fare classes: best, smart and basic
The 'new Germanwings' was launched on 1-Jul-2013. Its new livery was designed to demonstrate its connection with the Lufthansa Group, while retaining its own distinctive colours and branding. It introduced a new fare structure with three categories.
The motivation behind this approach is that, beside the 'price-only' market, there are people willing to pay extra for extra comfort and services, according to Germanwings CEO Thomas Winkelmann. CAPA has described and assessed the three fare categories in a previous analysis report and so only a brief summary is provided here.
BEST – first three rows, lounge access, fast lane, free food. This fare category is offered only on certain routes, where demand exists from Lufthansa customers and existing Germanwings customers.
SMART – EUR20 more than BASIC, giving luggage check in, seat allocation (with extra pitch), food and drink.
BASIC – "short-haul low cost" from EUR33. Everything else is extra and the lowest fares are only available on Germanwings' website.
See related report: Germanwings rebrands: you say you want a revolution? To be led by cost and operations
Mr Winkelmann believes that the competition is slowly copying the multiple fare category approach, with varying levels of bundling/undbundling.
He cites as examples Vueling, British Airways at London Gatwick and easyJet, saying that they are all "getting into that 'fare family' mode", and predicting that almost all carriers in the market will take this approach.
While this process of convergence between LCCs and legacy carriers in their approach to pricing is undeniable, and has been the subject of much analysis, it may be too strong to say that the competition is copying Germanwings in this respect.
Germanwings is the market leader in point-to-point traffic in Germany
Germanwings is starting as the market leader in point-to-point traffic in Germany. In combination with Lufthansa, it has a 34% market share at Düsseldorf, 43% at Hamburg, 57% at Cologne/Bonn, 34% at Hannover, 23% at Berlin and 41% at Stuttgart and is the leader in each of these individual markets apart from Berlin (based on share of sectors up to 4,000 km, see chart below).
Lufthansa Passenger Airlines and Germanwings combined market shares in German airports: 2013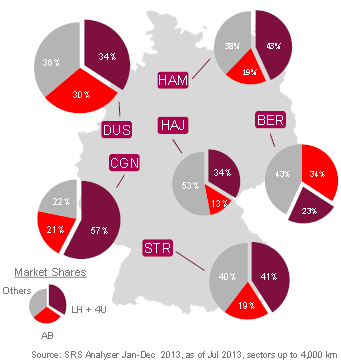 Germanwings operates a strictly short/medium-haul point-to-point model and does not fly from Lufthansa's hubs at Frankfurt and Munich. Nevertheless, it is present in Düsseldorf from where Lufthansa operates a number of long-haul routes requiring some feed.
In fact, long-haul flights from Düsseldorf have a lower share of connecting traffic than anywhere else in the Lufthansa Group, so there is a lesser feed requirement. Germanwings has codeshares with Austrian Airlines to Vienna and SWISS to Zurich, allowing it to play a part in providing some feed.
"Super competitive" and with "the Lufthansa group behind us"
While Germanwings has a leading position in its market, competitors such as airberlin and easyJet continue to provide fresh challenges. Mr Winkelmann remains sanguine about airberlin's plans for new routes and capacity growth, noting that it tried twice, in 2008 and 2010, to get into Germanwings' original "strongholds" of Stuttgart and Cologne "with heavy marketing spend". He believes that his airline's advantages are clear: "We have better technology, a better brand and the Lufthansa Group behind us".
See related report: Airberlin: a game of two halves. Can Turbine power it to breakeven in 2013 after 1H losses?
His response to the potential threat posed by easyJet's recent decision to open a base at Hamburg is similarly confident: "They are welcome. EasyJet has tried before; in 2007 they had four aircraft in Dortmund. …We have a good product, we have a good name in Hamburg; we will see what their network will be and what they will fly and then what we will fly, but we will defend our home territory for sure."
He describes Germany's market as "super competitive", making him used to competition. "Until now, we were pretty successful", he says, citing Germanwings' strengths as its product offering, on-time performance, and membership of the Lufthansa Group.
Mr Spohr identifies what he calls "catchment dominance" as a further reason for Germanwings to feel comfortable about easyJet's latest incursion into its territory: "Both players know what it means to go into the market of the other. We learned our lesson in Milan, where basically we were not able to break into the market of easyJet, and I would dare to say easyJet will see the same trying to break into the markets of Lufthansa".
To become one integrated business by 2015, with 90 aircraft
The transfer of non-hub European traffic from Lufthansa to Germanwings is progressing through 2013 and 2014. Stuttgart and Cologne have already been transferred; Berlin and Hamburg are work in progress and Düsseldorf will follow in 2014. By 2015, only the Germanwings brand will operate on this part of the network.
The transfer of 49 aircraft from Lufthansa will lead to Germanwings having a fleet of 64 Airbus A320 family aircraft and 23 regional aircraft, wet leased from Eurowings, in 2015. Aircraft from Lufthansa need to be repainted and have cabin conversions, including the removal of galleys, before being transferred.
Timeframe for 'new Germanwings'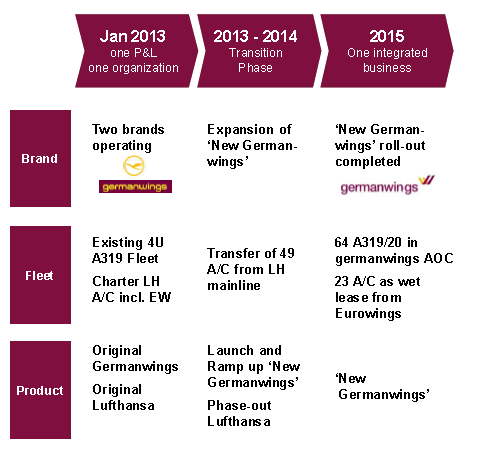 A three-part fleet development plan
The Germanwings fleet plan has three elements.
First, Lufthansa's Boeing 737s are to exit the fleet by 2014. Second, 23 Lufthansa-branded Canadair regional jets will transfer to the Germanwings brand by 2014 (but continue to be operated by Eurowings under wet lease). Third, Lufthansa's Airbus A320 family aircraft that have been used on European non-hub routes are being transferred to Germanwings progressively between 2013 and 2015.
The total non-hub European fleet (including regional jets) will fall from 94 aircraft in 2011 to 87 in 2015, while the Germanwings branded fleet will grow from 30 aircraft to 87. Excluding the regional jets, the narrowbody non-hub European fleet will grow from 62 in 2011 (of which 30 in Germanwings) to 64 in 2015.
This compares with a total combined narrowbody fleet for Lufthansa and Germanwings of 191 aircraft as at 30-Jun-2013, so the new Germanwings will eventually take account of roughly one third of the total narrowbody fleet. This is a much more ambitious programme in Germany than the one Air France is pursuing with its Transavia France subsidiary in France.
See related reports:
Regarding the CRJ fleet, Lufthansa's longer term plan is to transfer them all to the main hubs of Frankfurt and Munich, leaving Germanwings with an all Airbus fleet. Eurowings, the operator of these regional jets, will then be a hub feeder.
For now, the Canadair jets are a useful asset in some slot-restricted markets ("Slots are a key asset for a network carrier", according to Mr Spohr) and on thinner routes that need to grow before the market can absorb an A319. They are likely to remain part of the Germanwings fleet until 2016 at the earliest.
Lufthansa Passenger Airlines and Germanwings non-hub European fleet plan to 2015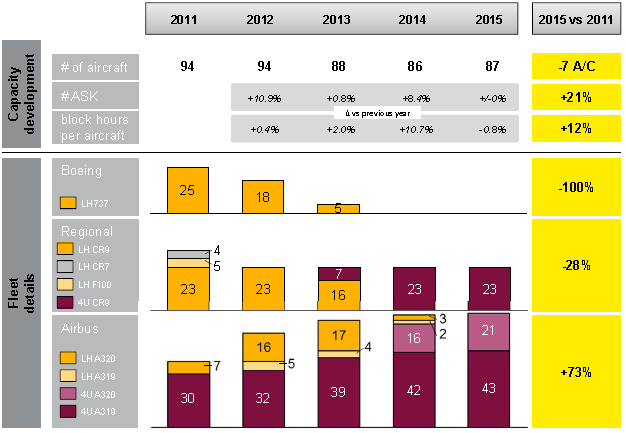 Load factors and yields are already being enhanced
The coordination of Lufthansa's non-hub European flights with Germanwings is already leading to better load factors and yields in 2013, according to the presentation. In 2013, revenue per passenger for Germanwings flights is expected to grow by almost 11% and for Lufthansa flights by 1.6%.
According to Mr Winkelmann, there is a "nice yield premium from bundling". Areas of cooperation include joint revenue management, the inclusion of Germanwings in Lufthansa's corporate sales programmes, codesharing/interlining and a partnership in the Miles&More Frequent Flyer Programme. Perhaps the most significant impact comes from the cessation of internal competition within the group.
Germanwings traffic and yield highlights 2012 and forecast for 2013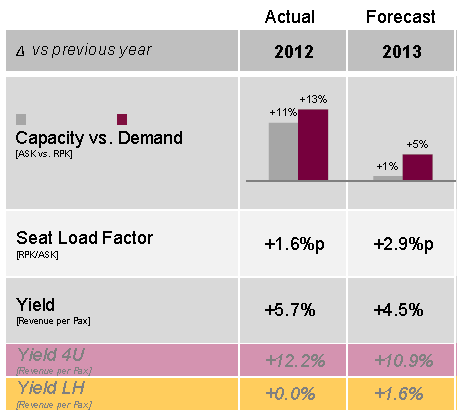 A full range of distribution channels
Germanwings is in the GDS, but its agreements mean that it does not have to put all its fares in the system, only the higher yield fares. In effect, GDS bookings are paid for by the customer and there are no incentives for intermediaries.
Mr Winkelmann argues that the key here is to offer a choice of distribution channels and that GDS give advantages to corporates, such as allowing the provision of back office reporting.
Germanwings distribution channels

Ancillary revenues are at similar levels to LCC competitors
All of Germanwings' distribution channels enable ancillary revenue generation and it is achieving similar levels of ancillary revenue as major LCC competitors such as Ryanair and easyJet.
The main ancillary driver is the re-bundling of product features into the SMART and BEST fares, according to Mr Winkelmann, but other sources include checked bag fees, channel fees, booking change fees and seat selection. He sees further opportunities to increase ancillary revenues.
Germanwings ancillary revenues per passenger vs peers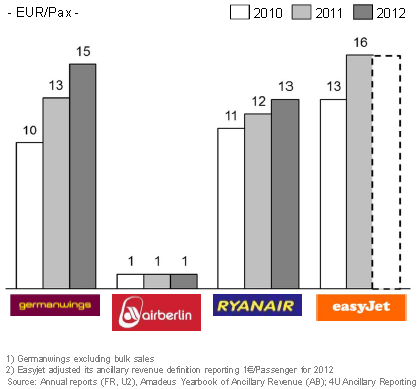 Germanwings will bring lower unit costs in the non-hub network
A key part of the thinking behind the development of new Germanwings and the transfer of traffic from Lufthansa is the desire to lower costs in the group's European non-hub network. As Mr Winkelmann points out, the challenge for an airline based in a high labour cost country such as Germany is to be a "quality leader because you cannot be a cost leader".
Nevertheless, Germanwings expects to deliver unit cost reductions in all areas (see chart below), relative to the existing Lufthansa point-to-point European network. Germanwings CFO Axel Schmidt says that the biggest unit cost impact will come from the transfer of staff to Germanwings contracts.
New Germanwings unit cost reduction targets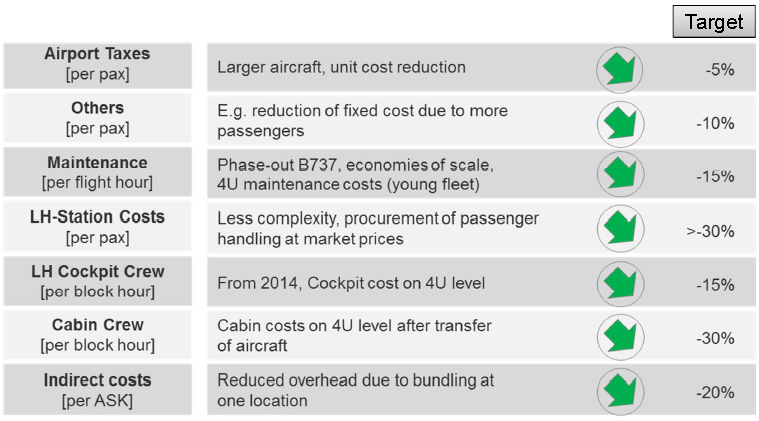 Germanwings cabin crew have a different labour contract from the rest of Lufthansa and this has recently been extended for 39 months to the end of 2015. It involves fixed two year contracts with flight attendants, who are generally younger than elsewhere in Lufthansa. The target is to reduce cabin crew costs per block hour by 30% relative to Lufthansa after the transfer of aircraft.
Cockpit staff are under a Lufthansa group-wide labour contract, which currently remains under negotiation, and pilots are graduates from Lufthansa's flight training school. Germanwings pilots tend to be younger and have lower seniority than their Lufthansa counterparts and this is a source of cost savings.
In addition, Germanwings' point-to-point schedule and operation of the base concept means productivity is higher and there are no lay-over costs for cockpit and cabin crew.
Ground staff do not have a labour contract, but Dr Schmidt describes Germanwings' ground operations as "lean", with efficient processes. Nevertheless, he expects further economies of scale in areas such as IT and administration.
Cost comparison vs European LCC peer group is still not favourable
Mr Winkelmann agrees that cost benchmarking against Germanwings' peers is important, but it is "difficult to compare apples and oranges". He maintains that Germanwings is "by far number one when it comes to cost, best in class" compared with German competition, but more expensive on labour against European competitors.
As a result of having higher labour costs, his airline needs a revenue premium and to be present where demand is strong and yields are high. For example, after operating to London Stansted for 12 years, Germanwings now also operates to London Heathrow.
Heathrow is a more expensive airport, but yields are also much higher. Similarly, when it moved from Berlin Schoenefeld to Berlin Tegel, yields went up "dramatically".
Unit costs (cost per available seat kilometre) and average sector length for selected European legacy and low-cost carriers 2012*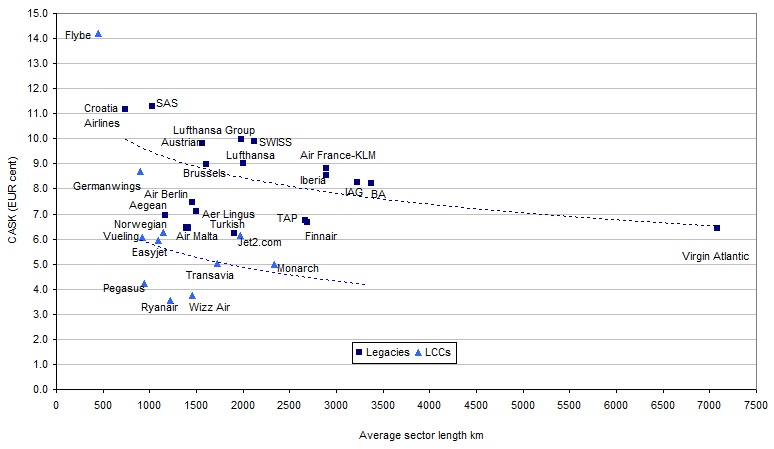 Our analysis (see Germanwings rebrands: you say you want a revolution? To be led by cost and operations) suggests that, while Germanwings' unit costs are well below those of Lufthansa in its short/medium-haul business, the cost gap to other LCCs is even greater.
For a very similar average sector length, IAG's LCC subsidiary Vueling has a CASK 30% lower than that of Germanwings. EasyJet, with an average sector length around 20% higher than Germanwings, has a unit cost more than 30% lower. The Air France-KLM LCC Transavia has a CASK level that is 40% below Germanwings.
Furthermore, we also estimate that the gap between Germanwings' unit revenues and those of Lufthansa's short/medium-haul business is greater than the unit cost gap between the two.
Lufthansa group losses are narrowing
Germanwings and Lufthansa anticipate that the non-hub European network will see a EUR90 million profit improvement in 2013 versus 2012, mainly thanks to the transfer to Germanwings. In 2012, this network lost around EUR200 million, the large majority of this in the Lufthansa-operated part of the network. Mr Spohr "wouldn't deny" that its losses were around EUR300 million at their worst.
The expected improvement in 2013 implies that there will still be a loss of more than EUR100 million, but the SCORE programme targets a breakeven result for the non-hub European network in 2015 and both Mr Spohr and Mr Winkelmann are confident that this can be achieved.
Lufthansa Passenger Airlines group non-hub European network operating result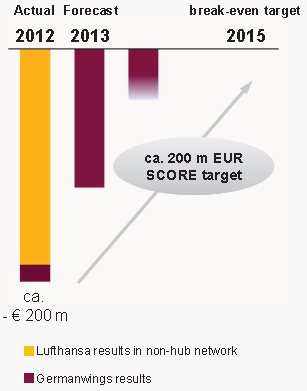 CASK is high, RASK is fickle; covering its cost of capital will be a challenge for Germanwings
The question then will be whether or not, 'new Germanwings' will be able to continue to improve its profitability to a sustainable level that will allow it to cover its cost of capital. As Mr Spohr rightly says: "…a company the size of new Germanwings, with 90 aircraft, eventually needs to make sure it makes enough profit to pay for its own capital. That's what we are in the industry for".
For an airline whose unit costs are significantly higher than those of the principal European LCCs, this will be a challenge.
It is true that CASK is not the only driver of profit and Germanwings may derive some RASK benefits from price bundling, its airport network and its association with Lufthansa. However, RASK is a notoriously fickle friend, while CASK is a very stable foe. Attempting to base long-term sustainable profits on achieving a RASK premium is a risky approach.
See related report: Lufthansa: another good trick. 2Q2013 operating result deteriorates and improves at the same time