Lufthansa's 1Q2014 losses narrow, but its new CEO has a busy agenda, with helpful partners scarce
Analysis
Lufthansa reported narrower losses in 1Q2014, although the underlying improvement in the operating result (adjusted for one-off costs and a changed depreciation policy) was only slight. Unit costs fell as expected, but unit revenues were also down. The improved group result owed much to lower fuel costs and contributions from ground-based activities such as MRO.
The seasonally weak 1Q result is not usually much of a guide to the full year for European airlines. This time, 1Q was further weakened by airport strike action and the move of Easter into 2Q. The Group's FY2014 profit targets remain unchanged, in spite of a pilot strike early in 2Q2014, helped in part by a lower fuel cost outlook. However, the headroom in the targets is narrowing. Cost restructuring remains on track and so unit revenues will probably be the key to the full year result.
New Group CEO Carsten Spohr replaced Christoph Franz at the helm on 1-May-2015. He will want to ensure that he does not have to preside over any reduction in profit targets, while also attending to a range of other key issues.
1Q2014 losses narrow, but the underlying result was only slightly better
Lufthansa achived a net result improvement from a loss of EUR458 million in 1Q2013 to a loss of EUR252 million in 1Q2014, although total revenues fell by 2.5% to EUR6,462 million. Since the net result generally contains a number of non-operating items, the most closely watched figure is the group's operating result, which improved by EUR114 million from a loss of EUR359 million to a loss of EUR245 million.
However, due to 'one-off' costs related to the group's CORE restructuring programme and one-off projects such as cabin upgrades, Lufthansa now further adjusts its figures to present a 'normalised' operating result. This improved by EUR105 million to a loss of EUR190 million, although EUR83 million of the improvement was due to a change in Lufthansa's accounting policy for aircraft depreciation. It now depreciates its aircraft less rapidly than in the past.
The first quarter of the year is traditionally loss-making and this remains the case in 2014. After all the various adjustments, the underlying loss in 1Q2014 was only slightly narrower than in the same period last year, but the quarter was adversely affected by strikes and by the change in the timing of Easter.
Lufthansa Group financial highlights: 1Q2014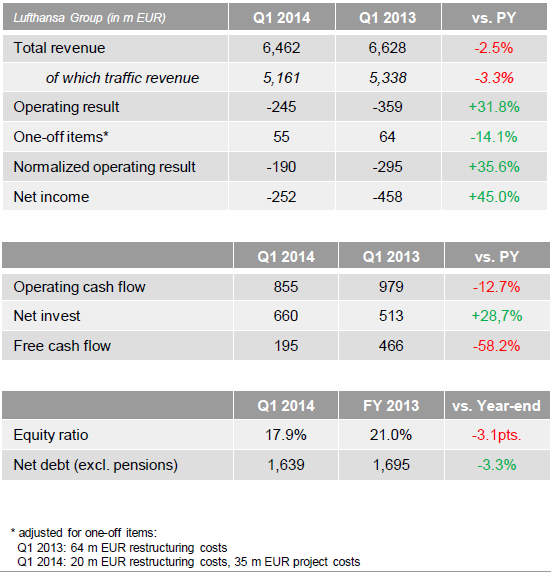 Passenger Airline Group improved its result, but only because of a new depreciation policy
The key business segment, in terms of the improved reported operating result for the group, was the Passenger Airline Group. Its operating result was a loss of EUR332 million, EUR31 million better than 1Q2013.
Stripping out one-off restructuring and project costs, the result improved by EUR66 million. However, the positive impact of the new depreciation policy on this segment was EUR86 million, and so the underlying result was actually EUR20 million worse than last year.
Warning strikes by airport and security workers in Mar-2014 adversely affected demand and contributed to this underlying deterioration in the Passenger Airline Group's result. There was also a negative impact from provisions taken in connection with foreign currency restrictions imposed by the Venezuelan government. Lufthansa has a three digit EUR million sum in cash in Venezuela that it is currently unable to repatriate.
The logistics (cargo) segment remained profitable in 1Q2014, although its operating result fell by EUR7 million to EUR21 million. Available cargo tonne kilometres increased by 1.6% year on year and revenue tonne kilometres grew by 2.3%, with cargo load factor gaining 0.5 ppts to 72.0%. Nevertheless, the segment's revenues fell by 2.8%, mainly due to exchange rate movements and also as a result of lower income from aircraft charters. The lower operating result reflected a higher number of maintenance inspections and higher depreciation resulting from the addition of new Boeing 777 freighter aircraft.
The maintenance, repair & overhaul (MRO) segment saw a EUR16 million improvement in its operating result to EUR97 million, helped by high capacity utilisation and "seasonal effects". The catering segment reported an operating loss of EUR4 million, down from a profit of EUR3 million in 1Q2013, while IT services improved its profit by EUR2 million to EUR5 million. The 'others' segment saw its loss narrow by EUR79 million, or by EUR35 million excluding one-off costs.
Lufthansa Group results by segment: 1Q2014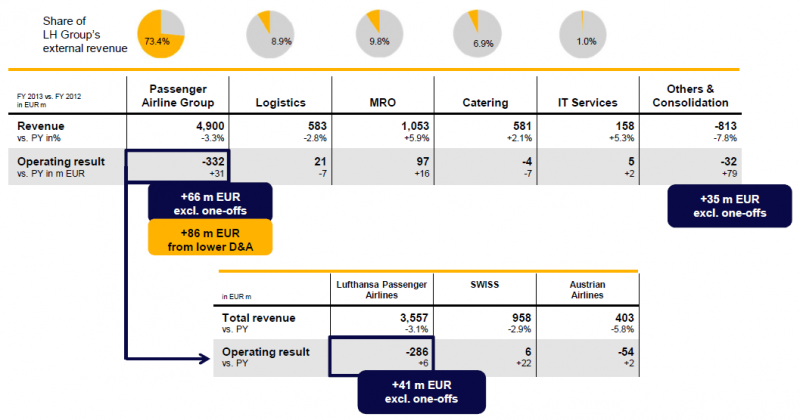 Luthansa had ASK growth of just 0.4%, but load factor and RASK fell
The Passenger Airline Group grew its ASKs by only 0.4% year on year in 1Q2014, but did not manage to match this with traffic growth. RPKs fell by 0.3% and passenger load factor slipped by 0.5 ppts to 75.6%.
This load factor reversal was entirely due to weak Mar-2014 traffic, after positive trading in Jan-2014 and Feb-2014. The change in the timing of Easter from Mar-2013 to Apr-2014 and the impact of ground staff strikes at German airports were the main reasons for this weakness in Mar-2014.
Revenue per ASK fell by 3.9%, although this decline owed much to currency movements. On a constant currency basis, RASK fell by 1.7%.
Lufthansa Passenger Airline KPIs: 1Q2014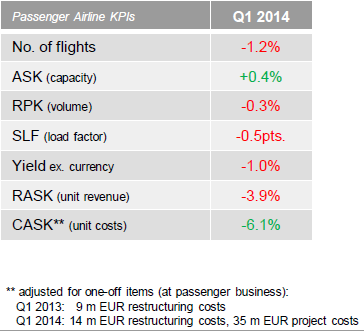 RASK was weakest in Europe and Americas
By region, the biggest declines in RASK were in Europe (-5.9%) and Americas (-4.7%). Capacity growth was also highest in these two regions (ASKs +2.8% and +1.7% respectively), highlighting the inverse relationship between capacity growth and unit revenue growth.
In Europe, unit revenues were weak due to competition, according to CFO Simone Menne on a conference call to discuss the 1Q results. She added that point to point pricing was relatively stable, but there was weakness in the hubs. Competitor capacity growth is accelerating on the Americas routes, Ms Menne said.
In Asia-Pacific, where ASKs were cut by 1.3%, reported RASK fell by only 1.4% and actually increased by 3.5% excluding currency impacts.
A strike by Lufthansa pilots, held between 2-Apr-2014 and 4-Apr-2014, means that 2Q2014 has also suffered from a hit to demand, not only from the traffic lost on the days of the strike, but also from the adverse effect on future bookings. According to Ms Menne, the recovery in bookings is not evident until May/June.
Lufthansa Passenger traffic and unit revenue by region: 1Q2014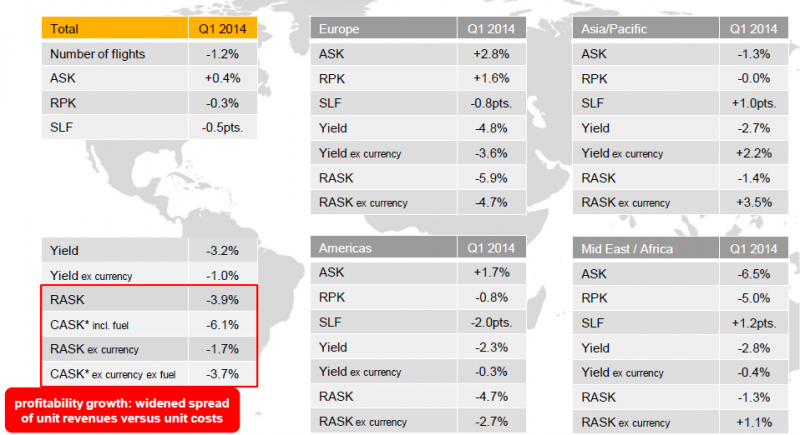 CASK falls, helped by lower fuel costs and depreciation charges
The Passenger Airline Group's total unit cost (CASK, cost per available seat kilometre), adjusted for one-off items, fell by 6.1%. This figure was assisted by lower fuel costs and by currency movements. Excluding fuel costs and currency, CASK fell by 3.7%, in line with Lufthansa's FY2014 target reduction of around 4%. The new depreciation policy accounted for 1.5ppts of the CASK reduction in 1Q2014 and is expected to drive around 2 ppts of the FY2014 reduction.
The Group's total costs fell by 4.6% (4.5% excluding one-off costs), although this would have been only 3.2% without the change in depreciation policy. Fuel costs fell by 9.4%, while non-fuel costs fell by 3.1%. Without the change in depreciation policy, non-fuel costs would have fallen by only 1.6%, less than the fall in revenues. The improvement in the Group's 'normalised' operating result owes much to lower depreciation charges and to lower fuel prices.
Lufthansa Group operating costs: 1Q2014

Lufthansa's FY2014 capacity growth plans trimmed
Looking into FY2014 as a whole, Lufthansa continues to expect its overall fleet size to be stable, although the average number of seats per aircraft will increase. It now plans ASK growth for the Group of around 4%, down from the previous target of 5% as a result of the pilot strike at Lufthansa Passenger Airlines in Apr-2014. Winter capacity plans have not yet been finalised and this plan could be further revised downwards.
In spite of 1Q2014 seeing a fall in load factor, Lufthansa expects a slight load factor increase for the full year, although it is forecasting both yield and RASK ex currency to fall slightly. Unit costs ex currency and ex fuel are still forecast to be down around 4% (a fall of 2% excluding the impact of the new depreciation policy).
Cargo capacity is expected to be flat for the year, down from previously planned growth of 1% as a result of the lower passenger capacity growth forecast.
Lufthansa FY2014 trading assumptions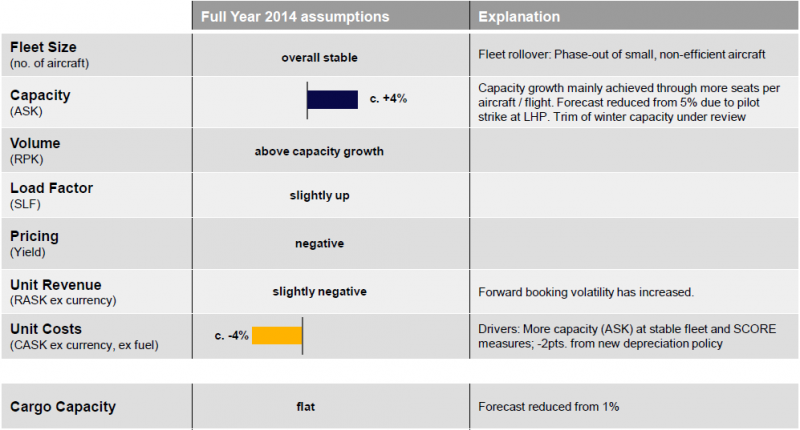 Profit targets unchanged for the Group and each segment
The Group's operating result target for 2014 remains EUR1,300 million to EUR1,500 million, or EUR1,680 million to EUR1,880 million excluding restructuring and project costs (ie on a 'normalised' basis). This outlook has been maintained in spite of lower traffic volume growth forecasts, which should be partly offset by a lower fuel cost outlook (Lufthansa now expects this to be EUR7.6 billion, which is EUR100 million lower than its previous forecast).
By segment, Lufthansa expects the Passenger Airline Group and logistics to record operating results significantly higher than in 2013, MRO to be on a par with 2013 and catering and IT services to be slightly higher than 2013.
Lufthansa FY2014 outlook by segment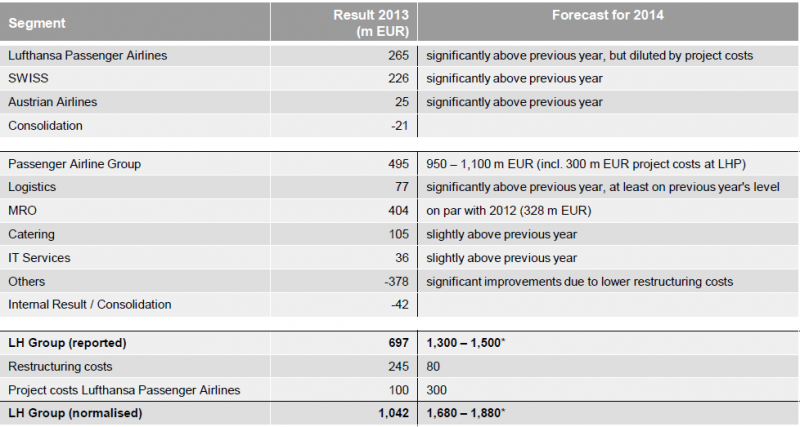 Lufthansa has a very full agenda ahead of it
In addition to achieving its FY2014 operating result target, for which continued progress with the Group's SCORE programme will be a prerequisite, Ms Menne admitted that Lufthansa's management has a full agenda. A new Group Executive Committee has been created to strengthen "the balance between central management and divisional commercial responsibility". Newly appointed CEO Carsten Spohr plans to elaborate further on the new allocation of responsibilities on 10-Jul-2014.
Ms Menne touched on a few of the priorities for the Group this summer. The transition of non-hub European routes to subsidiary Germanwings is at an advanced stage, with 50 A319 aircraft operating with the LCC's livery at the end of 1Q2015. Duesseldorf, the last and largest base to undergo the transition, started to join the process this spring and is due for completion by the start of 2015.
Once complete, the challenge will then be to ensure that Germanwings' cost base is as efficient as possible. As CAPA has pointed out previously, its unit costs do not really qualify it as a low-cost carrier by comparison with other European LCCs.
See related reports:
Talks aimed at resolving the dispute with pilots over pay and early retirement are ongoing. Ms Menne described these talks as "demanding" and "complex", but also said that they were "constructive". In addition, employees at SWISS rejected a new collective bargaining agreement that had been negotiated with union representatives and Austrian Airlines is in talks with flight crew over new working conditions. Agreement with labour is a vital requirement for achieving meaningful and sustainable restructuring.
See related reports:
In a further strategic step, Lufthansa's recent AGM gained shareholder approval for the establishment of a separate legal entity for the spinning off of the Miles & More loyalty programme.
New CEO Carsten Spohr took over on 1-May-2014
Finally, Mr Spohr assumed his new responsibilities on 1-May-2014. He must now adjust to his role as Group CEO and the oversight of the myriad of issues confronting the Group.
In addition to the items mentioned above, Mr Spohr must devise and implement a sustainable strategy that will allow Lufthansa to make the most of growth opportunities in Asia-Pacific and elsewhere, whether by partnership or organically.
The imminent induction of Air India into the Star Alliance will be a step in the right direction. In addition, reports that Lufthansa will use nine A340-300s previously earmarked for retirement to offer low-cost long-haul flights indicate that it is considering more than one approach to this issue.
However, the 2013 loosening of Lufthansa's ties with Turkish Airlines and Mr Spohr's recent renewal of the German carrier's "level playing field" language in reference to the Gulf carriers, suggest that there is still more work to be done in this area. With United floundering in the US, Air China finding its own feet in Asia and the decision taken more or less to go it alone in Europe, the Gulf and to the east, Lufthansa is short on helpful partners. For an airline whose recent history has been built on the concept of building strong partnerships, this is a brave new world.
See related reports:
Mr Spohr is a career Lufthansa executive and, until recently, was running Passenger Airlines. He has previously been in charge of Lufthansa Cargo. His intimate knowledge of the Group will undoubtedly be an asset, but he may also need to add an ability to think differently. The compass needs to be reset as stormclouds gather across a number of fronts.