Germanwings rebrands: you say you want a revolution? To be led by cost and operations
Analysis
Recently reported comments from Germanwings CEO Thomas Winkelmann draw attention to transitional IT issues and its costs relative to competitors. This highlights the challenges in scaling up its operations and redefining its product and pricing in order to become Lufthansa's vehicle for all non-hub European traffic.
Lufthansa has gained several years of experience in owning a low-cost carrier, even if it was run fairly autonomously for much of that time, and aims to combine this with its expertise in premium travel to return its non-hub short/medium-haul business to profit. But will it have the right combination of product/service quality and low costs?
Our analysis suggests that, while Germanwings' unit costs are well below those of Lufthansa, the cost gap to other LCCs is even greater. In addition, its unit revenues are further below those of Lufthansa than are its unit costs. It also faces a significant operational challenge in growing from 7-8 million passengers to its 20 million target in 2015, while improving Lufthansa's short/medium-haul earnings by EUR200 million.
'New Germanwings set to revolutionise European low-cost market'
After years of growing competition from low-cost carriers, and in spite of LCC Germanwings, Lufthansa has been losing money on its short/medium-haul network. As has been widely reported already, it is transferring all European passenger services that do not take off or land in the transfer hubs of Frankfurt or Munich into Germanwings, with the aim of improving profitability on these services by EUR200 million by 2015.
According to Lufthansa Group CEO Christoph Franz, Germanwings will offer "Europe's best price-performance ratio among the low-cost airlines – with a high level of quality and competitive cost structures". In announcing its re-launch in Dec-2012, Germanwings claimed it was set to "revolutionise the European low-cost market".
The 'new Germanwings' was formally formed on 1-Jan-2013 with Germanwings Gmbh taking on the assets of Lufthansa's European services not operating from its hubs at Frankfurt and Munich. The official operational launch will take place on 1-Jul-2013, from which date Lufthansa aircraft earmarked for the 'new Germanwings' will gradually be converted and transferred, and all existing Germanwings aircraft will also be repainted in the new livery. In addition to new branding, the carrier will offer new fare brackets aimed at different market segments. The company is also looking to strengthen its interaction with its passengers through further developing mobile booking and other IT innovations.
New branding marks the new corporate style

The company will repaint its fleet with a new livery, retaining the colours of burgundy and yellow, but including a stylised 'W' on the tail fin and the words 'Lufthansa Group' on the fuselage below 'germanwings' in a new typeface as shown below.
New Germanwings logo

Old Germanwings logo

Germanwings to offer three new fare brackets
One of its key concepts in terms of its product offer appears to be an 'a la carte' approach allowing passengers to put together their own packages ranging from budget, no-frills travel to "a more refined passenger experience with more advantages and extra services", while having an all economy class cabin.
There are three fare brackets with differing services in each. The 'Best' bracket is mainly aimed at business travellers; the 'Smart' bracket has some extra services and options to buy others; and the 'Basic' bracket is the pure low-cost concept with fares starting at EUR33 one way.
According to Germanwings, the Best fare represents the best product currently available on European low-cost routes. It includes reserved seating in the front three rows, a 32 inch seat pitch, an empty middle seat, lounge access, priority check-in, fast lane, FFP miles, two 23kg checked bags, on-board a la carte catering and rebooking/cancellation flexibility.
Germanwings new fare brackets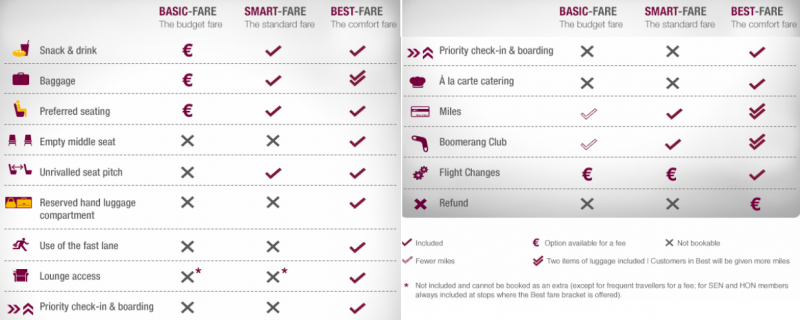 The Germanwings Smart fare corresponds to conventional Economy and includes reserved seating towards the front, a 32 inch seat pitch, snack catering and a single 23kg check-in bag. The Basic fare corresponds to a conventional low-cost product, with no free catering or check-in bag allowance and seat choice from row 11 upwards. The press releases do not specify the seat pitch for the Basic fare, but Germanwings existing pitch is 30 inches. The Smart and Basic fares include options to purchase extra features.
The Best fare product is superior to competitors, but this is a minority offer
Among Europe's LCCs, the Best fare offer is unique, with easyJet's flexible fare being the closest comparable product. Comparing it to easyJet's flexible fare, the key differences in the Germanwings on-board offer are the empty middle seat, seat pitch (32 inch vs 29 inch throughout for easyJet), two checked bags (both 23kg vs easyJet's one at 20kg) and free catering. On the ground, lounge access and fast lane use are the key differences, while Lufthansa's FFP is an additional advantage.
Germany's number two carrier, airberlin, offers an all economy class product on short/medium-haul and competitive prices, although it no longer classifies itself as a low-cost carrier. All airberlin European flights have in-flight entertainment, a 32 inch seat pitch (on A319 and A320 aircraft), the topbonus FFP, free snack/hot meal catering (depending on journey length) and additional gourmet catering for purchase on longer flights. In its highest fare band, it also offers free seat reservation, two checked bags, priority check-in and flexibility over cancellation/re-booking.
Germanwings' Best fare does seem to be a superior product when compared with the best LCC option and with airberlin's highest fare band. However, the Basic fare makes up the large majority of the seats offered and this does not offer much advantage over the pure LCC concept in terms of product quality, apart from FFP miles and association with the Lufthansa brand. Moreover, the additional features of the Best and Smart fares come with additional cost to the carrier.
As CAPA reported on 28-Mar-2013, Germanwings CEO Thomas Winkelmann said the carrier will continue to have a cost base for European operations which is 20% below that of parent, Lufthansa (Handelsblatt, 27-Mar-2013). He however noted it is at a disadvantage compared to its other competitors who are not based in Germany and therefore have lower costs, such as labour costs. He also noted that by 2015, he expects the European business to be profitable. Handelsblatt also reported Mr Winkelmann's comments about transitional IT problems "We are like a hotel in the middle of the renovation phase. I know the hotel is really nice. But I also know that it can be inadequate in the transition times".
These comments strike at the heart of the question of whether or not the new Germanwings can succeed: does it have the right cost base and can it manage the transition?
By deduction, Mr Winkelmann's comments also suggest that Lufthansa's European business is losing somewhere around EUR200 million annually currently (the aim to be 'profitable' by 2015 is generally code for breakeven and Lufthansa has targeted EUR200 million of results improvement from the new Germanwings).
Cost structure has been the key success factor for growing airlines
The key success factor for short/medium-haul European airlines that have grown over the past decade and a half has quite simply been their cost structure. While product quality is important, the characteristics of product quality that matter most to most passengers on flights of less than two or three hours are safety and on-time performance. Additional on-board and on-the-ground frills matter less and cost more.
The Lufthansa Group did not report separate traffic or financial data for Germanwings in 2012, choosing to include its results with the parent Lufthansa airline, but we can use previous data to calculate Germanwings' unit cost (CASK) for 2011. Comparing this against its average sector length with those of other European carriers for 2012 shows it to be fairly cost efficient by comparison with the Lufthansa Group's short/medium-haul unit costs and with other legacy network carriers such as SAS (see chart below). According to our analysis, Germanwings CASK is 23% lower than our estimate of that of the Lufthansa Group's short/medium-haul operations.
Can Germanwings be described as a true LCC?
Unit costs (cost per available seat kilometre, EUR cent) and average sector length for selected European legacy and low-cost carriers: 2012*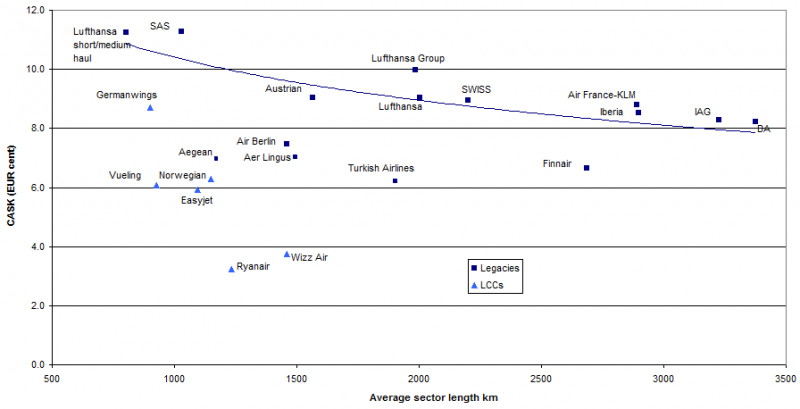 However, it is arguable whether its unit cost is low enough for it to be defined as a low-cost carrier. For a very similar average sector length, Vueling's CASK is 30% lower than that of Germanwings. easyJet, with an average sector length around 20% higher than Germanwings, has a unit cost more than 30% lower. All other things being equal, a higher sector length should give a lower CASK, but this performance by easyJet is not all due to sector length.
Given its average sector length, the chart above suggests that Germanwings cost structure is in line with the more efficient full service carriers, but not in the LCC class. This point is illustrated further by the chart below, which simply shows cost per passenger against average sector length.
Cost per passenger (EUR) and average sector length for selected European legacy and low-cost carriers: 2012*
The table below shows that Germanwings unit costs and unit revenues are closer to Lufthansa than to the LCCs, but that the gap with Lufthansa is wider on revenues than on costs.
Comparison of unit revenues and unit costs (all indexed to Lufthansa group short haul = 100): 2012*
Germanwings has not attracted any growth for several years
As has been extensively documented by CAPA analysis and elsewhere, for many years all the growth in intra-European traffic has been generated by LCCs. Against this backdrop, it is interesting to note that from 2007, the last year before the global financial crisis, until 2011, the last year Germanwings separately reported its passenger numbers, it saw a 4.7% fall in traffic. This supports the view that its cost base is not low enough to generate the kind of ticket pricing that attracts the price-conscious passenger that mainly drives the intra-European market.
Paradoxically, Lufthansa itself saw passenger numbers within Europe increase by 15.0% over the same period. This is not broken out between hub and regional point-to-point traffic, but the likelihood is that the long-haul network and, perhaps, product quality were the key drivers of this growth. Of course, this growth was not profitable; otherwise Lufthansa would not be making the radical changes now engaged.
Lufthansa and Germanwings passenger numbers within Europe (million): 2007 to 2011

Germanwings passenger numbers (million): 2007 to 2011

The point-to-point non-hub traffic that is transferring into Germanwings may have been prepared to pay a modest premium for the Lufthansa product, but this was not enough to cover Lufthansa's costs. This traffic will look for lower prices with Germanwings, and Germanwings' prices should be lower than Lufthansa's on the same routes, but it is not certain that it will want to pay more than it has previously paid for a Germanwings product. Given that Germanwings prices have not been high enough to cover its costs in the past and these costs may feel upward pressure as the new 'premium' offer is transferred into it, making the new operation profitable may not be straightforward.
Managing growth faster than Vueling or Norwegian will bring operational challenges
The operational challenge in managing Germanwings' growth from around eight million passengers to its target of 20 million by 2015 should not be underestimated. The chart below shows its passenger numbers from 2006 (year 1 on the chart), since when they have remained more or less flat, and an illustrative growth path to reach the 2015 target.
The chart also shows how Europe's four leading low-cost carriers' passenger numbers progressed over a similar time scale. In getting from 7-8 million passengers to 20 million in five years, Germanwings would have to grow faster than either of Vueling or Norwegian have done over the past five years and only a little less rapidly than Ryanair and easyJet.
Comparison of Germanwings historic and proposed development of passenger numbers (million) with other LCCs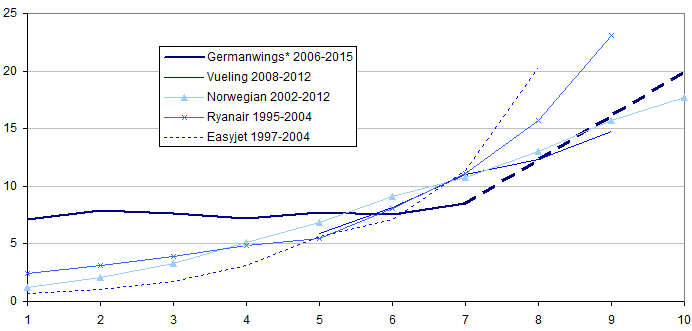 Considering that all four rival LCCs had been on a rapid growth path for some years before making the step from 7-8 million to 20 million passengers, whereas Germanwings has not seen much growth for seven years, this will not be straightforward. Of course, the difference between Germanwings and the other LCCs is that they had to compete for all of their traffic, while Germanwings will, to a large extent, be given it by Lufthansa. Germanwings will still have to scale up its operations very dramatically, without importing Lufthansa's cost structure.
You say you want a revolution?
Germanwings may revolutionise Lufthansa, and this kind of radical move by major legacy groups is to be encouraged.
However, even if it succeeds, it will remain at most Europe's fifth biggest LCC with a cost base that is significantly higher than the other LCCs. Like its new logo, its claim that it will revolutionise the European low-cost market, looks little more than a vehicle to generate publicity. But rhetoric will not guarantee sustainability.