Lufthansa: 2013 underlying profits back on a rising trend ahead of CEO change
Analysis
In 2013, Lufthansa showed the first signs that its SCORE restructuring programme may be having an impact on its results. While its operating result fell from its 2012 level, this was affected by restructuring costs and project implementation costs, which should produce benefits in future years. Adjusting for these one-off costs, underlying profitability improved for the first time since 2010, mainly due to lower unit costs.
Ahead of an imminent change of leadership at the top of the group, Lufthansa has also announced a couple of small, but fairly radical, changes. First, it will separately incorporate its FFP and, second, it will bring its aircraft depreciation policy more in line with market practice.
Lufthansa is now somewhere close to half way through SCORE. Outgoing CEO Christoph Franz, who will leave on 30-Apr-2014, can be credited with instigating the programme and delivering a fairly solid start. As with all restructuring programmes, their success or failure can only really be judged when they are complete and it will be the responsibility of new CEO Carsten Spohr to steer the group to the right result at the programme's end in 2015.
Reported operating result falls, but 'normalised' result increases
In 2013, the Lufthansa Group's net profit fell by three quarters to a level of EUR313 million. However, this result does not really reflect the underlying performance of the business, since last year's result included the benefit of selling Amadeus shares, a lower tax rate and a number of non-operating items. Lufthansa's operating result fell by only 17% to EUR697 million (after adjusting 2012's result for a change in pension accounting).
However, Lufthansa's preferred measure of profitability, which it calls the normalised operating result, actually increased by 62% to EUR1,042 million. This version of the result excludes restructuring costs and project costs from the 2013 figure and other one-off items, including those related to the transfer of Austrian operations to Tyrolean and pension-related items, from the 2012 numbers. Perhaps it is time to rationalise the number of different versions of profit used by Lufthansa (there is also a different number reported for EBIT, although this is seldom the focus of any attention).
Deutsche Lufthansa financial highlights: 2013 vs 2012
| EUR million except where stated | 2012 | 2013 | Change |
| --- | --- | --- | --- |
| Revenue | 30,135 | 30,028 | -0.4% |
| Operating result | 839 | 697 | -16.9% |
| Operating margin % | 3.3 | 3.0 | -0.3 |
| 'Normalised' operating result | 643 | 1,042 | 62.1% |
| Net profit | 1228 | 313 | -74.5% |
| Cash | 4,966 | 4,696 | -5.4% |
| Gross debt | 6,919 | 6,393 | -7.6% |
| Net debt | 1,953 | 1,697 | -13.1% |
| Equity | 4,839 | 6,108 | 26.2% |
| ASK (millions) | 260,169 | 262,682 | 1.0% |
| RPK (millions) | 205,015 | 209,649 | 2.3% |
| CTK (millions) | 10,203 | 10,285 | 0.8% |
| Passenger load factor % | 78.8 | 79.8 | 1.0 |
| RASK (EUR cent)* | 9.06 | 8.95 | -1.2% |
| CASK (EUR cent)** | 9.83 | 9.66 | -1.7% |
| CASK ex fuel (EUR cent)** | 6.99 | 6.98 | -0.2% |
While the number of profit measures published by Lufthansa is confusing, this normalised operating result probably does give the fairest view of the underlying performance of the business in 2013, marking the reversal of what had been a declining trend and suggesting that the SCORE restructuring programme may be starting to have an impact.
Deutsche Lufthansa revenues, net profit and operating profit (EUR million): 2003 to 2013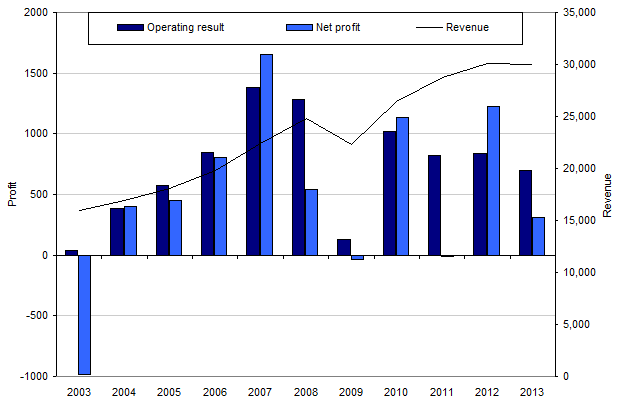 Lufthansa again lowered its net debt in 2013, bringing it down by EUR256 million to EUR1,697 million. Although its cash balance (including other liquid assets) fell slightly, its gross debt levels fell by a larger amount. Liquid assets of EUR4.7 billion at the end of 2013 were equivalent to 57 days of revenues.
Deutsche Lufthansa development of net debt and cash: 2003-2013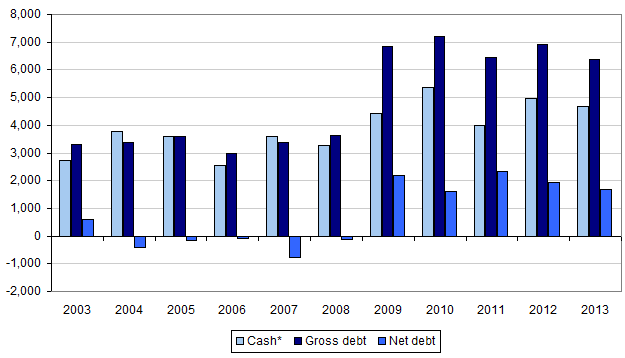 Passenger Airline Group is the biggest segment contributor
By segment, the Passenger Airline Group was the biggest contributor to the group operating result, with EUR495 million in 2013. Although, as reported, this was EUR61 million below the 2012 result, the underlying performance was EUR395 million better than the previous year (after excluding one-off items from both years).
Digging into the three components of this segment, Lufthansa Passenger Airlines (which also includes Germanwings) saw an underlying EUR340 million improvement in its operating result to a level of EUR265 million, marking a welcome return to profit. The result of SWISS improved by EUR22 million to EUR226 million and Austrian Airlines saw an underlying gain of EUR30 million to reach an operating result of EUR25 million.
The operating result of the logistics segment (Lufthansa Cargo) fell by EUR28 million to EUR77 million, reflecting the ongoing weakness of cargo markets. MRO and catering both registered improved results and, between them, made a higher result than the Passenger Airline Group.
Deutsche Lufthansa operating result by business segment (EUR million): 2003-2013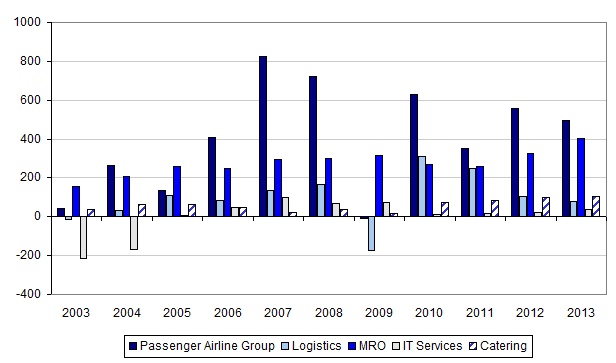 ASKs up only 1% in 2013
The capacity of the group's passenger airlines (in ASKs) grew by just 1.0% in 2013, with traffic (RPKs) up 2.3% and passenger load factor increasing by 1.0ppts to 79.8% (broadly in line with the average level of members of the Association of European Airlines). Although this was the second successive year of load factor gains, the level reached was the same as that reported in 2007 and it seems that it has reached a plateau since then.
Deutsche Lufthansa development capacity (ASK, million) and load factor (%): 2003-2013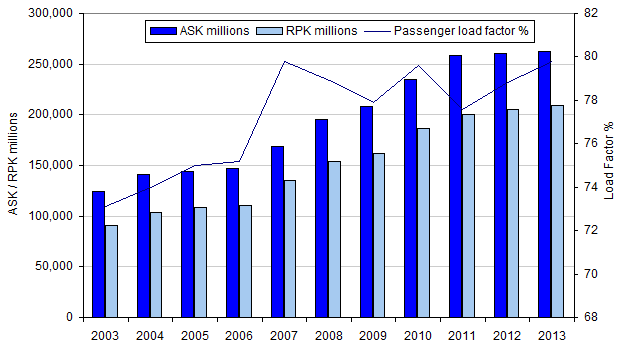 The biggest growth in passenger capacity was on the Americas network (+5.5%), followed by Asia Pacific (+3.7%) and Europe (+3.2%). Middle East capacity was cut by 1.8%. Load factor increased in all regions. Unit revenue performance was strongest in Europe and the Americas (+2.7% ex currency in both regions) and weakest in Asia Pacific (-7.8% ex currency). The weakness of RASK in Asia Pacific was also experienced by other European airlines and Lufthansa expects this to continue into 2014.
Lufthansa Passenger Airline Group change in capacity (ASK), yield (revenue per RPK) and load factor (%) by geographical region: 2013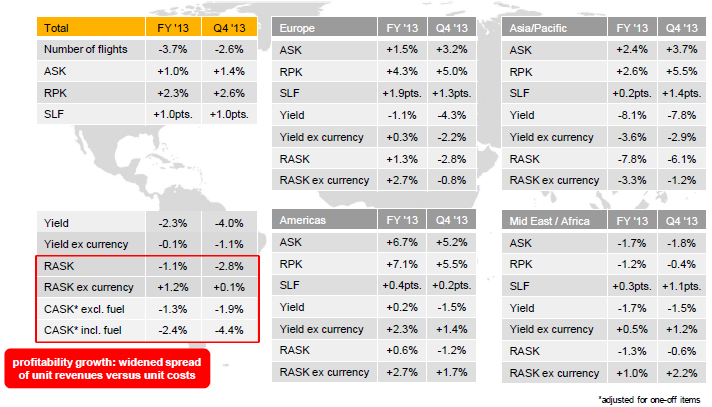 Revenues flat
Group revenues were almost flat year on year (-0.4%) at EUR30.0 billion, broadly reflecting the performance of the Passenger Airline Group, and less than the growth in both ASKs (+1.0%) and in total ATKs (+0.7%). The logistics segment saw its revenues fall by 9%, in spite of roughly stable traffic levels, as pricing tumbled. By contrast, the maintenance repair and overhaul (MRO) segment had revenue growth of 4%.
Deutsche Lufthansa revenues (EUR million): 2012 and 2013
2012

2013

Change

% of 2013
revenue

17,261

17,302

0.2%

57.6%

4,220

4,223

0.1%

14.1%

AUA

2,158

2,069

-4.1%

6.9%

Passenger Airline Group

23,559

23,513

-0.2%

78.3%

Logistics

2,688

2,442

-9.2%

8.1%

MRO

4,013

4,180

4.2%

13.9%

IT Services

609

640

5.1%

2.1%

Catering

2,503

2,514

0.4%

8.4%

Consolidation adjustment

-3,237

-3,261

0.7%

-10.9%

Total

30,135

30,028

-0.4%

100.0%
Underlying costs down 1.6%
As reported, group operating costs were very slightly down, -0.1%, a little less than the decline in revenues. However, adjusting for one-off and non-operating items, cost fell by 1.6% and by 0.7% excluding fuel (in both cases, falling faster than revenues). Fuel costs, which accounted for 22% of the total, fell by 4.5%. Staff costs, which took up 23% of the total, increased by 9%. Excluding one-offs and non-operating items, in particular SCORE-related restructuring costs, staff costs grew by 2.6%, in spite of a 0.9% reduction in the average number of employees.
Deutsche Lufthansa operating costs (EUR million): 2012 and 2013
Costs

2012

2013

Change

% of 2013
costs

Fuel

7,392

7,058

-4.5%

22%

Other raw materials, consumables etc

2,157

2,212

2.5%

7%

Fees and charges

5,167

5,154

-0.3%

16%

Operating leases.

113

74

-34.5%

0%

Other material costs

3,117

3,012

-3.4%

10%

Staff costs

6,741

7,350

9.0%

23%

Depreciation

1,839

1,766

-4.0%

6%

Other costs

4,885

4,753

-2.7%

15%

Total

31,411

31,379

-0.1%

100%

Total costs ex one-offs & non-operating items

31,405

30,904

-1.6%

Ex fuel costs ex one-offs & non-operating items

24,013

23,846

-0.7%
Labour cost productivity falls
Adjusting for one-offs and non-operating items, labour costs per employee increased by 3.5% in 2013. Although labour productivity, as measured by ATKs per employee, also increased (by 1.6%) this was not enough to offset the higher cost per employee and so employee costs per ATK increased by 1.9%. It is possible that further headcount reductions will help to improve this situation in 2014, but this analysis suggests that labour productivity restructuring has not yet made a strong contribution to cost efficiencies.
Similar trends are observed if we focus our labour productivity analysis only on the flying segments of the group (ie those that directly generate the ATKs: Passenger Airline Group and Logistics). Revenue productivity increased, with revenue per employee up 0.5%, but Lufthansa will need to see better labour cost productivity in order to ensure that its underlying profit growth is sustainable.
Deutsche Lufthansa group labour productivity measures: 2012 and 2013
| | 2012 | 2013 | Change |
| --- | --- | --- | --- |
| Total full time equivalent headcount | 118,368 | 117,343 | -0.9% |
| Total labour cost EUR million | 6,934 | 7,117 | 2.6% |
| Employee cost per employee (EUR) | 58,580 | 60,651 | 3.5% |
| ATK per employee | 346 | 351 | 1.6% |
| Employee costs per ATK (EUR cent) | 16.94 | 17.27 | 1.9% |
| Revenue per employee | 254,587 | 255,899 | 0.5% |
Lufthansa Passenger and Cargo segment labour productivity measures: 2012 and 2013
| | 2012 | 2013 | Change |
| --- | --- | --- | --- |
| Total full time equivalent headcount | 60,258 | 59,291 | -1.6% |
| Total labour cost EUR million | 4,197 | 4,352 | 3.7% |
| Employee cost per employee (EUR) | 69,651 | 73,401 | 5.4% |
| ATK per employee | 679 | 695 | 2.4% |
| Employee costs per ATK (EUR cent) | 10.26 | 10.56 | 3.0% |
| Revenue per employee | 435,577 | 437,756 | 0.5% |
Fleet shrinks once more
The group fleet became smaller again in 2013, reducing by five aircraft during the year, and was 100 aircraft below its 2009 levels at 31-Dec-2013. It had 261 outstanding orders at the end of 2013, but most of these will be for replacement purposes, rather than for growth.
See related report: Lufthansa's new widebody order sends signals to rivals and to manufacturers
Deutsche Lufthansa Group aircraft in service year end: 2003 to 2013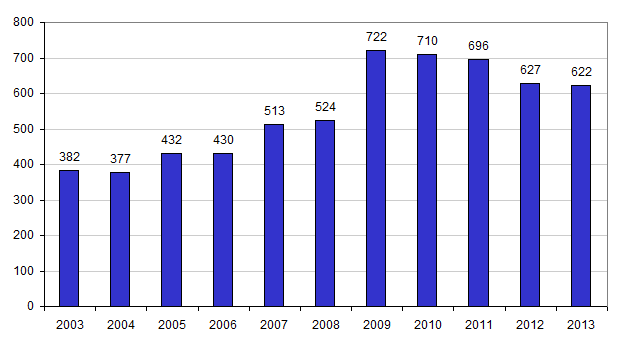 Deutsche Lufthansa Group fleet and outstanding orders at 31-Dec-2013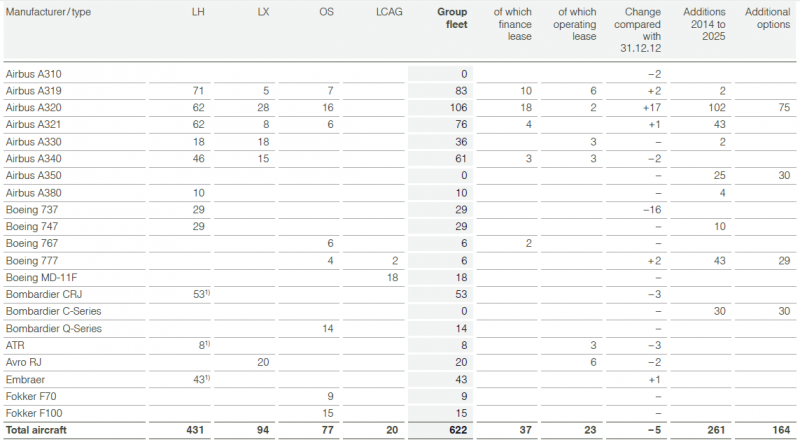 New depreciation policy to bring Lufthansa in line with the market
From 2014, Lufthansa will adjust its depreciation policy so that aircraft are depreciated over 20 years to a residual value of 5%, compared with its previous policy of 12 years to 15%. This brings it more closely in line with the majority of its competitors and better reflects both the path of market values and the economic life of aircraft. For years, Lufthansa's more aggressive depreciation policy has stood out from those of its main competitors and it seems no coincidence that the change has come after CFO Simone Menne's first full year in her post.
This change is expected to improve the reported operating result by around EUR340 million in 2014 and EUR350 million in 2015. The group has consequently adjusted its 2015 operating result target to EUR2.65 billion from EUR2.3 billion.
Miles&More to be separately incorporated
Lufthansa recently announced that it will establish Miles & More, its frequent flyer programme, as a separate legal entity from Jul-2014, subject to shareholder approval at the AGM in Apr-2014. The aims behind this move, the first time that a significant European airline group has carved out its FFP, include gaining more transparency and the facilitation of partnerships with non-airline partners. Lufthansa also hopes that it will allow Miles&More greater entrepreneurial freedom and improve the value proposition for non frequent flyers.
Of course, it also hopes that it will enable the business to grow profitably. This move by Lufthansa reflects a trend that is gathering pace globally.
See related report: Frequent flyer programmes: expect to see moves towards greater autonomy of these moneyspinners
Good control over ex fuel CASK, but RASK is volatile
Lufthansa's rebound from a very low operating result in 2009 was mainly driven by a strong RASK (revenue per available seat km) increase in 2010, which outpaced the fuel-cost driven increase in CASK (cost per available seat km). Since then, however, in spite of control over ex fuel CASK, the performance of RASK has not been much better than overall CASK.
Lufthansa's investment in its product, with a new Premium Economy cabin available for sale in May-2014 and flying from Oct-2014 and a new Business Class cabin on 80% of the long-haul fleet by the end of 2014, may be a positive force on RASK over time. Nevertheless, RASK growth is never reliable and it will need its SCORE programme to deliver CASK reductions too.
Deutsche Lufthansa – index of passenger revenues per ASK* and operating cost per ASK** (each indexed to 100 in 2009)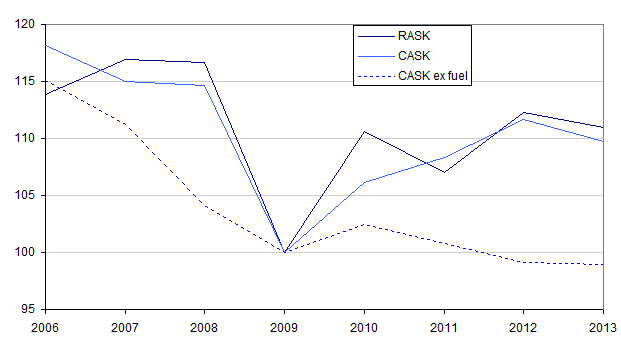 Higher operating result expected in 2014
In 2014, Lufthansa currently plans ASK growth of around 5%, on a stable fleet size. This growth will come from larger aircraft, moves to a two-class fleet on 30 of its Lufthansa Passenger Airlines aircraft and the continued transfer of continental non-hub traffic to Germanwings (with more seats per aircraft). It anticipates a slight increase in load factor, but a slight fall in unit revenues.
See related report: Germanwings: can a premium strategy sustain an LCC? Lufthansa would like to think so
The group's operating result target for 2015 is EUR1,300 million to EUR1,500 million, or EUR1,680 million to EUR1,880 million excluding restructuring and project costs (ie on a 'normalised' basis). The improved operating result versus 2013 is expected to come from revenue growth and lower unit costs (and the EUR340 million impact from the new depreciation policy).
Lufthansa Group trading assumptions: FY2014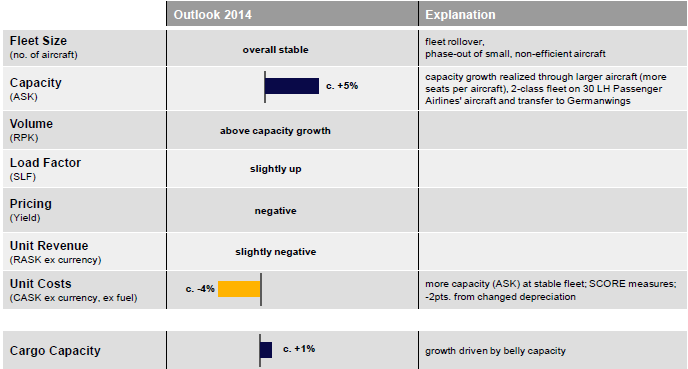 Lufthansa Group outlook for operating result: FY2014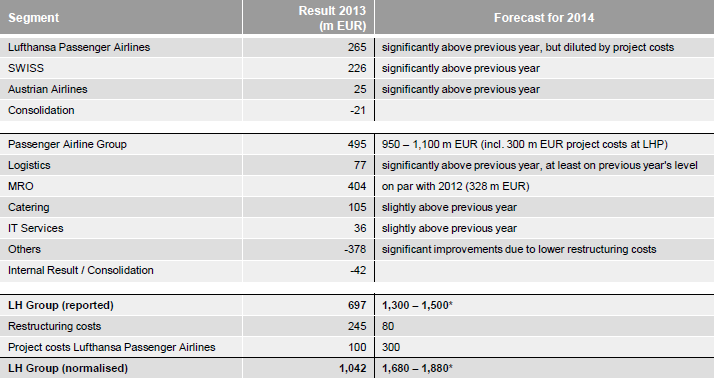 Lufthansa Group normalised operating result excluding one-off effects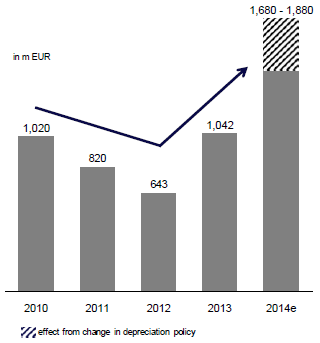 2015 target comes into view
Lufthansa says that its SCORE restructuring programme produced EUR926 million of benefits in the 2013 results. Net of so-called 'headwinds', its normalised operating profit improved by EUR399 million and this demonstrates the ongoing challenge of finding sufficient SCORE benefits to offset future headwinds and to reach its 2015 operating profit target of EUR2,650 million.
See related reports:
Excluding the benefit to the operating result from the new depreciation policy, it needs to increase its underlying operating result by around EUR1,250 million over 2014 and 2015. It currently expects close to EUR1.2 billion of gross benefits from SCORE projects in 2014 and close to EUR900 million in 2015, a total of almost EUR2.1 billion.
If the annual headwinds in each of 2014 and 2015 are roughly similar to the level experienced in 2013, Lufthansa's operating result target for 2015 should be reachable. However, additional uncertainties such as demand weakness, adverse currency movements, fuel price increases and geopolitical events could add to the headwinds. New CEO Carsten Spohr, who takes the helm from Christoph Franz on 1-May-2014, will need to continue to build momentum, while ensuring that he takes the many constituencies of the Lufthansa Group with him.
Lufthansa SCORE pipeline: 2012-2015