Jetstar Hong Kong is group's largest launch challenge yet but with a tremendous potential upside
Analysis
No pain, no gain as the saying goes. Jetstar's proposed joint venture in Hong Kong, Jetstar Hong Kong, has the potential to unlock a region bereft of leisure travel and lower fares. Routes will include mainland China, expanding Jetstar's footprint there, but also to North and Southeast Asia, allowing Jetstar to gain synergies and scale with its operations in Japan, Singapore and perhaps Vietnam. Unlike Japan, it will not have a high-profile competitor in the form of AirAsia or Peach.
But these potential rewards will not come easy. Its strategic and equity partner China Eastern has different ambitions from the Jetstar and Qantas Groups. Already the two sides have had differing messages and the launch is protracted and will take over a year compared to the 11 months for Jetstar Japan. There are external challenges too: while hometown carrier Cathay Pacific takes a contentious view that LCCs will not affect its business, it is making clear Jetstar Hong Kong should not gain approval. The discussions go beyond tiny Hong Kong into the murky cabal that is Beijing politics.
Jetstar Hong Kong aims to launch in mid-2013 with an initial fleet of three A320s, growing to 18 A320s within three years. The rapid growth could be followed by a slower phase in order for Jetstar Hong Kong to utilise as many of Hong Kong's slots as possible. The airport is becoming congested and slots harder to secure, although a planned third runway for operation by 2023 will alleviate the situation.
Jetstar Hong Kong believes it can pursue rapid growth despite airport congestion
But Jetstar Hong Kong is confident it can secure enough slots to meet its growth needs until the third runway opens as it believes it can be more flexible with its operations than other carriers. Jetstar Hong Kong executives estimate that about 10% of total slots at Hong Kong are still unused (excludes overnight hours). While there are no slots during certain hours Jetstar Hong Kong is able to schedule its flights when there are available slots as it is not a hub and spoke carrier.
As a point-to-point LCC, Jetstar Hong Kong will look to schedule its flights away from the big banks of hub carrier Cathay Pacific and its regional subsidiary Dragonair. While that may mean some flights at less than ideal hours Jetstar Hong Kong believes this is suitable as it is targeting budget conscious travellers, primarily leisure passengers and to a lesser extent small businesses, rather than corporate passengers.
According to Innovata data, there are about 60 or slightly more than 60 commercial aircraft movements per hour at Hong Kong during peak times. But there are several hours during early to mid-morning and early evening where hourly commercial aircraft movements are about 50 or less.
Hong Kong International Airport movements per hour: 21-Dec-2012
Jetstar Hong Kong, the group's fourth Asian affiliate, is a key stepping-stone for the Qantas Group as it grows its Jetstar brand across the region. Jetstar currently has entities in Singapore with Jetstar Asia/Valuair, in Japan with Jetstar Japan and in Vietnam with Jetstar Pacific.
The carrier is equally owned by Jetstar and China Eastern and at the time of its launch was said to have USD115 million of registered capital. The carrier has repeatedly stated that it aims to lower fares by 50%, stimulating demand in a market with a LCC penetration of under 6%. Jetstar Hong Kong executives say air fares in Hong Kong are now the highest in all of Asia, creating an opportunity for a local LCC to offer fares that are 50% less and still make a profit when factoring in ancillaries, despite the fact that Hong Kong has higher costs than most other major Asian airports.
LCC flights at Hong Kong now primarily extend to Bangkok, Kota Kinabalu, Kuala Lumpur, Manila, Osaka Kansai, Penang, Phuket, Seoul and Singapore – hubs of foreign LCCs. Missing are opportunities to countries not served (options in Southeast Asia include Cambodia and Laos) and other cities in countries with LCCs, like additional destinations in Thailand.
Fourteen LCCs currently serve Hong Kong from their home markets (see background information). Ten of these carriers currently operate more than one daily flight at Hong Kong, eight of which are from Southeast Asia.
Not a single LCC serving Hong Kong accounts for more than 1% of total seat capacity at the airport. Combined LCCs account for just under 6% of seat capacity at Hong Kong, making it along with Taiwan the most under-served LCC market in Asia.
Among all sizeable Asian markets, Hong Kong and Taiwan are the only markets without a local LCC. Hong Kong's biggest rival Singapore, which has two local LCCs, has five times as many LCC seats as Hong Kong although Changi is a smaller airport than HKIA.
Jetstar, a subsidiary of Australia's Qantas, partially sensed it was falling behind in Southeast Asia compared to competitors: AirAsia has affiliated in Indonesia, the Philippines and Thailand while Tiger, with some difficulty, has now established affiliates in Indonesia and the Philippines after trying but failing to establish in Thailand. A Hong Kong operation allows Jetstar to enter some of those markets, although Jetstar Hong Kong will be no substitute as it will not have access to those countries' domestic markets.
Jetstar Hong Kong is not likely to help the Jetstar Group close the gap with rival AirAsia in Southeast Asia but should help it close the gap in the broader Asia-Pacific market. Within Asia-Pacific, the Jetstar Group now accounts for 11% of total LCC capacity compared to 16% for the AirAsia Group. Within Southeast Asia the Jetstar Group now only accounts for 4% of LCC capacity while AirAsia accounts for 30%. (Lion, while predominately a domestic carrier, is the leading LCC within the Southeast Asia market with a 32% share of capacity, as it has a dominant position in Indonesia's huge domestic market.)
Hong Kong subsidiary gives Jetstar more access to China, and connect the dots
Entering Southeast Asia and North Asia markets from Hong Kong enables Jetstar to build a bridge across its affiliates in Japan and Singapore, creating a pan-Asian network it has been behind in. Entering an existing Jetstar city from a new affiliate offers synergies and scale as the brand is already in the market, marketing and promotions can advertise multiple destinations from multiple affiliates in a single city, and there are ground savings too. Such overlap has increasingly become the focus of AirAsia. As CAPA previously wrote:
AirAsia X CEO Azran Osman-Rani sees opportunity for short-haul AirAsia divisions to precede AirAsia X's entrance in new cities, China or elsewhere. Thai AirAsia can reach more of mainland China with A320s than AirAsia Berhard (Malaysia) owing to its further north geography. AirAsia Japan could also access parts of China that Thai AirAsia and AirAsia Berhard cannot.

The opportunity for AirAsia X is to reduce risk, have a stronger launch and attain larger scale. "A city where there's already an AirAsia presence makes a lot more sense than a new city," Mr Osman-Rani said. "We're coming into a market that already has a track record."

By already having an AirAsia affiliate in a city, the AirAsia brand can establish itself, allowing AirAsia X to see how cities are responding to short-haul services. With the AirAsia Group operating on a uniformed platform, the infrastructure cost of adding an additional flight – such as an AirAsia X service – is incremental.

Thai AirAsia is already testing the waters, being the first AirAsia brand to serve Chongqing and, from Oct-2012, Wuhan. Both of those destinations, if to be served from Malaysia, would be on AirAsia X. The approach is not limited to China. Mr Osman-Rani, speaking in Tokyo and referring to the 01-Aug-2012 launch of AirAsia Japan, says of the new carrier: "If these guys fly to Fukuoka and the brand takes root, it's a lot easier for me to have a direct flight to Fukuoka."
See related article: AirAsia X, accelerating growth in response to Scoot, looks to capture Asian market once and for all
Scheduling coordination efficiences can be gained as affiliates grow. Jetstar has secured regulatory approval to coordinate activities amongst its affiliates. On a route between two affiliates' countries, such as between Hong Kong and Tokyo Narita, Jetstar will aim to deploy the carrier with the lower unit cost, which in this example would be Jetstar Hong Kong. But Jetstar Japan could be used so the group can offer a morning departure from Tokyo Narita. If Jetstar Hong Kong were to have a morning departure from Tokyo, it would have to overnight an aircraft, increasing costs.
There was also the opportunity to advance in China. Jetstar Asia serves six mainland Chinese destinations while Jetstar Airways (Australia) serves Beijing. AirAsia has similarly made China a large focus this year via services from Malaysia and Thailand.
See related article: AirAsia considers serving Kunming, Wuhan or Xi'an, a new group of Chinese cities for Asian LCCs
Jetstar Hong Kong executives say secondary Chinese markets will be a major focus of the new carrier, with markets in Southeast Asia and North Asia being a second focus. In both cases destinations already served by other Jetstar affiliates will be a priority.
Jetstar Hong Kong executives point out that some of Jetstar Asia's secondary destinations in mainland China have limited service from Hong Kong and can support more capacity. Jetstar Hong Kong is talking to several secondary Chinese airports and regional governments, including those now served from Singapore by Jetstar Asia.
Local governments in China have been particularly aggressive at trying to attract LCCs such as Jetstar and AirAsia, offering incentives that often offset for a few years landing and all other airport fees. More of a challenge may be securing Hong Kong-China traffic rights, which Jetstar Hong Kong executives acknowledge can be a battle even in secondary markets.
Getting access to major Chinese airports is even more challenging but at least for now this is not part of Jetstar Hong Kong's strategy. (For Jetstar Asia, the focus has been on both major and secondary Chinese cities, with the carrier having to settle for late night and early morning slots in order to access the former.)
The Chinese domestic market is considered the end-game for pan-Asian LCCs and Jetstar sees Jetstar Hong Kong as securing a larger presence in mainland China and gaining experience, both with the market and regulators, that could be used when Beijing welcomes fresh start-ups and more LCCs.
Where Jetstar's focus is network-oriented, partner China Eastern has a strategic focus. Arguably most important to China Eastern in its involvement is gaining LCC know-how. Not only is the carrier a full-service one, but its efficiency has been weighed down by mergers and the general bloating that is found in China's sprawling state-owned enterprises, of which critics have called for the dismantling.
There are network opportunities, too. China Eastern is interested to see Jetstar Hong Kong serve the hubs of competitors.
Under China's air service planning, only one carrier is typically permitted to fly on international services, although many exceptions are made to Hong Kong. But routes must still be approved by the regulator, the CAAC, and competing airlines could lobby against a competitor launching from their home base.
International services into China are slightly more transparent. China Eastern competitor Air China has notable hubs in Beijing and Chengdu. The slot situation at Beijing is tight, making a service there less likely. A Hong Kong-Chengdu route could very well be possible.
Air China top 10 hubs/bases/stations by available seats: 17-Dec-2012 to 23-Dec-2012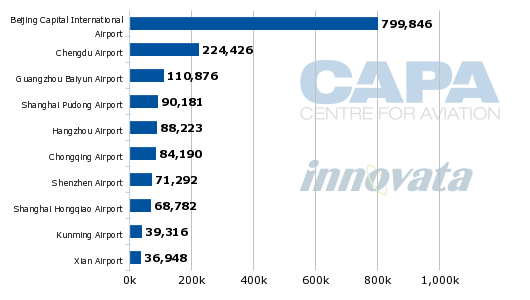 China Southern has hubs in Beijing, Guangzhou and Urumqi. Guangzhou is right over the border from Hong Kong, making a service very unlikely, while Urumqi is in China's far west and still somewhat of an emerging destination.
China Southern top 10 hubs/bases/stations by available seats: 17-Dec-2012 to 23-Dec-2012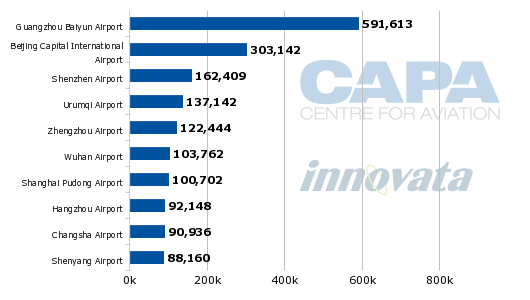 Hainan Airlines has hubs in Beijing and Haikou, the latter of which Jetstar Hong Kong could serve. Additionally, Jetstar Hong Kong could look to serve the smaller bases of carriers. Those typically have fewer direct flights to Hong Kong and more favorable slot arrangements.
Hainan Airlines top 10 hubs/bases/stations by available seats: 17-Dec-2012 to 23-Dec-2012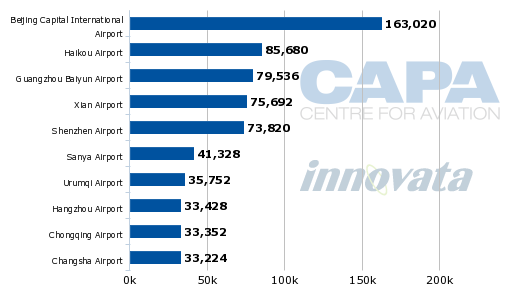 China Eastern also sees Jetstar Hong Kong as a way to re-gain its position in the Hong Kong market, which has shrunk following the opening of cross-strait flights between mainland China and Taiwan.
China Eastern monthly scheduled seats from Hong Kong: Jan-2002 to Dec-2012
As CAPA previously wrote:
Capacity in the Hong Kong market peaked for China Eastern in Oct-2005 when it offered approximately 187,000 seats. In Oct-2012 its scheduled offering will be approximately 83,000 seats, representing a 56% decline in capacity. The largest sustained falls occurred as mainland China and Taiwan agreed to open and then expand direct cross-strait flights. Previously passengers had to take circuitous routings typically via Hong Kong, which China Eastern was able to facilitate.

As cross-strait flights have expanded, demand for Hong Kong has decreased, leading China Eastern to decrease flights. But this reduces options for O&D passengers, which China Eastern is now looking to address via its codeshare with Hong Kong Airlines (as well as Hong Kong Express, which is effectively the same as Hong Kong Airlines) as well as via its new LCC joint venture with Jetstar.

...

Adding to woes, China Eastern reckons it has been disadvantaged by not operating widebody aircraft into Hong Kong, which can offer a higher business product and command a yield premium. Cathay and Dragonair operate numerous widebodies between Hong Kong and the mainland, as does Air China, which has a larger widebody fleet than China Eastern. With aircraft orders under state control, China Eastern has primarily deployed widebodies on long-haul routes or trunk routes within mainland China that are higher-yielding than services to Hong Kong.
China Eastern is now conducting marketing campaigns in Hong Kong promoting its widebody A330 services between the city and its base in Shanghai. China Eastern's attempts to rejuvenate its position in Hong Kong also led it to sign a codeshare deal with Hong Kong Airlines and Hong Kong Express.
See related article: China Eastern-Hong Kong Airlines partnership bolsters them in a market dominated by Air China-Cathay
China Eastern is not eager to see Jetstar Hong Kong enter its hubs, but Jetstar likely is, recognising the value of dual-brand strategies to capture both upper and lower segments of the market. Jetstar Hong Kong will likely push for a Shanghai service rather than give the sector to competitor Spring Airlines, which has upwards of three daily flights between Hong Kong and Shanghai Pudong.
China Eastern top 10 hubs/bases/stations by available seats: 17-Dec-2012 to 23-Dec-2012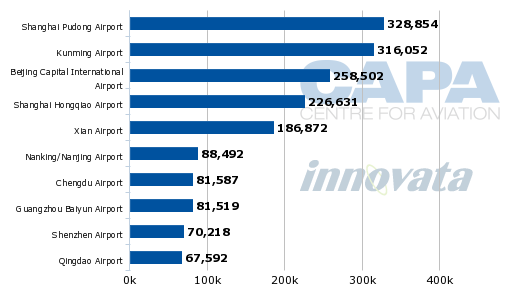 While China Eastern is a full-service carrier and has much different product proposition than Jetstar Hong Kong, Jetstar Hong Kong sees opportunities to work with China Eastern on China point of sales. The two carriers have been discussing using China Eastern's distribution agents in mainland markets that Jetstar Hong Kong will serve, which will be a huge boost for Jetstar Hong Kong as it seeks to tap into both the outbound and inbound markets.
China is not an easy market to tap with a pure web distribution strategy. But Jetstar is a hybrid carrier rather than a pure LCC and all its affiliates are generally open to also using traditional distribution models.
China Eastern should be keen to work with Jetstar Hong Kong's point of sales in China, especially if the new carrier stays away from China Eastern's Hong Kong routes. For at least the initial phases Jetstar Hong Kong is not expected to enter major cities although over time this strategy could be reconsidered and the Jetstar and China Eastern brands may eventually operate side by side, just as the Jetstar and Qantas brands do in Australia.
Duelling ambitions could create conflicts
Regulatory laws mean that foreign majority ownership is typically not permitted of an airline, sending expansive-minded partners on the hunt for partners to establish subsidiaries. For JV affiliates, LCCs typically prefer silent investors who will legally put their name and funds to the project but leave the airline decisions to Jetstar. In Japan, Jetstar Japan was a JV between Jetstar and Japan Airlines, but Japan Airlines had minimal involvement. AirAsia Japan was a JV between AirAsia and All Nippon Airways, but ANA took a more active role in the carrier, creating some frustration.
Some have questioned the pairing of Jetstar with China Eastern. Jetstar and its parent company Qantas have been eager to mention how China Eastern and Qantas have cooperated previously, although this was not extensive. While China Eastern may be willing to sit back and participate in the LCC planning organised by Jetstar in order for China Eastern to gain experience, there will be times – likely in the mainland market – China Eastern takes a role that is more active, and even possibly forceful. China Eastern's lack of agility can be a detriment; initial terms for Jetstar Hong Kong took some months to finalise.
In Jun-2012 at the IATA AGM in Beijing, the two carriers were off-message about the project. Qantas CEO Alan Joyce held to the 2013 launch date used since the project was announced in Mar-2012 while China Eastern chairman Liu Shaoyong floated that the carrier could launch at the end of 2012, an overly-idealistic target.
Besides these day-to-day concerns and possible conflicts, there is an uncomfortable long-term consideration: while Jetstar is empowering China Eastern with LCC know-how, China Eastern could go on not only to launch LCCs without Jetstar but launch LCCs that compete with Jetstar. The concern is not limited to Jetstar. As CAPA previously wrote during the launch of AirAsia Japan:
The medium-term effect of legacy carriers learning from LCCs – and especially in a JV, where the books and systems are open for inspection – is to deliver more intense competition. Legacy carriers will learn from LCCs and adopt smarter practices, forcing the LCCs to be even more lean. The market in Asia is still young but with a framework of the major players being established. In this rubric the focus on such legacy-LCC partnerships may be limited to the medium-term.

The long-term poses a quandary. ANA, for example, may learn from AirAsia Japan and bring its LCC, Peach, into new markets that AirAsia where might otherwise try to establish itself. China Eastern's JV with Jetstar may give it the knowledge to establish a domestic mainland Chinese LCC and then lock out or limit Jetstar from a future domestic subsidiary.

For now the battle is on the foreseeable future. The long term is for tomorrow and will likely take many twists and turns.

Finally, amid the celebration of new carriers, and their tremendous impact on the market, it must be remembered that knowledge is empowering and that today's partner could be tomorrow's competitor. The reverse is also true.
See related article: AirAsia Japan launches as country's third new LCC and positive force of change for partner ANA
Southeast and North Asia as important as mainland China
Much of the attention paid to Jetstar Hong Kong is rightfully on mainland China, but Southeast Asia and larger North Asia should not be forgotten. Initial routes will likely be to non-Chinese destinations as securing Chinese approval for services can be difficult to achieve without an AOC. There will also be plenty of growth opportunities outside of mainland China, and these are facilitated by air service agreements.
The Hong Kong-mainland China air service agreement is generally open but there are exceptions, particularly for China's large and constrained cities, and there are often hurdles even when in theory there are available rights. The Hong Kong-South Korea bilateral was expanded in late 2012 in a move seen by some to favour Jetstar Hong Kong as other carriers in the market had no notable interest in more services. South Korea will be attractive to Jetstar Hong Kong as South Korea's LCC sector has stagnated.
While South Korean LCCs Air Busan, Jeju Air and Jin Air serve Hong Kong, they are not robust LCCs with admirable cost bases. Air Busan and Jin Air have less than daily services to Hong Kong while Jeju only operates 10 weekly frequencies, making them among the smallest LCCs in Hong Kong and smaller than their counterparts from Southeast Asia.
Taiwan would be an attractive market to Jetstar Hong Kong but capacity, for now, is limited. Southeast Asia is open, but convincing the Hong Kong market – which is risk-averse, having been brought up in a nanny state – to take adventurous trips to Southeast Asia will require work, whereas the Singaporean and even Japanese and Korean markets are eager for new experiences. Indonesia, sometimes overlooked in Southeast Asia, will be of interest to Jetstar Hong Kong, both for services from Jakarta and leisure trips to Denpasar (Bali).
LCCs now account for 17% of the Singapore-Hong Kong market, up from zero in 2002. While Cathay Pacific has grown its capacity between the cities, it has missed out on nearly one-fifth of the market. Similarly, the low-yielding Hong Kong-Manila market has seen an 18% LCC share develop. This market segment – LCC – cannot be ignored.
Jetstar Hong Kong lost some momentum with the Nov-2012 announcement of expanded Hong Kong services from China's Spring Airlines. The expansion, not expected by competitors, was on routes Jetstar Hong Kong had been planning to launch. Spring's entry will prompt a re-evaluation.
See related article: Spring Airlines in major move adds flights from Hong Kong to Chongqing, Hangzhou, Nanjing and Xiamen
Spring's new routes serve as a testbed for the extent of LCC prospects in Hong Kong. Spring selected high-volume cities with a mix of business and leisure traffic where yields are high. Spring's fares have been set attractively low and well below 50% those of competitors (it appears to have gained some incentives that reduce taxes). While Spring will need to see yield lift to be profitable, the introductory fares are an early warning of what airlines should expect as more LCCs enter and encircle Hong Kong.
On Spring's established Hong Kong-Shanghai Pudong service, advance purchase return fares can be had for USD144 (luggage is included). Fares on competitors start at USD268. Even once Spring's entry period settles, competitors should expect yield pressure.
Route capacity overview from Hong Kong to Chongqing, Hangzhou, Nanjing and Xiamen: 17-Dec-2012 to 23-Dec-2012
Route
Carriers
One-way seat capacity and % share
Sample yield (lowest economy fare, USD cents/km) before Spring's entry
Spring Airlines sample yield(USDcents/km)
Chongqing-Hong Kong

Total

1169 (33%)

1138 (31%)

760 (21%)

540 (15%)

3596

8.5
5.8
Hangzhou-Hong Kong

Total

1106 (11%)

6564 (65%)
1148 (11%)

1260 (13%)

10,067

8.0
4.3
Nanjing-Hong Kong

Total

1239 (20%)

3260 (52%)

1064 (17%)

720 (11%)

6283

8.0
5.5
Xiamen-Hong Kong

Total

6520 (64%)

1260 (12%)

2380 (24%)

10,160

11.1
10.4
Further homegrown LCC pressure may materialise from Hong Kong Airlines, which plans to convert its Hong Kong Express unit into a LCC, according to late-2012 local reports. Hong Kong Airlines made a similar announcement in 2011 that it would convert Hong Kong Express in 2012, but that did not occur. Hong Kong Airlines' experience is in full-service, not low-cost, operations so a viable competitor to Jetstar Hong Kong may take some time to emerge, if Hong Kong Express does become a LCC.
Cathay Pacific's wholly-owned Dragonair unit is sometimes mistaken as a LCC but it is a full-service legacy carrier and history has shown few successes of FSCs effectively and profitably competing with LCCs. There is a gap in Cathay Pacific's strategy, which should be filled by Cathay launching a LCC while the opportunity is in its favour.
See related article: Cathay Pacific must seize the moment and launch a low-cost carrier
Hong Kong is far from seeing full affect of Chinese tourism
Visitors from mainland China accounted for 67% of all of Hong Kong arrivals in 2011, according to the Hong Kong Tourism Board. 52% of mainland Chinese visitors are in Hong Kong for only a day. Arrivals are heavy from Guangdong, the province right over Hong Kong's border that is well-connected by high-speed rail. 82% of overnight visitors are on holiday or are visiting friends and relatives, an ideal market for a LCC. Only 11% were found to be on business.
Some 74% of mainland Chinese visitors travel to Hong Kong only while the remaining 26% see another destination – namely Macau, which 22% of Chinese visitors see in addition to Hong Kong. Notable onward countries visited include Indonesia, Malaysia, Singapore, and Thailand.
They are typically high-spenders focused on shopping and sometimes luxury hotels but willing to take budget flights, giving rise to the term "fly cheap, stay chic".
HKTB breaks down the mainland market into "core", "high growth" and "emerging" categories. What is interesting is the market of Shijiazhuang is listed as "emerging". The only direct service between the northern city and Hong Kong is three weekly flights from Spring Airlines.
The potential is large to link new cities with Hong Kong, support the high-growth cities with more services (some see less than daily service), and reach into the lower budget segment of the core cities. As history has proven, lowering the entry barrier – the fare – is what moves seats.
"The great thing is, the opportunity in China is unlimited in terms of the number of cities," former Jetstar CEO Bruce Buchanan said.
"Two hundred million people are in the middle class already and that's where we see that critical income level, about USD5,000, so people can start to afford to travel," he added. "That's going to grow to something like 700 million by the end of this decade and we're going to go from something like 80 cities that will be potentially servable to something in excess of 200. Now we're not going to be able to serve all 200, there's heaps of issues around that but there's lots of opportunities."
A proposed Hong Kong airline, but a decision may rest with Beijing
Jetstar Hong Kong's biggest test will not be its network or operations – the experience in Japan has proved how quickly Jetstar can move – but rather fending off Cathay Pacific and Air China lobbying against it. Despite Cathay looking to wave off LCCs, saying it has contended with them previously and asking why the future should be any different, it also has its talking points about why Jetstar Hong Kong should not be approved.
The overarching criteria for airlines is that they need to be majority locally owned and controlled. It is the latter point Cathay argues about. It is an open secret that these JV airline subsidiaries have considerable and, at times, overriding control from headquarters, be it Kuala Lumpur with AirAsia or Melbourne for Jetstar. These are formalities and Jetstar should be expected to pass them.
The unknown is how much influence Cathay and Air China should have in Beijing, which could pass down to Hong Kong that Jetstar Hong Kong should not be approved. Perhaps balance is a critical trait China Eastern brings to the project: it can lobby on Jetstar's behalf, attempting to offset Air China.
At China's regulatory body, the CAAC, change should be afoot with a new minister to be appointed – although as in many matters in Chinese politics, the timeline and decision is not known until right before implementation. The move could bode well for Jetstar, as the CAAC has been aligned to Air China's interests – former Air China executives have been at the helm – and the mood seems to be that it is now China Eastern's chairman to take the lead. But the CAAC is one regulatory body, and Air China may find supporters in other, and higher, places.
Some of the hardest and most interesting work for Jetstar Hong Kong may never be seen by the public. But if Jetstar and China Eastern have their way, the public will enjoy the benefits.
Background information
Hong Kong LCC capacity (seats) by carrier: 17-Dec-2012 to 23-Dec-2012
Hong Kong-China capacity by carrier (one-way seats per week): 19-Sep-2011 to 9-Jun-2013