flydubai has bright outlook after recording first profit and emerging as close partner to Emirates
Analysis
flydubai has recorded its first annual profit and is preparing more rapid expansion for 2013 and beyond. flydubai, which has already surpassed Sharjah-based Air Arabia as the largest low-cost carrier in the Middle East based on seat capacity, is now looking at placing a new order for 50 narrowbody aircraft. It is already committed to growing its fleet from a current 28 737-800s to at least 50 aircraft by the end of 2015.
flydubai has grown rapidly since being launched in 2009 by the Dubai government, which also owns Emirates. Over the years it has adopted a hybrid model which allows it to fill, in some respects, a role as a regional carrier for its bigger full-service sister carrier. The hybrid approach has resulted in rapid and profitable expansion as flydubai has entered short and medium-haul markets that are too small for Emirates' all-widebody fleet but in many cases have sufficient yields to support a full-service carrier. At the same time flydubai has been able to stimulate demand by offering low fares and is able to successfully operate alongside Emirates on some of the biggest routes within the Middle East.
flydubai has been in the black since 2H2011
flydubai reported on 13-Feb-2013 that it turned a net profit of AED152 million (USD41 million) in 2012 on AED2,778 million (USD756 million) in revenues. The carrier says its EBITDAR operating profit margin reached 24% as passenger traffic exceeded five million.
flydubai, which did not report figures for 2011, says it has been consistently in the black since 2H2011, or just over two years after its Jun-2009 launch. The carrier has quickly proven the need for a LCC in the fast-growing Dubai market, carrying 10.4 million passengers since its launch. It already links Dubai with 51 destinations, with two more destinations to be added in Mar-2013.
See related article: flydubai edging towards profitability, making it the fourth profitable carrier in the UAE
More destinations are expected to be added later in 2013 along with capacity expansion to several existing markets as six additional aircraft are added for a total of 34 737-800s. The opportunities for further capacity expansion are tremendous as about half of flydubai's routes are served with less than daily frequency. The demand will be there to support more frequencies as in many cases these are fast-growing emerging markets that are under-served and would benefit from increased connectivity with Dubai, and therefore the Emirates network.
Slightly over half of flydubai's destinations are not currently served by Emirates. While flydubai now has more destinations outside the Middle East than within the Middle East most of its capacity is still within the Middle East as its routes within the region are served much more frequently.
flydubai currently allocates 70% of its seat capacity to its 21 routes within the Middle East, including about 55% within the Gulf Cooperation Council (GCC). The rest of its capacity is mainly allocated to South Asia (nine routes and 13% of seat capacity) and Eastern Europe (14 routes, primarily to Russia and other CIS countries, and 10% of capacity). The remaining capacity is allocated to Africa (five routes and 5% of seat capacity) and Central Asia (two routes and 2% of capacity).
flydubai capacity share (% of seats) by region: 22-Apr-2013 to 29-Apr-2013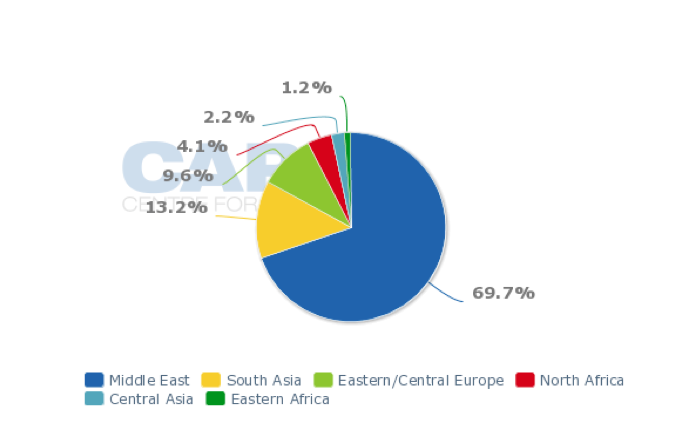 flydubai stated in its 2012 earnings release that its traffic within the GCC – which includes the UAE, Bahrain, Kuwait, Oman, Qatar and Saudi Arabia – grew by 63% in 2012. According to CAPA and Innovata data, flydubai now has a 26% share of capacity from the UAE to Kuwait, 23% to Qatar, 22% to Saudi Arabia, 19% to Oman and 16% to Bahrain. It is currently the largest low-cost carrier in each of these markets.
flydubai stated that the total size of this market grew by 21% in 2013. Most of this growth occurred between the UAE and Saudi Arabia, which is by far the largest country pair within the GCC. According to CAPA and Innovata data, the UAE-Saudi Arabia market has seen a 46% increase in capacity over the last year to over 180,000 weekly return seats. The other UAE-GCC markets have seen modest increases or flat capacity over the last year.
In Saudi Arabia, flydubai has been successful at operating alongside Emirates on trunk routes and building up an operation in secondary markets that are not served by Emirates. Riyadh, Jeddah and Dammam are among flydubai's 10 largest routes and are each served with between three and four daily frequencies. Emirates also serves these three destinations with roughly a similar number of frequencies.
flydubai also now serves six secondary destinations in Saudi Arabia following the 13-Feb-2013 launch of service to Ha'il, joining Abha, Qassim, Taif, Tabuk and Yanbu. flydubai is currently the only carrier linking Dubai with any of these destinations in Saudi Arabia. Rival Air Arabia only serves half of these six destinations – Qassim, Taif and Yanbu – from its hub at Sharjah, which is only about 30km from Dubai.
flydubai has nearly doubled seat capacity to Saudi Arabia over the last year from about 10,400 weekly one-way seats to just over 20,000 currently, according to CAPA and Innovata data. Its 22% share of the UAE-Saudi Arabia market is second only to Emirates' 26% capacity share. Saudia is now smaller, with a 20% share, while the two other LCCs in the market, Air Arabia and Saudi Arabia-based NAS Air, only have a 12% and 7% share respectively. Saudi Arabia is the second largest market from the UAE after India.
In late 2011, flydubai was only the fifth largest carrier in the UAE-Saudi Arabia market, behind Emirates, Saudia, Etihad and Air Arabia.
UAE to Saudi Arabia capacity by carrier (one-way seats per week): 19-Sep-2011 to 20-Oct-2013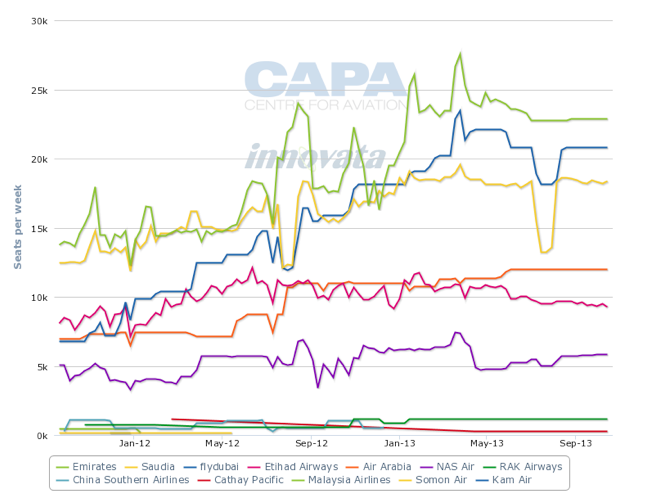 In the other GCC markets flydubai has been used to help its sister carrier compete with other Gulf carriers. As Emirates is the only Gulf carrier that does not have narrowbody aircraft in its fleet, Emirates in some cases is not able to offer the frequencies that competing carriers can offer. Frequencies are key in the intra-GCC market as business passengers make short trips within the region, often just for the day.
For example between Dubai and Doha in Qatar, flydubai now operates nine daily frequencies while Emirates operates six. Qatar operates 11 daily frequencies, using a mix of widebody and narrowbody aircraft, giving it a better schedule than rival Emirates but less than Emirates and flydubai combined.
Doha is the largest destination from Dubai based on seat capacity with over 37,000 weekly one-way seats. Doha-Dubai is the largest route based on seat capacity for Qatar Airways, the second largest for flydubai after Kuwait and the second largest for Emirates after London Heathrow.
The three carriers have almost identical capacity on the route, with Qatar Airways accounting for 33% of capacity, Emirates 32% and flydubai 31% (United Airlines accounts for the remainder). Dubai-Doha is currently the seventh largest international route in the world, according to CAPA and Innovata data.
In the broader UAE-Qatar market, Qatar has a leading 37% share of capacity. Emirates has a 24% share and flydubai 23%, giving the duo a strong 47% share. Air Arabia accounts for less than 5% of total capacity between the two countries.
UAE to Qatar capacity by carrier (one-way seats per week): 19-Sep-2011 to 20-Oct-2013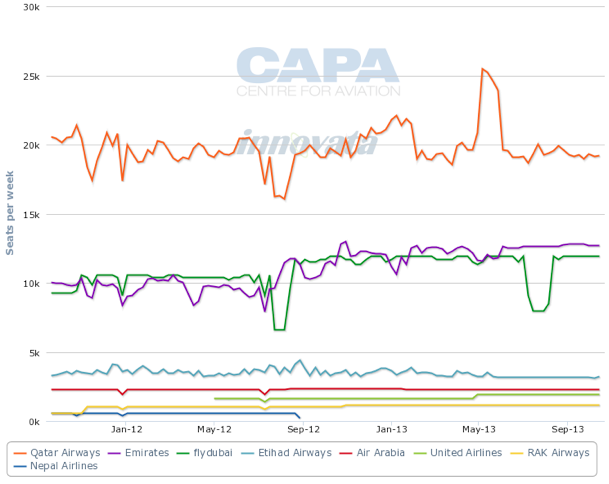 Between Dubai and Muscat in Oman, flydubai now offers four frequencies on most days compared to only two daily frequencies for Emirates. Combined, flydubai and Emirates are nearly able to match the schedule of Oman Air, which offers seven daily frequencies using a mix of 737s and Embraer E175 regional jets.
Oman Air is the largest carrier in the Oman-UAE market with a 28% share, compared to 19% for flydubai and 15% for Emirates. But on just the Dubai-Muscat route, flydubai has a leading 33% share of capacity, while Oman Air has a 32% share and Emirates has a 24% share (with the remaining 11% share held by SWISS).
UAE to Oman capacity by carrier (one-way seats per week): 19-Sep-2011 to 20-Oct-2013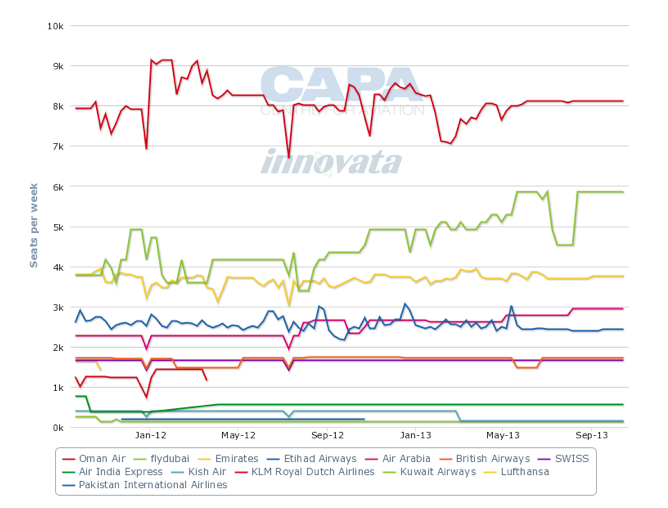 Between Dubai and Bahrain, flydubai now offers three to four daily flights alongside Emirates' three. As a result the flydubai-Emirates combination is able to roughly match the seven flights operated by Gulf Air with A320s. Gulf Air currently has a 36% share of capacity between the UAE and Bahrain. Emirates has a 19% share and flydubai a 16% share, giving the duo almost as much capacity as their Bahrain-based rival.
In the final GCC market, Kuwait, the competitive situation is different as Kuwait Airways is the weakest flag carrier in the region. As Kuwait Airways only operates two daily flights to Dubai and has only a 9% share of capacity between Dubai and Kuwait City, Emirates does not need flydubai to help compete on this particular large route. Instead the combination dominates the Dubai-Kuwait market.
Kuwait City is flydubai's largest route with 10 daily flights (see background information). Emirates also has between five and six daily flights between Dubai and Kuwait, making it the carrier's second largest route based on frequencies (it is the third largest based on seat capacity). Emirates currently has a 42% share of capacity on the route while flydubai has a 33% share. Kuwait-based low-cost carrier Jazeera Airways, which operates four daily flights on the Kuwait-Dubai route, has a 12% share.
In the broader UAE-Kuwait market, Emirates has a 34% share of capacity, followed by flydubai with 26%. Its LCC rival Jazeera only has a 13% share.
Emirates and flydubai have complementary networks
flydubai and Emirates also operate alongside in several other non-GCC markets within the Middle East including Amman in Jordan, Beirut in Lebanon, Sana'a in Yemen and Baghdad, Basra and Erbil in Iraq (the two carriers also both served Syria prior to the current crisis in Syria). flydubai exclusively serves two additional secondary destinations in Iraq, Al Najaf and Sulaymaniyah. The two carriers also operate side by side in two African markets – Addis Ababa and Khartoum – while flydubai also serves Alexandria, Djibouti and Port Sudan.
In India, flydubai only serves three destinations including two secondary cities alongside Emirates (Ahmedabad and Hyderabad) and one that is not served by Emirates (Lucknow). As India is the biggest market from the UAE and is such an important component of Emirates' network, the market is generally better served by widebody aircraft. India is a much bigger market for Air Arabia but Air Arabia's position is different as it is an entirely independent LCC.
Elsewhere in South Asia, flydubai also serves Colombo in Sri Lanka, Karachi in Pakistan, Kathmandu in Nepal, Male in the Maldives and Dhaka and Chittagong in Bangladesh. All these markets except for Chittagong are also served by Emirates. But flydubai is launching service in Mar-2013 to two secondary destinations that are not part of the Emirates network – Multan and Sialkot.
Multan is currently linked with Dubai by one weekly Pakistan International Airways (PIA) flight. Sialkot is not served from Dubai but is served from Sharjah by Air Arabia, PIA and Shaheen Air.
flydubai grows rapidly in CIS region
In the CIS, flydubai has had huge success entering similar under-served markets. It currently operates to three destinations in the Ukraine and four in southern Russia. It also operates to one destination each in Afghanistan, Armenia, Azerbaijan, Georgia, Kyrgyzstan and Turkmenistan (not all these countries are considered part of the CIS but are in the same geographic region in the crossroads between Europe and Asia).
It is these 14 destinations where flydubai has really added value to Emirates as none of them are served by Emirates. While flydubai only serves two of these destinations daily (Kiev in Ukraine and Kabul in Afghanistan) they have been among the carrier's fastest growing and highest yielding markets.
flydubai's four markets in southern Russia – Kazan, Samara, Ufa and Yekaterinburg – have been particularly profitable as this region of Russia has a fast-expanding economy and strong links with the Middle East but are under-served internationally. At just over five hours, flydubai's four Russian routes are very long for a LCC. Most narrowbody LCCs stay away from routes over four or four and a half hours as the operating costs are too high. But these routes have in some cases even higher yields than mainline Emirates routes and therefore can be profitable despite their long length.
flydubai says its traffic to the CIS region grew at a 73% clip in 2012. flydubai will continue to expand rapidly in the CIS and Central Asia regions, adding capacity to existing markets and adding destinations where it can. There will be some limitations due to bilateral restrictions – for example the carrier has not been able yet to enter the lucrative Kazakhstan market. But over time bilateral restrictions should ease and flydubai will continue to grow its presence in the CIS, particularly southern Russia, and Central Asia.
flydubai also serves three markets in the Balkans that are not served by Emirates – Belgrade, Bucharest and Skopje (the latter two were launched in 4Q2012). The only European market that flydubai operates alongside Emirates is Istanbul. While there is potential for more capacity in the Balkans the real goldmine is in the CIS.
flydubai metamorphoses into regional LCC hybrid carrier
flydubai's strategy of entering thin but high yield markets has turned it into almost a regional arm of Emirates, following a model similar to that used by Singapore Airlines for its full-service regional subsidiary SilkAir. While flydubai is not technically part of the Emirates group, the two carriers work closely together and have a robust interline agreement.
flydubai and Emirates operate at opposite sides of the Dubai airport. But transfers are facilitated with an airside bus connection between Terminal 2, the scruffy budget-focused terminal where flydubai operates, to Emirates' Terminal 3.
flydubai hasn't hybridised to the extent of offering a business class or premium economy cabin. flydubai also has no intention of providing complimentary food or checked bags. The carrier will stick with its low cost base and focus on ancillaries, which accounted for 16.5% of its revenues in 2012, for value-added services including in-flight entertainment (IFE), seat selection, checked bags and cargo.
But at the same time flydubai is more than willing to pay the extra costs associated with securing additional passengers beyond those that book on its website. In 2012 flydubai signed up with three major GDS providers – Amadeus, Sabre and Travelport. In late 2012 flydubai entered IATA's BSP, allowing it to interline with other carriers serving Dubai.
The GDSs, BSP and Emirates interline allows flydubai to attract high yield passengers, particularly on under-served routes to secondary cities. Very few carriers operating to western standards serve most of these markets. With its low cost base, these type of routes become highly profitable and easily cover the extra cost of offering a transfer service and paying GDS or BSP fees.
The opportunities for a hybrid carrier in Dubai that takes the best of the LCC and full-service models are tremendous given the diversity of destinations within narrowbody range of the UAE. flydubai can serve these markets without overlapping with its sister carrier and is able to significantly improve the connectivity of the Dubai hub, which ultimately is the main goal for the flydubai and Emirates shareholder.
With flydubai as a sister carrier, Emirates meanwhile gets valuable feed from fast-growing emerging markets that cannot yet support widebody service (primarily because of a lack of demand but in some cases because the airports can only accommodate narrowbody aircraft) and does not have to invest in establishing a regional subsidiary. While a regional full-service subsidiary with a premium cabin would provide a better and more closely aligned product, there is not enough demand to warrant the investment and the flydubai product, which includes seatback IFE (for a fee) is sufficient for most passengers. On short flights within the Middle East, there is not much pain involved with taking a LCC while on many of flydubai's medium-haul routes the reality is in most cases there are limited full-service options.
More rapid growth in store for flydubai as 50 additional aircraft are contemplated
It is no surprise flydubai is bullish on its prospects and is planning further rapid growth. Without even significantly extending its network the carrier will have a need for a much larger fleet just to support its current network of over 50 destinations as demand grows. At the press conference discussing its 2012 results, flydubai Chairman Sheikh Ahmed bin Saeed al-Maktoum said the carrier was discussing with Airbus and Boeing a new 50-aircraft order (Sheikh Maktoum is also the chairman of Emirates).
flydubai made waves ordering 50 737-800s at the 2008 Farnborough Air Show – a year before it even launched services. The last of these aircraft are slated to be delivered in 2015. flydubai will need to soon order more aircraft, perhaps at the 2013 Dubai Air Show in November, to continue its growth trajectory beyond 2015. The A320neo and 737 MAX are under consideration.
flydubai has already grown to become the largest LCC in the Middle East. As a group, Air Arabia has a slightly larger fleet (32 aircraft) and generated 6% more revenues than flydubai in 2012 while carrying about 2% more passengers. But when excluding Air Arabia's subsidiaries in Morocco and Egypt, the Sharjah-based carrier is now smaller than flydubai based on revenues, fleet and current seat capacity (see background information).
With LCC penetration rates in the Middle East still well below global averages, flydubai along with the region's other existing LCCs – Air Arabia, Jazeera and Saudi Arabia-based NAS Air – are well positioned as the budget end of the region's market continues to expand. flydubai is particularly well positioned as it has an 11% share of capacity and about a 70% share of LCC capacity at Dubai. It is now the second largest carrier at the world's second biggest international airport.
Dubai capacity share (% of seats) by carrier: 22-Apr-2012 to 29-Apr-2013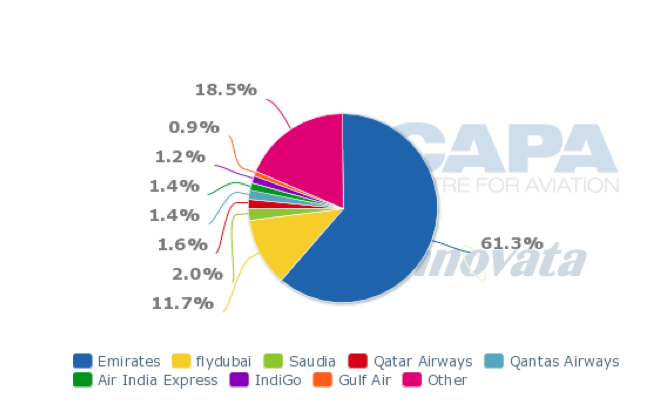 flydubai's close relationship with Emirates gives it an opportunity to grow rapidly while Emirates as well as the region's budget market grows. Its hybrid model allows it to have the best of both worlds and capture multiple segments of traffic. With such a strong model, flydubai should be able to continue to pursue rapid and profitable expansion, maintaining its position as the Middle East's largest LCC and potentially becoming one of the largest LCCs globally.
Background information
flydubai top 10 routes ranked by capacity (seats): 18-Feb-2013 to 24-Feb-2013
Top five low-cost carriers in the Middle East based on seat capacity: 18-Feb-2013 to 24-Feb-2013
Top five low-cost carriers within the Middle East based on seat capacity: 18-Feb-2013 to 24-Feb-2013
Top 10 low-cost carriers at Dubai based on seat capacity: 18-Feb-2013 to 24-Feb-2013