Etihad Airways gets springboard into Northern Europe with 2.9% stake in Aer Lingus
Analysis
A long courting
For some months reports, subsequently denied, indicated Etihad was interested in Aer Lingus. But over the past few months Bank of America and Merrill Lynch, on behalf of Etihad, bought 2.987% of Aer Lingus, according to the Irish Times. That specific amount was just below the 3% holding that would necessitate a stock disclosure. The 2.987% stake represents 11 million shares, which based on recent market prices gives Etihad's investment a price tag of approximately EUR11 million.
While Etihad is coy about increasing its stake – both the Irish government, holding 25%, and Ryanair, holding 30%, say their stakes are up for sale – it was also coy after its initial stake in airberlin, which it increased in Dec-2011.
Etihad CEO James Hogan stated early in the year that the carrier is interested in the Irish Government's stake, which the government intends to sell "at the right price and at the right time" according to Transport Minister, Leo Varadkar. The government has set a minimum price of EUR1 per share for the 134 million shares it controls.
Ryanair has accumulated its Aer Lingus stake in the hope of taking control of the carrier, but has been stymied twice by the European authorities on competition grounds. Ryanair CEO Micheal O'Leary has ruled out making a third bid for the carrier or acquiring the government's share. Following Etihad's stake Mr O'Leary gave an initial typical caustic response, saying an Etihad purchase of Aer Lingus would see it be broken up. Mr O'Leary then got down to business and said Ryanair would "welcome" the buyer of the government's stake to also acquire Ryanair's stake.
Etihad and Aer Lingus are now discussing codeshares. Etihad does not intend to increase its stake in the airline until such talks are completed. The carriers may look at opportunities to further increase revenue or control costs; Etihad and airberlin will conduct joint 787 pilot training and leverage their scale for joint-procurement – a potential boon to the struggling Aer Lingus, which is pursuing a cost reduction plan.
Etihad said that the share purchase "reflected its desire to forge a commercial partnership with the Irish national carrier", which could produce "significant commercial benefits for both airlines". Etihad recently ended its three-year codeshare relationship with Aer Arann, after the carrier moved its network to be under the Aer Lingus regional franchise operation.
Whereas the Etihad-airberlin deal gave Etihad access to the German domestic market – one of the largest in Europe – in face of bilateral restrictions, Ireland is open and does not have a large local market to offer Etihad. Etihad can gain significant and short-term benefits without acquiring a majority share of the carrier. First Etihad and Aer Lingus can initiate codeshares with Etihad placing its code on Aer Lingus' short-haul network and Aer Lingus' code on Etihad's long-haul services. While Aer Lingus is on the periphery of western Europe and any European connections would require backtracking over Dublin, this is not unfamiliar territory to Etihad.
The Etihad-airberlin partnership sees Etihad codeshare on a number of airberlin destinations, some geographically convenient with minimum extra travelling distance – like Hamburg – while others involve backtracking. Active airberlin codeshares include Rome, which when served from Abu Dhabi via Dusseldorf has a 42% longer journey distance than a direct service from Abu Dhabi to Rome. Yet a Birmingham-Abu Dhabi routing via Aer Lingus' Dublin hub would only be 11% longer than flying direct from Birmingham to Abu Dhabi. Scottish destinations become more geographically convenient to route through Dublin; Edinburgh to Abu Dhabi via Dublin is only 8% longer than a direct service.
Aer Lingus Western Europe route map (extract): May-2012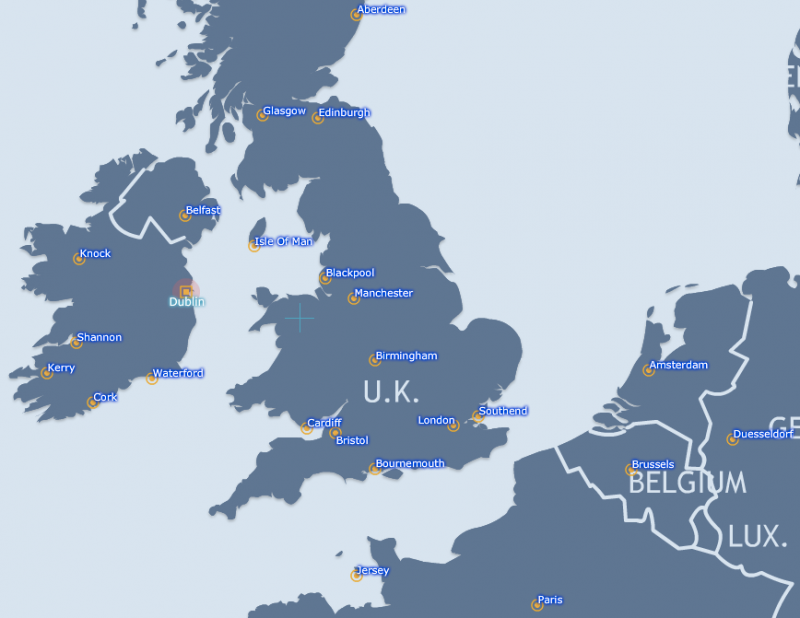 And Heathrow slots may be an attraction
A larger pursuit may be Aer Lingus' London Heathrow slots. The Irish carrier is the fourth largest user of Heathrow slots, using approximately 26 a day. Aer Lingus' grasp on Heathrow stands to be weakened following British Airways' acquisition (via owner IAG) of bmi. BA has codeshared on Aer Lingus services, having withdrawn from the market, but bmi serves the market and BA intends to maintain some level of capacity. Its reliance on Aer Lingus services will diminish in some form, potentially making some services unsustainable and ripe for transferring the slot to Etihad.
Largest holders of average daily London Heathrow slot pairs: 30-Apr-2012 to 06-May-2012
Etihad, with typically three daily services to London Heathrow, has the lowest number of services compared to Emirates and Qatar with five each. That is reflective of the carriers' presence in the larger UK, with Emirates significantly higher and Etihad not far below Qatar due to its larger capacity aircraft.
Top five largest carriers ranked on seats between United Kingdom-Middle East: 30-Apr-2012 to 06-May-2012
Aer Lingus stands to benefit from Etihad placing higher-yielding passengers on its short-haul network. airberlin and Virgin Australia, with whom Etihad has extensive relationships, have reported revenue boosts from Etihad's feed. Conversely, Etihad receives feed from Aer Lingus. With Etihad's growing web of partners – the largest for a Middle East carrier – it reaps what can be termed the pipeline affect in which it operates services but partners on both sides feed traffic, taking some marketing and distribution work off the carrier.
The Irish market is unique in that it is one of the few where Etihad – for now – is larger than Emirates, giving it very strong recognition, unlike in the UK where Emirates is a formidable force. Emirates commenced services to Dublin, its sole Irish point, in Jan-2012. Qatar Airways does not serve Ireland.
Carriers ranked on seats between Ireland-Middle East: 30-Apr-2012 to 06-May-2012
There is also the potential for Aer Lingus to start services to Abu Dhabi, as airberlin did in full force, and also to offer onward services to key markets; airberlin has fifth freedom rights on the Abu Dhabi-Phuket service it launched as part of its partnership with Etihad.
See related article: airberlin prepares to drop Bangkok in order to boost Middle East, Africa and US services
Longer-term, Aer Lingus has explored the possibility of using re-engined narrowbodies to reach the northern east coast of North America. Favourable economics could make Aer Lingus a trans-atlantic hub for the market segment willing to have an extra stop for a lower fare than going direct to Etihad's hub.
A growing web of partnerships and agreements
Etihad has been steadily building a unique web of alliances, partnerships, codeshares and agreements, almost since it launched operations in 2003. It now has 34 codeshare agreements, three strategic partnerships and another 100 prorate agreements with various partners. The carrier has deeper ties with many of its codeshare partners, tying up reciprocal deals for baggage allowances, frequent flyer programmes and lounge access.
This results in a large virtual network, providing behind gateway access that in some instances could not be achieved without scores of additional assets or markets too small to support direct services. Etihad operates to 82 passenger and cargo destinations with its own aircraft. With codeshare partnerships, it broadens this to 240 destinations worldwide.
Etihad Airways codeshare partners: May-2012
| | Asia-Pacific | | Americas | |
| --- | --- | --- | --- | --- |
| | | | | |
| | | | | |
| | | | | |
| | | | | |
| | | | | |
| | | | | |
| | | | | |
| | | | | |
| | | | | |
| French Railways (SNCF) | | | | |
| | | | | |
| | | | | |
| | | | | |
| Siberia Airlines (S7) | | | | |
| | | | | |
| | | | | |
| Ukraine International | | | | |
The carrier's partnership strategy is also a significant source of revenue. During 1Q2012, codeshare partnerships accounted for 18% of the airline's total revenue. In comparison, alliance revenue contributed 13% total revenue in 2010, with around 37% of that coming from premium cabins.
Etihad Airways' partnership strategy entered a new phase at the end of 2011, when it invested EUR79.2 million to increase its stake in airberlin - Germany's second largest carrier - from 2.2% to 29.2%. In early 2012, it followed this up with the acquisition of a 40% stake in the troubled Air Seychelles, which gives Etihad access to the Seychelles tourism market but also potentially growing Africa-Asia traffic.
See related articles:
In contrast, Etihad's gulf rivals Emirates and Qatar Airways have been content to pursue a predominantly organic growth strategy. Qatar Airways CEO, Akbar Al Baker, has been particularly dismissive of Eithad's recent acquisitions, saying he has no interest in acquiring "loss making entities because we are going to get them at a very good price and take advantage of their difficulties." Late last year Qatar Airways took a 35% stake in Luxembourg-based freight carrier Cargolux.
See related article: Middle East network carriers strategies vary on partnerships but both seem to work
Acquiring a significant stake in airberlin and entering a partnership agreement with the carrier gave Etihad Airways proxy access into the German market. It granted Etihad Airways access to Berlin, via a new codeshare arrangement. Neither Etihad nor Emirates operate to the German capital with their own metal as the existing bilateral agreement excludes Berlin, much to the consternation of Emirates', which has produced a report partially highlighting this fact. Eithad has also been able to boost its own Abu Dhabi-Dusseldorf service to a daily offering, with airberlin and Etihad collectively providing double daily services between the two cities.
This sort of access continues to ruffle feathers in Europe. Lufthansa, Germany's largest airline, has been amongst the loudest critics of the Gulf region carriers. It has labelled them "predatory competitors" and called for a limitation of their expansion into Germany and Europe in general. Otherwise, Lufthansa argues, the "distorted competition" from state-owned Gulf carriers will "weaken the aviation industry and ultimately lead to the loss of European hubs" and undercut Europe's place in global aviation as a hub for lucrative Asia-Pacific and Africa traffic.
British Airways and Air France-KLM have warmed up to the Gulf carriers. Air France-KLM is in negotiations with Etihad for a codeshare relationship while the CEOs of British Airways and Qatar Airways in recent weeks have exchanged warm – and unprompted – remarks about each other.
See related article: Air France-KLM to partner with Etihad? - If you can't beat them, join them
The pending Air France-KLM relationship would very likely place a British Airways deal off the table for Etihad due to conflict of interest in such tight geography. With Emirates likely to remain on its own, Qatar is left for BA to partner with. Qatar's smaller size will also provide solace to some BA and oneworld partners who still worry about the Middle East network carriers.
This is a significant change from recent years. Air France's former CEO, Pierre-Henri Gourgeon, said in 2010 that European aviation was a crossroads of international travel and that this role needed to be valued and defended. Group Chairman and CEO, Jean-Cyril Spinetta, took a similar line, announcing in 2011 that the Gulf carriers were "killing our industry" - yet he is now publicly talking of closer ties with Etihad.
Middle East three reach maturity in UK/Ireland, with rest of world to conquer
Assuming Etihad and Aer Lingus reach a codeshare deal primarily covering the UK, and British Airways cements a relationship with Qatar Airways, the three Middle East network carriers will have reached maturity in the region.
Etihad will have a wider web of individual partnerships, Qatar would be sized up for oneworld membership and Emirates would use its larger size to largely sustain itself on its own. Three carriers that a few years ago were termed identical are pursuing three quite different strategies. Some carriers will make the Middle East three their competitors. Others, including the smart ones, will look to share the same vision and reap the rewards. The world is changing.