Cathay Pacific explores new growth opportunities as pressure mounts in traditional markets
Analysis
Cathay Pacific's short-term focus is regional Asia, which it will continue to grow in 2013, although overall the airline expects a slight decrease in capacity as it looks to improve profitability on its long-haul network by replacing maintenance-intensive 747-400s with new 777-300ERs.
But in the long-term the carrier's focus is very much on leveraging its short-haul network to feed long-haul flights, meanwhile re-examining its short-haul strategy.
Cathay is once again evaluating the A380 and 747-8I to see if it needs to grow through capacity increases, stick to its preference for frequency and/or consider new destinations many of its passengers currently reach via connections. The airline is also considering how it might tap into the lucrative Asia-Latin America market. And of course, Cathay must consider what role it will have with alliances.
Yet underpinning these growth possibilities is the fact that Cathay's short-haul market is under pressure, and this will only intensify as Chinese airlines and LCCs continue to gain strength in its home market – an uncomfortable reality Cathay has been shy of admitting.
2013 capacity to be down, the first contraction since 2009 – but a diverse story
For the first time since 2009, Cathay Pacific will shrink capacity, planning a 1.6% cut in 2013 over 2012 levels. This continues the marginal growth Cathay planned for 2012, dropping mainline capacity growth from 7% to 2% while increasing regional Dragonair growth from 7.3% to 9.2%.
See related article: Cathay Pacific may rebound from rare half-annual loss but its glory days are fading
It is important to note this contraction is the average across the Cathay Pacific Group, which includes wholly-owned regional subsidiary Dragonair. Within the overall decline are many nuances. Dragonair will see exceptional growth; 2012 was its largest ever year by far as it opened eight destinations. The full-year affect of these additions will be felt in 2013, which will also see additional destinations: some, like Wenzhou in China, announced and others still being planned.
For short-haul Cathay Pacific will be a mixed story while long-haul Cathay Pacific will see sharp declines. This is largely a result of Cathay accelerating the retirement of ageing 747-400s. While the culprit may appear to be the aircraft's four engines, increasing fuel burn over a twin-engine, the larger financial impacts are expensive D Checks that are or were looming. In some cases Cathay is retiring younger 747-400s ahead of older ones because the younger ones have managed to accumulate more hours and are thus closer to their D Check.
North American services have seen frequency reductions so Cathay could, in the words of director of corporate development James Barrington, "rob" North America of 777-300ERs to redeploy them to Europe in lieu of 747-400s that have become far more common in that market than North America. (For now, Cathay has no plans to reintroduce 747-400s to North America.)
Cathay does not break down operating statistics about Cathay mainline and Dragonair, but based on CAPA's OAG data, Dragonair will grow about 4.5% year-over-year in 1H2013 while Cathay mainline will shrink about 4.4%.
The big unknowns: future of first class and freight
Although the airline industry may always be in crisis as the saying goes, Cathay is managing the current situation while also watching some very significant possible structural shifts. First class is a dwindling proposition. CEO John Slosar recounted at CAPA's World Aviation Summit in Nov-2012 that in 1989 747s had 35 first class seats and today only nine. On the future of first class, Mr Slosar was blunt: "We don't have a view on that." Cathay already has a sub-fleet of 777-300ERs without first class (they have business, premium economy and economy), although the suggestion going forward is that future 777-300ERs will retain a first class, although this may change, especially if options are exercised.
Another significant structural shift is how airlines will accommodate freight. Cathay has an extensive freighter network that on 30-Jun-2012 numbered 24: 19 747-400F/BCFs/ERFs and five 747-8Fs. As a result of the downturn, Cathay this year has parked some less efficient freighters. The future that Cathay and others are considering is whether a dedicated freighter fleet of sizeable mass is viable.
Cathay has always been a cautious airline, a characteristic that should be seen beside its longstanding success. While some carriers see major booms in good times and significant losses in bad, Cathay prefers to be in the middle. Although Cathay's 2010 profit of USD1.8 billion was a high for the industry, it could have been larger if Cathay had been willing to have lower troughs.
The dialogue about freight reflects that the good times may no longer be enough to offset the bad, and dedicated freighters should make way for the belly space on passenger aircraft, the growing importance of which airframers are acutely aware of; the 777-300ER accommodates more bellyspace freight than the 747-400. A middle ground could be a smaller fleet of smaller widebodies. Cathay has expressed interest in an A350 freighter while also having 777Fs on order (although these are speculated to be transferred to part-owner Air China). Taiwan's China Airlines has set a strategy of reducing its reliance on freight revenue.
There are also discussions about the future of freight. As robots increasingly become more cost efficient than assembly line workers, final assembly can be more easily moved back to traditional, high-cost markets. There are also political and social pressures to limit outsourcing. This is some time off, but there are early signs with Apple signalling it will manufacture a limited number of products in the US; previously almost all final assembly was in China.
The biggest structural shift: China's potential and limits on Cathay's growth. Does British Airways offer a lesson?
The rise of China – and its aggressive, if sometimes distracted, airlines – prompts the largest structural shift for Cathay. It may also prove to be an existential threat. A significantly large portion of passengers on Dragonair are connecting from China to another destination via Hong Kong; they are not high-value O&D passengers. (Dragonair in Dec-2012 accounts for about 88% of Cathay Pacific group's capacity into China. Cathay mainline accounts for the remaining 12%.)
Top 25 Airlines ranked on international seats to/from China: 10-Dec-2012 to 16-Dec-2012
Rank
Airline
Total Seats
1
MU
China Eastern Airlines
255,412
2
CA
Air China
215,714
3
CZ
China Southern Airlines
199,456
4
KA
Dragonair*
151,036
5
OZ
Asiana Airlines*
74,072
6
KE
Korean Air*
73,634
7
NH
All Nippon Airways*
60,072
8
SQ
Singapore Airlines*
39,998
9
JL
Japan Airlines*
39,284
10
HX
Hong Kong Airlines*
38,690
11
CI
China Airlines*
35,904
12
TG
Thai Airways*
35,718
13
NX
Air Macau*
32,304
14
UA
United Airlines*
31,990
15
FM
Shanghai Airlines
31,020
16
MF
Xiamen Airlines
30,940
17
BR
EVA Air*
30,356
18
EK
Emirates*
28,480
19
MH
Malaysia Airlines*
23,564
20
HU
Hainan Airlines
22,936
21
LH
Lufthansa*
21,788
22
CX
Cathay Pacific*
21,576
23
ZH
Shenzhen Airlines
20,032
24
AK
AirAsia*
19,080
25
AE
Mandarin Airlines*
18,878
This transfer traffic is highly susceptible to lower fares, better positioned hubs and airlines that have extensive partnerships. The Middle East Gulf hub formula is well known. China's airlines are beginning to emulate that, using the country's vast geography for hub development: Beijing for Northeast Asia; Urumqi for West Asia, the CIS and Russia; Guangzhou for Southeast Asia and Australia; and Kunming for South and Southeast Asia. Various carriers are ascribing greater hopes to the Asia-North America market than Asia-Europe, where far more carriers compete.
To Cathay's disadvantage, many connections from North America and Europe to China via Hong Kong are circuitous. Cathay's home city of Hong Kong attracts stopovers, but soon Beijing and Shanghai will garner large attention, too. Recent loosening of visa restrictions to allow 72-hour visa-free transit stays in Beijing and Shanghai are one more step on China's way to becoming more open.
Japanese and Korean carriers have meanwhile performed well tapping into the China-North America market. While Cathay holds an advantage over Chinese carriers in terms of destinations and frequencies, the Chinese carriers are working to boost capacity and frequency, which will make their proposition – with lower fares and an improving hard product – more competitive. Air China has a head start, replacing 747-400s with 777-300ERs and considering new destinations for its 787s. China Eastern and, especially, China Southern lag in North America, but seek to correct this from about 2014 with the delivery of 777-300ERs.
Corporate contracts will remain in Cathay's backyard for sometime to come, but as the Chinese airlines develop more extensive partnerships with foreign carriers – be it Delta or Etihad – this too will come under pressure.
In planning its growth, Cathay could follow the example of British Airways, which nearly two decades ago faced a growth restraint but from another source: lack of London Heathrow slots. (Slots at Hong Kong International are getting congested, and full at certain hours, but the business-minded government took less than a year to provisionally approve a third runway for operation from 2015.) British Airways in 2010 carried fewer passengers than in 1998, unlike other major European carriers.
Despite the traffic downturn, revenue was however up about 13% – and that in an era of constantly declining yields. BA's strategy was to focus on the premium market attracted to and based around London. The number of premium seats was increased; BA has some of the smallest economy class cabins on long-haul aircraft. Efforts were made to build higher-yielding O&D traffic in order to turn down the tap of connecting passengers.
Passengers carried annually on select European carriers: 1998 to 2010
The difference between BA and Cathay in their source of constraint is significant. In BA's case there was indisputable evidence of a lack of slots. But for Cathay, the potential of Chinese carriers and LCCs is a matter for its judgment. As can also typically occur with airlines, corrective measures are often not put in place until the increased competition is felt – and already causing substantial damage.
A380 and 747-8I once again under consideration as Cathay weighs frequency over size
A decision to purchase very-large aircraft (VLA) like the A380s or 747-8Is, which Cathay is once again evaluating with a decision expected in 2013, would contain complex ingredients – possibly more so than for any other airline.
The central question is if Cathay will grow in frequency or size. Frequency has been the preference, but a handful of long-haul destinations see three or four daily services. That allows Cathay to hit all of its scheduling banks. An additional frequency could bring limited strategic and scheduling benefits whereas up-gauging services to a VLA could be more economical than adding a frequency.
Cathay Pacific top 10 destinations by available ASKs: 10-Dec-2012 to 16-Dec-2012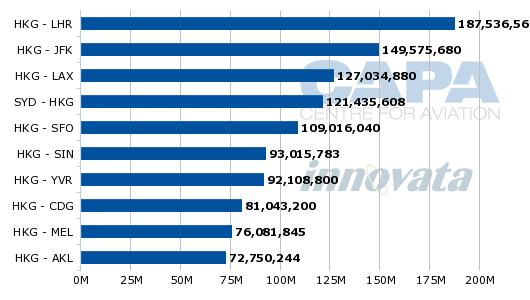 All of this is a moving target in the context of price. The slightest additional discount could change the calculation. Airbus for years has wanted to sign Cathay up for the A380, and Boeing no doubt would be willing to offer discounts on its 747-8I as Cathay's order could boost the aircraft's reputation, which has few airline customers (although as Boeing argues, it was always going to be more popular as a freighter). The cost equation is helped by Cathay having the freighter variant of the 747-8, and there could be further synergies for Cathay by pooling its potential fleet with Air China, which has ordered five 747-8Is.
A VLA fleet would likely be niche – and not number the 50 777-300ERs Cathay plans to have. Further details in any decision would have to include the impact of structural shifts affecting Cathay. The A380's strength is in carrying passengers, not freight. If a dedicated freighter fleet loses its attraction, Cathay may find aircraft like the 777-300ER and A350-1000 better balances between freight and passenger demand. Keeping a sizeable freighter fleet would likely warm up the equation for VLAs as the VLAs (strong with passenger load, weak on cargo) could be complemented by dedicated freighter aircraft.
Cathay will need to decide how actively it can participate in sixth freedom markets. With increasing Chinese competition, Cathay will need to look at growing revenue without large capacity increases, in which case VLAs could be inappropriate.
In the end, many expect Cathay to continue its conservative strategy rather than have the large ups and downs in profitability VLAs could bring. As for future growth, Cathay is due to take delivery of 13 777-300ERs from 2014 to 2017, after which the carrier will have only A350 XWBs on order. Cathay does hold 20 purchase rights on the 777-300ER, but these are to be delivered by 2017. As Boeing's target for a re-vamped 777, the 777X, moves from later this decade to early next decade, Cathay would likely look at extending and then exercising those purchase rights, possibly in tandem with an order for the 777X, which Cathay holds interest in.
See related article: Astride its volcano, Cathay Pacific's A350-1000 order is one more important long term measure
Cathay Pacific fleet profile: 30-Jun-2012
Cathay may stick with 777-300ERs as its largest aircraft, and instead open new cities
There is another option for Cathay besides up-gauging services or adding frequency: open new destinations. Cathay sees considerable connections at foreign ports, especially in the United States. Cathay serves Chicago, Los Angeles, New York JFK and San Francisco – perhaps a healthy mix, but well below the nearly dozen cities served by Korean Air and the growing footprint of ANA and JAL, which are opening secondary cities. Each of them has online connections into numerous mainland points.
While Mr Slosar did not indicate where Cathay would consider expanding, available data shows US cities carrying notable levels of passengers to Hong Kong, but not on direct services, include Boston, San Diego, San Jose, Seattle and Washington DC. There is also notable traffic from Florida, Ohio and Texas.
Miami would be a tantalising service given the opportunities for Latin America feed, although there would be operational challenges as a direct service is just under 9,000 miles (the longest route in the world is SIA's Singapore-Newark at about 9,500 miles, after that and SIA's Singapore-Los Angeles service is Qantas' Sydney-Dallas Ft Worth service at 8,600 miles). Miami is a natural hub for the Latin American community. While Cathay's partner American has a larger presence in Dallas than Miami, Miami is stronger for Latin America, offering 63 destinations from all carriers compared to 33 at Dallas. Miami sees about 273,000 weekly seats to Latin American while Dallas only sees about 89,000 weekly seats.
Translating demand into a profitable service could be challenging for Cathay. US carriers have the advantage of their domestic network, which has enabled Delta to build a trans-Pacific hub at Seattle while American Airlines plans to launch a service from Dallas/Ft Worth to Seoul and United from Denver to Tokyo Narita. Foreign carriers have entered secondary cities with smaller aircraft, like the 777-200ER Korean Air uses to some cities. A wave of expansion was made possible by the 787, which JAL used to open a Boston and San Diego service while ANA used its 787s to fly to San Jose and Seattle. Boston and San Diego had been starved for Asian services while San Jose had previously seen a Tokyo service from American Airlines and Seattle offers Tokyo services from Delta and United. But the expanded entrance of foreign carriers marks a new chapter for US-Asia traffic flows.
Cathay has a surprisingly light footprint in Europe, serving only seven cities, compared to 13 from Singapore Airlines. Even Air China serves 13 while China Eastern, much younger than Cathay, serves six. What opportunity remains in Europe is a matter debated by airlines. China Eastern has a less than enthusiastic view, seeing the market as too competitive, irrespective of the current economic downturn. It is far more upbeat about North American services.
The A350s could expand Cathay's footprint in Europe, but it remains to be seen if doing so will be viable with the new competition. Despite SIA's large size, it has posted rare quarterly losses while profits posted have been down considerably.
European and Middle Eastern carriers are catching on to secondary Asian cities far more quickly than their North American peers. New direct services (like KLM to Japan's Fukuoka) will impact Cathay's sixth freedom network while competitors' links to cities with more convenient geography will make for more efficient journeys: Finnair and Qatar serve Chongqing and soon Qatar will serve Chengdu in China's west. Neither offers onward connections, at least not yet, but the building blocks – and the intent – are there.
Despite the economic downturn, Finnair aims to open a new Asian city every year while Air France-KLM will look to open more secondary Asian cities and even British Airways, long starved of Heathrow slots, looks to expand in Asia following its acquisition of bmi. The first realisation of BA's additional slots was evident in Dec-2012 when the carrier opened a service to Seoul. And of course the Chinese carriers will use their own geography to their strengths: Air China is mulling a service to Frankfurt from Chengdu. Then there are wild cards like low-cost Norwegian which initially plans a 787 operation into Bangkok, but with expansive plans.
Fleet is a challenge. Cathay's long-haul fleet is almost entirely 777-300ERs, supplemented by A340-300s with older hard products used on less competitive routes, such as to Auckland and the Middle East. Cathay has smaller 777-200s, but not of the long-range variant, prohibiting their use to open additional long-haul cities (United uses 777-200ERs between Hong Kong and New York).
While Cathay in Jun-2012 had 34 A330s with 17 on order, these are the -300 variant that are efficient on regional sectors up to about nine hours but cannot make long-haul services. Chinese carriers in recent years have shown affection towards the longer-range -200 variant, which can fly between Asia and Europe (China Southern has A330-200s between Guangzhou and Paris) and even some points in North America (China Eastern will open a Shanghai-San Francisco service with A330-200s in 2013). Airbus recently began offering a -300 version with high performance, enabling Asia-Europe services, but Cathay has not expressed any interest publicly, and by the time Europe's economy recovers, Cathay's A350s will not be far off.
Cathay passed over the 787 in favour of its competitor, the A350, ordering both the -900 and -1000 variants. Its first A350 is not due until 2016, meaning Cathay may be a latecomer at opening additional long-haul cities. This lag – even a missed opportunity – is characteristic of Cathay, which tends not to be a leader in innovation or strategy but eventually does usually execute its decisions successfully. Cathay selected new business class seats well after competitors did and also introduced the 777-300ER relatively late, although both products are now cornerstones of the airline.
Latin America of interest, and could be served using fifth freedoms or on partners
One of the more strategic developments for Cathay and aviation at large is Cathay's interest in serving Latin America. Linking the high-growth economies of Asia and Latin America is of interest to many airlines, but operationally challenging. Direct services are largely not possible due to aircraft range limitations; the only direct services are Aeromexico's to Tokyo Narita and Shanghai from Tijuana, barely into Latin America. Even next-generation aircraft like the 787 and A350 will not be able to enter Latin America more deeply.
That has resulted in carriers from every continent trying their hand at establishing connecting services. European, North American and increasingly Middle Eastern carriers are the current anchors of this market. Singapore Airlines serves Sao Paulo via Barcelona while JAL used to serve Sao Paulo via New York.
Mr Slosar tells CAPA that Cathay is evaluating serving Latin America either with its own metal or working with partners. Landing of Cathay aircraft in Latin America would be on fifth freedom routes. Cathay can make use of Hong Kong's limited fifth freedoms, which the city offers on a basis of reciprocity. Selecting which intermediary point to use will be difficult. While the US may offer operational and timing advantages, its strict border control means transiting passengers would need visas and the usual inconveniences. Markets Cathay would target – Brazil, China – are difficult ones for citizens to get US visas.
As for partners, Cathay sees some connections in Australia to LAN's service to Santiago, Chile. The market is not always ideal as LAN has strong traffic to and from Australia without needing to look at other continents. Fellow oneworld carrier American Airlines has the largest network of US peers into Latin America, but the American-Cathay relationship, as with many of Cathay's partners, is distant. American itself is targeting more Asia-Latin America services; when American announced its Dallas-Seoul service it also announced a Dallas-Lima link, with very efficient connections between the two – a move that was not coincidental. Additionally, American has been looking on and off at Hong Kong and other Asian cities, too.
An interesting proposition would be a Cathay service to Madrid, the hub of oneworld's Iberia, which has a large network into Latin America (although this is now being curtailed a bit due to unprofitability). Iberia operates mainly to the west. Its most easterly service is to Tel Aviv, eliminating direct Asia-Europe competitive concerns, although Iberia's sister carrier British Airways (both are owned by IAG) operates a large and growing Asian network, but is lighter than Iberia in Latin America. The lack of Asian services to Spain has proved a boon for Middle East carriers.
See related article: Emirates' Spanish expansion highlights Iberia's long-haul weakness to the east
BA and Cathay have never played well together, thanks to their competitive instincts and regulatory authorities' anti-competition concerns over cooperation. BA, however, has acknowledged difficulties in having its passengers double connect in Heathrow and then Madrid for Asia-Latin America services, so perhaps the mood towards Cathay might be favourable. A more neutral option could be connecting with LAN, in North America (Los Angeles and New York) or Europe (Frankfurt and Madrid). Linking these markets is a puzzle many carriers are sorting out, and an early move would be beneficial, but again the evidence suggests that Cathay will be steady rather than agile.
Cathay has gone its own way in the past. It is time to find some solid partners as others pair off and options close out
The biggest intangible change lurking in Cathay's future is a need for deeper partnerships. oneworld, towards whom Cathay has shown ambivalence, is simply out for major members like BA and Qantas, or JAL, while the feelings are not inense for its other members. So Cathay needs a more expansive pool of candidates, and fortunately carries weight – operationally, financially and through its brand – should it choose to exercise it.
The cross-equity between Cathay and Air China (Cathay owns about 20% of Air China, which in turn owns about 30% of the former) was considered innovative when first implemented, yet has since produced few strategic benefits – other than heeding Beijing's wishes and the wider objectives of Swire, Cathay's largest shareholder, to sell. Costs and revenue synergies are on a small scale. Their joint venture cargo operation saddled Cathay with enough downward pressure to post a rare half-annual loss; Mr Slosar confirms the timing of its startup was not ideal, but its partner was taking a long-term view.
This is perhaps not surprising. For the carriers that have merged into one holding company, there are still considerable questions of how much has been gained: Iberia is dragging down British Airways, Air France's sour performance is a source of tension with more efficient KLM, and Lufthansa has sold off bmi.
The cross-equity arrangements that are showing positive signs revolve mainly around Etihad, with its deep strategic relationships with Air Seychelles, airberlin and Virgin Australia. In those relationships, the partner was already aligned to Etihad's interests, as Virgin was by flying to Abu Dhabi, or, following the equity stake, became closer to it (airberlin) or even gave up some freedom for the opportunity to stay afloat (Air Seychelles). (Etihad's reported interest in Kingfisher over Jet Airways may indicate Jet, being healthier, was less willing to compromise to Etihad's strategic wishes, unlike deathbed Kingfisher. Jet also probably still holds out hopes of combining in Star, led by Lufthansa).
The problem for Air China and Cathay is that they each have their own encompassing strategic objectives and with significant backers: Swire for Cathay, China Inc. for Air China. Any sort of stronger relationship could see one side feel it is making a concession to the other: the unseasoned mainland Chinese management or the foreigners extending their stay in a former colonial town.
Those feelings will evaporate if the suitor is smaller, but the partner Cathay needs is a large player. Etihad is eager to take up the role, and hopes a partnership between its Air Seychelles and Cathay will be the first step. Etihad would offer immediate benefits around the Middle East, which Cathay serves with mixed profitability. Europe too could be attractive: Etihad does not serve as many European destinations (15) as Emirates (32), but this is still considerably more than Cathay (seven). (Etihad would argue its reach is even further than Emirates when considering its codeshares on European carriers, including the value of intra-European links on airberlin.) Asia-Africa links are growing, and Cathay has not ventured outside of Johannesburg, a route now coming under pressure as others – Emirates, South African and maybe soon Air China and China Southern – expand.
See related article: Revitalised Air Seychelles looks to use Hong Kong as Asian hub and proxy service for Etihad
Cathay made partnership inroads with an earlier deal with Air New Zealand that for Cathay is larger in significance than size as it represents a changing direction. The next logical partner for Cathay is Virgin Australia, which is on the hunt for a North Asian partner. (It is, on the surface, all very convenient – Air New Zealand, Etihad and Virgin are already partners.)
See related article: Air New Zealand-Cathay Pacific partnership has implications across Asia and for SIA & China Southern
Virgin could in the medium-term offer its own Australia-Hong Kong services but cooperation between the two could see that offering as one between partners, not competitors. Cathay for its part has maxed out the Hong Kong-Australia bilateral while its Australian counterparts have not. To extend the bilateral, Australia is asking for fifth freedom rights, which Hong Kong is not currently willing to provide. If and when the bilateral is expanded, some of those frequencies may go to Hong Kong Airlines, which is pushing for access to the route. So using the Australia side of the bilateral to grow may be positive.
Connecting traffic may prove to be more important as Cathay tapped into Virgin's frequent flyer base, although these are already shared between SIA and Etihad. Cathay and Virgin would need to establish some ring-fencing as Cathay and SIA are serious competitors, but Cathay no doubt would see the benefit, measurable or symbolic, of partnering with Qantas' biggest competitor. The chemistry has never been right between Cathay and Qantas – as with BA and Cathay, competitive concerns are raised – and the mood hs not improved since Qantas moved to establish Jetstar Hong Kong on Cathay's turf.
Except where metal neutrality or equity is involved, all airlines are competitors, some larger than others. As airlines seek to compete against their biggest competitors, they are becoming more lenient and partnering with smaller carriers, using their combined strength to target a larger carrier. It is time for Cathay to see that it is a scary world for airlines that go it alone. New friends are needed.
As the dramas of 2012 have shown, everything is in play now – therefore better to move sooner than later, when potential mates may go with someone else.
Hong Kong International Airport capacity (seats) by carrier: 10-Dec-2012 to 16-Dec-2012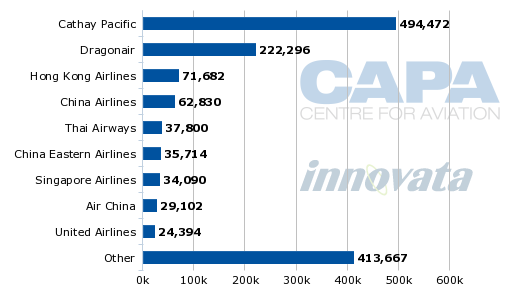 Short-haul Asian routes are under pressure
Most contentious for Cathay is the outlook on short-haul Asia, which accounts for just under two-thirds of seat capacity. Southeast Asia has been swallowed up by LCCs, with disastrous effects for legacy carriers, many of which are still finding their way. A North Asian LCC revolution is getting under way and will really catch fire once China releases the regulatory reins, but this is largely ignored by Cathay, publicly at least.
Cathay has for so long doubted the staying power of LCCs that it may find it difficult to acknowledge their effect, let alone counter with a subsidiary of its own, now becoming almost an unavoidable decision. Given the pervasive influence of these models, Cathay is almost certainly keeping its options open, although the window is narrowing as others fill the vacuum.
See related article: Cathay Pacific must seize the moment and launch a low-cost carrier
The short-haul challenge relates to both cost and agility. Cathay's Dragonair may be lower cost but is not low cost and cannot compete with LCCs at the low price end. The mentality is also different; LCCs are more aggressive in opening new city-pairs and lowering their costs, such as through better online distribution and marketing.
Cathay in recent months has made efforts by launching "fanfares", which once a week offers a limited number of seats (10-200) to selected destinations for a certain period of time (only one departure day to upwards of two weeks). The colourful fonts and innovative design the web-only site uses is very un-Cathay, and a welcome initiative but scarcely the end-all solution to LCC competition, more a toe in the water.
Cathay Pacific capacity (seats) by region: 10-Dec-2012 to 16-Dec-2012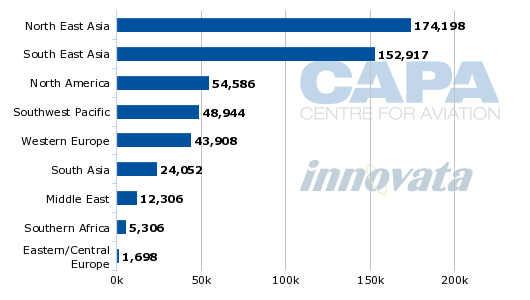 Cathay has said it has dealt with LCCs for some time, as if to question why the future should be any different. The reason is scale: North Asian LCCs are entering, Southeast Asian LCCs are growing and new carriers are being established. In addition to the imminent arrival of Jetstar Hong Kong, Hong Kong Airlines in Dec-2012 said its previously-postponed plan to transform its Hong Kong Express unit is back on (although this plan awaits realisation) and China's Spring, already expanding with a Japanese base, says it is considering a Hong Kong subsidiary. Spring recently announced an array of Mainland destinations to connect with Hong Kong. Competition is growing, whether Cathay acknowledges it or not.
Cathay has argued it can deliver lower costs by "misusing" widebody aircraft on layovers between long-haul missions. While that does lower costs, many markets are not large enough to sustain a widebody service. A market that might see one widebody flight from Cathay but multiple services from an LCC, giving the LCC the frequency advantage Cathay is so eager for.
The mentality and operation is different, and as Australia, Europe, North America and Southeast Asia have learned, LCCs require a deeply competitive response, not merely reduced fares. While unprofitable short-haul networks had been tolerated in Europe to feed long-haul hubs, that is swiftly changing, from Air France to Iberia to Lufthansa. There is no reason to think North Asia will be any different.
Outside of the LCC spectrum, Hong Kong Airlines is also emerging as a viable full-service competitor to Dragonair.
See related article: Hong Kong Airlines, Asia's fastest growing carrier, looks to become reckoning force in the region
In a fast changing market, Cathay may no longer find added caution to be a viable strategy
There is a certain window of opportunity for airlines to sort out their strategies and respond competitively. Once that time passes, the market senses vulnerability and presses for change. Being the last mover in a changing system has never been a recognised strategy – and with good reason.
Cathay is not currently enjoying the relative glory days of yesteryear, posting a half annual loss with a weak full-year outlook. This may consequently be a time for added caution; in the past that would have been Cathay's reflex. The force of events over recent months may however signal a different era, one in which standing still is to be left in the dust as others rush to select long-term partners.
Cathay undoubtedly has a precious brand, one that must not be jeopardised. Yet, as pricing and commoditisation become the focus of the industry, having powerful friends takes on an importance that it never had before. And excessive caution may be the most dangerous strategy.