Hong Kong Airlines, Asia's fastest growing carrier, looks to become reckoning force in the region
Analysis
There is no airline like it. Of Asia Pacific's medium or larger full service international carriers, none has grown as quickly as Hong Kong Airlines (HKA), which between 2010 and 2012 nearly quadrupled in size, growing 178% – the fastest in the region. Since 2009 it has grown 233%, eclipsed only by sister HNA carrier Tianjin Airlines.
Hong Kong Airlines' existence was largely quiet until the summer of 2012 when it was thrust into the limelight, a mix of its growth occurring without support, and competitors – seeing their own markets eroded – drawing attention to HKA's faults, some more substantive than others. The fear from competitors is rightfully placed: Hong Kong Airlines is establishing itself as a powerful force for Asia-Pacific travel anchored around China. It is full service but not legacy, delivering an admirable cost base. Its open mind could see it form a large virtual network, having, like Etihad or Virgin Australia, much gain without pain. If the proposition is straight forward, the implementation is challenging. Being a subsidiary of China's expansive HNA Group, it is exposed to strategy that can be fluid. But like at HNA, there is a long-term conviction.
Hong Kong Airlines and Hong Kong Express available capacity (ASK): 2003 to 2012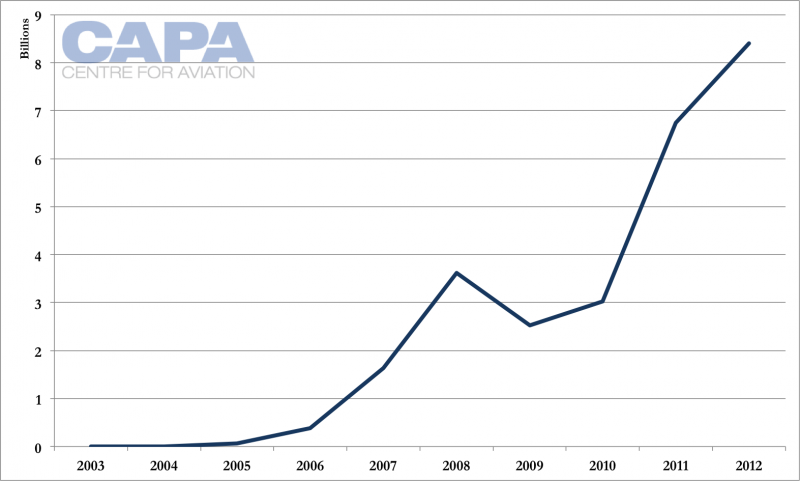 Hong Kong Airlines is 45% owned by HNA's Hainan Airlines, which also owns 45% of Hong Kong Express. Hong Kong Express and Hong Kong Airlines are effectively the same carrier with shared management but different AOCs. The majority of aircraft are with Hong Kong Airlines with only a handful of 737-800s with Hong Kong Express. Hong Kong Airlines in the past has spoken of transferring passenger aircraft from Hong Kong Express to Hong Kong Airlines to make Hong Kong Airlines the passenger division and Hong Kong Express the freight division. The carrier, which can be fluid at times, also spoke of turning Hong Kong Express into a dedicated low-cost carrier, with this originally due to occur in 2012. But now there are hints the carrier may drop this proposal and instead pursue a full service operation on a medium-cost base.

Hong Kong Airlines garnered attention for its ambitious proposal to have all-business class A330 service between Hong Kong and London Gatwick, which it launched in Mar-2012 and suspended in Sep-2012. But this long-haul route, and any future endeavours, will be more the exception than the rule. HKA sees itself mainly as a regional Asian carrier with a heavy emphasis on mainland China. In this regards its biggest competitor is Dragonair, the wholly-owned subsidiary of Cathay Pacific that is full service and with a slightly lower cost base but is not, contrary to some thoughts, a LCC. Dragonair, which has premium seats and dedicated cabins, mainly operates into mainland China, where its capacity far outstrips Cathay (Dragonair is the fourth largest while Cathay is the 21st largest).
Top 20 airlines with international capacity to/from China ranked on seats: 12-Nov-2012 to 18-Nov-2012
Rank
Airline
Total seats
1
MU
China Eastern Airlines
259,919
2
CA
Air China
212,720
3
CZ
China Southern Airlines
199,256
4
KA
Dragonair
153,092
5
OZ
Asiana Airlines
79,000
6
KE
Korean Air
73,842
7
NH
All Nippon Airways
54,403
8
SQ
Singapore Airlines
40,026
9
HX
Hong Kong Airlines
36,968
10
CI
China Airlines
35,864
11
TG
Thai Airways
35,328
12
JL
Japan Airlines
32,666
13
NX
Air Macau
32,048
14
UA
United Airlines
31,444
15
FM
Shanghai Airlines
30,844
16
BR
EVA Air
30,044
17
MF
Xiamen Airlines
29,920
18
EK
Emirates
28,480
19
HU
Hainan Airlines
24,402
20
MH
Malaysia Airlines
22,284
Dragonair's service and branding has been intentionally stunted in order to provide segmentation between Dragonair and Cathay. Until recently, this strategy has been permissible as Dragonair's main competitors, mainland Chinese carriers, have networks and frequency that are much smaller; branding that is lower profile than Dragonair's; and weak international marketing, focussing instead on the outbound Chinese market.
Hong Kong Airlines took advantage of the gap by providing flights between Hong Kong and mainland China (and greater Asia) that are more or less the same as Dragonair but with more up-to-date aircraft, products and branding. Dragonair in the middle of last decade, prior to Cathay assuming full control, was planning a much-needed cabin refresh, but after the Cathay takeover the project was scrapped to maintain segmentation.
The project – Dragonair's first-ever product upgrade – is now back on as Dragonair confronts a series of changes in the market, including Hong Kong Airlines' more modern look, mainland carriers stepping up their own product and marketing, and greater partnerships from mainland carriers (China Eastern with Hong Kong Airlines, and possibly Qantas too in due course).
Dragonair CEO Patrick Yeung, speaking to CAPA at the Association of Asia Pacific Airlines Assembly of Presidents in Kuala Lumpur on 09-Nov-2012, said the product in both premium and economy classes will be updated on both narrowbody and widebody aircraft. As of 30-Jun-2012 Dragonair operated 13 A320s, six A321s and 16 A330s. The product upgrade will be accompanied with a new uniform to be introduced in spring 2013.
Dragonair international seat capacity by region: 12-Nov-2012 to 18-Nov-2012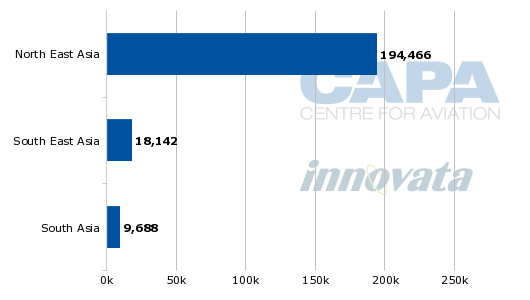 Support is beginning to catch-up to high growth
There are significant differences between Dragonair and HKA. Dragonair is highly integrated into Cathay's sixth-freedom network whereas Hong Kong Airlines' connecting traffic is more limited, proportionally and in terms of destinations given its regional Asia focus. Dragonair has also benefitted from the experience and skills of management from Swire, the conglomerate that has the single largest stake in Cathay and is the source of much personnel and culture.
Where Cathay and Dragonair are mature, Hong Kong Airlines is still young, both in age and experience: its largest shareholder, China's HNA Group, does not have the airline management or general international experience that Swire does. This has led to HKA's growth occurring commensurate with processes to ensure a smooth experience from passenger and regulatory ends. This led to Hong Kong's regulator, the Civil Aviation Department, freezing the expansion plans of HKA in Aug-2012. "With a very rapid expansion of aircraft fleet in recent years, CAD considers that it is time for HX to catch up with its current fleet size by consolidating their existing operations," the regulator said in a statement.
The move was cheered by doomsayers looking to predict, for various and sometimes conflicting interests, the end of HKA. But HKA found a silver lining, and some even welcomed the decision, seeing that the timeout will enable HKA to stop focussing on being a bigger competitor and instead become a smarter competitor and establish a sustainable growth platform. In the long-term, the exercise may prove to be more beneficial to HKA than if it did not occur.
HKA had already eyed consolidation, looking to replace its 737-800s with A320s to streamline costs and reduce complexity. The hold on expansion will also enable HKA to fully asses its network and see that the routes it serves, and at what frequency and scheduling, are the best option. This process has sometimes been abbreviated as pressure from HNA was simply to grow. HKA is committed to bringing its operations to a sustainable level that the HK CAD will agree with, but if the process drags on, HKA may not find itself entirely at the CAD's mercy: there is possibly the nuclear option of using HNA's influence in Beijing to pressure Hong Kong to have the CAD lift the restriction.
Hong Kong Airlines and Hong Kong Express operate seven A320s, five A330-200s and eight 737-800s with 19 A320s, seven A330-300s, 15 A350-900s and 10 A380s on order. The carriers also operate four A330-200 freighters and two 737-300s freighters.
Hong Kong Airlines top 10 routes by seat capacity: 12-Nov-2012 to 18-Nov-2012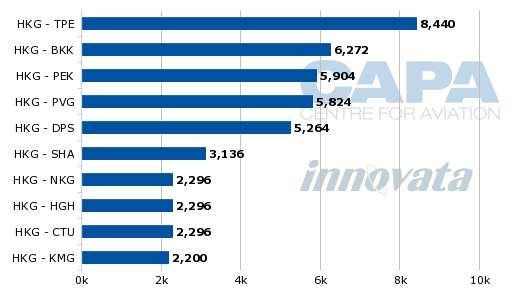 Hong Kong Express routes by seat capacity: 12-Nov-2012 to 18-Nov-2012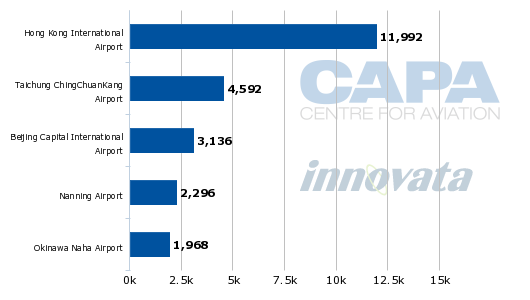 Hainan Airlines is stepping into the picture – at least verbally
While there are significant managerial ties between HKA and HNA, HKA for the most part had been publicly left to itself. But following the cancellation of the London service and the CAD freezing expansion – which some used to create moments of hysteria and ask how many days until the carrier collapsed – HNA stepped in to the public picture. The biggest talking points were that HNA would consider cancelling Hong Kong Airlines' order for 10 A380s, and that Hainan may pursue a merger of Hong Kong Airlines.
The effect, as one analogy goes, was to show the grown-up taking responsibility for its rambunctious teenager, saying the past may have been shaky, but now there will be greater supervision and a smoother future. The merger discussion may have been just that and not a serious consideration, or at least not yet. Mention of cancelling the A380 order was perplexing for some since it had been understood HNA was using Hong Kong Airlines to order the A380s and that the aircraft would in fact be placed with Hainan Airlines.
Irrespective of placement intentions, cancelling the A380 order may show that HKA and HNA are growing up. HNA, with a large asset base and a far leaner organisation than China's legacy carriers, has rightfully been ambitious in its potential. Hainan/Hong Kong Airlines would not be the first carrier to perceive that to be a global airline it needs the A380, and a re-think may show that the A380 is not suitable for their specific markets. As China Southern's experience with the A380 shows, viability out of non-key hubs is exceedingly difficult. Due to China's one airline, one route de facto policy for international services, China Southern has not been able to deploy its A380s on strong routes as fellow Chinese carriers already operate the aircraft in those markets. Hainan is well aware of this, having acquired a 48% stake of France's Aigle Azur in order to use that AOC, rather than its Chinese one, to fly between Paris and China.
See related articles:
In Hong Kong, Cathay Pacific has yet to order the A380 or 747-8, for a medley of reasons, including its conservative outlook and the fact that no carrier has ever gone out of business by flying an aircraft too small.
Like the CAD's growth imposition, cancelling the A380 order may prove in the long-term to be a beneficial occurrence.
Hong Kong Airlines has had its own faults and shortcomings for which it is fully responsible. But it has also been at the receiving end of pressure from Cathay Pacific, understandably looking to defend its markets. The tension climaxed in Jun-2012 when Hong Kong maintenance provider HAECO, owned by Swire, stopped providing service to Hong Kong Airlines, forcing it to quickly find another provider. The promoted justification (with an origin that was never entirely clear) was that HKA had not paid its bills, but those familiar with the situation say the issue was quite different: HKA informed HAECO of its intent to start its own maintenance, at which point HAECO cut HKA off. As for unpaid bills, HKA had an industry standard contract to pay a month in arrears. HKA's ability to defend itself was limited as it was in-between media relation teams.
Going forward, HKA should not expect to be relatively ignored the way it has been in past years. That is a reflection of its own strengths as well as competitors' weaknesses. All of Cathay Pacific's core markets – long-haul, premium business, freight – have effectively collapsed, likewise at other global carriers. Where Cathay could once ignore HKA's regional Asia focus since Cathay had larger markets, those markets are in a downturn and Cathay is left to fight for the smaller markets that were previously of little focus. Growth at regionally-focused Dragonair in 2012 will far outstrip Cathay, a situation replicated between SIA and its regional subsidiary SilkAir.
See related articles:
Hong Kong Airlines and Hong Kong Express serve mainland China, Indonesia, Japan, Taiwan and Thailand, but the anchor of its network is mainland China, which accounts for over half of its capacity.
Hong Kong Airlines/Express route map: Oct-2012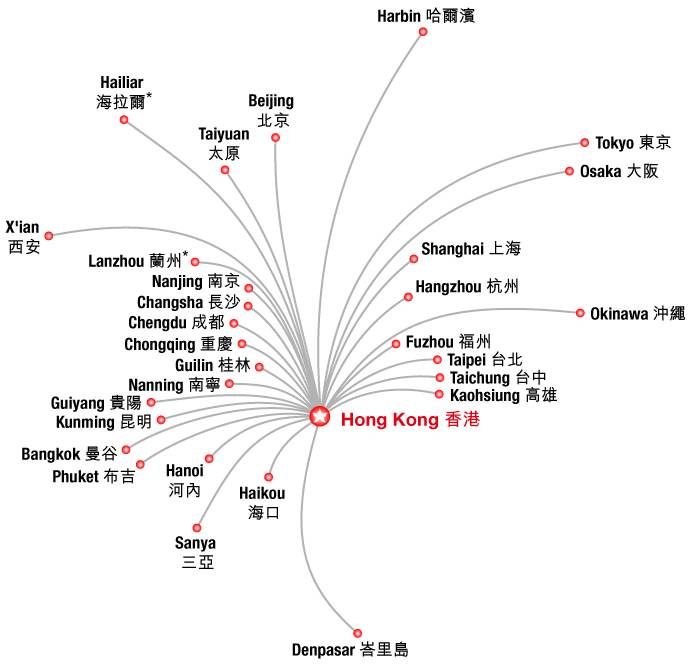 Yields between Hong Kong and mainland China are high. HKA in particular has carved a successful and profitable position on the trunk Hong Kong-Beijing and Hong Kong-Shanghai routes, where it operates upwards of three daily A330 services.
Its network may be a fraction of Cathay Pacific/Dragonair, but HKA is content knowing that it will never be the size of those carriers. Cathay and Dragonair have more services partially owing to transfer traffic, and HKA believes it can capture large markets with well-timed flights and appropriate frequency; a brief endeavour to serve Singapore once a day with an A330 was not appropriate and withdrawn, but a re-entry with multiple narrow body services has a larger chance of being successful.
While both the Hong Kong Airlines and Hong Kong Express AOCs operate on the routes, there is almost no differentiation from a passenger perspective.
Hong Kong International to Beijing Capital International (seats per week, one way): 19-Sep-2011 to 05-May-2013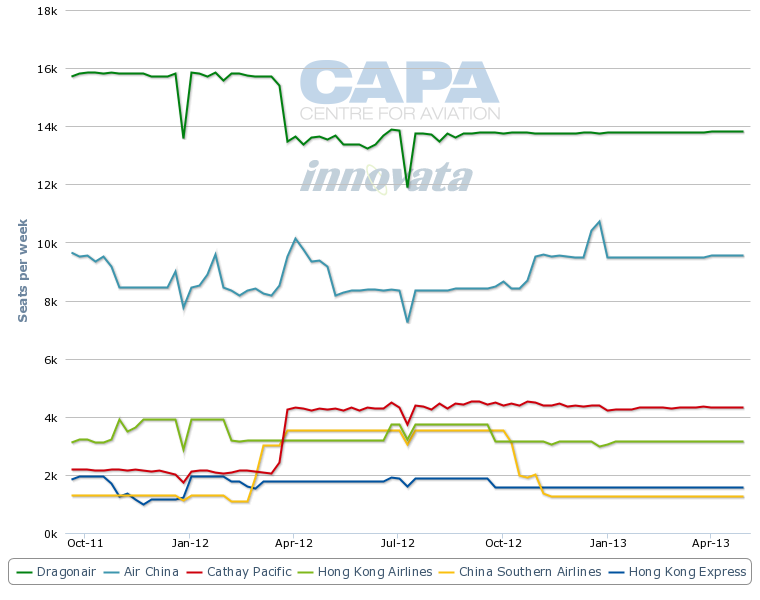 Hong Kong International to Shanghai Pudong & Hongqiao (seats per week, one way): 19-Sep-2011 to 05-May-2013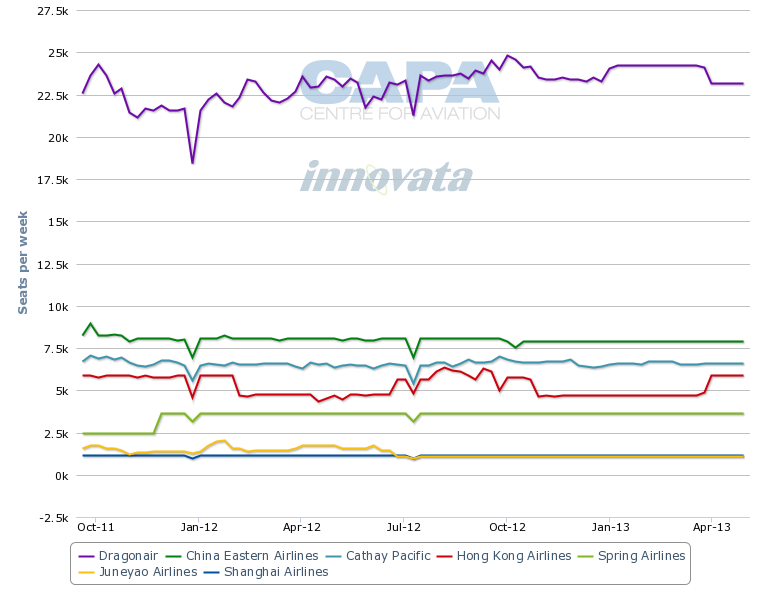 Where Hong Kong Airlines cannot be – or does not want to be – big, it intends to be smart. A codeshare arrangement reached earlier in 2012 with China Eastern enhances the two carriers' networks and makes them a more formidable competitor to Air China-Cathay Pacific.
See related article:China Eastern-Hong Kong Airlines partnership bolsters them in a market dominated by Air China-Cathay
Hong Kong Airlines also has a codeshare with EVA Air to Taiwan, another market dominated by Cathay and Dragonair.
Hong Kong to Taiwan (seats per week, one way): 19-Sep-2011 to 05-May-2013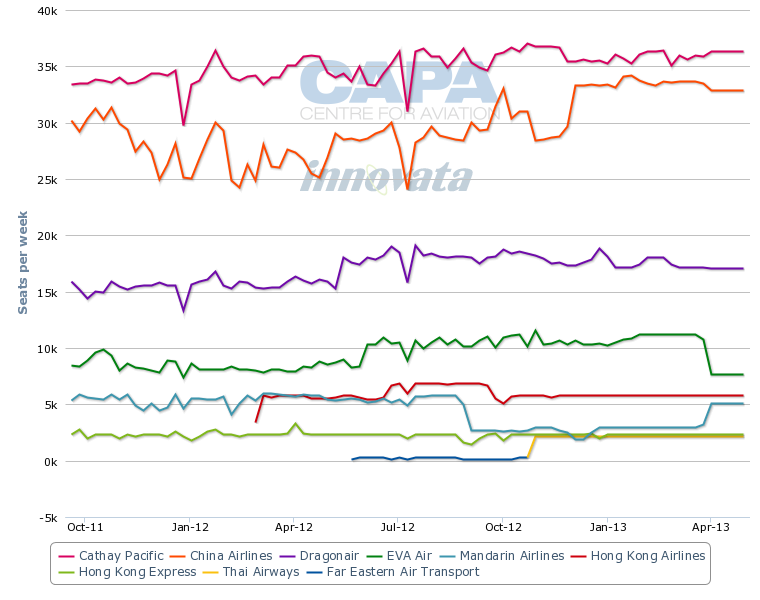 An advantage to Hong Kong Airlines is that its hometown competitor, Cathay Pacific, has taken a highly independent strategy, working with few carriers and having distant relationships with fellow oneworld airlines such as British Airways and Qantas, although oneworld has always been a loose grouping and cooperating with BA and Qantas would raise anti-competitive concerns.
Hong Kong is a destination served by a who's who of carriers seeking global status. Many would like a partner but have been able to cultivate a relationship with Cathay. Hong Kong Airlines would be a viable option, an opportunity to exchange feed and for Hong Kong Airlines to formulate a virtual long-haul network without the capital expenditure and associated risk. Owing to Chinese restrictions, codesharing on non-Chinese carriers flights' into mainland China is generally prohibited, which would mean potential partners cannot codeshare with Hong Kong Airlines, but interlines are available, and regulations may very well change.
The market is there – can Hong Kong Airlines capture it?
Hong Kong Airlines is sitting on tremendous potential. The question is if it can realise it, and in reaching its potential the airline has more complications than other fledging carriers. Hong Kong for all intents and purposes is a western-oriented city with a local population heavily influenced from the region's British colonial days. But Hong Kong Airlines is essentially a mainland Chinese carrier with a business culture vastly different from that expected of its staff, culture and hometown.
Previous discussions about shifting flights from Hong Kong Express to Hong Kong Airlines, but then a change of course to use Hong Kong Express as a LCC, could embody that clash of a Chinese carrier in a western city, or alternatively the discussions could have been premature to publicly disclose – a trait that is not uncommon. Other Asian carriers are known for their fluid and constantly changing strategies.
But even for what does get implemented, HKA's modus operandi must be closer to that of its home market, Hong Kong, than the mainland if it is to succeed. Its effort to serve London was unsuccessful, but not entirely misguided. As CAPA previously wrote after Air New Zealand partnered with Cathay and announced its withdrawal from the Hong Kong-London route:
There is significant diversion of traffic between Hong Kong and London via hubs elsewhere in Asia, the Middle East and Europe. In 2011 the UKCAA reported there were 1.4 million passengers travelling between London and Hong Kong, but in that year there were only 1.1 million available O&D seats in the market. Assuming a load factor of 85% of available O&D seats, one-third of the total Hong Kong-London market makes a connection en route.

This is a significant pool to take from considering there are upwards of eight daily widebody flights (four on Cathay Pacific, two on British Airways and one each from Air New Zealand and Virgin Atlantic). Additionally, British Airways has spoken of Hong Kong being one of its first A380 markets while Virgin Atlantic would consider a double daily service if slots permitted.

Hong Kong Airlines' service was compared to Oasis Hong Kong. Oasis operated between Hong Kong and London with 747-400s in a mixed configuration before shutting down. The comparison is made to suggest a folly, but according to those familiar with the situation, Oasis was profitable between Hong Kong and London but collapsed due to sagging trans-Pacific performance as well as internal shareholder disagreements. With a connecting network (Oasis had none), a more efficient aircraft (like the A330 Hong Kong Airlines used) and a suitable configuration (Oasis used 747s from Singapore Airlines that had old and weighty seats, IFE and galleys), there is potential – especially now with one more competitor reducing capacity, even if some capacity, like with Qantas, originated from other ports and was only transiting through Hong Kong.

The biggest challenge to Hong Kong Airlines may not be recognising the opportunity but rather the style of its management, which borrows heavily from mainland Hainan Airlines part-owners. The modus operandi of typical Chinese companies is to quickly eliminate problems – like unprofitable routes – and move on rather than acknowledge the problem and work to find a solution, such as re-entering with a different configuration, which would acknowledge what the market long saw: the non-sustainability of all-premium flights.
See related article: Air New Zealand-Cathay Pacific partnership has implications across Asia and for SIA & China Southern
Hong Kong Airlines has proved its ability to grow and to grow fast. Now it must, as its acknowledges and the HK CAD directs, bed down its operation and have a platform for future growth. That growth needs to be strategic, on its own and with partners. Many airline peers could be turned partners if HKA could project a stronger impression at home; the far-reaching and deeply strategic, and thus valuable, global partnerships that have emerged so far are heavy on home market loyalty, through brand and frequent flyer programme, and HKA's future partners will be looking for these traits. These are a big ask to be nurtured out of a young carrier, let alone one whose ownership experience is in mainland China, which is pressing for its own reform to commensurate growth with support.
Cathay too was once a young – and relatively unknown – carrier, but today's global behemoths of airlines and always-on connected passengers are unlikely to pause and forgive shortcomings due to youth. Hong Kong Airlines' potential is undoubtable and with time it can get there, but sheer capacity growth, as impressive as it is, only goes so far.
CAPA's World Aviation Summit in Hong Kong: 28-29 November 2012
Hong Kong will be host to CAPA's World Aviation Summit from 28-29 November 2012. CAPA will organise and host this year's leading knowledge event on the global commercial aviation market landscape in 2013. Featuring CAPA's Aviation Awards for Excellence gala dinner, the event will draw CEOs from airlines and airports worldwide – delivering rich content and networking. For more information, registration and sponsorship opportunities, click here.