Astride its volcano, Cathay Pacific's A350-1000 order is one more important long term measure
Analysis
Cathay Pacific is at the crossroads, sitting in the centre of its and the world's largest growth spurt, in Asia-Pacific and China specifically, but still planning how exactly it will access this market over the long-term, balancing passenger and cargo demand with schedule optimisation and whatever aircraft efficiency is listed on paper.
The Hong Kong carrier's order for 10 A350-1000 and conversion of 16 A350-900s to the -1000, announced at the 2012 Farnborough International Airshow, is an early decision, but probably only the start of long-term planning. While the carrier has nearly 90 aircraft on order, the majority are for replacement, not growth. On Cathay's agenda, and for which the the A350-1000 could fulfil, are opening new long-haul destinations, replacing large regional aircraft, replacing long-haul aircraft on thin routes and right-sizing some long-haul routes.
All of these are against a background of an aviation scene that will change dramatically over the remainder of this decade.
Cathay's order this week of 10 very long-haul A350-1000s is subject to board approval, expected in Aug-2012. Cathay also remains committed to purchasing 20 A350-900s and leasing two of the type, which will likely replace A330s on medium-haul flights. Cathay's order is the first for Airbus since it re-designed the A350-1000, to include 4,000lbs of additional thrust to 97,000lbs and a maximum takeoff weight increase of 10t to 308t. Those changes displeased some customers, including some who have cancelled orders for it. Cathay Pacific CEO John Slosar says the changes made the A350-1000 an "irresistible proposition ... [and] allows us to go non-stop just about anywhere in the world we can go". Chairman Christopher Platt remarked the carrier is "effectively" the aircraft's first customer. Cathay could start a trend of airlines converting A350-900 orders to the -1000, but other carriers may want to first wait on Boeing's plans for its 777 successor.
A350-1000 is positioning to be a Boeing 777-300ER competitor
The 26 A350-1000s the carrier now expects to have on order will be used in a few roles the carrier is still defining - and will be for some time, given Cathay expects to receive its 26 A350-1000s between 2018 and 2020. The catalogue of other potential assets in the market is quickly changing and could influence the best roles for the A350-1000. Airbus has marketed the A350-1000 as a competitor to Boeing 777-300ER given very similar payload and range figures (CEO John Slosar touted the A350-1000 as having "superb cargo carrying capabilities").
The -300ER is a type that has delivered a number of carriers great success, including Cathay, where the -300ER has formed the backbone of its long-haul fleet, replacing the 747-400, which has already been retired from Japan Airlines and Singapore Airlines and could be retired this year from Malaysia Airlines, and soon other Asian carriers as well.
Cathay as of 31-Dec-2011 operated 24 of the -300ER with a further 26 on order. With Cathay's -300ER outmatching the A350-1000 by nearly 2:1, the A350-1000 is not yet Cathay's complete replacement for the -300ER. Indeed, Cathay's fleet of -300ERs is young, with the first being delivered in 2007 and the majority in the last two years. Complete replacement will not be necessary until into the next decade.
The battle seems likely to continue. While the A350-1000 could deliver improved economics over the -300ER with minimal payload loss, Boeing's proposed successor to the 777 could narrow or close any operating gap while potentially delivering an improved payload. Cathay will certainly closely evaluate the type, joining a list of other carriers, including International Airlines Group (owner of British Airways and Iberia), which is becoming somewhat frustrated by Boeing's lack of definition. The 777 successor could deliver significant improvements that make it worth waiting for, or alternatively it may not, increasing popularity for the A350-1000 and fuelling a crunch on early delivery slots, especially after Cathay has secured a rather impressive 26 slots over three years.
But the outcome of the 777 successor is not a make-or-break evaluation for Cathay, unlike at other carriers, given it can use the A350-1000 in multiple forms and the type will share some commonality with its 20 A350-900s, all to the advantage of its network and growth.
Opportunities for Cathay to grow in Europe and North America, especially as it charts independent path
While Mr Slosar remarked that "Cathay is very much a long-haul carrier", its exposure to markets is not equal. Cathay has made strides in creating a formidable Australian and North American network, especially to the eastern shores of Canada and the US, but remains relatively light in Europe – a market that neighouring Chinese airlines will undoubtedly invade over the rest of this decade.
In terms of destination points, Singapore Airlines and Thai Airways serve nearly three times as many as Cathay, although the Hong Kong carrier's footprint in terms of seats is much larger owing to high capacity deployed at key cities while the smaller destinations served by Singapore Airlines and Thai Airways see lower service, and often – especially in the case of Thai – less than daily service. Conversely, some of Cathay's competitors are weaker in North America while Cathay is stronger.
European destinations served with passenger services by Asia's major network carriers: as of Jul-2012
The A350-1000, being a lighter aircraft than the 777-300ER and delivering seat costs improvements, could open routes that previously would not have been profitable. Larger scale in Europe may right now seem inappropriate since the region is in the economic doldrums, but the long-term view is more upbeat.
Cathay also will need to achieve scale on its own. Whereas All Nippon Airways (ANA) and Japan Airlines (JAL) are now looking to bolster their European long-haul networks through joint-ventures (ANA with Lufthansa and now Austrian and Swiss, and JAL with British Airways and likely Finnair in due course), Cathay takes a hand-off approach to alliances, rather similar to Singapore Airlines. Growth will either need to be achieved on its own, or through a re-think in its partnership strategy.
Growth between Europe and China, in Cathay's backyard, is being driven by mainland Chinese carriers, which see routes to Europe as an opportunity to boost their international profile and in the medium-term generate consistent profits. While the mainland Chinese carriers tend to price services extremely competitively, Cathay has the advantage of one of the world's strongest premium propositions whereas the mainland carriers are still working to improve their hard and soft experience.
As with Thai, routes from mainland carriers to Europe are often served less than daily. The mainland carriers currently have a fraction of Cathay's European capacity, although they intend to grow. An exception is Air China, which has 13% fewer seats than Cathay. But with Air China and Cathay having cross-holdings in each other, competition is less direct.
Western European destinations served with passenger services by mainland Chinese and Hong Kong carriers: as of Jul-2012
North America also holds growth opportunities for Cathay. Its easternmost points are Chicago, New York and Toronto. Cathay has looked at Miami, with an eye to have virtual service to under-served Latin America, while other North American destinations hold potential (for O&D Hong Kong traffic as well as connecting). Cathay has four daily services to New York (one via Vancouver) and that route, along with London and other major routes like Los Angeles and San Francisco, are expected to remain major markets and benefit from the largest capacity Cathay can devote. With fuel, depending on the price, comprising an estimated 60%-plus of the trip cost, Cathay would benefit from the A350-1000, or 777 successor, delivering lower seat costs, even if in the case of the A350-1000 there is a slightly smaller passenger payload. Cathay Pacific CEO John Slosar flagged New York and other North American routes as potential candidates for the A350-1000.
Relatively smaller ultra-long-haul markets, which today could only be served with the 777-300ER or 747-400 that Cathay is phasing out, will see new chances of economic sustainability with the A350-1000.
There is also opportunity for Cathay to deploy the A350-1000 on mainly 777-300ER routes but at times where connections or certain days may see lighter loads. For instance, Cathay serves Toronto with one daily flight and one thrice-weekly flight whereas the New York schedule is four flights every day. Chicago has one daily flight.
A350-1000 could replace A340-300s and 777-300As
There is also opportunity for Cathay to use its 26 A350-1000s as a replacement for its 13 A340-300s and 12 777-300As. With the aircraft ageing, some may receive interim replacements (A330s or 777-300ERs) prior to 2018, but the A350-1000 is well suited in the long-term. Cathay's A340-300s operate thinner long-haul routes, such as to Auckland, Johannesburg, Moscow and Rome, and the A350-1000 could be more suited than the 777-300ER (potentially too large) or A350-900 (potentially too small).
Cathay's 777-300As are regional high-capacity aircraft. Cathay could see an immediate weight benefit from using the lighter A350-1000, but its regional fleet is more flexible and subject to further revision. As Cathay increases its long-haul fleet, it creates further opportunities to use long-haul aircraft on short regional sectors within Asia when they would otherwise largely sit on the ground waiting for another long-haul flight.
This "intentional misuse" effectively constitutes low-cost capacity although it comes with the price of having a heavier and more premium configured aircraft than would ideally be used, reducing seating density. As Cathay continues to evaluate – and increase – its long-haul fleet and scheduling, it may find it requires less emphasis of a dedicated regional fleet.
Conversion to A350-1000 orders implies higher growth for Cathay
Cathay's conversion of 16 A350-900s order to A350-1000s is a strong indication of faster growth than what was previously publicly forecast. Prior to the conversion, Cathay had 32 A350-900s on firm order. As of 31-Dec-2011 it operated 33 A330-300s with 19 on order but 10 lease renewals, so a net gain of nine A330s, with the A350-900s largely replacing all early models of the type with little change in capacity. Airbus gives a standard three-class configuration of 295 for the A330-300 and 314 for the A350-900. (Cathay has yet to disclose or finalise its A350 configuration.)
Converting smaller A350-900s to larger A350-1000s indicates Cathay's A330/A350-900 fleet will not provide enough capacity in certain markets. Australia is performing strongly for Cathay, although the larger Southwest Pacific market is the smallest of Cathay's main long-haul markets (by available seat kilometres), but only slightly smaller than Europe, so still important – especially in the current environment where it is holding up profitably. It is significantly larger than Africa, where Cathay only flies to Johannesburg. Australia's Sydney and Melbourne are in Cathay's top 10 routes by ASKs.
Cathay Pacific international capacity (ASKs) by region: 09-Jul-2012 to 15-Jul-2012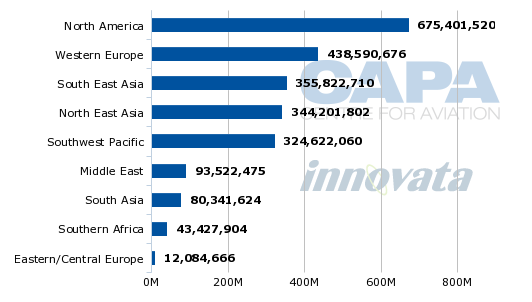 Cathay Pacific top 10 routes by ASKs: 09-Jul-2012 to 15-Jul-2012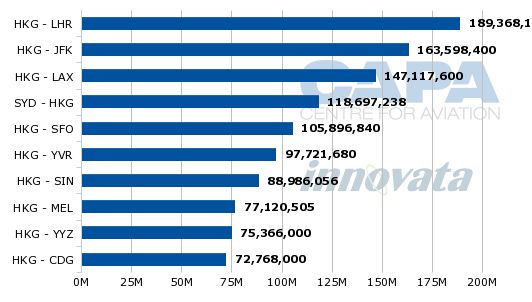 The Australian market appears to be nearing a limit on the number of flights Cathay can have, thus dictating larger capacity. There are two reasons for this. First, almost all capacity under the Australia-Hong Kong bilateral air services agreement is being utilised by Cathay. Lack of room prevented Hong Kong Airlines from entering the Hong Kong-Sydney market. (After Singapore Airlines recently announced plans to increase Australian capacity, Cathay diplomatically said it would not, although the fuller picture is that it could not.) The Australian government is growing weary of increasing Hong Kong's access when Australian carriers will never be able to use the full capacity allocated to them, even despite gaining some fifth freedom access beyond Hong Kong a few years ago. While Hong Kong can be expected to receive increased capacity from Australia, Cathay will likely have to share it with Hong Kong Airlines.
See related article: Traffic rights limitation forces Hong Kong Airlines to delay Sydney and Melbourne services
Also limiting the potential for additional flights is the schedule. There are already multiple frequencies and additional ones would see less time between services, especially in the busy evening departure bank from Hong Kong, where Cathay has three Sydney flights leaving within four hours. Rather than have large structural costs increases result from an additional flight, smaller costs could be incurred by merely increasing capacity, such as upgrading A330 services to 777-300ERs, or in the long-term, A350-1000s.
Typical daily Cathay Pacific service between Hong Kong and Sydney: Jul-2012
Singapore Airlines has already faced Cathay's conundrum and responded by up-gauging services. Whereas Australia sees A330s almost exclusively from Cathay, Singapore Airlines uses more A380s and 777-300s.
Typical daily Singapore Airlines service between Singapore and Sydney: Jul-2012
Cathay needs to consider larger passenger aircraft – 747-8, 777X and A380 – but decision will not be easy
The scheduling limitations Cathay faces in Australia also apply to its long-haul markets, and notably London Heathrow and New York. Heathrow is slot limited while both, given time zone changes, have limited windows to see service as Cathay, unlike Emirates, Etihad or Qatar, relies on its hub for a larger share of O&D traffic and so avoids middle of the night connections.
Cathay's four daily services to New York are all operated by the 777-300ER while Cathay's four daily flights to London are being progressed from 747-400/777-300ER to all-777-300ER service. There is no opportunity to up-gauge aircraft since Cathay is phasing out its 747-400s, whose higher costs despite larger payload make them undesirable. Cathay's options are to increase flights, but in London this would necessitate acquiring slots. In both cities further capacity increases would reduce time between flights. The four flights already largely hit Cathay's major departure banks, facilitating connections. Once again, rather than have higher structural costs from adding flights, capacity could be up-gauged.
One factor to Cathay's advantage is that its home airport of Hong Kong is supporting growth with plans to construct a third runway, which will alleviate congestion and support additional flights.
But unlike bringing A330 services to 777-300ERs or A350-900s/1000s, changing 777-300ER services to potentially 747-8 or A380 services would come with large drawbacks. The A380 would represent an entirely new type for Cathay while it already has the 747-8 freighter, allowing for some commonality with the passenger version. Cathay could potentially achieve scale on its A380 fleet by using it to other high demand destinations, but it would first need to clear the hurdle of compensating for the loss of cargo on the freight-limited A380 compared to the 777-300ER. While the 747-8 offers more cargo room, it comes with a larger seat cost, according to Lufthansa, the launch operator of the passenger 747-8.
Cargo potential should never be under-estimated at Cathay, whose Hong Kong home is the world's busiest cargo hub and sits just south of Guangdong province in mainland China, the world's so-called manufacturing centre. Cargo can be more valuable than passengers, and it is not unheard of for Cathay to limit passenger load in order to carry more cargo. It explains why Cathay has been less aggressive with A380 compared to carriers like Emirates and Singapore Airlines, which are nearing almost all-A380 operations to London Heathrow, which also sees A380 services from Malaysia Airlines and will soon see service from other carriers including Thai Airways. Emirates and Singapore Airlines also use A380s to New York, but they have significantly less frequency than Cathay.
In 2011, cargo typically comprised about 30% of Cathay's available payload from Hong Kong and Los Angeles, according to US DoT data. From Hong Kong to New York cargo comprised a lesser amount, unsurprising given the extra fuel required for the flight. Westbound flights to Hong Kong saw less cargo, a typical pattern as demand is lower in the eastbound direction.
Cathay Pacific cargo as percentage of total payload weight from Hong Kong to Los Angeles and New York: 2011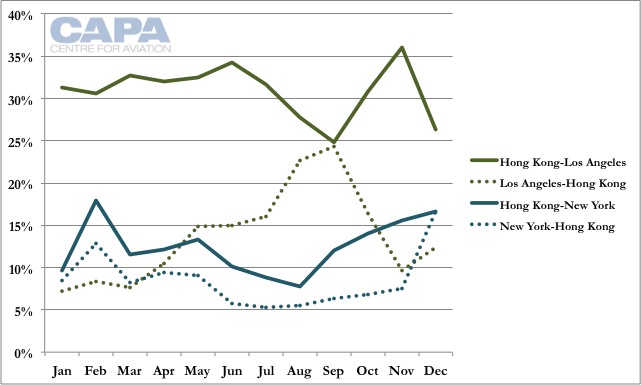 Cathay's rebuttal of suggestions that the A380 carries less cargo than the 777-300ER may in any event be less relevant on its longest routes, such as to New York and Toronto, since cargo capacity is already limited. But the case still holds on shorter ultra-long-haul flights, and a niche fleet of A380s primarily serving New York and London would be unjustified.
It is early days for Cathay's long-term plans
There are many chapters left to be written in Cathay's planning for its growth over the next decade. Not only could a change in purchase price of A380s or passenger 747-8s send Cathay back to its evaluation, the 777 successor with its greater efficiency could further make the A380 unideal, but a stretched A380 – whose development is inevitable – brings another layer to the calculation.
With the order for A350-1000s, Cathay has strongly positioned itself amidst potential new aircraft developments. The A350-1000 has a strong and varied future with Cathay, which is advantaged in securing numerous early delivery slots. Pending further updates from both manufacturers on aircraft projects, the A350-1000 could take on a larger role in Cathay's fleet and be accompanied by further orders.
But before Cathay signs for any further aircraft, it must define its growth, schedule and network connections. That is what creates strong market propositions. Only then can assets be slotted in.
Meanwhile, the carrier, positioned acutely on the cusp of major potential north Asian markets, is in an open ended relationship with Air China which may or may not expand and with an explosion of regulatory change all around.
Long term planning for Cathay is a little like sitting on top of a volcano: the view is wonderful, but guessing what happens next makes planning more of a challenge than it is for most.
Background information
Cathay Pacific fleet as of 31-Dec-2011