Asia Pacific airlines dominate widebody fleet deliveries over next 12 months
Among the Top 30 carriers by widebody deliveries worldwide, 13 are from Asia Pacific, 10 are based in Europe, five are from the Middle East/Africa and just three are from North America, according to Ascend data. There are four dedicated cargo operators in the Top 30 list – CargoLux, FedEx, UPS and Yangtze River Express.
Top 30 airlines by number of widebody aircraft deliveries over next 12 months*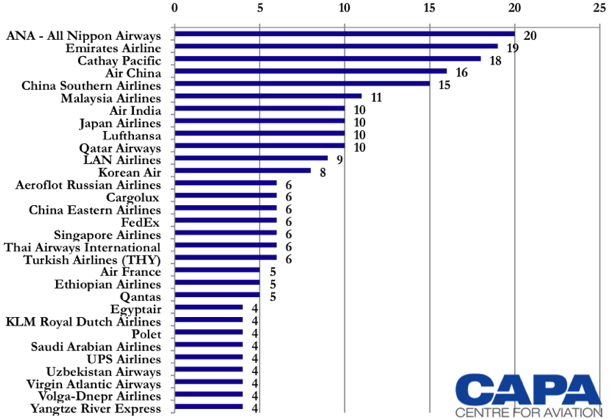 #1. All Nippon Airways – B787s to drive international fleet expansion
ANA, which on 26-Sep-2011 took delivery of the first B787, has 20 widebodies scheduled for delivery over the next 12 months. At present, the carrier has 112 widebody aircraft in its fleet accounting for 72.3% of its fleet total, with 63 widebodies on firm order, comprising 71.6% of the carrier's orderbook.
B787s will constitute a considerable number of the 20 deliveries, with the carrier scheduled to take delivery of four B787s in the remainder of 2011 and an additional eight in 2012. By the end of 2017, the carrier will have all 55 on-order B787s in service for deployment on domestic and international routes, based on the current schedule. The carrier also has three B767-300ERs and five B777-200ERs on order to supplement its widebody fleet.
ANA's international growth is largely predicated on the B787s deliveries, with the carrier to put the B787 into service on international routes from 2012. ANA has labelled the aircraft "a game-changing aircraft" marking a "new horizon for aviation and the company". Operating from Tokyo Haneda, the aircraft will expand the carrier's network from its existing 76 destinations.
The B787's first regular domestic service will be the Haneda-Okayama route starting on 01-Nov-2011, with a flight on the Haneda-Hiroshima route also departing the same day. By the end of this fiscal year, the aircraft will be successively used on routes connecting Haneda with Itami, Yamaguchi-Ube, and Matsuyama. The B787 will operate its regular long-haul international operation on the Tokyo Haneda-Frankfurt sector, a new route to operate from Jan-2012, initially with three times weekly frequency, increasing to daily in Feb-2012. The aircraft will also be used on the Haneda-Beijing route from Dec-2011, marking the aircraft's first regular international service. The B787 will be operated on the route "approximately once a week", until the Haneda-Frankfurt service commences the following month.
ANA is firmly focussed on pushing ahead with its international expansion plans. JAL's brutal network contractions make the going easier and the lethargic nature of the domestic economic recovery and its still-slow aviation business in the aftermath of the 2008 financial crisis all encourage outward looking strategies for ANA. Other external factors are prodding the carrier in its expansion mode too, such as the recent capacity increase in slots at Tokyo Haneda and Narita airports, a series of JVs with its alliance partners – notably the "metal neutral" antitrust immunity it received for trans-Pacific operations following the landmark open skies agreement between Japan and the US – and a newly approved partnership with Lufthansa to be launched in the autumn schedule. All have helped open the door wide for ANA to expand.
#2. Emirates – all widebody fleet of A380s, A350XWBs and B777s driving international growth
Emirates, one of the world's fastest growing carriers, has 19 widebody aircraft scheduled for delivery over the next 12 months. Emirates, which only operates widebody aircraft, is building the world's largest A380 fleet and is also one of the largest customers for the A350, as it seeks to reinforces Dubai as a leading intercontinental travel hub. The carrier has 161 widebodies in service at present, with a further 194 on firm order, including A350s, A380s, B747-8Fs and B777s, according to Ascend.
As at mid-Sep-2011, the airline had 15 A380s in service (the 16th has recently been delivered, with a further 74 on order). Combined, this investment in 90 A380s is worth around USD34 billion. Last year, Emirates ordered 30 B777-300ER widebody aircraft worth USD9.1 billion at the Farnborough Air Show. The agreement added to the airline's fleet of 71 of the same type. Emirates has stated it is not concerned about financing the planes and is fully funded through Jul-2012. Emirates plans to invest around USD4 billion annually over the next three to four years to develop its fleet. Around 199 aircraft are slated for delivery through 2019.
See related report: Where the Airbus A380 will fly next
Emirates, the Middle East's largest carrier, has almost tripled its capacity and passenger revenues in the last five years. It is currently the world's second largest airline in terms of widebody fleet capacity after Air France/KLM, emerging as the fastest growing among the world's three top airlines in terms of monthly capacity.
The carrier is deploying its widebody fleet across all regions, with expansion plans covering near-international destinations in Africa, to longer-haul international segments to Europe, North Asia, South Pacific and the Americas. Over the 12 months to 31-Mar-2011 (FY2010/11), Emirates increased international destinations from 102 to 111, the most new destinations it has added in a single year in more than a decade. Emirates took delivery of eight aircraft over the past financial year – seven A380s and a single B777-300ER – taking its fleet to 148 aircraft. It also enhanced its order book once again: the carrier added 32 more A380s and 30 B777-300ERs to existing orders, taking the total outstanding order to 193. Emirates is due to take delivery of another five A380s and 13 B777s in the current year.
Services to Basra, Geneva and Copenhagen have already started this year. Flights to St Petersburg will commence on 01-Nov-2011 with Baghdad following suit on 13-Nov-2011. Rio and Buenos Aires become new links into South America from 03-Jan-2012. Emirates also plans to commence daily service to Dublin from Jan-2012, marking its first route in the Republic of Ireland and the 29th route in Europe.
The carrier also plans to launch five times weekly Dubai-Lusaka-Harare service from 01-Feb-2011, marking the carrier's 20th and 21st destinations in Africa. The carrier has stated it is considering all areas of Africa for future expansion, and not focussing on one particular region. Emirates SVP Public, Industry, International and Environmental Affairs Andrew Parker stated the carrier is looking at "steady and progressive growth" in the region. "We will add additional capacity to South Africa," he said. Mr Parker added the airline will also continue to focus on fundamental routes to the Middle East and Europe. The carrier is also considering the expansion to new destinations in Malaysia in the next three to five years.
# 3. Cathay Pacific – an all widebody fleet operator with 95 firm orders
Cathay Pacific, like Emirates, operates an all-widebody fleet of 126 aircraft. In 1H2011, Cathay Pacific took delivery of six new aircraft with a further eight deliveries scheduled in 2H2011 for a total of 95 for delivery between now and 2019. The value of these aircraft at list prices is almost HKD200 billion.
In Mar-2011 Cathay Pacific announced its intention to acquire another 27 new aircraft – two A350-900s, 15 A330-300s and 10 B777-300ERs. Separately, Cathay Pacific on 10-Aug-2011 announced an agreement with Boeing to purchase four B777-300ER passenger aircraft and eight B777-200Fs, with deliveries scheduled between 2013 and 2016.
The airline already operates 22 B777-300ERs on its key long-haul routes, and with the latest purchase will have another 28 on order for delivery up to 2015. The airline plans to retire the older aircraft in its fleet, including 21 B747-400s and 13 A340-300s, before the end of the decade as it progressively takes delivery of new-generation aircraft. The B777-200F aircraft will be deployed primarily on regional and European routes.The airline is also taking delivery of 10 new B747-8Fs, with deliveries to commence before the end of the year. The B747-8s will be used almost exclusively on routes between Hong Kong and North America.
Cathay Pacific CEO John Slosar stated the carrier is "looking actively" at new routes, including the possibility of launching services to Latin America and adding services to Africa. Cathay Pacific, which launched service to Abu Dhabi in Jun-2011 and Chicago this month, with plans to launch service to Adelaide in Nov-2011, has also stated it plans to increase frequencies to Milan, Paris, New York, Toronto and a number of Southeast Asian routes. The carrier has stated it is exploring the possibility of resuming service to Bengal (to Kolkata) after 41 years, with the carrier stating the "time is right" for the service. The carrier has previously also stated it may add Cairo and Beirut to its network as part of a future Middle East network "if the timing is right". Cathay expects double-digit growth in passenger traffic from the Middle East in 2011 after launching a direct route between Abu Dhabi and Hong Kong. The carrier also plans to expand its mainland network to second-tier cities including Chengdu, Chongqing, Wenzhou and Hangzhou.
#4. Air China – 16 widebodies on order to support international expansion aspirations
Cathay Pacific's mainland partner, Air China, has 16 widebodies scheduled for delivery over the next 12 months, further highlighting its future international expansion aspirations. At present, just 18.7% of Air China's total seats are deployed internationally, highlighting significant scope for expansion.
Overall, Air China has 139 aircraft on order at present, of which 43% are widebodies. The existing fleet, meanwhile, is more weighted to narrowbodies (78%) than widebodies (22%). This signals Air China's intention to grow its international network and improve its international competitveness, a move urged by the CAAC. CAAC Administrator Li Jiaxiang in Jul-2011 stated the nation's three largest carriers, Air China, China Southern Airlines and China Eastern Airlines, were still too small in scale compared with global rivals.
Air China introduced four new international routes in 1H2011, primarily focussed on Europe: Beijing-Dusseldorf, Beijing-Athens, Beijing-Milan and Chengdu-Tokyo. Western Europe is the carrier's second largest international market, after the short-haul international market of North East Asia.
In 1H2011, 24 aircraft were acquired by the Group, including B737-800 and A320 aircraft and three A330 widebody aircraft, while six aircraft were retired from the fleet, including B757-200 and B737-300 equipment. Currently, the Group maintains 411 aircraft with an average age of 7.02 years. In 2H2011, the Group will acquire four new B777-300ER aircraft, the first of which was introduced in Jul-2011, making Air China the first mainland carrier to operate the stretched variant. The carrier has an order for 19 B777-300ER that will be deployed on long-haul services including routes from Beijing to Frankfurt, London Heathrow and Paris CDG, as well as for the gradual replacement of the B747-400s currently servicing North American routes. The carrier is also deploying some B777-300ER on high-capacity domestic routes, including Beijing-Guangzhou and Shanghai-Shenzhen. The carrier will also upgrade its fleet on all its US routes in 2012, with existing B747-400 equipment to be replaced with B777-300ER equipment.
Air China plans to introduce 56 new aircraft over the next 18 months: 22 aircraft between Jul-2011 and Dec-2011 including B777-300ERs, A330-200s, B737-800s, A320s and A321s, and a further 34 of mixed types in 2012. Air China will remove 49 aircraft including B747s, B767s, B757s, B737-300s and A340s during the nation's 12th Five-Year Plan ending in 2015, as part of the carrier's aim of reducing the average age of its aircraft fleet.
In the longer term, Air China's Vice President He Li in Jul-2011 stated the carrier plans to more than double its widebody fleet from 40 to 100 over the next five years. Overall, the carrier plans to increase its fleet size from 400 aircraft to 700 by 2015 and expects its revenue to rise from CNY80.9 billion (USD12.4 billion) to CNY140.0 billion (USD21.5 billion) by the end of 2015. The fleet expansion is part of Air China's plans to expand its international market. According to Mr He, "Air China is now short of planes, particularly widebodied planes".
China Southern Airlines, which had 15 widebodies scheduled for delivery over the next 12 months, is also expanding its fleet with new aircraft, including A380 and B787 equipment to support its international growth aspirations. China Southern Airlines is seeking to add more widebody aircraft to its fleet as it boots its international network amid intensifying competition on domestic routes following the development of the high-speed rail network in China.
Like its 'Big Three' peers, China Southern Airlines' network remains heavily oriented to the domestic market. It has the lowest level of international traffic (RPKs) of its peer group, but the fastest growth rate in the past four months. China Southern is in the unenviable position of having 80% of its domestic route network, and nearly a quarter of its city pairs, competing with high-speed rail.
China Southern is the only Chinese carrier to have ordered the A380. The carrier is scheduled to take delivery of the first of five A380s on 15-Oct-2011, followed by a second in Nov-2011 and a third by Jan-2012, to support its international network. China Southern's first international A380 service will be on the Guangzhou-Paris route. The carrier is also seeking to launch service between Guangzhou and London and could operate A380 equipment on the sector. The first A380 will also be deployed initially on Beijing-Guangzhou and Beijing-Shanghai Pudong sectors in Oct-2011.
China Southern is configuring its A380s with 506 seats. The aircraft will have eight first-class suites on the lower deck of the aircraft, in the front of the main cabin. The 428 economy class seats will be in the lower deck as well, with the carrier having the third highest economy class seating density among A380 operators. The upper deck will entirely host business class with 70 lie-flat seats.
Meanwhile, China Southern will receive its first B787 in 1H2012. The aircraft will be the first of its kind to be used in the Chinese market. The carrier has 10 B787-8s on order. The carrier will most likely deploy B787 equipment to either Europe or the US.
China Southern spokesperson Tan Wangeng said the Guangzhou-based carrier hopes to boost international operations to 30% of the total routes it operates in 2011, up from 18.5% in 2010. It plans to further increase the ratio to 40% of its network in the future. "It's part of the efforts to build up and enhance our long-haul flights on our global route network. We have set up a tri-hub international route map based on Guangzhou, Beijing and Urumchi," China Southern VP Beijing branch, Kong Fansheng said.
China Southern Airlines started rolling out the latest phase of its international expansion plans from Apr-2011, covering new destinations in New Zealand, Europe and North America. The carrier launched Guangzhou-Auckland service on 08-Apr-2011, followed by Guangzhou-Amsterdam on 07-Jun-2011 and Guangzhou-Vancouver on 15-Jun-2011. The carrier will also increase capacity on the Guangzhou-Paris and Guangzhou-Los Angeles sectors as well as to points in Australia and New Zealand. Overall, China Southern Airlines plans to launch between eight and 10 long-haul international routes in 2011.
As part of the international expansion, the carrier plans to add 40 weekly flights to Oceania this year. The carrier plans to launch a Beijing-Guangzhou-Perth service from 08-Nov-2011, marking the carrier's fourth destination in Australia. Meanwhile, the carrier is increasing its Beijing-Guangzhou-Brisbane service to four times weekly from 30-Oct-2011 and increasing its Guangzhou-Auckland frequency to daily from 01-Nov-2011, adding a further 90,000 seats to the route p/a. Also in the region, the Guangzhou-Melbourne frequency will increase from daily to twice daily between 30-Oct-2011 and 15-Feb-2011. The carrier also operates twice daily Guangzhou-Sydney service, which is the carrier's largest international sector by seats. China Southern Airlines Australia Regional GM Henry He has stated growth is "strong" on the carrier's Australia services.
Looking further ahead, China Southern Airlines Executive VP He Zongkai, at the Australia China Tourism Summit in Jun-2011, confirmed the carrier plans to increase services to 110 flights per week from China to Australia by 2015, equivalent to almost 16 daily services. The carrier plans to add services to Adelaide, Cairns and the Gold Coast by 2015 and is considering opening services on the "Kangaroo Route" via its Guangzhou hub to Europe. The airline aims to develop its Guangzhou hub and plans to launch services to London, among an array of new international routes. China Southern Airlines has around a 46% capacity share (seats) on the China-Australia service from the Chinese winter 2011 schedule.
# 6. Malaysia Airlines – taking delivery of six A380s between Apr-2012 and Jun-2012
MAS has 15 widebodies scheduled for delivery over the next 12 months, including the delivery of six A380-800 aircraft between Apr-2012 and Jun-2012. London, Sydney and Melbourne are likely destinations for A380 operations. The carrier has 95 aircraft in service and 60 aircraft on firm order, including the six A380s and 13 A330s. At present, the carrier's fleet is split 50:50 between narrowbodies and widebodies, although future deliveries are more weighted to narrowbodies (68%).
Upon the release of its 2Q2011 earnings, the carrier said its USD8.4 billion multi-year re-fleeting programme will be accelerated. As of mid-Aug-2011, the airline has taken delivery this year of five new B737-800s and five new A330-300s. Over the next four months, MAS will take delivery of six more aircraft – two B737-800s, two A330-200Fs and two ATR-72s. Excluding these aircraft, MAS' order book comprises 38 B737-800s, ten A330s, six A380s and two A330-200Fs. The airline said its fleet delivery schedule would be accelerated in the next few years, adding that all required financing activities for 2012 have been completed. The airline is also retire two B747-200Fs, one B747-400 and three B737-400s by Oct-2011.
Managing Director Tengku Datuk Sri Azmil Zahruddin Raja Abdul Aziz stated: "By 2015, we will have one of the youngest fleets in the world. What we need to do is to be the best airline serving out of KL."
# 7. Air India – scheduled to receive B787s from Oct-2011 but financing uncertain
Struggling Air India, like Japan Airlines, Lufthansa and Qatar Airways, has 10 widebodies scheduled for delivery over the next 12 months, although in Air India's case, it remains to be seen if it will take delivery of all 10 aircraft.
Air India has stated it plans to deploy B787 equipment on international services, with up to eight international services to be added to the US (three destinations), Australia (Melbourne from Mumbai and Chennai) and eastern Europe (two destinations) from the upcoming winter schedule. The Australia service has been mooted for years, but has been hampered by a lack of long-haul aircraft and the Indian Civil Aviation Ministry's refusal to grant permission for the services. The carrier is also expected to deploy the B787 equipment on services to North America from the end of the year.
The carrier expects to receive its first seven B787s between Nov-2011 and Mar-2012, although this remains dependent on government approval and the availability of financing options for the aircraft. A further seven B787s are scheduled be delivered up to 2014, and the remaining 13 after 2014, according to a tentative plan. The carrier will deploy the aircraft on international routes.
While the carrier is adding B787s, it is also reportedly planning to trim its overall fleet growth plans. The carrier has a fleet of 124 aircraft at present, increasing to between 227 and 230 by 2020, which is down from an earlier target of 248 aircraft. This will lower financing costs at the heavily indebted carrier.
# 8. Japan Airlines – seeking to modernise and improve efficiency, not expand
Japan Airlines joins ANA as the second Japanese airline among the list of carriers with the highest number of widebody deliveries scheduled over the next 12 months.
Emerging from bankruptcy protection in Mar-2011, Japan Airlines grounded more than 100 aircraft and closed 49 loss-making routes. Last year, the carrier withdrew operations from 11 unprofitable international and eight domestic destinations, and decommissioned large-sized aircraft from its fleet that collectively led to a significant reduction in operating expenses. Through scaling down the size of its operations, JAL lowered various fixed-cost liabilities and further raised its efficiency through the institution of a system analysing profits by department.
The carrier operates a fleet of 113 aircraft at present, with 15 aircraft in storage and 44 aircraft on order, including 35 B787-8s according to Ascend. Of the current fleet, 83% are widebody aircraft, with 86% of on-order aircraft being widebodies. It should be noted the carrier does deploy widebody aircraft on domestic services, with Japan having some of the world's densest route pairs. For example, the carrier has deployed the first of five B767-300ERs on order on domestic services, with the remaining three of this aircraft type to also be deployed on domestic city pairs.
Japan Airlines plans to launch B787 services from 22-Apr-2012 with a four times weekly service between Tokyo Narita and Boston. It will be JAL's first new North American destination in 13 years and Boston's first link to Asia. JAL President Masaru Onishi said the route would be possible "by making full use of the efficiencies of the revolutionary 787 as well as capitalizing on our closer relationship with American Airlines". JAL has a joint business agreement with American Airlines, who will codeshare on the service.
# 9. Lufthansa – expanding to emerging markets amid home market weakness
Despite plans to reduce capacity growth in the upcoming winter season by 2ppts to 4% year-on-year, Lufthansa is adding 10 widebodied aircraft to its fleet over the next 12 months. As part of this, the carrier will take delivery of two more A380s in 2012. The carrier already operates eight A380s on long-haul services from Frankfurt to Asia (Tokyo, Beijing), Africa (Johannesburg) and North America (New York, San Francisco, Miami).
While Lufthansa is seeing weakness in short-haul Europe, the German flag carrier is developing its intercontinental connections, with new services from Dusseldorf to Asia to be introduced in the next summer schedule, and routes from Dusseldorf to Tokyo and Dehli "very high on the list". The airline also plans to expand into strong-growing South American markets due to ongoing economic weaknesses in developed markets, VP Americas Jurgen Siebenrock stated this month. Capacity on Brazil routes will be expanded by 60% in 2011. The airline recently launched service to Bogtoa and Rio de Janeiro and has developed an alliance with future Star Alliance-member Avianca-TACA, to increase its reach in Latin America.
Increasing exposure to emerging markets is a key part of Lufthansa's strategy going forward. Lufthansa has a wide coverage of the Indian market, although Star's rejection of the Air India accession to the alliance is a setback and Lufthansa has a strong network and partners in East and South East Asia. However, Latin America has been a white spot on the route map. Lufthansa generates only 2% of total revenue from the Latin American region, lagging behind rivals IAG and Air France-KLM.
At present, Lufthansa has a fleet of 103 widebody aircraft (35.8% of the total fleet) with 30 widebody aircraft on firm order (31.6%), including three A330-340s, seven A380-840s and 20 B747-8Is.
# 10. Qatar Airways – rapid growth trajectory driven by widebodies
Qatar Airways, with 10 widebodies on order for delivery over the next 12 months, has a rapid growth trajectory, driven by widebody aircraft.
Qatar Airways has orders worth over USD40 billion for more than 200 aircraft, including B787s, B777s, A350s, A380s, A320 family of aircraft. The rapid expansion of Qatar Airways prompted the State of Qatar to embark on one of its largest projects – the construction of a brand new international airport in Doha, which is scheduled to open in 2012. Of the 139 aircraft on firm order, 93% (129 aircraft) are widebodies, indicating its growth profile is centred around long-haul routes as opposed to regional operations.
At present, Qatar Airways' in-service fleet of 99 aircraft (of which 62 are widebodies) serves a network of more than 100 destinations across Europe, Middle East, Africa, Asia Pacific, North America and South America. By 2013, Qatar Airways plans to serve more than 120 key business and leisure destinations worldwide with a fleet of over 120 aircraft.
In the immediate future, Qatar Airways is preparing to launch a number of new destinations during the 2H2011 and in early 2012. Service to Shiraz, Venice and Montreal were added in Jun-2011 and daily flights to Kolkata were added from 27-Jul-2011, taking the carrier's capacity in India to 95 services a week. The airline is also adding two new European destinations: a four times weekly service to Sofia from 14-Sep-2011 and a five times weekly service to Oslo form 05-Oct-2011. Sofia became the fifth European route launched by Qatar Airways this year, together with Bucharest, Budapest, Stuttgart and Venice.
Before the end of the year, Qatar Airways will also launch service to Entebbe (Uganda) on 02-Nov-2011, marking the carrier's first new route to the African continent since early 2007, and Chongqing on 28-Nov-2011. Flights to Baku and Tbilisi, the capitals of Azerbaijan and Georgia, respectively, will be launched on 01-Feb-2011. Qatar Airways also plans to operate four new weekly Doha-Milan Malpensa services from 01-Jan-2012.
Top 30 airlines by narrowbodies and widebodies - Ryanair, Azul and American Airlines adding lots of narrowbodies
In terms of total fleet deliveries, Chinese carriers unsurprisingly feature heavily among the Top 30. LCCs and airlines from emerging markets such as Russia, South America, Indonesia and Turkey also expanding rapidly in the coming months. China Southern, Air China, Ryanair and China Eastern Airlines are all expected to take delivery of over 30 aircraft over the next 12 months, according to Ascend data, with Aeroflot, Azul and American Airlines taking delivery of over 25 aircraft over the next 12 months, or an average of over two aircraft per month.
Among the Top 30, 13 of the airlines are based in the Asia Pacific, seven in the Americas (including two in North America), six in Europe and three in the Middle East/Africa. The Top 10 carriers have, among them, 301 aircraft on order, with the Top 30 having 642 order.
(Note to CAPA Members, CAPA has recently introduced its new online feature Print Summaries, to streamline client meetings and conference preparations. These 'cheat sheets are available for some 2600 airlines on the CAPA Profiles database).
Ryanair will take delivery of the third highest number of aircraft over the next 12 months, behind China Southern (46) and Air China (38) with 34 deliveries scheduled. Europe's largest LCC operates an all-narrowbody fleet of 272 B737-800s at present, with 39 on firm order. The carrier plans to increase its fleet to 272 aircraft by the end of FY2011 with 10 disposals, increasing to 292 aircraft with three disposals in FY2012 and 299 aircraft with 10 disposals in FY2012.
Aeroflot, Russia's largest carrier by passenger numbers and RPKs, also has a sizeable order backlog, comprised of 111 aircraft, split between Airbus, Boeing, Sukhoi and Illuyshins, with 27 deliveries scheduled over the next 12 months alone. The carrier's fleet comprises of 108 aircraft at present, with the vast majority (70.4%) of its fleet being narrowbodies, predominantly A320 family aircraft. At the Paris Air Show this year, Aeroflot placed the first B777-300ER order from Russia and will make the carrier the country's first to operate the type. The B777-300ER order signals Aeroflot's plans to expand more aggressively and counter the rising threat of Transaero, which has recently been adding capacity in international markets and increasing its share of the international market at a much faster pace than Aeroflot. Aeroflot currently uses A330-200/-300, B767-300ER and Ilyushin Il-96-300 aircraft on its long-haul services (which often includes domestic services). The eight B777-300ERs, 11 A330s, which are expected by 2013, and B787-8s, which are expected to start arriving from late 2012, are likely to result in the retiring of the ageing and comparatively inefficient Il-96s and B767-300ERs (16 aircraft). The carrier also has orders for 22 A350-800s (18) and -900s (4), which are expected to start arriving from late 2014.
Brazilian low-cost carrier Azul is also scheduled to receive 27 narrowbodies over the next 12 months, as it expands in a way which makes it one of the fastest growing airlines in the world, not only in terms of fleet but network. Azul plans to launch services to about 11 domestic destinations in 2H2011, giving it an even 50 by year-end. The carrier is committed to adding a total of 12 E195s this year, resulting in an E-jet fleet of 10 E190s and 28 E195s by the end of 2011. The carrier started the year with 28 destinations and a fleet of 26 E190/195s. Azul's original business plan only envisioned 25 destinations by the end of its third year (Dec-2011) and initially only included jets. But the carrier's management team, led by founder, chairman and ex-JetBlue CEO David Neeleman and President Pedro Janot, has decided several times to accelerate network and fleet growth to take advantage of market opportunities created in part by the faster than expected growth of Brazil's economy. As a result, Azul placed orders for 20 ATR 72-600s and five additional E195s at the Jul-2010 Farnborough Air Show, to support its regional expansion efforts. Azul expects to expand its fleet to 86 E190/195s by the end of 2014. For at least the foreseeable future, Azul plans to continue steadily adding E195s at a clip that averages one every month.
American Airlines has 26 aircraft scheduled for delivery over the next 12 months. Of the carrier's existing fleet, 80.6% are narrowbodies with 19.4% widebodies, with the carrier's future orders also dominated by narrowbodies, with 95.5% of on-order aircraft being narrowbodies. The carrier, which took delivery of its 160th B737-800 on 21-Sep-2011, committed to 100 of the re-engined B737 MAX, as well as 60 options, in Jul-2011, with deliveries most likely to commence in 2018. The carrier has also ordered 100 B737NGs, as well as 40 options. At the same time, American ordered 130 A320s with 85 options and 130 A320neos, with 280 options.
Top 30 airlines by number of aircraft deliveries over next 12 months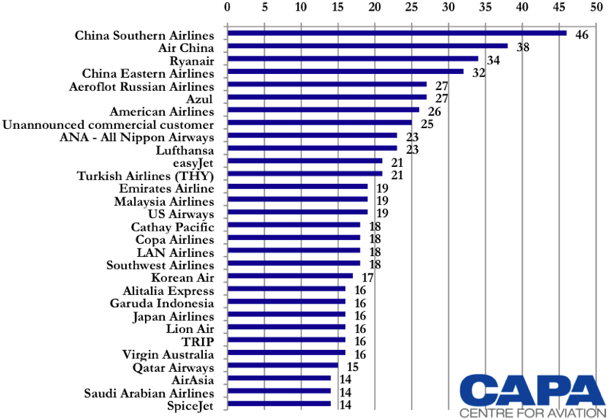 The delivery schedule for aircraft over the next 12 months reflects Asia's ascendancy in global aviation and the expanding roles of Middle East and LCCs. Dozens of airlines are pursuing aggressive growth in the years ahead. It is not surprising that the 'Big Three' Chinese airlines appear heavily on the list, with other airlines falling within the high-growth and high-potential BRIC (Brazil, Russia, India, China) grouping. For airport route developers worldwide, this is a very attractive list.