Where the Airbus A380 will fly next
Analysis
Next month marks the fourth anniversary of the Airbus A380's entry into service. Since the maiden commercial flight by Singapore Airlines, A380s have carried more than 20 million passengers on flights with SIA and five other operators: Emirates, Qantas, Lufthansa, Air France and Korean Air. 56 A380s are now in service, with approximately ten more to be delivered by the end of the year. A380 operations are clustered around a handful of key international points. A380s currently serve 25 airports on 38 separate routes. Seven airports account for more than half of all A380 routes.
Outside of the home hubs of A380 operators – Singapore, Dubai, Sydney, Melbourne, Paris CDG, Frankfurt and Seoul Incheon – the most important airports are New York JFK and Tokyo Narita. These airports have four airlines flying A380s to/from them. London Heathrow and Hong Kong have three airlines flying A380s to/from them.
A380 current and upcoming destinations: Sep-2011 (partial*)
Half of the world's 30 busiest international airport have A380 service - the rest coming soon
Fifteen of the world's 30 busiest airports by international traffic have A380 operations at present. Four more - Amsterdam Schipol, Munich, Kuala Lumpur and Rome Fiumicino - will have A380 services added under the upcoming Northern Winter schedule.
Most of the remaining leading international airports without A380 services are capable of handling the aircraft. Several airports - such as London Gatwick - have been actively wooing airlines to bring in A380s.
As of Aug-2011, the A380 was cleared to operate to over 130 airports worldwide. Given the size of the aircraft and some of its specialised needs in terms of air traffic separation and runway, taxiway, gate and aircraft parking requirements, this is a significant destination pool. But with almost all carriers but Emirates having placed small orders for the A380, they will likely continue to concentrate their A380 operations on a small selection of those 130 airports, especially when it is considered some long-haul routes require more than one aircraft per daily rotation.
A380 services at the world's 30 busiest airports by international traffic (as at Sep-2011)
The world's busiest airport (total domestic + international passengers) Atlanta Hartsfield–Jackson, is notably absent from the list of A380 airports, although that will change with the introduction of service by Korean Air from 2012. Other major airports in the top 30 (in terms of international and domestic) with A380 services include Beijing Capital, Shanghai Pudong and Sydney.
A380 services at world's 30 busiest airports by domestic and international traffic
Changing strategy and operational patterns
Early operators such as Emirates, Singapore Airlines and Qantas deployed the aircraft on long-haul, premium oriented routes. Their route strategies maximised the scarcity and novelty value of the aircraft for passengers, as well as its efficiency and capacity. As more aircraft have entered service and more carriers join the operating roster, the A380 route network and its role in airline network planning has slowly begun to fill out. This will continue as airlines like Emirates and Qantas take delivery of A380 aircraft configured with more seats than their existing A380 fleet. Such configurations less reliant on premium passengers will see the A380 open secondary premium markets or markets more targeted towards leisure traffic.
Emirates, the largest A380 operator with 16 aircraft in service (as of 25-Sep-2011) and 74 more in order, has been one of the leaders in this changing strategy. As the global financial crisis bit into corporate travel budgets in 2008 and premium and business travel dropped, the airline showed its flexibility by pulling the A380 off its flagship Dubai-New York route. It re-deployed the aircraft to Bangkok and Toronto – destinations that suited the higher capacity of the aircraft.
Despite the relatively small size of the city, Toronto is a particularly strong example for Airbus' case that the A380 can act as a congestion buster. With the UAE-Canadian bilateral air services agreement limiting Emirates to three flights per week, deploying the A380 allowed the carrier to boost its capacity into Toronto by around 420 seats per week without increasing the number of flights.
Shorter routes and somewhat smaller destinations are beginning to appear on the A380 route map, again with Emirates leading the strategic adjustment. Since Jan-2010, the Middle Eastern carrier has operated its 'medium density' configured A380s - with 517 seats - on the Dubai-Jeddah service, a sector of just three hours. This also helps Emirates increase the A380's utilisation rate as it would otherwise spend large amounts of time on the ground.
Emirates is awaiting clarity from the Indian Government on the possibility of operating A380s on high-yielding sectors into India, which it would like to do. Lufthansa has applied but not received permission to operate A380s into India.
Emirates is also pushing the aircraft into smaller airports. The carrier put A380s onto Dubai-Manchester service in Sep-2010 – replacing a B777-300ER – and has seen its traffic to the city hit record levels.
Korean Air makes cautious start
In Asia, Korean Air had a cautious launch of A380 operations in Jun-2011 by deploying the aircraft only to regional destinations (Tokyo Narita, Hong Kong, Bangkok). All Nippon Airways will take a similar approach with its B787s, initially using them regionally, whereas early A380 operators Emirates and Qantas immediately placed their A380s on ultra-long-haul routes. Launch operator Singapore Airlines confined its initial A380 operations to the Singapore-Sydney route before expanding to ultra-long-haul sectors. Such caution is not without merit as Emirates, citing engineering work, had to temporarily withdraw its A380 operations a month after the launch. Deployment on short sectors also permits staff, especially pilots, to quickly gain in-service experience.
Korean Air is continuing to shift some of the aircraft to long-haul destinations, including Paris CDG, Frankfurt, New York JFK and Los Angeles. However, it will continue to deploy the A380s into Japan and Hong Kong, further boosting the type's utilisation rate, as Emirates does with Jeddah and Singapore Air to Hong Kong. Korean Air's move demonstrates the A380 has intra-regional capabilities akin to its B747s and B777s that serve short regional flights in-between long-haul sectors, a common strategy replicated across major Asian carriers.
Singapore is also expanding its A380 operation with an announcement earlier this month that it plans to operate Singapore-New York JFK-Frankfurt service with A380s, as it phases out its final B747-400s.
With three new operators due to take delivery of their first aircraft in the next 12 months, and Airbus pushing production up to 35 aircraft per annum, the A380 fleet will continue to grow and the network strategies for the A380 will continue to develop.
Next month China Southern Airlines will join the list of A380 operators. The carrier ordered its five A380s in 2005 and will operate the first service in mid-Oct-2011. It is the only Chinese airline to have ordered the A380, although an order expected from Hainan Airlines' subsidiary Hong Kong airlines failed to materialise at this year's Paris Air Show, reportedly due to Chinese government disapproval of the EU Emissions Trading Scheme.
China Southern's addition to the A380 family will also see the first domestic scheduled routes operated with the type. The carrier is planning to operate Beijing-Guangzhou service from 18-Oct-2011, before switching to Beijing-Shanghai service on 27-Oct-2011.
Where the carrier will take the A380 internationally has not been formally announced, as the airline is still awaiting final CAAC sign-off for international services with the aircraft. Reports are that the airline plans to initially operate to Paris, followed by New York JFK, adding another two routes to destinations that already see significant A380 traffic.
The carrier will outfit its A380s in a three-class, 506 seat configuration. China Southern this month will officially unveil the seating arrangement, although seat maps have emerged via Chinese social media sites and been confirmed by the airline.
China Southern's A380s will feature eight first class and 352 economy class seats on the lower deck. The upper deck will have 70 business class seats at the front and 76 economy seats at the rear. The configuration has a high density of economy seats but a typical, for the A380, mixture of premium seats.
Malaysia Airlines is due to get its first A380s in 2Q2012. The carrier was due to fit its A380 aircraft with 508 seats in four classes (eight first class, 54 business, 26 premium economy and 420 economy) although this is expected to change following reviews that commenced after AirAsia acquired a stake in the carrier. MAS is due to receive five aircraft in 2012 with the sixth and final A380 due in 2013.
Malaysia Airlines will continue in the long-haul, premium focused mould already established by other A380 operators. It has already announced its A380s will be primarily dedicated to high-yielding European routes – initially London Heathrow and Amsterdam, the first time an A380 will serve the Dutch city. Other routes under consideration are Sydney and Melbourne.
Like Malaysia Airlines, Thai Airways is due to join the A380 sorority in 2012 and has adopted a similar intercontinental focus for the aircraft. The carrier has six A380s on order, with its first two expected for delivery next year.
It has announced that it will initially deploy the aircraft to Frankfurt, with service expected to commence in Oct-2012. Following that Thai expects to serve London Heathrow and Paris CDG.
Appendix: Orders & Configurations
Airbus markets the A380 as the "ideal solution to alleviate traffic congestion at busy airports". According to the European manufacturer it is "mega-cities" – those featuring RPKs in excess of 5 billion p/a or 10,000 daily long-haul passengers – that will drive demand for very large aircraft (VLA) such as the A380. Globally, 39 cities currently meet these thresholds, but Airbus expects this to climb to 87 by 2029. More than 90% of global long-haul passenger traffic starts, terminates or goes through an aviation mega-city.
Mega-city growth will be concentrated by Asia, and it shows in the A380 order book. By 2030, Airbus forecasts 10 of the 20 largest VLA airports will be in the Asia Pacific (indicated by a light pink circle).
2030 VLA aircraft forecast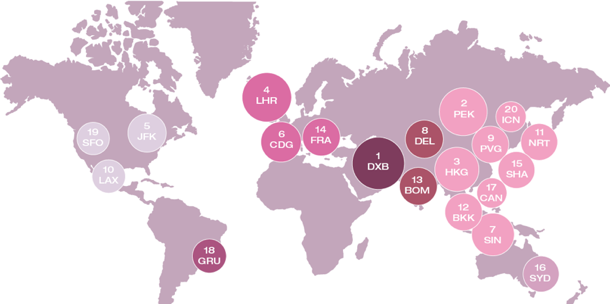 Airlines in the Asia Pacific account for nine of the 17 A380 customers. Over the next 12 months three more Asian airlines – China Southern, Malaysia Airlines and Thai Airways – will join the family of A380 operators, bringing new destinations and new strategies for the giant aircraft.
Airbus' most recent 20-year global market forecast, released in Sep-2011, raised the outlook for VLA orders from 1738 to 1781 aircraft. 45% of these aircraft are forecast to be delivered to customers in Asia, 23% to go to the Middle East and 19% to European airlines. North America and the rest of the world will purchase just 13% of VLAs, according to Airbus' predictions.
Configurations - trending toward greater seat density
With two full decks and a nominal design capacity of 525 seats in three-class configuration, the A380 offers airlines a wide number of options in terms of layouts. The aircraft has clear total seat capacity advantage over other long-range aircraft such as the A340-500/600, B777-300/200, B747-400 and even Boeing's new 747-8 Intercontinental, although the A380 is at a disadvantage when it comes to carrying freight.
Most of the inital A380 customers have proved reluctant to turn the aircraft into an economy class workhorse. Instead, the initial focus has been on the premium traveller. Early A380 configurations have featured lavish amenities, reminiscent of the B747 when it first entered service in the 1970s. Singapore Airlines' A380s boast first class suites with double beds, while Emirates A380s have showers. Several carriers offer bars and lounge areas. Korean Air has even outfitted its aircraft with an onboard duty free store.
Singapore Airlines' initial A380 configuration was just 471 seats, while Emirates, the the second A380 operator, had an initial configuration of 489 seats. A high benchmark may not be set until Emirates introduces a more dense configuration, or Air Austral around 2014 places into service its A380 configured with almost the maximum number of seats – 853 – the aircraft is approved for.
Bucking the trend is Singapore Airlines and Japan's Skymark Airlines. Skymark plans to operate the least dense configuration yet, with a total of 394 seats – approximately 15 seats less than current configurations from Korean Airlines and Singapore Airlines. Singapore Airlines in May-2011 took delivery of its first lower density A380 having 409 seats over its initial 471-seat configuration. The new configuration has 88 fewer economy seats in favour of 26 additional business class seats.
A380 operators seat configurations
Airline

First A380
Delivery

A380s in service

Total
seats

First

Business

Premium
Economy

Economy

Oct-2007

12

409

12

86

311

471

12

60

399

Jul-2008

15

489

14

76

399

517

14

76

427

Jun-2011

4

407

12

94

301

May-2009

8

526

8

98

420

Sep-2008

10

450

14

72

32

332

Oct-2009

6

516

9

80

38

389

538

9

80

449

Oct-2011*

-

506

8

70

428

2Q2012*

-

508

8

54

420

Aug-2012*

-

507

12

60

435

2014*

-

394

114

280

2014*

-

"around 840"
500 - the magic number of seats?
As the novelty value of the aircraft has begun to wear off, the premium-focused seating configurations are gradually giving way to greater density layouts. Layouts between 500 and 550 seats, with 400-450 economy class seats, have become the norm.
Emirates has supplemented its initial layouts with a higher density configuration featuring more economy seats. It has also announced a high-density 644-seat layout, but has not equipped any of its aircraft in this configuration yet.
Qantas' A380s were introduced in Oct-2008, with 450 seats and the airline was the first to offer premium economy service. The Australian carrier announced last year its intention to abandon first class altogether for its last eight A380s that are now not due for delivery until FY2019. The carrier has opted for a split fleet, to give it "greater flexibility to schedule the right aircraft, and the right configuration, on the right route, based on market demand". The remaining eight A380 deliveries are due to feature business, premium economy and economy classes, although the exact combination has not been announced.
Lufthansa and Air France, which did not take delivery of their first A380s until 2009, both adopted initial configurations with more than 500 seats. China Southern, Malaysia Airlines and Thai Airways have all announced A380 configurations that feature just over 500 seats.
There is still experimentation with the aircraft though. Air Austral, the Reunion based French carrier, has announced it will configure its aircraft in an all-economy layout of "around 840" seats. After Air Austral announced the all-economy layout, Airbus COO congratulated the carrier on showing "the potential of the A380 in the market of today and tomorrow" and offering the real benefits of "doing more with less".
At the other end of the scale, Japanese LCC Skymark Airlines, is experimenting with an all-premium layout. The airline, which finalised its order for A380s earlier this year, has announced its A380 will feature just 394 seats, the lowest seating density of any operator to date. The carrier's aircraft will have 280 premium-economy seats on the lower deck and 114 business-class seats on the upper deck.