Lufthansa, Singapore Airlines respond to Gulf competition with a limited JV. There is scope for more
Analysis
The rise of the Gulf carriers continues to pressure airlines that were once formidable individual competitors into joining forces to combat a more effective rival. And so the Lufthansa and Singapore Airlines groups have been forced to compromise their previous independence. One new strategy is to form a revenue sharing joint venture. This method of cooperation is becoming more common between Europe and Asia, having already been established in the trans-Atlantic and trans-Pacific markets. Most JVs were established to enhance a position of strength built on pre-existing solid footing. In comparison, Lufthansa and SIA are setting aside differences in this time of duress to respond to the Gulf carriers that have changed their business profoundly.
Although Lufthansa and SIA account for about 27% of non-stop Western Europe-Southeast Asia capacity, their share of flown passengers is around 13%. Emirates alone has 12%; adding Etihad and Qatar now has 27% of the market transitting via the Gulf. But SIA and Lufthansa are the only airlines operating non-stop service between their respective countries.
Despite the severe situation, perhaps bordering on crisis, the response from Lufthansa and SIA is limited. Their JV will only cover routes from Singapore to Germany (the hub of Lufthansa) and Switzerland (the hub of Swiss). This is only one third of their Europe-Southeast Asia market. Lufthansa and SIA will remain competitors on many other market pairs - and this could become a source of friction, or at least suspicion. A Singapore-London passenger, for example, could go non-stop on SIA outside the JV or via a German/Swiss hub under a JV. Both airline groups will compete for a Kuala Lumpur-Amsterdam passenger.
Extract from CAPA News 12-Nov-2015:
"Singapore Airlines and Lufthansa signed (11-Nov-2015) a partnership agreement to operate routes between Singapore and Europe on a JV basis, expand codeshare ties and deepen commercial cooperation. The agreement also includes Austrian Airlines, SilkAir and SWISS. Elements of the agreement, including new codeshare services, will be introduced in the coming months. Other features require additional regulatory approval and will be implemented during 2016. The agreement includes the following:
The implications of the SIA-Lufthansa JV
The proposed JV routes will cover approximately one-third one SIA and Lufthansa Group's Western Europe-Southeast Asia ASKs for late Jul-2016, which includes SIA's new Singapore-Dusseldorf service.
Lufthansa Group (Austrian=OS, Lufthansa=LH and Swiss=LX) and Singapore Airlines (SIA) non-stop ASKs by market segment between Western Europe and Southeast Asia: 25-Jul-2016 to 31-Jul-2016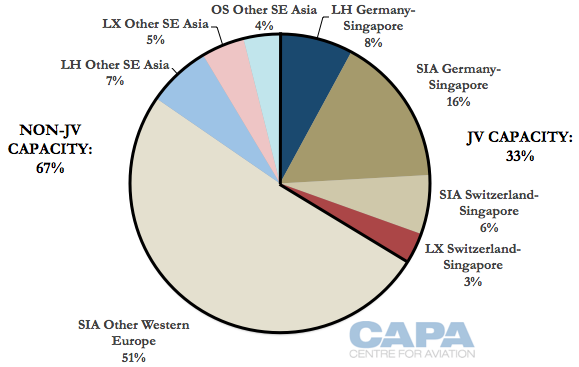 The market between Europe and Southeast Asia is more important to SIA than it is to the Lufthansa Group, viewed by ASK exposure. SIA may be the bigger of the two on the routes involved, but Lufthansa has much greater experience with joint venture agreements. The conservative nature of the JV may reflect SIA wanting a more cautious entry into what is its biggest JV yet by some measure. For Lufthansa, this JV will be significantly smaller than its trans-Atlantic partnership; even a proposed JV with Air China could eclipse this development.
The Lufthansa-SIA co-operation will include co-ordinating schedules, joint fare promotions and aligning the approach to corporate accounts and loyalty benefits, as is now common with JVs. The JV will be accompanied by greater codesharing, which SIA has often been reluctant to do. These elements will be subject to different levels of regulatory approval.
The new partnership has plenty of scope for further development. Nevertheless, the agreement is of strategic significance to both in their fight for profitable market share against Gulf airlines. A detailed analysis of the background issues leading to the announcement by SIA and Lufthansa, including data on their market share and the position of the Gulf airlines, is provided in CAPA's analysis from Aug-2015.
See related report: Gulf airlines continue Southeast Asia push. Should Lufthansa & Singapore Airlines respond with a JV?
Routes covered by the new partnership cover more ASKs for SIA than Lufthansa
For Lufthansa, Frankfurt-Singapore Changi is its largest international route by ASKs (week of 9-Nov-2015, source: OAG), but Singapore represents a little more than 2% of its international ASKs, making it only the German airline's number 11 ranked destination country. Southeast Asia accounts for just over 4% of its international ASKs and is its eighth biggest destination sub-region.
In addition to Singapore, Lufthansa's other Southeast Asia destinations are Malaysia and Thailand.
Lufthansa destination countries by ASK 9-Nov-2015 to 15-Nov-2015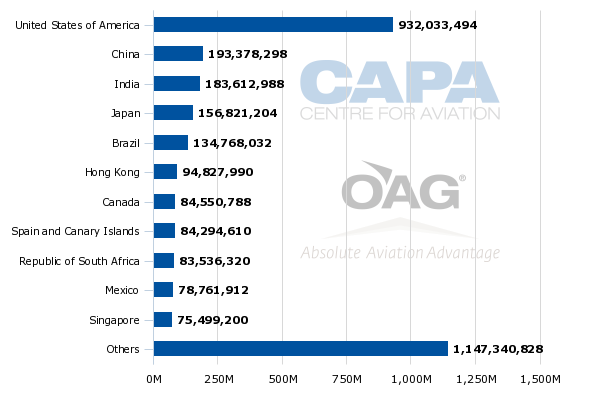 For SIA, the Singapore-Germany market is more important than it is for Lufthansa. Germany is Singapore Airlines' fourth ranked international destination country, accounting for more than 7% of its ASKs, behind Australia (17%), Japan and UK (both close to 10%). The two are the only operators on direct routes between Singapore and Germany, but SIA has almost double Lufthansa's capacity.
Western Europe, SIA's largest destination region, accounts for almost 29% of its ASKs. In this region, SIA has direct flights to destinations in Denmark, France, Germany, Italy, Netherlands, Russia, Spain, Switzerland, Turkey, United Kingdom. Switzerland accounts for a little more than 1% of SIA's ASKs, but it does not fly to Austria. Swiss serves Singapore but Austrian Airlines does not serve Singapore.
Singapore Airlines destination countries by ASK 9-Nov-2015 to 15-Nov-2015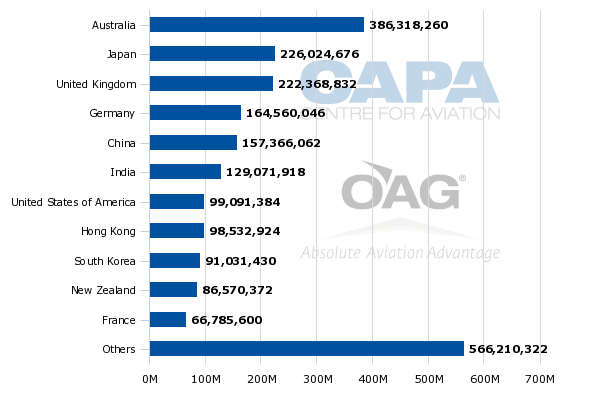 According to OAG data for the week of 9-Nov-2015, SIA is the number two airline by seats on direct routes between Western Europe and Southeast Asia. SIA has a seat share of 23%, just behind Thai Airways on 25%.
There is then a considerable gap to third placed Malaysia Airlines. Lufthansa's share of less than 6% places it in sixth place, just behind European rivals British Airways and KLM (both on around 6%).
Lufthansa subsidiaries Swiss and Austrian are ranked 11 and 13, with roughly 2% each This gives the Lufthansa Group close to a 10% share of direct seats between Western Europe and Southeast Asia. The Lufthansa Group and SIA together have a share of 32%.
Top 15 airlines on direct routes between Western Europe and South East Asia ranked by share of seats 9-Nov-2015 to 15-Nov-2015
| Rank | Airline | Share of seats |
| --- | --- | --- |
| 1 | | 24.6% |
| 2 | | 22.5% |
| 3 | | 7.9% |
| 4 | | 6.3% |
| 5 | | 6.1% |
| 6 | | 5.6% |
| 7 | | 5.1% |
| 8 | | 4.2% |
| 9 | | 3.9% |
| 10 | | 3.2% |
| 11 | | 2.3% |
| 12 | | 1.8% |
| 13 | | 1.6% |
| 14 | | 1.3% |
| 15 | | 1.3% |
But Gulf airlines have a significant indirect share
However, as CAPA previously noted, the Southeast Asia-Europe market includes a significant amount of indirect traffic between the two regions, connecting via hubs in the Gulf. According to OAG data, Emirates carried 13% of passengers in the Europe-Southeast Asia market in the first five months of 2015, placing it just behind Thai. SIA was third with a 10% share, followed by Qatar Airways with 9% and Etihad with 6%.
The Lufthansa Group had 5% of traffic and, although the 15% jointly carried by SIA and the Lufthansa Group was the biggest share in this wider market, it was still some way behind the 27% combined share of the Gulf Three.
Moreover, the Gulf carriers have grown capacity in Southeast Asia by 59% since 2012, while Asian and European competitors have expanded modestly or not at all.
Average daily seats from Gulf carriers (Gulf-Southeast Asia), Lufthansa (Western Europe-Southeast Asia) and SIA (Western Europe-Southeast Asia): 2005-2015
Gulf carriers do not link Southeast Asia just with Europe. There is traffic to the Middle East, Africa and also increasingly parts of North America. Qatar Airways' recent growth in Singapore was partially planned for a larger role in the Singapore-US market.
See related report: Qatar Airways pursues rapid expansion in Singapore after the first A350 lands at Changi
But Europe is the single largest destination market for the Gulf carriers from Southeast Asia. OAG Traffic Analyser data for the first five months of 2015 shows that approximately two-fifths of passengers on Gulf carriers' Southeast Asian flights connected to or from Western Europe. Gulf carriers carried slightly more passengers between Southeast Asia and Western Europe than between Southeast Asia and the Middle East.
Gulf carriers as of Aug-2015 were to average 54 flights a day to Southeast Asia.
Gulf carrier average daily frequencies to Northeast and Southeast Asia: 2005-2015
Lufthansa-SIA JV will be revenue sharing, not profit sharing
The revenue-sharing JV is to operate on routes operated by both groups between Singapore and Lufthansa's hubs at Frankfurt and Munich and Swiss' hub at Zurich. It will also encompass SIA's planned new flight between Singapore and Duesseldorf, to be launched in Jul-2016.
The closest form of cooperation between airlines that does not involve a merger of legal entities is the profit sharing joint venture, as pioneered and modelled by the North Atlantic JVs within each of the three branded global alliances.
The "Atlantic++" joint venture with the Star Alliance, also known as A++, covers routes across the North Atlantic and associated connecting flights and includes Lufthansa, United Airlines, Air Canada, Austrian Airlines, SWISS and Brussels Airlines. A similar approach was followed by Lufthansa and ANA in their J+ JV on Japan-Europe.
The profit sharing model is complex and requires considerable cultural alignment, time to implement and is typically subject to greater regulatory scrutiny. Airlines may strategically disagree on the merits of profit-sharing.
A revenue sharing joint venture incentivises each party to reduce its cost base: revenue, which can be jointly controlled, is split but profit is the result after taking into account costs, which the parties cannot jointly control. (Often a single airline cannot control its cost base; witness the labour struggles throughout the world's airline.) A profit sharing JV can mean one party is financially penalised for its partner having a high cost base.
Lufthansa-SIA JV has a confined scope, at least initially
The proposed JV leaves significant room for further development is its scope in terms of routes. Arguably there is more to be expanded than is already included. The JV covers long-haul hub to hub flights between the homes of the Lufthansa Group and Singapore Airlines. This means there are more hubs on the European side (Frankfurt, Munich, Zurich and Duesseldorf) than on the Singapore side.
What is significantly left out is Singapore Airlines flights to non-German/Swiss European points, and Lufthansa Group flights to Southeast Asian destinations outside of Singapore. The trans-atlantic JVs cover a wider market but a more similar comparison to the Lufthansa-SIA JV is the trans-pacific JVs between ANA and United, and American and JAL. While US-Japan routes are at the core of the agreement, the JVs also include services to other markets, such as Hong Kong and Singapore, but have been precluded to encompass mainland China due to regulatory constraints.
One key difference is geography. For the trans-Atlantic and Europe-Japan JVs, Western Europe is relatively compact. Connections from a long haul North America or Japan flight to another point in Europe are often efficient. Likewise for the trans-Pacific JVs, connections to other parts of Asia from Japan are largely en route.
But not so for the Singapore hub. For passengers to/from Europe, transiting in Singapore for a connection to Malaysia and Indonesia is relatively efficient. But larger Southeast Asian markets (such as Thailand) are north of Singapore, invoking circuitous connections. London-Bangkok via Singapore is 1600 miles longer than transiting in Frankfurt.
It may not make sense to expand the JV to certain markets where Lufthansa and SIA have limited competition between them, especially in a market like Bangkok where the low yields from one carrier (Lufthansa) risk diluting the overall average revenue, thereby impacting the other partner (SIA).
Establishing the location of JV fences will be difficult. Very logically, Australia will be included and India excluded (see next sections).
But markets within Southeast Asia will be more complex to asses. For example, travel between the UK and Singapore is the third-largest O&D market between Western Europe and Southeast Asia, accounting for 5% of total passenger volume in the year to Aug-2015, according to OAG Traffic Analyser. Singapore-London is by far SIA's largest route globally by ASKs. SIA's London flights will be excluded from the JV but any UK-Singapore traffic Lufthansa or Swiss carry over their continental hubs will be included.
Western Europe-Southeast Asia 10 largest market pairs based on estimated passenger O&D bookings: year to Aug-2015
Singapore is well-positioned for connections from Australia. Lufthansa and SIA say that they plan to co-operate in "key markets in Europe, South East Asia and Australia". It is unclear how important Australia will be. Australia-Europe is another significant market SIA operates in and Lufthansa sells virtually (Lufthansa no longer serves Australia with its own metal).
It has also undergone a structural change from Gulf carrier competition. Lufthansa brings SIA marginal additional capacity to points (Frankfurt, Munich and Zurich) that it already serves; the Gulf carriers have the strength of one-stop service to more European points than SIA. Every SIA destination in Australia except Darwin has a Gulf carrier presence, with most Australian cities planned to have service from all three Gulf carriers.
Lufthansa may gain more. It accesses Australia with a range of partners, including codeshares on Thai Airways and SIA in addition to interlines with Qantas and Jetstar. A spot check on Lufthansa-sold fares shows a Qantas or Jetstar interline comparable in pricing to a SIA codeshare.
SIA may offer Lufthansa more competitive rates now that they will share revenue between Singapore and Germany/Switzerland. Alternatively, Qantas and Jetstar have a limited sales network and need to discount interlines to fill flights whereas SIA does not need to discount rates.
EU-ASEAN open skies could make regulatory approval easier when the JV is expanded, which would probably benefit both airlines
While there may be a strategic argument to expand the JV, there are practical and regulatory complexities of attempting to embrace all Europe-Southeast Asia or even all Europe-Singapore traffic. Any future EU-ASEAN open skies agreement (on which discussions have taken place between the two regions) may prompt a widening of the scope of the agreement.
As CAPA previously suggested, EU-ASEAN open skies would probably not prompt SIA or Lufthansa to launch new point to point markets from cities outside their home markets due to a lack of feed (such as SIA mounting a Bangkok-London service, or Lufthansa Paris-Kuala Lumpur). Nevertheless, it would ease the regulatory process to expand the JV.
Lufthansa has more JV experience than SIA
Lufthansa has extensive JV experience, with agreements in place covering its routes to the US, Canada and Japan covering more than one third (36%) of its international ASKs. It has also been in discussions with Air China about a JV on Europe-China, which accounts for a further 6% of Lufthansa's international ASKs.
See related report: Lufthansa: a joint venture with Air China could mean almost half its ASKs are covered by JVs
By contrast, SIA only has JV arrangements with Air New Zealand and SAS.
The SIA/Air New Zealand JV was only launched earlier in 2015 and covers just 4% of SIA's ASKs. The SAS agreement covers Singapore-Copenhagen, accounting for 1% of SIA's ASKs, but SAS does not currently fly on this route – raising the question how much of a JV it can be if there is no joint operation.
Expanded codeshare to feed the JV – SilkAir will have rare Star Alliance codeshares
Under the JV, codeshares will be expanded. SIA currently codeshares on the Lufthansa-operated flights between Singapore and Frankfurt, Lufthansa's sole Singapore service. SIA does not codeshare on Swiss' Zurich-Singapore flight (but Swiss codeshares on SIA's Zurich-Singapore flight). SIA also codeshares from Frankfurt to 26 intra-Europe destinations, and from Zurich to five intra-Europe destinations.
Lufthansa codeshares on SIA's flight from Frankfurt to Singapore and beyond to seven points in Australia/New Zealand – but not SIA's home market of Southeast Asia. Swiss, in addition to codesharing on SIA's Zurich-Singapore service, has a single regional codeshare: SIA's Singapore-Bangkok flight.
There are noticeable absences in the existing codeshare relationship: SIA does not code on Swiss' long-haul service, Lufthansa does not code on SIA's Munich flight, and aside from Swiss' single Singapore-Bangkok codeshare, there are no regional Southeast Asian connections on SIA from Swiss and Lufthansa.
Limiting codeshares has been a deliberate policy for SIA. Trunk routes can be more competitive than secondary markets; by limiting regional codeshares, and thus opportunities for other carriers to sell the markets, SIA considered it was securing itself an advantage. This was especially the case with SIA full service short haul subsidiary SilkAir, which serves destinations few other carriers do. SilkAir has limited codeshares outside of SIA and is not a member (full or affiliate) of Star Alliance, thereby again theoretically giving SIA an advantage.
SilkAir carries codeshares from carriers including Bangkok Airways, Garuda Indonesia, Malaysia Airlines and Virgin Australia. With the exception of Virgin Australia (which does not serve Singapore), these are country-specific codeshares: Bangkok Airways codeshares are only to/from Thailand while Garuda codeshares are only to/from Indonesia. Within Star Alliance, there are limited codeshares on SilkAir from only Air New Zealand. SIA and Air NZ formed a partnership in which Air NZ resumed service to Singapore under a JV with SIA.
There could be a precedent in the making where general codeshares, and not country-specific codeshares, are given by SIA only to carriers with whom it has a JV.
The lack of codeshares is generally not owing to regulatory restrictions. On the contrary, Singapore's liberalisation has allowed Emirates to become the largest foreign carrier in the country. Much of Emirates' Singapore traffic connects onto regional flights operated by Singapore-based Jetstar Asia.
See related report: Emirates, boosted by Jetstar Asia, will become the largest foreign full service airline in Singapore
The exact extended scope of the SIA-Lufthansa codeshares is not stated, but the two say SIA will have access via the Lufthansa Group hubs through codeshare to cities in Germany, Switzerland, Austria and Belgium, with more than 20 new codeshare destinations. In return, Lufthansa and Swiss will gain codeshare on SIA and SilkAir to more routes in Southeast Asia and Australia/New Zealand.
These expanded codeshare arrangements are aimed at increasing the feed into the hubs, thus driving up the joint venture revenue. They may also serve as a basis for expansion of the JV in the future.
New partnership should help SIA and Lufthansa…
The new agreements announced between SIA and Lufthansa should provide additional weaponry in the two Star Alliance members' competition with the Gulf carriers on routes between Western Europe and Southeast Asia. It should also strengthen Lufthansa's access to Australia.
The Gulf airlines' extensive networks of secondary cities in both Europe and South East Asia still mean that Lufthansa/SIA will often be trying to combat their rivals' one-stop services with a two stop proposition, but their deeper cooperation will give them better access to markets and customers and an enhanced ability to use schedule and price to enhance their position.
Moreover, Lufthansa/SIA will also be better placed on the main trunk routes between the regions. Gulf carriers serve more European points than SIA, and more Southeast Asian points than Lufthansa.
Destination summary of Western Europe-Southeast Asia market for SIA, Lufthansa, Emirates, Etihad and Qatar: Aug-2015
One important market where Lufthansa has particularly felt the squeeze of Gulf competition, but where the new agreements with SIA will make no difference, is South Asia. India accounts for almost 6% of Lufthansa's international ASKs and is its number three destination country (behind the US, 29% of international ASKs, and China, 6%).
Gulf airlines have eaten into its share not only of India-Europe O&D markets, but also of India-North America traffic connecting via Frankfurt. Lufthansa will need to find other defences (aside from government regulatory shields) to shore up its position in India.
Lufthansa and SIA are both demonstrating a willingness to innovate
The proposed JV between SIA and Lufthansa is no silver bullet. It does not solve all their problems on between Europe-Southeast Asia. To reach its potential the JV will need two elements. The first is comparatively easy to implement: it will need wider geographic scope. But this is dependent on the second element, which cannot be forced: cultural alignment between Lufthansa and SIA.
Lack of cultural meshing has derailed past partnerships at various carriers, and today holds some partnerships back. The assets, route networks and anything physical can be aligned, but a mismatch between managements can be a deciding factor for growth.
Nevertheless, it represents a significant step forward for both groups. There is more Gulf carrier growth to come, as much as Lufthansa and SIA would not like it. Their antipathy towards the Gulf carriers is probably similar, although Lufthansa has been vocal the way SIA has been (publicly) quiet. There is, however, the question if this proposed JV is too little, too late.
There is an undeniable trend from this JV and other strategic moves from both Lufthansa and SIA: long haul low cost operations, greater group integration and a focus on partnerships, to name a few. The trend is that Lufthansa and SIA are demonstrating a greater willingness to innovate - and risk some mutual conflict - than they have shown in the past.