Lufthansa: a joint venture with Air China could mean almost half its ASKs are covered by JVs
Analysis
Lufthansa chairman and CEO Christoph Franz told Bloomberg (9-Oct-2013) that his airline is in discussions with Star alliance partner Air China over a possible commercial joint venture to allow for better connections between Europe and China: "In the future, we will not only link our mutual hubs, but it will be important to also have direct links between major European markets and Air China's hubs, and the other way round."
China is an important market for Lufthansa, which already operates joint ventures with partners on routes to North America and Japan. It has a long history of collaboration with Air China in various forms, albeit often with an underlying competitive tension. A new JV would require the two to align their goals in the Europe-China market and could bring the portion of Lufthansa's ASKs operated under such partnerships close to one half.
Lufthansa and Air China have a long history of commercial cooperation. They established Ameco Beijing (Aircraft Maintenance and Engineering Corporation) in 1989, shortly after the founding of Air China in 1988. A jointly owned company operating in Beijing, Lufthansa has a 40% stake and Air China hold 60%.
Ameco Beijing is now China's largest aircraft and engine maintenance and overhaul company and employs more than 5,000 people. In addition to Air China, Ameco Beijing's customers include more than 30 Chinese airlines and 40 other international airlines. Air China is now planning to merge its MRO subsidiary Air China Technics with Ameco.
Lufthansa-Air China codeshare since 2000; Star partners since 2007
The two carriers have a codeshare agreement, dating back to 2000, on routes between Germany and China. The codeshare agreement initially covered nine weekly Air China flights and 13 weekly Lufthansa flights on routes between Frankfurt and Beijing and Shanghai. Lufthansa is now Air China's biggest long-haul codeshare partner, measured by the number of Air China-coded flights that it operates.
The codeshare agreement now covers 36 weekly Lufthansa flights and 27 weekly Air China flights from Germany to China. In addition, Austrian Airlines operates five weekly flights from Vienna to Beijing with the Air China code (source: Innovata, week of 14-Oct-2013). The codeshares also cover short-haul flights operated by Lufthansa in Europe and by Air China in China.
Air China and Lufthansa are respectively the number one and number two airline groups between Europe and China, ranked by seats. They have also been Star alliance partners since 2007, when Air China joined Star. Nevertheless, they essentially see each other as competitors even if there is codesharing. Lufthansa targets connecting traffic beyond German hubs while Air China flies directly to numerous European cities.
See related report: Europe's airlines in China: Lufthansa and AF-KLM largest as British Airways/oneworld play catch up
Airline joint ventures and 'metal neutrality'
The concept of the airline joint venture, involving the pooling and sharing of revenues (and, sometimes, profits) on a bundle of routes, was pioneered by Northwest Airlines and KLM in the early 1990s. This JV eventually evolved into the Delta/Air France/KLM/Alitalia North Atlantic joint venture within SkyTeam and has been followed by the Star alliance's 'Atlantic++' JV and the American Airlines/British Airways/Iberia/Finnair JV within oneworld.
From the Atlantic, the joint venture concept spread to the trans-Pacific and to Europe/Asia routes. For example, oneworld partners American Airlines and Japan Airlines have a JV on routes between the US and Asia and Air France-KLM operates JVs with SkyTeam partners China Southern and China Eastern. It has even extended beyond the confines of the branded global alliances, as exemplified by the Delta-Virgin Australia JV.
See related report: CAPA Airlines in Transition report, Part 1: The natural history of airline alliances
The joint venture concept, particularly the profit-sharing JV, is the closest form of airline cooperation stopping short of a full-scale equity merger. At the other end of the spectrum, cooperation starts with interlining and then mutual FFP access and codesharing.
The spectrum of airline cooperation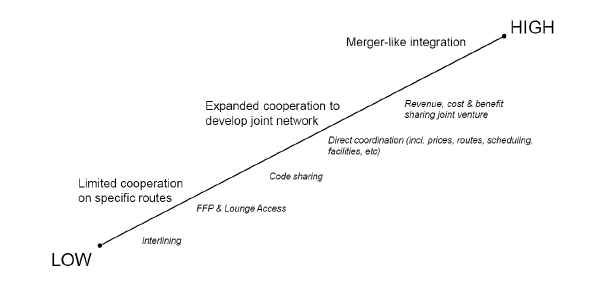 Joint ventures today embrace the idea of 'metal neutrality', which ensures that the partners are indifferent as to which fleet operates the route, typically giving them the incentive to synchronise schedules to the benefit of the passenger. Approval from competition authorities is required for airlines to coordinate prices and schedules.
Typically, an 'Open Skies' type bilateral air services agreement between the countries in which the joint venture partners are based is seen as a prerequisite for a JV. This ensures that restrictions on capacity and prices are removed, allowing the free market to operate. There is not yet a China-EU Open Skies air services agreement, although both sides are keen to develop one. China has yet to complete the implementation of EU designation, although it does recognise the principle of EU designation. This has not prevented Air France-KLM from establishing JV arrangements with Chinese partners, but may limit their effectiveness pending a fully liberalised bilateral.
In an industry where ownership and control restrictions still present significant barriers to cross border mergers and acquisitions, the JV has become an important consolidation tool.
Lufthansa has extensive experience of commercial joint ventures with other carriers. The Atlantic++ joint venture, also known as A++, covers routes across the North Atlantic and associated connecting flights, while the J+ joint venture covers routes between Europe and Japan. A++ was originally between Lufthansa, United Airlines and Air Canada. Austrian Airlines, SWISS and Brussels Airlines are also now members of this JV.
The J+ joint venture was launched in early 2012 with All Nippon Airways and was extended to include Austrian and SWISS in Apr-2013. It covers all 154 weekly flights on 11 of the participating airlines' routes between Japan and Europe.
Currently (week of 14-Oct-2013), Lufthansa operates 39 weekly flights from Germany to China and Air China operates 38 weekly flights from China to Germany, Switzerland and Austria, which are the European countries in which Lufthansa Group airlines are based (both figures are one-way). SWISS flies to China 14 times weekly and Austrian operates five weekly frequencies to China.
Between them, the Lufthansa Group carriers and Air China operate from Düsseldorf, Frankfurt, Geneva, Munich, Zurich and Vienna to Beijing, Chengdu, Nanjing, Shanghai and Shenyang. Most, but not all, of the 13 routes are covered by codeshare agreements between the Lufthansa Group airlines and Air China (see table below).
Air China and Lufthansa Group airlines: routes between Germany, Switzerland, Austria and China: 14-Oct-2013 to 20-Oct-2013
Route

Weekly frequency x number of seats (one-way)

Aircraft

From

To

Air China

Air China

3x301

A330-300

14x332

7x526

777-300

A380-800

3x273

3x242

A340-300

Shanghai

7x273

5x526

A380-800

Shanghai

7x306

A340-600

3x242*

A340-300

4x273**

7x273*

7x306

A340-600

Shanghai

7x306

A340-600

7x236*

A330-300

Shanghai

7x219*

A340-300

5x225

767-300
A joint venture between Lufthansa and Air China would cover an important portion of their respective networks. Routes between Germany and China account for just less than 7% of Lufthansa's weekly ASKs and a similar proportion of Air China's (source: Innovata, week of 14-Oct-2013).
Moreover, Air China also operates to 10 other destinations in Europe outside Lufthansa Group home countries, so that China to Europe accounts for 18% of its ASKs. If a joint venture were to be agreed covering all flights between Europe and China operated by Air China and the Lufthansa Group, including associated short/medium-haul feeder traffic, it would cover a material amount of revenues for each group.
Air China and Lufthansa Group airlines: percentage of network ASKs on routes between Europe and China: 14-Oct-2013 to 20-Oct-2013

Lufthansa already has one third of its ASKs operating to JV partner countries
Such a JV would also add to the proportion of Lufthansa's capacity that is included in agreements with joint venture partners. China is Lufthansa's second most important destination country by ASKs, representing just under 7% of its international ASK capacity (week of 14-Oct-2013, source: Innovata).
Its most important country, USA, is already covered by a joint venture, as is its number three country, Japan, and its number nine country, Canada. The existing JVs with United, Air Canada and ANA cover countries that account for around one third of its international ASKs.
Adding a JV with Air China would push the total covered by joint ventures to more than 40% of Lufthansa's international ASK capacity. Less than 5% of its ASKs are domestic, so the share of its total ASKs in a JV would be a similar percentage. If we were to add to this figure the proportion of European traffic that connects to long-haul countries covered by JVs, it could be approaching half of Lufthansa's ASKs.
Lufthansa international ASKs by country: 14-Oct-2013 to 20-Oct-2013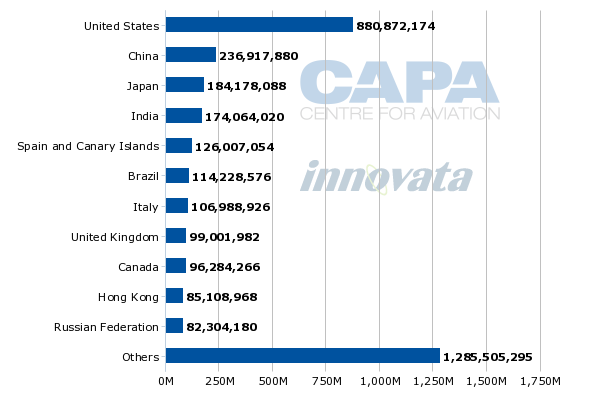 The conditions are in place, but 'it takes time'
Many of the conditions and incentives are in place for Lufthansa to pursue a joint venture with Air China.
Routes between Europe and China represent an important part of the networks of both groups; they have a history of commercial cooperation through Ameco Beijing, codeshares and Star alliance membership; and Lufthansa has significant experience of operating passenger airline joint ventures with other partners.
This does not mean that an agreement between the two is imminent. Some issues that need to be pondered are further evolution of the bilateral governing traffic rights to China; accommodating the close relationship between Air China and oneworld member Cathay Pacific; and accommodating Lufthansa's JV between Europe and Japan, where Air China might like to carry some onward traffic (that is willing to forgo a non-stop Europe-Japan flight). As Lufthansa's Mr Franz said: "It's imaginable we could create a joint venture, but that takes time to develop and create a commercial balance."
See related reports: