airberlin flies deeper into the red despite oneworld and Etihad ties
Analysis
The airberlin-Etihad Airways rumor mill has been working overtime in recent weeks with German publication Manager Magazin reporting that Etihad CEO James Hogan is seeking to replace airberlin Group CEO Hartmut Mehdorn as soon as possible due to the continuing poor financial performance of the company and the slow pace of restructuring. Abu Dhabi-based Etihad increased its shareholding in Air Berlin PLC from 3% to 29.21% in Dec-2011, becoming the company's largest single shareholder.
airberlin reported a consolidated net loss of EUR66.2 million in 2Q2012, a 53% deepening of the EUR43.9 million deficit posted in the year-ago period. The company intends to sell eight aircraft to help cut debt by EUR300 million by the end of 2012 and improve its liquidity position and equity ratio. airberlin's shareholders equity amounted to just EUR101.3 million as of 30-Jun-2012 and the equity ratio stood at just 4% as compared to 11.2% on 30-Jun-2011.
Both companies were quick to react and issued strong statements refuting the reports, with airberlin describing the rumours as "scurrilous and irresponsible" and insisting that Mr Mehdorn will continue his contract as CEO of airberlin until the end of 2013 as planned. "Nothing has changed," it said. Mr Mehdorn, formerly CEO and chairman of the board of the German state rail operator Deutsche Bahn AG, was appointed interim CEO of airberlin in Aug-2011 following the surprise resignation of Joachim Hunold who had been at the helm of the German airline since 1991.
Etihad, which normally only reacts with a "no comment" statement on speculations, was equally sharp in denying the airberlin rumors and said it "categorically refutes" the claims made in Manager Magazin. "These statements are entirely unsubstantiated and irresponsible, and appear to be designed to damage airberlin and Etihad Airways' businesses," Etihad said.
The national airline of the UAE and airberlin did confirm an executive search for Mr Mehdorn's replacement was ongoing and pointed out that this is part of normal succession planning as Mr Mehdorn's contract expires at the end of 2013. Etihad added that it "fully supports" Mr Mehdorn in battling an "extremely difficult environment for European airlines".
airberlin is not alone to post worse 2Q results
airberlin's net loss for 2Q2012 was worse than anticipated by analysts, but the German carrier was not alone in doing so and joined the ranks of Air France-KLM Group, International Airlines Group (IAG) and Lufthansa Group which saw reported earnings deteriorate in the three months to 30-Jun-2012 despite increasing revenue and yield.
Air France-KLM posted a consolidated EUR895 million net loss in 2Q2012, more than quadruple the EUR197 million net loss accrued a year earlier mainly owing to a EUR372 million negative accounting charge related to the hedging of fuel prices and a EUR368 million charge related to its Transform 2015 restructuring programme. Lufthansa Group remained profitable in the three months to 30-Jun-2012, but it suffered a 24% year-over-year decline in consolidated net profit to EUR229 million on high fuel costs, the air traffic tax payable in Germany and Austria and fees for emissions trading certificates. Even Ryanair's 2Q2012 net profit diminished 29% year-over-year as higher fares were not sufficient to offset the rise in fuel costs.
See related articles:
But airberlin's financial state is not enviable
Airberlin is Germany's second largest airline and Europe's sixth largest in terms of passengers carried, but it is chronically loss-making. The Group's poor financial performance results from its growth strategy with a multitude of acquisitions during the last few years including German domestic airline dba in 2006 and German leisure airline LTU in 2007. It also assumed a 49.9% shareholding in the Swiss charter airline Belair Airlines in 2007 and the TUIfly City Carrier business in 2009. airberlin also has a 49.9% stake in the Austrian charter/low-cost carrier Niki Luftfahrt (NIKI) and the remaining 50.1% shareholding held by the Lauda Private Trust will be transferring to airberlin as part of a loan agreement and restructuring process concluded at the end of 2011.
dba, LTU, TUIfly and Belair are all part of the airberlin operations and brand, while NIKI is being retained as a separate brand.
airberlin Group selected financial results: 2011-2007 (in million EUR)
| | revenue | EBITDAR | EBIT | Net profit (loss) |
| --- | --- | --- | --- | --- |
| 1H2012 | 1,948.1 | 155.3 | (178.7) | (169.2) |
| 2011 | 4,227.3 | 425.9 | (247.0) | (271.8) |
| 2010 | 3,723.6 | 618.5 | (9.3) | (97.2) |
| 2009 | 3,240.3 | 503.6 | 28.5 | (9.5) |
| 2008 | 3,400.7 | 476.8 | 14.2 | (75.0) |
| 2007 | 2,536.5 | 379.0 | 21.5 | 21.0 |
The successive airline integrations in the past five years have led to losses, operational inefficiencies and a hodgepodge of models which the company is trying to address through its Shape & Size restructuring programme and a repositioning of airberlin from a stand-alone airline to a full-service carrier, with a global network, interline and codesharing partners, a frequent flyer programme, lounges and a fully fledged business class. The airline's membership of oneworld in Apr-2012 and the strategic partnership with Etihad are intrinsic elements in its transformation process.
See related articles:
airberlin strategic development

Shape & Size trims fleet and capacity
airberlin initiated its comprehensive Shape & Size restructuring programme in 2011. It aims to improve the company's operating profitability by EUR230 million in 2012 through cost reductions, initiatives to increase yield and revenue, process improvements, the Etihad and oneworld alliance affect and network reduction and productivity improvement.
The company has set a target of reducing capacity in 2012 by 5% in terms of seats compared with 2011 and by 1.5% in terms of ASKs. This is being achieved with a sharp cutback of the fleet from 170 to 152 aircraft and cutting unprofitable routes.
airberlin capacity reduction: 2012 vs 2011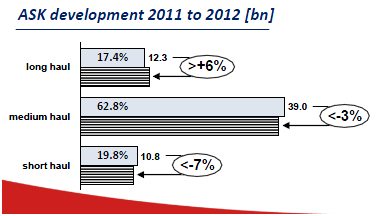 Capacity is being trimmed mainly on airberlin's short and medium-haul network and expanded on long-haul routes. System-wide, airberlin has already cut some 100 routes since it launched Shape & Size. Unprofitable and non-strategic routes that have been abandoned include Frankfurt to Naples, Hamburg, Lamezia Terme, Olbia and Sylt; Stuttgart to St Petersburg, Milan Malpensa, Moscow Domodedovo and Dubrovnik; Hamburg to Cologne/Bonn, Frankfurt, Gran Canaria, Keflavik, Klagenfurt and Naples; Munich to Cairo, Dubrovnik, Male and Mombasa; and Hannover to London Gatwick, Malaga and Zurich.
See related articles:
The German aviation tax has had a particularly negative impact on airberlin's domestic routes.
The carrier operates on a network of 137 scheduled passenger destinations, of which 25 are in Germany, according to schedules in Innovata for the week of 27-Aug-2012 to 02-Sep-2012. It deploys about 26% of its system capacity in terms of seats on domestic routes and 74% of its international capacity is used within western Europe. Its largest base is at Berlin Tegel Airport and it operates some 1,500 weekly flights to/from the airport.
airberlin international capacity by region (% of seats): 27-Aug-2012 to 02-Sep-2012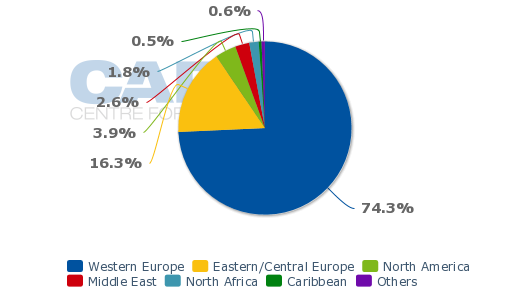 Restructuring efforts are delivering some results
The company's efficiency-increasing programme slightly exceeded the projected figure of EUR45 million for the reporting quarter by EUR5 million. Shape & Size delivered a similar EUR50 million EBIT improvement in 1Q2012 and the impact is forecast to gradually increase to EUR60 million in 3Q2012 and to EUR70 million in 4Q2012.
Revenue in the three months to 30-Jun-2012 rose 1.7% on the year-ago period to EUR1.13 billion despite a reduction of the number of seats flown by 5.8%. Passenger numbers followed the capacity reduction and fell 5.3% to nine million but yield rose 7.5% year-over-year to EURcts8.79. airberlin's RASK grew 2.1% to EURcts6.87 in 2Q2012 whereas CASK rose 1.9% to EURcts7.05. Excluding fuel costs, CASK decreased 1% to EURcts5.20.
In 1H2012, yield improved 6.5% year-over-year and RASK increased 3.6% whereas CASK including fuel grew only 1.4%.
During the presentation of the 1H2012 results with analysts, Mr Mehdorn said that both expenses and revenue are developing in the "right direction" and noted that airberlin will be less affected by seasonal fluctuations in the future owing to the targeted fleet reduction. "We are also investing in the expansion of long-haul flights in an effort to further increase earnings and fly in the profit zone as planned next year," Mr Mehdorn said. This would be a welcome change as airberlin has not reported a net profit since 2007.
airberlin Group revenue development: 1H2012 vs 1H2012

Liquidity and equity will benefit from sale of aircraft
But airberlin is not yet in the profit zone. Net loss widened 53% year-over-year for 2Q2012 and 3% in 1H2012 despite the claimed success of Shape & Size. Consolidated net loss for 1H2012 amounted to EUR164.5 million. Its operating losses narrowed 9% in 2Q2012 to EUR29.4 million and 19% in 1H2012 to EUR178.7 million.
At 30-Jun-2012, airberlin Group's net debt stood at EUR812 million and equity amounted to just EUR101.3 million, down from EUR253.7 million a year earlier. This equates to a year-over-year reduction in equity of 60%. The equity ratio was an uncomfortable 4% at the end of Jun-2012.
Mr Mehdorn vowed that cutting debt is "our clear aim for 2012" and said that selling eight passenger aircraft will "noticeably" enhance the company's equity ratio and liquidity reserves.
airberlin Group currently has 152 aircraft in its fleet, of which 126 are leased. None of the 26 owned aircraft are widebodies. airberlin is also making use of the USD255 million debt financing provision that was part of the shareholding and strategic partnership agreement with Etihad and a EUR163 million loan from its Abu Dhabi investor became available on of 30-Jun-2012.
airberlin Group fleet as of 30-Jun-2012
Bringing airberlin into profitability is a major undertaking. The company's expansion drive of the past five years has eroded its financial position and blurred its positioning. The membership of oneworld and Etihad's shareholding should assist the airline in finding its future as a full-service carrier, but adding frills and renaming passengers "guests" in the spirit of the Abu Dhabi-based shareholders will not be sufficient to steer airberlin into the profit zone and are a risky choice in times of European austerity and passenger preference for low fares. The delayed opening of its new home airport, Berlin Brandenburg, until at least Mar-2013 will also hamper the carrier's turnaround efforts.