Virgin Atlantic seeks new partners in Asia and other eastbound markets, but imminent deals unlikely
Analysis
In an interview with Bloomberg on 15-Jun-2016, Virgin Atlantic CEO Craig Kreeger said that the airline was open to "accords" that would complement the North Atlantic joint venture with its 49% shareholder Delta. These would be "most likely focused on Asia and other eastbound markets" where Virgin reduced its exposure after the Delta deal.
Although 'Asia and other eastbound markets' are both the world's largest and fastest-growing aviation markets, Virgin has reduced its exposure to Asia Pacific and Middle East since Delta acquired a 49% stake in the UK airline in 2012 and subsequently formed its North Atlantic JV in 2013. Virgin withdrew from Mumbai and Tokyo Narita in 2015, after dropping its Australia route in May-2014.
Mr Kreeger also said that Virgin was looking at adding to its existing seven codeshare partners, which are Air China, Air New Zealand, All Nippon Airways, Delta, Flybe, Jet Airways and Singapore Airlines. This report considers which airlines in "Asia and other eastbound markets" might make attractive partners for Virgin Atlantic, whether through new JVs or codeshares. Mr Kreeger may be open to JVs in the region, but he will first need to increase Virgin's very small online presence in Asia. Imminent new deals seem unlikely. In reviewing likely attractive enhanced relationships, Delta's interests will form one ingredient, but Virgin Atlantic remains an airline in its own right.
84% of Virgin Atlantic seats are trans-Atlantic
Virgin's all-international network is dominated by North America, which accounts for 73% of its seats (week of 20-Jun-2016, source: OAG). In addition, the Caribbean accounts for 9% and Central America 2% of its capacity, so that destinations across the Atlantic make up 84% of its seats (83% of its ASKs). This compares with 72% in the summer of 2013 (North America 61%, Caribbean 9% and Central America 2%).
Asia Pacific and the Middle East combined account for only 10% of Virgin's seats (North East Asia is 5%, while South Asia and Middle East are each less than 3%). Africa makes up 5% of seats (Central/Western Africa and Southern Africa are each a little less than 3%). In summer 2013 North East Asia was nearly 11%, and was 6% of Virgin's seats.
Virgin Atlantic Airways seat capacity by region 20-Jun-2016 to 26-Jun-2016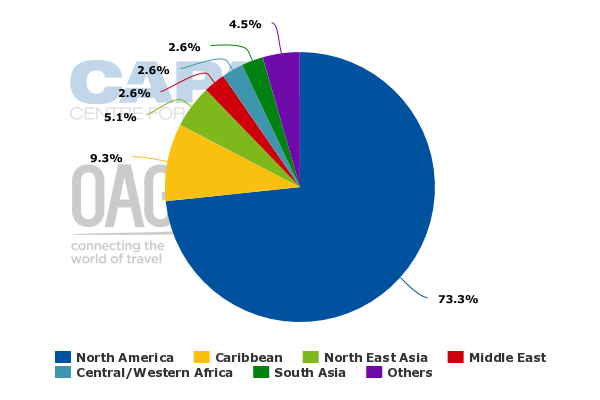 Codeshare partners are a starting point for considering new JVs
Given that Mr Kreeger distinguished between new accords that would complement its JV with Delta and new codeshare partners, it can be interpreted that the "new accords" would be new JV agreements. Virgin's seven existing codeshare partners might be considered as a starting point for possible new JV partners.
Five of them are based in Asia Pacific and so already help to fill in some of the gaps in Virgin's eastern network, albeit on an offline basis. For a meaningful JV arrangement, there would really need to be some shared routes operated both by Virgin and the partner airline.
Virgin Atlantic Airways codeshare partners
Partner

Route/area covered by codeshare

Route operated by Virgin Atlantic?

London Heathrow to Beijing, Beijing to Shanghai
London Heathrow to Shanghai

No
Yes

Domestic destinations in New Zealand from Auckland
Auckland to San Francisco
Auckland to Shanghai
London Heathrow to San Francisco

No
No
No
Yes

No

Virgin caries DL code to Atlanta, Boston, Chicago, Detroit, Los Angeles, Miami, New York JFK, New York Newark, San Francisco, Washington Dulles. Delta carries VS code to a significant number of US domestic destinations

12 UK domestic routes & 7 UK-Europe routes operated by Flybe to Manchester, Glasgow and Gatwick

No

London to Mumbai
Mumbai to Bengaluru, Chennai, Hyderabad, Kolkata

No
No

London Heathrow to Singapore
Singapore to Adelaide, Brisbane, Melbourne, Perth, Sydney
London Heathrow to Boston, Chicago, Dubai, Los Angeles, Miami, New York JFK, New York Newark, San Francisco, Washington Dulles

No


Yes
Air China: the biggest airline in the biggest Asia Pacific market
Air China carries the VS code from London Heathrow to Beijing and from Beijing to Shanghai, while Virgin carries the CA code from Heathrow to Shanghai, a route not served by Air China. China is the biggest market by seats in Asia Pacific (the second biggest in the world) and Air China is its biggest airline.
Air China would potentially be a good choice as a partner with which Virgin could extend its codeshare relationship into a JV. Potential complications include Air China's membership of the Star Alliance (and its codeshare relationship with Lufthansa) and the fact that Virgin does not fly to its main hub in Beijing. There is also a sensitivity since Virgin's 49% owner Delta recently strengthened its relationship with China Eastern, acquiring a 3.6% shareholding - possibly further prompting a United Airlines move to improve its links with its fellow Star partner Air China.
Air New Zealand carries the VS code between Auckland and Shanghai and on domestic routes in New Zealand from Auckland. This effectively makes Shanghai Virgin's hub in China for access to New Zealand.
In addition, Air NZ carries the VS code between Auckland and San Francisco, while Virgin carries the NZ code between London and San Francisco. This makes San Francisco an alternative Virgin hub for access to New Zealand and provides Virgin with additional feed into what would otherwise be an end of line route (London-San Francisco). Delta serves San Francisco, but only from points to the west, which are unlikely to provide much feed to Virgin's London service.
However, Air NZ is probably too small in size and geographic scope to be a suitable JV partner for Virgin and it currently accesses the UK and Europe through its JV partner Singapore Airlines. Moreover, it is highly unlikely that Virgin will look to enter New Zealand, having exited the much larger Australian market. Air NZ has a codeshare with, and equity stake in, Virgin Australia but has recently sold most of its holding to Nanshan Group and – other than the Virgin name – the Australian airline has little in common with its UK namesake.
ANA gives Virgin its only access to Japan, offline
Virgin Atlantic's withdrawal from Tokyo Narita in 2015 marked the end of its operations to Japan. The only access it can now provide to Japan is offline through its partnership with ANA, which carries the VS code to Tokyo Haneda.
As Virgin has no operations of its own to Japan, ANA would not currently seem to be a likely JV partner for it.
After dropping its Mumbai service in 2015, Virgin only has one destination in India – Delhi. Its VS code continues to be carried on the London-Mumbai route under a codeshare agreement with Jet Airways, whose main hub is at BOM. Jet also carries the VS code from Mumbai on domestic routes to Bengaluru, Chennai, Hyderabad and Kolkata.
Jet also operates from Delhi, its second largest base, although this is not part of the codeshare. India is the second largest aviation market in Asia Pacific by seats and Jet is its third largest airline. There would seem to be some potential for Virgin to develop its relationship with Jet into a JV, even despite the fact that Jet is part owned by Delta bête noir, Etihad.
The most extensive codeshare that Virgin has with an airline based in Asia Pacific is its partnership with Singapore Airlines, the previous owner of the 49% stake Delta bought from it. Virgin does not operate London-Singapore, but SIA carries the VS code on this route and then from Singapore to the Australian cities of Adelaide, Brisbane, Melbourne, Perth and Sydney. (SIA owns a 20.1% share in Virgin Australia, apparently creating a nexus, but despite carrying the Virgin brand, the Australian airline is only 8.7% directly held by the Virgin Group.)
Virgin carries the SQ code from Heathrow to eight US airports, helping to generate additional feed for its trans-Atlantic network: Boston, Chicago, Los Angeles, Miami, New York JFK, New York Newark, San Francisco and Washington Dulles. Virgin also carries the SQ code between London and Dubai, from where SIA operates via Singapore to its extensive Asia Pacific network.
The two do not currently operate any shared routes, which would probably be necessary for a JV agreement, but the breadth of their codeshare agreement suggests some potential for closer cooperation. Moreover, on the US routes where Virgin carries the SQ code it also carries Delta's DL code. Although SIA and Delta do not codeshare, this at least hints that Delta may be open to an enhanced relationship.
Looking at the largest airlines between the UK and Asia Pacific
Another way to think about possible JV partners, or at least additional codeshare partners, for Virgin Atlantic is to look at the biggest non-UK airlines between the UK and the different regions of Asia Pacific and Middle East.
Top 10 airlines between United Kingdom and Asia Pacific ranked by seats*
| Rank | Airline | Share of seats |
| --- | --- | --- |
| 1 | | 27.8% |
| 2 | | 8.5% |
| 3 | | 8.2% |
| 4 | | 6.9% |
| 5 | | 6.0% |
| 6 | | 5.7% |
| 7 | | 5.0% |
| 8 | | 4.3% |
| 9 | | 4.2% |
| 10 | | 3.2% |
On routes between the UK and North East Asia the biggest Asian airline by seats is Cathay Pacific, with 23% of seats in this route region. A member of oneworld and codeshare partner of British Airways on routes from its Hong Kong hub to destinations in Asia and Australia, it also codeshares with Air China to Beijing. Virgin has no current relationship with Cathay Pacific, but does fly to Hong Kong. Cathay is a close partner of British Airways, with which it codeshares on the route (along with other oneworld airlines), so a relationship there would be most unlikely.
Air China – already a Virgin partner (see above) – is the number two Asia airline on UK-North East Asia with 8% of seats, just ahead of Korean Air with 6%. SkyTeam member Korean is a codeshare partner of Delta's, which could make it a possible partner for Virgin. The next airline on the list of the largest between UK and NE Asia is Korea's number two airline Asiana, a Star Alliance member.
In Japan, Star Alliance's ANA is already a codeshare partner for Virgin (see above), although oneworld's JAL is slightly larger by seats to the UK. The list of top 10 airlines on UK-NE Asia is completed by SkyTeam's China Eastern and China Southern. Both are Delta codeshare partners and JV partners with Air France-KLM, which is in Delta's North Atlantic JV.
They also both operate at Shanghai Pudong, which is Virgin's only destination in China. China Eastern serves London Heathrow from Shanghai while China Southern serves London Heathrow from Guangzhou, which Virgin does not serve.
Top 10 airlines between United Kingdom and North East Asia ranked by seats*
| Rank | Airline | Share of seats |
| --- | --- | --- |
| 1 | | 33.4% |
| 2 | | 23.1% |
| 3 | | 8.6% |
| 4 | | 7.8% |
| 5 | | 6.0% |
| 6 | | 3.9% |
| 7 | | 3.8% |
| 8 | | 3.5% |
| 9 | | 3.5% |
| 10 | | 3.4% |
On routes between the UK and South Asia Star Alliance's Air India is the biggest non-UK airline by seats, followed by Pakistan International Airlines and Jet Airways (already a Virgin Atlantic codeshare partner). Jet seems likely to remain Virgin's preferred partner.
Airlines between United Kingdom and South Asia ranked by seats*
| Rank | Airline | Share of seats |
| --- | --- | --- |
| 1 | | 28.2% |
| 2 | | 21.5% |
| 3 | | 18.9% |
| 4 | | 17.7% |
| 5 | | 5.1% |
| 6 | | 4.5% |
| 7 | | 4.1% |
Singapore Airlines is already a Virgin codeshare partner (see above) and is the largest operator between the UK and South East Asia. Virgin Atlantic has no presence in Singapore, although some onlookers have suggested this could be a logical market in which to expand its online presence in Asia. However, even it were to do so, Singapore Airlines is entering into a JV with Lufthansa and this might be an impediment to deeper ties with Virgin.
The other two sizeable airlines in this region are oneworld's Malaysia Airlines and Star's Thai Airways.
Airlines between United Kingdom and South East Asia ranked by seats*
| Rank | Airline | Share of seats |
| --- | --- | --- |
| 1 | | 27.7% |
| 2 | | 21.9% |
| 3 | | 16.8% |
| 4 | | 14.1% |
| 5 | | 5.9% |
| 6 | | 5.0% |
| 7 | | 4.5% |
| 8 | | 4.0% |
By some distance the biggest airline between the UK and the Middle East is Emirates, whose Dubai hub is served by Virgin Atlantic. Although Virgin currently feeds Singapore Airlines from Dubai under its existing codeshare, Emirates could make an interesting addition to its list of partners.
The other two Gulf-based super connectors, Qatar Airways and Etihad, have hubs that are not served by Virgin. Moreover, Qatar Airways is increasingly closely linked to Virgin's UK rival British Airways through common membership of oneworld and QR's 15% stake in the BA parent IAG.
Top 10 airlines between United Kingdom and Middle east ranked by seats*
| Rank | Airline | Share of seats |
| --- | --- | --- |
| 1 | | 38.1% |
| 2 | | 15.5% |
| 3 | | 11.4% |
| 4 | | 11.0% |
| 5 | | 4.4% |
| 6 | | 3.6% |
| 7 | | 2.9% |
| 8 | | 2.1% |
| 9 | | 1.7% |
| 10 | | 1.7% |
The largest airlines in the Asia Pacific/Middle East cities already served by Virgin
Another, and perhaps the most logical, way to think about possible JV partners for Virgin Atlantic is to look at the largest airlines that operate in the Asia Pacific and Middle East airports that it already serves. Of the four destinations served by Virgin in Asia Pacific and Middle East, it has codeshare partners in two: Jet Airways in Delhi and Air China in Shanghai.
Jet Airways is the third largest airline by seats in Delhi, where LCC IndiGo is number one and Air India number two. As noted above, (i) a deeper relationship with Jet could have some merit for Virgin, but (ii) a possible complication is Jet Airways' relationship with its part-owner and codeshare partner Etihad.
The Abu Dhabi-based airline has one of the longest lists of codeshare partners of any airline, including several members of SkyTeam (this includes Air France and KLM, but not Delta) and so might be open to wide codesharing by its equity associate, Jet.
However, for Etihad Jet is a conduit for bringing passengers from India and transferring them via its Abu Dhabi hub to Europe and other destinations. A deeper relationship between Virgin and Jet might be seen as providing more effective competition to this and be blocked by Etihad.
Delhi's second largest airline, Air India, is a Star Alliance member and codeshares with Lufthansa, carrying the LH code to Frankfurt. Lufthansa carries the AI code from Frankfurt to Delhi, Chennai, Pune and Mumbai in addition to destinations in Europe and the US. Air India's Star membership and partnership with Lufthansa may be a barrier to its cooperating with Virgin Atlantic.
At Shanghai Pudong Virgin's codeshare partner Air China is only the fifth largest airline. Like Air India, Air China is a Star Alliance member and has a codeshare agreement with Lufthansa, under which it carries the LH code on domestic Chinese routes from Shanghai and Beijing, on Shanghai to Frankfurt and Munich and between Beijing and Duesseldorf. Lufthansa carries the CA code from Frankfurt to a large number of destinations across Europe.
Although Air China codeshares with Virgin on Shanghai Pudong-Beijing, its more extensive relationship with Lufthansa may prevent a deeper cooperation with the UK airline. Moreover, although Virgin and Air China between them cover both London-Beijing and London-Shanghai with a reciprocal codeshare arrangement, the UK is not a major priority for Air China (it is only its eighth largest market by ASKs, according to OAG data for the week of 27-Jun-2016).
The largest airline by seats in Shanghai Pudong is China Eastern – a SkyTeam member and Delta codeshare partner. It carries the DL code to a number of Chinese domestic cities and to New York and Los Angeles. Delta carries the China Eastern code from Atlanta to Los Angeles, New York and San Francisco (routes on which Delta also carries the VS code). This relationship with Delta, and its base in Virgin's only Chinese destination, could make China Eastern a good candidate as a new partner for Virgin Atlantic.
China Southern also codeshares with Delta and is part of SkyTeam, but is much smaller in Shanghai Pudong than China Eastern. Virgin would probably need to operate to China Southern's main hubs in Guangzhou or Beijing in order to establish a meaningful relationship.
Virgin has no partner in Dubai, where Emirates is the biggest airline by some distance. Emirates has a very large network from Dubai into Asia Pacific and the Middle East and, alongside Virgin Atlantic, is one of only a very few all-widebody operators.
Emirates already has an extensive presence in Europe including four airports in the UK, so it does not really need a relationship with Virgin to draw additional traffic from Europe. However, Emirates may be attracted to Virgin's trans-Atlantic destinations from London Heathrow, London Gatwick and Manchester, all three of which are served by Emirates. Virgin serves a number of destinations – particularly leisure destinations and those in the Caribbean – that are not served by Emirates.
It could be an attractive partner for a self-standing Virgin, although Delta's anti-Gulf rhetoric suggests that the UK airline's second largest shareholder might need some persuading.
Virgin also has no partner in Hong Kong, where Cathay Pacific is the largest airline. Cathay would naturally be an attractive partner for Virgin but it is unclear how great the benefits would be to Cathay, assuming a partnership is even possible. Cathay's membership of oneworld and relationship with British Airways may be barriers, but these ties are not as strong as they once were.
See related report: Cathay Pacific diversifies in Europe, British Airways seeks China JV, as their partnership devolves
Virgin Atlantic destinations in Asia Pacific and Middle East
Significant new deals seem unlikely in the near term
Virgin Atlantic's Asia Pacific and Middle East network is probably subscale when it comes to attracting JV partners from the Eastern hemisphere. Among its existing codeshare partners, Air China and Jet Airways would probably make the most likely JV partners, but there is no clear route to this in either case. Singapore Airlines might also be a possibility if Virgin were to establish its own operations in Singapore.
Looking outside Virgin's existing relationships, potential candidates for a future partnership might include Emirates, China Eastern and Cathay Pacific. Relationships with any of these airlines would likely need to begin with a codeshare. Again, there are possible hurdles to overcome in each case, with China Eastern probably being the most promising possibility. The increasingly complex jigsaw of alliances and partnerships makes clear options less obvious. But, as overlaps grow, pragmatism about potential conflicts of interest is growing as well, allowing potential partnerships where they would previously have been ruled out.
Mr Kreeger's comments about new accords in Asia and other eastbound markets cannot be taken as a fully formulated strategy and, as this report suggests, he currently seems to have few concrete options. Another dimension arises however as Delta rolls out its international strategy, with Virgin perhaps contributing to filling out its network needs. That leaves open another array of potential relationships.
Another factor now to include in almost all assessments involving UK airlines is the result of the UK's popular vote to leave the European Union; potential partners may prefer to wait until there is greater clarity about the future aeropolitical environment for its airlines.