Thai Airways unit Thai Smile seeks to prove itself as a new type of carrier for Asia
Analysis
While Thai Airways' new unit Thai Smile is now settling in to its second week of operations, the carrier remains in the vanguard and is seeking to prove its hybrid model as suitable for the Asian market. Thai Smile has undergone many revisions since being established just over a year ago and continues to, with the carrier now planning to split future capacity evenly between the domestic and international markets rather than have a majority of international capacity.
Thai Smile launched services on 7-Jul-2012 with an international route to Macau but in Aug-2012 will launch domestic services. So far besides Macau only five domestic routes have been announced but more international routes will come as part of a later phase, including possibly from second-tier Thai cities, breaking Thai Airways' focus on Bangkok and, to a lesser extent, Phuket. But the new unit's higher cost base than a LCC will ultimately limit its growth potential.
The Thai Airways Group first decided in May-2011 to establish a lower-cost unit to operate short-haul routes and announced the Thai Smile name in Aug-2011. Thai Smile is a unit of Thai Airways rather than a subsidiary as it uses the TG code and Thai Airways' AOC.
See previous articles on the formation of Thai Smile:
Thai Smile expects to carry 300,000 passengers in 2012 and up to one million in 2013.
Launch service to Macau will not be a typical operation for Thai Smile
Thai Smile inaugurated services with a double daily operation from Bangkok to Macau, which will likely be a unique service across Thai Smile's future network. But the service represented the spectrum of Thai Smile's potential offering to the Thai Airways Group: high utilisation, opening new destinations and feeding mainline Thai Airways services.
Whereas most new airlines, subsidiaries and units have initially low utilisation rates, the Macau operation allows Thai Smile to achieve a high utilisation rate with its single A320. Macau is also a new destination for the Thai Airways Group. Thai Airways executive vice president commercial Pandit Chanapai, speaking to CAPA during Thai Smile's launch event in Macau, said the group had been wanting to serve Macau for some time but did not have the right product. Thai Smile offers 174 seats, all in a 3-3 configuration, but the first five rows feature extra legroom and are reserved for premium passengers with the middle seat blocked.
Thai Airways mainline offers multiple flights a day to Hong Kong, across the Pearl River Delta, but many short-haul carriers – especially LCCs – are finding they can sustain service to both Hong Kong and Macau. The double daily offering to Macau also allows Thai Smile to feed Thai Airways' long-haul network. While Thai's long-haul network is generally profitable, many of its short-haul, leisure-dominated sectors are unprofitable but critical for Thai's long-haul network - a situation not dissimilar to American and European carriers.
The morning flight to Macau conveniently connects with the arrival of many of Thai's long-haul flights while the first return flight from Macau connnects in Bangkok mainly with short-haul flights. The second daily service returns to Bangkok in the evening and facilitates connections with Thai's evening long-haul departure bank.
Sample available connections within four hours from Thai Smile's Macau services: Jul-2012
Thai Smile between Aug-2012 and Sep-2012 will open five domestic routes, three of which will be served daily and the other two double daily or more. But for other international services, Mr Chanapai expects service to typically be daily at most, saying the Macau operation is an "exception".
Some Thai Smile destinations will be focused more on regional traffic than providing long-haul connections, either because of market dynamics or because of circuitous journeys, such as Europe to India via Thailand (India is a target market for Thai Smile). Where there are long-haul connection opportunities, Thai may be able to sell itineraries with a long layover or suggest the ill-timed connection be used to make a stopover in Bangkok city, a popular option for many of Thai's passengers.
Thai Smile's announced new routes: Aug-2012 to Sep-2012
Thai Smile will initially operate alongside Thai Airways on its domestic routes. But over time Thai Airways is expected to hand several of its thinner domestic routes entirley to Thai Smile - such as Bangkok to Krabi and Surat Thani - while the two brands will continue to operate alongside each other on the biggest domestic trunk routes such as Bangkok to Chiang Mai and Phuket.
The Thai Airways expected withdrawal from thinner domestic markets is partially driven by its forthcoming retirement of Boeing 737-400s, which operate domestically to destinations such as Surat Thani and Ubon Ratchathani as well as on some regional international routes such as Phonm Penh in Cambodia and Vientiane in Laos (both of which are potential Thai Smile destinations). In this regards Thai Airways is following the model used by the Singapore Airlines Group with regional full-service subsidiary SilkAir and by Cathay Pacific with regional full-service subsidiary Dragonair.
Neither SIA nor Cathay operate any narrowbody aircraft. Thai Airways plans to phase out its fleet of 737-400s by the end of 2015, leaving it with an all-widebody fleet.
International expansion planned across ASEAN, China and India
While Thai Smile initially expected to eventually deploy 70% of its capacity internationally and 30% domestically, Mr Chanapai says the split will now be 50-50. Thai Smile is still evaluating where to launch further international services, which it expects to have flying times within two to three hours and some routes slightly beyond three hours. This largely confines Thai Smile to the ASEAN region, southern China and India.
Thai Smile has stated that international destinations under evaluation include Kolkata, Phnom Penh and Yangon. Mr Chanapai says Hyderabad may also be a consideration. All four potential destinations were included in early prospectuses for Thai Smile and are currently served by Thai Airways. Thai now uses Airbus A330s on all four of the routes except Phnom Penh, where it uses 737-400s. These four routes are light on premium traffic, making them ideal candidates for Thai Smile's hybrid model in which business passengers can be accommodated but if there is not enough demand than seats can be sold as economy.
Thai Airways service to Hyderabad, Kolkata, Phnom Penh and Yangon: 16-Jul-2012 to 22-Jul-2012
Mr Chanapai expects Thai Smile will keep evaluating prospects for a few months and make route announcements later in the year. An official statement from Thai Smile says it expects its international operation to comprise service to five cities in five countries by the end of 2012, but this is expected to be a fluid target.
As CAPA previously reported, Thai Smile projects to have a fleet of four A320s in Sep-2012 and then not receive an additional A320 until Jan-2012. Thai Smile's initial fleet of four aircraft can accommodate its initial schedule of six routes (one international and five domestic) but could also support additional international flights, especially if Thai Smile pursues high utilisation, like on the Macau route where the first service leaves Bangkok at 0745 and the last returns to Bangkok at 2300. Thai Smile's forthcoming five domestic routes start in the mid-morning and conclude in the early evening.
The Indian routes could be particularly attractive to Thai Smile as Hyderabad and Kolkata are currently operated as back-of-the-clock operations departing Bangkok in the evening and not returning until early the following morning, enabling Thai Smile to slot those services with its domestic Thailand routes. Hyderabad also could be moved to a daily Thai Smile A320 operation instead of four weekly Thai-operated A330 flights, delivering greater scale.
Phnom Penh and Yangon are served twice daily during daylight hours. Thai could look to hand one of the services to Thai Smile or have Thai Smile operate a third frequency during early morning or evening hours. As Thai Airways recently added its second daily flight to Yangon in response to surging demand, it is more likely Thai Smile would operate a third flight in the booming Yangon market rather than replace Thai Airways. Thai Smile also has been looking at new potential destinations in Mynamar such as Mandalay.
Thai Smile expects to typically achieve a 45 minute turnaround. While some Asian LCCs like AirAsia and Jetstar are beginning to transport cargo given the profit opportunities, Thai Smile currently has no plans to do so, preferring to reduce turnaround times.
China and India present different opportunities and challenges to Thai Airways
The Thai Airways group has different and conflicting interests in China and India. It has a larger network in India than China, but competition is currently greater to India than China, especially considering the greater presence of LCCs between India and Thailand.
Bangkok Airways, a full-service boutique carrier, operates to India but not China while in India Thai AirAsia has pulled off the Delhi route and Kingfisher has pulled off Delhi and Kolkata as part of wider network reductions. Thai AirAsia only overlaps in China with Thai Airways in Guangzhou. Deploying Thai Smile to India could make the group more competitive whereas deploying it to China will open new destinations and extend its reach, as well as fend off Thai AirAsia, which also serves Chongqing, Hangzhou and Shenzhen and could be looking at further expansion following its IPO.
See related article: AirAsia considers serving Kunming, Wuhan or Xi'an, a new group of Chinese cities for Asian LCCs
While China's LCCs are nascent, the market is far more robust in India and further expansion by the LCCs is likely.
Thai Smile will not choose one or the other market exclusively but rather balance China and India.
Thai Airways China (mainland) and India destinations as well as competition from Bangkok: 16-Jul-2012 to 22-Jul-2012
Thai Airways Destination in China
Competition and weekly capacity (seats)
Thai Airways Destination in India
Competition and weekly capacity (seats)
Beijing (3,322 seats)

Air China (2,198 seats)

Hainan (492 seats)

Sri Lankan (2092 seats)

Bangalore (2,114 seats)
Bangkok Airways (924 seats)
Chengdu (1,510 seats)
China Eastern (163 seats, seasonal)
Chennai (2,114 seats)
Thai AirAsia (900 seats)
Guangzhou (4,228 seats)

Air Madagascar (550 seats)

China Southern (4,773 seats)

Kenya Airways (864 seats)

Sri Lankan (1,136 seats)

Thai AirAsia (1,260 seats)

Delhi (4,488 seats)
Kunming (1,300 seats)
China Eastern (745 seats)
Gaya (596 seats)
n/a
Shanghai (4,228 seats)

China Eastern (3,241 seats)

Shanghai Airlines (1,640 seats)

Sri Lankan (2,028 seats)

Hyderabad (1,208 seats)
n/a
Xiamen (1,208 seats)
n/a
Kolkata (2114 seats)

Thai AirAsia (1,260 seats)

Jet Airways (1,099 seats)

Mumbai (3,020 seats)

Air India (1,204 seats)

Bangkok Airways (1,134 seats)

Cathay Pacific (891 seats)

Indigo (1,267 seats)

Jet Airways (3,297 seats)

Varanasi (seasonal)
n/a
In addition to transferring passengers to Thai Airways mainline, Thai Smile will offer connections amongst other Thai Smile services. This will be popular across Thai Smile's domestic offering but also in some international markets, such as between India and Macau. No Indian carrier serves Macau and a layover in Bangkok could be preferred to a direct flight to Hong Kong accompanied by a subsequent transfer to a ferry service. India is one of the fastest-growing inbound markets for Macau, especially following a number of high-profile Bollywood weddings in Macau.
International expansion could occur outside of Bangkok
Thai Smile is not ruling out serving international points from Thai cities besides Bangkok. Thai Airways already has a limited international network from Phuket.
Deploying Thai Smile from cities outside of Bangkok could reduce cannibalisation on Thai Airways maline services to Bangkok, bring passengers direct to leisure destination and open new markets not currently served, or are underserved, by competitors. Such possible routes will be a medium-term development and even then Bangkok will remain the largest operation for Thai Smile, with the carrier likely to even hesitate to call any development at a secondary city a "base" or "hub". Bangkok is currently the largest hub for Thai Airways by far.
Thai Airways top 10 hubs/bases/stations by seats: 16-Jul-2012 to 22-Jul-2012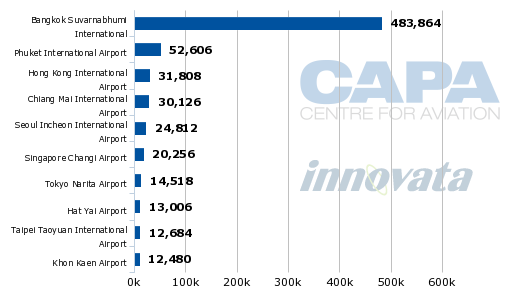 As Thai Smile continues to evolve, business class becomes more premium
There is no textbook for hybrid carriers in Asia and Thai Smile has changed its approach over time. While prior to launch it planned to have a slimmed-down premium option ("Smile Plus") in which a premium section of the aircraft consisted of extra legroom at the front of the cabin but with a normal economy 3-3 layout as well as charges for alcoholic drinks, by launch time Thai Smile decided to progress the service upwards. Alcoholic drinks became free (30kg luggage and meals were always planned to be free) in business only. Thai Smile decided to follow the European example of blocking the middle seat (but on the launch flight the middle seats were occupied, due to the number of guests and VIPs).
The premium seating is important to Thai Smile in order to offer a premium product to business and first class passengers connecting from long-haul flights. Mr Chanapai expects 20-30% of economy class and Smile Plus passengers to be on connecting itineraries. But the remaining 70-80% of passengers will be local and Thai Smile will be competing for their business with LCCs. Mr Chanapai concedes Thai is still getting the message out about Smile Plus, a relatively new type of product for Asia. "It's getting there," Mr Chanapai said of sales in Smile Plus. "It's gradually coming up."
Thai Smile will face the challenge of marketing the product's awareness as Smile Plus is not what many Asian passengers expect to be a business class service, although it does come with frequent flyer earning. Thai Smile will likely have to promote paid upgrades (but at a lower cost than buying the seat outright) if it is to see a high uptake rate, especially on domestic services that can be very short. It also has the option of reducing the size of the Smile Plus cabin, or not selling Smile Plus at all, on domestic routes by moving the curtain and selling the middle seats.
Although Thai Smile may be replicating European style business class, economy class is still distinctly from an Asian carrier: snacks (but not meals, at least not yet) and non-alcoholic drinks are free, as are checked luggage (20kg) and frequent flyer points. Many different short-haul models are unfolding in Europe, ranging from the more inclusive British Airways-style product to Iberia's new experiment with Iberia Express, in which checked luggage (as well as snacks and drinks) are not complimentary in economy class.
See related articles:
Thai Smile is important, but planned regional LCC will have greater growth opportunities
Thai Airways created Thai Smile (originally called Thai Wing) as a response to unprofitable domestic and regional routes. The routes largely had to be offered to support profitable long-haul connections, but like in Europe the remaining seats were typically sold at a loss as they could not compete with LCCs. Mr Chanapai is proud Thai Smile is the first Asian carrier to deploy a European-style short-haul business class and speaks as though Thai Smile will start a new trend for the region.
But opportunities in Asia for this product, and a hybrid carrier in general, are uncertain. Regional flights in Asia are typically longer than in Europe, playing into favour for carriers that use international aircraft regionally while they would otherwise largely wait on the ground between long-haul flights. Indeed, Cathay Pacific and Singapore Airlines operate no narrowbody aircraft in their mainline fleets, but do have subsidiaries (Dragonair and SilkAir) that operate narrowbody aircraft, giving credence to Thai Airways' need for a more robust short-haul option.
What remains to be seen is if the LCC growth in Asia will be high enough that full-service carriers can no longer justify a traditional business class option on short-haul flights. While LCC segments may be growing on intra-Asia routes, so too are premium passengers, albeit at a lower rate. As long as the market on a whole continues to see value in a regional full-service product, be it economy or business class, a foray into a European-style business class offering will be better suited to LCCs trying to capture upper segments of the market than full-service carriers using it as a compromise to capture lower segments of the market.
While Thai Smile may bill itself as a full-service carrier, it is working with very leisure segments of the market. Its premium traffic benefits from being highly competitive on price. This blurring of models gives rise to discussion if the industry should even bother to label carriers as full-service, low-cost or hybrid. While it is important to let yield and ancillary opportunities guide a product rather than definition, the label of a carrier does reflect its cost base. And Thai Smile is not a low-cost carrier.
Thai Smile's growth opportunity is limited. Thai Airways recognises this and is still planning to establish a regional international low-cost carrier that can compete across many more markets and which has fewer growth limitations attached to it. Thai Airways is currently looking at several options for launching this potential fourth brand, which will be positioned below Thai Smile and domestic LCC subsidiary Nok Air as it will have a low or ultra-low cost base rather than the low to medium cost base at Thai Smile and Nok.
Thai Airways Group brand positioning matrix
Thai Airways Group product by cost base
Thai Smile will be an important component of the Thai Airways group, but depending on how large the regional LCC becomes – and if it comes to fruition, never a given in the complicated world of Thai politics – there could come a point where it would become more cost effective to shut Thai Smile or absorb Thai Smile into the future regional LCC. For the Thai Airways Group a pure LCC subsidiary, similar to the new wave of budget airline subsidaries that have already popped up across Asia, will be the end game.