Thai Airways to use Thai Smile to fight back at AirAsia and rapid LCC growth in Thailand
Analysis
Thai Airways' new regional unit, Thai Smile, will initially compete primarily against Thai AirAsia on domestic routes when it launches services at the middle of next year. While Thai Smile will offer some frills and connect with Thai Airways and other Star Alliance carriers, the unit's lower cost base is designed to compete more effectively against Thai's largest local rival.
The Thai Airways board late last month approved the brand name Thai Smile, replacing Thai Wing, which has been the provisional name since the board initially approved in May-2011 the creation of a new regional airline unit. Thai Smile is now aiming to launch domestic services in Jul-2012 from a base at Bangkok Suvarnabhumi, following a hybrid model that is part LCC and part full-service regional carrier.
Thai Smile's initial fleet to consist of four leased A320s
Thai's board in Jun-2011 approved the acquisition of 11 new A320s for the new regional unit, including five purchased and six leased aircraft. Thai Smile's first four A320s are now slated to be delivered in 2012, with the remaining seven to be delivered by the end of 2015.
International services within Asia will be launched by Thai Smile as part of a second phase which could begin as early as 2013. The main competitor on the anticipated international routes will again be AirAsia.
Based on current capacity figures, Thai AirAsia currently has a 28% share of the domestic market and 6% of the international market at Bangkok's Suvarnabhumi Airport, the main base for Thai AirAsia and Thai Airways. When including flights operated by its Indonesian and Malaysian affiliates, the AirAsia Group has an 8% share of Suvarnabhumi's international market.
Bangkok Suvarnabhumi Airport domestic capacity by carrier (seats per week): 5-Sep-2011 to 11-Sep-2011

Bangkok Suvarnabhumi Airport international capacity by carrier (seats per week): 5-Sep-2011 to 11-Sep-2011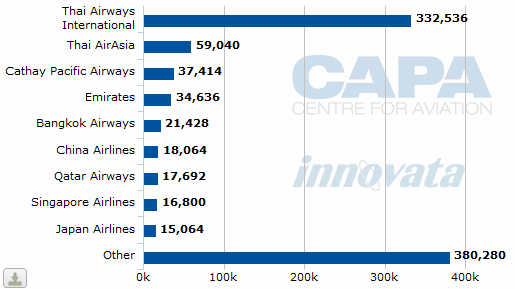 Thai AirAsia has expanded rapidly over the last few years and now competes against Thai Airways on nearly every domestic route, including nine of Thai's 10 largest domestic routes. The AirAsia Group also has a large international operation at Thai's Bangkok hub, serving nearly 20 international destinations – most of which are also served by Thai Airways.
Thai Airways' top 10 domestic routes by seats per week: 5-Sep-2011 to 11-Sep-2011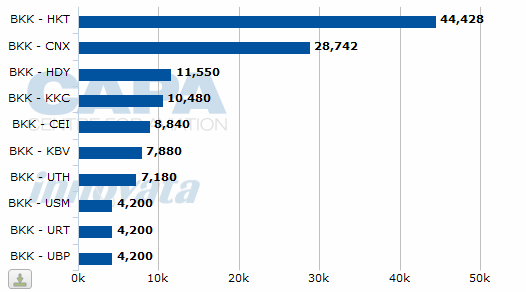 Thai AirAsia's top 10 domestic routes by seats per week, 5-Sep-2011 to 11-Sep-2011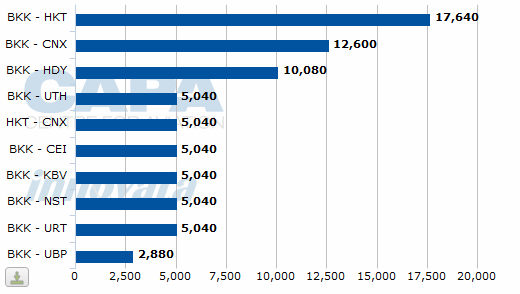 Thai Smile to compete against Thai AirAsia on several domestic routes
Thai Smile will initially compete against Thai AirAsia on several domestic routes. Thai Airways is expected to transfer to Thai Smile some of its thinner domestic routes such as Udon Ratchathani, Udon Thani and Surat Thani. These are three routes which now feature AirAsia's A320s competing against Thai Airways' B737-400s. Thai Airways only has five remaining B737-400s, which have 150 seats in two-class configuration, in its otherwise all-widebody fleet.
Thai Airways primarily operates widebody aircraft on its other domestic routes. The carrier plans to continue serving domestic trunk routes although some frequencies could be taken over by Thai Smile. In particular domestic flights operated with Thai's 13 remaining A300s, which have 247 to 260 seats in two-class configuration and are due to be phased out by 2015, could be taken over by Thai Smile as the new unit's aircraft seating capacity will be about 40% smaller.
Thai Smile's A320s will have 174 seats an in all-economy configuration. Thai Airways says the new unit will have a "low to medium cost" base and adopt some elements of the LCC model. However, several frills – including meals, drinks, checked luggage and seat assignments – will be complimentary.
Thai Smile's hybrid model offers limited opportunities for cost savings
Thai Airways is confident the new unit will have a lower cost base than Thai mainline and therefore allow it to compete more effectively against AirAsia, which has one of lowest unit costs in the world. However, the cost gap between Thai Airways and Thai Smile may not be sufficient to improve Thai Airway's group position in its home market and overall profitability.
It is unlikely Thai Smile will have lower airport or labour costs as it will share Thai's Suvarnabhumi base and be staffed with employees from Thai Airways and subsidiaries. The fact Thai Smile will be a unit rather than independent subsidiary also limits other potential opportunities to cut costs.
Thai Airways states the lower cost base at Thai Smile will be achieved "through aspects of the LCC model such as single aircraft type and new fleet". But Thai Airways also states that it expects widebody aircraft will be considered for Thai Smile at a later date. Thai Airways is also in the middle of a major fleet renewal project which will result in new aircraft across its mainline operation. Widebody aircraft at Thai Smile would introduce fleet complexity but bring lower unit costs.
Thai Smile follows SilkAir with important distinction of being part of Star Alliance network
In some respects, Thai Smile will follow a similar model as SilkAir, the highly successful regional subsidiary of Singapore Airlines (SIA). SilkAir is currently the only narrowbody operator within the SIA Group. Thai Airways is now planning to phase out its remaining B737s, leaving it with an all-widebody fleet like SIA as Thai Smile focuses on thin narrowbody routes. The SilkAir and Thai Smile economy class product will also be similar, with complimentary meals and drinks but no IFE.
But there will be some distinct differences between Thai Smile and SilkAir. For one, SilkAir operates its A320s in a less dense two-class configuration. Thai Smile also will operate as a unit within Thai Airways rather than as a separate subsidiary like SilkAir. As a result, it will carry the TG code and fall within the Star Alliance. Passengers arriving on the other 11 Star carriers that now serve Bangkok will be able to connect onto Thai Smile-operated flights and accrue miles. SilkAir is not part of Star Alliance and has so far elected not to join the alliance as a regional member.
Thai Smile, in some respects, will be Thai's third brand as the group already has a 39% stake in domestic low-cost carrier Nok Air. Thai Airways also has a proposed fourth brand in Thai Tiger, a joint venture LCC with Tiger Airways, which is partially owned by SIA. While Thai Smile and Nok have "low to medium" cost bases, Thai Airways Group says Thai Tiger would have an "ultra low" cost base and follow a pure no-frills model.
Thai Airways Group products by cost base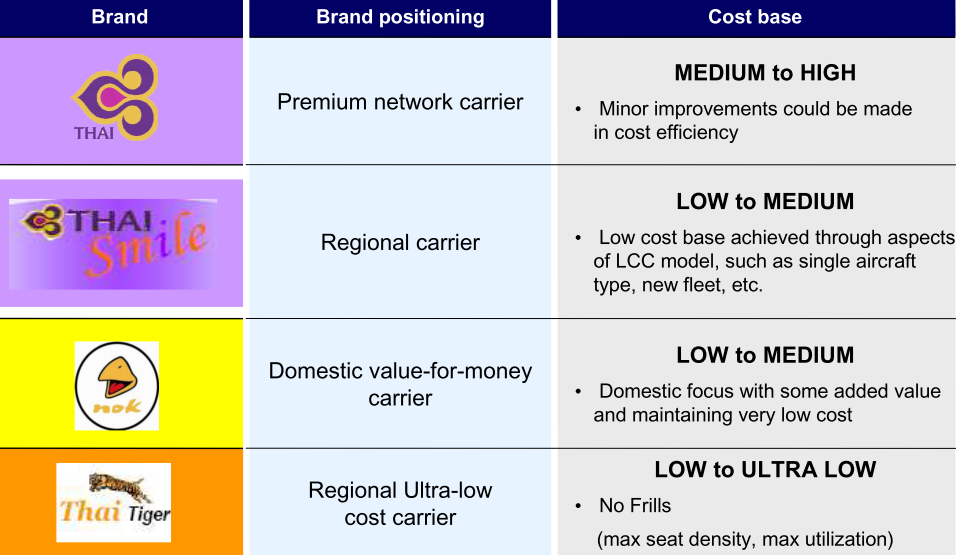 Thai Airways' planned brand matrix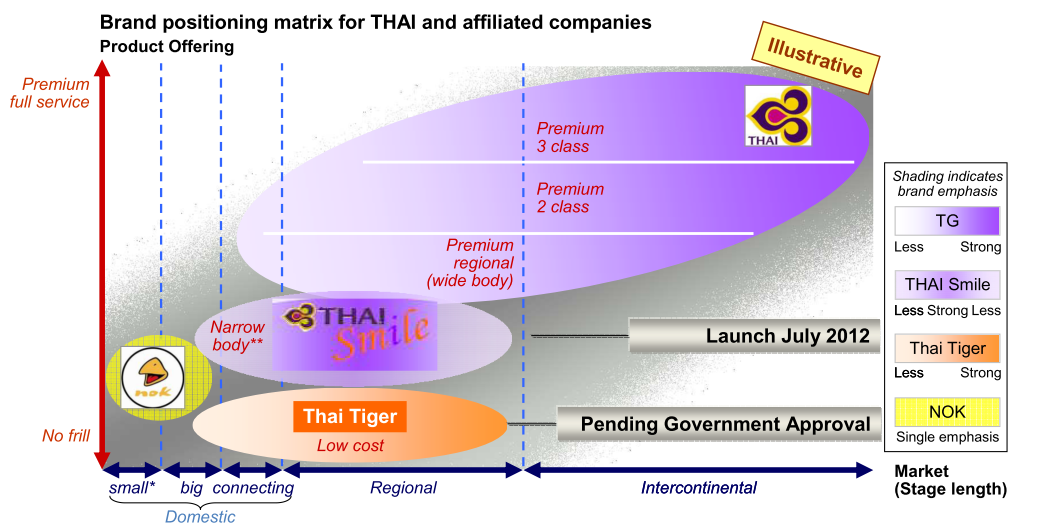 Thai Airways states it hopes to secure as soon as possible approval for the Thai Tiger venture, which was originally expected to launch services earlier this year but has been delayed as the government has so far elected not to decide on the application. The application is now in the hands of Thailand's new government, which took office last month and is expected to ultimately reject the proposal. Thailand's government, which owns 51% of Thai Airways Group, did not need to approve Thai Smile because it is a unit rather than new subsidiary.
In the likely event that Thai Tiger does not launch, expansion at Thai Smile could be accelerated to cover more international markets. There would be no impact on Thai's domestic strategy as the group has been planning to only use the Thai, Thai Smile and Nok brands in the domestic market.
Nok to expand leading position at Don Muang
Thai Airways says Nok will continue to focus on the domestic market, with a "value for money" service from Bangkok's old airport, Don Muang. Nok currently serves 20 domestic destinations – most of which are also served by Thai Airways although in recent years Thai has pulled out of a few domestic routes in favour of new service from Nok.
Demand for domestic services at Don Muang, which is much closer to central Bangkok than Suvarnabhumi, is growing. Nok is responding by growing capacity and renewing its fleet. Nok plans to transition from 10 B737-400s to 12 B737-800s by the end of next year.
As Nok only operates from Don Muang it does not offer any connections with Thai's network and competes primarily against Orient Thai instead of Thai AirAsia, which uses Suvarnabhumi. Orient Thai is a smaller low-cost carrier, operating MD-80s and B737s-300 in the domestic market from a Don Muang base. Orient Thai also has a separate base at Suvarnabhumi, where it operates a small fleet of B747s in the international market following more of a leisure carrier model.
Nok has firmly established itself as the leading carrier in the Don Muang market and this position will be augmented as it expands. Nok has stated it has no interest, at least for now, in the international market. Don Muang is only open to domestic flights. According to Innovata capacity data for this week, Nok accounts for 77% of capacity at Don Muang while Orient Thai accounts for the remaining 23%.
Thailand's domestic market projected to exceed 17 million annual passengers by 2017
The Thai Airways Group is banking on the expansion at Nok coupled with the launch of Thai Smile to prevent AirAsia from capturing an even bigger share of the total domestic market. Nok and Thai Smile should also help ensure Thai Airways Group captures at least some of the expected growth in Thailand's domestic market as well as the regional international market. As most of this growth is in the low end of the market, without the two lower-cost brands Thai Airways risks seeing AirAsia capture most if not all of the growth that is forecast for Thailand over the next five years.
Thailand's domestic market has been growing in recent years at an average clip of 5%, reaching 13.1 million passengers in 2010. Thai Airways expects annual domestic growth of 4.6% in 2011 and 2012, followed by 4% average growth from 2013 to 2017. As a result, Thailand's domestic market is projected to have 17.4 million passengers in 2017.
The regional international market is growing even faster, recording an 8.5% increase last year to 25.5 million passengers. Thai Airways expects the regional international market to continue growing faster than the domestic market, with 6.3% growth expected in 2011 and 2012. Growth of 5.2% is expected from 2012 to 2017, resulting in reaching 37.2 million passengers in 2017.
Forecast growth of Thailand's passenger markets, 2011 to 2017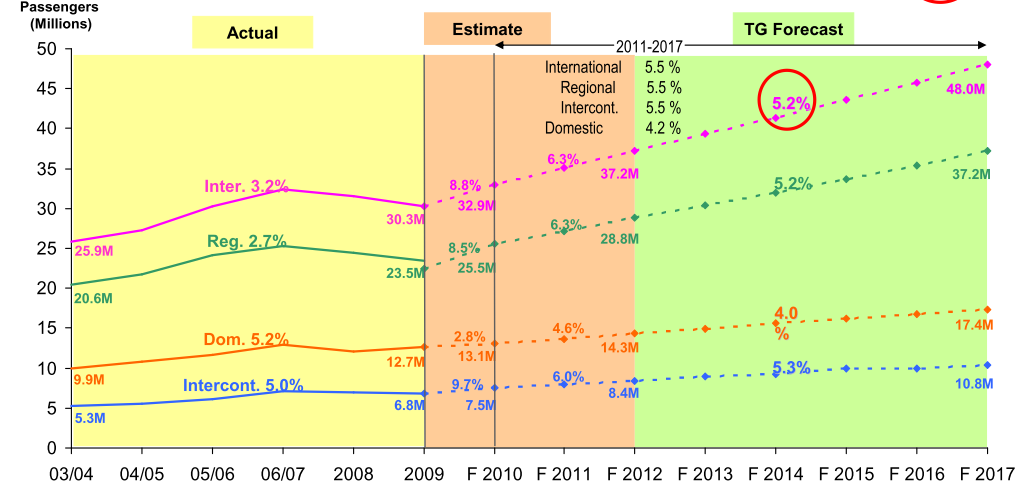 Thai Airways Group aims to reverse several years of domestic traffic declines
By establishing Thai Smile, Thai Airways is hoping it will reverse recent shrinkage of its domestic market and be in a position to capture a greater share of the 17.4 million domestic passengers expected by 2017. In 2010, Thai Airways captured 39.8% of the domestic market, down from 83.8% in 2003.
Over the 2003 to 2010 period, LCCs – including Nok, Thai AirAsia and Orient Thai – have seen their share of the domestic market increase from 16.2% in 2003 to 45.2% in 2010. Average annual LCC growth in the Thai domestic market over the last seven years has been 32.4% per year while Thai Airways' domestic traffic has shrunk over the same period at a rate of 2.3% per year.
Thailand domestic passenger market growth by type of carrier, 2003 to 2010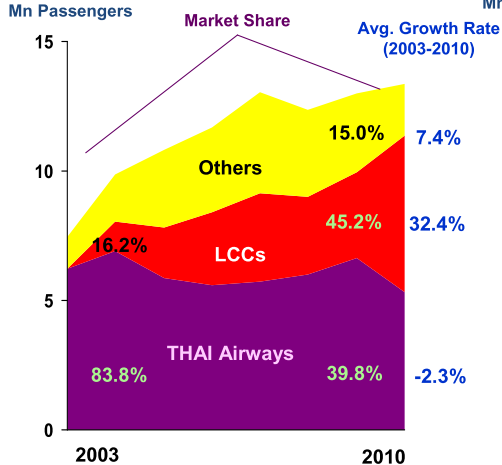 The 15% of the domestic market now represented by other carriers indicates the share now held by boutique full-service carrier Bangkok Airways. A majority of Bangkok Airways' domestic capacity is at the popular tourist island of Koh Samui, where it owns the airport.
Thai Airways also now serves Koh Samui from Bangkok but is limited to two B737-400 flights per day, which will likely be taken over by Thai Smile as Thai phases out its narrowbody fleet. Based on Thai's current fleet phase out plan, the carrier's remaining five B737-400s – including two owned and three leased aircraft – will be phased out in 2014 and 2015.
Bangkok Airways also competes against Thai Airways on some regional international routes from Bangkok. Thai Smile will help Thai Airways respond to competition from Bangkok Airways as the Thai Smile model in some respects is similar to the Bangkok Airways model. But most of the heat in Thailand's regional international market is coming from LCCs and Thai Smile is primarily designed to respond to LCC competition although from a passenger perspective it will be a full-service carrier.
LCCs continue to gain market share in Thailand's regional international market
Thai Airways says in 2010 it captured 33.2% of the regional international market, compared to 42.2% in 2003. LCCs over this period have grown their share of Thailand's regional international market from 2.1% to 19.1%.
The rise of LCCs in the regional international market has been driven by expansion of Thai AirAsia and to a lesser extent foreign LCCs. Thailand has traditionally been one of the most open markets in Asia. For example, most of the international routes for Tiger Airways and Jetstar Asia were to Thailand after the two Singapore-based carriers launched services in 2004 because at the time most other countries in the region were not open to start-ups or additional capacity.
Thailand regional international market growth (millions of passengers) by type of carrier, 2003 to 2010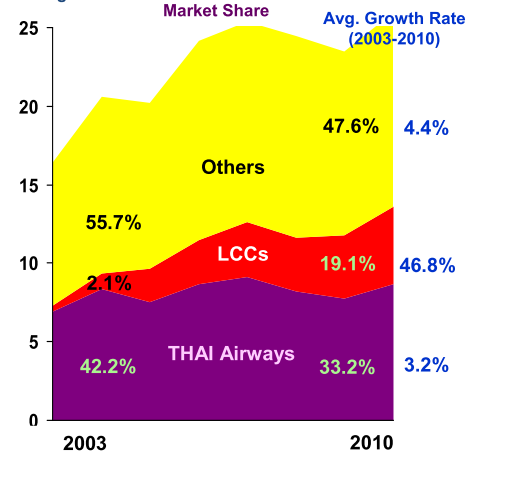 According to Airports of Thailand (AoT) data, LCCs continue to expand more rapidly than full-service carriers at Suvarnabhumi as well as other major airports in Thailand. According to AoT data for the nine months ending 30-Jun-2011, LCC traffic at Suvarnabhumi grew by 17% to 5.5 million passengers while total traffic grew by 11% to 35.8 million passengers.
AoT data shows LCCs carriers across all six of its airports now account for 14% of all international traffic and 49% of all domestic traffic. Total LCC traffic at the six airports grew by 26% from 4.7 million passengers in the Oct-2009 to Jun-2010 period to 5.5 million passengers in the Oct-2010 to Jun-2011 period.
Don Muang (DMK) recorded the biggest LCC growth, with traffic increasing 44% to 3.8 million passengers. Strong LCC growth was also recorded at AoT's other four airports – Chang Mai (CNX), Chang Rai (CEI), Phuket (HKT) and Hat Yai (HDY).
LCC passenger traffic at Thailand's six largest airports for Oct-2009 to Jun-2010 vs Oct-2010 to Jun-2011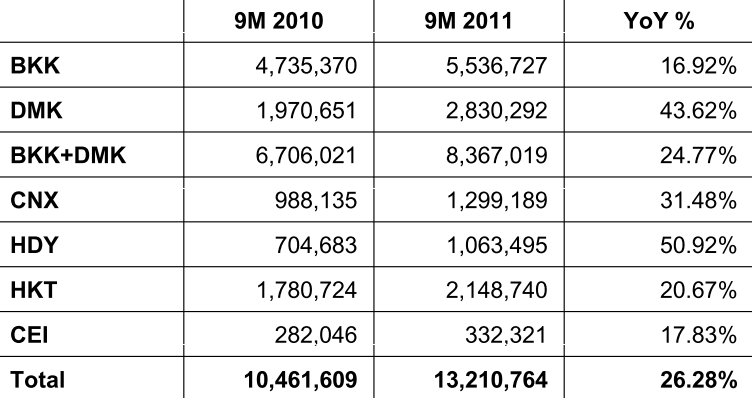 Airports of Thailand total passenger traffic and LCC traffic for FY2008 to first nine months of FY2011

In terms of purely domestic traffic Don Muang is now the largest LCC airport in Thailand. Suvarnabhumi is the largest airport in terms of international LCC and total LCC traffic.
Suvarnabhumi's international LCC traffic recently has been growing faster than domestic LCC traffic. For example, in Jul-2011 Suvarnabhumi's international LCC traffic grew from 298,000 to 382,000 passengers year-on-year while its domestic LCC traffic only grew from 229,000 passengers to 244,000 passengers.
According to Innovata data, 12 LCCs currently serve Thailand's international market. This includes three AirAsia Group affiliates and two Jetstar Group affiliates. Tiger and Jetstar are the second and third largest LCCs or LCC groups in Thailand, well behind dominant AirAsia but well ahead of the rest of the pack.
LCC capacity in Thailand's international market by carrier (seats per week, 05-Sep-2011 to 11-Sep-2011)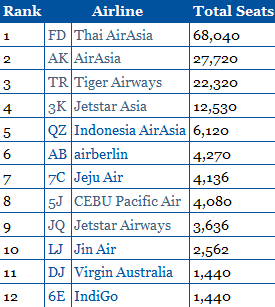 According to OAG data, the LCC penetration rate in Thailand's international market (including regional and long-haul flights), has steadily grown from only 1.9% in 2004 to 14.3% so far this year. The launch of Thai Smile could potentially slow down this growth because the new unit's capacity will not be counted as LCC capacity as its flights will fall under the Thai Airways code.
LCC Capacity Share (%) of Total Seats in the Thailand international market: 2001-2011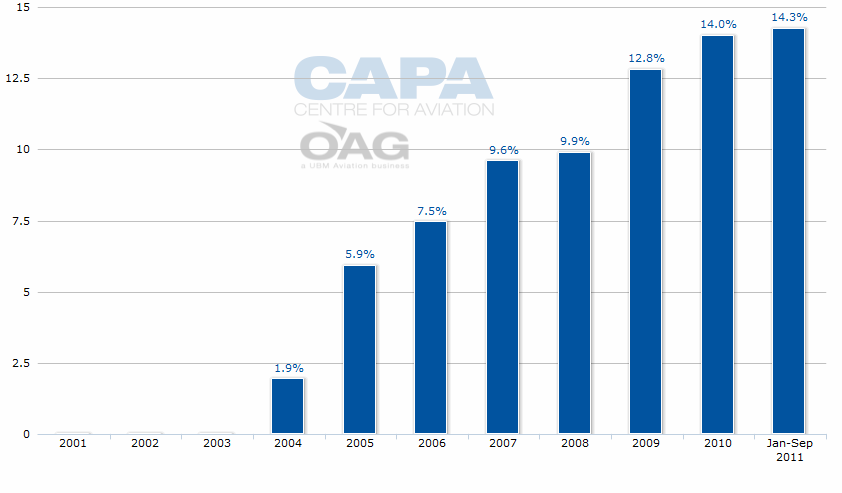 Thai Smile will likely take over the two regional international routes, Penang in Malaysia and Vientiane in Laos, that Thai Airways still operates B737-400s, according to Innovata schedule data. Thai Smile is also expected to open up new routes such as Danang in central Vietnam, which is currently not viable under Thai's mainline cost structure. Up and coming tourist destinations such as Danang would also be welcome additions to the Star Alliance network as they have no service from alliance members (SIA only serves Danang and similar niche regional destinations via SilkAir).
In addition, Thai Smile will likely operate alongside Thai widebodies on some bigger international regional routes where Thai now struggles to compete against AirAsia and other low-cost carriers. These are the types of routes earmarked for Thai Tiger but could potentially support three Thai Airways Group brands in the event Thai Tiger overcomes its current challenges and launches services.
Conclusion: To really take on AirAsia, Thai Airways will need more than just a smile
Thai Tiger, however, will most likely not end up materializing. Without Thai Tiger, the Thai Airways Group will have three brands but lack a true low-cost brand for the important and fast-growing regional international sector.
International expansion at Nok could end up emerging as an alternative solution. Nok would have to recapitalize to support such an expansion but Thai Airways, which has already been trying to negotiate a larger stake in Nok, could pump in the required infusion of capital. Nok could also be used to potentially enter the long-haul low-cost market if Thai feels it needs to respond to the launch of SIA's new LCC and expansion at AirAsia X.
Thai Smile could become an effective tool for serving niche markets in Asia – a sector where rivals Bangkok Airways and SIA through SilkAir currently have an advantage. Thai Smile could also become an effective feeder for Thai's long-haul operation. But Thai Smile's cost base will not be nearly low enough to really take on AirAsia. Thai Airways will inevitably need in its portfolio a true low-cost carrier for the regional international market.