Thai presses on with current strategy and new regional carrier despite upcoming political changes
Analysis
Thai Airways International is moving forward with plans to launch new regional carrier Thai Wing despite the possibility of a change in management and strategy after Thailand's new government comes to power. The new government is also being asked to quickly make a decision on Thai's proposal to launch a joint venture low-cost carrier with Tiger Airways.
The party of self-exiled former prime minister Thaksin Shinawatra, the Pheu Thai Party, won the parliamentary elections held in Thailand on 3 Jul-2011. Mr Thaksin's sister, Yingluck Shinawatra, is expected to take over early next month as new prime minister, replacing Abhisit Veijjajiva from the Democrat Party.
It is widely expected the change in power will lead to a new CEO being appointed at Thai Airways International as the current CEO, Piyasvasti Amranand, was appointed after the Democrat Party took over at the end of 2008.
Mr Amranand took the helm of Thai Airways in Jun-2009 and has led a strategic shift, focussing on renewing the fleet, improving the premium product and responding to growing low-cost competition by proposing the launch of two new carriers – Thai Tiger and Thai Wing. Mr Amranand also is widely credited for driving out corruption at Thai Airways and reducing government meddling in the carrier. The Thai government still owns 51% of Thai Airways.
While CEO changes are typical at Thai after a new government comes to power, it is too early to say if yet another strategy shift will be pursued. For now Thai Airways is pressing on with its new strategy, including preparations to launch Thai Wing in Mar/Apr-2012.
New government not expected to result in changes to fleet plan
Speaking to CAPA at this week's Star Alliance meeting in Shenzhen, Thai VP alliances and commercial development Dullayapong Sukhanusas acknowledged "the new government may look into very long-term policy and very long-term strategy" at Thai. But he "doesn't think the new government will undo something that's already concluded".
For example, Thai has already fully committed to the next phase of its ambitious fleet renewal programme, having secured final approval in Jun-2011 for the acquisition of 37 aircraft for delivery between 2012 and 2017. This includes Thai Wing's initial fleet of 11 A320s.
Mr Dullayapong also pointed out the establishment of Thai Wing does not require government approval because the new carrier is being set up as a unit under Thai Airways rather than as a new subsidiary. Thai Tiger, however, is a different story as it is a completely new entity with Thai Airways holding a 51% stake.
Thai Tiger was originally planning to launch operations in early 2011 but had to postpone its launch after the outgoing government refused to decide on its application. Mr Dullayapong says the proposal to establish Thai Tiger will be "reconsidered" but Thai Airways first "needs to wait until the new government comes in".
Thai seeks quick decision from new government on Thai Tiger
It could take a few months for a decision on Thai Tiger as Ms Yingluck will clearly have a lot on her plate after she takes office. But Mr Dullayapong says "we would like to see a quick decision because we are in a competitive environment".
The delay in approving Thai Tiger has already benefitted Thai AirAsia, which has been expanding rapidly and now operates more than 25 routes from Thai Airways' Bangkok Suvarnabhumi hub. As a group, AirAsia now serves all 20 of Suvarnabhumi's largest markets.
International capacity at Bangkok Suvarnabhumi by carrier, 4 Jul-2011 to 10 Jul-2011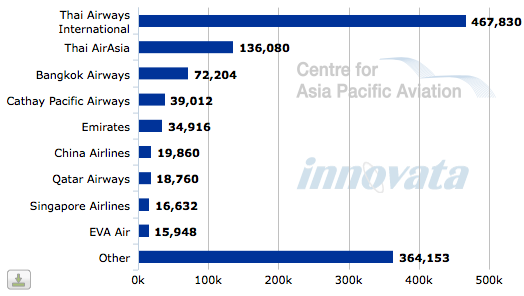 Thai Airways continues to believe it needs four brands - Thai mainline, Thai Tiger, Thai Wing and Nok - to compete effectively in the current environment. Nok is an existing low-cost domestic carrier partially owned by Thai that plans to stick to operating domestic routes from Bangkok's old airport, Don Muang, while the other three entities focus on Bangkok Suvarnabhumi.
Thai Tiger plans to only operate international routes and follow a low-cost or ultra low-cost model. Thai Wing is planned as a new full service carrier but operating under a lower cost structure than Thai Airways mainline. Thai Wing will likely take over some of Thai's thinner international routes such as Bangkok-Vientiane as Thai mainline phases out its remaining B737-400s and switches to all-widebody fleet, following a similar model used by the Singapore Airlines Group and its regional subsidiary SilkAir.
Thai Airways' four-brand strategy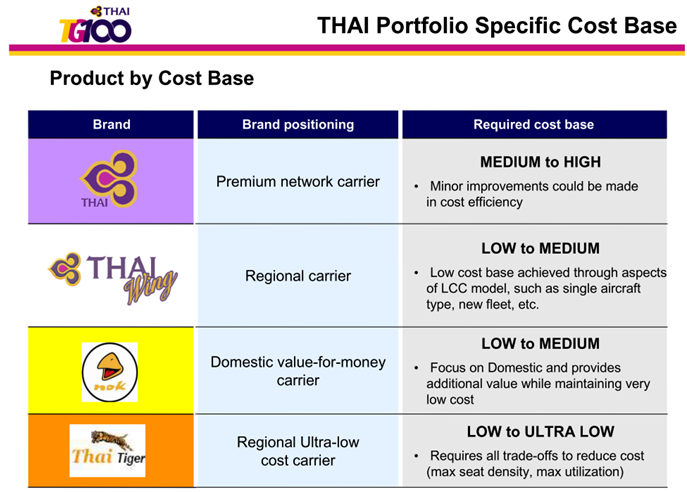 The combination of Thai Wing and Thai Tiger could significantly improve Thai Airways Group's competitiveness against low-cost carriers, in particular the AirAsia Group. Thai Wing and Thai Tiger could potentially operate side by side in some of the bigger international markets, with Thai Wing offering frills and a connection product with Thai Airways while Thai Tiger takes a pure no frills approach.
But if Thai Tiger does not get approved, Thai Wing could by itself provide the Thai Airways Group a sufficient response to the growing low-cost competition at Suvarnabhumi. Thai does not want to be left with a rejection of Thai Tiger and no other alternative because it has a pressing need to respond to growing low-cost competition in its home market. By moving forward with Thai Wing, Thai Airways management seems to be hedging its bets in case the new government does not want to proceed with Thai Tiger.
While Thai and Tiger say they remain committed to the joint venture and have extended their original agreement through the end of Aug-2011 in hopes of securing approval from the new government, it seems unlikely the new airline will be approved. The outgoing government, in particular the transport minister, was already cold to the concept of Thai partnering with a foreign carrier.
It is hard to imagine the new government being any warmer to the concept of launching a new low-cost carrier with Tiger. The Shinawatra family was a founder and former 50% stakeholder in Thai AirAsia (they sold their stake in Jan-2006). As AirAsia and Tiger are archrivals, Ms Yingluck may be reluctant to support the latter. Tiger's current problems in Australia could also cause additional resistance to approving a new Tiger affiliate in Thailand.