Thai to use both B787s and A350s on regional Asia routes; Thai Wing to operate A320s
Thai Airways International has decided to add three aircraft types to the group as part of its plan to acquire 37 additional aircraft over the next six years. Thai has opted to acquire both B787s and A350s for its new-generation medium-size widebody requirement and has selected the A320 over the B737 for its new narrowbody requirement.
The carrier announced on 13-Jun-2011 that its board has approved the purchase of four A350-900s to be delivered in 2016-2017 and five A320-200s to be delivered in 2014 and 2015. At the same time the board approved the purchase of six additional B777-300ERs for delivery in 2014 and 2015. The 15 aircraft have a total value of THB49.537 billion (USD1.626 billion), according to Thai.
The board also has approved 22 new aircraft operating leases, including for eight A350-900s, six A320-200s and eight B787s. The B787s, which represent Thai's first commitment for the type, will be leased from ILFC and delivered from 2014 to 2017. Six of the B787s will be B787-8s, which will be delivered in 2014 and 2015, and the final two will be B787-9s and are slated for delivery in 2017. Of the eight leased A350-900s, two will be delivered in 2016 from CIT and the other six will be delivered in 2017 from ALAFCO. All six of the leased A320s will be sourced from RBS and be delivered in 2012 and 2013.
New regional carrier Thai Wing to operate 11 A320s
CAPA expects all 11 of the A320s will be operated by Thai's new full-service regional carrier, which has been tentatively called Thai Wing. Thai last month unveiled plans to launch a new regional airline following a lower-cost but full service business model. Thai Wing is expected to launch services in 2012, following the model used by Singapore Airlines' successful full-service regional subsidiary SilkAir, which also operates A320 family aircraft.
Thai said at the time the new carrier will operate seven aircraft within its first year and 11 aircraft within three years. Initially it appeared Thai Wing would launch services using B737-400s from Thai's existing fleet or potentially new B737-800s. But it is now almost certain Thai Wing will initially operate 11 A320s - a new type of aircraft for the group.
Boeing, however, has not completely lost its battle to ensure the B737 family continues to have a presence in the Thai market (Thai AirAsia and Bangkok Airways are already A320 operators). Nok Air, a domestic low-cost carrier which is partly owned by Thai, has selected the B737-800 as its future aircraft. Nok CEO Patee Sarasin tells CAPA that Nok's board has already approved the lease of seven B737-800s and approval will later be sought for an additional five B737-800s.
Nok Air to replace all 10 B737-400s with B737-800s by end of 2012
Mr Patee hopes all 12 B737-800s will be delivered by the end of 2012, allowing Nok to quickly retire its fleet of 10 B737-400s. Mr Patee says so far a deal has been completed with GECAS for one B737-800 to be delivered later this year. He says deals with three different leasing companies covering two more B737-800s for delivery by the end of 2011 and another four B737-800s for delivery in 2012 are now in the final stages of being negotiated. Mr Patee expects these deals to completed within the next few weeks and for Nok to later pursue lease deals for another five B737-800s for delivery in 2012.
Mr Patee also plans to expand Nok's ATR 72 fleet from two to six aircraft. Thai no longer has turboprops in its fleet but owns the two ATR 72s now operated by Nok. The additional four ATR 72s will be acquired through operating leases.
Thai, which has a 39% stake in Nok, also owns four of the 10 B737-400s currently in Nok's fleet. Nok plans to return these to Thai next year and return its six B737-400s to their lessors (including four to GECAS). There are also five 737-400s still in Thai's mainline fleet. Three of these are leased from AerCap and are expected to be returned. The other two are owned by Thai. The carrier is expected to try to sell over the next couple of years the six B737-400s it owns (including the four now operated by Nok). Thai itself will become an all-widebody operator, leaving its new lower-cost regional subsidiary Thai Wing and its even lower-cost affiliates Nok and Thai Tiger to operate narrowbody routes.
The 37 additional aircraft being acquired are in line with Thai's previously announced revised fleet plan for 2011-2017. In Apr-2011 Thai announced that Thailand's cabinet had approved this fleet plan, including the acquisition of 37 additional aircraft to be ordered in mid-2011.
A350s and 787s are for short and medium-haul routes
At the time Thai did not specify specific types for these 37 aircraft but said it would consist of 11 new 150-seat narrowbody aircraft, 20 new 300-seat widebody aircraft for regional routes and six 350-seat widebody aircraft for long-haul routes. As a result all 12 of the A350-900s and all eight of the B787s are expected to be used on routes within the Asia Pacific region. The six additional B777-300ERs, meanwhile, will be used on long-haul routes. However, by ordering two B787-9s Thai has the flexibility to also use this type on its long-haul routes.
The 37 newly announced aircraft for 2012 to 2017 are in addition to commitments Thai already has during this period. This includes eight widebody aircraft to be delivered in 2012 – two B777-300ERs, three additional A330-300s and Thai's first three A380s. Thai also already has commitments to add in 2013 three more A380s, three A330-300s and six B777-300ERs.
Thai Airways' deliveries over the next three years

In 2014 and 2015 the new B777-300ER commitments will kick in. By the end of 2015, Thai now plans to have a B777-300ER fleet of 14 aircraft. Thai currently operates three B777-300ERs, but these are leased from India's Jet Airways and are slated to be returned. According to Ascend data the eight B777-300ERs Thai is already committed to adding in 2012 and 2013 will all be leased from BOC Aviation.
In 2014 Thai will also start to begin taking new-generation medium-size widebodies, with the B787 and later the A350. While Thai is initially only committing to acquiring eight B787s and 12 A350s, it is likely to acquire more of both types for delivery after 2017. Thai's long-term fleet plan envisions the acquisition of 38 additional aircraft from 2018 to 2022. The carrier already has cabinet approval for these aircraft and has indicated these will be medium size widebody aircraft. As a result Thai will likely later seek board approval to acquire 38 additional A350s and/or B787s.
Thai Airways long-term fleet strategy

These not yet ordered 38 aircraft will mark the last phase of Thai's dramatic fleet renewal programme. Thai has begun the process of retiring some of its older aircraft, including its A300-600s and B747-400s. Over the next few years, Thai will also be retiring B737-400s and at least some of its A330/A340s and B777s.
Thai ended 2010 with 13 A300-300s, four A340-500s, six A340-600s, 15 A330-300s, five 737-400s (excludes B737-400s at Nok), 18 B747-400s, eight B777-200s, six B777-200ERs and six B777-300s. Three of these A300-600s are already slated to be retired this year, followed by three more next year. By the end of 2017, Thai also has already earmarked 10 B747-400s, eight B777-200s, eight A330s and five B737-400s for retirement.
Thai Airways' fleet: 12-Jun-2011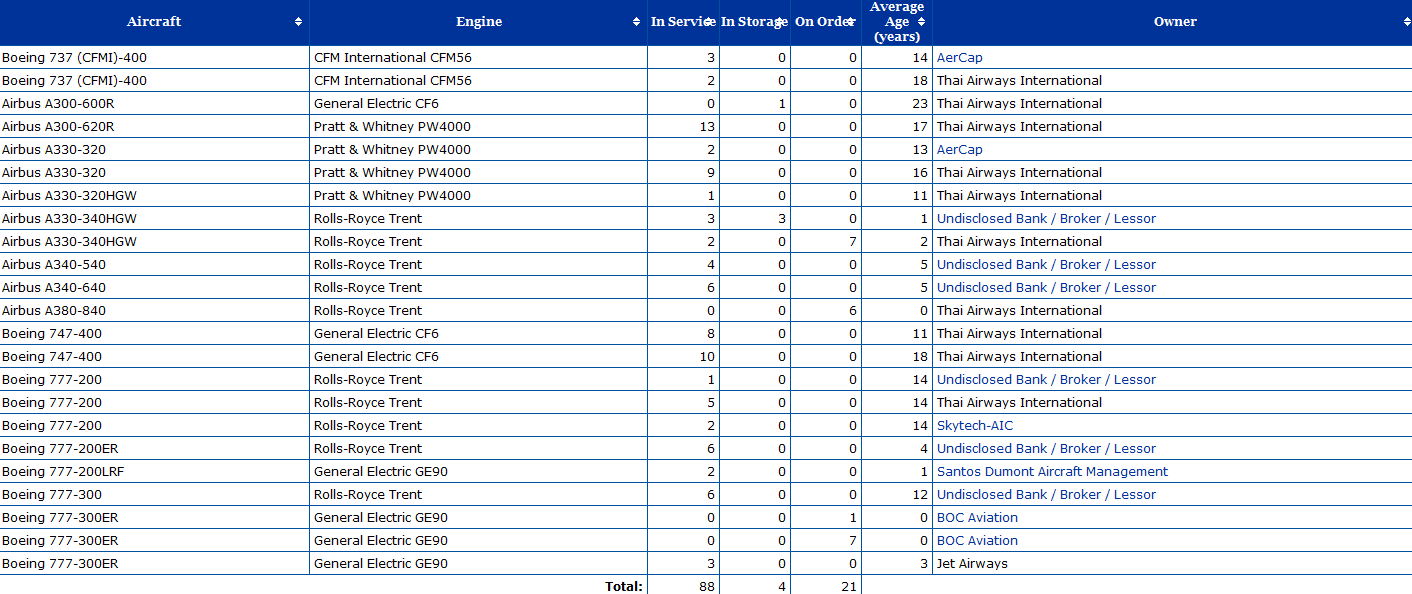 Source: Ascend
Thai's fleet renewal fleet is part of an overall initiative aimed at improving the carrier's profitability and market share. Thai believes the new aircraft along with an ongoing project to retrofit most of its older widebodies by the end of 2014, will result in a higher service standard. This in turn will help Thai improve its premium business and profitability while also achieving its goal of become one of Asia's top three and one of the world's top five airlines in terms of quality. Thai also points out the 37 additional aircraft being acquired will help it reduce its fuel and maintenance costs and allow it to better compete against other airlines. Over the next decade, Thai expects to reduce the average age of its fleet from 12 years to less than 8 years.
Thai Airways avereage fleet age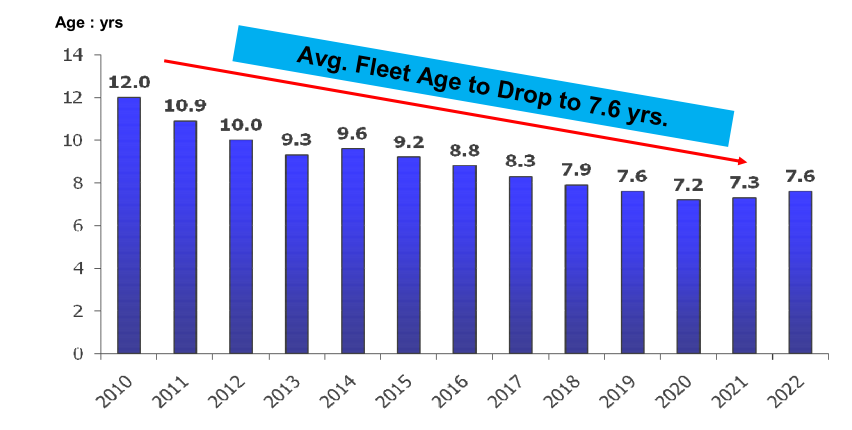 Thai in particular is looking to improve its competitiveness against fast-growing Middle Eastern carriers on the kangaroo route between Europe and Australia and between Europe and Southeast Asia. The 37 additional aircraft will help Thai close the gap with Emirates, Qatar and Etihad – all of which have significantly larger order books.
Fleet expansion plan of Thai vs Thai's competitors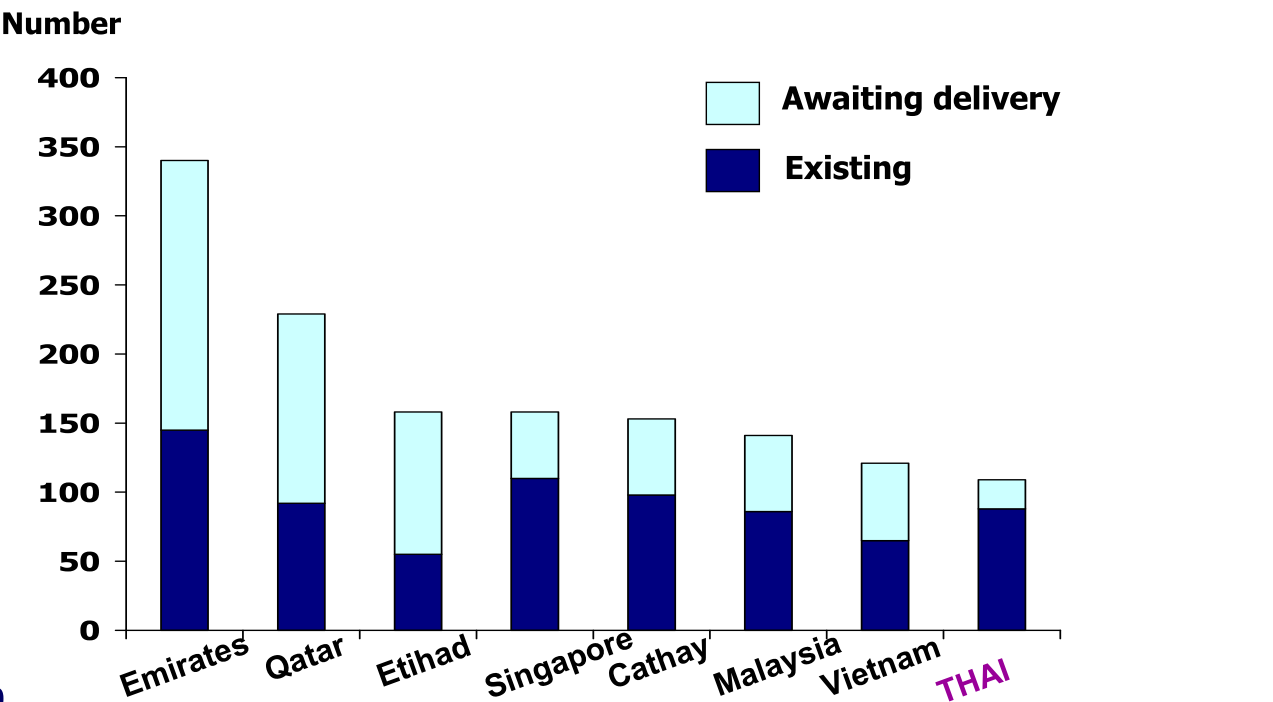 Thai also believes it needs to catch up with some of its Asian rivals, in particular Singapore Airlines, Cathay Pacific and Malaysia Airlines. To compete more effectively against these carriers as well as low-cost airlines such as AirAsia, it has decided to pursue a multi-brand strategy with two new carriers to be launched – Thai Wing and Thai Tiger, a joint venture low-cost carrier with Singapore-based Tiger Airways.
Thai Airways' new four-brand strategy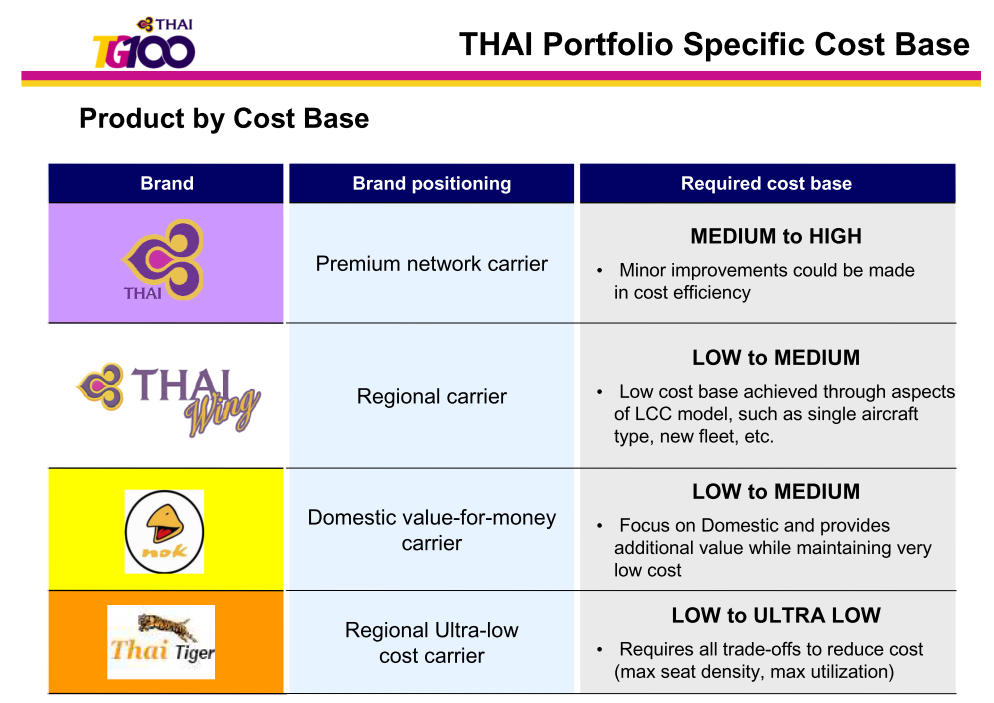 Thai says it will use its working capital to fund the 37 additional aircraft. All 22 of the leases are for 12 years.
See related articles: