IAG, Lufthansa and Air France-KLM confront short-haul cost options; Air France will be sorely tested
Analysis
International Airlines Group (IAG) CEO Willie Walsh has indicated that he is fully prepared to meet any opposition head-on in restoring the Group's short-haul cost disadvantage against Europe's major LCCs like easyJet and Ryanair, a reference to Iberia's pilots who have been striking on a weekly basis in protest against recently-established subsidiary Iberia Express operating off a lower cost (and pilot salary) base.
Rather more timidly, Lufthansa recently appeared to confirm it was exploring a "business case" to merge operations of the Group's lower cost Germanwings subsidiary with the full brand Lufthansa fleet. Germany's Bild Zeitung reported that a new low-cost subsidiary, project named Direct 4 You, was also being considered.
These reports follow Air France-KLM chairman and CEO Jean-Cyril Spinetta's recent comments that the company was considering using Air France-KLM Group's French version of its Dutch subsidiary Transavia as an umbrella for an apparently similar low-cost model to its two major European rivals.
Certainly something needs to be done, as all of Europe's main network carriers are bleeding heavily on short-haul operations. The current situation is clearly unsustainable, yet the powerful pilots' unions beg to differ. But, under a socialist President, Air France may be hard pressed to match its competitors' audacity. Its long-term future could be in the balance.
Air France, the most disadvantaged of the three, may find it hard to adapt
Despite last year's timid attempt to decentralise some of its short-haul operations from its Paris hub – and therefore reduce costs – Air France still finds itself well away from any prospect of approaching competitiveness with Europe's LCCs. Informed sources suggest Air France's short-haul cost per ASK is around one third higher than easyJet. This is causing a lopsided equation compared with its considerably lower cost Group partner, KLM, in turn generating strains within the Group.
Even though (or perhaps because) domestic French routes are largely free of serious competition, the French flag carrier has been unable to generate sufficiently large yield differentials across its short-haul network to offset its higher cost base. So something must give, if it is to survive.
The French social system does not, however, lend itself to large iconic legacy airlines making drastic restructuring moves.
Moreover, with the likely prospect of a new socialist President, if François Hollande is successful in next weekend's runoff elections, taking on Air France's powerful legacy unions is not going to get any easier. It may be for that reason that former bureaucrat and chairman/CEO of Air France itself, Alexandre de Juniac, has maintained a careful silence on the topic of a low-cost alternative.
The proposed scenario is for Air France-KLM subsidiary Transavia Airlines to expand under Air France-KLM's turnaround plan, 'Transform 2015', and support its short-haul operation at a lower cost base. Transform 2015 intends to reduce controllable costs by 20%, which will help bring its point-to-point services to a breakeven level in 2013, with breakeven of its entire short- and medium-haul business in 2014. One step the carrier identified as a way to achieve this is to potentially develop subsidiary Transavia under either its current brand or a new one, to tap into the growing leisure travel market, and supporting Air France-KLM's existing short-haul network operations. Transavia is based at Amsterdam and operates secondary hubs at Rotterdam, the Hague and Eindhoven. Transavia's French affiliate, Transavia France, is based at Paris Orly.
Transavia would be deployed, in some instances alongside Air France, on routes under two hours, effectively encompassing most of western Europe and where LCC competition is concentrated. The French subsidiary of Transavia concentrates capacity on North Africa and operates only five domestic routes with under 4000 seats per week compared to Air France's 377,000 and easyJet's 70,000.
Expanding or transforming Transavia is a welcome and practical change of strategy from Air France's plan last year to address its short-haul network by merely focusing on enlarging regional centres, which are becoming more competitive as easyJet prepares to expand into them as part of a move to crack western Europe's final LCC frontier; France has one of the lowest LCC penetration rates.
See related articles:
The viability of the regional plan was not evident. Air France last year started a commercial offensive in Marseille, Nice and Toulouse under which the new regional model was to have lower costs owing to higher staff productivity and aircraft utilisation. This would narrow but not close the gap with the likes of easyJet. The strategy was nearly mirrored in Germany where Lufthansa announced an offensive in Berlin, the country's capital and largest city but traditionally ignored by Lufthansa due to smaller corporate traffic than Frankfurt or Munich. Lufthansa intended to compete with airberlin by having local crews and higher aircraft utilisation under a plan that, again, would narrow but not close the cost gap. With both Air France and Lufthansa now considering new LCC operations, the two are acknowledging there are limits to taking costs out of existing operations. Doing so can be done, but without full competitive ability.
See related articles:
Air France in Apr-2012 affirmed it would expand the model across its point-to-point network, including Paris Orly. But the LCC operation, if launched, could overtake the regional model. Air France was to launch from its regional centres services to leisure or low-level corporate demand European points. Those routes are ideal for LCCs that strip down costs but also offer ancillary charges for those wanting reserved seating, flexible ticketing or other perks – which is what easyJet has very capably done. Air France needs to only look southwest into Barcelona, the home of Vueling, which has effectively combated LCCs while still appealing to local corporate passengers.
Air France, with Lufthansa, seem to be finally realising that to compete profitably with LCCs they need a LCC cost base, and not a quasi one. Iberia has had this view but was delayed in implementing it, in the form of Iberia Express, due to the British Airways-Iberia merger. Now Air France needs to develop its LCC plan or provide clearer guidance on the seemingly difficult task of having its costly mainline/regional operation compete with LCCs.
It is a laudable goal, but time is ticking away and, as Europe's weaker economies like Spain, Greece and Italy export airline capacity into better performing markets, the pressures on French routes will only intensify.
Transavia offers a useful, but contentious fit into Air France-KLM's network
While Air France-KLM offers a full service, high cost short-, medium- and long-haul network with global reach through its own networks and through the SkyTeam alliance, Transavia offers a simple low cost European network to leisure destinations through its Dutch operation and much smaller French subsidiary (140,000 weekly seats versus 40,000). Transavia and Transavia France's 10 largest routes ranked on seats clearly illustrate its core leisure and VFR markets, especially from France, where North Africa is Transavia France's single largest market.
The difference is further emphasised as Transavia France's operations are based at Paris Orly, isolated from any possible medium/long-haul connectivity with Air France or partners at Paris Charles De Gaulle. (Amsterdam has no low-cost alternative airport.)
Transavia France largest markets and 10 largest international routes (seats per week): 30-Apr-2012 to 06-May-2012
Transavia largest markets and 10 largest international routes (seats per week): 30-Apr-2012 to 06-May-2012
Markets
Routes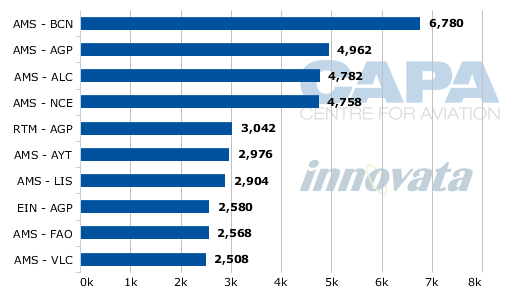 Domestic French services, with under 4000 seats a week, make Transavia a minority player domestically.
Five largest airlines operating domestically within France (seats per week): 30-Apr-2012 to 06-Mar-2012
In addition, there are fleet variations between the carriers. Transavia's single-class 737s are configured at or nearly at the maximum certification. KLM also operates the 737 while Air France's short-haul network is made up of various types from the Airbus A320 family. These are not small considerations; Iberia Express' speedy launch and expansion was facilitated by operating former Iberia mainline A320s. There is much more involved here than Air France "simply" starting up a new low-cost short-haul connecting operation, already a seriously contentious issue in itself.
And in France's tortuous bargaining system, every detail of every needed change will be severely tested at the negotiating table. While Air France signed off with its ground, cabin and pilot unions in Mar-2012 on the framework of Transform 2015, the details await. Air France hopes, perhaps optimistically, to sign off on the agreements in Jun-2012. It notes there will be "substantive negotiations". Although the LCC strategy is an improvement over relying just on regional centre development, to see the Transavia strategy coming to fruition, with full connectivity into Air France's network inside a year, stretches optimism to the utmost.
Meanwhile, what promises to be a highly turbulent year in Europe will take a heavy toll on the weaker, higher cost providers. Time is running out for Air France.
Finding sufficient resolve at the strategic level is the starting point
When then-British Airways CEO Willie Walsh confronted his flight crew unions in 2010, his tough approach had unanimous support from his board and even from the Labour government of the day. There was considerable sympathy among the general public too, as details of generous pay scales and work conditions leaked out. He was – more or less, for there is always another chapter in these dramas – successful. Iberia Express will provide more of a challenge, but Mr Walsh has made it obvious that he will be resolute in dealing with the pilots' unions; meanwhile Iberia says it is losing EUR3 million each day during the pilots strike, prompting the Government to initiate binding arbitration.
See related articles:
These helpful ingredients are less likely to be present for the French airline, if and when confrontation rears its head. Air France's board of 18 contains six employee representatives and its former bureaucrat CEO Alexandre de Juniac may be watching closely to see if a possible President Hollande smiles favourably on his tenure. A new socialist President would hardly be likely to want one of his first actions to be seen as union bashing, even if the syndicates do represent privileged employees. Meanwhile, the CEO is adopting the safe course of keeping a low profile and leaving the strategic running to Mr Spinetta at the Group level, just as is occurring next door in Spain with IAG.
In what may be the first really strenuous test for a sometimes-lumpy relationship between its ingredient airlines, Air France-KLM may have to do the hard work at the Group level if it is to establish the Transavia solution. Inevitably the Dutch element of the team will see the way clearly. But the Group board may bring strains. Its 15 members include two "representatives of the employee shareholders" and three "representatives of the French State appointed by ministerial order". We will soon find out if Mr Spinetta's team is behind him.
As traditionally powerful legacy carriers face growing low-cost competition on their short- and medium-haul networks, the move towards hybrid, connecting operations (low cost short haul, full cost long haul) will become increasingly common.
While it is unlikely Air France-KLM will be able to transfer a large amount of their short haul operations to Transavia in its current state, the LCC will need to play an instrumental part in creating a new low-cost operation or modification of its current network structure. Only this – or something similar – can allow Air France-KLM to offer competitively low-cost short-haul feeder operations into its full cost long-haul network.
With a new socialist President of the French Republic likely soon to be installed in the Elysee Palace and the need for some highly complex operational adjustments needed to implement the Transavia strategy, only a remarkable optimism will see Air France weathering the economic storm of coming months and retaining a position of one of Europe's big three.