Iberia Express launches as Europe's latest salvo to bring short-haul model to profitability
Analysis
New carrier Iberia Express has launched services despite its website not launching until later this week, and even then bookings will be accepted for travel only as early as 10-Apr-2012. The unusual arrangement is indicative of what Iberia Express is: a wholly-owned subsidiary of Iberia that will replace some of mainline Iberia's short- and medium-haul routes. In its initial weeks it is taking over flights sold as Iberia, but passenger perceptions will be few; service is almost identical to Iberia – but with staff employed at market rates, drastically cutting costs.
Iberia for some years now has been in dispute with its over-paid staff – some of its short-haul pilots earn more than British Airways' long-haul pilots – a problem that has compounded Iberia's short-haul network which faces intense competition from low-cost carriers amidst rising fuel prices. The struggle of a European legacy carrier's traditional short-haul network is not unique to Iberia and across the continent many alternative models are being explored, with none yet to emerge as successful and resistant to challenges.
Launching with 17 destinations in summer schedule
A Madrid-Alicante service on 25-Mar-2012 marked the launch of Iberia Express, which is replacing mainline Iberia on many of its routes. Passengers who had been booked on Iberia were informed their flight would instead be operated by Iberia Express, which is legally its own airline with an independent Air Operator's Certificate (AOC) and operating code (I2). There are almost no differences in service for Iberia Express flights, which will reach 17 destinations in the European summer schedule. All flights are operated out of Madrid, which will be the carrier's initial operating base. Iberia Express expects to carry 2.5 million passengers in 2012, with targets not set for 2013. Iberia Express' launch schedule, based on details available so far, can be estimated to have capacity of 80-90,000 passengers a week. At an average 80% load factor, this figure works out to approximately 2.5 million passengers for the year, making significant expansion later in the year unlikely, although Iberia Express may shift capacity based on seasonal factors.
Iberia Express launch schedule: Mar-2012 to Oct-2012
| Route | Launch Date | Weekly frequency | Previously planned Iberia frequency at time of Iberia Express' launch |
| --- | --- | --- | --- |
| | 25-Mar-2012 | 35 | 42 |
| | Sep-2012 | TBD | 21 |
| | 01-Jun-2012 | 7 | 7 |
| Madrid-Fuerteaventura | 01-Jun-2012 | 7 | 7 |
| | May-2012 | TBD | 33 |
| | 31-May-2012 | 7 | 0 |
| | 01-May-2012 | 7 | 7 |
| | 25-Mar-2012 | 35 | 35 |
| | 01-May-2012 | 2 | 2 |
| | 07-Jul-2012 through 29-Aug-2012 | 3 | 0 |
| | 02-Jun-2012 | 2 | 2 |
| | 25-Mar-2012 | 25 | 28 |
| Madrid-Riga | 01-Jul-2012 | 2 | 0 |
| | 01-Jun-2012 | 5 | 7 |
| | 01-Jun-2012 | 13 | 33 |
| Madrid-Sevilla | 25-Mar-2012 | 21 | 33 |
| | 01-May-2012 | 12 | 31 |
Iberia Express summer 2012 schedule route map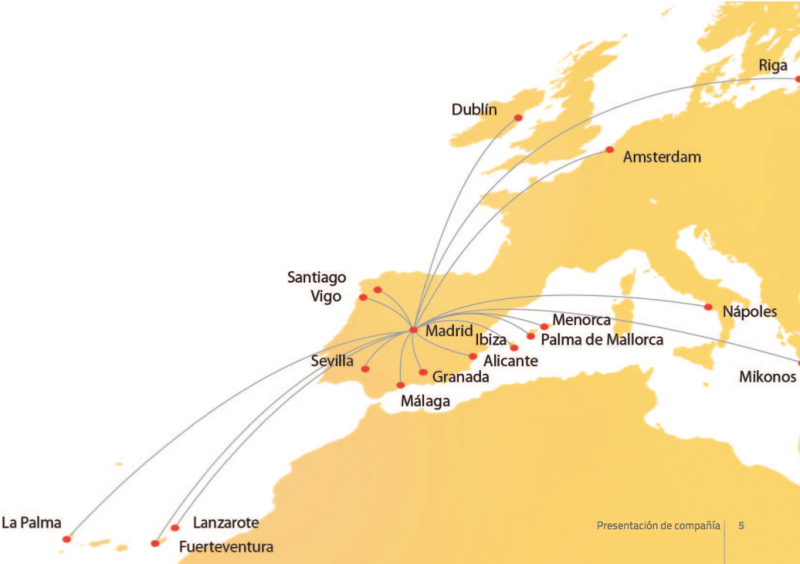 Iberia Express' summer schedule is heavy on domestic leisure routes with a sprinkling of leisure or second-tier international short-haul routes. Iberia Express is – for now – staying off trunk routes like Madrid-Barcelona and Madrid-London. The carrier is still working on its winter schedule, which will take effect from Oct-2012.
Most Iberia Express frequencies, like Malaga and Naples, will replace Iberia mainline on a one-for-one basis while some routes, like Sevilla, will see Iberia Express only partially replace Iberia frequencies, which the company is fine with. "There might be some routes where there might be some overlap and for some long routes Iberia express might fly there," Iberia CEO Rafael Sánchez-Lozano stated. Overlaps will be analysed on a case-by-case basis, Mr Sánchez-Lozanoz said. Some routes may offer scheduling advantages for both carriers to serve while others have good corporate traffic Iberia may be hesitant to initially expose to Iberia Express before the market understands just what the new carrier is: effectively Iberia except for reduced legroom and costs in areas they cannot see, such as crew salaries.
Iberia has previously said Iberia Express will be allowed some scheduling freedom but that the carrier would also be required to meet its need to time flights and offer certain flights in order to support its Madrid hub, where 70% of long-haul passengers are transfer passengers, necessitating the need for short-haul feed.
"They don't stay in Madrid, so there is a need for short-haul. We cannot just cut it as we have done in the past, and to make things worse, they fly to many places. It is not concentrated. It is not that we can get four or five routes, and 70% of it fixed, and we can live with it. We need to fly to quite a few places. So that is why we thought there is no way to escape that. We need a short-haul model," Mr Sánchez-Lozano has said.
Of the relationship between Iberia and Iberia Express, Mr Sánchez-Lozano remarked: "Iberia will ask for destinations and windows the airline needs to fly and the company will feed Iberia group connectivity requirements. It would have to come within the window horizon so that we ensure the connectivity is done, but the operational planning will depend on the company which would aim at optimising its cost base."
Iberia Express will handle revenue management for point-to-point services while Iberia will step in to ensure long-haul flights with connecting segments are competitive.
Iberia long-haul Madrid traffic profile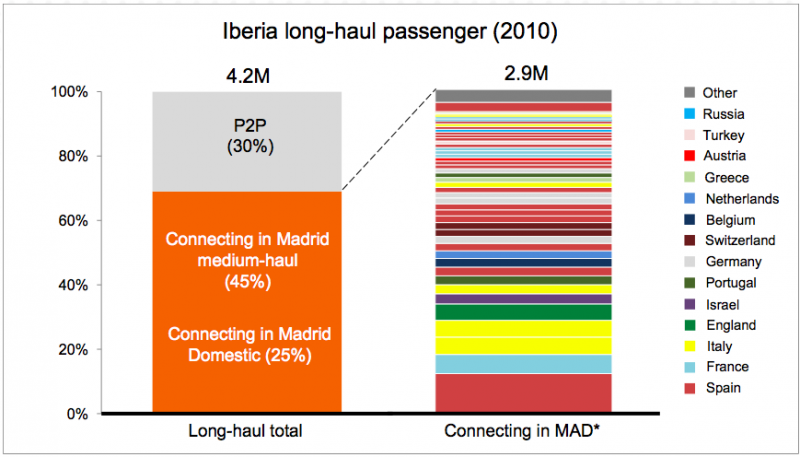 Comparing Iberia Express' launch network to Iberia's largest sources of connecting traffic, Iberia Express is so far staying off the largest international sources, France and England, while having only a very limited presence in Italy. Iberia Express' initial international routes are to countries that feature less prominently in connecting traffic importance, such as Amsterdam and in Greece, indicating these routes are aimed more at combatting the likes of Ryanair and easyJet for leisure traffic.
Iberia seeks to counter at Madrid attacks from LCCs, high-speed rail
Madrid is significant for Iberia not just because it is the hub of most long-haul flights but because of competitive challenges. Being approximately in the centre of Spain, Madrid faces intense competition from high-speed rail, a problem Iberia has been countering for nearly two decades but which grows in scale. Madrid is also unique for having a single airport with no low-cost alternative. That means LCCs operate from the same airport as legacy carriers, and seats become more commoditised; there is no trade off in location or centrality for a legacy carrier at a city's main airport versus a LCC at a secondary airport some distance from the city. In fact, if anything, LCCs have a slight advantage over Iberia as they operate from terminals marginally closer to the Madrid city centre than Iberia at the new terminal four.
LCCs presently account for 24% of seat capacity at Madrid, whereas in cities with multiple airports, the main hub airport has a smaller share of LCC traffic: at Paris CDG 10% and at Amsterdam 17%.
Madrid Barajas Airport capacity by seats: 25-Mar-2012 to 01-Apr-2012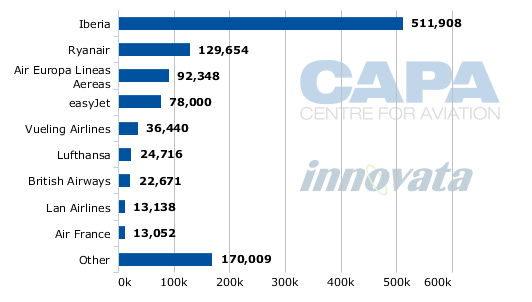 Fleet to exceed Iberia mainline
Iberia Express' launch fleet is four A320s inherited from Iberia and the carrier plans to expand to 14 A320s by the end of the year and 40 within four years. It is easy to see Iberia Express exceed Iberia's mainline short-haul operation; Iberia has 68 A320 family aircraft. Iberia Group's A320 family fleet is currently projected to grow to 76 by 2015, and Mr Sanchez-Lozano says that figure is unaffected by Iberia Express.
IAG fleet plan for Iberia (IB) and British Airways (BA): 2011-2015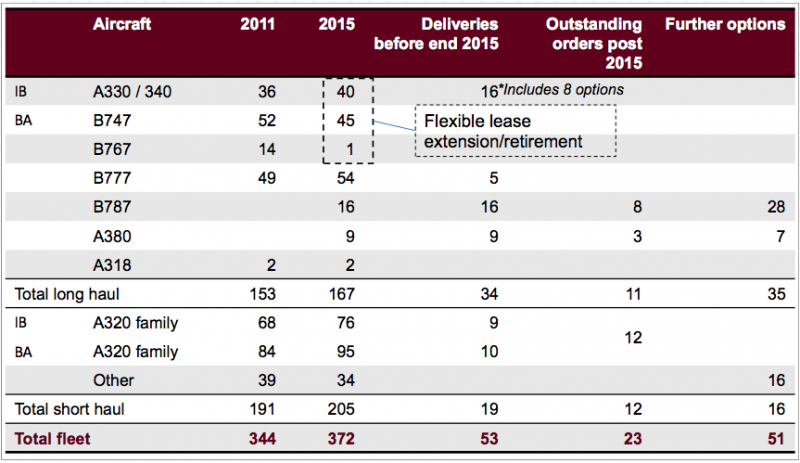 Iberia Express CEO Luis Gallego says his carrier is expected to stay out of Barcelona for 2012 at least and does not see enough demand to operate domestic flights within the Canary Islands. Mr Gallego says Iberia Express will particularly look at "previous destinations that were not profitable for [Iberia]".
Iberia Express is maintaining its projection of a EUR100 million cost saving by 2015 while Mr Sanchez-Lozano expects Iberia Express to post a profit this year.
Higher aircraft utilisation expected at Iberia Express
Iberia Express will target an initial average aircraft utilisation rate of 9.2 hours. In comparison, easyJet for 2011 achieved 11.3 hours, up from 10.8 in 2010. Mr Sanchez-Lozano noted that while Iberia mainline has an A320 family utilisation rate of also 9.2 hours, Iberia's mainline network flies significantly further whereas Iberia Express is initially flying within approximately an hour from Madrid, creating more ground time at the expense of utilisation. As Iberia Express gains scale and reach, its utilisation rate should increase, although it is unlikely to rival easyJet.
Iberia would clearly prefer to use its mainline operation if staff were more agreeable to pay revisions, a blocking of which Iberia and parent owner International Airline Group (IAG) have spoken bluntly about.
"We have a problem on pilots accepting reality. And really, if you don't, over time, reality walks over you. And that is the situation we are going through. We tried to get a negotiated agreement with them for [two] years. I'd say we had enough patience. In the meantime, we've managed to get six collective labor agreements with all the other unions around it. So, we've proven we can talk. We've proven we are imaginative in terms of trying to find solutions to the problems. And here we were absolutely unable," Mr Sanchez-Lozano said at IAG's 4QFY2011 results.
"Crew costs," IAG CEO Willie Walsh said, "are just far too high, not just within Spain, but clearly within the industry." He continued: "We're facing stubborn resistance to reality. And that's what's happening there. There is no way Iberia can continue to operate as it has operated in the past. And anybody in Iberia who believes that that option is open to them is, quite honestly, deluded. Where we face that stubborn opposition, well, then we're just going to work around it. And this is something that we have to do."
Another theoretical solution would have been to use Vueling, the Barcelona-based LCC part-owned by Iberia. Last decade Vueling merged with Clickair, the LCC Iberia established. There are suggestions that some of the market resists Iberia's decision to cut its Barcelona schedule in favour of handing the routes to Vueling, a true low-cost carrier. This could have caused hesitations for Iberia as it moves into more corporate markets, but Iberia was legally prevented from pursuing this option.
Its contracts with its unions limit the number of codeshares Iberia can have with Vueling, a serious problem as Iberia will be selling every Iberia Express flight. Further arrangements with Vueling, Mr Sánchez-Lozano said, "can be done at some scale but not the scale we're talking about. You can't do 40 planes with the current Vueling agreement".
Indeed, last summer Iberia reached its contractual allotment of codeshares with Vueling, Mr Sánchez-Lozano said. "Very clearly, it was legal" matters that drove the launch of Iberia Express, although Mr Sánchez-Lozano notes Vueling would have needed to undergo a transformation to better accommodate the corporate market.
Not Vueling, but experience from it
Iberia Express' management committee includes a number of members with experience at Vueling, Clickair (which merged with Vueling) and Air Nostrum, Iberia's regional carrier. Iberia Express marks the fifth Spanish carrier Mr Gallego has worked for, which include Air Nostrum and Clickair before taking senior operational roles at Vueling. COO Valentin Lago is from Air Nostrum, where he looked after maintenance operations and later quality and innovation. Sales manager Silvia Mosquera joins from Clickair and Vueling where she was a manager for strategy, routes and revenue. CFO Javier Sanchez-Prieto is from Air Nostrum as well.
Prior to the appointments, Mr Sánchez-Lozano explained that the Iberia group had LCC experience and could once again establish a carrier with lower costs. "We created Clickair four years ago, so people have not forgotten how you set up a new airline or how you go through the process."
Iberia Express CEO Luis Gallego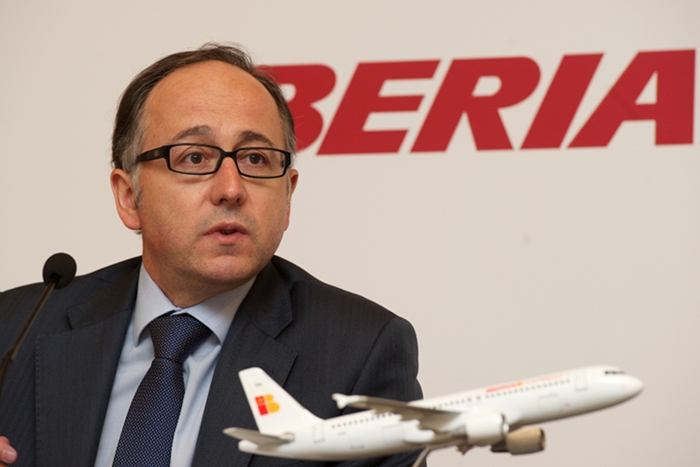 Iberia Express: Not a LCC, not a full service carrier
Iberia is not branding its new subsidiary as a low-cost carrier or even a hybrid carrier, a point Mr Gallego is adamant about, declaring, "We are not going to be a traditional low-cost airline".
"For people who have already purchased [Iberia mainline] flight tickets, they have been told their flight will be operated by Iberia Express but I can assure you they are going to have the same quality," Mr Gallego says. "If you can contain cost it's not necessarily detrimental to quality."
IAG has previously advised that it expects Iberia's cost base to sit closer to Vueling than Iberia mainline, as while Iberia Express will have a more complicated model than Vueling with business class, it will not have some of the back-end cost bases Vueling inherited during the Clickair merger.
Iberia Express to feature four-tiered fare structure
Passengers will still be able to use Iberia's online check-in and earn frequent flyer points, which will bode well for them and lessen any notions of not flying proper Iberia, which could play into union hands. The biggest change is that Iberia Express will have a four-tiered fare structure with the lowest fare, "Express", not having a checked luggage allowance. Iberia's short-haul fare structure typically has two tiers: reduced economy and regular economy.
Tiered fare structures are gaining in popularity, with Air New Zealand reporting success on its four-tiered structure. The structure allows easy transparency for passengers to compare fares with the LCCs posing significant competitive challenges. The structure also readily bundles likely add-ins, reducing the cumulative affect of selecting ancillaries one-by-one. Critical, and not to be overlooked, is that tiered structures are compatible with global distribution systems. Iberia Express will work with travel agents and Mr Gallego tells CAPA the tiered structure was partially created to work in Amadeus, the carrier and Iberia's GDS.
TAP Portugal already has a tiered fare structured, and more LCCs and full service carriers airlines can be expected to adopt it (some recent additions are Japan's Peach and Singapore's Scoot).
After the "Express" fare, Iberia Express will offer a second level that includes one piece of checked luggage and seat selection while the flexible tier gives checked luggage and seat selection and ability to change or refund tickets. In all economy tiers, food and beverage are sold onboard. Iberia mainline does not offer complimentary food and drinks on short-haul flights. Iberia Express' final tier is its business offering, which includes a meal and the blocking of the middle seat (the cabin is configured 3-3).
Iberia Express' A320s will seat 177, three short of the aircraft's 180 certified maximum and the typical density of LCCs operating A320s. Iberia's current A320s typically seat up to 162, giving Iberia Express a significant unit cost advantage, although this will be achieved with some passenger losses. Pitch in Iberia Express business class will be 30in whereas mainline is 34in. Economy has 28in of pitch whereas mainline has 31in.
Iberia Express has a simplified all-white livery that will likely be updated when Iberia refreshes its branding later this year.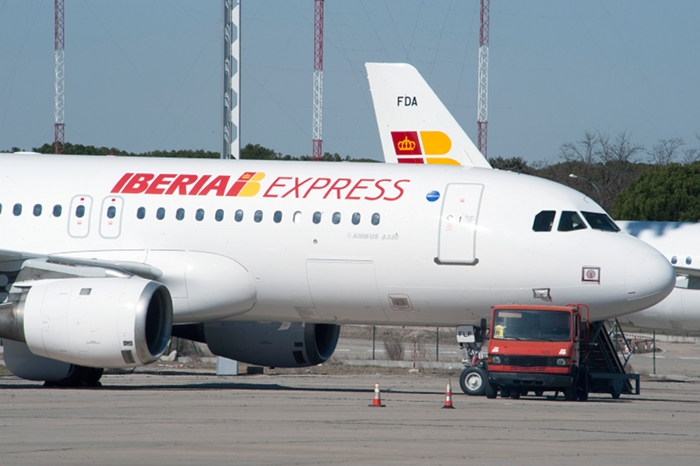 Iberia's lower-cost model joins those offered by legacy carriers
That the legacy European short-haul model is loss-making is not new but the past year has seen initiatives across Europe to address the structural challenges that will not go away. While fuel costs may ease burden, prices are still predicted to be high and LCCs – namely Ryanair and easyJet – will have an advantage. Air France had created a plan to counter easyJet's presence by having short-haul international routes from secondary French cities. Air France had planned – without releasing many details – to lower its cost base by 15%. Estimates place easyJet having a 58% cost advantage over Air France on short-haul routes. The plan took a step back earlier this month when Air France cancelled some of the new services.
See related articles:
The other of Europe's big three airline groups, Lufthansa, planned a similar counter, but in Berlin and against airberlin. Lufthansa plans an astounding 33% decrease in costs for its invigorated Berlin operation by using young A320s, reducing maintenance costs, and having locally-based crews. The carrier has yet to report on the implementation and success.
See related article: Lufthansa responds to Air Berlin at new Berlin airport, but success far from guaranteed
Finnair holds a similar view – unprofitable short-haul is unsustainable – but has announced a far different course of action: outsourcing its short-haul flying to a partner yet to be finalised. Finnair's recognition is that taking costs out of a legacy carrier has limitations and to compete with LCCs – Ryanair but especially Norwegian are in its region – an airline has to be an LCC, not a slimmed-down legacy carrier.
This is not to suggest Iberia Express' plan cannot meet success. Iberia mainline's problem has been that of labour. Iberia Express' high seating density and fare structure changes are welcome additional benefits. Iberia has a large corporate market to draw from, and keeping perks like lounge access, online check-in and frequent flyer points for Iberia Express flights help it find a balance and be more competitive against LCCs. The time is over for Europe's legacy carriers to give free checked luggage to those on the cheapest fares. They only need to look across the pond and see the financial success legacy US carriers have achieved with charging for checked luggage, although Europeans will be smart to price checked luggage appropriately and not gouge.
A factor not considered in Iberia Express' plan – hatched some years ago but postponed as Iberia and British Airways merged – is the current economic state of Europe and Spain in particular. If there is a structural change in Spain's corporate market, Iberia could look to deploy Iberia Express on the corporate routes it is so far shying away from. More drastic action could see Iberia need to follow Finnair in starting over from scratch and creating a low-cost carrier, but for now that is not forecast, although Iberia and IAG have shown persistence in making the structural changes they deem fit, even if they have to challenge powerful labour unions. As launch of Iberia Express shows, management typically perseveres.