Thai Smile settles on unique hybrid model with premium economy and mixed network
Analysis
New Thai Airways unit Thai Smile is gearing up to launch services on 07-Jul-2012 following a unique hybrid model aimed at allowing it to compete against LCCs at the back while meeting the needs of premium passengers, including those connecting from Thai-operated flights, with a light premium economy type of product at the front. Thai Smile's initial network will feature a mix of new destinations for the Thai Airways Group and existing destinations, where the new carrier will look to supplement existing Thai Airways-operated service.
Thai Smile's first destination, Macau, will be international but managing director Woranate Laprabang tells CAPA that about 30% of the new carrier's capacity will be allocated to domestic routes. Mr Laprabang now expects to be managing a 20-aircraft all-narrowbody operation by the end of 2015.
Thai Smile's original fleet plan envisioned 11 new A320s by 2015, with the first four deliveries coming in 2012. But Thai's board earlier this month approved an accelerated fleet plan that will result in an additional nine leased narrowbody aircraft which almost certainly will also be A320s.
Thai Smile has gone through numerous iterations and business plans since Thai Airways Group decided in May-2011 to establish a lower-cost unit to operate regional routes. The new carrier was known as Thai Wing for about three months before the Thai Smile name was unveiled in late Aug-2011.
Thai Smile makes multiple revisions to business plan
The initial business plan envisioned the new carrier, which has been established as a business unit rather than subsidiary of Thai Airways, initially operating only domestic services with international services a future possibility. Some of Thai Airways' thinner domestic routes – such as Bangkok to Ubon Ratchathani, Udon Thani and Surat Thani – were initially expected to be transferred to Thai Smile in the new carrier's first phase. With Thai Smile operating under a "low to medium cost base" and a model which is part LCC and part full-service regional carrier, the Thai Airways Group it seemed was aiming to initially use Thai Smile to increase its competitiveness on unprofitable domestic routes and potentially later on regional international routes.
See related article: Thai Airways to use Thai Smile to fight back at AirAsia and rapid LCC growth in Thailand
But in late 2011 the business plan for Thai Smile was revised to consist only of international routes during the first phase. Several completely new destinations for the Thai Airways Group such as Macau, Danang in Vietnam, Kaohsiung in Taiwan, Kochi and Ahmedabad in India, Luang Prabang in Laos, Shenzhen in China and Surabaya in Indonesia were incorporated into Thai Smile's network plan.
With such a network, Thai Airways was aiming to use Thai Smile to compete in several destinations currently served by AirAsia which Thai Airways is unable to now consider entering due to its higher costs and predominately widebody fleet. For example, AirAsia is currently the only airline group linking Bangkok with Shenzhen and Surabaya. It is also the only Thai operator on the Bangkok-Macau route.
At the same time Thai Airways also started positioning Thai Smile to open services to relatively under-served and up-and-coming regional destinations, particularly where there is demand from long-haul passengers originating in Europe, Australia and North America. For example, the heritage site and popular tourist town Luang Prabang is only now served from Bangkok by Bangkok Airways, a regional boutique carrier and Thai Airways competitor, as well as tiny flag carrier Lao Airlines. Danang and Kochi is not served by any carrier from Bangkok but is served from Singapore by Singapore Airlines regional subsidiary SilkAir, a carrier Thai Airways has looked to emulate in establishing Thai Smile. Bangkok-Ahmedabad is also currently not served by any carrier while Bangkok-Kaohsiung is served with only two weekly flights from China Airlines.
Speaking to CAPA at Thai Smile's new office in downtown Bangkok last week, Mr Laprabang says new Thai Airways Group destinations such as Kaohsiung, Surabaya, Danang, Luang Prubang and Mandalay in Myanmar remain in Thai Smile's medium to long-term business plan. But he says over the last couple of months the decision was made to focus more on existing Thai Airways destinations once Macau is launched. He says this was partly done to mitigate risk and keep costs low as opening new stations can be an expensive and risky proposition.
Additional Thai Smile routes for 2012 will be existing Thai Airways destinations
As a result Thai Smile's network at the end of 2012 is now expected to consist of Macau and a few routes – both domestic and international – that are already operated by Thai Airways. Mr Laprabang sees Thai Smile supplementing Thai Airways on such routes rather than replacing the parent brand.
Mr Laprabang declined to say which routes after Macau will be launched. But in previous versions of Thai Smile's business plan some existing Thai Airways international destinations which were identified included Hong Kong, Hyderabad, Kolkata, Kuala Lumpur, Phnom Penh, Penang, Seoul, Singapore, Vientiane and Yangon. Penang, Phnom Penh and Vientiane would appear to be the most likely of these destinations to be launched as they are currently all short-haul routes of less than two hours and are currently served by Thai Airways 737-400s. Mr Laprabang says Thai Smile will focus on routes of one to two hours although there could be a few flights of about three hours. He says the network will primarily consist of domestic Thailand and other Southeast Asian countries with some flights also to southern China (such as Macau) and the parts of India which are within a three-hour flight of Bangkok.
Some domestic trunk routes such as Bangkok-Chang Mai and Bangkok-Phuket are also likely to be served by Thai Smile by the end of this year. These routes are now served by Thai Airways with several daily widebody flights but Thai Smile expects to operate flights during periods of the day when there are not any Thai Airways flights. Initially Thai Airways was looking at using Thai Smile to operate thinner domestic routes where Thai Airways now operates 737-400s but the group has since decided it does not want to initially burden the new unit with generally unprofitable domestic routes.
However, it is almost inevitable Thai Smile will later be asked to operate thin domestic routes as Thai Airways is planning to phase out its remaining 737s by the end of 2015 and transition to an all-widebody fleet. In this respect Thai Airways is following the strategy already employed by rival Asian airline groups Singapore Airlines and Cathay Pacific, which use their SilkAir and Dragonair subsidiaries respectively to operate thinner regional routes and feed their all-widebody mainline fleets.
While it is unclear which routes Thai Smile will launch after Macau, there is certainly still time for the seemingly constantly moving network plan to be finalised. Subsequent routes will not be launched until after August, when Mr Laprabang says Thai Smile is now slated to receive its second and third A320s. Mr Laprabang expects Thai Smile will be operating in September a three-aircraft fleet and a network of three to four destinations. He adds the fourth and final A320 for 2012 is now slated to be delivered in Sep-2012.
Thai Smile plans to launch operations on 7-Jul-2012 with two Macau flights
For now Thai Smile is only committed to operating two daily flights on the Bangkok-Macau route from 7-Jul-2012, an operation which requires one relatively fully utilized A320. It is no coincidence that Macau is Thai AirAsia's second largest international destination after Singapore. Thai AirAsia currently operates four daily A320 flights between Bangkok and Macau, giving it over 10,000 seats per week on the route. Air Macau also operates up to two flights per day to Bangkok and at least for now codeshares with Thai Airways on the route.
After it launches July, Thai Smile will have a 26% share of the Bangkok-Macau market, according to forward capacity data from Innovata. This will put Thai Smile ahead of Air Macau, which will have a 22% share of capacity in the Bangkok-Macau market after Thai Smile's entrance, but behind Thai AirAsia's 52% share.
Bangkok to Macau capacity (one-way seats per week) by carrier: 19-Sep-2011 to 16-Sep-2012
Mr Laprabang says Airbus has just provided a 22-Jun-2012 delivery date for Thai Smile's first A320. As the delivery date is later in June than Thai Smile was hoping for, the carrier has had to push back its planned launch date from 01-Jul-2012 to 07-Jul-2012. Mr Laprabang says ticket sales are expected to commence on 18-Apr-2012. As Thai Smile will use Thai Airways' TG code, it will rely entirely on Thai Airways distribution channels to sell all seats on its flights.
Thai Smile has a small administrative staff of 30 to 35 employees as it is relying on Thai Airways for almost all functions, including marketing, maintenance, network planning and yield management. Crews, however, are being hired separately from Thai Airways using Wingspan Services, a subsidiary of Thai Airways which the mother carrier now uses to hire some clerical and administrative staff.
For Thai Smile, Wingspan is being used to hire crew under different terms and conditions than Thai Airways crew, allowing Thai Smile to operate with a lower cost structure. Mr Laprabang says Thai Smile has had no challenges recruiting flight attendants and pilots locally. For the carrier's captain positions Thai Smile has been able to hire extremely experienced pilots which were required to retire from Thai Airways at the age of 60 but are authorised to fly until they are 65.
Thai Smile to offer up to 30 premium economy seats
The business plan for Thai Smile also has gone back and forth multiple times over the last several months on how to configure the carrier's fleet of A320s. In the end Thai Smile has elected for flexible two-class 174-seat configuration consisting of economy and premium economy which will be called Smile Plus.
Mr Laprabang says there will be a movable curtain separating regular economy and Smile Plus. The aircraft will have the flexibility of offering up to five rows, or 30 seats, of Smile Plus. But the curtain can be moved and on some routes Thai Smile will offer less than 30 Smile Plus seats. Mr Laprabang says that on some future domestic routes potentially no Smile Plus cabin may be offered.
Thai Smile has decided to stick with normal economy seats in three-by-three configuration for the Smile Plus cabin. The carrier looked at potentially blocking the middle seat but at least for now has opted to also sell the middle seat in Smile Plus.
Mr Laprabang says the first five rows of Thai Smile's A320s offer 33in pitch, providing what Thai Smile believes is sufficient legroom to qualify for short-haul premium economy. Mr Laprabang points out that the economy and economy plus products are designed only for short-haul services as he expects Thai Smile to primarily operate routes of two hours or less. There will be "some but very few" flights of between two and three hours to China and India (Bangkok-Macau is about two and a half hours), but Mr Laprabang does not expect any flights of more than three hours.
Meals will be offered in Smile Plus while regular economy passenger will only receive snacks (Mr Laprabang says Thai Smile is now talking to potential vendors about offering "trendy" co-branded snacks). For now Thai Smile only plans to serve cold food although Mr Laprabang says the carrier may look later at offering hot food in Smile Plus and has equipped the aircraft to be able to offer hot meals at the front of the cabin.
He says alcohol beverages will not be complimentary in either class. There will also be no in-flight entertainment (IFE) in either class. In all these cases, Thai Smile has elected not to match the product provided by Thai Airways mainline, which includes hot meals, complimentary alcoholic beverages and IFE in all classes even on short flights. But Mr Laprabang is confident even the carrier's premium passengers do not need such frills given the short duration of flights. He says Thai Smile has intentionally adopted a much different approach to service than Thai Airways and is focussed on providing a friendly, trendy, elegant but simple service.
Thai Smile brand positioning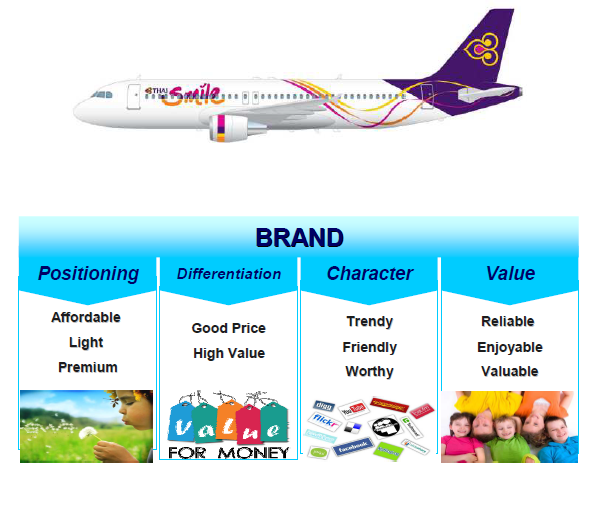 Seating will be tight in the back of Thai Smile's A320s, where there is only 28in pitch. Some rows at the front of the economy class cabin will offer a slightly more generous 31in pitch. Mr Laprabang says fare class will determine who receives the seats at the front of the economy section (and the Smile Plus seats when Smile Plus isn't sold). Passengers purchasing cheaper fares, geared more to competing with LCCs such as Thai AirAsia, will be automatically seated in the rows offering 28in pitch. Seat assignments, however, are complimentary for all passengers – further evidence of a hybrid model as pure LCCs usually charge for pre-assigned seating.
Thai Smile is not truly low-cost
Mr Laprabang says the product is not designed according to the LCC model and Thai Smile aims "to capture the upper segment of low-cost". He adds: "We don't want to position ourselves as a low-cost. We are not a low-cost carrier. We are very much tied with the mother carrier, the mother brand. We even use the same TG carrier code. We cannot be too far away from the mother brand."
He adds the advantage of Thai Smile is it has been built to adopt the LCC model on the operational side. With a LCC style operation (such as single fleet, high utilisation, quick turnarounds, maximum use of crew time and a lean organisational structure with a very small head office) Thai Smile is confident of meeting its goal of establishing a low to medium cost base, putting it below the medium to high cost base at Thai Airways.
Thai Airways realises Thai Smile isn't low cost enough to meet the low end of the budget sector and therefore is still seeking to establish what it refers to as an ultra low-cost carrier with a "low to ultra-low" cost base. If launched, this new carrier would be a third low-cost brand for the group. In addition to Thai Smile, Thai Airways also owns a 49% stake in LCC Nok Air, which is completely focused on the domestic market and according to Thai Airways has a '"low to medium" rather than "low to ultra-low" cost base.
Thai Airways Group brand positioning matrix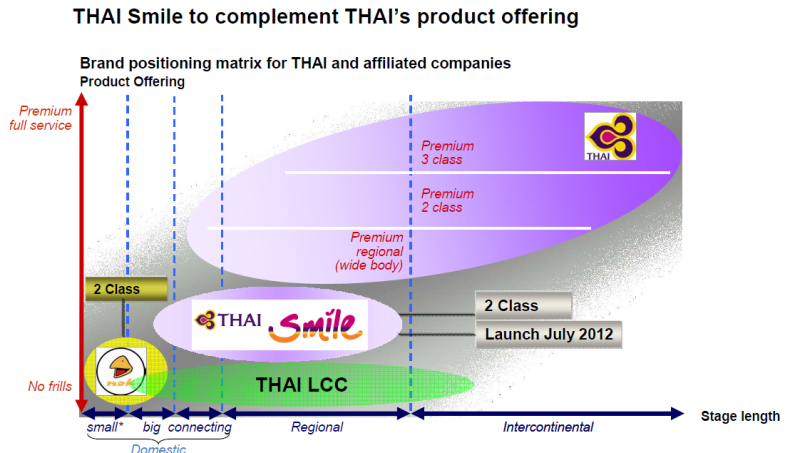 Thai Airways Group product by cost base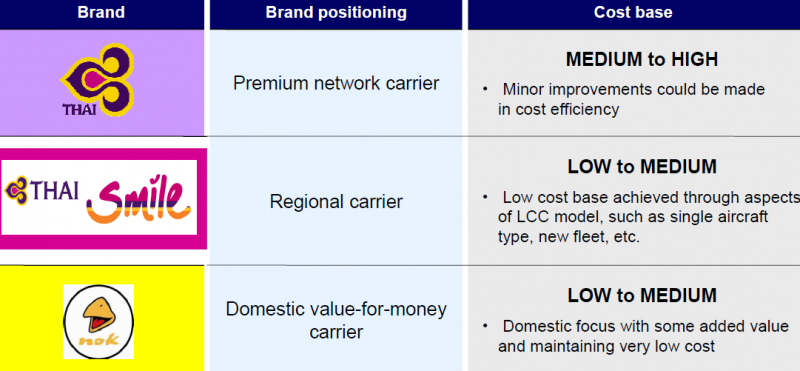 Nok could potentially partner with Thai Airways in establishing the group's new ultra low-cost subsidiary, which would operate domestic and international routes. But Thai Airways is also talking to potential joint venture partners from overseas following the dissolution last year of its original partnership agreement with Singapore-based Tiger Airways. The proposed Thai Tiger joint venture was called off partly because of the joint venture's inability to secure government approval.
See related article: Thai Tiger officially and finally dropped
Thai Airways was able to establish Thai Smile without government approval because it is a unit rather than new subsidiary. Mr Laprabang says Thai Smile could potentially later be converted into a subsidiary, a process which Garuda Indonesia low-cost unit Citilink is now about to complete. But Mr Laprabang says it will see how the Thai Smile operation evolves before making such a determination.
"We have to wait and see the response of the market of our new sub-brand together with the success of the implementation of the new model," he explains. Mr Laprabang adds that Thai Smile also would need to achieve an economy of scale, which would require a relatively large fleet, to make such a transition worthwhile.
Thai Airways originally only committed 11 A320s to the Thai Smile project, including six leased aircraft and five which have been ordered directly from Airbus. But Thai's board earlier this month approved the lease of another nine narrowbody aircraft (a specific type of narrowbody wasn't specified in the approval but the additional nine aircraft will almost certainly be A320s because Thai Smile seeks to operate at least for the medium-term only one aircraft type). Mr Laprabang says the nine additional aircraft will be used to accelerate expansion in the 2013 and 2014 timeframe.
Thai Smile seeking more A320s for delivery in 2013 and 2014
Mr Laprabang explains initially there was gap between the six leased A320s, all of which will be delivered by the end of 1Q2013 (aircraft number five is slated to come in Jan-2013 followed by aircraft number six in Mar-2013), and the five purchased A320s, which will not be delivered until 4Q2014 and 2015. As a result, Thai Airways is planning to request delivery slots between 2Q2013 and 3Q2014 as it starts negotiations with leasing companies for the nine additional aircraft.
The additional nine aircraft will give Thai Smile a fleet of 20 aircraft by the end of 2015. This is a respectable size and matches the current fleet size at SilkAir. It is also slightly larger than the current fleet size at Bangkok Airways and Nok Air. But it is slightly smaller than the current fleet size at Thai AirAsia, which is also planning rapid fleet and network growth using proceeds from its its pending initial public offering.
If launched, Thai Airways' ultra low-cost carrier would likely pursue more rapid growth than Thai Smile. The budget market in Thailand has huge potential but with its product positioned at the upper end of the budget sector, Thai Smile's growth opportunities could be relatively limited compared to other LCCs in the region. LCCs from Thailand and surrounding countries now operate about 400 aircraft with over 1,000 more aircraft on order. Thai Airways recognizes it will need more than just Thai Smile to effectively compete against the region's fast-expanding LCC sector.
Select Asian LCCs - current fleet sizes and orders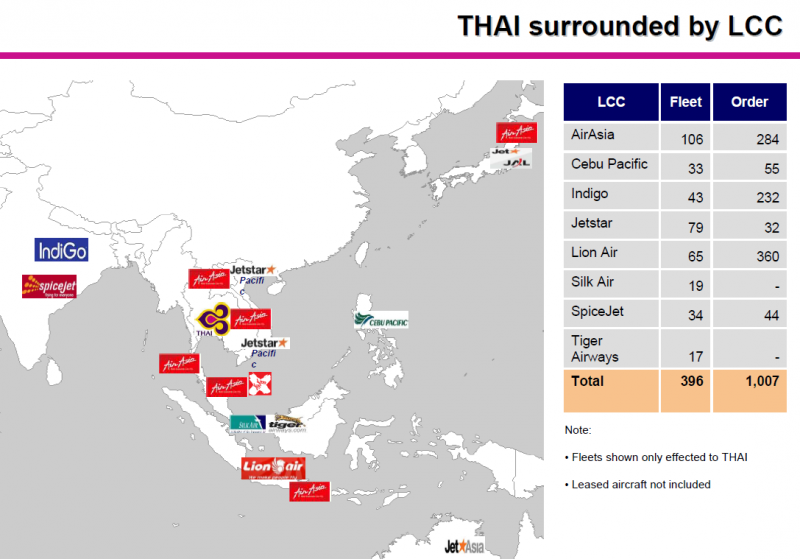 Outlook: Thai Smile is low-risk but its success is far from guaranteed
Thai Smile doesn't completely solve the huge challenges Thai Airways faces in its short-haul markets, where competition with LCCs is already intense and is poised to become even tougher. But it is a low-risk proposition and provides a potential opportunity for Thai Airways to grow in some regional markets.
The success of SilkAir, which has posted higher profit margins than parent Singapore Airlines in recent quarters, shows there is still room for full-service regional carriers in Asia's short-haul market. Thai Smile believes it can emulate this success but also take it one step forward by incorporating some elements of the LCC model, which SilkAir has not adopted at all, and being part of the Star Alliance network. SilkAir is not part of Star but Thai Smile will automatically fall under Star as it uses the same TG code as Thai Airways. Thai Smile in future will likely be the only Star carrier at some destinations in the region, positioning it to carry relatively high-yield passengers from other Star carriers.
In the end Thai Smile may find a profitable niche and provide valuable feed to Thai Airways' struggling long-haul network, allowing the parent company to compete better against rivals such as Singapore Airlines. But it is far from a sure winner as its unique hybrid model has never really been tested. And as Thai Smile is part of Thai Airways, which is known for frequent strategy shifts and can be influenced by Thailand's always changing political landscape, yet more revisions to Thai Smile's business plan and model are likely. Thai Smile has already taken many twists and turns in its pre-launch phase and where it ends up is pretty much anyone's guess.