Singapore Airlines' load factors fall sharply in February
Singapore Airlines has seen a decline in load factors since Aug-2010, as the airline continues to grow capacity strongly. East Asia (which includes Japan) is SIA's biggest market.
Singapore Airlines international capacity by region (14-Mar-2011 to 20-Mar-2011)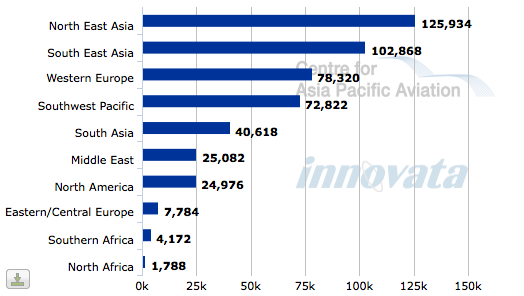 SIA, the world's second biggest carrier by market capitalisation, recorded a 1.0% year-on-year decline in systemwide passenger carriage (RPKs) in Feb-2011, while capacity (measured in ASKs) grew by 5.4%. As a result, passenger load factor (PLF) declined by 4.8 percentage points to 75.1%.
Singapore Airlines Passenger Load Factor (2009 to 2011)
SIA%20Pax1.jpg.png" alt="" height="374" />
All regions except East Asia recorded declines in passenger load factors over the same month last year. A new double-daily service to Tokyo-Haneda was launched on 31-Oct-2010, complementing the existing twice-daily services to Tokyo-Narita.
SIA's Japan services are operating as per normal schedules since last Friday's earthquake and tsunami, although it will delay the introduction of A380 equipment on SQ11/12 to Los Angeles via Tokyo Narita from late Mar-2011 "until further notice", due to "lesser demand" for travel to Japan. The service will continue to operate with B747-400 aircraft.
Separately, an airline spokesman said the carrier is seeing some cancellations for flights to Tokyo, while "loads for flights out of the Japanese capital are strong".
Singapore Airlines Passenger Load Factor (East Asia) (2009 to 2011)
SIA%20Pax3.jpg.png" alt="" height="374" />
SIA stated the load factor declines for the other regions in Feb-2011 were "in part due to a smaller volume of low fare promotional traffic this year." Capacity was added to several destinations, including Manchester (via Munich), Houston (via Moscow), Osaka and Seoul.
Load factors in the Americas market fall below 70% for the first time since Jun-2009. SIA's all-Business Class service to Los Angeles returned to daily operations from early Oct-2010. Load factors to the region have fallen (year-on-year) every month since.
Singapore Airlines Passenger Load Factor (Americas) (2009 to 2011)
SIA%20Pax2.jpg.png" alt="" width="577" height="375" />
Load factors to Europe have also slumped, dipping below 2009 levels in Jan-2011.
Singapore Airlines Passenger Load Factor (Europe) (2009 to 2011)
SIA%20Pax4.jpg.png" alt="" width="576" height="374" />
Load factors to Southwest Pacific (SIA's fourth biggest market - a region dominated by Australia) have held up, but are below last year's strong levels.
Singapore Airlines Passenger Load Factor (South West Pacific) (2009 to 2011)
SIA%20Pax5.jpg.png" alt="" width="575" height="375" />
West Asia (ie India) and African loads have also eased, but are well above the 2009 lows.
Singapore Airlines Passenger Load Factor (West Asia And Africa) (2009 to 2011)
SIA%20Pax6.jpg.png" alt="" width="575" height="372" />
Overall cargo traffic (measured in freight tonne kilometres) improved by 3.6%, but cargo capacity romped ahead by 10.1%. This led to a 3.8 ppts drop in cargo load factor, which declined in all regions. SIA stated, "the large decline in East Asia's cargo load factor was a result of seasonal slow airfreight activities across the Lunar New Year holidays."
Singapore Airlines Cargo Load Factor (2009 to 2011)
SIA%20Cargo1.jpg.png" alt="" width="575" height="374" />
CAPA Members please note that all the graphs presented here are available on the Singapore Airlines profile. Simply login and go to the Traffic tab on the SIA page. Graphs can be instantly generated and three years of data is downloadable to excel. CAPA now offers live monthly traffic data online for 125 airlines worldwide:
Asia Pacific:
Air China, Air New Zealand, AirAsia, ANA, Asiana, Beijing Capital Airlines, Cathay Pacific, Chengdu Airlines, China Airlines, China Eastern, China Express Airlines, China Southern, China United Airlines, Chongqing Airlines, EVA Air, Garuda, Grand China Air, Hainan Airlines, Hebei Airlines, Japan Airlines, Jet Airways, Joy Air, Juneyao Airlines, Korean Air, Kunming Airlines, Lucky Air, Malaysia Airlines, Mandarin Airlines, Okay Airways, Philippine Airlines, Qantas, Rex, Royal Brunei Airlines, Shandong Airlines, Shanghai Airlines, Shenzhen Airlines, SIA, Sichuan Airlines, Silkair, Spring Airlines, Thai Airways, Tianjin Airlines, Tiger Airways, Transasia Airways, UNI Airways, Vietnam Airlines, Virgin Blue, West Air, Xiamen Airlines.
Europe:
Adria Airways, Aegean Airlines, Aer Lingus, Aeroflot, Air Berlin, Air France-KLM, Air Malta, airBaltic, Alitalia, Blue1, bmi, British Airways, Cargolux, Croatia Airlines, Cyprus Airways, Czech Airlines, easyJet, Finnair, Iberia, Jat Airways KLM, LOT, Lufthansa, Luxair, Malev, Monarch, Norwegian Air Shuttle, Olympic Air, Ryanair, SAS, Turkish Airlines, Vueling.
North America:
Air Canada, AirTran, Alaska Airlines, Allegiant, American Airlines, American Eagle, Continental Airlines, Delta, Frontier, Great Lakes Aviation, Hawaiian Airlines, JetBlue, Pinnacle, Porter Airlines, Republic, SkyWest, Southwest, Spirit Airlines, United Airlines, US Airways, WestJet.
Latin America:
Abaeté, Air Minas, Avianca, Azul, Copa, Cruiser, GOL, LAN, Meta, NHT, Noar, Pantanal, Passaredo, Puma Air Rico, Sete Linhas Aéreas, Sol, TAM, Team, Total, Trip, Webjet.