American Airlines and Qantas expand on US-Australia. Qantas reasserts its international role
Analysis
American Airlines has returned to the South Pacific after two decades of absence. In doing so within a tight and longstanding partnership, Qantas, the resurgent Australian flag carrier has firmly set out to re-establish itself as a significant international force.
The South Pacific corridor between North America and Australia/New Zealand long appeared an anachronism. After a flurry of US airline entry in the early 1990s, the US-Australia market became limited in direct competition and large intermediary hubs. The 2008 open skies agreement allowed the entry of Delta and then-V Australia (now Virgin Australia), but they quickly paired up to challenge larger rivals Qantas, United and Air New Zealand. Despite the latter two being members of Star Alliance, Air NZ and United were effectively competitors while Qantas plied the route on its own. Elsewhere, global alliances came to define the trans-Atlantic, North Pacific and EU-Japan markets.
Now the South Pacific too will be defined by partnerships. American Airlines will launch Los Angeles-Sydney service in Dec-2015 after years of relying on Qantas to feed AA's domestic network. There will now be pressure on Air New Zealand and United to look for synergies (or more) while the small position of Virgin Australia and Delta will surely be squeezed. American was previously rumoured to be considering direct services to New Zealand, and has again revived that potential by suggesting that may be next on the list. The competitive balance overall will inevitably be defined by the way the respective partners (or potential partners) proceed from here.
Qantas wanted to grow and American Airlines was willing to help take over frequencies
American Airlines and Qantas announced on 09-Jun-2015 a transformation of their partnership from a Joint Business Agreement to joint venture with revenue sharing. This coincides with American's entry to the Australian market, creating a scenario where revenue-sharing makes sense since both carriers are present in the market. American will be able to push US point of sale for the JV. This is subject to regulatory approval, which is likely to be granted - although not a foregone conclusion.
American has long allowed its partners to benefit from its own absence of direct services. This was corrected to Hong Kong in 2014 and now will be addressed with Australia. (That leaves the Middle East, surely to follow in the medium term, despite American's public ambivalence to the market.)
A big gain, and largely the impetus for the move, is Qantas' wish to re-enter the San Francisco market. It lacks aircraft and so is having American pick up frequencies to allow Qantas to juggle its network and re-launch San Francisco, Qantas' largest unserved market and an important corporate destination. Qantas had previously served San Francisco with three weekly flights but felt this frequency was insufficient and it needed five, which it will launch with.
The announcement in summary is:
US-Australia/NZ returns to six operators – this time with partnerships
Qantas and American expect the net change of their new schedule to be a relatively modest 9% increase in Australia-US mainland (excluding Hawaii and Pacific Islands) seat capacity as well as a 6% increase in Sydney-Los Angeles seat capacity. The parties likely hope to placate regulators with the net growth, overall and in the one market they overlap in, Sydney-Los Angeles. The parties could argue a counter-factual scenario whereby American would be unwilling to enter the market without an alliance, and that would produce an outcome of reduced growth. (Although United and Air New Zealand are without an integrated alliance, they each have far more scale and market power than American would on its own.)
The broader Australia/New Zealand-North America mainland market (including Canada) should also see about 9% seat capacity growth, according to CAPA and OAG data. This will occur as Air New Zealand also grows approximately 9% in 2016, based on public information as of Jun-2015. In terms of net addition of seats, Air New Zealand's increase (approximately 45,000) will be about a third of the joint American/Qantas increase (130,000) although much can change as schedules are finalised.
In 2016 the market should be 19% bigger than in 2014, and 55% larger than in 2007 before Australia-US open skies. Since 2014, growth has been led by Air New Zealand, American/Qantas and United.
Australia/New Zealand to North America annual seats: 2005-2016F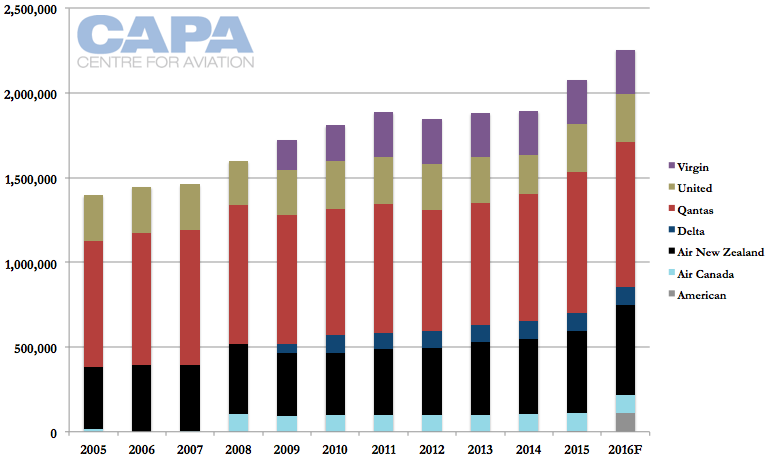 Although Qantas has grown over the years, the new entrants and growth of existing carriers has seen its market share fall from a peak of 54% in 2007 to 40% in 2015 – still an overwhelmingly strong position and a wide lead over the next largest operator, Air New Zealand at 23%, although Air New Zealand's Australia-North America traffic is sixth freedom and Qantas is in the more voluminous (and more competitive) Australia-North America O&D market. Qantas market share in 2016 is forecast to fall to about 38%, but the introduction of American Airlines should mean they jointly hold 43% of the market – a level Qantas has not achieved since 2009.
The re-entry of American returns the South Pacific-US market to service by six airline tails. As recently as 1992, Qantas, American, United, Continental, Northwest and Air New Zealand served the market, all independently. From Dec-2015 there will be an even split of operators between the US (American, Delta and United) and Pacific (Air New Zealand, Qantas and Virgin). The bigger difference is that, pending regulatory approval, the six airlines in 2015 will be competing essentially as four: Qantas/American, United, Delta/Virgin and Air New Zealand. Closer ties between United and Air New Zealand seem an obvious competitive response, and could further reduce the effective competing entities to three.
Trans-Pacific operators annually: 1991-2014
American Airlines has historically been the international laggard of the three big US airlines as they exist today. This has changed in the medium/long-haul markets of Europe and South America with growth including through new destinations. In long/ultra-long-haul markets, American has added Seoul and Hong Kong in recent years in addition to thickening its mainland China network with new routes to existing points. American last served Australia in 1992 via Honolulu.
American launches Los Angeles-Sydney service daily from 19-Dec-2015 with 777-300ERs, a relatively new addition to its fleet and the flagship. The 777-300ER will be its only aircraft with a three-class (including first) product. Qantas uses A380s and 747-400s, Delta 777-200LRs, United 777-200ERs and 787-9s, Virgin Australia 777-300ERs and Air New Zealand 777-300ERs; the 777-300ER is an obvious pick.
The departure out of Los Angeles comes as American has talked about a build-up from that West Coast city to Asia. Presumably Australia could be included, but either way Los Angeles has the largest O&D traffic.
See related report: Los Angeles Airport at the heart of a fierce battle between American Airlines and Delta Air Lines
With the exception of Qantas' Dallas service and United's flights to San Francisco (in addition to Los Angeles), Los Angeles is the US destination for most South Pacific services. It is also the largest point for Air New Zealand, which also serves San Francisco (with plans for Houston). Los Angeles is also the calling point for Pacific island carriers Air Tahiti Nui and Fiji Airways.
Top 20 North America-Southwest Pacific Routes ranked on available seat capacity: 8-Jun-2015 to 14-Jun-2015
Rank
Origin
Destination
Total Seats
1
LAX
Los Angeles International Airport
SYD
Sydney Kingsford Smith Airport
24,430
2
AKL
Auckland International Airport
LAX
Los Angeles International Airport
11,116
3
LAX
Los Angeles International Airport
MEL
Melbourne Tullamarine Airport
10,740
4
HNL
Honolulu International Airport
SYD
Sydney Kingsford Smith Airport
10,392
5
LAX
Los Angeles International Airport
BNE
Brisbane Airport
10,080
6
LAX
Los Angeles International Airport
PPT
Papeete Faaa Airport
8,404
7
DFW
Dallas/Fort Worth International Airport
SYD
Sydney Kingsford Smith Airport
5,808
8
AKL
Auckland International Airport
SFO
San Francisco International Airport
4,618
9
HNL
Honolulu International Airport
GUM
Guam Antonio B Won Pat International Airport
3,808
10
SFO
San Francisco International Airport
SYD
Sydney Kingsford Smith Airport
3,808
11
YVR
Vancouver International Airport
SYD
Sydney Kingsford Smith Airport
3,780
12
AKL
Auckland International Airport
HNL
Honolulu International Airport
3,604
13
HNL
Honolulu International Airport
BNE
Brisbane Airport
3,564
14
LAX
Los Angeles International Airport
NAN
Nadi International Airport
3,542
15
AKL
Auckland International Airport
YVR
Vancouver International Airport
1,824
16
HNL
Honolulu International Airport
MEL
Melbourne Tullamarine Airport
1,818
17
HNL
Honolulu International Airport
PPG
Pago Pago International Airport
1,056
18
HNL
Honolulu International Airport
MAJ
Marshall Islands International Airport
960
19
HNL
Honolulu International Airport
PPT
Papeete Faaa Airport
588
20
LAX
Los Angeles International Airport
RAR
Rarotonga Airport
460
With some of these routes, American is capturing back traffic it has helped sustain. For years American has seen the volumes of passengers it places on Cathay Pacific to Hong Kong and Qantas to Australia/New Zealand, as well as the passengers those airlines place on American's short-haul North American network. American has for many years placed passengers on other metal or carried them on short-haul connections, rather putting its own metal in those markets.
And its airline partners, after all those years of benefiting from American's feed, saw they had to give something back. Although the joint-venture with Qantas will help, American has the strength of its network, corporate reach and loyalty programme.
It took American some time to realise the opportunity. As CAPA discussed about American's Dallas-Hong Kong service, the "old" American faced aircraft, product and crew issues that combined prevented meaningful long-haul growth:
American considered a Dallas-Beijing route for new US-China route authorities in 2006, but the route was longer than American's pilot union contract allowed.

Negotiations to operate the longer service did not produce a favorable outcome, with the union requesting conditions that affected the commercial viability of the service. However, bankruptcy restructuring allowed American to change its contracts in ways that now permit longer flights without the commercial restraints American previously experienced. This was also a factor delaying American's entry into Hong Kong.

...

Despite the strong prospects for American's presence in Hong Kong, the service eventuated only in 2014. As noted with the Dallas-Beijing example, bankruptcy restructuring gave American greater control over crew matters that impacted commercial feasibility.

The Hong Kong's route prospects also changed with American reducing its cost base, taking delivery of 777-300ERs better suited to the route, having a more premium product (the -300ERs in business class have lie-flat seats all with direct aisle access, unlike its -200ERs that are only now being retrofitted) and, finally, greater scale from American's merger with US Airways.

Mr Perhirin acknowledged American's previous under-development in Asia. "We were a late comer in Asia," he said at the Hong Kong launch, which the airline saw as the first example of Asian growth from the "new" restructured American.

The restructuring – giving American (record) profits and boosting cash – is allowing American to "take more risk" while hard products matching that of leading international airlines makes American "more confident about new markets where consumer expectations are high", Mr Perhirin saud. Finally, American's aircraft backlog, including new aircraft to the fleet like the A350, 777-300ERs and up to 100 787s, gives it opportunity to evaluate routes it could not have offered in the past. Retrofitted 777-200s can also change route dynamics.
See related report: American Airlines' triple play in greater China is part of long-haul rejuvenation, with more to come
American's Los Angeles-Sydney route raises another over-capacity worry for investors
In 2014 American undertook expansion to Asia, with new routes from Dallas to Hong Kong and Shanghai and wishes for a Dallas-Beijing route (which were realised in May-2015). American was candid in saying Asia had been unprofitable but was a strategic investment.
The Australian market is different from Asia, but the prospect of another new ultra-long-haul route to a new market will undoubtedly raise eyebrows for investors already concerned US airlines are losing capacity discipline and growing at rates they cannot meet a return on capital across routes. For American, profitability on long haul routes has changed following the drop in fuel prices; without hedges to dilute the gains the benefit from fuel has flowed straight through.
The concerns about over-capacity have been a theme in the US sector. Ironically, these over-capacity concerns come as IATA predicted the average profit per passenger in North America would be USD18.12, the highest of any region by far and generating a profit around USD15billion in 2015, half of the world industry's total. Second-largest is the Middle East at USD9.61 per passenger. The US average is more than double the world average of USD8.27.
American's Pacific region (which for now only includes Asia but will include the new Sydney service) has seen the greatest weakness. As CAPA previously wrote:
American's largest unit revenue decline during 1Q2015 was in the Pacific. Unit revenues in the region fell by 6.9% on a yield decline of 6.8%. Its capacity growth jumped 35% year-on-year as it continues off a much smaller base in Asia than United and Delta. Over the last couple of years American has launched service to Seoul, Shanghai, Hong Kong from DFW, and service to Beijing begins in May-2015.

Mr Kirby stated that currency headwinds and lowered surcharges drove the unit revenue declines; but overall American was pleased with demand on the routes given its capacity growth to Asia.
See related reports:
Qantas' re-entry to San Francisco cements supremacy of North America - and feeds the corporate market
The Emirates-Qantas partnership was a breakthrough and has been successful, but Qantas' most important partner is not Emirates: it is American Airlines. It is also America that is Qantas' most important international market, with most of its assets – aircraft – deployed there. The Emirates partnership has helped make that possible.
The changes under the Qantas/American plan will mean Qantas adds one additional weekly flight to the US. This is made by reducing Sydney-Los Angeles from 14 weekly to 10 weekly and Melbourne-Los Angeles from 10 weekly to nine weekly. That frees up five frequencies to be used for resuming Sydney-San Francisco service. (Again, there is net growth with American launching daily Sydney-Los Angeles service.)
Qantas and American Airlines Australia-US changes: as of 10-Jun-2015

As Qantas discussed in May-2015, San Francisco was its largest un-served corporate destination. Of the top 10 corporate destinations, the only other point unserved is Houston, which Qantas accesses in partnership with American Airlines. Qantas cut San Francisco service in favour of a new Sydney-Dallas flight.
Qantas and partner service to top 10 Australian corporate destinations: May-2015
There is naturally pressure to serve popular markets, but also a competitive element as United has improved its schedules and Air New Zealand is growing, including with a new destination of Houston. Although Houston does not directly impact the San Francisco market, shifting connecting passengers to transfer over Houston instead of San Francisco could see Air New Zealand create space in the San Francisco market to sell.
See related reports:
Qantas' exposure to North America (including Hawaii) in terms of ASKs is at a record high in 2015, according to OAG data. North America's share of Qantas' total international ASKs will reach approximately 38% in 2015. North America largely supports Qantas internationally, with its large markets of Asia and Europe still showing weakness - and requiring further partnerships. Restructures have only reduced losses, not yet generated profits.
Qantas North America ASKs and North America's share of Qantas' total international ASKs: 2005-2015F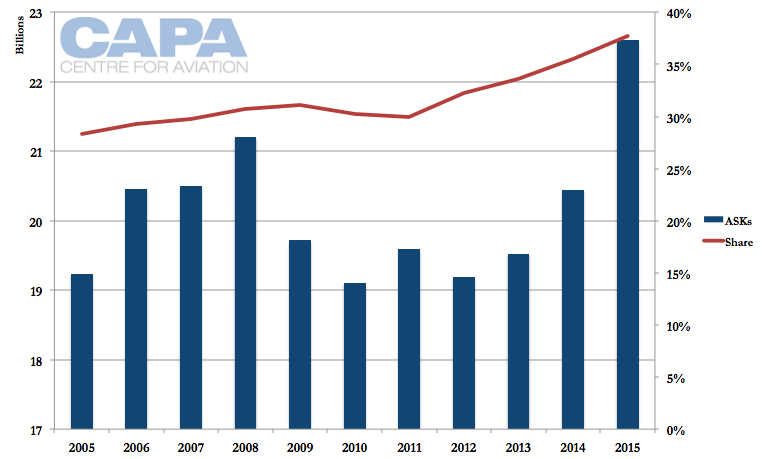 Qantas' North American share is higher than Air New Zealand's approximately 35% share (as of 10M2014, when CAPA previously looked at the topic). Air New Zealand's share however also includes its Los Angeles-London flight. Excluding London, North America is about 29% for Air New Zealand. Both Qantas and Air New Zealand are piggybacking on North America's strength in volume and yields and limited competition.
Air New Zealand North America/Europe ASKs and share: 2008-10M2014
A leaner and more efficient Qantas International has been critical to Qantas' restructure, which is seeing blue sky as an annual profit of around AUD1 billion looms. With the remarkable recovery, Qantas CEO Alan Joyce is under pressure to deliver on his promise to grow once the airline is sustainable. Qantas has adjusted its international network to make its fleet more productive, and more tweaks will be needed to support the trans-Pacific growth.
Qantas International right-sizing: as of 28-Aug-2014
See related reports:
Qantas and American: two partners with opposing Gulf carrier views, although not relevant
The announcement between Qantas and American prompted questions of them cementing their partnership despite different stances with Gulf carriers and partnerships with them.
Qantas of course is the go-to example, with its Emirates partnership announcement in Sep-2012 marking a start of a new era of legacy partnerships with Gulf carriers. American meanwhile has a not insignificant codeshare relationship with both Etihad and Qatar while it has shunned public approaches from Emirates to partner. Each of the Gulf carriers operates to American's DFW hub, making the upside for domestic feed considerable.
See related reports:
The contrast is interesting, and comes as another of American's partners – IAG – not only has a good relationship with Qatar Airways (and a likely pending JV) but has forthrightly submitted to the US government its concern over the allegations US airlines have raised about Gulf airlines. There are other partnership-by-association contradictions in the US: Delta's JV partner Air France-KLM has a codeshare with Etihad while it negotiates a JV. United Airlines has in Star Alliance Turkish Airlines, which plies intercontinental-intercontinental connections (on a lower scale than Gulf carriers – for now).
But ultimately Gulf carriers are a small play in the Australia-North America market. They capture a negligible share of the market from the East Coast of the US to Australia, and this is often seasonal and influenced by other demands. Australia is an occasional filler for Gulf carriers in North America and is certainly not core or even important. From the west coast, the circuity of US to Australia via the Gulf is simply too great to be competitive.
What could change in the future is a Gulf carrier operating between the South Pacific and North America. Emirates has expressed interest in doing this one day – but not in the short-term. With the aggregation of open skies agreements among the various states there is - almost a right for UAE airlines to fly the route; but Australia although very liberal, does not have an open skies agreement with the UAE. Governments have offered fifth freedom flights to Emirates, which has declined them.
The looming possibility of Emirates entering markets may contribute to airlines growing capacity ahead of what they might otherwise do. This incremental advance could keep governments content and reduce the chances of a new entrant, which could bring a negative impact for incumbents.
With the prospects of further joint ventures in the South Pacific, how do major JV markets size up? Based on 2015 ASKs, the North America-Australia/New Zealand market will be about 90% the size of the Europe-Japan market. North America-Japan is market while all three are small in comparison to aviation's main JV market, Europe-North America.

Size in ASKs of major intercontinental market pairs where there are JVs: 2015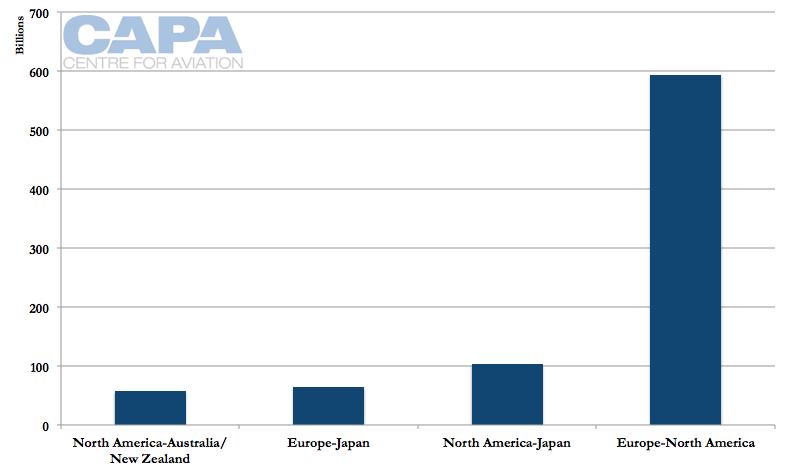 Outlook: Air New Zealand and United could look to partner while Delta/Virgin is squeezed
Qantas' restoration of its overall market share and re-entry to San Francisco gives it a solid position following this announcement. It entrenches its corporate position in the market (largely ceded to United on the valuable San Francisco route when Qantas withdrew), as well as highlighting a renewed focus on international expansion after several years of contraction. The nature of a JV, if approved, reduces a significant amount of risk for American Airlines.
The lengthy period before commencement gives ample time for the approval - or not - process, so that American is unlikely to be overly exposed to risk. Perhaps the greater gain to American is a growing international mindset. It eventually found Hong Kong and Sydney too good to leave unserved. The same could also be said of the Gulf, although American officially remains uninterested.
See related report: Gulf-US airline partnerships: idiosyncratic but the way forward. American Airlines to Abu Dhabi?
Tourism also gains from the announcement, as US visitors to Australia grow after a downturn following the global financial crisis and strength of the Australian dollar. In 2014, US visitors comprised 8% of all visitors to Australia, although their average duration and spend is proportionally higher, making them an important source market.
US visitors to Australia: 2009-2014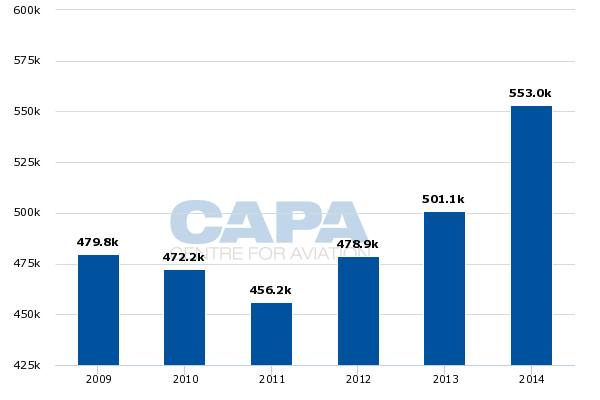 Air New Zealand and United have had an ambivalent relationship. Although they do not overlap on direct city pairs, Air New Zealand has healthy sixth freedom Australia-North America traffic over Auckland, and United even carries passengers to New Zealand over Australia, despite the circuity involved. With Air New Zealand flying to United's hub at Houston, and needing strong partnership support, it is probably time for them to think more closely. This was the case before American and Qantas, and the new development reinforces the point.
There is less certainty for Delta and Virgin Australia. Delta appears to have been under pressure on its Sydney route, and additional capacity from American – and its US point of sale strength – will deliver some pain. Delta has long resisted pleas from Virgin to grow its Australian network. Virgin is limited how it can further help, so a Delta exit, while dramatic, may not be surprising. The two have received re-authorisation for their alliance, but they have been the smallest players and have put in almost no growth since their JV, unlike competitors. Alternatively, a relatively macho Delta may feel inclined to retaliate against the new intrusion - although its recent focus on the Pacific has been much further north.
See related report: Delta Air Lines and Virgin Australia seek re-authorisation for US-Australia JV despite low growth
Where that leaves Virgin is unclear; it could work with Delta under a more basic partnership or consider other options; Air New Zealand is its strategic partner across the Tasman and Air New Zealand has a financial stake in Virgin. Air New Zealand might feel that a useful option if a United deal is not forthcoming.
Long term, Virgin needs to ask if a long-haul fleet of only five 777-300ERs is worth it, where its opportunities for low risk virtual international operations are significant. Whether short haul or long haul, international has often been a disproportionately big problem for Virgin.
Meanwhile, it was hard to disguise Qantas CEO Alan Joyce's enthusiasm during the announcement. An array of American flight crew had been brought in for the performance, to illustrate the positive news for American's staff. Albeit a modest increase for Qantas, this does represent another step along the road to international recovery for the Australian flag carrier.