Qantas and Emirates to codeshare in first alliance shakeup of the season; next: Qatar into oneworld
Analysis
Legacy carrier antagonism towards Middle East network carriers continues to shift to a cautious embrace of their hub forte, with Qantas the latest convert following a partnership including a codeshare agreement with the behemoth of them all – Emirates – that will see Qantas from Apr-2013 shift its European stopover hub from Singapore to Dubai as well as use Dubai for onward connections on Emirates' network primarily to Europe, a market that has been bleeding for Qantas for some time without any sight of profitability. The partnership is an improvement but no silver bullet to Qantas' ails. The approach replicates that of Virgin Australia's partnership with Etihad, one plank in Virgin's successful strategy that has caused Qantas to re-evaluate nearly every aspect of its business.
Yet just two years ago Qantas had the opportunity to have a similar partnership with Etihad but passed to preserve what has proven to be the tail end of its joint services agreement with British Airways, a nearly 20-year-old arrangement that will end on 31-Mar-2013 with little mourning as both carriers realise markets have changed and favour a profitable future over old world accords. That theme will continue for some time as airlines re-align their partnerships, especially as Middle East carriers further join the establishment, which will be cemented with the impending entrance of Qatar Airways into the oneworld alliance.
Emirates codeshare will help Qantas' network but is not the silver bullet
Qantas' unprofitable long-haul network – losing approximately AUD450 million (USD460 million) in the fiscal year ending 30-Jun-2012 – drags down a highly profitable domestic market as well as profits from Jetstar and the group's frequent flyer and freight divisions. This is not new – in 12 of 15 recent years the network failed to meet its cost of capital, Qantas' preferred metric – but its attempt to reverse losses is a new effort. Unsustainable routes have been concentrated especially in Europe as well as Asia and slightly in South America. Qantas' services to the US and South Africa comprise approximately 35% of international available seat kilometres as of Sep-2012.
Qantas international capacity (ASKs) by region: 02-Sep-2012 to 08-Sep-2012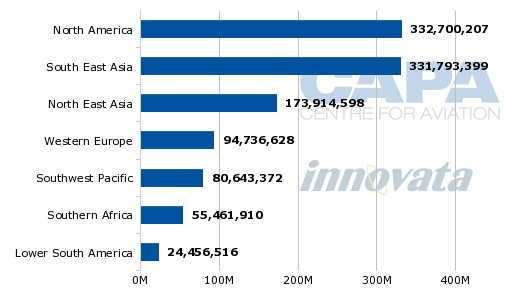 In Aug-2011 Qantas announced its first wave of changes: cancelling two of four daily London Heathrow services and shifting its South American service from Buenos Aires to Santiago, the hub of partner LAN where Qantas could achieve better connectivity. Another round of changes announced in Feb-2012 included ending Singapore-Mumbai services. The pulldown in Europe was designed to stem but not reverse losses; heavy competition, high oil prices and limited connectivity ensured chances of profit for Qantas were nil.
The Emirates-Qantas partnership is for an initial 10 years and includes codesharing as well as, subject to regulatory approval for anti-trust immunity, coordinated pricing, sales and scheduling. It will help Qantas' footprint in Europe but has little direct impact on Qantas' loss-making position in Asia. While Qantas will coordinate with Emirates on Emirates' four services between Australia and Asia, these will not further Qantas' reach into more Asian cities aside from Kuala Lumpur. For that, more partnerships and other strategic options are necessary. Qantas will restructure its network into Singapore and Hong Kong as a result of the Emirates deal (a large indirect benefit of the Emirates partnership), but other markets in Asia need boosting.
The codeshare will also cover Emirates' services around the Middle East and north Africa, as well as trans-tasman services between Australia and New Zealand where Emirates operates fifth freedom flights from Brisbane, Melbourne and Sydney primarily to Auckland. The main competition is from Air New Zealand and Virgin Australia, which have a revenue sharing alliance, and account for approximately half the seats in the market. The leisure-driven nature of the market has made it difficult for Qantas to compete owing to its high cost base compared to ANZ and Virgin's lower costs.
Qantas has deployed Jetstar extensively but its mainline operation (via Jetconnect subsidiary, based in New Zealand with a lower cost base than Qantas mainline) is loss-making to an undisclosed sum. Codesharing with Emirates will help Qantas' position but not overwhelmingly. Capacity reductions over the long-term would help the market as a whole, although Emirates and Qantas for now are flagging growth.
Airlines serving Australia-New Zealand ranked on seats: 03-Sep-2012 to 09-Sep-2012
See related articles:
The partnership, which has been under public discussion for some months, will see Qantas transit its two London Heathrow flights through Dubai instead of Singapore before continuing to London Heathrow, maintaining a presence in Europe, link for brand and strategic interests as well as vehicle for Emirates to grow in London.
Qantas' third and final current European service, to Frankfurt via Singapore, will be dropped. These changes follow the Mar-2012 pulldown that saw two London Heathrow services – one via Bangkok and one via Hong Kong – dropped. In one year Qantas will go from having five European services via Southeast Asia to only two via Dubai.
Collectively Emirates and Qantas will offer 14 flights with approximately 5,000 seats a day between Dubai and Australia from early 2013, the vast majority from Emirates. Approximately 70% of capacity will be direct to Dubai while the remaining share has a stopover in Southeast Asia ports. Qatar will offer about 500 seats a day between Doha and Australia while Eithad will offer about 800 seats between Abu Dhabi and Australia.
Qantas will codeshare to all of Emirates' European destinations as well as forthcoming points of Lyon and Warsaw.
Emirates' active European destinations: 06-Sep-2012
In addition to winding up the British Airways JSA, Qantas will end its long-standing relationship with Air France, which sees Qantas codeshare on Air France's services from Asia to Paris CDG. Estimates are that Air France places 100 passengers a day on Qantas' services to Australia. Qantas will also end its sole long-haul codeshare with Cathay Pacific, from Hong Kong to Rome. Its codeshare with Finnair from Asia to Helsinki will for now continue (Emirates serves Paris and Rome but not Helsinki). It is unclear at present if Air France-KLM's commercial arrangement (similar to an interline) with Jetstar will continue.
These partnerships, such as Air France, could have shifted in the future without Emirates in the picture. Air France's SkyTeam partner China Southern is building a vast Australian network and steadily improving service; Air France could have shifted hubs.
Implications for Qantas' other partners are few
Qantas has constructed a deep and profitable series of relationships closer to home. Its codeshare partners from Australia to Asia include Star's Asiana to Seoul, future Star member EVA to Taipei, SkyTeam's Vietnam Airlines to Ho Chi Minh and oneworld's Japan Airlines to Tokyo. Pacific island codeshares include Aircalin, Air Niugini, Air Pacific, Air Tahiti Nui, Air Vanuatu and Norfolk Air. In the case of the Pacific islands, Emirates simply does not serve those destinations while the cities it does serve around Asia could be reached from Australia only via an extraordinarily circuitous, and unlikely, route through Dubai.
The exceptions are Emirates' limited fifth freedom direct Asia-Australia services, including from Singapore to Brisbane, Kuala Lumpur and Singapore to Melbourne, and Bangkok to Sydney (all originating in Dubai). These services will be excluded from the Emirates-Qantas codeshare.
Qantas' more deep relationships – with American Airlines, LAN and South African Airways – will see no change from the Emirates-Qantas codeshare. Once again Emirates' competition to those partners' markets from Australia is not efficient, although it does see slight traffic from Australia to South Africa and America via Dubai, but this is minor. (Likewise for Australia-Kenya traffic; Qantas codeshares on Kenya Airways services from Bangkok to Nairobi.)
The Qantas-Jet Airways relationship that sees Qantas code on Jet services from Singapore to India, will also continue. (This relationship has been extended to Jetstar's network, including intra-Asia in limited form.) Once again, Emirates itineraries from Australia to India via Dubai are circuitous, although not impossible and not unheard of.
Qantas gains more efficient routings and further improvements to loss-making long-haul network
Detractors will be quick to point to the codeshare and Europe pull-down as self-inflicted harm, but the truth is simply that Qantas has struggled for some years with how to serve Europe. The problems are not the fault of CEO Alan Joyce; rather the stakes are higher now and Mr Joyce is largely the first to attempt to solve them, albeit with some false and delayed starts. Mr Joyce has received from Qantas' brash unions the typical reception delivered to a messenger bearing bad news.
Even before the codeshare was confirmed certain elements were against it, seeing, as quoted in local reports, Qantas handing off passengers without receiving any gains. This is inaccurate; Qantas receives revenue from the codeshare flight it sells. The Emirates codeshare flights are far more numerous, and attractive, than Qantas could ever offer with its own metal.
Qantas' problem to Europe is that demand between the two continents is high but low-yielding and spread across multiple destinations. A base from afar with no regional feed, limited flights to large hubs like London Heathrow or cities like Frankfurt where the business demand necessitates a direct service. (Qantas services had transferred in Bangkok, Hong Kong and Singapore with local pick-up rights, but without the wide feed local carriers like Thai Airways, Cathay Pacific and SIA benefit from for their European services. Qantas attempted to address this with an Asia-based full-service carrier, which has since been put on the back-burner.)
Adding to woes, Qantas' partner in Europe, British Airways, claims a hub only at London, at the far western edge, meaning connections to elsewhere in Europe require backtracking, adding cost in an environment where Asian and Middle East carriers with lower cost bases offer one-stop, not two-stop, service to a host of European cities. Services from these carriers have grown, further distancing the appeal between the Qantas/British Airways offer compared to more direct and cheaper alternatives.
Sample Australia-Europe routings on alliances versus Emirates (travel time in hours, stops): 2010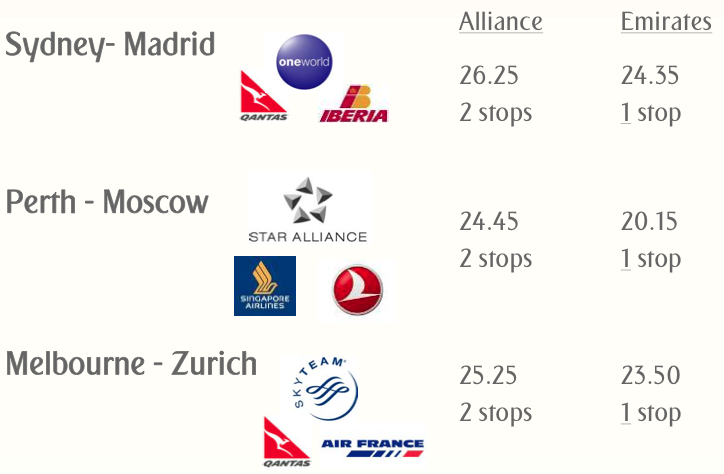 The potential for Qantas is large. Emirates reported in 2010 that over 85% of passengers on its flights going from Australia to Europe were disembarking at points other than London Heathrow and Frankfurt, Qantas' two served ports. Included in Emirates' figure, however, is Paris CDG, where Qantas has a virtual presence via a successful codeshare with Air France transferring at Singapore. But strength is in the smaller markets and Qantas could not hope to have reasonable access without partnering with an unfathomable number of local carriers – or one carrier, like Emirates, that is able to scoop up long-haul traffic demand and re-distribute it over a hub.
The markets that grew Emirates' inbound traffic to Australia in 2010 (measured by growth above 15%) included the large market of Paris, but also smaller ones including Venice, Tehran and Riyadh.
Emirates' Middle East, north Africa and European markets growing Australian inbound traffic by more than 15%: 2010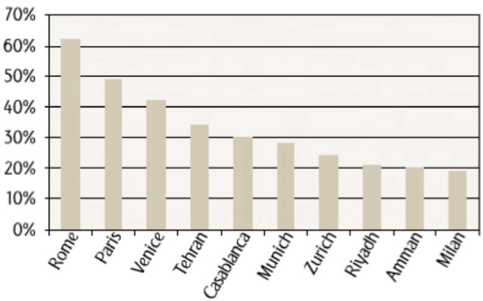 Qantas gains access to these new markets – Australia has more room in bilaterals than its carriers have hope of using – as well as a more efficient strategy for existing European markets, reducing losses across its long-haul network. While Qantas had already trimmed Europe, the continent was still bleeding, adding to some financial woes in Asia, effectively requiring profitable flying in Africa (Johannesburg), North America (Dallas and Los Angeles), and South America (Santiago) to attempt to offset Asian and European losses. The Emirates partnership will further reduce long-haul losses and, combined with Qantas' already announced initiatives, give the international network a fighting chance of being profitable, which Qantas expected to achieve after FY2014. Further long-haul improvement will allow Qantas to better realise the extraordinary profits it makes across its domestic network: AUD600 million pre-tax in FY2012.
Qantas has not put a figure on bottom line benefits from the arrangement. Earlier in 2012 it expected alliance changes with American Airlines, British Airways and LAN to provide AUD20-30 million of annual benefits. The Emirates partnership is expected to be many times higher than that.
Qantas International change benefit timeline: FY2012 to FY2014
See related article: Qantas in a changing world: quantifies refocused international strategy and limits capital exposure
Codeshare with Emirates will enable Qantas to grow its own services into Europe
While the arrangement in the medium-term will see Qantas shift the transfer point of its two existing London Heathrow services, in the long-term Mr Joyce sees the partnership as a platform to grow its own services. "We don't see this as only ending in Dubai. We see this ending in points in Europe," he said. While Qantas' six remaining A380s on order are still deferred until 2019, 787-9 options are available from 2016, and are all but guaranteed to be taken up. As the 787s arrive, "I only see growth," Mr Joyce said. The Emirates partnership is a "springboard for more services back into Europe". Over the years Qantas has withdrawn from European destinations including Athens, Paris CDG and Rome.
Services from Dubai to other European points could be of interest to Emirates as Australian carriers have a wealth of air service agreements while UAE carrier faces bilateral restrictions, with Germany's opposition prominent. Etihad has worked around this via a stake in airberlin that enables it codeshare on airberlin's Abu Dhabi-Germany services, including to Berlin, the capital city that Germany prohibits UAE carriers from serving.
See related article: airberlin prepares to drop Bangkok in order to boost Middle East, Africa and US services
While Germany and Lufthansa in particular (or another country) may take issue with any extensive Emirates codeshare on another carrier, the alignment of Emirates and Qantas' frequent flyer programmes does not necessitate a codeshare would be necessary if there is interference; an interline would deliver the same affects, albeit with differences in distribution of fares in the various GDS'.
Emirates and Qantas are continuing to work through the finer details of the arrangement, including how they will cooperate on services from Australia to Asia and New Zealand. Mr Joyce indicated that on the trans-tasman, they will look at aligning schedules to avoid overlap, increase frequencies as well as open new sectors. Air New Zealand and Virgin under their alliance have been able to open new services.
Qantas to change Asian flight network; Hong Kong replaces Singapore as key growth city
Qantas' network into Asia's bluechip cities of Singapore and Hong Kong have been structured around schedules that facilitate connections to overnight flights continuing to Europe. The downside is a weak proposition for passengers travelling only between Australia and Asia. Qantas will address this following the discontinuation of European flights from Singapore. In many ways it picks up where Qantas left off when in Feb-2012 it ended near-term plans for a new full-service carrier to be based in Asia, and likely Singapore. That carrier would have enabled better connections.
"Up until now our flying has been predicated on the best connecting times to Europe. So instead of convenient day time services, we have late night arrivals into Singapore. This means that business customers can't make same day connections into the many Asian cities which are developing fast," Mr Joyce said in Oct-2011. A sample of Qantas' and SIA's arrival times into Singapore illustrate how SIA is able to offer same-day sixth-freedom connections to elsewhere in Asia via earlier arrival times in Singapore.
Sample arrival times into Singapore from Australian points on Qantas and Singapore Airlines: Feb-2012
Australian
Origin Point
Qantas Arrival
Times into Singapore
SIA Arrival
Times into Singapore
Adelaide
19:30
17:20
Brisbane
19:25
05:35, 20:30
Melbourne
21:40
05:40, 15:35, 21:20
Perth
17:35, 20:50
07:20, 12:50, 21:10
Sydney
21:45, 22:25
14:30, 17:20, 21:20, 00:15
See related article: How Qantas planned to make its Asian premium carrier viable
Qantas will coordinate with Emirates' limited Australia-Asia services and details remain to be worked out but Qantas plans to increase connections from Singapore by 25% and provide a 40% increase in capacity from Australia to Asia, although it is not clear if this figure is overall growth or merely accounting for services that will no longer have seats occupied by passengers continuing to Europe. Qantas currently serves Singapore typically with an A380 from each Melbourne and Sydney, a 747-400 from Sydney and A330s from across its network. The A380s will be re-deployed to Dubai while the 747-400 may be pulled out as it continues to Frankfurt, which will be discontinued. "Our Frankfurt services have been struggling for some time and withdrawal from the route was inevitable," Mr Joyce said.
Qantas may re-deploy international A330s currently used on its domestic network. The right sizing of aircraft and re-timings is expected to improve profitability, Mr Joyce said. Hong Kong is taking over Singapore as Qantas' key Asian growth city. Any long-term plans for a premium carrier could be formulated based around a Hong Kong hub.
Singapore Changi will see a negative impact. Qantas is the second largest carrier by ASKs at Singapore Changi and while it may seek to increase local Australia-Asia traffic, Changi will lose Qantas' two daily A380 and single 747-400 service from Singapore to Europe.
Singapore Changi Airport capacity (ASKs): 03-Sep-2012 to 09-Sep-2012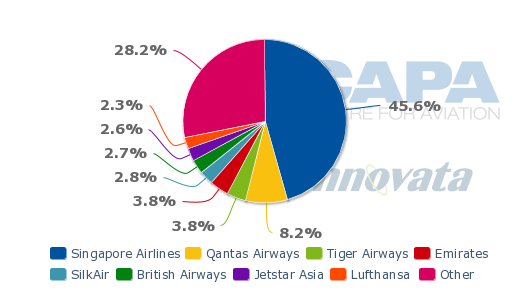 Qantas had opportunity for partnership with Etihad
Such a virtual network could have been realised much earlier. Late last decade Qantas had a codeshare with Eithad, but it was confined to a handful of destinations around the Gulf despite Etihad's wish for a deeper partnership, including extending the arrangement to frequent flyer programmes. While the chemistry between Mr Joyce and Etihad CEO James Hogan was never right, Qantas was still supporting its joint-service arrangement with BA as well as codeshare with Air France.
"Any deeper partnership with Etihad would have been competing against…very important partnerships and very important aspirations," Mr Joyce said in Feb-2011. He described Qantas' JSA with BA as "very successful". Mr Joyce at the time had no regrets of forgoing a deeper partnership with Etihad, even if it meant Mr Hogan dropped the arrangement with Qantas in Aug-2010 to instead pursue a wider alliance, including revenue sharing under anti-trust immunity, with what is now Virgin Australia. That deal was orchestrated between Mr Hogan and Virgin CEO John Borghetti, an old friend of Mr Hogan and who had put the Etihad-Qantas deal together before leaving Qantas.
Virgin opened three weekly flights between Sydney and Abu Dhabi, giving the Etihad-Virgin alliance a combined double-daily service with onward connections across the Middle East, Africa and Europe with frequent flyer programme alignment. Mr Joyce said at the time Qantas had evaluated flying to Abu Dhabi even with the 777s Virgin Australia uses, but that it would not be profitable. What has since changed in the calculation of flying to Dubai, just up the road from Abu Dhabi, is the wider network opportunities rather than the limited connecting network Qantas would have considered.
Frequent flyer programme at heart of the deal
The benefits to Qantas are sizeable but Emirates does not walk away empty-handed. Like Etihad's partnership with Virgin Australia, Emirates gains access to Qantas' regional network, opening new cities as well as domestic flights to shift traffic between ports when varying and inevitable nuances in demand crop up.
The codeshare critically enables Emirates to tap demand from Qantas' large frequent flyer programme whose members – accounting for more than half of Australian households – can be willing to pay a premium for a flight that receives Qantas points (Etihad achieved the same with Virgin Australia and its loyalty programme). The marketing power of loyalty programmes – effectively a licence to print money – is not to be under-estimated, and in this regards Emirates has lagged as a result of having few airline partners of late.
See related article from CAPA's Airline Leader journal: The airline frequent flyer programme: for love and money
Emirates CEO Tim Clark half-jokingly remarked the codeshare deal is made possible by "your love affair with a frequent flyer point". Mr Clark expects to tap into Qantas' "formidable" position in the domestic market. He thinks Emirates will introduce a fourth loyalty tier at the top end to match Qantas' programme.
Mr Joyce was equal in underscoring the importance of loyalty programmes: "The biggest benefit, of course, will be the vastly expanded opportunities for Qantas Frequent Flyers to earn and redeem their points." (He was also creative in his selection of words: "When you purchase that Italian suit at David Jones, remember you are earning points to wear it in Venice.") The Virgin-Etihad deal had the frequent flyer reciprocity as a central tenet.
Longer-term and depending how the alliance evolves – unlike Eithad-Virgin it does not include revenue sharing – Emirates could possibly pursue less aggressive growth in Australia. Mr Clark said in Sydney Emirates will continue as planned to reach 100 Dubai-Australia weekly flights in the near future, but "after that let's wait and see".
UAE carriers are at the upper end of their bilateral capacity allowance and flying from the UAE to Australia is capital intensive with flights 14 hours each way. While Emirates may have scores of aircraft on order, not every market can offer a local partner that can boost revenue by placing more high-yielding passengers onto existing services. While Emirates could expand organically to pick up those high-yielding passengers, expansion will also gain a lot of low-yielding passengers, whereas re-deploying a potential future asset into a different market will pick up an entirely new sect of passengers and give a higher return. That is the new post-Virgin approach in Australia from Etihad, which after a few capacity increases will likely slow growth down in Australia rather than continue on the pre-Virgin high growth trajectory.
Qantas does not have limitless short-term growth opportunities into Dubai. It can re-jig its current network but long-term growth will depend on its long-haul network returning to profitability after FY2014. As Mr Joyce indicated, waiting in the background are the 787-9s it has on option (in Aug-2012 it cancelled its firm order for 35 of the type). Exercising some of those options is not an if but rather when.
Qantas and British Airways – what happened? Willie Walsh: 'The world has changed'
The relationship between Qantas and British Airways, enmeshed in their 1995 JSA that has been operational since, predates their membership in the oneworld alliance, formed in 1999. Since that time the Europe-Australia market has changed tremendously, especially in recent years. Greater competition by Asian and Middle East carriers has turned much of the market low-yielding. British Airways pulled out of Brisbane in 2000, Melbourne and Perth in 2006 and reduced its double daily Sydney services to just one in Mar-2012. It does not view the market as a long-term source of organic growth, to be served either directly or possibly non-stop in the future with next generation aircraft.
See related articles:
Premium traffic reports from IATA capture this shift in hubs, showing year-to-date declines in Europe-Southwest Pacific traffic (largely measured as carriers with a single flight number, as BA and Qantas offer) of 17% compared to 2011 while Middle East-Southwest Pacific has grown by 15%. The latest available figures, from May-2012, continue this trend.
International Premium Traffic Growth by Route: May 2012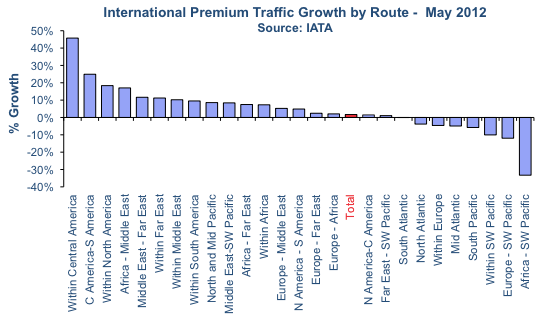 Qantas of course was stymied by backtracking and lack of multiple one-stop offerings, a disadvantage that became more apparent – and caused it to lose traffic – as competitors grew. The two began to see the JSA would not be forever, but the timeframe was undefined, as were replacement options. External factors became galvanising forces.
Qantas had long held that a sizeable international network was necessary to complement its profitable domestic network: domestic passengers would want to burn frequent flyer points on international, not domestic, flights and when paid international travel arose, not being able to earn Qantas points would undermine Qantas' domestic proposition. Virgin Australia CEO John Borghetti turned that on its head, constructing a virtual network, first with Etihad in 2010 and then Singapore Airlines in 2011, adding to previously-established networks with Delta and Air New Zealand. Virgin's virtual European network, served one-stop from major Australian cities, now numbers 13 destinations.
"That's the opportunity. It's one-stop. There's no back-tracking over London," Mr Hogan said in Aug-2010 when announcing the partnership with Virgin. The virtual network has supported Virgin's growth in the corporate and government sector, although Qantas still controls about 85%. Virgin's gains benefitted Etihad, and so it was only time their much-bigger competitors wondered why they could not achieve the same but on a larger scale.
On the British Airways side, Willie Walsh, CEO of parent International Airlines Group, has been cleaning up house, first amongst BA's unions and then Iberia's unprofitable short-haul network. He has become emboldened with the acquisition of bmi and its precious 50-odd London Heathrow slots, presenting what, at current British government speeds, may be a once in a generation growth opportunity. Mr Walsh was looking strategically and was active in what possibilities existed in Kuala Lumpur, the hub for forthcoming oneworld member Malaysia Airlines (MAS). But as MAS confronted its turnaround project, it became insular, and Mr Walsh turned his attention to a bigger prize bringing Qatar Airways into the oneworld alliance, granting benefits and access to all parts of the world that IAG will never be able to serve on its own. Qatar's access in Australia is not as good as Emirates or Etihad, but it is sufficient, and on the world map Qatar lights up, Australia is just one market. Mr Walsh's courting should soon become an accepted invitation.
Mr Walsh in a statement on the ending of the JSA remarked that "The world has changed since 1995 when the joint business started. This is a small part of our overall network and this move fits in with changes in our global strategy. Asia has become a key market focus for IAG and we're talking to a number of airlines about alternative options for us." Mr Walsh said the ending of the JSA "won't have any negative impact on IAG's financial targets."
With Qatar in oneworld and Qantas partnering with Emirates, oneworld loses cohesion but it was never close to begin with the way Star is. There will be casualties in this shift of alliances, but they will work themselves out. Competition is increasing and carriers must become smarter, so they must pursue the individual partnerships that most make sense. In the long-coming BA-Qantas divorce, there will be contention over who the new partners are and the opacity the two have acted towards each other, but no tears.
Local reports out of the UK, citing unnamed IAG representatives, paint the picture of BA being under-handed and now having to look for a new partner for Australian services as a result of the Emirates-Qantas deal, but BA was as equal in the breakup as Qantas was.
"I have been in discussion with...Willie Walsh, and we have agreed that the time is right to wind up the joint services agreement," Mr Joyce said in Sydney. "We leave on positive terms with BA. This has been done in an amicable way."
Qantas partnership is largest for Emirates, which has smaller codeshares
Emirates' size has afforded it the opportunity to go along its growth trajectory on its own. A bad experience with a stake in SriLankan Airlines has made it weary of cosying up, although it does have partnerships, including with JAL, Philippine Airlines and South African Airways and an extensive codeshare relationship with JetBlue. Emirates briefly codeshared with BA and Qantas in the 1990s.
But for sure Emirates is no Etihad, which is nearing its 40th partnership. Etihad also has stakes in a number of carriers (Aer Lingus, Air Seychelles, airberlin and Virgin Australia) while Emirates does not and the Emirates-Qantas partnership involves no capital investment.
See related article: Middle East network carriers strategies vary on partnerships but both seem to work
Mr Clark said his carrier takes a "tailored approach" to partnerships, and the arrangement with Qantas is "significantly larger than any of those we pursued before".
Tim Clark sees eye-to-eye with Qantas' changes
Mr Clark said discussions began four months ago at its retreat in Wolgan Valley outside of Sydney and the deal was completed in "lightning speed". Critical to that – and unlike the bygone Qantas-Etihad arrangement – was the culture between Emirates and Qantas, with Mr Clark saying the two sides "meshed instantaneously. I've never seen it in my airline career."
"The importance," Mr Clark said he told his team before starting formal discussions, "was chemistry and adapting to change. You can't compete and run a strong partnership without chemistry." Not only is Qantas re-jigging its network, Mr Clark commended Mr Joyce in how he has led the contentious Qantas turnaround. Mr Joyce, Mr Clark said, is "acknowledging 2012 is a different year to do business" than in the past.
Emirates to grow in London as Etihad looks for further inroads via Aer Lingus stake
The codeshare will boost Emirates' position at London Heathrow via the Qantas codeshare (Emirates gains no slots at Heathrow). Its current services are with its highest capacity aircraft: three daily A380s and two daily 777-300ERs, but in Dec-2012 plans to move the two 777 services to A380s, giving it an all-A380 operation. With Qantas' two A380 services from Dubai to Heathrow, there will be seven daily A380 services between Dubai and Heathrow.
London Heathrow capacity (seats) by carrier: 03-Sep-2012 to 09-Sep-2012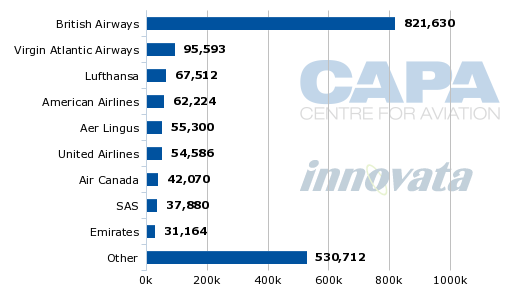 Emirates is the ninth largest carrier serving London Heathrow based on available seats, but its concentration of capacity into its megahub (as well as services to there from British Airways and Virgin Atlantic) see Dubai receive the single largest amount of seats from London Heathrow after New York JFK.
Largest destinations from London Heathrow capacity ranked on seats: 03-Sep-2012 to 09-Sep-2012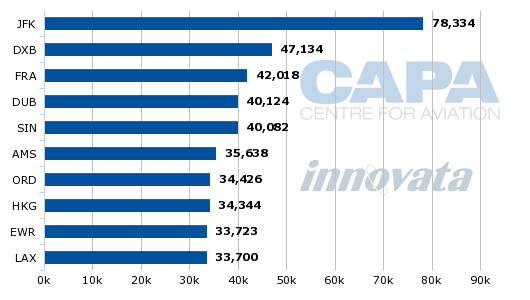 Emirates is already the Middle East network carrier at London Heathrow by capacity. Qatar Airways has six daily services (but uses smaller widebodies) while Eithad has three. But changes could be afoot in the form of Etihad's stake in Aer Lingus, the third largest holder of London Heathrow slots.
See related article: Etihad Airways gets springboard into Northern Europe with 2.9% stake in Aer Lingus
As significant, if by now overdrawn, this development is, it will be greatly overshadowed by the coming announcement of Qatar Airways joining oneworld. Qantas of course will have to accommodate Qatar through the typical alliance cross-agreements covering lounges, recognition and frequent flyer alignment. But aside from this there does not necessarily need to be any deeper cooperation between Qatar and Qantas; such limited cooperation is not unusual in alliances, especially oneworld.
See related article: oneworld's BA and Qantas may shake up global alliances irreversibly as Emirates and Qatar enter
Fellow oneworld carrier airberlin will also have to work out how to accomodate Qatar into its network that includes a partnership and equity stake from Etihad. airberlin is already well versed in these overlap areas, having to accommodate oneworld after it shifted part of its long-haul network to Etihad's hub in Abu Dhabi. airberlin CEO Hartmut Mehdorn saw through network overlaps and contentions. "Of course," Mr Mehdorn said of British Airways, for example, preferring to receive airberlin's feed instead of Etihad. But conversely, few oneworld carriers serve airberlin's namesake hub. "And we would prefer a flight to Berlin. It's a give and it's a take."
Mr Mehdorn's comments underscore that global alliances are increasingly simple but important groupings to appease passengers with a network of frequent flyer and recognition alignment. Even within alliances member carriers compete against each other where there is no revenue sharing. The bigger value of alliances to airlines is derived from codeshares and joint-ventures, and so airlines – be it airberlin or Qantas – need to have a platform for passenger loyalty but not be shackled to it in such a way that prevents smarter partnerships, such as with Etihad or Emirates.
That view can still be heretical, especially to staunch anti-Gulf carriers like Air Canada and Lufthansa, whose underlying problem is perhaps less about competition and more of a lack of strategy or willingness to realise potential benefits. Rewards for stagnation are not great. The impending entry announcement of Qatar in oneworld will push global alliance and partnership re-thinks.
The guiding theme is that as burdens and pressure build, airlines must be smarter in choosing who their partners are, or embarking on a more extensive partnership strategy. Airlines are famously low on profits compared to the capital they invest, and partnerships can spread the burden while realising new benefits. Survival is granted not to the biggest but to the smartest – and those who can adapt.