Air New Zealand plans to grow beyond North America's west coast to Las Vegas, Chicago or Houston
Analysis
Air New Zealand will diversify its North American network by flying outside the west coast to Chicago, Houston or Las Vegas, the carrier has said on Chinese media and as reported in the New Zealand Herald. This fourth continental North American destination would join Los Angeles, San Francisco and Vancouver. Air NZ also serves Honolulu. The largest un-served North American cities from New Zealand are New York and Toronto, according to OAG Traffic Analyser, but the distances are too prohibitive for the small traffic base. After New York and Toronto, Las Vegas and Chicago are the next largest markets, with Houston half the size of Chicago.
Las Vegas is significantly closer than Chicago but OAG Traffic Analyser shows fewer premium bookings and more discount economy tickets, reflecting Las Vegas' more leisure orientation. However, this could be suitable for Air New Zealand's denser 787-9. Las Vegas would bring some connecting opportunities while Chicago and Houston would bring more. Continental mooted a Houston-Auckland service that has not been realised, and may have been raised as a political ploy when the merged United-Continental established joint headquarters in Chicago and wanted to fend off international expansion at Houston Hobby airport.
Untied SVP worldwide sales Dave Hilfman said there were no plans to commence Houston-Auckland service. Mr Hilfman told Australian Aviation in Oct-2014: "We'd end up having to work with our Star partner Air New Zealand on that to make that work...there hasn't been a lot of conversation lately about it but certainly it is on our radar." Booking data indicates Air New Zealand already captures most of the New Zealand-Houston traffic (via domestic tag flights with partners), but this has only a handful of passengers a day, and far less than to Chicago or Las Vegas.
Houston would offer an opportunity to grow in Latin America, but this would likely be in small numbers. Air New Zealand has repeatedly stated Latin America is an interesting but not pressing market, and a medium to long-term objective.
See related reports:
Air New Zealand also already sees the bulk of traffic from New Zealand to Chicago (again via domestic partners). To Las Vegas, Air New Zealand sees stronger competition from Hawaiian Airlines via Honolulu.
Air New Zealand has increased its exposure to North America in recent years. Air New Zealand's official traffic statistics show North America (including its Los Angeles-London service) account for about 35% of system ASKs, up from 33% in 2008.
Air New Zealand North America/Europe ASKs and share: 2008-10M2014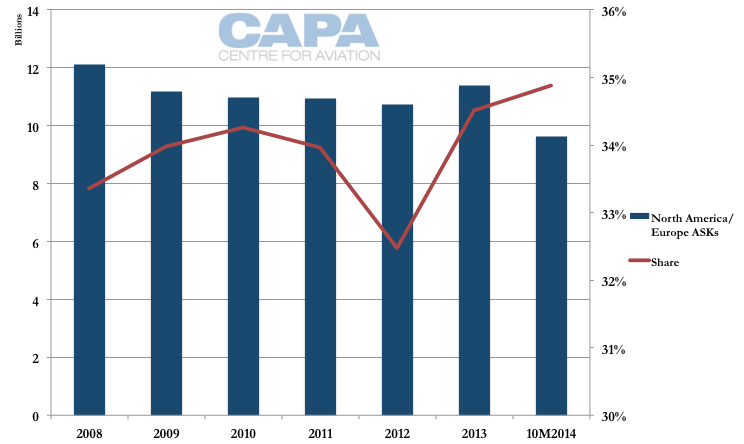 Looking only at New Zealand-North America capacity (excluding Los Angeles-London) as recorded by OAG, North America has grown from 26% to 39% of system capacity. Air New Zealand's New Zealand-North America capacity was relatively flat between 2004 and 2010, but has grown since then. Air New Zealand's 2015 North American capacity as of Nov-2014 is forecast to be 30% higher than in 2010.
These figures do not take into account that Air New Zealand's Los Angeles-London passengers use Auckland-Los Angeles capacity.
Air New Zealand North America ASKs and share: 2008-2015F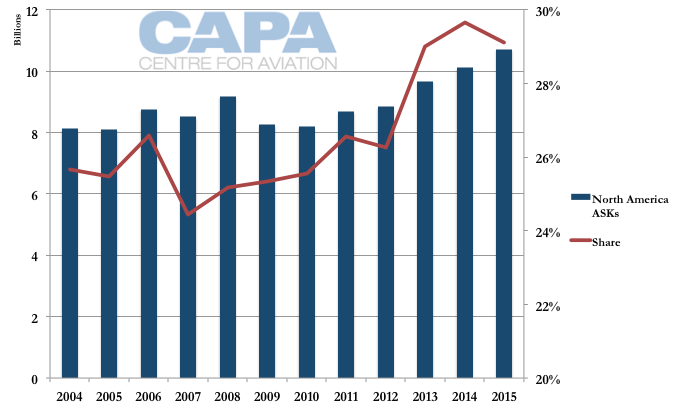 Air New Zealand's additional capacity in North America has made North America its largest growth market while better international performance has helped to grow profits. In Sep-2014 Air New Zealand announced plans to increase Auckland-Los Angeles frequency in northern summer 2015 from 14 to 17 times weekly with an additional frequency operating on Monday, Thursday and Saturday.
Air New Zealand said the extra frequency would arrive earlier in Los Angeles, enabling connecting passengers to reach the US east coast faster. The Auckland-Vancouver service will increase from three to five times weekly between Jun-2015 and Sep-2015.
See related report: Air New Zealand's better balance in international markets drives earnings growth, with more to come
Air New Zealand will diversify from west coast hubs
Whichever city Air New Zealand chooses, it will mean Air NZ will diversify in North America away from the west coast. Air New Zealand in North America has served Los Angeles, San Francisco and Vancouver (as well as Honolulu). The only scheduled services outside these cities were two charters to Las Vegas in 2011, according to OAG data.
Qantas has served New York JFK (via Los Angeles) since Oct-1999, with some brief suspensions of service and frequency decreases. In May-2011 Qantas opened non-stop service from Australia to Dallas/Ft Worth. United's southern trans-Pacific services have been from west coast gateways (Los Angeles and San Francisco) while Delta and Virgin Australia are only to/from Los Angeles, and Air Canada from Vancouver.
New Zealand has been concerned about limited competition
Since Qantas' exit from the Auckland-Los Angeles market in May-2012, Air New Zealand has had a monopoly on non-stop New Zealand-mainland US services. Hawaiian Airlines and Fiji Airways provide one-stop alternatives as well as numerous circuitous routings through Australia. A spot check on fares shows Sydney-Los Angeles service cheaper at USD880 than Auckland-Los Angeles at USD1200. This is despite Auckland being about 1,500km closer to Los Angeles than Sydney.
While Air New Zealand has grown the New Zealand-North America market, the New Zealand government has been concerned about limited development. Australia has had a New York service and recently gained Dallas while New Zealand loses traffic over Australians hubs. It is understood New Zealand has offered fifth freedom rights to airines willing to serve certain non-Los Angeles/San Francisco/Vancouver points. Air New Zealand's new route should see benefit for itself but also limit the chances of a new entrant.
Reaching further into the US raises the complexity of partners who are also competitors
As noted above, the local traffic from New Zealand to Chicago, Houston and Las Vegas is much smaller than Los Angeles, San Francisco and Vancouver. (This comes with the standard caveat that this metric measures existing traffic and not new traffic that may be created from a new route.) Expanding to new destinations will require Air New Zealand to secure a broader partnership portfolio.
For example, in Chicago Air New Zealand's only codeshares with United are to/from its gateways of Honolulu, Los Angeles and San Francisco. This will make the new route more dependent on partnerships.
But the new route will elsewhere reduce the importance of partnerships. For example, New York is the largest un-served North American city from New Zealand, with about 30 passengers a day according to OAG Traffic Analyser. A spot check on fares shows Air New Zealand having one of the highest fares at nearly USD2,100, comprised of an Air New Zealand flight to Los Angeles and United codeshare from Los Angeles to New York. Although it is common for an airline to attain a yield premium in its home market, Air New Zealand's fares to Los Angeles and San Francisco have only a slight premium compared to New York.
With friends like these.....
The challenge is beyond gateway flights, which Asia-Pacific airlines are increasingly finding more expensive. This is a result of North American carriers having less inventory but also pricing the domestic flights higher to their partners so their own trans-Pacific services are more competitive.
Taking Air New Zealand's Auckland-Los Angeles service for USD1500 and a separate Los Angeles-New York ticket on United for USD340 gives a total Auckland-New York fare of USD250 less than the inclusive Air New Zealand fare. Air New Zealand appears to be having to access United codeshare rates at a significant premium. By booking separate Air New Zealand and United tickets, that pricing option is one of the lowest in the Auckland-New York market. The only lower combinations are journeys involving at least two stops and nearly double the travel time (for example if taking China Southern through Guangzhou).
With Air New Zealand's new route being closer to central/mid-west and east coast cities, the codeshare pricing discrepancy could become less noticeable as Air New Zealand will directly price more of the total journey length.
On the issue of US airlines charging their Asia Pacific partners large premiums for beyond gateway services, see for example, the comments of Hawaiian Airlines CEO, Mark Dunkerley in: Hawaiian Airlines poised to expand partnerships with Asian carriers, boosting Honolulu's hub status
In the southern trans-Pacific market, Qantas has a deep partnership with American Airlines (which does not serve the market) while Delta and Virgin Australia have a joint venture. Air Canada, Air New Zealand and United do not have deep partnerships with each other. They are competitors, with Air New Zealand having a healthy share of the Melbourne-US market as United offered a one-stop service through Sydney until it recently introduced non-stop Melbourne-US service.
Air New Zealand's 787-9s were configured to suit the Asian market, where premium traffic and premium economy especially are still developing segments. As a result, Air New Zealand's 787-9 carry 87% of seats in economy compared to 73-79% for its retrofitted 777-200ER or 777-300ER. That higher proportion increases seat count and weight, making it unlikely for the 787-9 to fully return to Auckland, Air New Zealand CFO Rob McDonald told The Australian in Jul-2014.
Mr McDonald said the carrier may need a new configuration – one with fewer economy seats and more business and premium economy – to serve North America. That would reduce weight but also likely give a better yield mix. However the New Zealand Herald in Nov-2014 thought the new route could be flown with 787-9 but did not specify what, if any, restrictions might result for the service.
Air New Zealand 777 and 787 configuration: as of Nov-2014
| | | | | | |
| --- | --- | --- | --- | --- | --- |
| Aircraft | Business | Premium Economy | Economy | Premium Share | Regular Economy Share |
| 777-200ER Old Config | 26 | 36 | 242 | 20% | 80% |
| 777-200ER Retrofit | 26 | 40 | 246 | 21% | 79% |
| 777-300ER | 44 | 44 | 244 | 27% | 73% |
| 787-9 | 18 | 21 | 263 | 13% | 87% |
Air New Zealand's decision to add a new US market comes despite the carrier having no plans, publicly at least, to branch out. Although the New Zealand market is small, limited developments can be vulnerabe to competition.
Air New Zealand's new route will be more leisure-oriented than its other North American markets, but adjusting to this, and the cost of a new station and route, would likely be a better outcome than being forced to adjust to more competition. The little battler has shown in the past that it is capable of dodging competitive bullets with its selective network strategy.