Delta Air Lines and Virgin Australia seek re-authorisation for US-Australia JV despite low growth
Analysis
Delta Air Lines and Virgin Australia are seeking re-authorisation for 10 years from Australian regulators for their joint venture. The US DoT initially took longer to approve the alliance but gave indefinite approval. Virgin continues to need Delta as a partner more than Delta needs Virgin, owing to the numerous connections from US gateways Virgin needs access to. The two will account for 25% of 2015's seat capacity compared to a much larger 56% for Qantas, with the remaining 19% held by United.
There have been limited developments from the smaller carriers, and Delta and Virgin have offered little growth. Nor in their application do they suggest further growth is on the horizon. Virgin Australia is short on long-haul aircraft and anyway is focused on its core domestic market. Delta has a much larger globe to tend to. United has made incremental changes while Qantas has grown the most. Given market dynamics, there is little prospect for a new entrant.
Australia's ACCC approved JV for five years while US gave indefinite approval
Delta and Virgin Australia are seeking from Australia's corporate watchdog the ACCC approval of their alliance for 10 years. Australia gave approval much faster than the US DoT, which initially proposed to reject the alliance. Australia's authorisation was only for five years while the US' eventual approval was indefinite. Virgin and Delta are technically revoking and substituting their existing approval, but this is a procedure as the alliance has not fundamentally changed: "the coordination allowed under the Alliance has not changed since the ACCC's 2010 authorisation decision", the parties state.
The ACCC is accepting comments until 06-Feb-2015, with Delta and Virgin to respond by 20-Feb-2015. The ACCC expects to issue a draft determination in Mar/Apr-2015 followed by a public consultation and then final determination in May/Jun-2015.
There is no sign of new competitors on the Australia-US route for the time being: two of three main airlines serve Australia (Delta and United) while the third, American, has a partnership with Qantas. A possibility has been American's entry into the South Pacific, with New Zealand heavily rumoured some time ago. But any move from American would, subject to approvals, surely be done as part of a deal with long-standing partner Qantas. The existing Qantas-American joint business agreement is on the basis American does not serve the market, but this could theoretically be changed. There are no other major carriers in Australia that are not part of the Qantas or Virgin groups.
Since the ACCC approved the Delta-Virgin JV, the US has undergone consolidation with United merging with Continental, and American Airlines with US Airways. While that means two potential entrants were eliminated, there was a slim chance Continental or US Airways would have been interested in serving Australia from the mainland US (a Continental unit linked Australia with Micronesia).
Trans-Pacific operators: 1991-2014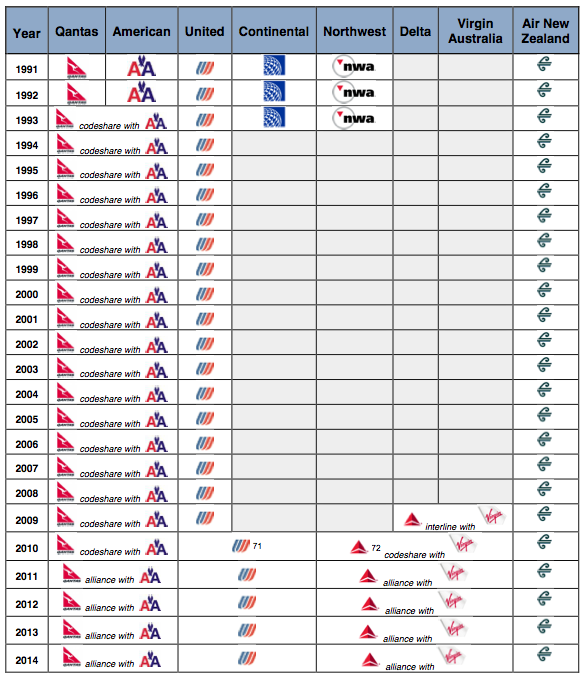 The current status of three parties competing between Australia and the mainland US – Qantas, United and Delta/Virgin – is a change from the early 1990s when there were six independent carriers (see above chart). Air New Zealand withdrew from non-stop Australia-US services and retains the legal right to serve the market, but is unlikely to exercise it, unless it partnered with Star partner United.
Despite the more cosy environment, Delta and Virgin's application is not expected to receive objections. Qantas did not oppose the initial application, which Virgin saw as Qantas politely staying quiet after having the lucrative trans-Pacific market as a healthy duopoly with United. Delta and Virgin are arguing they cannot sustain service without the other.
One of the basic supporting arguments is that Delta and Virgin combined are a more powerful entity to compete against Qantas, which in 2015 is expected to account for 56% of available seats between Australia and the mainland US (excluding Hawaii, which is largely an end market). This is below historical market share that surpassed 60% prior to Australia-US open skies, which ended the Qantas-United duopoly.
The combined Delta-Virgin share of 25% gives the two scale and leverage they could not have individually, Delta with 7% and Virgin with 18%. United holds the remaining 19%.
Marketshare of mainland US-Australia available seat capacity: 2015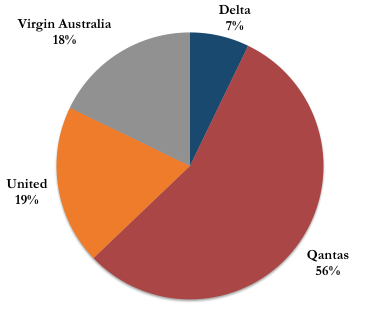 Virgin argues it has to be present in the US in order to have relevance for its core domestic market network to have relevance. Yet Virgin's ability to compete without a US network would be almost impossible, so it is not appropriate to argue its 18% share is comparable to United's 19%. Virgin needs a US partner: only 25% of US-origin passengers and 40% of Australia-origin passengers travel on a point to point trans-Pacific service between Australia and mainland US, according to data Delta and Virgin cite. They also say Las Vegas and New York are their most popular connecting markets.
In comparison, Delta does not face such a behind gateway question given Australia's smaller and more concentrated population. United for example is able to serve Australia without a strategic local partner (it has basic interlines available).
In recent years foreign airlines have partnered with smaller carriers in North America, mainly JetBlue in the US and WestJet in Canada but also Virgin America. These carriers do not have their own long-haul networks and as such have nothing to protect, whereas Hawaiian Airlines is on the record stating the big three US carriers are increasingly making behind gateway access more expensive for partners.
This was not a viable option for Virgin when it launched V Australia, as the long-haul unit was then called, in 2009. These smaller partnerships were in their infancy. The infograph below shows JetBlue's partners mid-way through 2013, and volume of bookings on an unspecified scale. JetBlue's partners were mostly accumulated from 2011, after V Australia's 2009 launch. In any event, these partnerships are top-offs and cannot be relied on to transport around half of passengers, as is required between Australia and the US.
JetBlue history of airline partnership additions: 2007-2013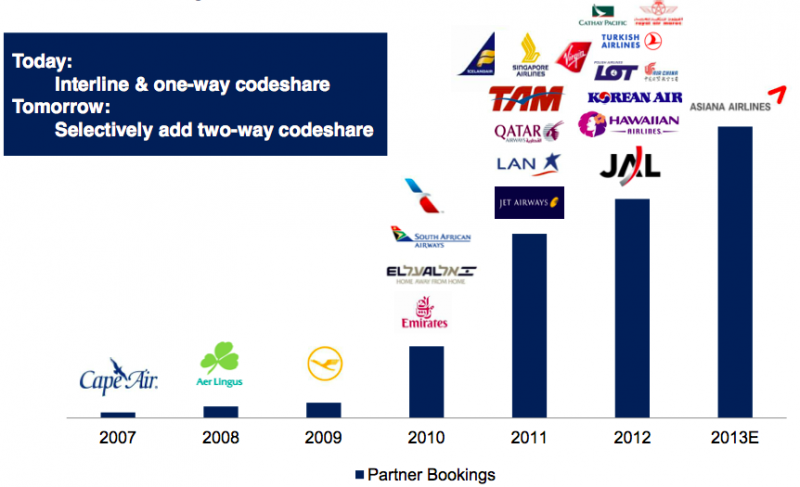 Delta and Virgin have barely grown since the JV, unlike Qantas
Delta has not increased Australian frequencies since it launched daily 777-200LR Los Angeles-Sydney service on 01-Jul-2009. In 2015 Delta is expected to see about 9% seat growth compared to 2012, after the JV was approved. Delta's growth is a result of a retrofit programme that saw business class seats replaced with economy. Virgin's schedules show flat growth for 2015 compared to 2012.
Virgin does not have any more long-haul aircraft with sufficient range to reach the US from Australia. Working with its existing fleet, there is the unlikely option of reducing Sydney-Abu Dhabi service, which is Virgin's contribution to its partnership with Etihad Airways, although this partnership has lost importance since Virgin partnered with Singapore Airlines. Delta overall has limited interest in growth, and Australia is likely a low priority.
Qantas' US mainland capacity will be up by 25% in 2015 compared to 2012. Qantas has made a number of changes, including bringing its Dallas service (which replaced San Francisco) to an A380 while supplementary services have been launched to Los Angeles. Aircraft have also had more seats added to them. Qantas capacity reached an all-time high in 2008 but capacity decreased during the global financial crisis and increased competition on the route. In 2012, Qantas eclipsed 2008 levels and each subsequent year has seen more capacity than the previous year. This detail is not fully reflected in the graph below, which shows capacity every three years.
United is seeing about 6% growth. United brought its 747-400 service down to 777-200 while introducing a new daily Melbourne-Los Angeles non-stop service.
See related report: United Airlines' 787 Australia announcement marks the 5th anniversary of US open skies agreement
Australia-mainland US non-stop seats offered by airline: 2000-2015F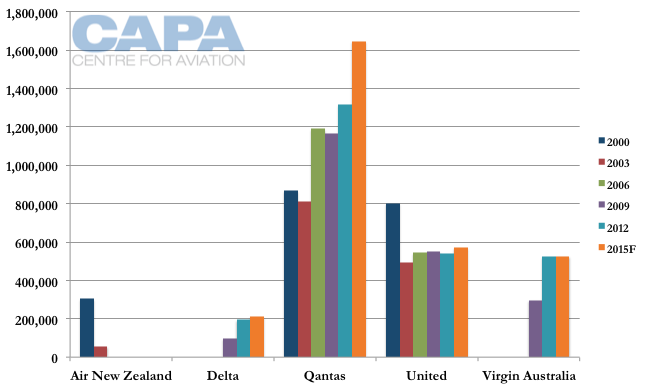 Delta and Virgin committed to the US DoT to offer a historic level of capacity for two years after the JV. A balance of peak and off-peak capacity in total was 1,260 one-way frequencies for Virgin and 656 for Delta. Both have not dropped below that level.
Ironically, Virgin part-owner Air New Zealand benefits from limited growth
The biggest beneficiary of any slack in the US-Australia market is Air New Zealand, which serves about a dozen Australian points from its long-haul hub in Auckland, which reaches Los Angeles and San Francisco.
Air NZ is likely to announce its first mainland US destination outside of California, for which Australian feed will undoubtedly contribute. Only Qantas has a service between Australia/New Zealand and a point outside California; this is to New York JFK and is served via Los Angeles. Air NZ owns about a quarter of Virgin Australia.
See related report: Air New Zealand plans to grow beyond North America's west coast to Las Vegas, Chicago or Houston
Air NZ also serves Honolulu and Vancouver in North America, and this market is growing in importance for Air NZ, both in terms of overall capacity (measured in ASKs) and that capacity's share of Air NZ's network. Some of this capacity is used for Air NZ's onward service from Los Angeles to London Heathrow, but Air NZ has grown in the mainland US.
Air New Zealand North America ASKs and share: 2008-2015F
Overall, however, Air NZ's share of Australia-mainland US traffic is small. Data from OAG Traffic Analyser show that Air NZ is the fifth largest carrier based on bookings, but this equates to a 4-5% share.
Hawaiian Airlines, and others, see opportunity for limited connecting traffic
Between Australia and the mainland US there are other indirect operators, notably Hawaiian Airlines and Fiji Airways, but they are a fraction of Air NZ's size. They also do not want an active role in the Australia-mainland US market, although they are happy to take filler traffic. This is unlike Air NZ, which even had a tidy business in the Melbourne-US market owing to limited competition before United launched non-stop flights.
As CAPA previously wrote:
Hawaiian already relies on transit traffic to balance out the cycles in the Hawaii-mainland US market. As new markets in the mainland US are considered Hawaiian will take into account connecting traffic opportunities – both to its own network and codeshare connections with partners – that in some cases are sufficient to make a route viable on a year-round basis that otherwise would never work.

Mr Dunkerley says there are periods of the year such as May when demand in the mainland US market for Hawaii vacations is relatively weak. Hawaiian as a result already sees a large fluctuation in its transit traffic figures as it tries to fill up mainland US capacity with Asian connecting traffic during certain periods.

Asia connecting traffic also balances out Hawaiian's traffic mix as some one-stop markets such as Sydney-Seattle have a large portion of business passengers but lack non-stop options. Hawaiian is generally a leisure carrier but has a business class as well as a premium economy product on a growing portion of its widebody fleet.

Even with its own connection traffic Hawaiian has the spare capacity to offer seats to foreign partners, particularly during periods in which

US

majors lack the extra capacity. For example while May is a low peak month for Hawaiian it is a high peak month for

US

majors. Asian carriers could potentially manage their flows to take advantage of seasonal fluctuations in the domestic

US

market, using Hawaii as a connection point for traffic heading to or from the

US

mainland during periods when the local Hawaii-

US

mainland market is down but seats are hard to secure on domestic routes within the mainland.
And more conservatively for Fiji Airways:
Fiji Airways continues to carry some transit passengers, including on regional connections to other island chains in the South Pacific. But it is keen to avoid competitive transit markets such as Australia-Honolulu or Australia-Los Angeles and is predominately focused on carrying passengers heading to or from Fiji.

Mr Pichler told CAPA after speaking at the CAPA Summit that 81% of Fiji Airways' traffic is heading to or from Fiji (includes passengers with domestic connections). Of the remaining 19%, a majority connects beyond Los Angeles to other destinations in North America, primarily using codeshare partner American Airlines. About 4% to 5% connects at Nadi to other South Pacific islands.
See related report: Fiji Airways plans modest growth and focus on local market as profitability continues to improve
There are other indirect carriers too, including Air Canada (which serves Sydney-Vancouver) as well as Emirates and Cathay Pacific. The latter two have much longer flying times, but can offer attractive fares depending on the time of year. Cathay is popular for offering via Hong Kong a premium economy product from its range of Australian cities to its US network, whereas most other itineraries cannot offer premium economy throughout the journey.
Complacency may set in but possibility of another entrant remains
Delta and Virgin estimate the trans-Pacific accounts for 22% of business travel into Australia, making it the largest market. While there could be signs of complacency from some players, the possibility of another entrant will linger as a potential threat. Singapore Airlines has effectively ended its long desire to be on the trans-Pacific route; a more likely entrant could be Emirates.
But Emirates for now is more likely to focus on growth to and from its Dubai hub than fifth freedom growth. And any movement on the trans-Pacific to the US from Australia – or New Zealand – would surely seek alignment with partner Qantas.
Delta and Virgin cite IATA data that quarterly fares from the US to Australia were down almost USD500 in 2Q2014 compared with 2Q2008, when the Qantas-United duopoly was still in force. Since US DoT approval and implementation of joint Delta-Virgin pricing, fares have further declined from over USD1400 to around USD1300. With prospects limited for a new entrant or bold growth from Delta/Virgin or United, growth is ironically left to Qantas – the airline that was supposed to see its grasp weakened.
Then again, non-extension of the approval would generate a whole new dynamic.
Quarterly industry US-Australia average fares excluding taxes: 2008-7M2014