Emirates continues courting American as ink dries on Qantas deal
Analysis
Emirates is continuing a year-long pursuit of a codeshare tie-up with American Airlines as its landmark deal with American's fellow oneworld partner Qantas continues to rattle age-old assumptions about the value of alliances in the current aviation marketplace. Emirates' attempts to forge strategic agreements with two oneworld partners should not be interpreted as a prelude to alliance membership. Of the three large Gulf carriers Emirates remains steadfast in its strategy of pursuing organic growth, while Etihad and Qatar seem more inclined to forge equity stakes in other carriers or explore fully-fledged alliance membership.
Should Emirates prove successful in persuading American to forge a partnership, it could create thorny issues in American's current relationship with Etihad and Qatar's reported interest in joining oneworld. Emirates president Tim Clark outlined the carrier's desire to partner with American on 12-Sep-2012 near Washington, DC, at a celebration marking the inaugural flight of Emirates' new service from Dubai to Washington Dulles International Airport.
Mr Clark remarked that as it looks to grow its partnerships in the US, American is in the carrier's sights. Emirates currently has a one-way codeshare with JetBlue as well as interline and mileage swap agreements with Seattle-based Alaska Air Group and San Francisco-based Virgin America.
Elaborating on the carrier's preference to partner with American, Mr Clark stated the two carriers have been in discussions for about a year, and he hoped something formal would be consummated soon. He explained the launch by Emirates of service from Dubai to American's hub of Dallas/Fort Worth in Feb-2012 raised Emirates' interest in striking a partnership up a few notches.
It appears the discussions with American are outside of the recently reached game-changing accord between Emirates and Qantas covering northern Africa, Europe, the Middle East and New Zealand as Mr Clark clarified the talks with American were separate from Qantas. He also stated the US was outside the geographical reach of the Emirates-Qantas deal, but "anything could change". His comments coincide with Emirates and Qantas seeking global approval for their tie-up from Australian regulators.
See related articles:
American has had a codeshare in place with Etihad since 2009 covering US domestic flights and trans-Atlantic services operated by American and Etihad's flights between the US and Abu Dhabi. Presently Etihad offers flights from Abu Dhabi to Chicago O'Hare and New York JFK, and has plans to launch service to Dulles in Mar-2013. O'Hare and New York JFK are both American hubs.
American currently has no direct operations to the Middle East, and linking to Emriates' network through codesharing from Dallas to Dubai could generate more revenue than on Etihad's flights from Chicago or New York, where American is less dominant. Schedules in Innovata for the week of 10-Sep-2012 to 16-Sep-2012 show that American is the second largest carrier behind United at Chicago O'Hare in terms of seat share at 35%.
At New York JFK, American is the third largest carrier, holding a 15% share. Delta and JetBlue are larger in New York. As both American and Emirates now work with JetBlue in New York it would seem that an American-Emirates tie-up would not necessary force Emirates to drop its existing relationship with JetBlue.
Chicago O'Hare International Airport capacity by carrier (% of seats): 10-Sep-2012 to 16-Sep-2012
New York John F Kennedy International Airport capacity by carrier (% of seats): 10-Sep-2012 to 16-Sep-2012
Dallas/Fort Worth International capacity by carrier (% of seats): 10-Sep-2012 to 16-Sep-2012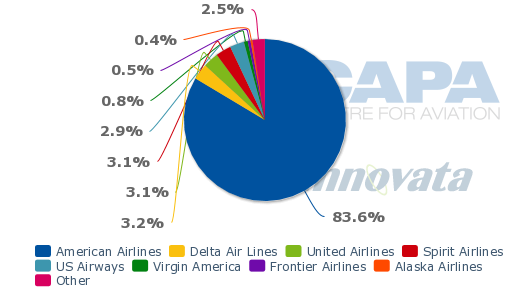 In Dallas American holds a 84% seat share which could allow it to generate a higher number of passengers transported under a codeshare deal with Emirates, resulting in more favourable revenue benefits. But Chicago has the benefit of quicker offline connections to the US west coast, where Emirates currently serves Los Angeles, San Francisco and Seattle with its own metal. New York potentially offers the quickest connections to the mid-Atlantic and southeastern portions of the US, where Emirates now only serves Dulles.
Dallas and Seattle were also added earlier this year, marking Emirates' first expansion in the US since 2008, when it launched services to Los Angeles and San Francisco. The addition of Dulles, gives Emirates seven US destinations. It also serves Houston, which like Dulles is only a hub for American rival United.
See related article: Gulf carriers turn their attention to the US to fuel their continued rapid growth
Emirates is by far the largest carrier between the US and Middle East, offering roughly 19,000 one-way weekly seats between the two regions following the launch of Washington Dulles. This gives Emirates about one-thrid of the total US-Middle East non-stop market.
US to Middle East capacity (seats per week, one way) by carrier: 19-Sep-2012 to 03-Mar-2013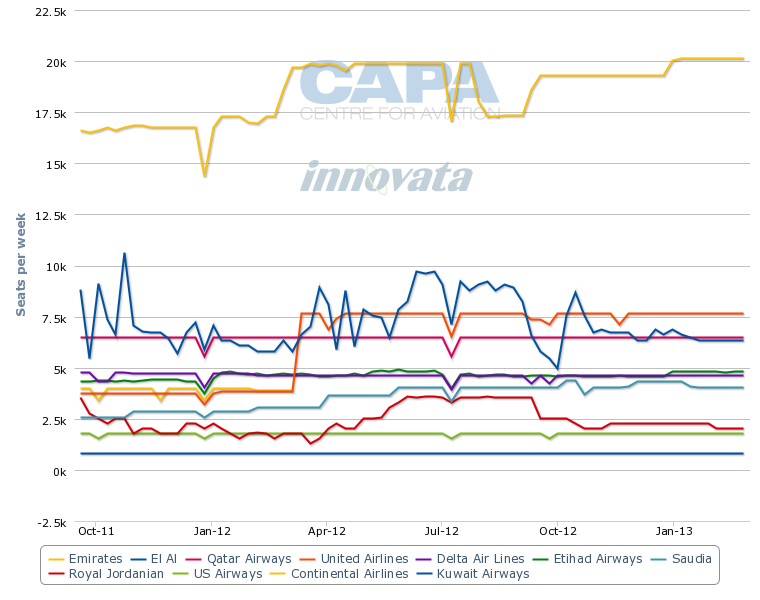 On a pure numbers basis, Emirates' 115 markets surpass Etihad's network that comprises flights to 73 destinations. American could potentially gain access to Emriates 20 African destinations (versus eight offered by Etihad) and the 36 Asia Pacific markets, which is somewhat higher than Etihad's 32 markets in the region.
Emirates network summary as at 16-Sep-2012
Etihad Airways network summary as at 16-Sep-2012
Connecting in Europe with Emirates' Europe-Middle East flights is likely to be of limited interest because American already has a trans-Atlantic joint venture with oneworld partners British Airways and Iberia. But Emirates stands to gain access to American's vast domestic network, and its large network in Mexico and Central America which is served from its Dallas hub. (Emirates operates its own flights to South America, where it is likely to expand its network beyond the current destinations of Buenos Aires, Rio de Janeiro and Sao Paulo, but does not serve any destinations in Central America or Mexico).
Mr Clark stated that in the near term Emriates' expansion into Latin America would be supported with increased production through frequency additions. The carrier currently offers a daily Dubai-Rio de Janeiro-Buenos Aires flight and a daily service Dubai and Sao Paulo. CAPA sources in Argentina expect Emirates to begin operating a non-stop to Buenos Aires, possibly starting early 2013.
Emirates' president stated that Bogota and Caracas are destinations Emirates is interested in serving once an aircraft is available for direct flights to those markets from Dubai, stressing that a Boeing 777-8X/9X would accomplish such a mission. Emirates has been strongly pushing for a new larger-gauge 777 derivative offering more range. Mexico City is also not a realistic possibility with current aircraft as its high altitude would likely lead to payload restrictions on flights to Dubai. Other destinations in Mexico or Central America are likely too thin to support service from Dubai, making them ideal destinations to be served via Dallas on American.
It is not clear if Emriates' new partner Qantas could exert any influence over American as it evaluates partnering with Emirates. Los Angeles is Qantas' largest US gateway, and Qantas also serves Dallas after realigning some of its US flights in 2011 as it embarked on a trans-Pacific joint venture with American. At that time Qantas shifted its operations from San Francisco to Dallas. For now it seems as if Qantas and Emirates are pushing a carefully constructed message than any cooperation to the US is out of the realm of their current agreement.
Questions arise over a possible oneworld membership for Qatar
American's fellow oneworld partner IAG has recently been publicly pushing for alliances to embrace the Gulf carriers, with IAG CEO Willie Walsh singling out Qatar Airways specifically. American could potentially be waiting for Qatar to declare its intent to join oneworld before making a commitment to Emirates. But all alliance members have partnerships outside of those groupings, and American is no different, as evidenced by its relationships with Etihad, China's Hainan Airlines and Canada's WestJet. All three carriers are now un-aligned.
See related article: oneworld's BA and Qantas may shake up alliances irreversibly as Emirates and Qatar enter
American could partner with Qatar if the carrier chooses to enter oneworld on flights from New York and Chicago; but again that could pressure the ties between American and Etihad. Qatar also operates flights from Doha to Houston and Washington Dulles. Similar to Emirates, Qatar has a more extensive network than Etihad (which is the youngest of three Gulf carriers). Qatar serves a total of 111 destinations, including 18 in Africa and 39 in the Asia Pacific region, according to Innovata data.
Qatar Airways network summary as at 16-Sep-2012
While it might seem illogical for American to partner both with Qatar, if it joins oneworld, and Emirates, those two tie-ups could help American to create a fairly extensive virtual network in the Middle East, Asia and Africa by partnering with both Emirates and Qatar from Dallas, Chicago and New York. (Emirates, Etihad and Qatar all serve New York JFK from their respective Gulf hubs). But significant decisions need to be taken before that could happen. It is unlikely American will make any concrete plans until it emerges from Chapter 11 bankruptcy protection, and until there is an outcome in US Airways' ongoing efforts to merge with American.
Mr Clark declared that Emirates continues to be "masters of our own destiny", describing the carrier as an organic animal. The tie-up with Qantas shows that long-standing alliance members are also attempting to restructure their destinies through the realisation that those groupings cannot offer a comprehensive solution to building a network to maximise revenue. Now that Qantas has ventured outside the fold, American could be more willing to look at strategic options with Emirates.