American Airlines' triple play in greater China is part of long-haul rejuvenation, with more to come
Analysis
The new American Airlines is fulfilling old dreams. The world's largest airline had eyed services from Dallas to greater China but was limited by factors including cost base, labour conditions, aircraft type and product to sustainably offer flights. Now through re-structuring, a new fleet and re-vamped product American Airlines has three three new routes in greater China: its first ever Hong Kong service launched in Jun-2014, Dallas-Shanghai launched in Jun-2014 and from May-2015 a planned Dallas-Beijing route.
"We've wanted to do this for a long time," American VP Asia-Pacific Erwan Perhirin said at the launch of the Hong Kong route. Hong Kong with the Beijing and Shanghai routes mark the start of what will likely be further expansion from American in Hong Kong and broader Asia – and maybe even Australia/New Zealand too. The growth is dampened by financial performance, with American CEO Doug Parker remarking American's Asia services are loss-making and "investments for the long term".
American's Asia network has been on-and-off in terms of profitability, with some profitable years but also some unprofitable ones caused by various factors, such as the Mar-2011 tsunami in Japan. Mr Perhirin believes American's new scale and cost base combined with a refreshed fleet can bring consistent profits to American's Asia network.
| | |
| --- | --- |
| | CAPA's first America Aviation Summit will he held at the Hilton Lake Las Vegas Resort & Spa on 27/28 April 2015. To experience CAPA's unique aviation conference format and to meet the movers and shakers in the Americas and worldwide with 20+ airline CEOs, click here: CAPA Americas Aviation Summit |
American has been approved to commence daily 777-200ER service between Dallas and Beijing from 07-May-2015.
This is American's fifth route between the US and mainland China, following:
The route is also American's fifth from Dallas to Asia (Beijing, Hong Kong, Seoul, Shanghai, Tokyo). The route reflects American's recent building of an Asian presence from its mega hub in Dallas, but Dallas-Beijing is not a new thought. American considered a Dallas-Beijing route for new US-China route authorities in 2006, but the route was longer than American's pilot union contract allowed.
Negotiations to operate the longer service did not produce a favorable outcome, with the union requesting conditions that affected the commercial viability of the service. However, bankruptcy restructuring allowed American to change its contracts in ways that now permit longer flights without the commercial restraints American previously experienced. This was also a factor delaying American's entry into Hong Kong.
At the time of American's entry into Hong Kong, Mr Kirby remarked American wanted a Dallas-Beijing route pending regulatory and Chinese slot approval. Dallas airport also saw a Beijing service as its final destination on its immediate wish list of air service developments. The growth further supports Dallas' position as a hub to Asia, and reflects the growing Dallas/Ft Worth economy.
See related report: Dallas/Fort Worth airport secures Shanghai and Hong Kong services, seeks Beijing and maybe Istanbul
American will make use of seven of what it has identified as the remaining 37 weekly frequencies available to US carriers between the US and first tier Chinese cities. There is a total allocation of 161 frequencies, 124 of which were in use as of 13-Jun-2014.
Summary of US-China passenger authorities: as of 13-Jun-2014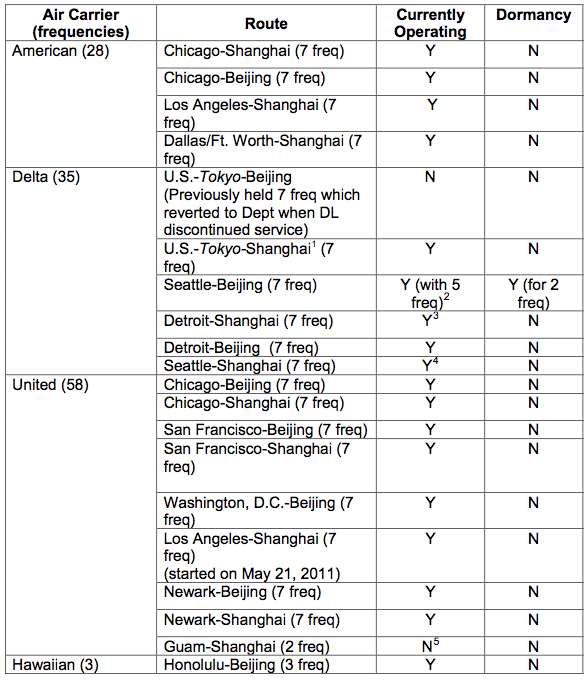 The US-mainland China market has grown from approximately 44,000 weekly seats in Mar-2013 to 52,000 in Mar-2014 and based on current schedules will grow to about 63,000 in Mar-2015.
Mainland China to United States of America (seats per week, one way): 19-Sep-2011 to 29-Mar-2015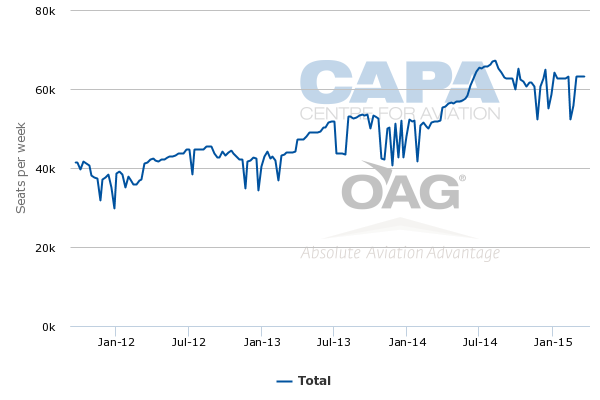 Mainland China to United States of America by carrier (seats per week, one way): 19-Sep-2011 to 29-Mar-2015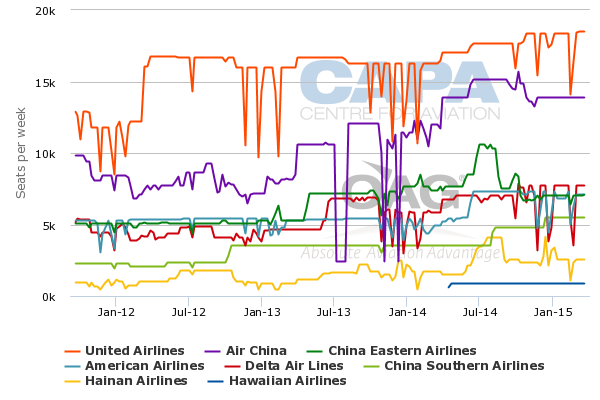 American Airlines' launch in Hong Kong complements a more well-established presence from its two main peers Delta Air Lines and United Airlines. American's inaugural Jun-2014 Dallas-Hong Kong route started amid a flurry of trans-Pacific routes, prompting questions of sustainability.
The Hong Kong-US market has not experienced the same growth as mainland China-US, with about 28,000 weekly seats over the last two years, but this increased to about 35,000 weekly seats in Jun-2014 with American launching Hong Kong service, Delta resuming non-stop service and Cathay Pacific growing services. Overall there is over-capacity in the North America-Asia market.
Hong Kong to United States of America (seats per week, one way): 19-Sep-2011 to 29-Mar-2015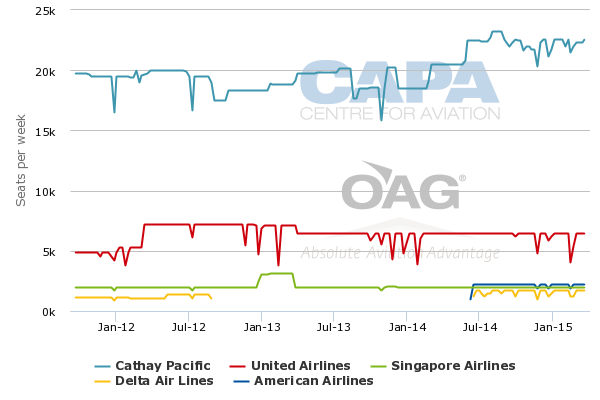 American's Hong Kong route has distinct advantages. It finally gives American's corporate and loyal customer base an online option for Hong Kong, and a more southern online transfer point than at Tokyo (or at American's smaller transfer point in Shanghai). American has been able to reach Hong Kong and other Asian points via Cathay Pacific and Japan Airlines codeshares.
But JAL codeshares and destinations are limited and sometimes ran at a premium. Codeshares on Cathay's extensive US-Hong Kong flights also often ran at a premium. Further, American-operated flights hold advantages over codeshares to frequent flyers, who can be willing to pay a premium.
The selection of Dallas allows American to offer onward flights to most major North American destinations in four hours. Some destinations will naturally be circuitous from Dallas given the Hong Kong-Dallas flight length (it is the eighth-longest route in the world based on distance), but local traffic and nearby connections are strong.
The service links Hong Kong with the constantly expanding Dallas/Ft Worth area, and is especially convenient for connections to the US South and Southeast, regions that have not been large targets for one-stop or non-stop services from Asia. International connections to Latin America can be a strength at Dallas; Dallas is American's second-largest hub for Latin American flights (Miami is larger but non-stop flights from Hong Kong unviable for now). Nonetheless, American planned flight times to facilitate connections to key Latin American destinations including Bogota, Lima, Rio De Janeiro, Santiago and Sao Paulo.
The US' reluctance to offer transit visas does disadvantage American (and other US carriers) in the Asia-Latin America market. US carriers can offer more Latin American destinations than the Gulf carriers and shorter connections than European carriers, and they are often competitively priced.
Airlines in almost every region is vying to be transit hub for the Asia-Latin America market. Europe, the Middle East and North America are the established transit markets, but other regions see a role. Australia sees some traffic via LAN's and Qantas' Sydney-Santiago services while Air New Zealand has in the past expressed interest in being a hub for Asia-Latin America, and in Africa Ethiopian Airlines can offer connections between its growing Asian network and emerging Latin American presence. Non-stop flights from Asia to Latin America beyond Mexico are unviable for the foreseeable future. (AeroMexico links Shanghai and Tokyo to Mexico.)
See related report: Asia to Latin America - Lots of distance, lots of options, but little direct service
Connections are also good in Hong Kong, where American can leverage its partnership with fellow oneworld carrier Cathay Pacific. Delta and United do not have a local partner. Cargo is also an important part of the equation, not just because of Hong Kong's natural cargo role but the ability to route cargo beyond Dallas, especially to Latin America. American is bullish on its cargo prospects although it acknowledges payload restrictions are a factor. As would be expected, volumes are stronger out of Hong Kong.
As part of American's entry into Hong Kong, it plans to grow its codeshare service on Cathay Pacific around Southeast Asia and India. Cathay's website does not show its codeshare on American's Hong Kong-Dallas service when ticketed non-stop, but does show it when booked as a connection. American sees itself significantly closer to Cathay than its partner in mainland China, Hainan Airlines. American describes its relationship with Hainan as "tactical" and confined to specific markets: codeshares on US-mainland China services and select behind gateway codeshares.
Frequent flyer arrangements are limited, whereas American is closer to Cathay via the oneworld alliance, although Cathay was the one which pushed for restrictions on economy fare classes that are mileage accruable. Although American is growing its Cathay partnership, it does not see this being at odds with its joint-venture with longtime ally Japan Airlines (Cathay is not part of the JV). Further, American believes Cathay and JAL having a commercial relationship outside the oneworld framework helps smooth American's relations with the two.
Unaligned strategic factors prevented an earlier Hong Kong launch
Despite the strong prospects for American's presence in Hong Kong, the service eventuated only in 2014. As noted with the Dallas-Beijing example, bankruptcy restructuring gave American greater control over crew matters that impacted commercial feasibility.
The Hong Kong's route prospects also changed with American reducing its cost base, taking delivery of 777-300ERs better suited to the route, having a more premium product (the -300ERs in business class have lie-flat seats all with direct aisle access, unlike its -200ERs that are only now being retrofitted) and, finally, greater scale from American's merger with US Airways.
American Airlines now sees itself having a platform for growth in Asia
Mr Perhirin acknowledged American's previous under-development in Asia. "We were a late comer in Asia," he said at the Hong Kong launch, which the airline saw as the first example of Asian growth from the "new" restructured American.
The restructuring – giving American (record) profits and boosting cash – is allowing American to "take more risk" while hard products matching that of leading international airlines makes American "more confident about new markets where consumer expectations are high", Mr Perhirin saud. Finally, American's aircraft backlog, including new aircraft to the fleet like the A350, 777-300ERs and up to 100 787s, gives it opportunity to evaluate routes it could not have offered in the past. Retrofitted 777-200s can also change route dynamics.
American's growth in Asia is aimed around new cities (as seen with Hong Kong) and additional service to existing points (as seen with Dallas-Beijing/Shanghai). Hong Kong is likely to receive additional service at some point, with Mr Perhirin noting its initial 14 local staff, including 10 in sales, were not placed to support a single daily service indefinitely. But he cautions the short-term is focused around making the initial daily Dallas-Hong Kong service work, including building up ex-Hong Kong sales. United offers beyond flights from Hong Kong to Southeast Asia, but Mr Perhirin said it was pre-mature for American to consider fifth freedom services within Asia. (American's aircraft has a nearly 20-hour layover in Hong Kong, but this is done for scheduling and for maintenance work in Hong Kong.)
American sees secondary cities in China as only a long-term objective, with Mr Perhirin noting American entered China only eight years ago. United (now the only US carrier serving a secondary Chinese city, with a San Francisco-Chengdu flight) inherited an Asian network from Pan Am while Delta/Northwest entered China over 50 years ago (with one-stop flights from the US). Echoing the experience of British Airways and United in using 787s to serve thinner routes in China, Mr Perhirin says "the 787 will be a game-changer" in secondary Chinese cities.
American's growth in Asia-Pacific is not necessarily confined to Asia. Although there are no immediate plans, service to Australia/New Zealand could be on the cards for American, although this could require changing American's agreement with Qantas that was built (and approved by regulators) on the basis of American not serving Australia/New Zealand. Mr Perhirin does not offer much detail other than to say "You'll see us be able to evaluate and implement ultra-long-haul growth in a manner we couldn't" before.
American's profits in Asia impacted by cyclical events
There has been some dampening of American's Asian growth with Mr Kirby candidly remarking that for American, Asia is unprofitable but a long-term investment. Although true, American's financial history in Asia is more complex. The 2011 earthquake and tsunami in Japan, where most of American's Asia capacity went to, was severely affected.
Similar to Mr Kirby's reflection of routes being investments, Mr Perhirin noted American's growth needs to be in destinations that are "adding value to customers". A service to an Asian city could help keep passengers that might otherwise consider a competitor for all of their flying, including to profitable markets. Mr Perhirin continued that American needs to "develop a network in Asia in a manner that is consistent with our objective as a global carrier".
There are of course the short-term realities and American's challenge is balancing strategic vision with financials. As Mr Perhirin remarked of Asian growth: "We're optimistic but we need to grow profitably."
Dreams no longer deferred

American has found that with size – being the world's largest airline – comes a responsibility to fly where passengers want to go. American is not undertaking growth at any costs, but reading between the lines the airline is willing to endure short-term, even medium-term, challenges for a long-term objective. Asia is clearly a growth market and American no longer wants to keep deferring dreams. Nor does American have as many conditions – such as the antiquated contracts and aircraft, high costs – that stymied costs before.
But such long-term objectives are seldom the focus of the stock market, which wants immediate gains. An extreme example was the recent pessimism over JetBlue, provoking a change in its leadership. Thankfully for American, Asia is a small part of its story and the market focuses on more traditional (and larger) markets, like domestic and Europe.
See related report: JetBlue Airways against the analysts as CEO Dave Barger pursues a customer friendly hybrid strategy
There is more work to be done in Asia, and a Chinese partner would undoubtedly be valuable (fellow oneworld carrier British Airways is in the same category, especially for its Chengdu service). But American now probably has stronger prospects in Asia than at any other time in its history.
With Asia addressed, there should be a strategic move on a Middle East hub. Where American fell behind in Asia, it has an opportunity to take the lead in the Middle East. American is growing its relationship with Etihad and Qatar while, Emirates, the world's largest international airline, has made obvious overtures.
The three Gulf carriers see American's position as having the largest domestic network, key for beyond gateway access. Another factor is that American has not set fire to bridges with Gulf carriers, unlike Delta and United - although CEO Doug Parker recently joined the other two CEOs in lobbying Washington to wind back the US open skies policies, with a specific goal of slowing the expansion of the Gulf carriers. American has otherwise intentionally been conservative, rather than dismissive, with the Middle East operators. It has more to gain by allying with (one or more of) them than opposing their entry.