Los Angeles Airport at the heart of a fierce battle between American Airlines and Delta Air Lines
Analysis
Los Angeles International Airport has emerged as a battle ground for American Airlines and Delta Air Lines during the last couple of years as the market, while hugely fragmented, retains a high level of importance within the networks of most US major airlines.

But the success of each airline's recent expansion in Los Angeles is tough to predict. Both American and Delta unsurprisingly declare that their operations in Los Angeles are successful; but the longevity of that success is difficult to predict given the tough competitive dynamics in the market.

The investments each airline is making in Los Angeles obviously carry some risk. But the scenario for American is a bit different given it does not have a true west coast hub for long-haul traffic, and the operating constraints in Los Angeles threaten to constrain its optimal growth path.
American continues to expand in Los Angeles after merging with US Airways
Since American and US Airways closed their merger in late 2013 with US Airways' management largely holding the top positions in the new American, curiosity grew over how those executives would approach Los Angeles given the market fragmentation and its 599km (372m) distance from Phoenix.

Prior to the merger American had created its cornerstone strategy that entailed leveraging its hubs in New York, Dallas, Chicago O'Hare, Miami, New York and Los Angeles, eliminating unprofitable routes elsewhere in its network and cycling those operations back through one of its five larger hubs. This is a strategy adopted by all the large US global network airlines during the last few years including US Airways prior to its merger with American.

Since the merger American's expansion from Los Angeles has continued, with new or planned route launches during the last two to three years from the airport to Sao Paulo, Edmonton, Vancouver, San Antonio, Tampa, Raleigh-Durham, Eugene, Redmond, Pittsburgh, Indianapolis, Hartford and Bentonville.

Data from CAPA and OAG show that for week of 25-Jan-2015 to 1-Feb-2015 American, Delta and United essentially have a three way split on domestic ASM/ASK share from Los Angeles with American holding a 22% share, Delta representing a 21% share and United holding a 21% share. The domestic seat share is split along the same lines with American holding a 21% share, followed by a 20% share for United and 19% share for Delta and Southwest. (Note: US Airways has a 4% domestic seat share and 5% of domestic ASKs in Los Angeles. The two airlines do not yet have a single operating certificate)
Los Angeles International Airport domestic capacity by airline (% of ASMs): 26-Jan-2015 to 1-Feb-2015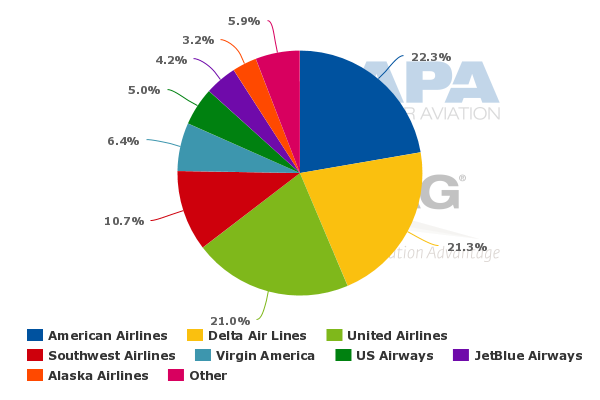 Los Angeles International Airport domestic capacity by airline (% of seats): 26-Jan-2015 to 1-Feb-2015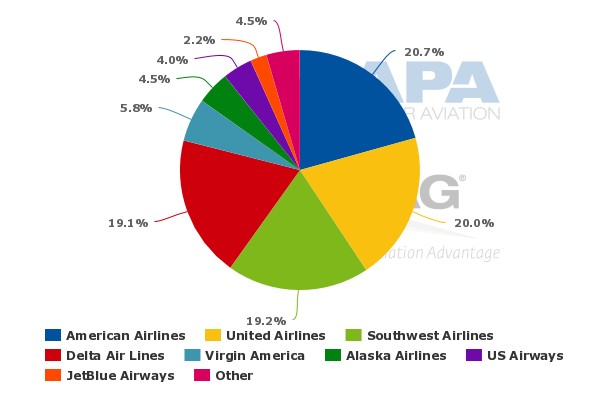 Los Angeles' fragmentation is reflected in the system-wide distribution of seats, with no one airline holding more than a 17% share.
Los Angeles International Airport system capacity by airline (% of seats): 19-Jan-2015 to 25-Jan-2015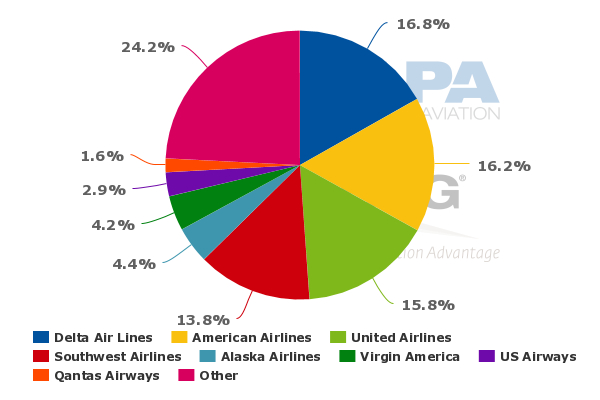 Although American and Delta each at times refer to Los Angeles as a hub, its seat share does not reflect the typical dominance of a traditional hub. But with a fair number of frequencies occurring in the one to three-hour time period, operations at Los Angeles contains aspects to mirror a hub-like operation.
Los Angeles International Airport system frequencies: 26-Jan-2015 to 1-Feb-2015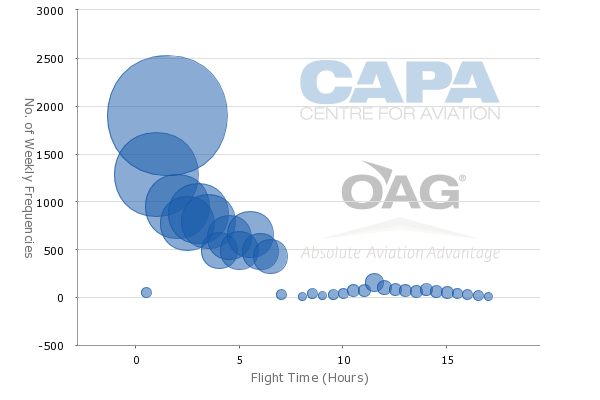 American has predicted Los Angeles will be profitable in 2014
The fragmentation inherent in Los Angeles would seem to dictate that the market would not be a strong performer for the airlines jockeying for position at the airport. But American has previously stated that its Los Angeles operation will be nicely profitable in 2014 (it reports earnings in late Jan-2015) driven by the airline's penetration into the premium traveller segment in the market.

See related report: American Airlines' network tweaks officially begin as early revenue trends look favourable

American's inroads into the Los Angeles corporate market are made possible in part through the trans-Atlantic joint venture it holds with oneworld partner British Airways, which operates flights to the airport's largest international destination measured by seats, London Heathrow. American's oneworld partner Qantas serves Los Angeles from Brisbane, Sydney and Melbourne.
Two of those markets – Sydney and Melbourne are also included in the top international destinations from Los Angeles measured by seats. oneworld airline Cathay Pacific serves Hong Kong from Los Angeles and both American and its oneworld joint venture partner Japan Airlines serve the Los Angeles-Tokyo Narita market.
Los Angeles International Airport top 10 international destinations by seats: 26-Jan-2015 to 1-Feb-2015
Part of American's likely logic for adding a raft of domestic destinations from Los Angeles during the last couple of years is to feed the long-haul flights of its partners and expand connecting markets for passengers originating in the home countries of its partner airlines. American has the advantge of more domestic aircraft movements in Los Angeles at peak times than its global airline rivals Delta and United.
Los Angeles International Airport share of domestic aircraft movements during peak times: 26-Jan-2015 to 1-Feb-2015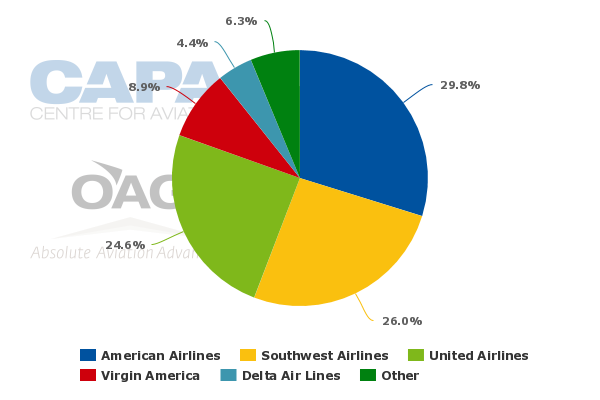 American's rivals have the benefit of other west coast hubs
But even with the benefits American has in Los Angeles of marketing long-haul flights on its partners, enjoying a certain level of scale and having a greater share of aircraft movement at peak times, no airline will ever dominate Los Angeles.
American's rival United, which also has a significant operation in Los Angeles, has the advantage of being the dominant airline at its San Francisco hub. Delta is meanwhile building Seattle into an Asian hub and enjoys its status as the airline with the most long-haul operations from the airport. It also grew domestic capacity in Seattle by 33% in 4Q2014.

During the last year American has indicated that Los Angeles could become an Asian gateway for the airline. In addition to Tokyo Narita it also operates flights from Los Angeles to Shanghai along with United, Air China, China Southern and China Eastern. Delta is also aiming to launch flights from Los Angeles to Shanghai in Jul-2015.

See related report: Delta Air Lines finishes a solid 2014 ready to face currency headwinds and macro pricing pressure
American has the lowest penetration in Asia among the big three US global airlines (a 6% seat share to Northeast Asia for the week of 19-Jan-2015 compared with 14% for Delta and United's 17% share), but during the past year has launched flights from its Dallas hub to Hong Kong and Shanghai and aims to launch a new flight from Dallas to Beijing in May-2015. There is debate as to whether Los Angeles' geography makes it ideal for an Asian gateway. Financial news outlet The Street.com has reported that Los Angeles could be located too far south to create efficient connections to US business centres
Delta also declares that its Los Angeles operations are profitable
The other challenge American faces in Los Angeles is Delta's ambition in the market. Delta too has undertaken a significant expansion from Los Angeles during the last couple of years, and operates approximately 154 departures from the airport. It has added flights from Los Angeles to London Heathrow, Monterrey, Mexico, Dallas, Austin, Mazatlan, Vancouver, Nashville, San Jose, California, Seattle, Spokane and San Antonio. Delta is the sole airline in just a single market, Spokane. The other markets are amply served by US majors and low fare airlines.

Additionally, Delta has launched an hourly shuttle from Los Angeles to San Francisco. The shuttle means rapid growth in a fragmented market into routes that are already heavily competitive. There are six airlines serving Los Angeles-San Francisco – American, US Airways, Delta, United, Virgin America and Southwest. All of those airlines, in addition to Alaska, also operate from Los Angeles to San Jose.

Delta has received some pushback from the analyst community over its expansion in Los Angeles, but the airline remains committed to building up the market. In late 2014 airline chief revenue officer Glen Hauenstein remarked that Delta has a sustainable position in Los Angeles. He declared that the airport is "very profitable as it is today". However, the airline has cited some gate constraints at the airport.
However, Mr Hauenstein did observe that Delta is "out of gates in Los Angeles and gates are the constraint".
Will Los Angeles Airport remain profitable for American and Delta as competition intensifies?
Both American and Delta realise that their hub operations in Los Angeles will never rival the scale of their other hubs where they are the dominant airlines. But in the new consolidated environment, both airlines have concluded that expansion at the second largest US airport measured by departures is critical.

No airline appears to hold immediate plans to retrench from Los Angeles, which should be a boon for consumers as more capacity is added to the market. At some point American and Delta will reach their operational limits at the airport. What remains to be seen is how long they can sustain their self declared profitable operations as competition to win in Los Angeles intensifies.