KLM looks to grow partnerships in Asia, which are becoming larger targets than North America's
Analysis
Partnerships and KLM Royal Dutch Airlines are intertwined: KLM and Northwest Airlines first joined forces in 1989 when KLM acquired a 20% holding in the US carrier, then the two pioneered the industry's first modern joint venture in 1997, subsequently been imitated not just by trans-Atlantic peers but by airlines across the world. Partnerships today are even more prevalent and critical for KLM. The trans-Atlantic deal has expanded and KLM has a JV with Kenya Airways, among others.
But it is Asia where KLM's breadth of partnerships is most evident and also where there are expansion opportunities, as KLM COO and Deputy CEO Pieter Elbers told CAPA at its recent World Aviation Summit in Amsterdam.
The launch of European flights by China's Sichuan and Xiamen Airlines could see KLM form a deeper partnership, adding to its existing relationships with China Eastern and JV partner China Southern. KLM's historical relationship with Malaysia Airlines has continued despite MAS joining oneworld in 2013, and KLM has also added one-time foe Etihad Airways as a partner. KLM would like a partner in Japan, its second-largest Asian market, and ideally hitch on Air France's relationship with JAL. Mr Elbers describes a stable if limited relationship with SkyTeam heavyweight Korean Air. The growth in partnerships comes as Asia widens its lead over North America as KLM's largest long-haul market.
KLM is larger in Asia than North America, but the AF-KLM emphasis remains on NAm
Since 2006, Asia has been more prominent for KLM than North America. That year was the first that KLM had more seats to Asia than North America, according to OAG data. (Air France and KLM only release joint traffic statistics.) The gap has progressively widened and is most apparent in 2013. The challenge, Mr Elbers said, is that profitability is still anchored in the traditional markets across the Atlantic.
North America is a mature market while Asia is mostly developing, with resulting financial implications. KLM led an early push into secondary Chinese cities to secure a long-term position, but these services have so far been unprofitable. This underscores the need for partners.
KLM seat capacity in Asia and North America: 2003-2013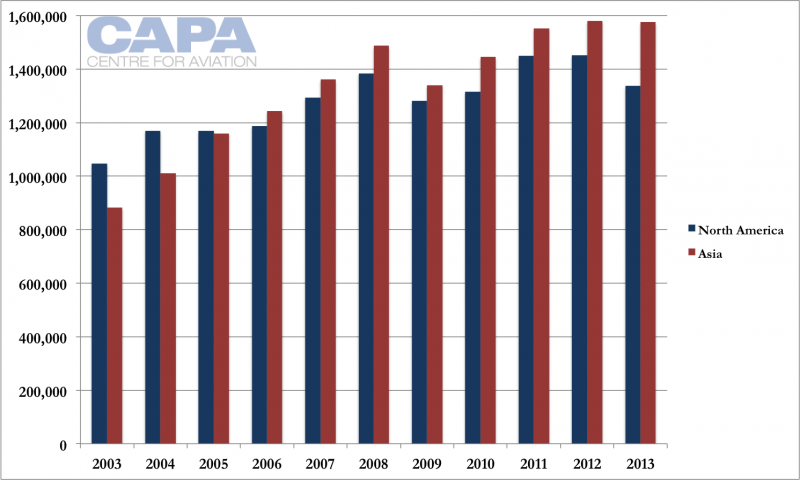 Air France is the bigger sister in the AF-KLM family, but in Asia in 2012 the two were approximately equal, although in 2013 Air France took a slight lead. The situation during just the past five years is different from the preceding five years.
Air France and KLM both cut Asian capacity in 2009 following the Global Financial Crisis, but KLM by 2011 had surpassed pre-GFC levels while Air France in 2013 has about the same capacity as in 2008. As a result of Air France's slower rebound, there is a smaller gap between Air France and KLM's Asia capacity than before the GFC.
Air France and KLM seat capacity in Asia: 2003-2013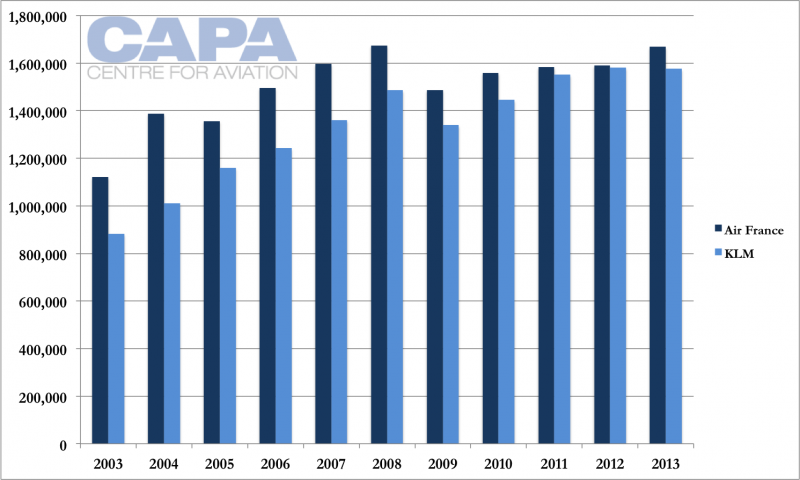 This contrasts to North America, where Air France has approximately 35% more capacity than to Asia in 2013, according to OAG. The gap between the two is far wider than in Asia, and KLM has just under two-thirds the capacity of Air France. But once again the gap has narrowed. KLM in 2013 is about where it was in 2008 while Air France has less capacity in 2013 than in 2008. Indeed, its 2013 capacity is closer to 2005 levels.
A big difference to profitability, however, is the trans-Atlantic metal neutral joint venture. North America is the largest long-haul market for the combined AF-KLM. AF-KLM traffic statistics group North America with Latin America, and this combined region accounted for approximately 13% of passengers in the 11 months to Nov-2013 and 34% of RPKs. Asia-Pacific accounted for 8% of passengers and 24% of RPKs, reflecting the slightly longer stage lengths to Asia than the Americas.
Air France and KLM seat capacity in North America: 2003-2013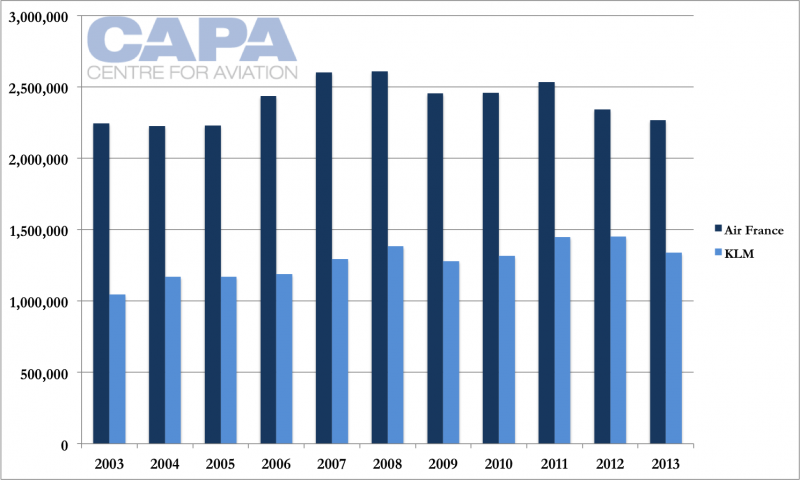 Australia is home to KLM's most diverse range of partners
KLM's range of partnerships is on display in the Australian and New Zealand markets where it partners with no less than three carriers, each of a different alignment: SkyTeam's China Southern, oneworld's Malaysia Airlines and independent Etihad Airways.
Mr Elbers says KLM's approach is that the distance from Europe to Australia and New Zealand is so great, it is logical to have a few partners and take advantage of various hubs. That translates to having an alternative hub if one is experiencing high demand, various stopover regions if passengers wish and different schedules.
KLM Asia and Middle East partnership overview: Nov-2013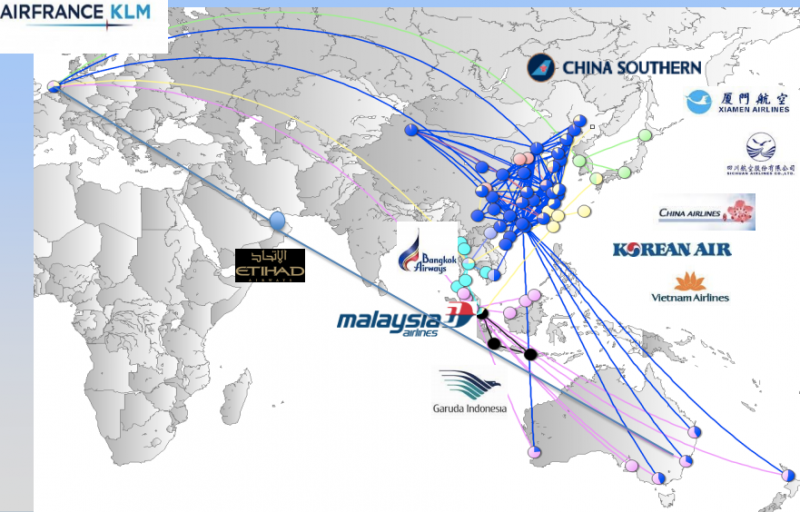 KLM codeshares on Etihad's non-stop flights, which are limited to Melbourne and Sydney. KLM does not codeshare on Etihad's one-stop service to Brisbane via Singapore. Etihad has announced its intention to launch Perth services but future codeshare arrangements are unknown. KLM codeshares to all Australia and New Zealand destinations on China Southern and Malaysia Airlines. For China Southern this is Auckland, Brisbane, Melbourne, Perth and Sydney. For Malaysia Airlines it is all of those cities plus Adelaide.
Despite the large overlap, there are differences in scheduling. KLM does not serve Guangzhou, from where all China Southern's Australia and New Zealand flights depart. There, KLM is dependent on China Southern's Amsterdam-Guangzhou service, which is a daily offering arriving in Guangzhou in the morning. That flight easily connects with minimal transfer time to China Southern's daylight Melbourne and Sydney services, which China Southern codeshares on. KLM does not code on China Southern's evening departures to Melbourne and Sydney. But does code on China Southern's evening flights to Auckland, Brisbane and Perth as those are single daily flights. The overnight departures - and long layovers in Guangzhou - are the only option. Air France does however code on China Southern's evening Melbourne and Sydney flights as it operates a service that arrives in Guangzhou in the early evening.
Similarly, KLM codeshares on MAS' morning and late evening departures from Kuala Lumpur to Australia as those flights correspond to Amsterdam-Kuala Lumpur services, offered by both KLM and MAS. KLM does not code on MAS' early evening departures. Etihad serves Melbourne daily while Sydney is 11 times weekly, and KLM codes on all of Etihad's Sydney services.
A spot check on Europe-Melbourne/Sydney prices shows routings through Guangzhou on China Southern are the cheapest by far in economy and business class, with the next least expensive offering varying between Etihad and MAS.
Malaysia Airlines offers the largest network and connectivity options for KLM in Australia, but China Southern is quickly growing and in the medium term will likely surpass MAS' frequencies, but full benefit of this will be dependent on more Amsterdam-Guangzhou services. Etihad will be a smaller player in Australia, and KLM potentially stands to gain more trip revenue by routing passengers through Asia.
For Abu Dhabi connections to Australia, KLM only receives direct revenue benefit on the much shorter Amsterdam-Abu Dhabi sector. Notably, however, the lowest prices KLM offers to Melbourne and Sydney are on China Southern CZ, not on KLM's KL flight numbers. KL codeshares are likely more expensive - an interesting piece of internal competition.
The KLM-MAS partnership is historical, with the two establishing a relationship in 1998 and gradually building on it. Most recently, the two in 2010 announced a JV for the Amsterdam-Kuala Lumpur route effective in 2011. The announcement was made during a time MAS was largely seeing how it could maximise partners while being independent of a global alliance, but in Jun-2011 MAS announced its intention to join oneworld, which it completed in Jan-2013.
Mr Elbers said KLM's relationship with MAS remains the same and there has been no change since MAS joined oneworld, which is open to its member airlines working with airlines in other alliances. This contrasts to Star Alliance, which is very strict.
The two at various times mentioned benefits ranging from coordinated sales to staff exchanges. In terms of network benefits, MAS receives beyond codeshare access from KLM's Schiphol hub to other European destinations, notably Finland and Scandinavia but also Brussels, Geneva, Rome and Zurich, according to OAG schedules. KLM's only international beyond codeshares on MAS are to Australia and New Zealand. KLM's only other codeshares with MAS are to domestic Malaysian destinations.
This largely means KLM is not encroaching on SkyTeam's Southeast Asian position – although admittedly it is not a large position. Once Garuda Indonesia joins, expected in 2014, SkyTeam will have the largest presence of the alliances in Southeast Asia, but this equates to only a 16% share. The only regional members will be Garuda and Vietnam Airlines, although they are growing and have large domestic markets. Indeed, Indonesia's will continue to be one of the world's largest.
KLM serves most of Southeast Asia's key cities so likely has limited need for international beyond flights within the region. The beyond access KLM needs most is in domestic markets, and two of the largest – Indonesia and Vietnam – are covered by SkyTeam partners.
Southeast Asia Alliance Share by Seat Capacity including Garuda in SkyTeam: 9-Dec-2013 to 15-Dec-2013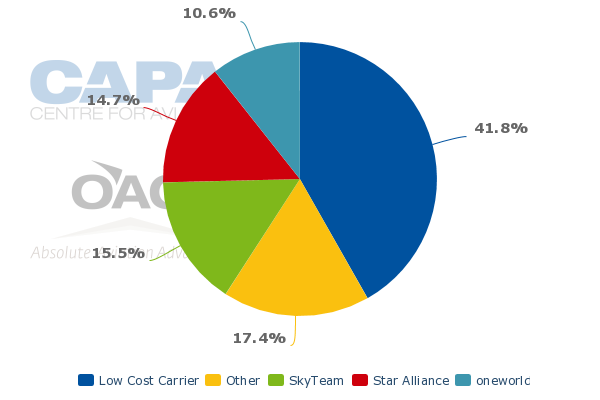 So the KLM-MAS relationship is unlikely to be undone by SkyTeam's footprint in Southeast Asia. But it is not farfetched to see the KLM-MAS partnership lose momentum. China Southern's expansion could see it want to build its relationship with KLM, and KLM would be unlikely to turn down Asia's largest carrier operating in the region's – and soon the world's – largest market. Nor would KLM curry favours with the Chinese government if it shunned state-owned China Southern. The domestic market will always be larger than international for China Southern, so KLM's arrangement with MAS may seem to be a footnote for China Southern. On the other hand there could be pressure to reduce ties with MAS, although for now China Southern is able to drive change with its lower fares.
MAS has been hoping for a partnership with British Airways. BA is mulling a return to Kuala Lumpur, but as for a partnership with MAS, BA seems intent to let MAS settle down in the Kuala Lumpur-London Heathrow route it greatly expanded by up-gauging its two daily flights to the A380. There is backtracking involved from Heathrow to continental Europe for an Asian partner, but that would not be the case at Helsinki, the hub of Finnair, which intends to add an Asian destination about every year through 2020. While connections may theoretically be stronger for MAS at Helsinki, local traffic would be lower. Another theoretical opportunity could be with Garuda Indonesia, which is building an Australian network. But for now KLM serves Jakarta via Kuala Lumpur and Denpasar, Bali from Singapore. The lack of a non-stop flight is unattractive, and compounded by Garuda's Australian presence split between Jakarta and Denpasar, with some flights going through both cities.
There are many moving parts to alliances, and some of these could be assembled in just the right way that KLM and MAS find more relevant alternatives and scale-down their partnership, not out of animosity but practicality. Alternatively, factors may keep the two together in their small but tidy relationship.
Bangkok Airways' partnership rounds out KLM's presence in Asia's largest domestic markets
KLM is well placed in Asia's largest domestic market, China, where it has as partners SkyTeam's China Eastern, China Southern and Xiamen Airlines. Asia's second-largest domestic market, Japan, is a white spot, while the third (Indonesia) has Garuda Indonesia for KLM and the fourth (Malaysia) has MAS for KLM. In the fifth-largest domestic market, Thailand, KLM has formed a partnership with the independent Bangkok Airways.
KLM is one of a dozen airlines that codeshare with Bangkok Airways, leveraging its network to help funnel passengers from Bangkok to Thailand's various tourist (mainly) destinations. Over 50% of Bangkok Airways' revenue – a staggering sum – comes from interlines and codeshares. 15% of the carrier's sales are from Europe, also an impressive figure seeing as Bangkok Airways flies only within Asia.
See related report: Bangkok Airways plans domestic expansion as competition intensifies with launch of Thai Lion
Asia's sixth-largest domestic market, the Philippines, is not far behind Thailand. Tourism in the Philippines has not caught on the way Thailand's sector has. KLM serves Manila daily via Taipei whereas Bangkok receives seven-10 weekly non-stop KLM flights.
As noted earlier, with Etihad KLM receives a third carrier and hub to access Australia. But this is just part of the network KLM is accessing with Etihad under a landmark agreement announced with Air France in Oct-2012 that saw KLM initially code on five of Etihad's destinations: Colombo in Sri Lanka, Islamabad and Lahore in Pakistan, and Melbourne and Sydney in Australia. KLM also in Dec-2013 codes on Etihad services to Colombo, Islamabad, Karachi, Khartoum, Lahore, Mahé, Malé and Muscat. Local reports in May-2013 quote KLM CEO Peter Hartman saying the airlines received 10,000 additional passengers under the codeshare agreement in the first four months of joint operations.
Excluding the Middle East, the partnership generally gives KLM a presence in markets it does not serve. One exception is Muscat, which KLM only serves six times weekly via Doha. The partnership is not blanket, unlike the Qantas-Emirates relationship. Destinations Air France and KLM are codesharing to can generally be accessed on one-stop services offered by Emirates, allowing Air France and KLM to claw back at any gains from Emirates and offer new destinations with little negative to their own networks.
See related report: Etihad ties up with Air France-KLM; next Qatar-oneworld and the aviation world turns on its head
KLM is in an enviable position with a range of Chinese partners
While KLM codeshares to Australia with China Southern, the real prize is the domestic Chinese market, where China Southern is the largest carrier. KLM's position is also reinforced as it counts within SkyTeam China Eastern and Xiamen Airlines.
KLM has a JV with China Southern covering Beijing-Amsterdam while Air France has a JV with China Eastern covering Shanghai-Paris.
China domestic seat capacity share by carrier: 9-Dec-2013 to 15-Dec-2013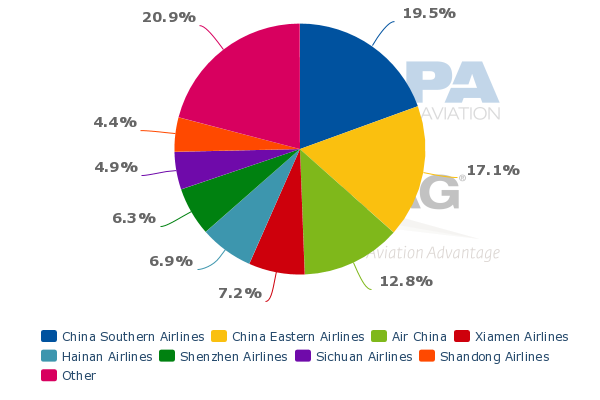 According to KLM, China Southern receives 31 codeshare destinations from KLM, 30 in Europe and one in South America while KLM receives 31 from China Southern: five in Australia and New Zealand and 26 in China.
Xiamen Airlines as well as Chengdu Airlines (partially owned by China Southern) have stated interests in serving Europe but do not serve the continent. But if they do, Mr Elbers said KLM would be interested in partnering with them.
Mr Elbers delicately described the origins of the partnership as KLM being "encouraged" by Chinese regulator the CAAC to develop the partnership. While the network benefits are tangible, other components cannot be easily calculated but are more important, such as staff exchanges where China Southern staff learn from KLM's hub forte in terms of scheduling and pricing, very relevant owing to China Southern's push into sixth freedom markets.
While there may have been doubt previously about the partnership, KLM is now undoubtedly stronger with its partners, and they comprise the largest share of Europe-greater China traffic.
Europe-Greater China flights by hub: Nov-2013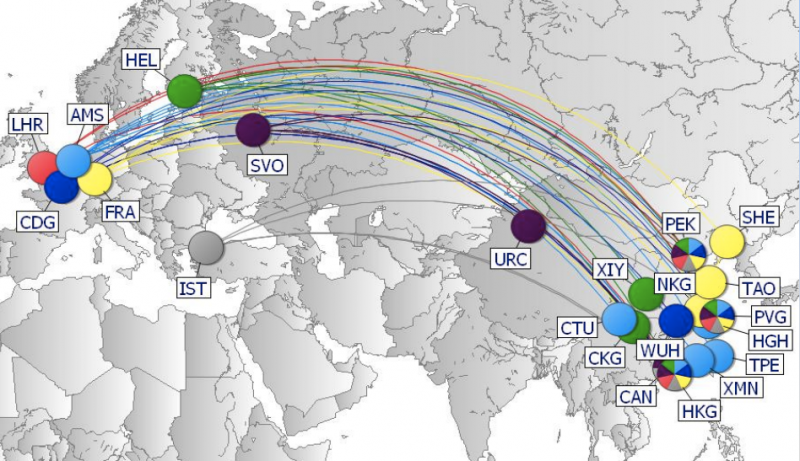 KLM's partnerships will undoubtedly increase in scope and number. Its partners are to a degree in awe of KLM's accomplishment, growing a network disproportionately larger than KLM's home base (66% of KLM traffic is connecting, Mr Elbers says).
KLM's challenge is to ensure it too receives benefits and the gains it helps its partners achieve flow back and are not used to KLM's detriment. Expansion of joint ventures can help ensure this.
A Japanese partner would be ideal, but JAL remains hesitant
Elsewhere in North Asia, China Airlines now has a maturing position in SkyTeam, which it joined in 2011. Regional heavyweight Korean Air has proved to be a challenging partner for Delta, and Mr Elbers diplomatically says KLM has a "stable relationship under the SkyTeam umbrella" with Korean Air, implying that the partnership is limited to the formalities expected from alliance membership.
KLM, like Delta, wants a strong partner in Japan, its largest Asian market after China and more than twice the size of any of its other Asian markets. Japan's two largest carriers (by some distance) are Star's All Nippon Airways and oneworld's Japan Airlines. The region is close to Mr Elbers' heart as he was previously GM Japan & Korea.
KLM Asian seat capacity by market: 2013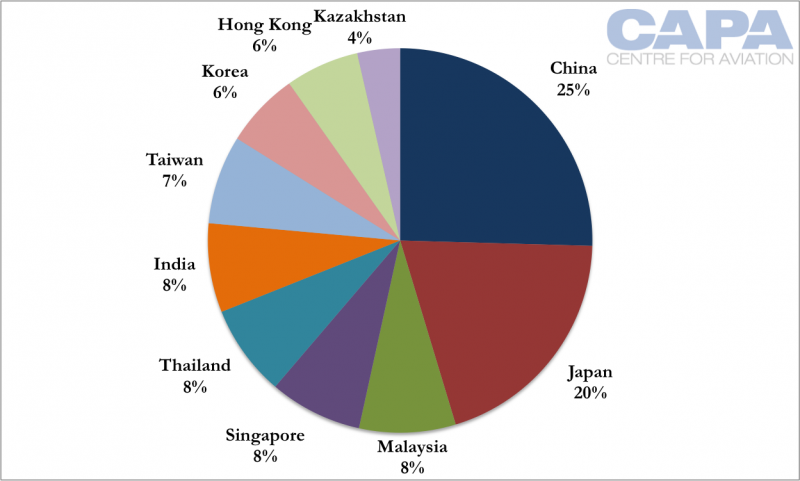 Air France has a longstanding strong partnership with JAL, one that like KLM's partnership with MAS, is historical and has withstood the rise of global alliances. Mr Elbers says KLM would ideally piggyback on Air France's relationship, but JAL has so far been reluctant to do so.
JAL and British Airways have a Japan-Europe joint venture that was expanded in 2013 to include Finnair. When it was just BA and JAL, London was the emphasis although there were connections offered. But now with Finnair – and JAL's service to Helsinki – connecting itineraries under the JV are stronger.
See related reports:
Partnerships can be difficult to manage when there is overlap, and especially so in the case of a JV. Delta is hopeful that Japan's third-largest carrier, Skymark, will make technological and mindset changes to enable it to partner. Skymark seems reluctant as it focuses on its own operation, which is becoming rapidly complex as the carrier breaks from its all-737 fleet to introduce A330s in early 2014 and later A380s.
The A380s, for use initially to New York and London, have an uncertain outcome if operated without partners or feed; Skymark still only flies domestically. The A380 operation may force Skymark into the partnership arena.
Delta for one should welcome it with open arms. KLM could back Delta's wooing of Skymark as an alternative partnership plan for Japan. Skymark's strong domestic focus with limited international flights in the future makes it an ideal partner.
Japan domestic seat capacity by carrier: 9-Dec-2013 to 15-Dec-2013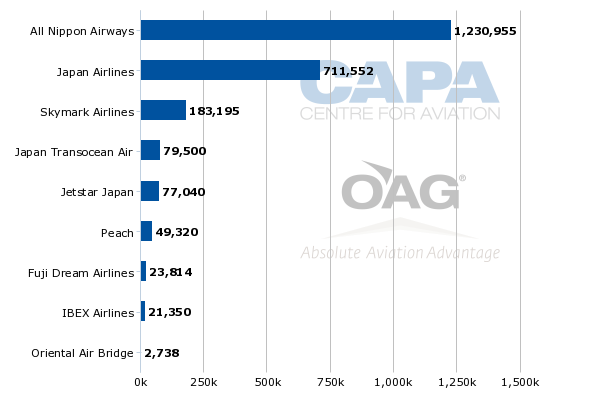 See related reports:
Outlook: a quiet achiever, but complexity means partners can increase the volume
KLM in Asia has made significant achievements, often quietly. Even larger carriers are left in its wake, both for sheer network scale and partnerships. Many of KLM's partnerships were tidy and confined affairs, but as it adds more and grows its existing ones, managing the partnerships will become even more complex than it is today. There may be some casualties, but overall the position should strengthen.
KLM's approach could be called a model, but for many airlines it is too late to replicate KLM's achievements. With time, its position and relationships in China will prove especially powerful – provided ever-changing partnerships do not sway out of KLM's favour. The Chinese airlines, still at an early stage of international evolution, are showing themselves to be quite pragmatic about alliance relationships. This has positives and negatives, but KLM's early positioning will not do it any harm.