Escaping the regulatory confinement of foreign ownership rules: Airline Leader report
Aside from the global alliances, several other airline models are vying to establish themselves as alternatives in confronting the regulatory barriers to merge.
This article appears in the June edition of Airline Leader, CAPA's airline management magazine. Go to www.airlineleader.com to download the full edition.
Emirates is conspicuous as an individual airline establishing a worldwide network. Standing outside the global alliances delivers it flexibility, but also a challenging competitive task. Neighbouring UAE flag carrier Etihad participates in a different way in a growing network of bilateral alliances, most notably with Virgin Australia. In Asia, several airlines have created cross-border joint ventures, effectively building closed trans-national alliances.
Each of these examples is a potential model for future airline evolution, alongside the global alliances and so long as the industry remains constrained by foreign ownership and other regulatory barriers.
Emirates Airline is an outspoken opponent of the competitive advantages provided to the global alliances. It has good reason to be. Its growth has been organic, not the product of multilateral cooperation and, as a major global operator in its own right, frequently competes head-on with the alliances, bumping up against their extended networks. The incumbent network airlines, meanwhile, accuse Emirates of dumping capacity to gain access to markets, thus undermining their own networks.
There is also another rapidly unfolding model, Virgin Australia, which is actively expanding its alliance-type reach by establishing a global "virtual" network. Etihad is an important partner in that, as are SkyTeam's Delta and Star Alliance's Air New Zealand.
Headed by a former long-standing network specialist, John Borghetti, Virgin Australia is thus bilaterally constructing a virtual network that partially mimics global alliance fundamentals.
Several domestic LCCs and others have also established opportunistic bilateral connections, as noted in the separate report on global alliances in this issue of Airline Leader. These embrace codeshares, interlines and FFP reciprocity with global alliance member airlines and others. The "GOL alliance" is the best defined of these, implying that the carrier's series of bilateral relationships is part of a strategy, rather than merely a marginal activity designed to increase traffic flows.
To brand Emirates the fourth alliance is necessarily a big leap, but to date, it is the only single airline in a position to compete on almost equal terms with the combinations created within Star, SkyTeam and oneworld, most particularly in the valuable corporate travel area.
The Gulf carrier has become a global player during the short space of a decade, with non-stop widebody connections over its home base in Dubai to most key cities in the world. Its worldwide reach and the network strength the carrier now exercises give it access to a wider variety of major city pairs than any other single airline. In turn, this generates network dynamics that become more powerful with every new gateway opened. As such, it may have the ability to compete with the fast-spreading network strength of the global alliances. But there are barriers to reaching those heights.
The airline shows no intention of combining strategically with other partners. Several years of management and part ownership of SriLankan Airlines, now terminated, is the nearest Emirates has come to a serious bilateral partnership, although on most of the routes it operates, it is active in establishing bilateral codeshares, along with accompanying reciprocal bilateral FFP recognition. But the codeshares are typically only on the third/fourth freedom sectors, rather than extending the carrier's network significantly.
Emirates reportedly considered joining Star about 10 years ago, but such a relationship would have become uncomfortable at best – and quickly have grown intolerable. The alliance's various consensus requirements, which become potentially more restrictive as airline member numbers grow, would quickly have constrained Emirates' strategy. The airline's network intrudes too actively into the alliances' raison d'etre to allow the two to co-exist easily.
Lack of a domestic market, or of domestic access to foreign markets, hinders Emirates' alliance competitiveness. Whereas the alliances are essentially a response to the shackles of the international regulatory system, Emirates actually relies on gradual relaxation of entry restrictions for its expansion. It is, however, still subject to the same constraints that make alliances valuable for their members: linking networks where merger is not possible and, importantly in many respects, gaining access to domestic markets behind the international gateways.
As the world's economy grows and new markets open up, this is less of a problem – for example, allowing Emirates to operate A380 service to secondary points such as Manchester. But that still does not afford Emirates the flexibility that full access to domestic operations offers, an important feature in many major corporate contracts.
Virgin Australia, by contrast, has potentially full access to the US and Australian and New Zealand domestic markets, through its behind-gateway codeshares, although it is only in the Australian market that it can perform purely domestic services in its own right. Virgin Australia is bilaterally constructing a virtual network that shares many of the global alliance fundamentals. As always, personalities feature strongly in bilateral links. Etihad CEO James Hogan too has been a strong believer in bilateral partnerships and Delta's Richard Anderson is perhaps the most experienced airline CEO in the field of antitrust immunity for airline alliances.
The Virgin Australia-Delta ATI grant is, to date, the only non-global alliance related agreement to have been granted metal neutral ATI status. (The Department of Transportation approval is still awaiting finalisation.) With this approval, the Australian airline has triangular rights with New Zealand and the US. It also connects into Etihad's Abu Dhabi hub, thereby accessing an array of beyond points on Etihad metal, either in its own right where bilateral rights exist, or through interline with Etihad. This arrangement performed well from day one, increasing load factors on both carriers.
Virgin Australia's main goal in these bilateral alliances was not merely to gain added marginal revenues, but to position itself, through this virtual network, much more effectively to attract corporate traffic in its home market. In doing so, it also adds a potential common interest for its partner. Whether this will succeed will be watched keenly by other airlines, not the least those who are non-members of the big three alliances.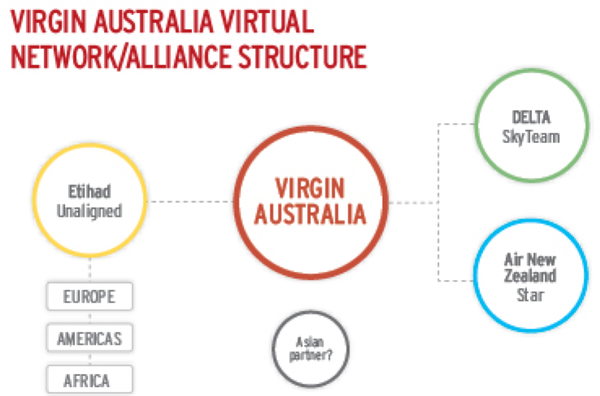 A POWERFUL VALUE PROPOSITION OF THE GLOBAL ALLIANCES is the offer they are able to make in providing all corporate travel needs of large multinational companies, such as the major banks, IBM, General Motors, Shell and BP. Here, the alliances have some apparently unbeatable advantages over single airlines and over other, smaller bilateral or multilateral partnerships
FFPs, in particular, are tenacious and often disproportionate influencers of behaviour, especially for business travellers who are not paying their own fares. Thus, for example, even where Emirates might have bilateral arrangements for reciprocal FFPs, the only common link is Emirates' programme. This is increasingly valuable as the carrier's network expands, but still falls short of, for example, consistently gaining the extensive frequent flyer airport privileges that a high-tier multilateral membership of a global alliance delivers.
That said, major corporate travel companies have observed significant changes in corporate behaviour following the global financial crisis. These may turn out to be long lasting, if not permanent, involving extreme shifts in direction, or something less dramatic. But they still involve severe re-examination of expenditures with a direct and obvious bottom-line cost. As a result, where Emirates or Virgin Australia-and-partners' offerings are often more competitively priced, there is today a greater willingness on the corporate travel managers' part to accept what might be a less convenient or comprehensive deal, provided it demonstrably saves costs.
ANOTHER MEANS OF OVERCOMING OWNERSHIP RESTRICTIONS IS VIA THE CROSS-BORDER JOINT VENTURE MODEL, led by AirAsia and now becoming common in the region, with similar forms evolving in Latin America. In this variation of attempting – in the name of efficiency – to dilute the negative impact of foreign ownership rules, several low-cost airlines have established their airline brands in neighbouring countries with up to 49% ownership. AirAsia now has three active airlines, one in its home Malaysia and the others in Indonesia and Thailand, with new ones under construction in Vietnam, Japan and the Philippines. Jetstar and Tiger Airways are similarly established in multiple jurisdictions. AirAsia also complements its operations with long-haul low-cost affiliate AirAsia X, giving it a glimpse into accessing the business travel market, if not corporate contracts.
To date, all of these JV examples have involved non-flag carrier LCCs; in May-2011, Qantas disclosed that it was considering establishing a branded Qantas operation in Singapore as well, the first of its kind for a flag carrier and potentially a major leap of liberalisation.
Meanwhile, Emirates' expansion, the Virgin Australia virtual growth and the Asian cross-border JVs are all important developments, each making further inroads into the rigid regulatory obstacles that confront the industry. The most effective model still remains the global alliance, but importantly, intensifying energy is being devoted on several fronts to undermining the old nationalistic regime.
VIRGIN – one global airline brand, but not one airline
A bigger chance wasted in search of short-term gain? Virgin Atlantic has two younger relatives, Australia's Virgin Blue, originally a Virgin Group/Richard Branson-funded domestic LCC, which has since floated and recently rebranded as Virgin Australia; and US domestic operator, Virgin America.
But even though Sir Richard tends to treat them for popular purposes as his own airlines, that is mostly in the name of brand support. They don't actually share much DNA. The three do display a common name, but their only real links are minority shareholdings by Sir Richard/Virgin Group. They also share the obligation to pay a brand franchise under which Virgin central skims a percentage of each airline's gross earnings. Thus each carrier looks to secure its own bottom line in whichever way the interests of the controlling ownership see fit.
As a result, the three in no way act as a single global airline. In fact, they barely even codeshare and often actively compete. With quite different ownership structures, their mutual relations are driven purely by third party arm's-length negotiating deals. Hence for example, most of Virgin Australia's US connections are on Delta, not Virgin America, and Virgin Atlantic competes actively with the Australian brand in the Australia-Europe market, even though the London-based carrier operates daily into Australia. With some imagination and flexibility, it should have been possible to create an entity of much greater substance than the sum of its parts, around one of the world's most powerful brands.