New Qantas Group full service carrier could further alter competitive landscape in Singapore
Analysis
The launch next year of a new joint venture full service carrier in Southeast Asia by Qantas and Asian partners could have major ramifications for the region's rapidly evolving airline industry. If Singapore is selected as the base for the narrowbody operator as expected, Qantas could encroach on Singapore Airlines by establishing a powerful 25% share of the Singapore market when including its Jetstar subsidiary and a potential tie-up with newly aligned AirAsia and Malaysia Airlines.
Singapore has been the frontrunner in the Qantas Group's ongoing analysis, conducted over the last several months, of potential bases for its new Asian full-service carrier, the group's third brand. Singapore Changi is viewed as the most logical hub because of the connections available with the group's two existing brands: Qantas and Jetstar. Kuala Lumpur, which currently does not have any Qantas or Jetstar service, has a smaller local premium market than Singapore.
Selecting Kuala Lumpur would also result in the new Qantas Group brand competing head to head on several routes against oneworld member-elect Malaysia Airlines (MAS), which will also be focusing on the premium end of the market under its new pact with AirAsia and which already has all the major regional Asian routes covered. By placing the new carrier in Singapore, Qantas will be increasing competition with rival Singapore Airlines (SIA) Group and not their new partner MAS.
Jetstar is already planning to expand its Singapore-based operation from 12 to 17 A320s and two to four A330s by the end of this year.
The expansion will result in a 22% increase in capacity, according to Innovata data, and will raise Jetstar's share of the total Changi market from 6% to 7% (based on seats per week). Qantas-operated flights now account for another 4% share, which will be maintained as the carrier is not cutting any of its Singapore flights despite scaling back its operations in rival Bangkok and Hong Kong as part of the restructuring of its unprofitable international operation.
Kuala Lumpur, and other cities, not entirely ruled out
While Qantas has favoured Singapore during the past few months, Qantas chief executive Alan Joyce says Qantas has not yet ruled out other cities - particularly Kuala Lumpur in light of its new partnership with MAS and MAS' new partnership with AirAsia. Qantas in Jun-2011 agreed to sponsor MAS' entry into the oneworld alliance while MAS last week forged a landmark partnership and equity swap with Tony Fernandes-led AirAsia, which already has a limited partnership with Jetstar. "We're looking at what that means as an opportunity...with an enhanced partnership with a partner there," Mr Joyce said earlier this week.
"We're keeping our options open. We are looking at a range of destinations including KL and Singapore," Mr Joyce added. "Singapore is a good location with the establishment of Jetstar there. KL has been mentioned because of what Tony Fernandes is now doing with Malaysia [Airlines], and that creates interesting opportunities for us. I would love to talk, once that [AirAsia-MAS] beds down, to Malaysia [Airlines] and AirAsia about what that opportunity could look like and for a wider range of partnerships."
But while Qantas will likely have some role in the new MAS-AirAsia partnership, and could even end up acquiring an equity stake in both carriers, that does not mean it is better off basing its new full-service carrier in Malaysia. MAS can offer to Qantas passengers (and other oneworld carriers) its existing comprehensive network of short, medium and long-haul destinations. Qantas could end up resuming its own flights to Kuala Lumpur to capitalise on these connections. But it would be better off basing its own full service Asian carrier in Singapore, where it will be able to offer more connections to its own flights and where it can take on arch nemesis SIA rather than MAS.
Qantas already concluded, prior to the MAS-oneworld and MAS-AirAsia developments, that Singapore was the best option for its planned new Asian full-service joint venture carrier. Clearly there is now interest from Malaysia and particularly Malaysia Airports in trying to persuade Qantas to reconsider Kuala Lumpur. A fantastic offer from Malaysia Airports, which would like to elevate Kuala Lumpur's status as a hub and challenge rival Singapore, could still sway Qantas. But Singapore remains the frontrunner.
Adding a third Qantas Group brand to the mix in Singapore will result in even more competition for SIA, further intensifying the rivalry between the two airline groups. The new brand will likely compete against SIA and/or it full-service regional subsidiary SilkAir on all of its routes. It can also be seen as Qantas' response to the new SIA-Virgin Australia alliance as the new brand will allow Qantas to offer Australians similar connections as SIA-Virgin to key Asian markets such as India.
SIA announced its alliance with Virgin Australia in Jun-2011, just two weeks after making another major strategic move with major ramifications for Qantas: establishing a new long-haul low-cost carrier. SIA's new long-haul low-cost operation will be launched in early 2012 and be used to respond to increasing competition from Jetstar's new Singapore-based long-haul operation. But just as it boldly enters the faster-growing low end of the market for the first time, the SIA Group suddenly now faces the prospect of more competition at the high end of its home market – where it generates the bulk of its profits.
This could prompt yet another strategic response from SIA, which has already seen its market share in Singapore steadily erode over the last decade. How and when this rapid spate of incredible major strategic announcements ends is unknown, but what results will certainly forever change the landscape of the Asian airline market.
Monthly traffic for Singapore Airlines, Jetstar Asia, Tiger Airways and SilkAir, Aug-2008 to Jul-2011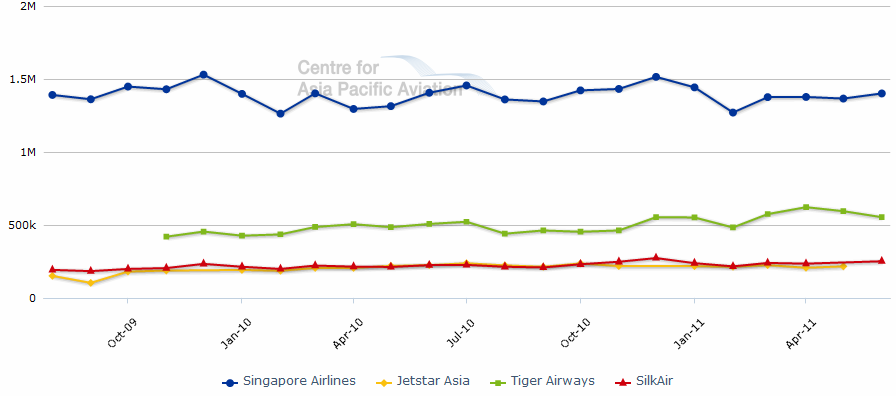 The new Qantas Group brand could potentially operate alongside the local Jetstar division, Jetstar Asia, on some key intra-Asia routes, as the carriers already do in Australia and across the Tasman - even on trunk and business routes like Melbourne-Sydney and Sydney-Auckland. Extrapolating the Australian model for coexistence, Jetstar Asia could continue to target the leisure sector while the new premium carrier focuses on the business sector.
Jetstar Asia could continue to offer point-to-point services and regional connections for the low-end leisure sector transferring to long-haul Jetstar flights to Australia, New Zealand and North Asia. While Qantas currently sells tickets with a Jetstar Asia connection from a long-haul Australia-Singapore Qantas flight, these connections are limited as Jetstar Asia does not time its flights to connect with Qantas flights and has been focusing more on Jetstar Asia-Jetstar Asia connections such as Indonesia to China via Singapore. The new premium carrier could be expected to take over and improve regional Asia connections for passengers coming from Australia, with a particular emphasis on the business and high-end leisure sectors.
The Qantas Group may also use the new carrier to open up new routes, particularly to the Indian subcontinent, where Jetstar currently doesn't operate and has no interest in establishing a presence. Mumbai is now the only Qantas Group destination in the Indian subcontinent but is only served three times per week with A330s. This route could be transferred over to the new carrier and be upgraded daily as the new carrier will operate smaller A320s. All major destinations in the Indian subcontinent are within A320 range from Singapore.
Qantas' Singapore-Perth service could also be taken over by the new carrier, which will have a significantly lower cost structure than the Australia-based mainline operation. Qantas would have to trade off capacity on this route, which Qantas currently serves with 12 weekly A330 flights, unless several frequencies are added. Singapore-Perth could become a route in which the new airline operates alongside Jetstar Asia, which already offers one daily A320 flight on the route.
Qantas' other Singapore-Australia routes (Adelaide, Brisbane, Melbourne and Sydney) will be maintained – for now – because all of them require the range of widebody aircraft. Singapore-Darwin is within narrowbody range but this route is already served by the Jetstar brand with A320s. As this is predominately a leisure market it is likely to remain only with the Jetstar brand.
Qantas could also use the new carrier to open up new connections to niche regional destinations that are currently not served by Jetstar but are served by SilkAir. While SIA has struggled in recent months, SilkAir has remained highly profitable, showing there is still a market for a full service carrier on short and medium-haul routes. For example, SilkAir recorded an operating profit of SGD21 million for the three months ending 30-Jun-2011 while SIA mainline incurred an operating loss of SGD36 million. SilkAir currently operates a fleet of 19 A320 family aircraft and has a 6% share of the total Singapore market.
New carrier could capture 4% of the Singapore market and expand Qantas Group share to 15%
With a planned fleet of 11 A320s, the new carrier would capture roughly a 4% share of the Singapore market, growing the total Qantas Group share at Changi from about 11% to 15% (includes 7% for the Jetstar brand and 4% for the Qantas brand). A potential tie-up with AirAsia and MAS would add another 10%. Currently AirAsia has an 8% share of the Singaporean market while MAS, including its second brand Firefly, has a 2% share.
British Airways, which has a joint service agreement with Qantas on the kangaroo route and is also keen to work with MAS, could also end up being part of this new powerful combination. BA accounts for another 1% of total capacity at Changi, which would give a Qantas-Jetstar-AirAsia-MAS-BA combination a potential 26% share of the Singapore market (includes the anticipated 4% for Qantas' new third brand). SIA, in comparison, currently has a 33% share or 39% as a group, when including SilkAir. The SIA group's market share could slightly increase after its long-haul LCC subsidiary is launched next year, although the affect will be limited as SIA mainline's market share will likely continue to decrease.
Current capacity share by airline group for Singapore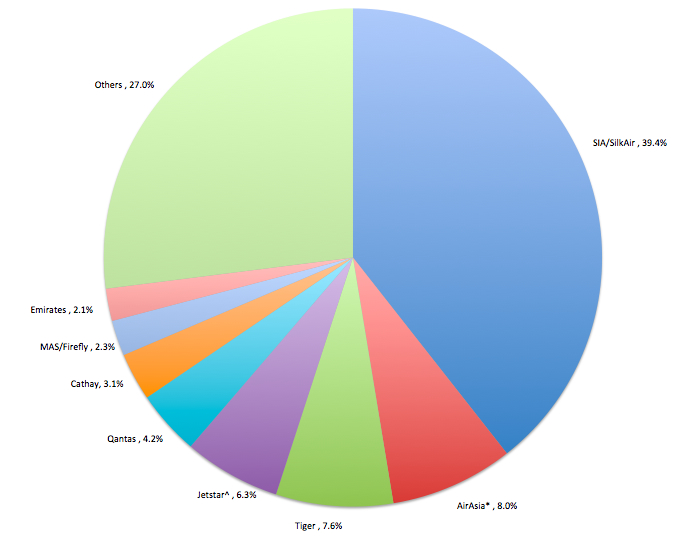 Tiger market share also growing
Tiger Airways, which is partially owned by SIA, accounts for another 8% of total capacity at Changi. Tiger is growing almost as fast as Jetstar and plans to expand its Singapore-based fleet from 16 to 20 A320s by April 2012.
Tiger's Singapore capacity is slated to grow by 14% by the end of this year, giving it an 8.1% share of the market compared to its current share of 7.6%. LCCs overall will account for almost 25% of total capacity at Changi at the end of this year, compared to 23% currently.
Narrowbody aircraft limit options for new premium carrier
After looking at widebody aircraft, Qantas has decided to initially use A320s for the new Asian full-service carrier, which will be at least 51% owned by a local partner to meet foreign ownership restrictions. The decision to go with narrowbodies limits Qantas' initial options for the new carrier because it cannot be used to open new connections to Europe or Japan.
But the Jetstar brand is poised for significant expansion in Japan, reducing the need for the new brand to have a presence in the Japanese market. Jetstar and Jetstar Asia both already serve Japan and the new Jetstar Japan affiliate will launch services late next year. Jetstar currently only offers one-stop flights in the Singapore-Japan market but the expansion of Jetstar's Singapore-based long-haul operation could soon result in new non-stop services.
Qantas is also not keen at this point to build up Australia-Europe connections with its own mainline metal and instead will look to new oneworld partner MAS to expand its European offering. Jetstar may also later be used to open up new connections to Europe. Jetstar over the last few years has talked up prospects for serving European destinations, in particular Athens, from Singapore with B787 equipment. But Jetstar is now focused more on expanding to the east from Singapore and talk of European expansion has decreased, although this could relate to continuous delays to the B787.
This means while Singapore will be used as the Qantas Group hub for London and Asia, Kuala Lumpur will likely emerge as the transit point for flights to continental Europe with the one exception of Frankfurt, which Qantas plans to continue serving along with London from Singapore. Qantas is now a fairly weak competitor in most continental European markets, offering in many cases only BA-operated connections via congested and out of the way London Heathrow. New connections via Kuala Lumpur with MAS will significantly improve its offering to Amsterdam, Istanbul and Rome particularly. Other connections to continental Europe could also be added via Kuala Lumpur as a result of the new cooperation between MAS and AirAsia X.
Monthly passenger traffic for Southeast Asia's three main airport hubs, Jan-2008 to Jun-2011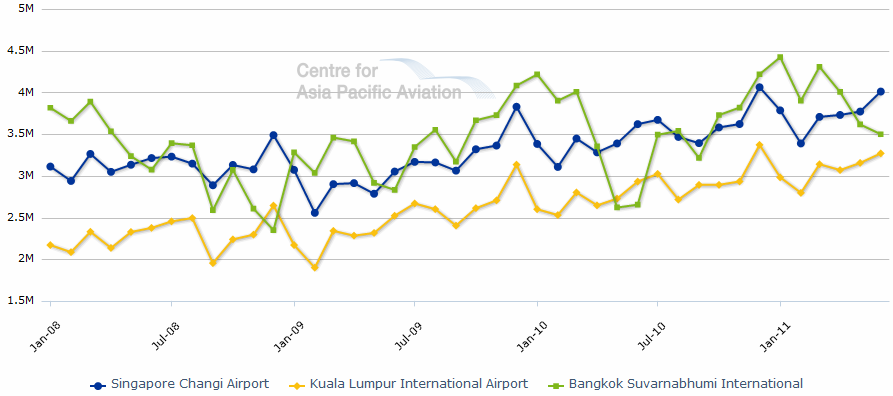 The new European route connections via Kuala Lumpur could enable Qantas to win back market share from SIA and rapidly expanding Middle Eastern carriers, which now offer better one-stop connections to more continental European destinations than Qantas. Once again, Qantas would have a new response to Virgin Australia, which in addition to SIA has also added this year an alliance with Etihad.
While the Virgin Australia-SIA tie-up is aimed at the Australia-Asia market and wooing over Australian corporate clients, a sector traditionally dominated by Qantas, the Virgin Australia-Etihad alliance is aimed at wooing over these same clients in the Australia-Europe market. While the Qantas Group currently doesn't serve Kuala Lumpur, a resumption of services to Malaysia is possible to supplement MAS' existing capacity to Australia.
Thai Airways is also a competitor on the kangaroo route but could actually benefit from the changes at the Qantas Group. Qantas is dropping its Bangkok-London service as part of the upcoming restructuring of its international operation. At the same time BA is dropping its Bangkok-Sydney service. BA will retain its daily London-Bangkok service, which will connect with the daily Bangkok-Sydney service Qantas will retain. But Bangkok-Sydney could potentially later be transitioned to Jetstar, which already operates Bangkok-Melbourne.
Thai Airways currently operates two daily flights to London, a key route on which Thai in recent months has suffered from low demand. The long-term outlook for this route suddenly looks much brighter with Qantas pulling out of Bangkok-London. Thai's positioning on the kangaroo route also improves with the combined BA-Qantas London-Sydney via Bangkok offering being reduced to just one daily frequency.
Thai Airways also has double daily flights to Sydney and serves three other Australian cities: Brisbane, Melbourne and Perth. Thailand remains a popular transit point for leisure passengers on the kangaroo route, giving Thai an advantage over other operators. While Qantas and oneworld are keen to give SIA and the Star Alliance a serious challenge in Singapore, Bangkok will remain primarily a Star hub.
Background information
Capacity (seats per week) for top 40 carriers at Singapore Changi:
15-Aug 2011 to 22-Aug-2011