Manchester Airport route network expansion becomes an interesting model for the industry. Part 1
Analysis
As Manchester Airports Group (MAG) considers its route network development strategy, three major external factors will shape its future:
Firstly, the UK Airports Commission's deliberations on future UK airport capacity increases and where they should be, if at all.
Although Manchester Airport handles more passengers, for now at least it appears to play a secondary role in the group's strategy to MAG's recent acquisition, Stansted Airport.
Secondly, the delivery (or not) of 'HS2', the high-speed rail system that would serve Manchester Airport directly and also a station at Derby, close to the group's East Midlands Airport.
Finally, the creation of an 'airport city' on land close to Manchester Airport, which will be the UK's first such planned development. All these factors impose on Manchester Airport's route network planning, which has already been undergoing a transformation in recent years.
This is the first of a two part report on MAG, the ingredients in its network planning – LCCs, Gulf airlines and China – and the likely role of the Airport City.
Stansted has become an important feature of MAG
The influence of Stansted on MAG's fortunes should not be underestimated.
MAG envisages a new hub airport there with up to four runways and has promoted it aggressively to the UK Airports Commission, which will release its interim report in Dec-2013.
See related report: UK Airports Commission: the UK's runway capacity farce continues as opponents dig in
While the betting is very much on an additional runway at Heathrow as the Commission's preferred choice the fact that London Mayor Boris Johnson has hinted on more than one occasion that Stansted Airport would be his own preferred 'Plan B' (although he does not own it and has, theoretically, little say in the affairs of either MAG or the County of Essex) does lend additional credibility to MAG's submission. The Mayor's Plan A of course is for a brand new Thames Estuary airport, but the prospects of that ever happening become more remote by the day.
MAG's submission to the Commission was heavily weighted in favour of Stansted and the proposed expansion there. Comparatively little of it dealt with Manchester, Britain's third busiest airport, or any of the other two group airports at East Midlands and Bournemouth. Manchester already has a master plan that outlines limited infrastructure development (much of it is already built) up to the capability to handle 55 million ppa. That suggests plenty of spare capacity; in 2013 Manchester will pass through the 20 million ppa barrier for the first time in over five years and possibly the 21 million barrier. There is plenty of spare terminal capacity for most of the day, especially in T2, and the parallel runways are not always employed in unison by any means.
But it would appear that the fact MAN has spare capacity is the only real selling proposition in MAG's armoury there just now. The days when the airport aggressively carried the torch for regional airport development as a mould-breaker not only in the UK but in Europe too, are long gone.
A 10-year deal will boost Ryanair's Stansted traffic by 50%
As for Stansted, MAG initially struggled to boost traffic in the immediate aftermath of the takeover there. Indeed the biggest catch it could boast for a while was that of Air Moldova (from Gatwick). But that situation changed dramatically in Sep-2013 when the management came to a 10-year traffic growth agreement with Ryanair that will see the Irish budget carrier grow its traffic at Stansted by over 50%, from 13.2 million passengers in 2012 to over 20 million per annum in return for a package of lower costs and more efficient facilities at that airport.
See related report: Ryanair's new growth deal with London Stansted Airport: mutual love-in?
This agreement will account for up to 25% of Ryanair's five year growth plans to 2019. Ryanair expects its Stansted traffic in Year 1 alone of the 10-year agreement to grow from 13.2 million to over 14.5 million. The LCC also released its Stansted summer 2014 schedule which will feature:
43 based aircraft in Stansted (up from 37);
120 routes (up from 116);
Over 2000 weekly services (up from 1800)
This will take Ryanair's share of seat capacity at Stansted even beyond the level it is at now (80%). EasyJet is second, on 15%. No other carrier gets above 2.2%.
Ryanair has been agitating for a better deal since it first became evident, four years ago, that BAA (now Heathrow Airport Holdings) was going to have to sell Stansted. Even so, the more interesting aspect of this agreement is that there does not appear to have been any similar deal done in respect of MAG's other airports, including the eponymous one; certainly not one that was made public.
At present Ryanair is the largest carrier at MAN, too, but by nothing like the same margin, having 14.5% of seat capacity.
Seat capacity Manchester Airport, by carrier: 07-Oct-2013 to 13-Oct-2013
So where does this leave MAN? What sort of airport is it going to be in the future?
Firstly, to put it into perspective. In 2013 it is the third largest airport by passenger numbers in the UK and the busiest outside of London. It handles over 20 million passengers annually (rolling annual total) and has an on-site workforce of around 19,000. It is served by 65 airlines that fly to over 200 destinations.
Manchester Airport Network Summary, scheduled airlines: at 7-Oct-2013
| | 41 |
| --- | --- |
| Domestic only | 0 |
| International | 41 |
| Total non-stop passenger destinations | 130 |
| Domestic | 12 |
| | 5 |
| | 2 |
| | 94 |
| | 1 |
| | 4 |
| | 12 |
| Total non-stop freight destinations | 4 |
| Domestic | 0 |
| | 0 |
| | 0 |
| | 1 |
| | 0 |
| | 1 |
| | 2 |
Its nature has certainly changed from the heady days of the late 1980s, 1990s and early 2000s when it counted the likes of Qantas, South African Airways, Air Canada, Cathay Pacific and Malaysia Airlines among its scheduled airline clients, along with a raft of British Airways long-haul flights that included New York, Toronto, Montreal, Hong Kong and Islamabad at various times.
When the final BA flight to New York departed at the end of Oct-2008 it marked the last international service by that carrier from Manchester in its own colours (only a couple of franchise routes remain as mentioned later).
The growth of airline alliances, 'fortress hub Heathrow' and the refusal still of the present British Airways management to operate any international flight from a British airport outside the Greater London area put paid to much of Manchester's direct long-haul business, while leaving a (still sizeable) presence across the Atlantic courtesy of airlines such as American, Delta, United-Continental, Virgin Atlantic and US Airways, together with Singapore Airlines and the Gulf trilogy of Emirates, Etihad Airways and Qatar Airways (which collectively now offer one of the largest agglomerations of seats at any airport in Europe to and from the Gulf).
It is probably true to say that MAG had placed a little too much emphasis on BA at Manchester, eschewing low-cost carriers (who went to Liverpool instead) for many years until finally realising they were 'the future' and rewriting the airline charges book, dropping rates significantly across the board for off-peak slots.
Gradually MAN began to claw business back, and in a way that too many airports have failed to do, i.e. with a degree of equilibrium, as evidenced in the chart above. No single LCC dominates at Manchester as, for example, Ryanair does at Stansted (and may do more so in the future). While there is some overlap on popular 'sun' vacation routes this can, and does, encourage budget airlines to experiment with routes without undue fear of duplication, for example easyJet's Moscow route.
The unseen adverse influence of LCC flights on legacy services
There is a downside to having a significant presence of LCCs at any airport that purports to be an important one for business travellers however – and that is the fact that LCC routes (which typically exist solely for the purpose of handling point-to-point traffic) can influence the prospects of legacy airlines (which handle both O&D and transfer passengers), not always to the benefit of the passenger.
A good example is the route Manchester-Madrid, which for a while had no carrier. The Spanish Iberia franchise, Air Nostrum, commenced a service towards the end of 2011, which offered travel not only to Madrid but onwards on the long-haul network of Iberia (which has shrunk considerably since, but was then impressive) and other carriers to Latin America.
But immediately afterwards, both Ryanair and easyJet commenced services MAN-MAD and hoovered up most of the O&D passengers with considerably cheaper fares. This meant that the Air Nostrum flight was untenable with only transfer passengers and a handful of business travellers who could afford the higher fares. So that airline withdrew from the route.
Immediately afterwards, both Ryanair and easyJet suspended their services on the route as a consequence of a spat with AENA over higher charges at Madrid. The result was another period without a service to Madrid, which benefits no-one.
Now the same threat is rearing its head with at least two other routes which network/legacy airlines have worked hard to build up. They are Manchester-Lisbon and Manchester-Keflavik. The former is the preserve of TAP Portugal, which now flies the route daily, offering not only Lisbon but other Portuguese cities such as Porto by connection as well as its Atlantic islands, and a comprehensive network of African and South American cities. The threat in that case is the decision by Ryanair to operate at Lisbon Airport. As little as a three times weekly Lisbon-Manchester service could easily compromise TAP's route.
In the latter case, Icelandair's thrice weekly services, which convey both O&D and trans-Atlantic passengers, are threatened by the arrival of easyJet, which operates twice weekly in a way that targets the bulk of leisure O&D traffic. It is unlikely that Icelandair could sustain such a service on the basis of mainly connection traffic; its trans-Atlantic flights are capacity constrained by the size of the aircraft (Boeing 757).
These are issues that most regional airports must face up to; it is a balancing act between the needs of legacy and budget airlines, the airport itself and the passengers. But it seems to be more acute in this case because Manchester appears to be reassessing just what type of an airport it is. While it was readily identifiable as an alternative national gateway airport in the 1980s and 1990s, with waves of flights each working day between key city pairs such as Amsterdam, Paris and Frankfurt, supported by a long-haul network and a raft of charter services, it has become a crossroad of competing interests. In such an instance it is difficult to present a meaningful strategic case to entities like the Airports Commission. In stark contrast Heathrow Airport knows exactly what it is.
Opportunities for domestic growth are limited
One area where Manchester is unlikely to grow in the future is in the arena of domestic services, as is the case with most British airports. There are numerous reasons for this. Taxes are especially high on domestic airport air routes in relation to the distance flown. Lengthy airport security procedures that do not (strangely) apply to trunk and cross country rail services waste time that can be gainfully employed in a train seat. Rail travel is gaining hugely in popularity anyway, and is favoured by government.
The UK's largest domestic airline, Flybe, has begun to downsize its commitment to UK national services in favour of international and third party flights and has reduced its UK base network to just four, although Manchester is at least one of them (as opposed to Gatwick, which it quit altogether).
Domestic traffic falls at Manchester in most months, if only slightly on occasion. Sep-2013 was typical at -1.4% to just over 200,000.
Most of the major routes are covered already. They are London (though only Heathrow); Southampton; Bristol; Exeter; Newquay; Norwich; Jersey; Guernsey; Isle of Man; Glasgow; Edinburgh; Aberdeen; Inverness and Belfast.
If there is an obvious gap that needs filling it is Gatwick, where BA stopped flying 19x weekly services in Mar-2013 following a "drop in demand". The area to the south of London, down to the coast at Brighton and into Kent, can be difficult to reach from northwest England by rail and road, and vice-versa, and all connection possibilities through Gatwick went with the termination of the route. The route would appear to be perfect for a more frequent service to be operated by BA's CityFlyer unit (Embraer E170/E190), which is actually based in a Manchester suburb even though it does not fly from the city's airport.
Other gaps include Newcastle, which is on the 'cusp' of the need for a Manchester air service. In the past Newcastle has been serviced by joint domestic/international flights onwards into Scandinavia (Norway).
Another potential service might be economically justifiable to and from Cambridge, which is one of Europe's leading centres for R&D in biosciences and other high-tech areas. Manchester also has an established R&D community in these areas. Cross-country surface transport between the two cities is not particularly fast and there is the prospect for a carrier additionally to feed trans-Atlantic services at MAN as a passenger alternative to a surface journey to the London airports (i.e. Heathrow or London City for New York, an all-premium service), avoiding congested road traffic. The route was served in the late 1980s by the then start-up company Suckling Airways, whose scheduled routes were subsequently taken on by ScotAirways/Loganair.
In terms of domestic travel Manchester sits in an advantageous position, being roughly half way up the country and fairly central. In the early 2000s a study was undertaken to identify the then (nearby/65 km) Sheffield City Airport as a central domestic air hub for the UK. That study did not progress further because Sheffield City Airport closed down. But with spare runway and terminal capacity at Manchester and a fairly wide selection of trans-Atlantic and other long-haul flights to feed into a case could be made for a similar arrangement there. But there was no suggestion of such a scenario in MAG's submission to the Airports Commission.
It isn't as if MAN has no experience of the mechanics of hubbing. In the 1990s it had a strategy 'Manchester Connects' in place, which attempted to pull together random domestic and international flights into a definable hub operation. More recently (2013) it helped engineer a deal that will see Flybe feed Thomas Cook long-haul scheduled flights to the Americas and India. It is situated well for such purposes domestic-international but no so well for international-international services, being located to the west of Europe. The successful international hubs tend to sit more towards the centre of the continent, Frankfurt being the prime example.
Growth on European routes has come from LCCs
In the category of short-to-mid haul European routes since the growth of LCC services got under way many of the new routes have been to and from popular vacation region airports in southern Europe, to more esoteric cities where the carrier has needed a central regional UK airport to fly from (Moscow, Cairo and Tel Aviv are good examples); also in flights servicing immigrant communities from new entrant Eastern EU countries, many of whom have located in northwest England.
EasyJet and Ryanair led the charge, both with 33 regular services at present. In Ryanair's case nine of those routes are to airports in the new entrant Eastern EU countries. Flights to and from those cities are often almost entirely populated by nationals of the countries concerned.
Jet2.com and Monarch Airlines currently have 16 and 18 regular routes respectively while both have many other seasonal services and Monarch also retains a short and long-haul charter network. Flybe's network runs to 16 routes, seven of them international while it also delivers seasonal charters.
It is in the legacy segment where there has been most change. Where there were up to 12 flights a day each way in the 1980s and early 1990s to and from primary hubs like Amsterdam, Frankfurt and Paris Charles de Gaulle, that frequency has reduced by as much as 50% as LCC services to secondary European airports multiplied.
While MAN offers more scheduled routes than other non-London airports, and to more cities and countries, the management there has striven to fill service gaps to primary – including capital city – airports but on occasion with difficulty.
The abovementioned case of Madrid is an example. The Ryanair route is now back on, but it is the only one to an airport that has commercial significance in several ways – for onward travel to the whole of Spain and for Latin America. The Lisbon route was operated by TAP's (now) subsidiary Portugalia until 2005 when it was withdrawn so that airline could refocus on alternative markets, leaving Lisbon either unserved or occasionally served (by the now-defunct LCC bmibaby) until TAP took a gamble on the route two years ago; one that appears to have paid off. (Unless Ryanair now starts to operate it).
Athens is another route that has been operated on and off over the years, sporadically by Olympic Airlines and currently by Aegean Airlines and easyJet, though not on a daily basis (five weekly flights). The Vienna route was operated by Austrian Airlines (three times weekly) for a couple of years until Oct-1982 (when MAN's annually passenger tally was around six million) and with onward connections to its large east/southeast Europe and Middle East network, since when AUA has not operated any scheduled flights to any airport in the UK outside of London (Heathrow). Lauda Air picked up the Manchester route in the early 1990s but did not operate it for long.
Indeed, there seems to be a developing reticence amongst carriers in central Europe to fly to the UK at all, never mind just Manchester. Quite apart from AUA, the Czech Republic's CSA withdrew all UK services two years ago (i.e. London Heathrow and Manchester). It could be that these airlines perceive that their home base hubbing appeal has dissipated and that they can no longer compete with LCCs that fly (like easyJet and Jet2.com) into their primary airports. As this article is written Jet2.com announced it will commence three times weekly direct Manchester-Vienna services from May-2014, 23 years after the last service. While MAN will regard it as a welcome addition to the network after such a length of time what the airport really needs is AUA operating daily with connections to its still-extensive network to the east, including West Asia and the CIS states, which can be difficult to reach for the business traveller.
With the Berlin route (another that has been on-off) now operated by easyJet the remaining gap to be filled is Warsaw, along with Vilnius and Luxembourg (which has previously been operated by Luxair both uniquely and in conjunction with Dublin).
Part 2 of this report looks at the impact of not having a home based carrier, the role of the Gulf carriers in Manchester and the impact of the Manchester Airport City.
CAPA introduces new Global Airport Investors Database, part of the unique CAPA Airport Data Suite
This report coincides with the release of CAPA's Global Airport Investors Database, which is now available as an interactive online database at the CAPA website. It currently lists over 475 active, recently inactive and potential investors in airports, infrastructure and estate, located in all corners of the globe.
A work in progress since 2010, the newly available database is updated frequently and is conveniently divided into sections that cover:
Company data (country location; address, telephone and email; senior level contacts, website URL);
Type of enterprise (operator/financier/fund etc);
Investments and contracts;
Previous investments, failed and withdrawn bids;
Potential future investments and sales;
Financial results where known, in some cases with four years of historical record;
Ranking by size of turnover (airport operators).
The database enables subscribers to learn exactly who the investors are, their preferences, and whether they are increasing or decreasing their presence in the airport sector.
Sample of the CAPA Global Investors Database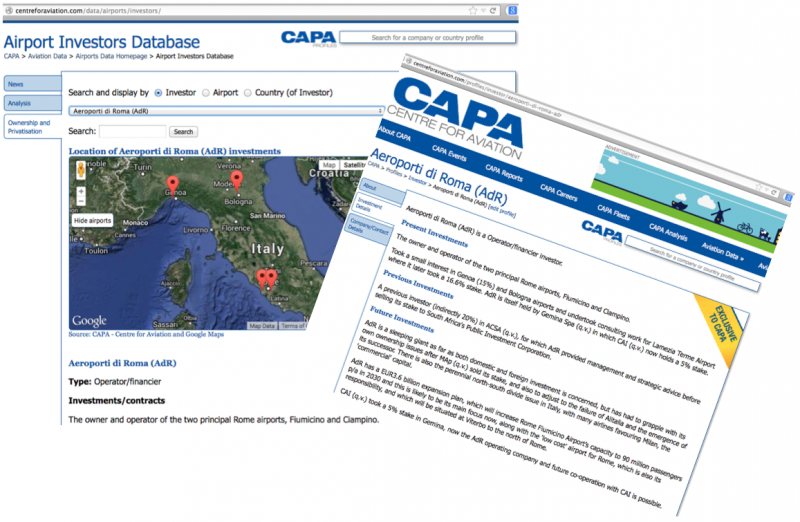 In addition, data is presented in a variety of graphical formats, permitting comparison of investment between countries and regions. Inbuilt links permit subscribers to view details of invested airports in depth.
The database, part of the new CAPA Airports Data Suite, will be of interest to single and group airport operators; national, regional or local government or private organisations seeking investors in their airport(s); investment banks; pension funds; venture capitalists; private equity funds; hedge funds; sovereign wealth funds; financial intermediaries/brokers/deal arrangers; legal firms active in the aviation sector; architectural firms active in the aviation sector; airlines considering investing in airports; other transport sector firms considering investing in airports; and the full spectrum of aviation industry suppliers.