Manchester Airport route network expansion becomes an interesting model for the industry. Part 2
In Part 1 of this report on Manchester Airports Group, we reviewed the ingredients in its network planning - LCCs, Gulf airlines and China - and the likely role of the Airport City.
As we begin Part 2, one of the biggest difficulties that MAN has faced in plugging its service gaps is the lack of a 'home-based' carrier. Even Leeds-Bradford Airport (3 million ppa) can claim that (Jet2.com), while British Midland was firmly established as Britain's second airline at the MAG-owned East Midlands Airport until it began to break up, the main airline being acquired by British Airways. It may seem a little peculiar that such an important city-region has no air carrier of its own (a 'British Northern Airlines' if you like). A Manchester-based business newspaper began a campaign several years ago to garner support for such an airline start-up but the campaign faltered when the newspaper closed down at the height of the recession.
Lack of a home-based carrier restricts route opportunities
British Airways is clearly not going to help, at least under the present management. Over the course of the last two decades, what was a fit-for-purpose BA Regional operation at both Manchester and Birmingham airports was whittled down and replaced (in the case of Manchester) by a half-hearted low-cost subsidiary, BA Connect, which was ultimately sold to Flybe in 2006 under a complex cross-shareholding deal. Apart from the London Heathrow service, BA's only other presence at MAN now comes in the form of flights to and from Billund (Denmark) and Gothenburg (Sweden) operated by franchise partner Sun-Air.
(At Birmingham BA opted for another franchise, Maersk Air UK, to take over where its regional programme left off, that airline ultimately becoming another LCC, Duo, in 2003 before being liquidated).
Irrespective of the service gaps, it is this segment – international scheduled, which has been growing strongly during the last year. In Sep-2013 for example international traffic overall increased by 11.8% to 1.4 million.
MAN's long haul strength lies in Atlantic and Gulf routes but gaps remain
In the long haul sub-segment MAN is very strong in two key areas, transatlantic and Middle East services, while it is weak to other continents and regions. Even where it is strong though, it could and should be stronger.
Momentarily there are 11 transatlantic services, as described in the table below.
Air Canada Rouge will commence a seasonal service to/from Toronto in Jun-2014 (see below). Additionally there are numerous 6th Freedom transit options, the two most direct being Aer Lingus via Dublin and Icelandair via Keflavik.
This total of flights is some way behind Gatwick Airport, where British Airways is increasing its transatlantic presence, and broadly comparable to Dublin. Here, too, there are gaps that need to be filled.
The most obvious one is Los Angeles, which is 'twinned' with Manchester though the underlying connection between the two places is not immediately obvious. There is no 'Hollywood' sign, though there is a ramshackle one for 'Hollinwood', an industrial suburb in the north of the city.
Tinseltown comes to Manchester.
There has never been a direct air service connecting MAN with the West Coast of the US. MAG management has attempted to coerce several airlines to fly the route, either directly, or on a fifth freedom basis, THY Turkish Airlines reportedly being one of them. It is a route that might be considered by Emirates, which recently commenced Dubai-Milan-New York and has other such routes under consideration but Emirates has enough on its plate with three daily Manchester-Dubai flights (see below).
The most obvious UK airline candidate is Virgin Atlantic, and especially so if it suspends its Las Vegas service, which it has hinted it might. Of the non-UK airlines, American seems best suited. American was the first US airline to start transatlantic services at MAN (Chicago, 1986) and it has experimented in the past with MAN routes to both Boston and Miami. American has also made it known lately that it "needs a dominant West Coast hub", according to its CEO, David Cush while it is currently Los Angeles' second largest carrier after United according to Innovata, operating 17.7% of weekly seat capacity.
The other gap is Toronto. There is a year-round route operated by Air Transat, but that carrier works on a point-to-point basis and cannot offer the breadth of connections that Air Canada could. Air Canada has not operated at MAN since Sep-2007 (in conjunction with bmi, which actually flew the route, replacing Air Canada equipment)preferring to focus on London services with regional UK connections on what was its Star Alliance partner bmi. But with bmi gone, Air Canada has had to reappraise its approach to the UK market; a big one because of the enormous number of British expatriates who moved to Canada, especially to southern Ontario, in the 1980-1990s and economic ties in the field, for example, of aeronautical engineering.
After initiating a service on the new low cost subsidiary Air Canada Rouge (ACR) to Edinburgh earlier this year, Air Canada has identified MAN for an ACR service starting on 26-Jun-2014 to Toronto's Pearson Airport. The service will be seasonal and will operate only five times weekly until 13-Sep-2014. Again, it is better than nothing, and as Air Canada's CCO insists, ACR permits the company to operate on routes that were "previously unprofitable." According to the UK General Manger connecting flights to Air Canada mainline flights at Toronto, and associated fares, will be offered. But Air Canada appears to perceive a leisure route only, which is far from the case. The business traveller demands daily service, year-round, with compatible service levels throughout the journey rather than a service that will amount to just 35 roundtrip services.
Compare, for example, British Airways' planned summer 2014 operation on the London-Heathrow-Toronto service where it will reinstate Boeing 747s on a daily basis. The aircraft will operate alongside B777 and B787 aircraft on the route on which it will operate 17 times weekly.
Gulf carriers dominate Middle East and Asian markets
The Middle East is, as mentioned earlier, a very strong region for MAN, with Emirates offering three daily services to and via Dubai, one of them on an A380 (possibly to rise to two in the future), with Etihad Airways offering double-daily services to and via Abu Dhabi, and Qatar Airways ten flights weekly to and via Doha.
There are possibilities for selected North African and Middle Eastern carriers to commence at least irregular services in some cases. The Manchester city-region is the most cosmopolitan in the country after London; being reputedly home to, for example the largest congregations of both Libyans and Syrians in the whole of the UK. Libyan Arab Airlines has recommenced the service it operated to Tripoli before the Civil War there and whatever remains of Syrian Air when the Syrian civil conflict eventually comes to an end might be tempted to investigate its own opportunities.
But one side effect of the Gulf carrier services is that many Asian carriers can no longer even get a look-in. While PIA and airblue can justify direct services to Islamabad and Lahore (supported occasionally by flights to Bangladesh) because of the large Asian population in northwest England, and Singapore Airlines retains a daily flight to Singapore (via Munich), the Southeast Asian and Australasia airlines that have operated from MAN but do so no longer include Qantas, Cathay Pacific and Malaysia Airlines. Thai Airways had aspirations for a Bangkok-Manchester service up to 2008 when the recession set in but has not been heard of since. Long haul LCC AirAsia X considered MAN but opted for Stansted, then Gatwick, before quitting the UK altogether because of the high tax regime and unsuitable aircraft.
China route is highly prized
It would not be amiss to say that the MAG management is desperate to attract a China route, any China route, to Manchester and preferably before Birmingham and Edinburgh airports, which also covet such a prize, do so, thus becoming the first UK non-London airport to secure such a route. But you have to ask what the expectations would realistically be while there is no direct route to Hong Kong despite the existence of a very large Chinese population in northwest England (mainly Manchester – the next largest outside of London in fact - and Liverpool). In 2012 there were 100,000 air travellers between Northwest England and Hong Kong, and 60,000 to Beijing. Cathay Pacific, which operates B747 cargo aircraft into MAN, came close to re-instigating Hong Kong-Manchester seven years ago, via Moscow, but the plan collapsed at the last minute because of the lack of operating rights on the Moscow-Manchester sector
Virgin Atlantic was reported to be considering a Manchester-China route (unspecified) as this article is written.
Apart from charters and scheduled airline code shares there is hardly any airline presence at all on the African continent where MAN is concerned. The only direct scheduled routes being flown momentarily are to Marrakech, Tripoli, Cairo and Sharm-el-Sheikh, all in North Africa. A route to the touristically popular Cape Verde islands, off the East African coast, could be flown by state airline TACV, which is examining new route possibilities right now.
South African Airways did fly Manchester-Johannesburg in the 1990s before the change in the political scene in that country began, which lead to greater acceptance of South Africa in neighbouring countries and a consequential redeployment of aircraft.
The short-lived AV8 later flew Manchester- Cape Town but without much success and the lack of an AOC brought it to an end.
Traffic between Northwest England and South Africa now follows various paths, through London, European hubs such as Amsterdam, Paris and Frankfurt, and much of it has been taken up by Middle East carriers despite the 'dog leg' en route.
One of the issues the airport management faces in promoting direct routes within its catchment area is encapsulated by this text from an online travel portal, South Africa Travel Online, which suggests travelling by surface to London and then on from there "because it is a cheaper hub", the message MAN has tried to combat with various 'Fly Manchester' marketing and promotional initiatives recently. Manchester Airport reckons it loses as many as four million passengers a year to Heathrow in this manner.
Apart from Johannesburg and Cape Town the routes that offer the greatest potential are to developing hubs on either side of the south Sahara – Addis Ababa and Ghana, together with Nairobi. AS with other ethnic groups there is a large and growing congregation of African nationalities settling in the city-region.
South America remains unserved directly by scheduled flights, and is typically accessed by passengers from MAN via hubs at London, Paris, Frankfurt (both increasing), Madrid (declining), Amsterdam and Lisbon. American Airlines did offer an option via its Miami hub for a short period in the mid-2000s but did not persevere with the route.
Realistically, there is little immediate prospect of such a route unless an airline attempts a fifth freedom operation, for example a Gulf carrier. While there are growing ties between the region and some Latin American countries, such as Chile, they are unlikely to be sufficient to merit investment in a direct route for the foreseeable future.
In all of these mid and long-haul route investigations MAN suffers from its comparative lack of exposure to airline alliance activity in comparison to airports such as London Heathrow, as evidenced in the charts below.
Manchester Airport seat capacity by alliance/unaligned, 07 to 13-Oct-2013
London Heathrow Airport seat capacity by alliance/unaligned, 07 to 13-Oct-2013
Only 19% of Heathrow's capacity is on unaligned carriers versus 74.2% at Manchester. One statistic here in MAN's favour is that has attracted almost the same percentage of capacity from the Star Alliance as has Heathrow, although the actual amount will be much larger at the London airport.
Airport City project will influence route development
The advent of an Airport City at Manchester will inevitably affect the calculations concerning routes that are primarily operated for business purposes. In this respect Manchester trails behind Birmingham Airport, which does not have as many leisure travellers on charter and low cost scheduled services and accordingly a higher percentage of business travellers overall.
The type of inward business travellers that use Manchester Airport presently, as recent findings from research with Deloitte and MIDAS (a local development agency) demonstrate, is 35% from manufacturing corporations. Healthcare and life science industries make up 11% of visitors, with a further 8% of international business travellers from telecommunications, media and technology firms. "
Artist's impression of Manchester Airport City.
The GBP650 million project recently received a boost when a Chinese state bank, Industrial and Commercial Bank of China (ICBC) declared it is to invest in the scheme. Chancellor George Osborne (who represents a nearby constituency as an MP) will reportedly sign the deal when he visits Beijing later in the month.
The Airport City will consist of two sections - a World Logistics Hub to the south of the airport and a business district to the north that will have 1.4 million sq ft of logistics and warehousing, 1.5m sq ft of offices, 650,000 sq ft of manufacturing space and 1,300 hotel beds, on the compact 65-acre site, part of which is currently used by the airport for car parking.
Its Enterprise Zone (the only one of 39 such zones or 'LEPs', which were set up by the present government to replace regional development agencies that is situated at an airport) will afford new occupiers GBP275,000 worth of rates relief and "superfast broadband". It will be connected to the rest of the UK via national rail at the airport's ground rail/bus transport hub and to nearby suburbs and Manchester city centre alternatively via the Metrolink (tram) system that is being extended with a projected 2016 opening date.
MAG has not yet announced its development partner. Manchester-based Ask Developments, which was ruled out of the process earlier in the year, had formed a joint venture with the Beijing Construction and Engineering Group (BCEG), which is supported by Industrial and Commercial Bank of China. In Jul-2013 Ask Developments said it was considering legal action over the way the bidding process was conducted. Previous MAG CEO Geoff Muirhead, who until recently was a member of the Airports Commission, is Non-Executive Chairman of ASK Developments.
One would assume that the search for a Chinese air route operator will take on extra significance with the news of the Chinese investment, and also from the recent advent of a Manchester-China forum.
The development will certainly change the nature and location of the business traveller, and it is one of several that will continue to have a cumulative effect. The number of travellers from the Media segment has risen considerably during the last few years for example since the British Broadcasting Corporation (BBC) moved several of its departments, including its Breakfast News Programme and BBC Sport, to Media City at Salford Quays in Greater Manchester, prompting a resurgence in what was already a healthy media and creative industries sector. Several financial institutions in the City of London have chosen to move wholly or partly to Manchester (e.g. Santander UK), while the city is also home to the Co-operative Group, the world's largest member-owned organisation with over 100,000 employees. The global success of the two leading soccer clubs ensures a constant stream of both leisure and business air passengers. It is clear that the ratio of manufacturing sector business passengers, which has hitherto predominated, is set to decline.
It is MAG's intention that the Airport City will take Manchester Airport beyond its traditional use as a regional transport hub and transform it into an international business destination in its own right that boosts Manchester's attractiveness as a major European Business City, "drawing on Manchester's academic, scientific, and technological credentials, and supported by the region's world-class communications and transport infrastructure". A forecast predicts Airport City could create up to 16,000 jobs over the next 10-15 years."
But Manchester will not be without competitors for long. The project has prompted Birmingham Airport, together with the city and surrounding authorities, to increase its efforts to build a commercial gateway close to the airport (as part of its submission to the Airports Commission) and Newcastle Airport to consider whether it should also be developing such an airport city.
HS2 under penetrating examination
As was mentioned in the opening paragraph, the proposed addition of the HS2 rail link will also have a major impact, assuming it happens at all. The project is so constrained by objections and a painfully long planning procedure that it could not arrive at Manchester until the early 2030s anyway, long after it has arrived at Birmingham, which would get a head start. NowHS2 is coming under pressure from politicians and some trade bodies who are either genuinely concerned about the spiralling cost of the project (potentially in excess of GBP50 billion and rising) or – in the case of politicians – to score points over the government in the build up to a May-2015 General Election.
MAG hopes HS2 would open up its catchment area even further and it could well do so.
HS2 Northern section map
Rapid access could mean more passengers being attracted from the south of the airport (including some of those four million ppa who make a road journey to Heathrow), as well as businesses. Equally, it could cut the other way, with regional passengers using the fast rail line to Heathrow via a proposed HS2 spur that remains under consideration. Moreover, studies in Spain and other countries appear to show that more businesses tend to relocate to the Capital because of faster (commuter) access from the regions, rather than vice versa.
The other big unknown is what would happen in the (unlikely) event of the Airports Commission coming down on the side of a new River Thames Estuary airport for London. Such an airport, which would probably open about the same time as HS2 to Manchester, would be so far in the southeast corner of the country as to make it accessible only with great difficulty from much of the UK, which again could improve the prospects of airports such as Manchester and Birmingham (which, remember, would have its HS2 rail link much earlier) enormously.
Talk of an airport city and particularly the World Logistics Hub (which would supersede an existing World freight terminal), raises the issue of air cargo, in which segment Manchester, despite handling 115,000 tonnes of cargo annually and being the UK's fourth largest 'pure freight' airport with 5% of the UK's belly-hold cargo handled as well, does seem to underperform. Cargo volume increased by 1.2% in Sep-2013 but statistics have generally been negative or stable since the global recession set in, in 2008, prompting a reduction in pure cargo schedules and subsequent volumes at Manchester and belly hold cargo becoming more prominent.
MAG's larger cargo airport is East Midlands, with 267,000 tonnes in 2012, but both it and MAN continue to suffer from the arcane system of freight road trucking to Heathrow and the employment of 'consolidated' airfreight rates there. Until that system runs out of steam and favour no amount of freight or logistics centres will improve the direct throughput levels.
Charter traffic in decline but not dead yet
Which leaves only the charter segment, which, statistically, has fallen dramatically at Manchester during the last decade, now totalling no more than 25% of overall passengers (as it was in Sep-2013 [-7.1%]), from over 50%. Even so, charter remains big business at Manchester and is one of the factors that set it apart from rivals such as Liverpool. Both Thomas Cook and Thomson Airways (TUI) remain major players at MAN with almost 160 short, medium and long haul routes, some of which, almost inevitably, will be used by business travellers as they often afford the luxury of direct flights to cities that would be difficult to reach on scheduled services and often at a cheaper price. In addition, the LCC Jet2.com offers a package holiday programme, Jet2.com Holidays, on its flights, while Virgin Atlantic's long haul flights to Orlando, Las Vegas and Barbados operate as de facto semi-charters.
The death of charter at Manchester has long been predicted, notably so by Ryanair, but it continues to survive, and may yet even revive.
So where does this leave Manchester overall?
Over-emphasis on low cost can be a dangerous strategy
There is no obvious strategy for route development in any one segment at the expense of others. During 2013 promotional emphasis has shifted between short haul low cost, where MAN has overtaken some of the airports that had got ahead of it in that segment, and long haul. Over-concentration on low cost can be a dangerous strategy and one guaranteed to offend the legacy carriers whose consistent support, often over many years, paying top dollar for the privilege, often enabled the airport to prosper.
It is the case that there are too many long haul routes that need to be filled if Manchester is to be recognised as a globally significant airport, and with a degree of urgency; some of them have been mentioned previously in then text. In a recent statement Andrew Cowan, MAG's Chief Operating Officer identified these routes as Bangkok, Shanghai, San Francisco (which is gaining importance as a Pacific Coast hub), Miami, Johannesburg and Brisbane. As he said, "The importance of long haul connections cannot be underestimated and international routes have helped play a part in consistent passenger growth here at Manchester."
In terms of business balance Manchester Airport has got it about right. As Copenhagen Airport's CEO Thomas Woldbye recently said it is very important for his airport (which has a similar traffic mix to that of MAN) "to retain and develop our collaboration with the network airlines...while also generating growth in low-cost airline point-to-point traffic".
But having that equilibrium does not help identify Manchester as being strong in any single segment, and particularly the one marked 'hub', which can have its downsides as the Airports Commission deliberates on what future role it might play in the UK aviation scene.
CAPA introduces new Global Airport Investors Database, part of the unique CAPA Airport Data Suite
This report coincides with the release of CAPA's Global Airport Investors Database, which is now available as an interactive online database at the CAPA website. It currently lists over 475 active, recently inactive and potential investors in airports, infrastructure and estate, located in all corners of the globe.
A work in progress since 2010, the newly available database is updated frequently and is conveniently divided into sections that cover:
Company data (country location; address, telephone and email; senior level contacts, website URL);
Type of enterprise (operator/financier/fund etc);
Investments and contracts;
Previous investments, failed and withdrawn bids;
Potential future investments and sales;
Financial results where known, in some cases with four years of historical record;
Ranking by size of turnover (airport operators).
The database enables subscribers to learn exactly who the investors are, their preferences, and whether they are increasing or decreasing their presence in the airport sector.
Sample of the CAPA Global Investors Database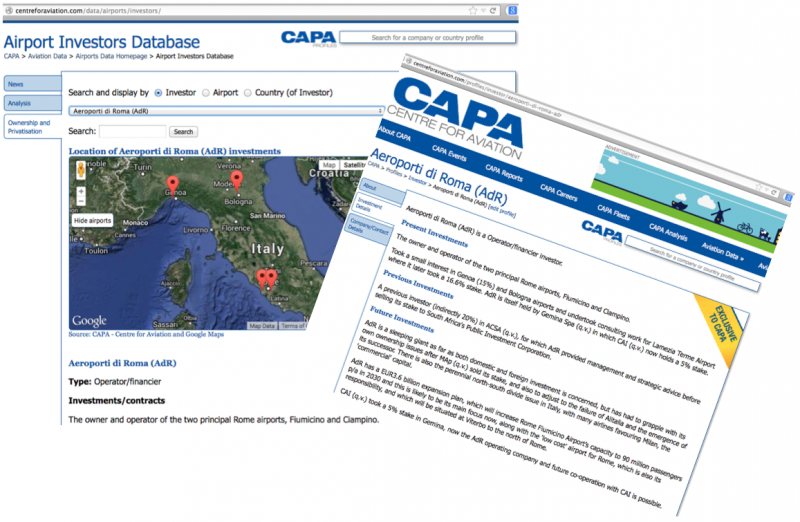 In addition, data is presented in a variety of graphical formats, permitting comparison of investment between countries and regions. Inbuilt links permit subscribers to view details of invested airports in depth.
The database, part of the new CAPA Airports Data Suite, will be of interest to single and group airport operators; national, regional or local government or private organisations seeking investors in their airport(s); investment banks; pension funds; venture capitalists; private equity funds; hedge funds; sovereign wealth funds; financial intermediaries/brokers/deal arrangers; legal firms active in the aviation sector; architectural firms active in the aviation sector; airlines considering investing in airports; other transport sector firms considering investing in airports; and the full spectrum of aviation industry suppliers.