Japan Airlines holds second biggest IPO, but institutions stay away due to bankruptcy memories
It is not all saccharine at Japan Airlines (JAL) as it is poised to raise USD8.5 billion in the second largest initial public offering of the year after Facebook. While the amount is outstanding for an airline and comes in the midst of much of the world being in the economic doldrums, the source of that amount indicates remaining contention from JAL's time in bankruptcy.
The majority of shares are being taken up by individual investors, who as part of their stake-holding receive discounts on JAL's notoriously expensive airfares. The absence of institutional investors reflects in part the resentment many still hold for JAL's previously-unthinkable entry into bankruptcy, wiping out the carrier's value. Some institutions also wonder if JAL really has dropped its inefficient ways or if costs will creep in once the bankruptcy turnaround management depart.
Looking to the future also raises questions whether JAL – and competitor All Nippon Airways (ANA) – can maintain its remarkable turnaround performance and adapt to the fundamental shift occurring in short-haul markets as home grown and foreign LCCs gain prominence.
JAL IPO is largest of the year after Facebook
JAL's IPO, which is reported to have already been subscribed at the upper price end of JPY3500-3790 per share (USD44.85-48.57), would allow the Enterprise Turnaround Initiative Corporation to more than double the JPY350 billion (USD4.5 billion) it loaned to JAL during bankruptcy, from which JAL emerged in Mar-2011. JAL will not profit from the IPO, which will make JAL the fourth largest carrier by market value after LATAM, Singapore Airlines and Air China, according to Bloomberg data.
See related article: Japan Airlines (JAL) to relist shares on Tokyo Exchange amid growth but significant challenges
The majority of subscribers are individuals – retail investors – although the reasons for their investment vary. Institutional investors reckon many individuals are buying shares with the sole purpose to sell them after the 19-Sep-2012 listing. Unlike the Facebook IPO, the JAL IPO is being viewed as deliberately priced downwards in order to create further value after the listing. Others say individuals are subscribing for the benefits that come with JAL stock ownership, namely discounts on flights in Japan's over-priced market. The JAL IPO will see its market value eclipse that of prime competitor ANA, which is larger and until JAL's restructure was generally viewed as being more successful and innovative.
Some parts of market still resent JAL for bankruptcy
JAL's approach in targeting retail investors from the outset may also reflect that the carrier saw institutions would have little interest in it. Irrespective of strategy or future potential, in Japan's face-conscious society, some elements see JAL's bankruptcy as a life-long breach of trust and want no financial interest in JAL. Once the pride of the nation and international emblem of Japan's rise to be the world's second largest economy, JAL post-bankruptcy became almost a taboo subject, with even family members of JAL employees transferring loyalty to ANA.
Some wonder if the bankruptcy changes, like efficiency, instilled in JAL workers will remain after an inevitable management turnover, which they fear will see JAL fall back to its old ways. But with loss-making routes and scores of aircraft removed along with a large headcount reduction, JAL returning to its pre-bankruptcy days is nearly impossible. The carrier's traffic last year was 21% below pre-bankruptcy levels.
JAL annual passenger traffic: 2009 to 2011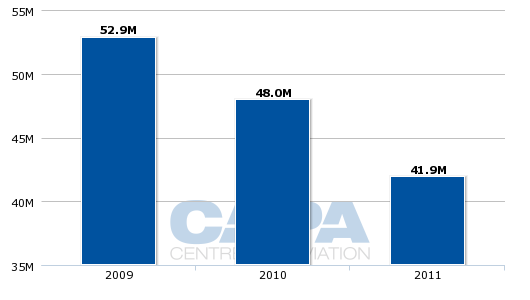 Other investors are willing to forget the past and instead look at JAL's future potential. But they see rough patches ahead. Some concerns, as stated in media reports, are misguided. JAL does expect FY2012 profits to decline from FY2011 levels, but FY2011 was an anomaly, with JAL posting a profit higher than its own expectation. The scale of the profit drop is also relative; JAL's operating margin in FY2011 was a nearly unheard (for airlines) of 17%.
See related article: Japan Airlines' 17% margin may be envy of the industry, but JAL's outlook is less upbeat
JAL faces competition, but not necessarily where the market thinks
Some concerns also use the stock-standard excuse of if or how JAL can compete with perceived industry bastions, Emirates and Singapore Airlines (SIA). SIA is not performing well, posting a rare quarterly loss for the three months ending 31-Mar-2012, while Emirates operates thinly with a 2.9% operating margin. Competition overlap is also limited. Japanese carriers derive the majority of their profits from the domestic market that Emirates and SIA do not have access to. On intra-Asia international services, traffic is concentrated around North Asia, again where Emirates and SIA have little overlap (although there are hints from ANA at least to have a greater role in facilitating sixth-freedom traffic).
Long-haul routes are increasing at JAL and ANA, but the focus is largely to North America and Europe and the carriers have joint ventures with respective alliance partners: JAL with American Airlines to North America, IAG to Europe; ANA with United Airlines to North America, Austrian-Lufthansa-Swiss to Europe.
See related article: All Nippon Airways adds Austrian & Swiss to JV, and eyes acquisitions, as Japan & France liberalise
SIA does have a single daily flight from Tokyo to Los Angeles, but otherwise long-haul overlap with Emirates and SIA is either to markets JAL and ANA do not serve or would involve circuitous routings, an unattractive feature for time- and efficiency-conscious Japanese, many of whom prefer to fly on Japanese carriers.
Emirates, and its peers Etihad and Qatar Airways, will have a larger role in Japanese aviation following agreements this year to expand access to those carriers, but not grant unrestricted access. In a sign of eagerness, some additional routes were announced within weeks of the government talks.
See related article: Japan-UAE bilateral agreement expands access, welcoming Gulf carriers to serve national interests
The Gulf carriers serve markets – the Middle East, Africa – that ANA and JAL do not but are interested in, albeit without current plans to access. A notable share of Japan-South Africa traffic for example is carried by Cathay Pacific. With Qantas breaking the norm with its Sep-2012 decision to step outside of alliance lines and form an extensive partnership with Emirates to have more efficient routings, the Japanese carriers could –inertia is rife in Japan – potentially use these competitors as partners. JAL and ANA already have limited commercial arrangements with Emirates and Etihad respectively. A deeper JAL-Emirates relationship modelled on the recent Qantas arrangement would be attractive for all concerned.
Short-haul markets in Japan and North Asia are JAL's greatest concerns
The source of greatest worry, however, for JAL – whether or not it fully realises it – is short-haul markets. Indeed, its forthcoming dilemma is not dissimilar to what carriers in the US and Europe have experienced: long-haul flights are profitable but short-haul becomes problematic as LCCs gain scale. Internationally, JAL must contend with growing Chinese carriers and their low-cost bases. New South Korean carriers, called LCCs, have somewhat lower-cost bases and face some operating restrictions, but have tremendous potential waiting to be unlocked.
See related article: Jeju Air, under new management, looks for partners and considers IPO as it weighs LCC transition
The domestic market is what ANA and JAL know best – but also perhaps know the least. The two are involved in the three new part-subsidiary LCCs that took flight this year: ANA with AirAsia Japan and Peach Aviation, and JAL with Jetstar Japan. The majors have opened Pandora's box by admitting the new, price-aggressive airlines. While JAL and ANA recognise there will be cannibalisation as the LCCs stimulate new demand, it is unlikely that they recognise the near-inevitable extent of that impact. ANA and JAL intend to slightly decrease domestic capacity in response to the LCCs.
See related articles:
Further capacity decreases will be needed, not only in response to the LCCs (which will also enter short-haul international routes) but to make their existing operations more efficient; domestic load factors hover around 60% while LCCs are so far reporting load factors over 80%. ANA and JAL will need to close the efficiency gap. There is no tap to turn to slow the LCCs.
The split ownership gives no majority rights. Jetstar Japan is run nearly entirely on local management and the Jetstar Group; JAL's involvement is limited (this receives a nod from many investors). AirAsia Japan has former ANA managers, but growth-minded AirAsia Group CEO Tony Fernandes is influencing thought at ANA.
ANA in early 2012 expected each LCC would grow by five aircraft a year. Mr Fernandes said on Twitter AirAsia Japan's growth next year will be by approximately eight to 12 aircraft, which will see it catch up to Jetstar Japan, which will take nine additional aircraft. With the massive fare differentials between the old and the new, it is unlikely that the natural pressures to expand low price availability can be resisted. This will have the dual impact of accelerating the expansion of the new entrants and – even more significantly – creating pressure on ANA and JAL to reduce their own price levels. These are in some cases extraordinary by world standards, with some domestic city pairs delivering yields of USD0.70 cents per kilometre.
However, there is another constraint on the LCCs' growth: aircraft availability, as evidenced by AirAsia recently showing interest in the Bombardier CSeries aircraft. Finding enough qualified pilots (in Japan's still-rigid regulatory system) is also a growing concern.
See related article: AirAsia has need for smaller aircraft but CSeries interest for now is more of a negotiating tactic
Outlook: large potential but change is needed – are investors in JAL for the long term?
JAL has an advantage over ANA in that its exposure to the domestic market is lower, thus reducing medium- and long-term operational implications from LCCs compared to ANA (although this depends on how and with what speed the two respond).
Japan domestic capacity share (% of seats) by carrier: 10-Sep-2012 to 16-Sep-2012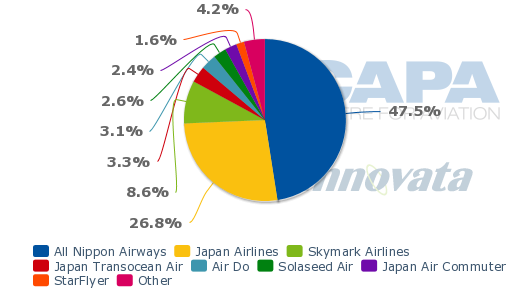 The short term may be rosy but the long term, without evidence of fundamental attitudinal and structural change – for which there currently is little – could force change under duress akin to European legacy carriers struggling with their loss-making short-haul networks.
Then again, investors themselves may be short term or buying stock for the flight benefits or because they are some of the few who still regard the airline with pride. In those scenarios, the investors may be happy and JAL and the turnaround company pleased as funds are raised.
As can be too typical in the financial world, and aviation especially, the long term becomes a problem for another day.
Background information
JAL international capacity (seats per week) by region: 10-Sep-2012 to 16-Sep-2012