Jeju Air, under new management, looks for partners and considers IPO as it weighs LCC transition
Analysis
South Korea's Jeju Air has undergone a management changeover, with new CEO Kyu Nam Choi at CAPA's LCC and New Age Airlines conference on 05-Sep-2012 giving the message that he brings the wheels of change but with an endpoint that is undetermined and open to influence, be it from airline partners or investors as it considers an IPO in the medium-term.
Such an open tabula rosa strategy is revolutionary but welcome in the stagnating Korean LCC market where carriers, some second-fiddle to parent company interests, are showing a lack of direction as they confront high cost bases and lack of liberalised access. That combination will place the carriers under pressure as foreign LCCs – namely from Japan – enter, likely resulting in the LCCs transitioning from hybrid to more barebones LCC models. The timeframe of this is uncertain, and while it seemed Korea, the original market for LCCs in North Asia, would not promulgate further innovation, Mr Choi may set out to change that – with implications for all the country's carriers.
Aviation outsider brings needed perspectives on changes needed in Korea
Mr Choi enters Jeju Air as the carrier clearly claims leadership in the Korean LCC market. Since its launch in 2006 – breaking the Asiana and Korean Air duopoly – Jeju Air has seen no fewer than four other entrants as well as other carriers that collapsed or never materialised. It is now the biggest, both operationally and financially, and attributes its success so far and future potential to its independence; its largest rivals are Asiana's Air Busan affiliate and Korean Air's Jin Air subsidiary.
See related article: In Korea's independent LCC market, Jeju Air soars while Eastar Jet is still coming of age
Jeju Air receives in Mr Choi, with his largely financial background, new perspectives. Jeju Air until recently had been under the management of Kim Jong-chul, who in recent years had become distanced from the needs of a LCC.
Jeju Air launched as a slimmed-down full-service carrier, setting a precedent for further entrants, but with Korea having a small domestic network, the carriers turned their focus to international services, although domestic seats still account for two-thirds of Jeju's network. As foreign LCCs entered Korea, the cost disadvantage of the not-quite LCCs has become apparent and a growing concern as carriers encircle Korea.
"Competing with the Jetstar and AirAsias of the world is very concerning," Mr Choi said during a panel discussion at CAPA's conference, making his first public appearance. The Japanese affiliates of those two pan-Asian brands – AirAsia Japan and Jetstar Japan – intend to launch services to Korea, adding to existing services from new Japanese LCC Peach Aviation. AirAsia is considering a Korea-based subsidiary while additional competition has come from StarFlyer from Japan, Korea's second largest market. Its first, China, is home to the ever-expanding LCC Spring Airlines.
Top 10 Airlines in South Korea ranked on scheduled system seats: 10-Sep-2012 to 16-Sep-2012
Rank
Airline
Total seats
1
KE
Korean Air
619,291
2
OZ
Asiana Airlines
406,621
3
7C
Jeju Air
85,428
4
BX
Air Busan
64,155
5
LJ
Jin Air
52,704
6
ZE
Eastar Jet
46,961
7
MU
China Eastern Airlines*
41,807
8
TW
t'way
39,690
9
CZ
China Southern Airlines*
37,078
10
TG
Thai Airways*
26,776
11
CX
Cathay Pacific*
26,454
Jeju Air has a CASK disadvantage
Where loyalty is based on price, CASK of course reigns. The Korean LCCs have stuck to the mantra that the market does not want full a la carte services but rather some basic frills as part of a model that has been termed "Korean-style LCC". Yet this assumption that LCCs are not compatible in service-focused countries has been disproved, most recently in Japan. Additionally, Korean passengers are being exposed to LCCs from Japan, Malaysia and the Philippines.
Resistance to break the status quo of service on Korean carriers reflects larger Korean society where leadership – in technology, for instance – is strong but innovation is not. Once other countries test the waters – Japanese companies in televisions – Korean companies adopt. Samsung, through what a court has judged infringement of Apple patents, doubled its smartphone marketshare in a year.
That basic evolution looks likely to be replicated in Korean aviation. Knowledge of LCC CASK nuances may not be rife, but perhaps unlike other sectors, Korean LCCs want to change. Holding them back is self-restraint as they caution of evolving ahead of what they see as market acceptance, which could cause the huge dishonour of losing face.
"We get tempted to apply that bare bones model to our structure but we think it may be better for us to wait. Instead of us leading the public, we would like the public to get accustomed to the LCC model in different scales," Mr Choi said. Eventual progression – how far away is uncertain – does offer a bright spot in that a Korean LCC could have a lower cost than a Japanese counterpart due to Korea being a lower cost country than Japan, possibly offsetting the significant scale advantage AirAsia Japan and Jetstar Japan have from their larger parent groups.
For now, Jeju competes with Korean Air on six of its eight international scheduled services and reckons that without complimentary baggage and food and beverages, it would not be able to compete against Korean Air with its current cost base, which is lower than Asiana or Korean Air but higher than AirAsia or Jetstar. While revenue has seen double-digit growth, cost growth has been under control, partially a result of Jeju's network having lower load factors in its early days.
Jeju Air does not expect an overnight, or even overyear, adaptation to the LCC model, but it does intend to slowly introduce changes, such as additional ancillary revenue like food and beverages and onboard goods. With investments in IT and a new booking system, Jeju may consider tiered pricing.
Currently all of Korea's LCCs include complimentary luggage allowance and basic frills. In the region, AirAsia Japan and Jetstar Japan have followed group practice of a la carte pricing, although Jetstar Japan has various "bundles" consisting of frills that can be added to fares. Peach Aviation is a la carte but also offers an all-inclusive fare. Spring Airlines includes luggage in fares but has a 'Spring Plus' optional add-on for additional legroom, meals and other frills.
Jeju Air top 10 scheduled international routes ranked on seats: 10-Sep-2012 to 16-Sep-2012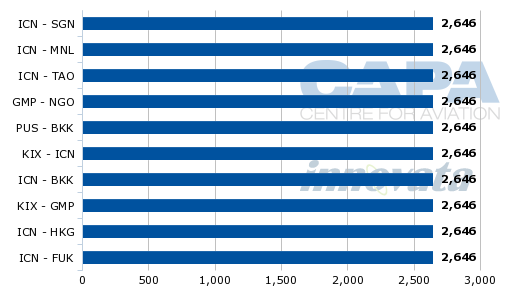 Jeju Air domestic routes ranked on seats: 10-Sep-2012 to 16-Sep-2012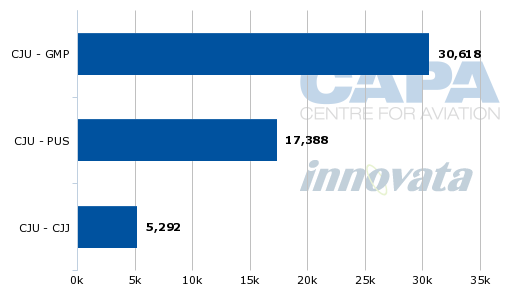 Jeju welcomes partners but expects to remain independent
Jeju Air is open to partnerships with no limit on what that could be. The carrier is largely open to the gamut spanning from simple and low-key marketing initiatives to more complex arrangements involving ticket selling and agreements like interlining. While the carrier is currently not for sale, its long-term position is not set in stone, although it expects to be independent.
LCC experience of partnering with another carrier for a branded venture has been mixed. Jetstar was an early pioneer, taking a stake in Vietnam's Pacific Airlines to rebrand it as Jetstar Pacific. But resistance from the Vietnamese government – which culminated with Australian executives being arrested – has largely made Jetstar look unwillingly at taking over a local carrier. Although Jetstar Pacific has simmered following a decision for the carrier to be the LCC arm of flag carrier Vietnam Airlines, the view was gained that restructuring an existing airline was more difficult than establishing a new one.
But new entrants are not welcome in all markets. Tiger Airways attempted to establish a Korean subsidiary, Tiger Incheon, before the deal was called off due to government pressure from incumbents. Tiger has since expanded with ventures in Indonesia and the Philippines, both involving existing AOCs: partially-collapsed Mandala and SEAir, respectively. AirAsia was going to partner with Vietnam's VietJet but the deal unravelled after the Vietnamese government refused to permit VietJet to adopt the AirAsia branding. Most recently AirAsia purchased Indonesia's Batavia Air.
In addition to expecting to remain independent, Jeju does not foresee wanting to acquire other carriers. The stronger of its peers are subsidiaries while fellow independent carriers Eastar Jet and T'way are struggling and have few desirable assets for an already established Korean carrier.
IPO in medium-term could fund expansion – if air services liberalise
A consideration in the medium-term is holding an IPO, at home or abroad, to facilitate expansion. A possible IPO would be positioned to strengthen Jeju's books so it could expand once government policies lift a restrictive curtain.
Jeju Air at the end of Jun-2012 operated 10 Boeing 737-800s and expects to take delivery of two more at the end of 2012 and an additional two in mid-2013. International expansion remains difficult, with Seoul handing out scheduled routes. While Japan and patches of China are liberalised, Korea has not followed Japan in quick-paced liberalisation.
Aside from Japan, China is a large focus of Jeju's network. With only Shandong province and Hainan island being liberalised, Jeju has turned to having large charter operations mainly filled with Chinese tourists on group bookings. While the short-nature of the operations is not ideal, charters are ideal when scheduled services are restrictive. Jeju sees benefits in charter services in that they allow Jeju to better understand the Chinese market for when greater scheduled access is possible and to build brand awareness, another benefit for when expanded service is possible and there is an inevitable increase in China-Korea services. Load factors in excess of 90% on Chinese flights are typical and make for a profitable operation.
Outside of Chinese services, Jeju's services have a more balanced mixture but are primarily being filled by Korean outbound travellers on leisure but also business. Jeju would like to adjust the balance in favour of more inbound traffic.
Jeju in Sep-2012 received a foreign air carrier permit from the United States, clearing the way for the carrier to open services to Guam. In its initial application Jeju anticipated launching four weekly Busan-Guam and daily Seoul Incheon-Guam services. Anticipating a Jul-2012 start date from Busan and Oct-2012 from Seoul Incheon with both having approximately 70% load factors, Jeju predicted a USD316 operating loss per flight in 2012 but a USD389 profit in 2013 for Seoul services. Busan services are expected to see lower performance, with a USD474 operating loss per flight in 2012 and USD255 profit in 2013.
Expected return fares exclusive of taxes for the 4.5 hour flight are expected to be approximately USD340, well under Korean Air's USD600 charge. Jeju Air's fares in the domestic and international markets have been well under the fares offered by incumbents. As Mr Choi said, in general, Jeju Air's prices have been "disruptive".
The Pacific island getaways of Guam and Saipan are a good indication of the state of competition in Korea. Korean Air serves only Guam while Asiana only serves Saipan. Fares are high and there is ample room for competition as the Guam market undergoes a restructure.
Guam's traditional passenger source has been the Japanese, who last decade regularly accounted for approximately 80% of all air passengers. Single-digit growth (percentage points) occurred from 2004 to 2007 but passenger numbers shrunk rapidly during the global financial crisis. Strong growth was recorded in 2010 but still below pre-GFC and even 2004 levels. 2011 saw a sharp decrease back to low GFC levels as the Mar-2011 earthquake and tsunami took their toll on air travel.
Korea, Japan and Taiwan visitor arrival to Guam growth: 2005 to 2011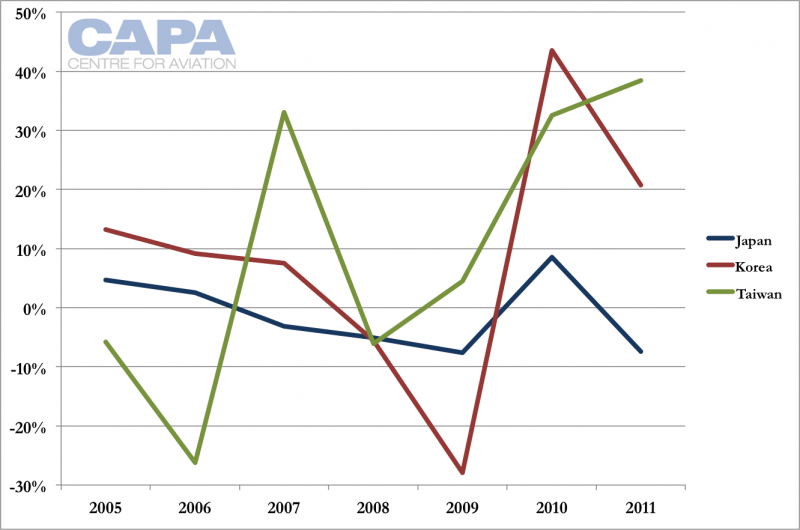 The outlook from Korea, as well as Taiwan, is much more positive. While Korean arrivals into Guam dipped during the GFC, it was contained, and the rebound was strong: 2011 arrival figures are the highest to date. 2010 saw a 43% growth rate, owing to low figures in 2009, but 2011 held strong with 21% growth. Japan, in contrast, shrunk 7%. Taiwan, albeit on a low base, was also affected by the GFC but since 2008 has posted positive growth. Taiwan's 2011 growth – 39% – is showing some levelling off in high rates. These combinations have seen Japan shrink in Guam arrival market share – down to 73% in 2011 – while Korea increased to a 13% share and Taiwan to 4%.
Korea, Japan and Taiwan visitor share of Guam arrivals: 2004 to 2011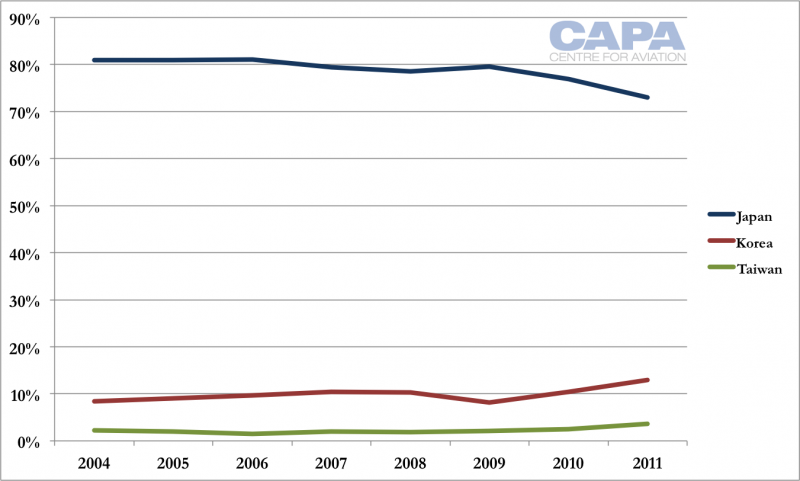 Korea is stagnating but one carrier's change would create domino affect
The decline of Japanese traffic in Guam underscores the LCC activity in Japan, where the carriers are seen as a vehicle to increase tourism and stimulate the economy as the population and economy decreases. The Japanese LCCs are set for a much larger impact in a shorter period of time than their Korean counterparts.
Mr Choi may be open about placing his carrier on notice for the need to change, but the view is shared, albeit quietly and perhaps perplexedly, at other Korean LCCs. With three new LCCs with serious cost advantages on Korea's doorstep, they are looking increasingly likely to be the indirect force of change. Innovating ahead of the competition is preferable to changing under duress, but it is the latter that will likely comprise the Korean LCC timeline.
With Mr Choi planning gradual change, Jeju is looking like the first Korean LCC to be able to effectively compete with foreign LCCs. That will spurn the other carriers to change models as quickly as they established themselves in response to competition. By this point, Koreans will be well-versed in a la carte or 'bare bones' LCCs – perhaps they already are – and the second phase of competition can begin. It will be overdue.