In Korea's independent LCC market, Jeju Air soars while Eastar Jet is still coming of age
Analysis
The nearly 20 year duopoly on South Korean air services held by Asiana and Korean Air was broken in 2006 with the launch of Jeju Air. That gave Korea its first low-cost alternative, establishing the country as a vibrant ground for potential new carriers, but only two made it to market and amassed scale: Jeju Air and Eastar Jet. More recently, t'way – rebranded from Hansung Airlines – has launched, but with a rocky experience and uncertain future as the airline remains for sale.
The experience for Eastar Jet and Jeju has not been equal. Jeju Air had to forge a path as a new carrier, and so encountered typical resistances, but has been rewarded with the status as Korea's third largest carrier, larger than the LCC spin-offs from Asiana and Korean Air. Eastar Jet, the last of the new carriers to launch, has found it difficult to secure a position. Jeju Air is closer to being a hybrid carrier and both must re-define themselves and their cost base as regional competition increases. No position is guaranteed or forced.
Jeju Air: making strides as Korea's third carrier
Jeju Air's launch was not easy. The island of Jeju in 2002 began actively pursuing launching an airline, in part to help combat high fares between Jeju and the mainland. In 2004 the local Jeju government signed an agreement with the Aekyung Group, which has heritage in Jeju and supports the development of the island. In testament to government bureaucracy and breaking the Asiana-Korean Air duopoly, Jeju Air did not make its first flight until 2006.
Initial operations were hit with a limitation: Seoul would not approve Jeju Air to launch with 737s, the carrier's preferred type but one seen as being too close – and thus a threat ­– to Asiana and Korean Air, neither government owned but with enough support to stymie competition. So instead Jeju Air launched services with Q400s, eventually accumulating five before Seoul relaxed and allowed Jeju to acquire 737s, replacing all of its Q400s.
Protectionist measures were also placed on international routes, with Seoul requiring new carriers to operate domestically for three years before venturing overseas. It was effectively a move to see how deep an airline's pockets were: the domestic market in South Korea is limited and typically unprofitable. Internationally is where all carriers want to be, and so Jeju waited out its three years. But near the end, Jin Air, the LCC subsidiary of Korean Air, which enjoys the closest relationship with Seoul, let it be known it wished to fly internationally, and the three year rule was conveniently abolished. In its place, according to unconfirmed accounts, is a requirement to have three aircraft and KRW15 million of capital.
Jeju Air was able to take advantaged of the loosening of regulations, launching scheduled international services in Mar-2009 instead of having to wait until Jun-2009, but overall would have preferred to wait three more months if it meant international services from its competitors would be years away and not months away. (Prior to scheduled services Jeju Air conducted a number of charters to Japan.)
Jeju Air's externally-caused rocky experienced with operations spilled over into depressed financial results. The market was not quick to take up its low fares and its Q400s gave it an uneconomical cost base, making its initial target of breaking even within three years (in 2009) unachievable, and pushing it back to 2011-2013. Its 1H2011 unaudited results indicate an operating profit of KRW1.6 billion, a sharp turnaround from its 1H2010 loss of KRW9.2 billion. Its market position has improved too, going from second-largest of the new LCCs in 2009 to currently the largest by some margin. Its domestic network comprises three routes, all from Jeju: to Busan, Cheongju and Seoul.
Jeju Air domestic routes by seats: 30-Jul-2012 to 05-Aug-2012
Largest operator of international services
38% of Jeju Air's capacity is in the international market, where it operates the largest number of seats of Korea's LCCs and has the greatest number of seats in each market it serves. Where it has competition from Korean LCCs it typically has significantly more capacity, often double. It is a sign of what Air Busan and Jin Air are capable of if their parents loosen the shackles.
Jeju Air's overlap with other Korean LCCs is limited as Eastar Jet's international network is limited while Air Busan and Jin Air focus more on leisure destinations to avoid competition with their respective full-service parent. Jeju Air operates to a suite of blue-chip North Asia destinations: Hong Kong, Osaka and Tokyo. Jin Air does not serve Osaka and Tokyo but does serve Shanghai and Taipei, which Jeju Air does not. Jeju operates international flights from Busan, Jeju and Seoul.
Jeju Air top 10 international routes by seats: 30-Jul-2012 to 05-Aug-2012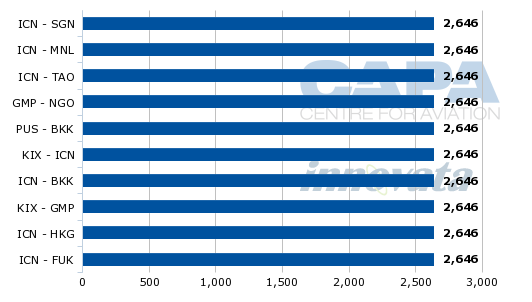 The difference in focus is a result of strategy. Whereas Air Busan, Eastar Jet and Jin Air focus on the leisure traveller exclusively, Jeju Air also sees itself being able to appeal to cost-conscious business travellers. On domestic routes Jeju Air at its launch targeted offering a 20-30% discount from full-service carriers, increasing that to 30-50% on international routes. Initial international load factors were approximately 70%, lower than the 80% seen on domestic flights. Of initial sales, 60% were from its website, 30% from an outsourced call centre and 10% from travel agents. Like most carriers, it is working towards selling a greater share of tickets on its website.
Under its original business plan, Jeju Air planned to serve 13 routes to five countries by 2013. Jeju Air has achieved its country target, but with currently eight international cities (and a ninth once Guam services commence), Jeju Air will fall short of that goal. It also targeted 13 aircraft by 2013 and in Apr-2012 had eight with medium-term plans for four more.
Jeju Air like Jin Air has worked to distance itself from the impersonal Asiana and Korean Air. Its logo is a stylisied – and winking – version of the Tolharubang, or Stone Grandfather, a symbol of Jeju island. Early in-flight activities consisted of flight attendants making balloon art and lending props – wigs, oversized bowties – to passengers to then take photos with – a radical departure from the Asiana and Korean Air formalities.
Its greatest strength, however, is not being restricted by a full-service carrier. But as the North Asian LCC revolution further encompasses Korea, Air Busan and Jin Air, with their full-service parent's backing and deep-pockets, could ramp up growth faster than Jeju Air. Jeju does not benefit from a parent's experience and is expected to have some cost inefficiencies left, even after Q400s were withdrawn, although Jeju Air targets an aircraft-employee ratio of 1:50, as do Jeju's peers. Jeju Air was one of the strongest proponents of the correlation between cheap fares and substandard service. It faces a reckoning as the market adjusts to the no-frills LCC model. History does not support the extraction of costs from a business model.
The next few years are an opportunity for Jeju to prove itself but conversely they are also an opportunity for Jeju's competitors to prove themselves. A new round in Korean aviation is opening now that the LCC movement is gaining traction with spectacular results – and implications.
Eastar Jet, Korea's early leader, is now falling behind
Eastar Jet was once Korea's promising start-up: unlike Air Busan and Jin Air it did not have to submit to a parent airline's network limitations, and unlike Jeju Air it was targetting a lower cost base. Eastar aimed to develop a hub out of Seoul but also Cheongju, in the middle of the country and intersection point for trains across the country. But its plans are falling behind. Eastar in 2009 – its first year of operations – was the third largest of the four Korean new start-ups (all launched before Eastar), but is now fourth in scheduled seats. It planned a fleet of 10 737s by 2010 but as of Jul-2012 had only seven.
Domestic flights comprise 74% of capacity (seats) with most seats on the competitive Seoul-Jeju route. Eastar also serves Jeju from Cheongju and Gunsan. Eastar proclaims itself to be Korea's first "true" LCC, and offers low lead-in fares typical of LCCs. It aims to offer 10% of all seats for KRW19,900 (USD18).
Eastar Jet domestic routes by seats: 30-Jul-2012 to 05-Aug-2012
Its international scheduled network is the least developed, offering the fewest routes, although it is the only one of the four new Korean carriers to serve Malaysia's Kota Kinabalu and only the second (besides Air Busan) to serve Tokyo Narita. Eastar also promotes low prices on its international flights, offering limited KRW59,500 (USD53) one-way flights to Osaka Kansai and JPY10,000 (USD124) between Tokyo and Seoul as well as KRW89,000 (USD79) round-trip tickets to Taipei. Promotions for travelling to Taipei on the weekend had roundtrips starting at approximately KRW160,000 (USD141) – previously unseen prices in the Korean market.
Eastar Jet top 10 international routes by seats: 30-Jul-2012 to 05-Aug-2012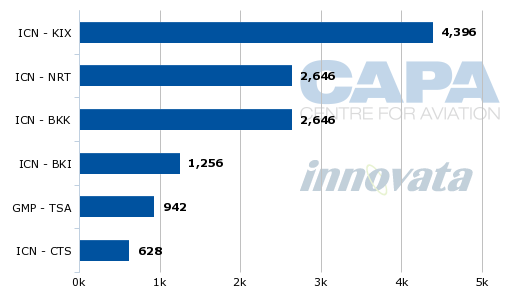 Eastar's international capacity levels are typically closer to Air Busan and Jin Air, which restrict capacity to reduce cannibalisation at their parent airline, than to Jeju Air, which has no such concerns and can more freely deploy capacity. As a result, Jeju Air is the largest of the four on all of its routes.
International scheduled seat network comparison of Air Busan, Eastar Jet, Jin Air and Jeju Air: 23-Jul-2012 to 29-Jul-2012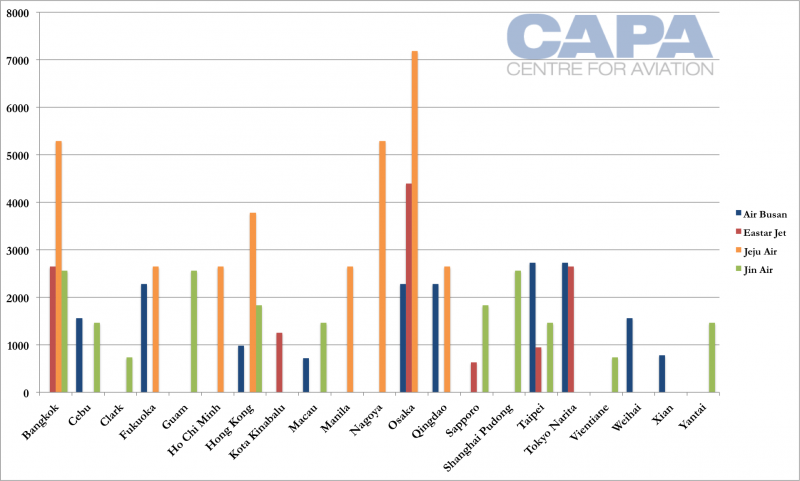 Eastar's international capacity is concentrated around North Asia and Japan especially. Eastar's cost base is undisclosed, but will likely come under pressure as the new Japanese LCCs enter South Korea, which will be a large market for them given the high demand and limited price stimulation; Eastar aims to offer international fares 60-70% lower than full-service carriers on the Seoul-Tokyo route. Eastar started Seoul Incheon-Osaka Kansai services and has reportedly mulled increasing the 14 weekly services to 16.
Developing international network through limited charters
Eastar Jet is offering a number of charters to China, which may be a more suitable choice for the carrier now given the competition out of South Korea. Scheduled charters to China are common for the other new Korean carriers. Eastar on 11-Jul-2012 launched three weekly services between Seoul Incheon and China's Fuzhou, a month after Jeju Air entered, according to local reports. Eastar also twice weekly Jeju-Lanzhou charters on 29-Jun-2012, twice weekly Jeju-Nanning charters on 30-Apr-2012 and limited charters between Jeju and Hefei in Apr-2012. With time these charters could be extended to regularly scheduled services, as occurred on its Seoul Incheon-Sapporo route, which was launched as a charter in Dec-2010 and converted to regular service in Mar-2011.
Outside of China, Eastar's charter network is limited. It planned to start summer 2012 charters to Cambodia's Siem Reap but has reportedly cancelled the charters. Asiana and Korean Air operate scheduled services on the route. Eastar has expressed interest in starting charters to Hong Kong and Phuket subject to regulatory approval. Eastar also operated limited charters to Malaysia's Kuching in Dec-2009.
Large aspirations but uncertain future
Korea Airports Corporation reported Eastar's load factors between Seoul and Taipei were an abominable 35% between 01-May-2012 and 15-Jun-2012. With the commencement of the summer season, Eastar's load factors rose to only 63%, a weak turnout. In comparison, EVA Air and China Airlines in the off-peak 01-May-2012 to 15-Jun-2012 period achieved load factors on the route of 69% and 63% respectively.
Eastar has undergone management changes but is still largely owned by KIC (Korean Insulation Company) Enterprise, which owns 70% of Saemangeum Tour and Development. Saemangeum is working on a land reclamation project of 155 square miles – the world's largest – on Korea's west coast in Jeonbuk province. The project has been coined the "Dubai of Northeast Asia" and aims to be a tourism, financial and logistics hub around 2020. Saemangeum has taken the very long-term investment in Eastar to have it now build a network and brand before launching services to serve Saemangeum traffic. The project is fanciful but was an election pledge of the Korean president and a Saudi developer intends to invest USD8 billion, although this is only a small part of the USD200 billion total projected bill.
The project is a big ask, but so too is Eastar, which has found little success while biding its time to take advantage of any posisble traffic heading to Saemangeum in the long-term. Eastar reported KRW108 billion (USD96 million) of revenue in 2010 – relatively small chips – but a KRW5 billion (USD4.5 million) operating loss, for a margin of -4.6%. But this may be the small to KIC as it invests in Saemangeum, but Eastar could also be one asset easy to dispose of.
South Korea's Ministry of Land, Transport and Maritime Affairs reportedly holds the view that the four new entrants with scale plus smaller t'way is too many supplementary carriers for the country. While consolidation and rationalisation could work against Eastar, it is t'way whose future is most uncertain.
t'way still for sale, with few prospective buyers and bleak outlook
t'way has not had an illustrious history. t'way launched as Hansung Airlines, a regional airline, in Aug-2005 with ATRs but then shut down in Dec-2005 due to financial problems. Although it re-launched in Feb-2006, it shutdown again in Oct-2008. It relaunched in Sep-2010 as LCC-focused t'way and with a 737-800, which has been supplemented by three others. It operates a sole domestic route, between Seoul and Jeju, as well as six international routes.
t'way Jet top 10 international routes by seats: 30-Jul-2012 to 05-Aug-2012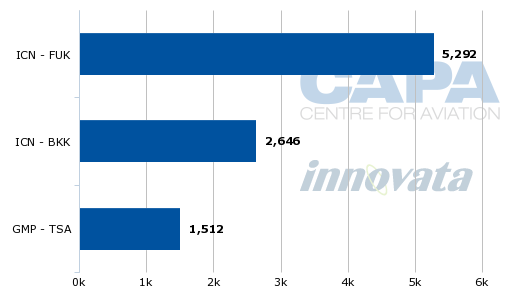 While in size it may be smaller than Eastar Jet, its outlook is very uncertain. Owner Tomato Savings Bank shut down in Oct-2010, placing the carrier in the hands of the Korea Deposit Insurance Corporation (KDIC) attempted to sell an 82% stake in t'way – even talking to Jeju Air's owner – but received bids only from YeaRimDang Publishing and Good Tech Development. The bids were announced in Mar-2012 as falling short of the unspecified asking price, which is understood to be inappropriately large and limiting potential investors. KDIC re-opened bids and in Apr-2012 said it had received four new bids but there has been no movement on the carrier since. A fifth quasi-LCC for Korea would be unnecessary and the potential to develop t'way into a low-cost and not low-cost/hybrid carrier is limited.
Huge potential in South Korea, but unlikely to be realised by current carriers
Appetite is aplenty in South Korea for more affordable air travel, but low fares must be matched by low cost bases, and that imbalance is one the new entrants in Korea are struggling with. Pressure will build as AirAsia Japan and Jetstar Japan, which have more respectable cost bases, make Korea a large target. That international pressure will deliver to Korea what it needs: for the LCC subsidiaires of full-service carriers to be independent, for the low-cost/hybrid carriers to work to take costs out (luggage and food is typically free) and, in the long term, see a foreign LCC establish a local base. That would realise the ambition of Incheon Tiger Airways, which spurred many of the current carriers into action. The market is once again in need of a shakeup.
LCCs & New Age Airlines in North Asia Summit, Macau 4-6 September 2012
| | | |
| --- | --- | --- |
| | | South Korea's LCC revolution will be examined at CAPA's upcoming LCCs and New Age Airlines in North Asia to be held in Macau on 4-6 September 2012. Over 20 airlines are already confirmed to be attending - and more are expected to confirm shortly: (* indicates CEO or Chairman is coming): Air China, AirAsia Berhad*, AirAsia Japan*, AirAsia Malaysia*, Air New Zealand, AirPhil Express, Cebu Pacific*, China Eastern Airlines*, China West Airlines, HNA Aviation Holding Co, IATA, Jeju Air*, Jetstar Group*, Jetstar Hong Kong*, Jetstar Japan*, MEGA Maldives Airlines, Peach*, Scoot*, Shandong Airlines, Singapore Airlines, Spring Airlines*, Vietjet* and ZestAir*. Click here for more information. |